Grilled Chicken Burrito Bowls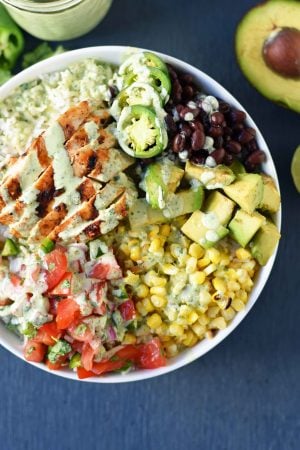 Author:
Melissa Stadler, Modern Honey
Chili Lime Chicken:
1 lb. Chicken Breast
¼ cup Olive Oil
2 Limes, juiced
1 teaspoon Chili Powder
½ teaspoon Cumin
1 teaspoon Salt
Pico de Gallo:
3-4 Roma Tomatoes
¼ cup White or Red Onion, finely diced
¼ cup Cilantro
½ Jalapeno, diced
1 teaspoon Salt
2-3 Ears of Corn or 1 cup Frozen corn, cooked
1 cup Black Beans
2 cups Rice (or more depending on preference)
1 Jalapeno, sliced
1 Avocado
In a large ziploc bag, place chicken breast, olive oil, lime juice, chili powder, cumin and salt. Let marinate for at least 30 minutes, preferably 2-4 hours or overnight.
Heat grill to medium heat.
Remove chicken from marinate and place on hot grill. Cook for 6-8 minutes per side, or until chicken is no longer pink. Time is an estimate as it depends on the thickness of the chicken breast. If roasting ears of corn, add them to grill for a several minutes. Remove from grill and remove kernels with knife. After grilling, let rest for at least 5 minutes to let juices seep into chicken.
Slice on the diagonal.
To make pico de gallo:
In small bowl, combine tomatoes, onion, cilantro, jalapeno and salt.
Make rice according to package instructions.
May want to heat up black beans until warm.
Make cilantro ranch dressing and homemade guacamole, if you desire.
Layer in a bowl -- rice, beans, grilled chicken, pico de gallo, avocado, roasted corn, and cilantro ranch dressing.
Recipe by
Modern Honey
at https://www.modernhoney.com/grilled-chicken-burrito-bowls/