I Want to Marry You Cookies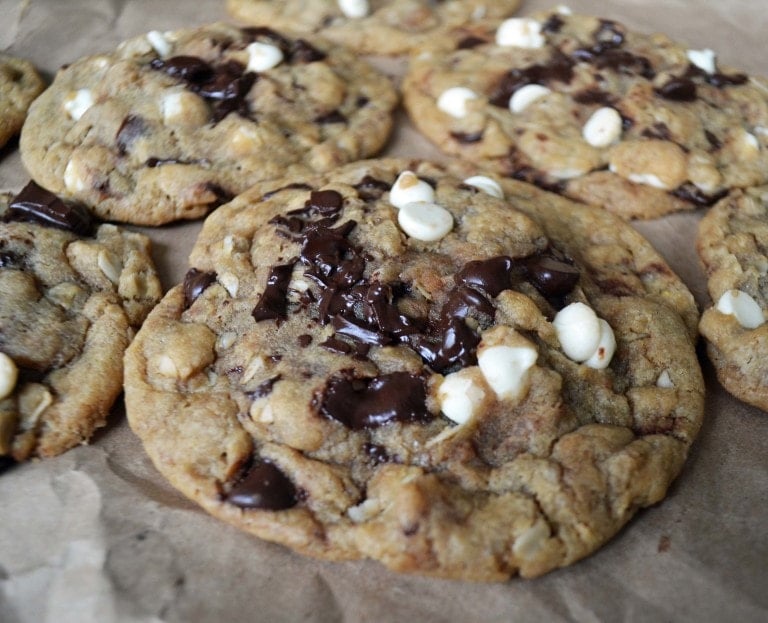 Author:
Melissa Stadler, Modern Honey
1 cup Butter
1 cup + 2 Tablespoons Dark Brown Sugar
½ cup Sugar
1 Egg
1 Egg Yolk
1 teaspoon Pure Vanilla
2 cups Flour
1 cup Rolled Oats
¾ teaspoon Baking Soda
½ teaspoon Salt
⅛ teaspoon Cinnamon
1 cup Chocolate Chips (combination milk, semi-sweet or dark)
¾ cup White Chocolate Chips
Optional Nuts
Preheat oven to 325 degrees.
In a medium saucepan, melt the butter over medium low heat until melted and starts to turn a golden color. Remove from the heat.
Immediately add the dark brown sugar and granulated sugar and stir until sugars are incorporated and smooth. You want to keep stirring until all of the grainy texture is gone. Chill the mixture for 10 minutes.
Remove from the refrigerator and stir in the egg, egg yolk, and vanilla.
Add the flour, oats, baking soda, salt, and cinnamon and mix together.
Stir in the white chocolate chips and chocolate chips.
Roll into balls or use a scoop, and place on a light-colored cookie sheet.
Chill for 30 minutes or wrap tightly in plastic wrap and refrigerate overnight. The dough gets better when it chills for 24-48 hours.
Preheat the oven to 325 degrees F. Remove the cookies from the refrigerator and bake for 12 to 16 minutes.
Recipe by
Modern Honey
at https://www.modernhoney.com/i-want-to-marry-you-cookies/