My sister-in-law is a health and fitness rockstar. She has been working hard for over a year on her nutrition and health and the results are incredible. One of the biggest changes she made was in her diet. She focuses on bringing more protein into her diet and getting exactly what her body needs.  Her results are absolutely stunning and now she has made a career out of inspiring and helping others to achieve the same results.
I am a huge believer in her program and incorporating more protein in my diet. What better way to get my protein than through ice cream? This is a no-brainer! I just discovered a new high protein and low fat ice cream, called ProYo.  It's at my local Fry's and I had to have it.  I was laser beam focused on the coconut flavor! I picked up 4 flavors — Coconut, Blueberry Pomegranate, Mint Chocolate Chip, and Dark Chocolate Toffee. I am sharing the coupon below so you can try all of the yummy flavors!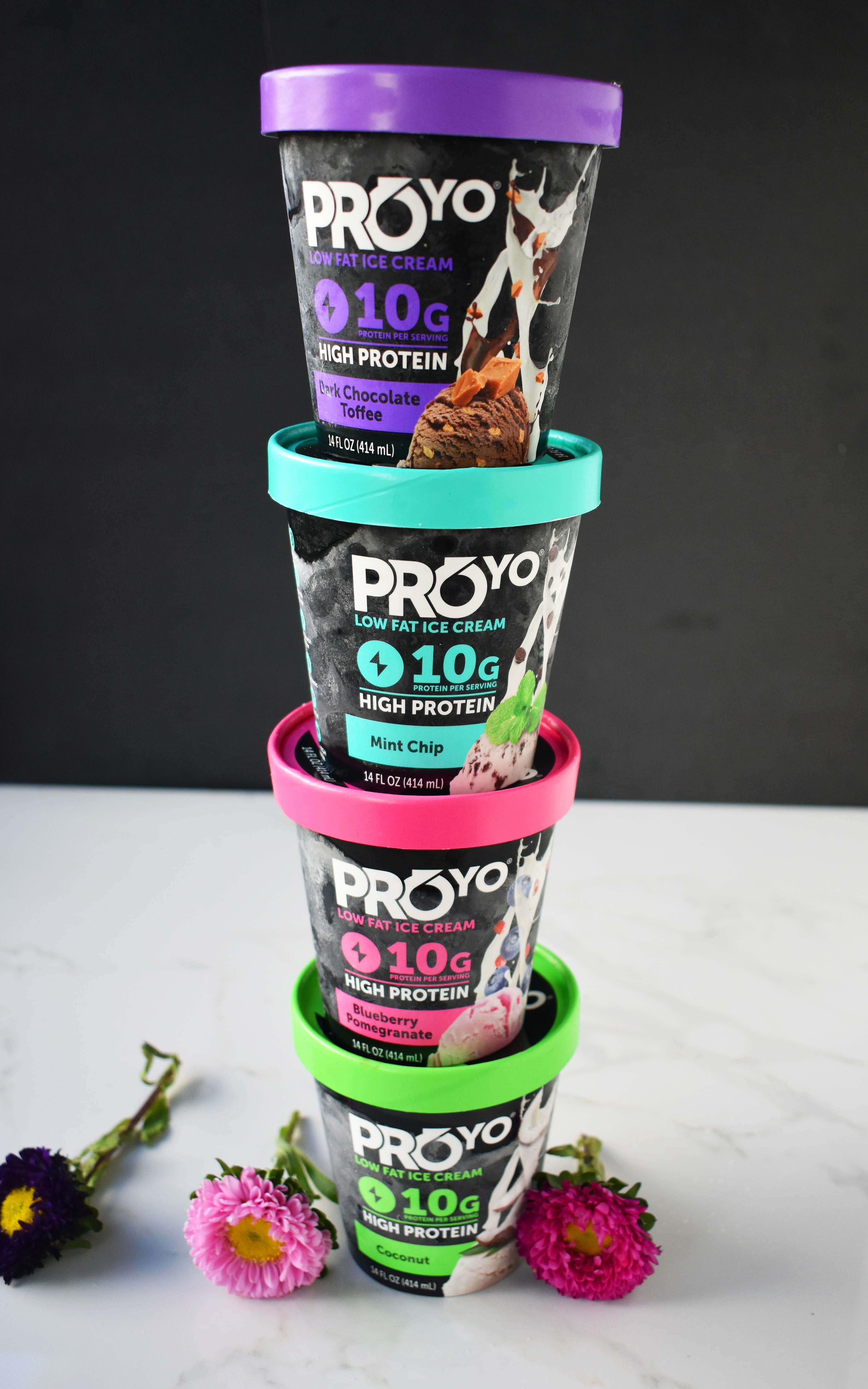 As soon as I walked into the door, I grabbed a spoon and started tasting! After taking a few bites, I turned the carton around to find the nutritional label and I couldn't believe that this ProYo protein ice cream had powerful nutrition, clean ingredients, and still tasted amazing! It has 10 grams of protein per serving and 35 grams of protein per 14-ounce container. It's also low fat which is a win-win. The coconut was hands down my favorite but the mint chocolate chip was a close second. The protein ice cream is so creamy that you won't even believe it is low-fat!
I ran some errands and came home to find my kids devouring the protein ice cream! They loved it and had no idea they were eating ice cream with nutritional benefits.
Since pineapple and coconut go together like peanut butter and jelly, I wanted to create a Pina Colada Protein Ice Cream treat using the ProYo Coconut High Protein Low Fat Ice Cream. It's so simple to make — add a container of the protein ice cream, frozen or fresh pineapple, and a touch of coconut milk. It's a gluten-free, refreshing, high-protein, and low fat dessert that it perfect for summer!
Pina Colada Protein Ice Cream
A high protein, low-fat dessert using protein coconut ice cream, pineapple, and coconut milk.
Author:
Melissa Stadler, Modern Honey
Ingredients
1- 14 ounce ProYo Coconut High Protein Low Fat Ice Cream
¾ cup Pineapple (fresh or frozen)
¼ cup Coconut Milk (may use less or more depending if you use frozen pineapple)
Instructions
In blender, combine coconut ice cream, pineapple, and coconut milk.
Add more coconut milk to desired consistency.
Eat right away or place in freezer to harden.
You know I want to give you the best deals so here is a coupon for the ProYo ice cream. This is your chance to try two flavors! Take advantage of this online coupon Buy 1 ProYo High Protein Low Fat Ice Cream and Get 1 Free now through 7/7, while supplies last.
ProYo High Protein Low Fat Ice Creams are available nationwide at Kroger and other banner stores. Use this store locator to find one near you.
You can find more information about ProYo High Protein Low Fat Ice Creams HERE. 
This post is part of a social shopper marketing insight campaign with Pollinate Media Group® and ProYo, but all my opinions are my own. #pmedia #ProYoHighProteinIceCream http://my-disclosur.es/OBsstV