Summer Essentials Bag for Moms
The list of summer essentials to keep in your car to help you be prepared for the summer!
Summer Break is around the corner. Since our summer is relatively short, we try to fit in as much traveling, family time, and outdoor activities as possible. It is such a great feeling to be prepared for all situations. Since I have four kids, I need to be prepared for anything! They are all extremely adventurous so bandages need to be available at all times!
We spend a lot of time on the lake and on road trips during our summer vacation. It is so important to have a first aid kit on hand at all times for those emergencies. Since we are such an active family, we need to stay safe and be prepared at all times.  My husband is always telling me that I need to carry a smaller purse but he doesn't realize how many important items a Mom needs to carry.
I created a list to start a Mom Summer Survival Kit. These are essential items for Mom's purses.  You can find all of these items at your local Kroger store. I found all of these items at my Fry's store. I even found their bandages on sale for $1 per package. What a deal! I also found the Kroger brand sunscreen for buy 1 get 1 free which was a steal.
Here are the Summer Essentials and First Aid Kit Ideas: 
Bandages 

-- be prepared with all sorts of sizes 

Sunscreen 

-- essential during the summer months. I always carry both spray and lotion sunscreen

Baby Wipes 

-- the best for keeping hands clean

Lip Balm 

-- keep the lips moisturized during the hot summer months 

Hand Sanitizer 

-- helps to keep the hands clean and free of bacteria

Ibuprofen 

-- the headache buster. Always good to have around. Can also carry around a small travel size bottle of Tylenol. 

Clorox Wipes 

-- to keep things clean, tidy, and bacteria-free

Lotion 

-- to keep skin soft and supple

Tissues 

-- for wiping noses and tears

Benadryl 

-- for emergency allergy relief

Sunburn Relief 

-- soothing aloe for sunburned skin 

Healing Ointment 

-- antibiotic ointment to put on cuts and scrapes

Tide on the Go 

-- to keep clothes clean and tidy

Water 

-- essential to have on hand during the summer months to keep from becoming dehydrated 

Healthy Snacks

-- almonds, granola bars, fruit
Pedialyte 

-- replaces electrolytes to keep you hydrated

Wrap, Tape, and Gauze

-- for larger cuts and sprains

Hair Ties

 

-- keeping hair up and away will keep you cool during the hot months
You can find all of these items at your local Kroger store. Did you know that you can ask the pharmacist any questions about over-the-counter products and summer care? They are so helpful, knowledgeable, and such a great resource.
If you want some great healthy snacks ideas for traveling, click HERE to find a list of HEALTHY TRAVEL SNACKS.
Recently, I attended the Everything Food Conference. I decided to wear a pure white dress which may not have been the smartest choice at a food conference! As I was walking through the lunch line, a gentleman reminded me that I was nuts to wear a white dress while attempting to eat Thai food. It took me about 2 minutes to completely spill on my white dress! I went straight to the bathroom to clean it off but it was closed for cleaning. Thankfully, Elizabeth LaBau from Sugar Hero had the ultimate Mom Bag on her and she whipped out a Tide to Go Pen to help clean up my mess. There is power in the Mom Bag!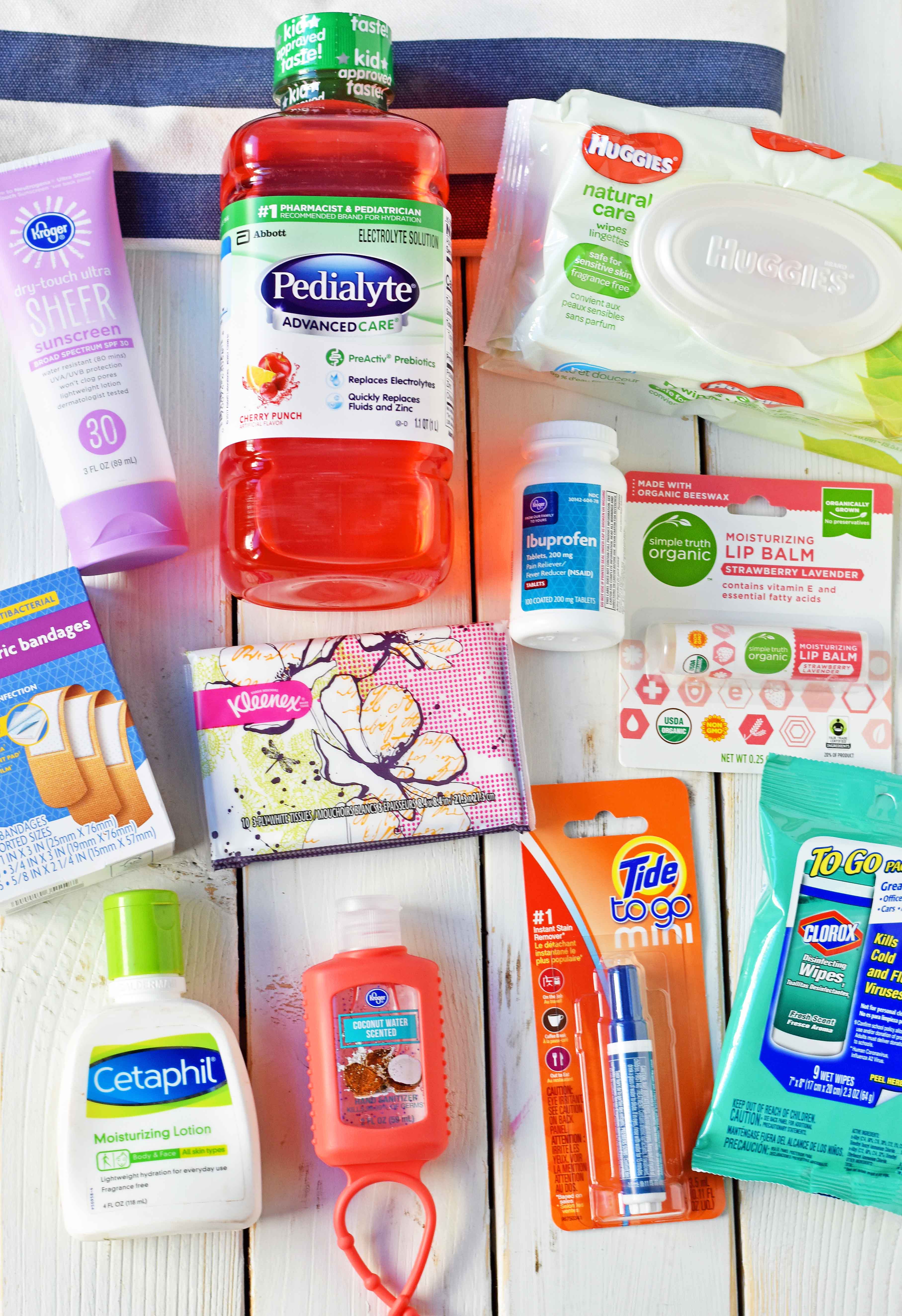 You can keep this Summer Essentials Kit in your car and at home. You can download the Kroger, Fry's, Smith's, Ralph's, or your local Kroger store app to find coupons for $3 off Ensure multi-packs; $2 off two (2) Pedialytes; $.40 off Kroger bandages.
You can find out more information by clicking on  www.banner.com/wellnessyourway
I hope this Summer Essentials Kit helps to keep your active summer safe and healthy. Have a great day, my friends!