Print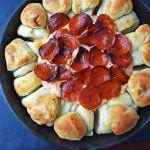 Pepperoni Pizza Dip with Pizza Crust Dippers
Creamy pizza dip topped with crispy pepperonis and garlic butter pizza crust dippers.
4

ounces

Sliced Pepperoni

4

Tablespoons

Butter

1/2

teaspoon

Garlic Powder

1

lb.

Pizza Dough
Heat oven to 400 degrees. Cook pepperoni in 10-inch cast iron skillet over medium heat until crisp, 4-6 minutes. Transfer to paper towel-lined plate.

In microwave-safe bowl, melt butter in microwave. Stir in garlic powder.

Place dough on lightly floured counter. Pat into square and cut into approximately 20-24 pieces. Roll each piece into a ball. Coat each ball with garlic butter.

Place each dough ball around edges of cast iron skillet, leaving the center of skillet open. Stagger the dough balls on top of each other. Cover with plastic wrap and let rise for 20 minutes.

Bake for 10-12 minutes.

In mixing bowl, cream together cream cheese and pizza sauce. Stir in oregano and red chili flakes. Stir in mozzarella cheese, parmesan cheese, and 3/4 of crisp pepperoni. Set aside remaining pepperoni.

Remove dough from oven and drizzle any garlic butter that has pooled into the center of the skillet onto the pizza crust. Spoon cheese mixture into center of skillet. Return to oven and bake until dip is heated through and the pizza crusts are golden brown -- about 12-15 minutes. Remove from oven and add remaining pepperoni. Cook for 1 minute longer.

Top with fresh basil ribbons and serve immediately.