Print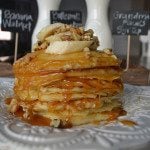 Goldie's Banana Walnut Buttermilk Pancakes with Faye's Syrup
The kids will come running for these golden buttermilk pancakes topped with fresh bananas and walnuts and Faye's Famous Syrup.
Goldie's Buttermilk Pancakes:
Buttermilk Syrup:
1

cup

Butter

2

cups

Sugar

1

c.

Buttermilk

2

Tablespoons

Light Karo Syrup

1

teaspoon

Baking Soda

1

teaspoon

Vanilla
In a large bowl, combine flour, baking powder, baking soda, salt and sugar and stir until combined. Add eggs, buttermilk, and melted butter and whisk to combine. The batter should have some lumps. Embrace the pancake batter lumps.

Heat skillet over medium-low heat. Test for readiness by sprinkling some water on the pan and if it spatters off the griddle, it's hot enough. Coat with butter or spray with non-stick cooking spray.

Using a 1/2 cup, pour pancake batter onto pan. When bubbles appear on top of the pancake, flip to cook the other side. Watch carefully as pancakes can brown quickly. Keep it at a lower heat to ensure that the inside gets cooked through without the outside getting too brown. Serve warm.

Top with sliced bananas, walnuts, and drizzle with Faye's Famous Syrup
How to make Buttermilk Syrup:
Place butter in large pot and heat over medium heat for 1 minute. Add sugar, buttermilk, and light Karo syrup and baking soda and stir together. Bring to a boil, stirring often.

Boil for 5-7 minutes until the color starts to change to a light golden color. The baking soda will make it expand so make sure your pot is large enough.

Remove from heat and add vanilla.

This syrup could make cardboard taste good!