Print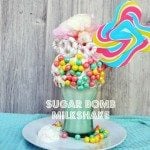 Black Tap Milkshakes Copycat
Here's how to make the world famous and New York's finest Black Tap Milkshakes at home.
Ice Cream Shake:

Vanilla Ice Cream

or favorite flavor

Whole Milk

Optional Flavorings - Chocolate

Caramel or Strawberry Syrup

Salty Sweet Candy Bar Milkshake Toppings:

Chocolate Frosting

M

& M's

Peanut Butter Cups

Chocolate Covered Pretzels

Hot Fudge

Pretzel Rods

Twix or Sugar Daddies

Spray Whipped Cream

Colorful Straw

Sugar Bomb Milkshake Toppings:

Cream Cheese or Vanilla Frosting

Sixlet Candy Pearls

Cotton Candy

White Chocolate Covered Pretzels

Large Colorful Sucker

Rock Candy Sticks

Spray Whipped Cream

Colorful Straw
Spread frosting on outside of glass, going about 1/3 way down. Lightly press toppings onto frosting (M & M's, or Sixlet pearls). Place in freezer for 3-5 minutes to set.

Meanwhile, make ice cream shake by adding ice cream of choice and whole milk and mix in blender. Add optional flavorings, if you desire. Pour into cold glass, filling almost to the top.

Spray a generous amount of whipped cream on top. This will be the structure for the accessory toppings.

Drizzle with toppings and carefully place them in the whipped cream. Top it off with colorful straw.