Print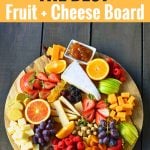 How to make the BEST Fruit and Cheese Board
How to make an epic fruit and cheese board for your next party.
An ASSORTMENT of CHEESES:

BRIE or CAMEMBERT.

PARMIGIANO-REGGIANO.

BURRATA or FRESH MOZZARELLA.

WHITE SHARP CHEDDAR.

MILD CHEDDAR.

PEPPER JACK CHEESE.

GOUDA CHEESE.

GORGONZOLA.

MANCHEGO CHEESE.

ENGLISH FARMHOUSE or IRISH CHEDDAR.



FRUITS:

APPLES

BERRIES

GRAPES

PEARS

DRIED APRICOTS

ORANGES

DATES

FRESH or DRIED CHERRIES

FIGS



What to Include on a Fruit and Cheese Board:

HONEY

DARK CHOCOLATE

CRACKERS and BREAD

OLIVES

FIG JAM/SPREAD

CURED MEATS

PISTACHIOS

ALMONDS or WALNUTS

CANDIED NUTS
Tips for Serving Fruit and Cheese Platter:

For optimal cheese flavor, bring to room temperature. The flavors are much more pronounced when cheese is a room temperature.

Serve with small cheese knives and spoons. This makes it easy for your guests to spread creamy cheeses on their crackers or bread.

Allow for at least 3 ounces of cheese per person, depending on their appetites. Serve an assortment of shapes, sizes, and types of cheese to give variety.




Items needed to make a Cheese Board:

CHEESE BOARD.

SMALL CHEESE KNIVES.

HONEY JARS.

An ASSORTMENT of CHEESES.

An ASSORTMENT of FRUITS.