Print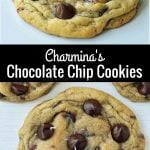 Charmina's Chocolate Chip Cookies
Charmina's Chocolate Chip Cookies are a classic chocolate chip cookie with a mix of melted butter and softened butter creamed with brown sugar and sugar and mixed with semi-sweet and milk chocolate chips. It's a chewy, sweet chocolate chip cookie.
1

cup

Butter

1/2 cup melted, 1/2 cup softened

1 1/4

cup

Brown Sugar

1/2

cup

Sugar

2

Eggs

1

Tablespoon

Vanilla Extract

3

cups

Flour

1

teaspoon

Baking Soda

1

teaspoon

Baking Powder

3/4

teaspoon

Salt

1 1/2

cups

Semisweet Chocolate Chips

1

cup

Milk Chocolate Chips
Preheat oven to 385 degrees.

Melt 1/2 cup of butter in small saucepan. Once butter is melted, turn on a timer for 1 minute and cook for 1 minute, swirling pan often.

Meanwhile, place remaining 1/2 cup butter, brown sugar, and sugar into large mixing bowl and cream for 2 minutes. Add melted butter and continue to cream for 3 minutes.

Add eggs and vanilla and cream for 1 minute, scraping down sides.

Stir in flour, baking soda, baking powder, and salt and mix just until combined. Avoid overmixing the dough once the flour is added.

Stir in semisweet and milk chocolate chips.

If time allows, tightly wrap cookie dough and let chill.

Drop onto parchment or Silpat lined baking sheet.

Bake for 8 - 11 minutes or until color begins to develop on the edges.

Let cool for 5 minutes before removing from pan.