Print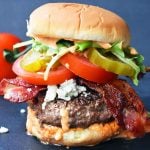 Dragonslayer Burger
The Dragonslayer Burger is made with high quality beef seasoned to perfection, blue cheese crumbles, smoky bacon, juicy tomato, crisp pickles, spring mix, and a creamy buffalo sauce.
Creamy Buffalo Sauce:
3

Tablespoons

Hot Wing Sauce

1/3

cup

Mayonnaise
Heat grill to high. For 1/2 lb. burgers, make 4 large patties. For 1/3 lb. burgers, make 6 patties. Press down so the meat is larger than the bun, as it shrinks as it cooks. Press the center of the meat with thumb to make indention so the meat doesn't puff in the center.

Season generously on both sides with Lawry's seasoned salt and pepper.

Cook for 5-8 minutes per side or to desired degree of doneness.

Cook bacon in skillet, oven, or microwave to desired crispiness.

To make creamy buffalo sauce: in small bowl, combine mayonnaise and hot wing sauce.

To assemble Dragonslayer Burger: Spread creamy buffalo sauce over buns. Top with burger, blue cheese, bacon, tomatoes, spring mix, red onion (optional) and pickles.