Print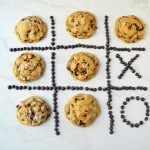 Ultimate Chocolate Chip Cookies
The perfect classic Chocolate Chip cookie studded with high-quality chocolate and a sprinkle of sea salt.
Preheat oven to 365 degrees.

In a large bowl, cream butter and sugar for 5 minutes, until light and fluffy. Add eggs one a time, creaming after each addition. Add vanilla. Stir in flour, baking soda, baking powder, and salt. Fold in chocolate chunks.

Chill for 30 minutes (cover entire bowl tightly or wrap dough in Saran Wrap). If you can hold out, chill for at least 24 hours as the cookie dough get better in time.

Drop on cookie sheet. Sprinkle with Maldon sea salt flakes. Bake for 10-13 minutes.