Print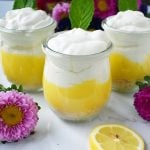 Lemon Cream Parfait Pie Jars
Lemon Cream Parfait Pie Jars are layers of flavors. It starts with a butter cookie crust, lemon cream filling, and topped with a sweet cream cheese and whipped cream topping. Lemon lovers will love this dessert!
In a medium pot, stir together lemon juice, sugar, and eggs over medium-low heat. After it has dissolved, stir in butter. Cook on low heat for 6-8 minutes, or until the lemon curd starts to coat the back of a spoon and become thick. Bubbles should start to form. Once bubbles start to form, cook about 1 minute longer or until it becomes thick. Stir in lemon zest, if desired.

Place in jar or bowl and chill in the refrigerator. The lemon curd needs to chill in the refrigerator for 1 hour or in the freezer for 25 minutes.

To make crust:

Place crushed butter cookies or graham crackers in a bowl. Stir in melted butter (start with 4 TB and can add more) and sugar.

To make Vanilla Cream Topping:

In a small bowl, whip cream cheese for 5 minutes until light and fluffy. Add powdered sugar and vanilla and beat for 1 minute longer. Set aside.

In another bowl, whip heavy cream until firm peaks form. Fold into cream cheese mixture.

To make lemon cream parfaits:

Layer crust, lemon cream filling, and vanilla cream topping into dessert jars of choice. Top with remaining crust, if so desired and garnish with mint leaves.

Chill until serving.

To make the lemon cream pie:

Firmly press crust into 9-inch pie pan. Pour chilled lemon curd on top of the crust. Spread vanilla cream topping over crust. Garnish with sliced of lemon and mint leaves, if so desired. Chill.