I am Melissa Stadler, the face behind Modern Honey. I am usually behind the camera and computer so I thought I would share a few things about me!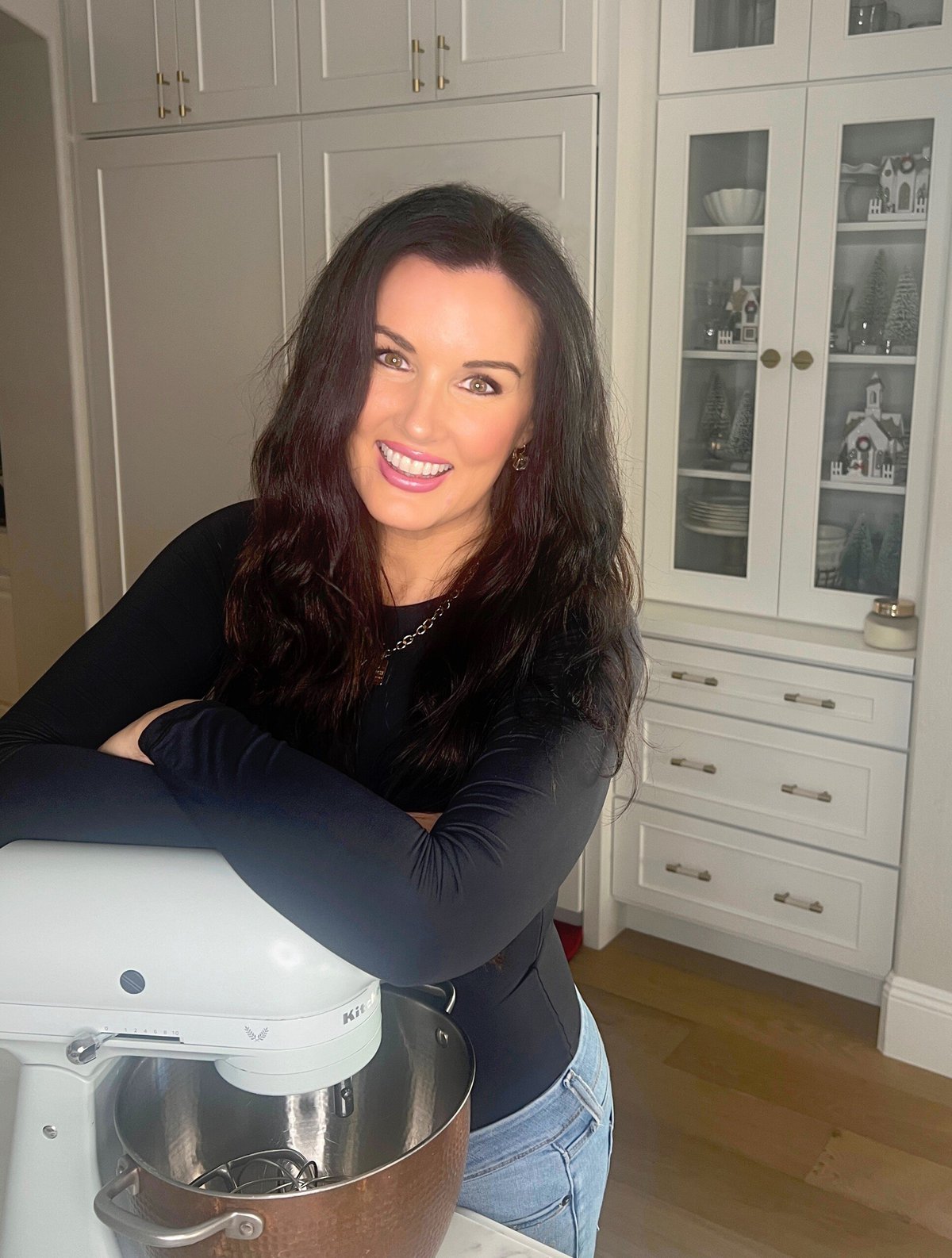 I am a born and raised Arizona girl and have been married to my husband, Dean for 26 years! We have four children — Sierra (22), Mason (20), Carson (17), and Sadie (14). My daughter just got married to Conner (22) so we have 5 kids now. 🙂 I can't forget our dog, Bentley (6)!
I AM A TRAVEL JUNKIE. I love adventure and traveling and experiencing new cultures, food, nature, beauty, and history. I am the self-appointed travel guide in our family. I will research our trips for a ridiculous amount of hours to find the hidden gem restaurants, local spots, and the best things to do in each city. I love the planning part of it all…and experiencing spontaneous adventures along the way.
I AM A PROUD DOG MOM. For so long, we didn't have pets in our family because my husband is allergic to most animals. We finally figured out that he could tolerate certain breeds of dogs and so we brought into our family a sweet Goldendoodle. His name is Bentley and my family will concur that I am obsessed with him. He smiles when he sees us, makes everyone around him feel super loved (and protected from those "scary" Amazon drivers. Hahaha!), and is the biggest softie. I am such an animal lover!
I LOVE TO BE CREATIVE. I find so much joy and passion in shooting all of my food photography. It is always fun for me and a challenge to photograph food to highlight it. I also love to create new and innovative recipes in the kitchen. I am like a mad scientist and love to learn and understand the science behind food, which helps when creating new recipes. I look at Modern Honey like a huge digital cookbook and I only want to put the very best, tested recipes on there!
I love to decorate, create, and enjoy beautiful things. One of my favorite things to do is to run to Trader Joe's first thing in the morning and pick up their seasonal flowers and make beautiful floral arrangements. They make me happy! I enjoy decorating my home and making it feel comfortable and homey. I love to shop for beautiful dishes, bowls, kitchenware, and anything to use to bake or cook in the kitchen! I swoon over Staub dutch ovens and EtuHome platters.
I AM A DIEHARD SPORTS FAN. I grew up with five sports-crazed brothers and a Dad, who lives and breathes sports. Every single day of my life growing up, I would read the sports page and memorize all of the stats in an attempt to impress my brothers. Growing up, my dream was to be another Hannah Storm on ESPN. I used to practice broadcasting all of the time and dreamed of being on the field interviewing players. To this day we travel to at least one college football game every year and I wouldn't miss watching a game! I graduated with a BA degree in Communications, but decided to go the food route instead of sports!
I HAVE A PHOTOGRAPHIC MEMORY. It is definitely genetic and if you have ever met my Dad, who is a walking encyclopedia of sports knowledge, or my Uncles, then you will know where I get it from. My family jokes that my memory is like a steel trap. Sometimes my husband wishes it wasn't so good! Haha!
FUN FACT: My right leg is two inches longer than my left leg, due to scoliosis. I kid you not. I am usually a flamingo balancing on one leg. I am 5'8 when I stand on my right leg and 5'6″ when I stand on my left leg. When I was a teenager, my orthopedic surgeon made a heel lift in an attempt to even it out and I wore a full back brace for two years. It's good entertainment to look at pictures and see how much shorter my jeans are on my right leg.
I AM A NERD. One of my favorite things to do is to go to the library. I love to learn! It sounds crazy, I know! In college, some guys told me they made a bet… they would never see me even open a book to study at the library. True story. I was too social for my own good at BYU. Nowadays reading and learning it's one of the things I love to do most and usually have stacks of books piled by my bedside and in the family room. I love to keep learning and soak up new information. I balance out my reading with a fair share of mindless reality TV at night to unwind and let my brain relax.
MY FAVORITE HOBBIES. My first contest was the Pillsbury Bake-Off and it ignited a fire in me. It was so cool to do something that I was so passionate about for years. I ended up having some amazing, life-changing experiences, from traveling to New York City to film a segment for a show in the Food Network studios to competing twice for a million dollars. I truly found that by setting goals, dreaming big, and working crazy hard that your wildest dreams can actually come true.
MY FAMILY. Family is so important to me! I love being a Mom (the hardest job in the world!) and spending time with my family. A perfect day for me would be a beautiful, sunny day spent on the lake in our boat with friends and family. I am super close to my parents and five brothers and my bonus family (the family I married into) and love to be with them.
I JUST LOVE PEOPLE. I love talking to people and hearing their stories. I have random strangers, friends, and family tell me their life stories all of the time and I love it. I basically give out a lot of advice! I am not a judgmental person and usually see the GOOD in people way before I see the bad.
My Grandma always told me over and over again, "Kill them with kindness, Melissa." It is very important to me to always be kind. I find that you get a lot further in life with honey than with vinegar. 🙂 I can usually find the silver lining in any situation and try to be positive. I have a tender heart and truly do care about others! I am genuinely happy for others success and love being a cheerleader for my friends and family.
I hope you learned something new about me. Is there anything you can relate to? I would love to hear it! Thanks for reading my 10 Things You May Not Know About Me and for being so supportive. I am so grateful for my readers!
xo – Melissa