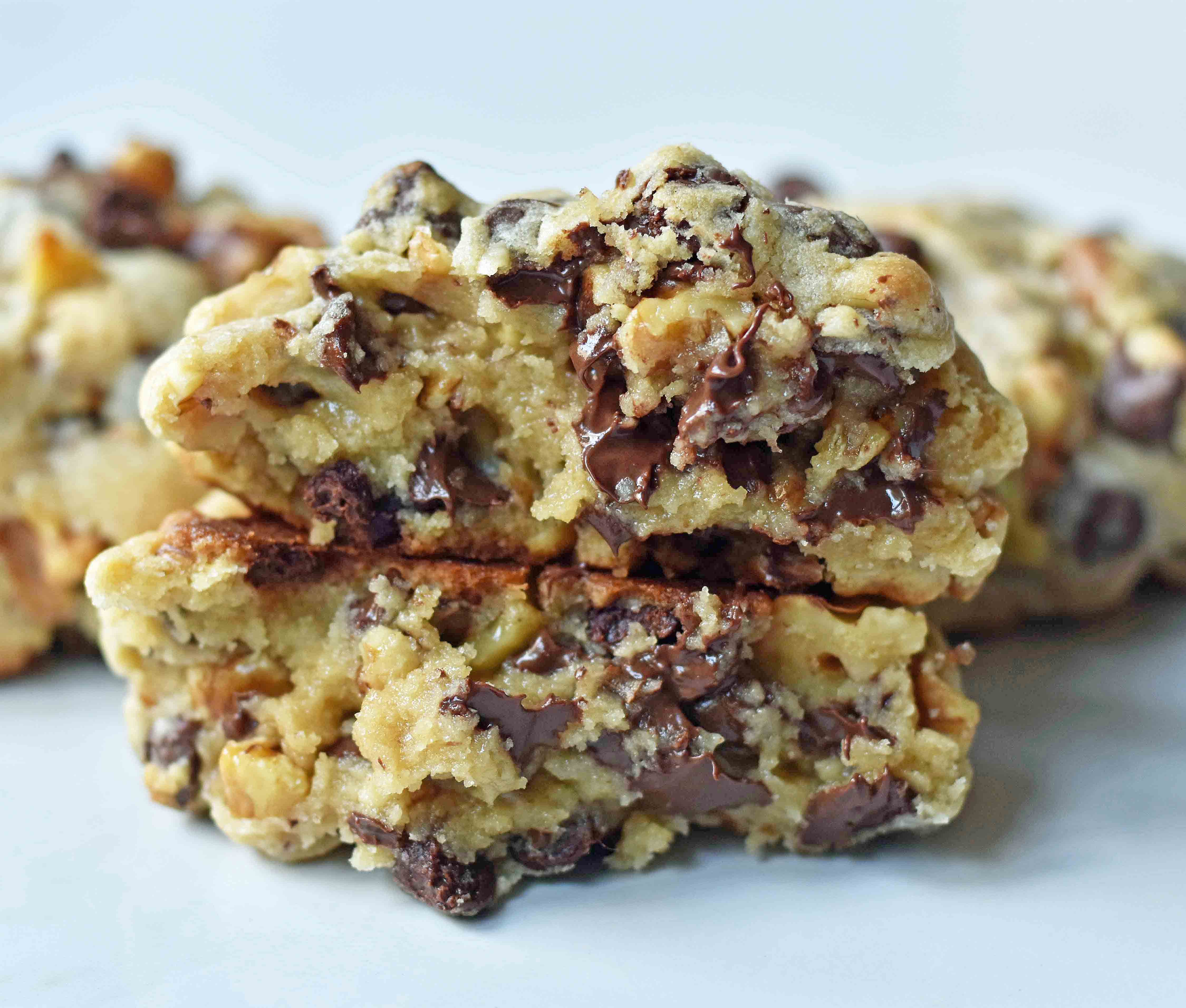 Levain Bakery Chocolate Chip Cookies
The BEST Chocolate Chip Walnut Cookies. The Famous Levain Bakery Chocolate Chip Cookie Recipe that everyone goes crazy over!
I've got issues.
I am a cookie junkie of epic proportions.
There's probably a support group somewhere for people like me.
When I was a teenager, I would go to the library and thumb through cookbooks to find every single chocolate chip cookie recipe and would beg my Mom to try out the recipe creations almost daily. Issues, I tell you.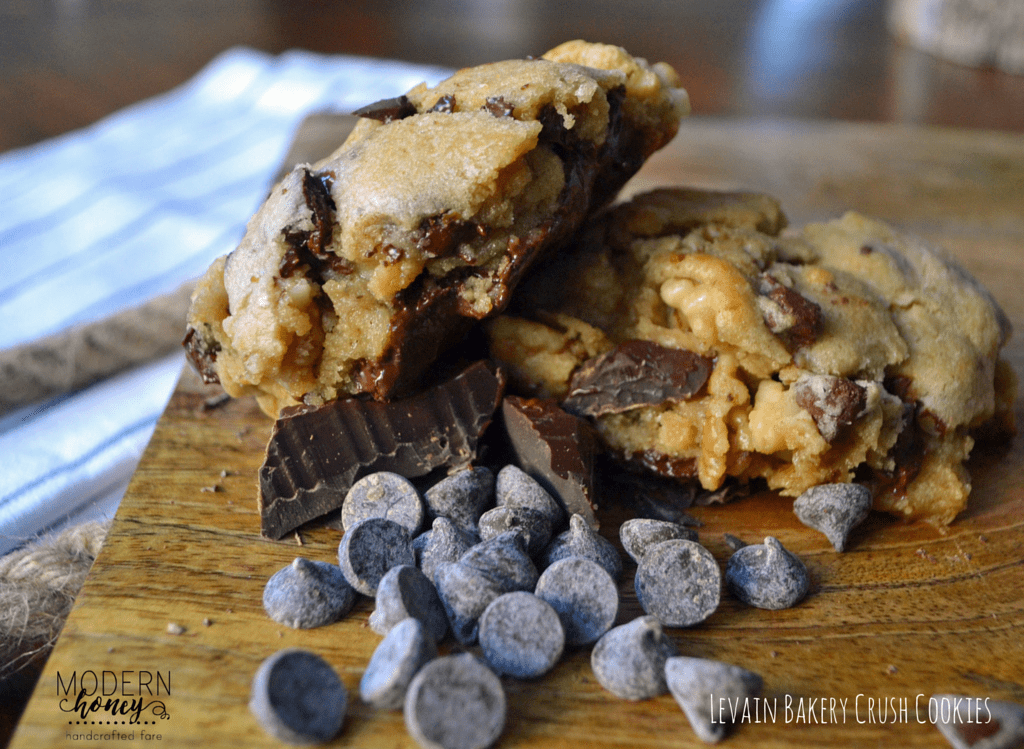 I started off by following recipes and then I thought….let's take a walk on the wild side and start experimenting by throwing stuff in and see what happens. What's the worst that can happen? Well, that's another story. Little tweaks here and there were the difference makers – browning the butter, raising or lowering the temperature of the oven, and trying out some interesting ingredients.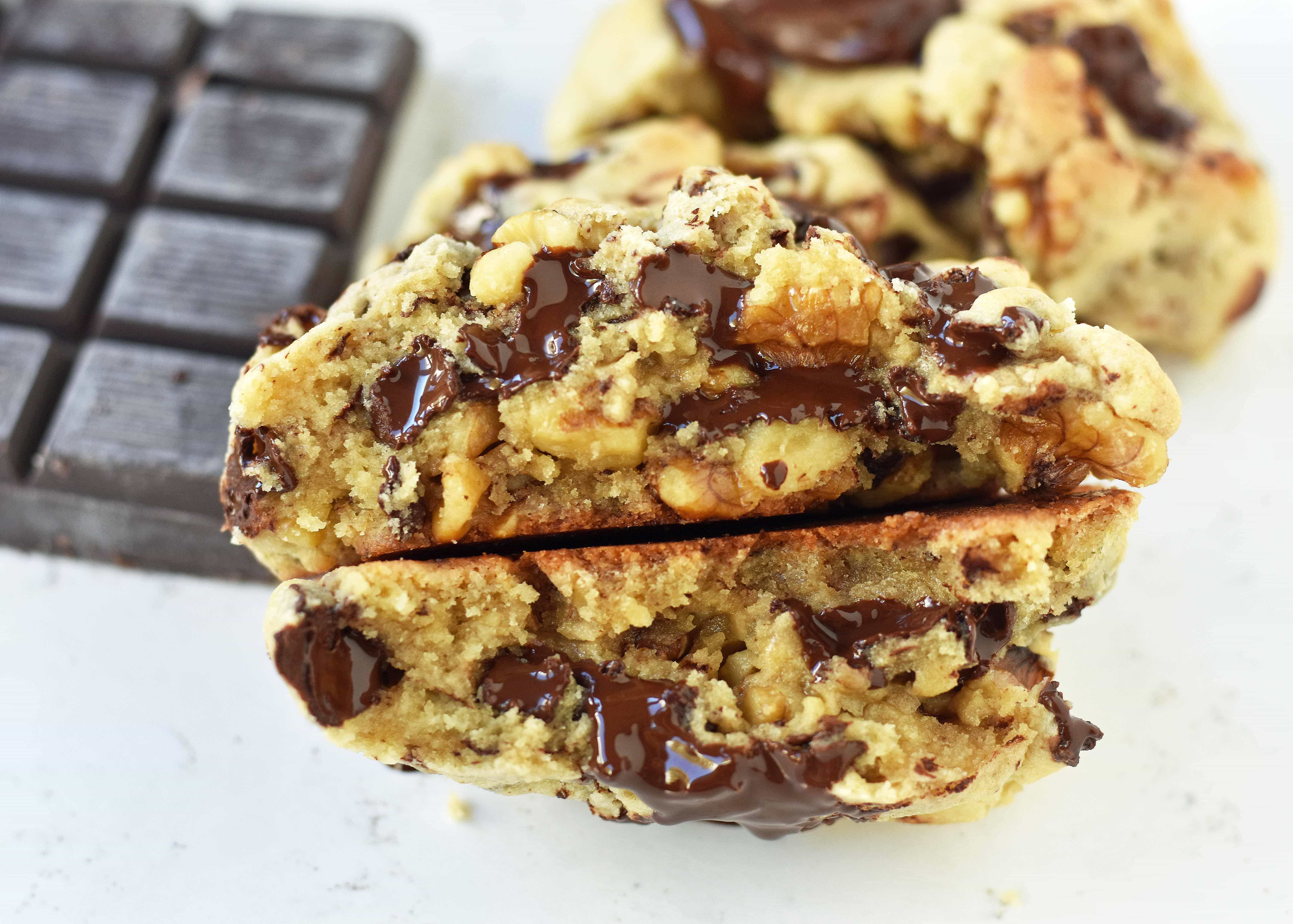 When I won a trip to NYC to film a perfect cookie segment for the Cooking Channel's Perfect 3 Show in the Food Network studios, I went online to seek out the best bakeries in Manhattan. The highest rated cookie was awarded to Levain Bakery and I knew that it had to be mine. Pronto.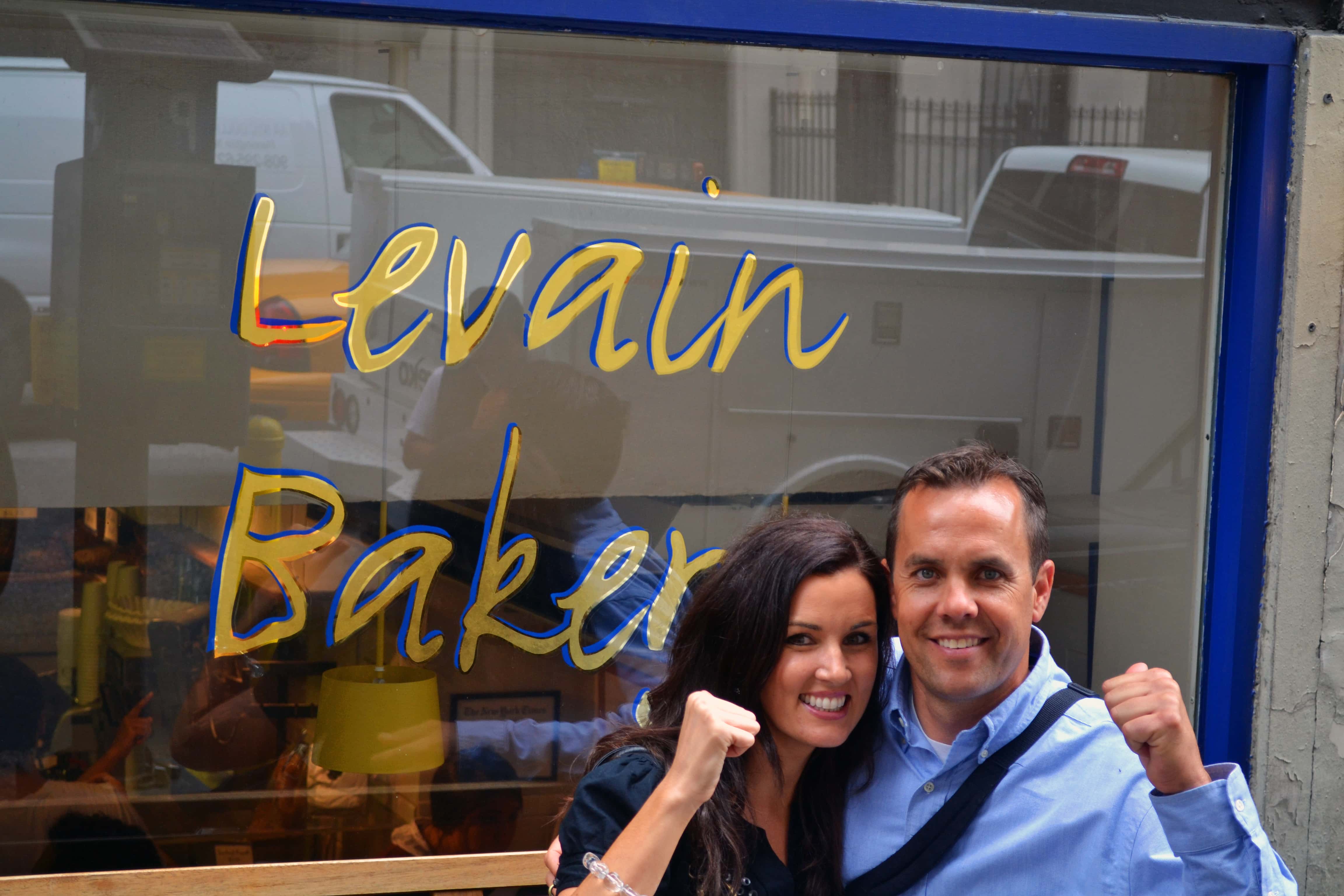 Oh, and it was legit. Legit and different. Unique in such a way that I had to figure out how in the world they did it. I became a mad scientist in the kitchen to figure out the how to make the Famous Levain Bakery Chocolate Chip Cookies.
I developed a massive crush on a cookie.
I have never, ever worked on a recipe as much as this one. Another trip had to be made to NYC in the name of food science to do some more investigative research. A trip to the Truvia Baking Star competition in NYC meant multiple trips to buy my favorite cookie. We rode our bikes in the freezing cold just for that one bite. By the time we arrived, my feet were frozen, but sacrifices have to be made, right?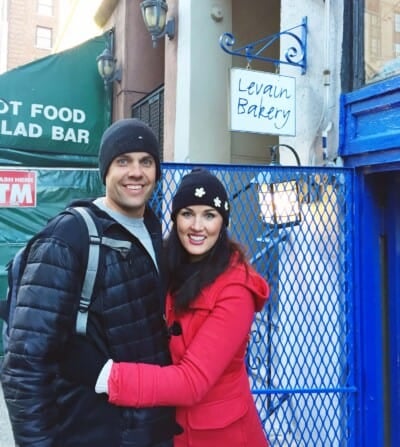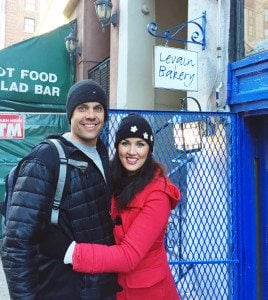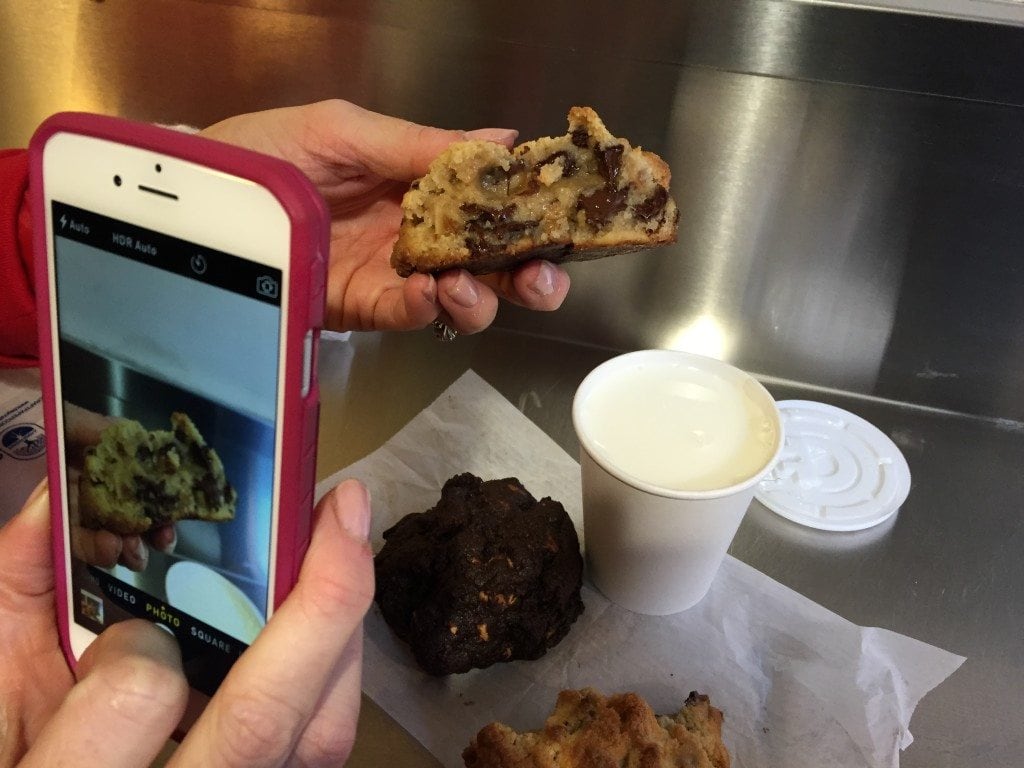 I came home and tweaked some more and then it happened…. that glorious batch was perfection and I finally had it.
I was taught in kindergarten that it's nice to share so that's what I am doing. Sharing my years of experimenting so we can all have Levain at home. It's just the right thing to do.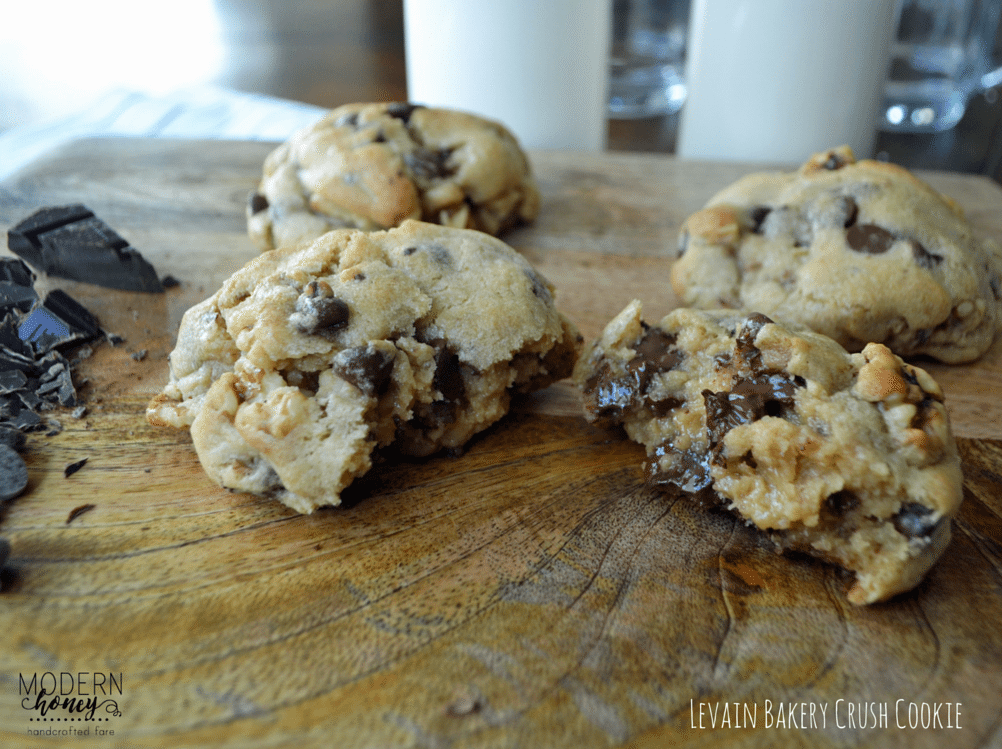 Let's start with the basics.
Use cold butter. Cut into small cubes. Since you are collecting it straight out of the fridge, you need to cut it into small pieces so the butter and sugar can become friends and make a creamy masterpiece. It takes about 4 minutes for them to warm up and become besties.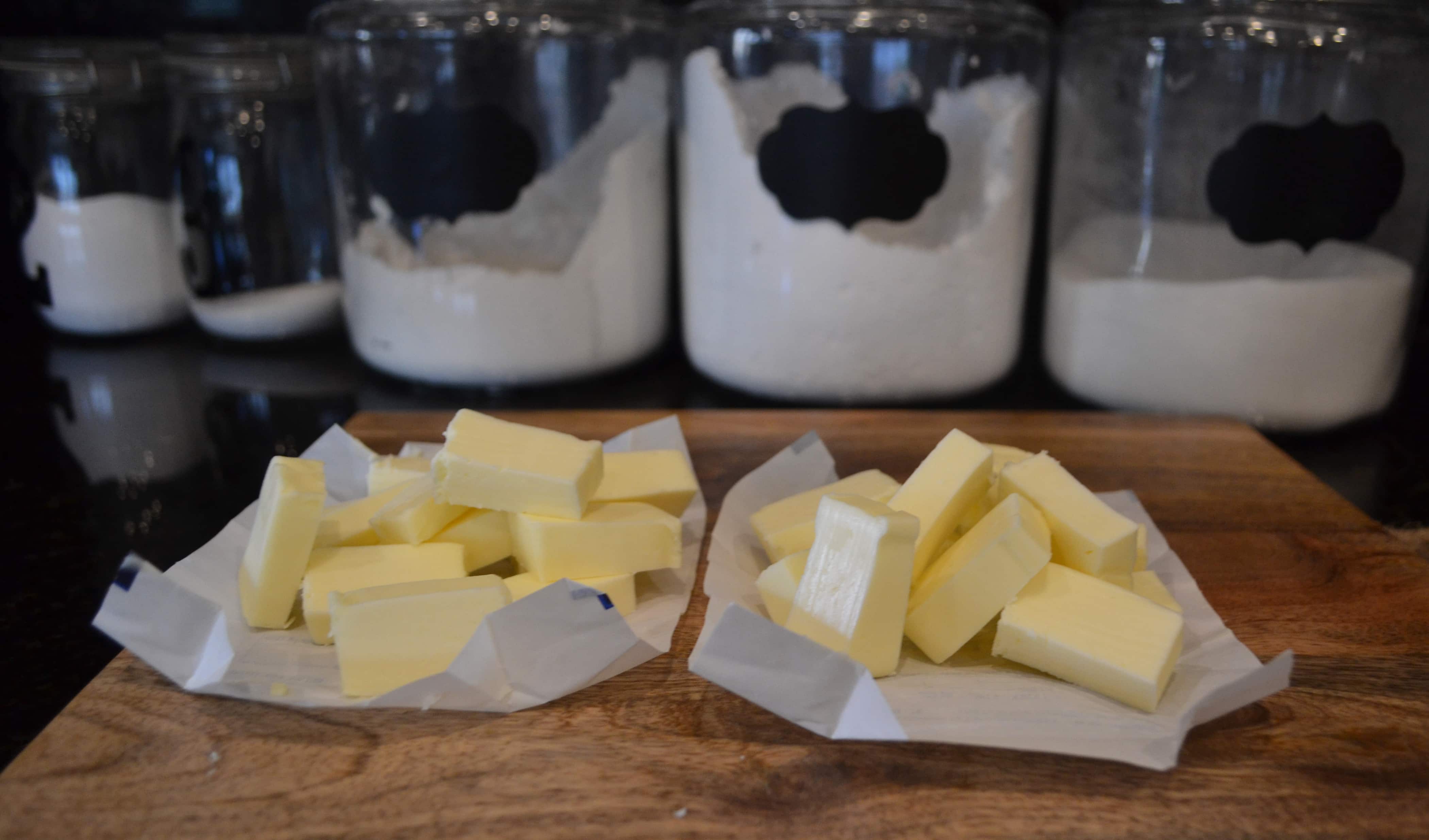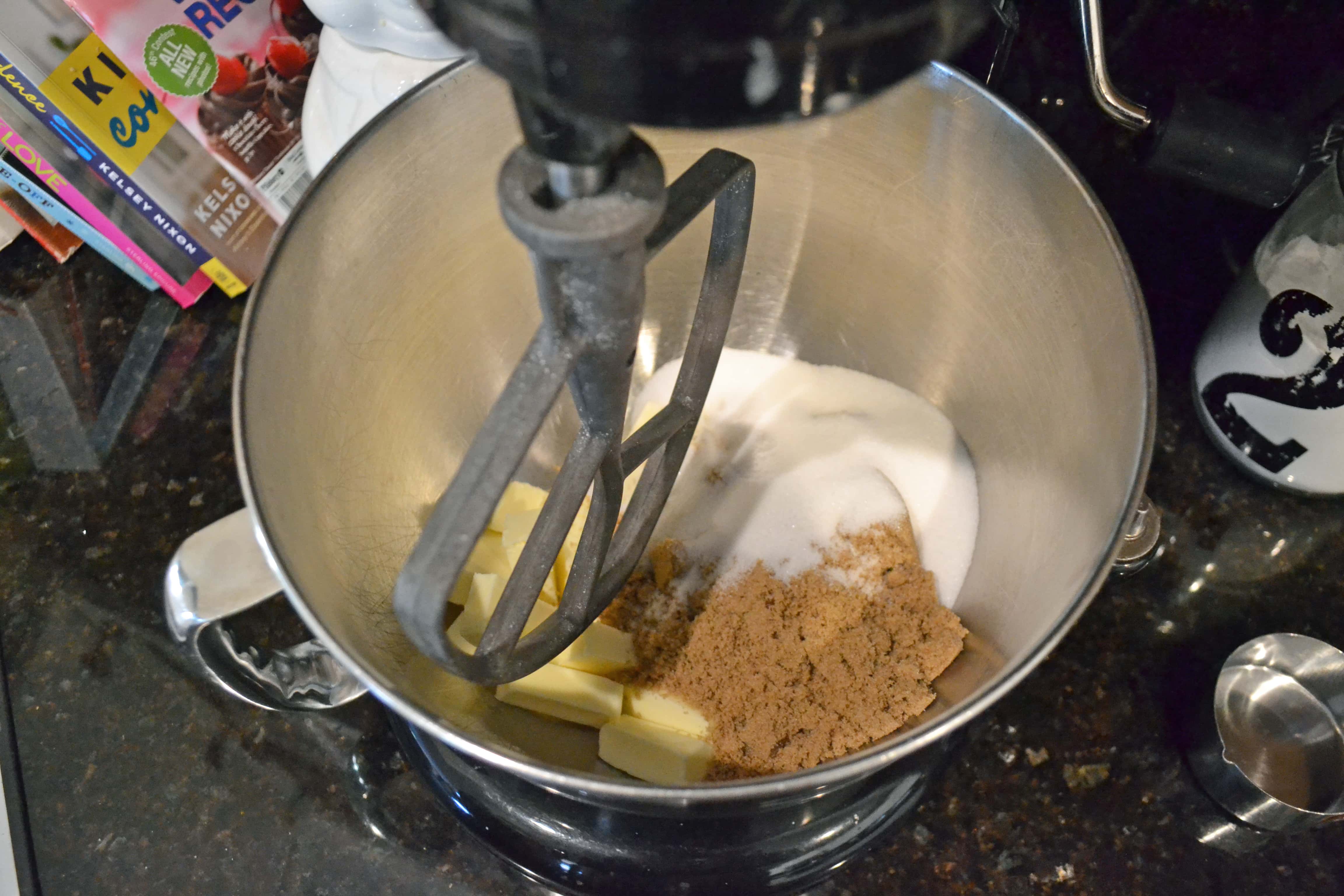 This is where it's all over for me….cookie dough. It's my kryptonite, unfortunately, and I blame my hips on this goodness. Who else loves this stuff?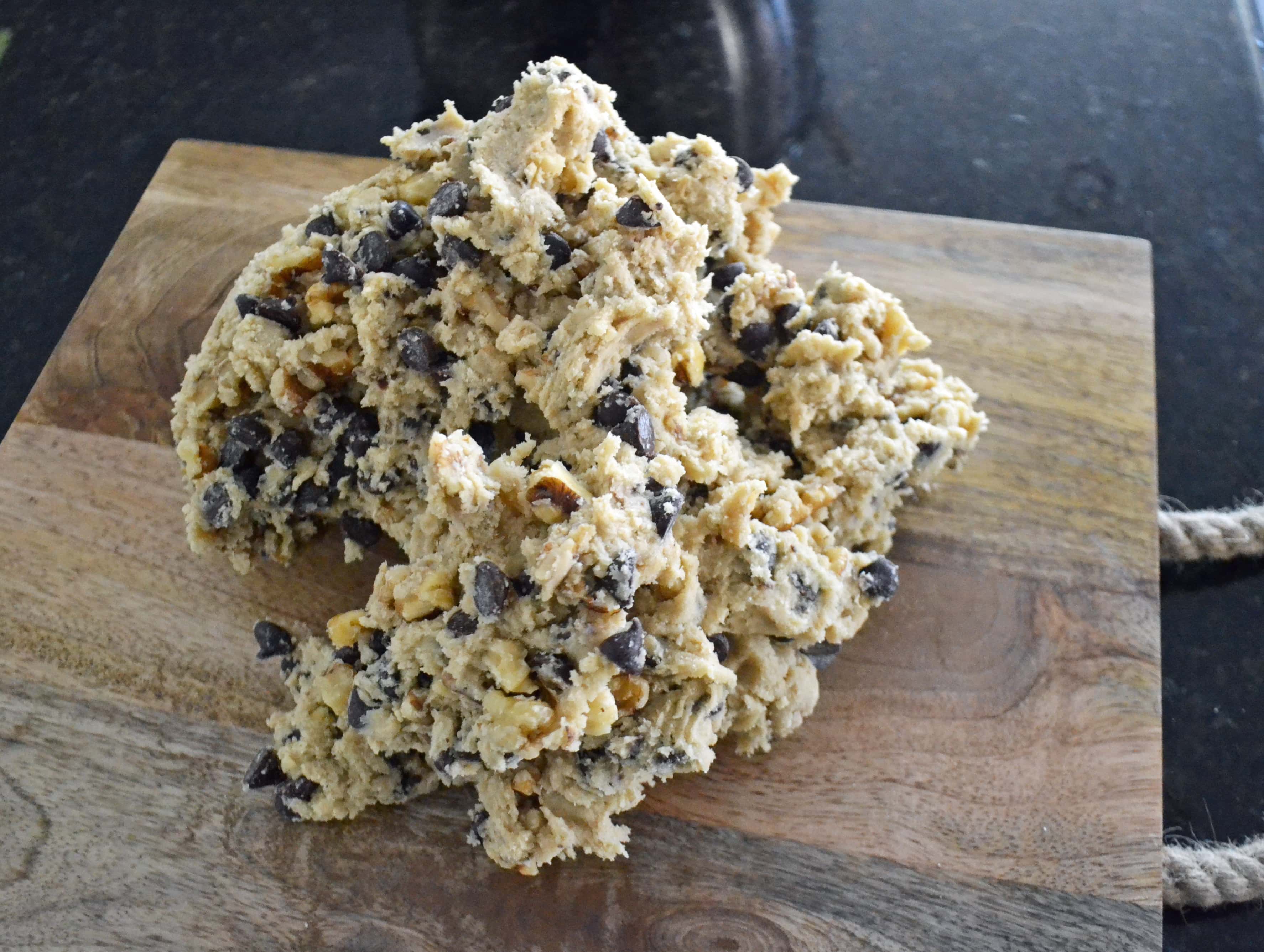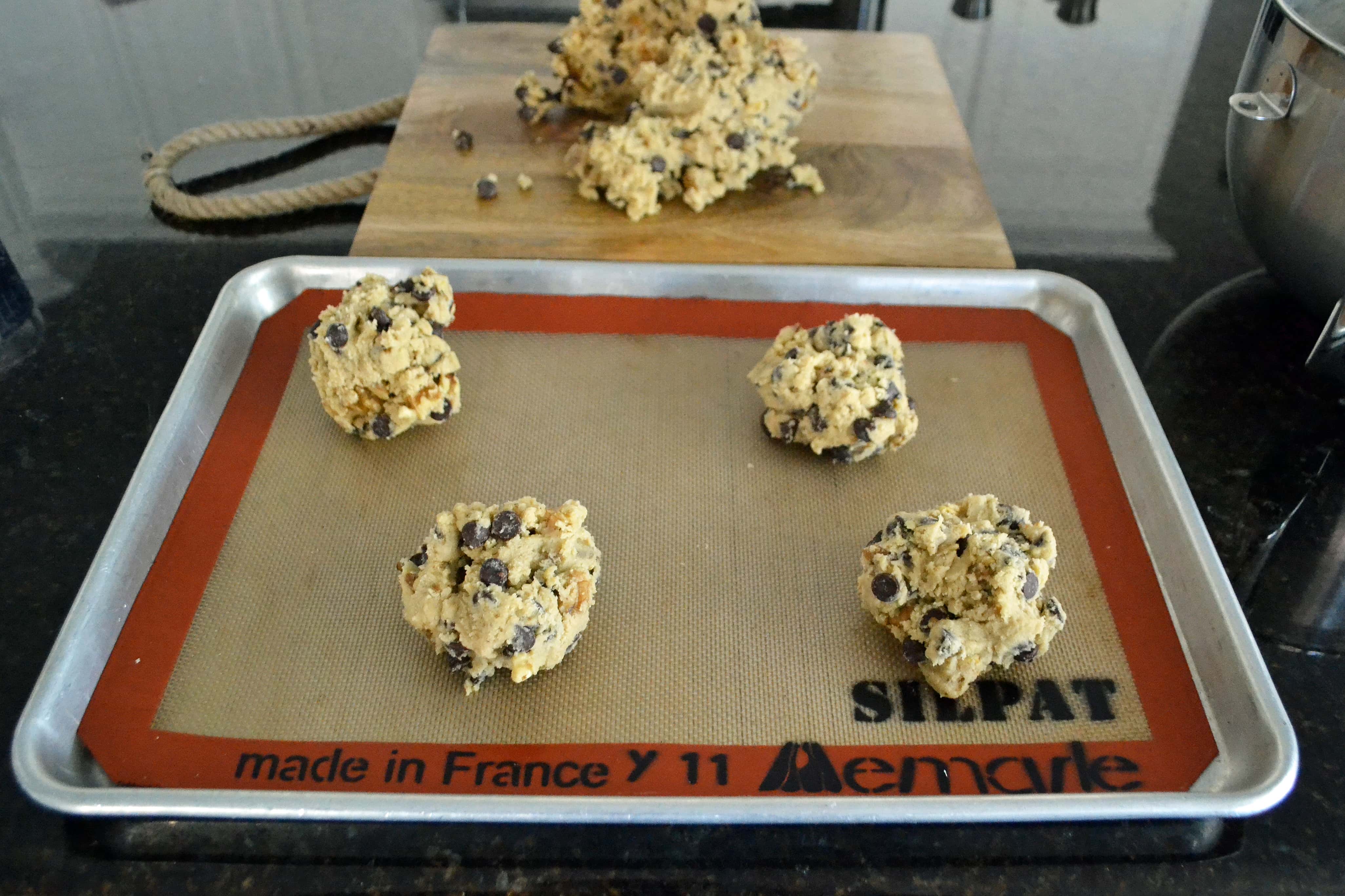 Now, these aren't some ordinary bite-size cookies. No these are a full-on meal. Well maybe for some people. Here's the deal – you make them big. Really big. Like only four can fit on a cookie sheet, BIG. These are the BEST CHOCOLATE CHIP COOKIES EVER. Yep, I said it.
Usually, with thick cookies, they turn out like hockey pucks – cakey messes that hardly resemble a gooey cookie.
This is where these are different. We are going to crank up the heat in the oven to cook the outside quickly and leave that center nice, warm and gooey. As a cookie should be.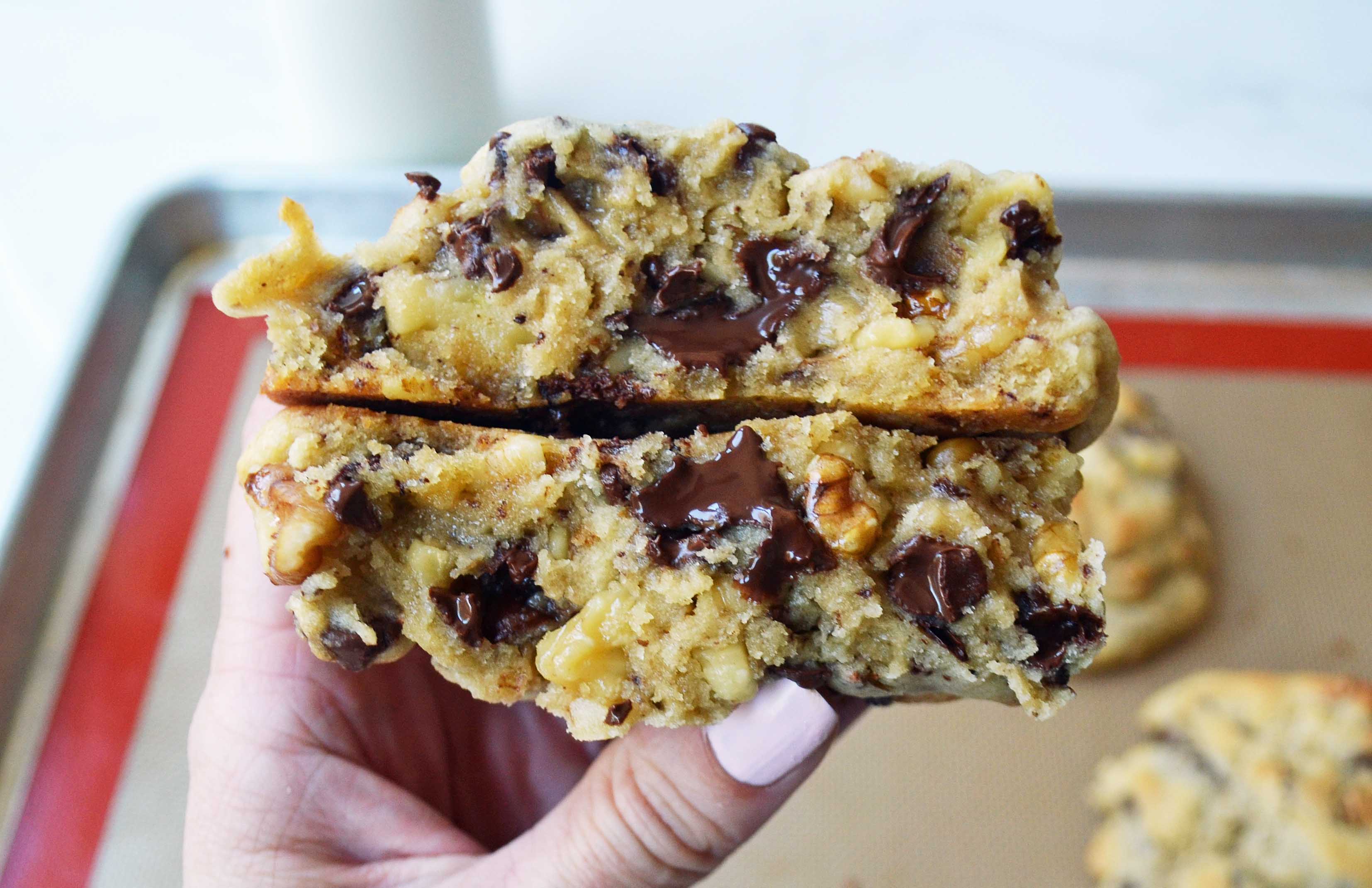 There are a few ingredients and techniques that set these cookies apart. First, you use cornstarch to add thickness without making the cookie dry. It does wonders in these cookies! Using cake flour also lends to a more tender cookie but you can also substitute all-purpose flour. Here's one of my favorite cake flours — King Arthur Cake Flour
I am a huge fan of using nonstick silicone baking mats (Silpat) placed on top of the cookie sheets, which allows the cookies to be easily removed from the pan and to bake nicely. My cousin gave me a set as a gift years ago and I had no idea what I was missing out on! These are ones I have loved —Silicone Baking Sheets – 2 pack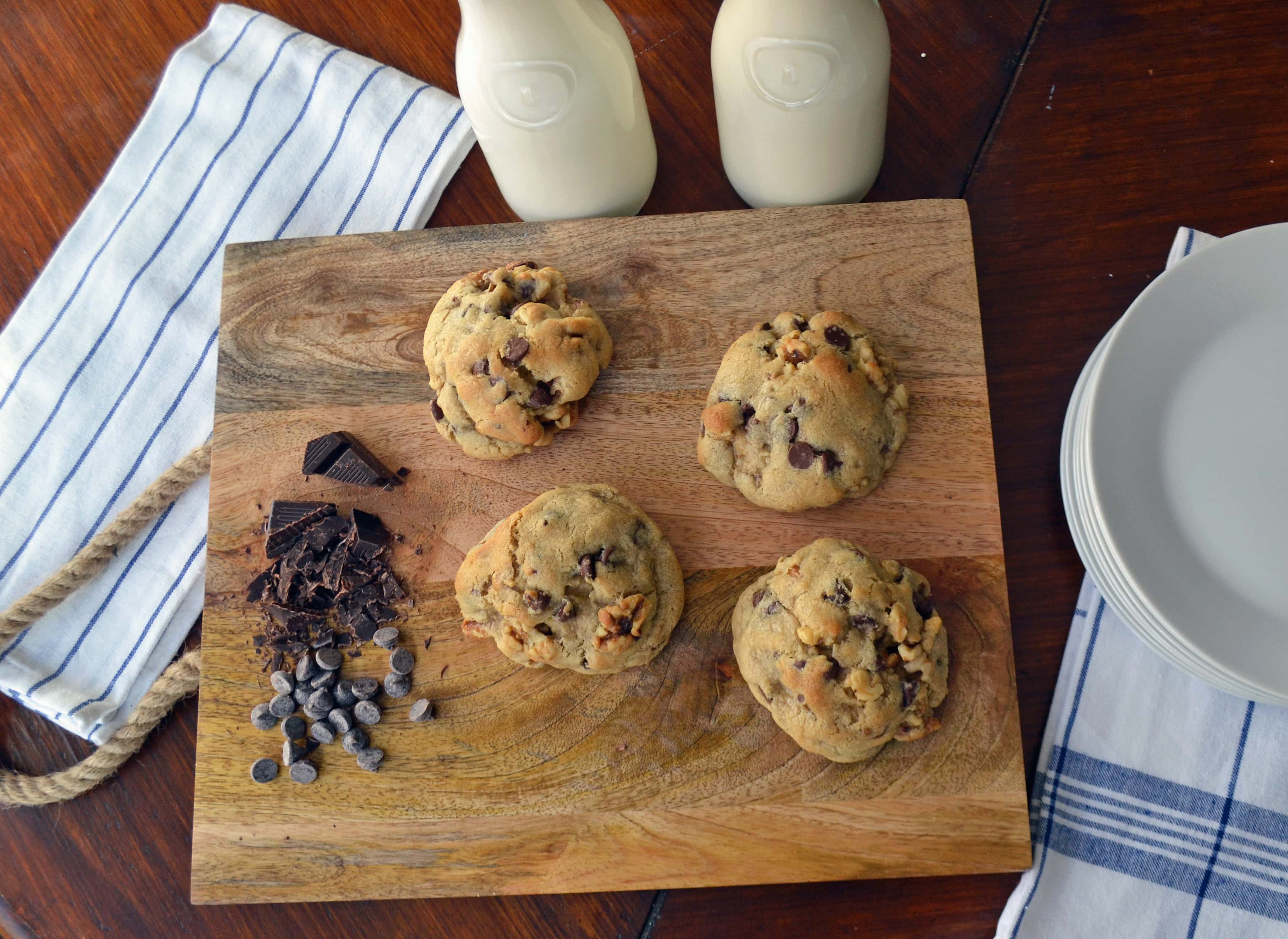 You may want to eat these Levain Bakery Chocolate Chip Cookies the second they come out of the oven, but patience is a virtue and you must exercise some with these cookies. They need to "set up" so give them at least 10-15 minutes before you devour them. The amazing part of these cookies is that they are the only cookies I have ever made that are still cookie perfection even after a few days.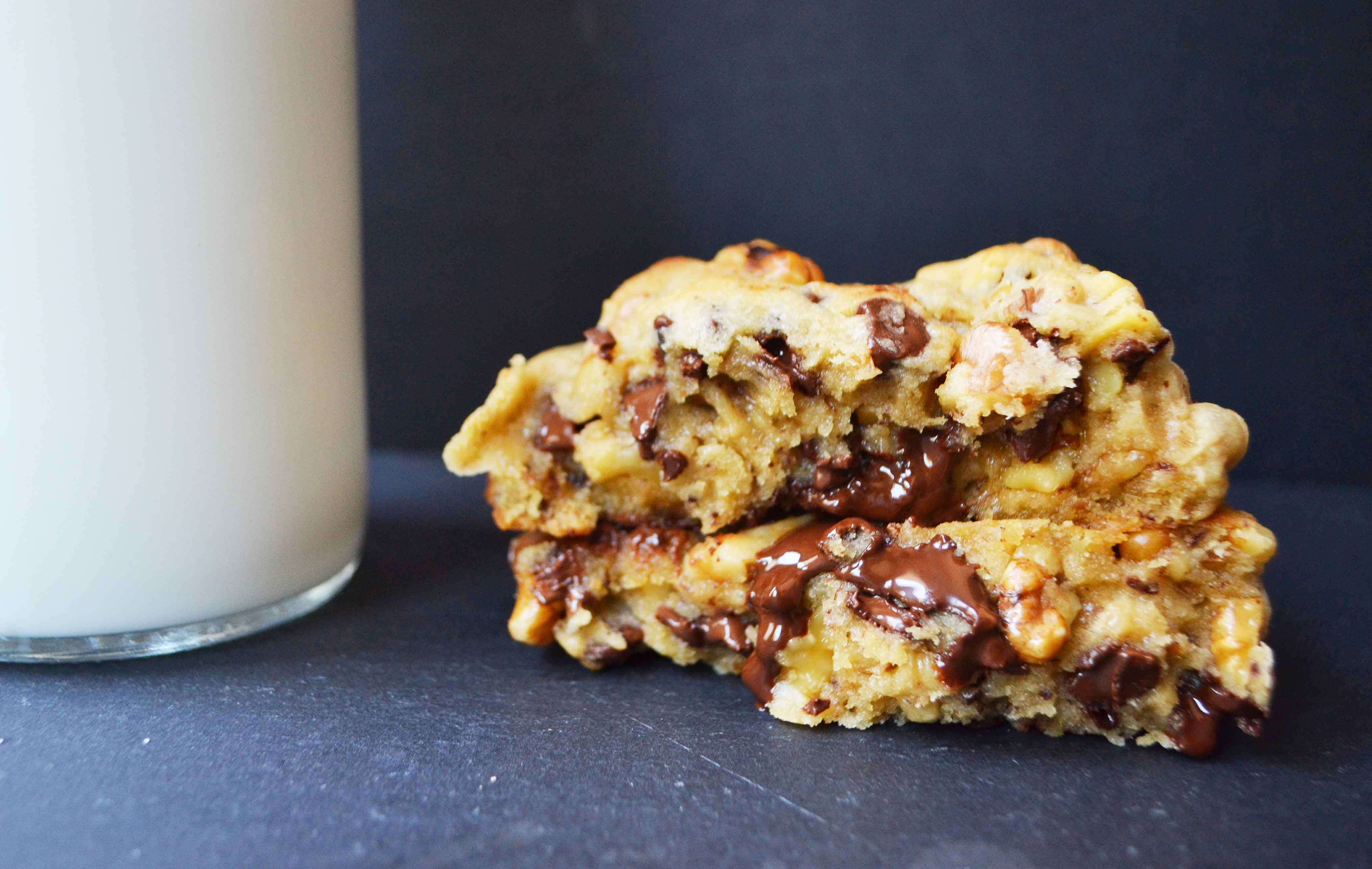 If you LOVE these cookies, you will love these other Levain Bakery copycat recipes:
Pin this now to find it later
Pin It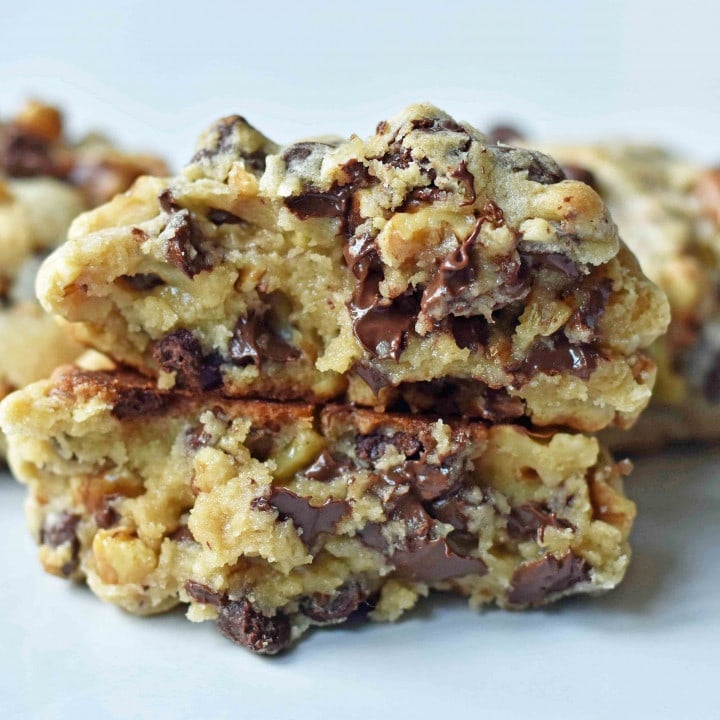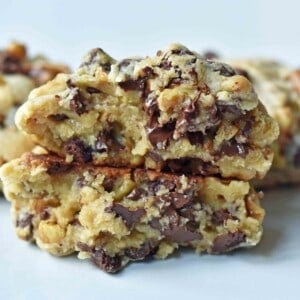 Levain Bakery Chocolate Chip Crush Cookies
The BEST Levain Bakery Chocolate Chip Copycat Cookie Recipe.
Ingredients
1

cup

Cold Butter

cut into small cubes

1

cup

Brown Sugar

1/2

cup

Sugar

2

Eggs

1 1/2

cups

Cake Flour*

1 1/2

cups

Flour

1

teaspoon

Cornstarch

3/4

teaspoon

Baking Soda

3/4

teaspoon

Salt

2

cups

Chocolate Chips

2

cups

Walnuts

roughly chopped
Instructions
Preheat oven to 410 degrees.

In a large mixing bowl, cream together cold cubed butter, brown sugar, and sugar for 4 minutes or until creamy.

Add eggs, one at a time, mixing well after each one.

Stir in flours, cornstarch, baking soda, and salt. Mix until just combined to avoid overmixing. Stir in chocolate chips and walnuts.

Separate dough into large balls and place on lightly colored cookie sheet. They are bigger than you think! You will fit 4 cookies on one large cookie sheet. The dough makes 8 extra large cookies.

Bake for 9-12 minutes or until golden brown on the top. Let them rest for at least 10 minutes to set.
Notes
*can substitute all-purpose flour for cake flour
*Levain Bakery has stated they don't use vanilla extract in their cookies. If you would like to add vanilla extract, I would suggest adding 1 teaspoon when adding the eggs to the batter. 
Nutrition information is automatically calculated, so should only be used as an approximation.
Pin on Pinterest: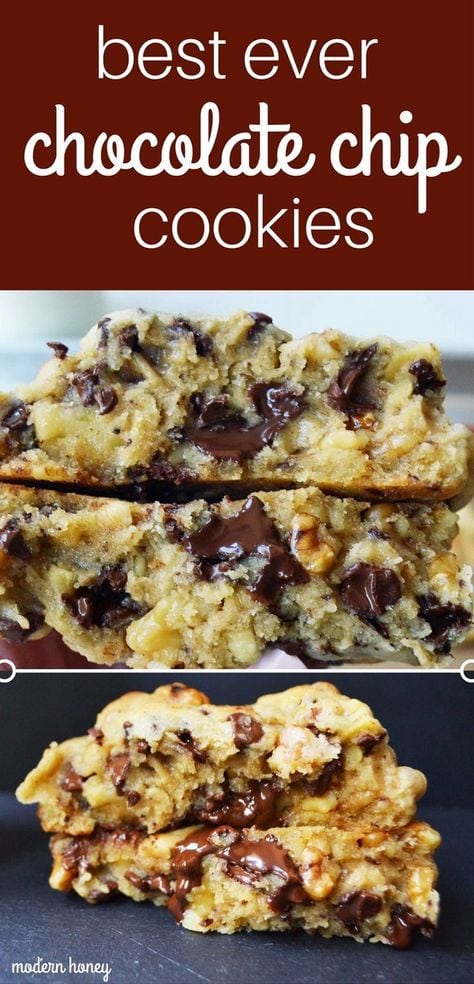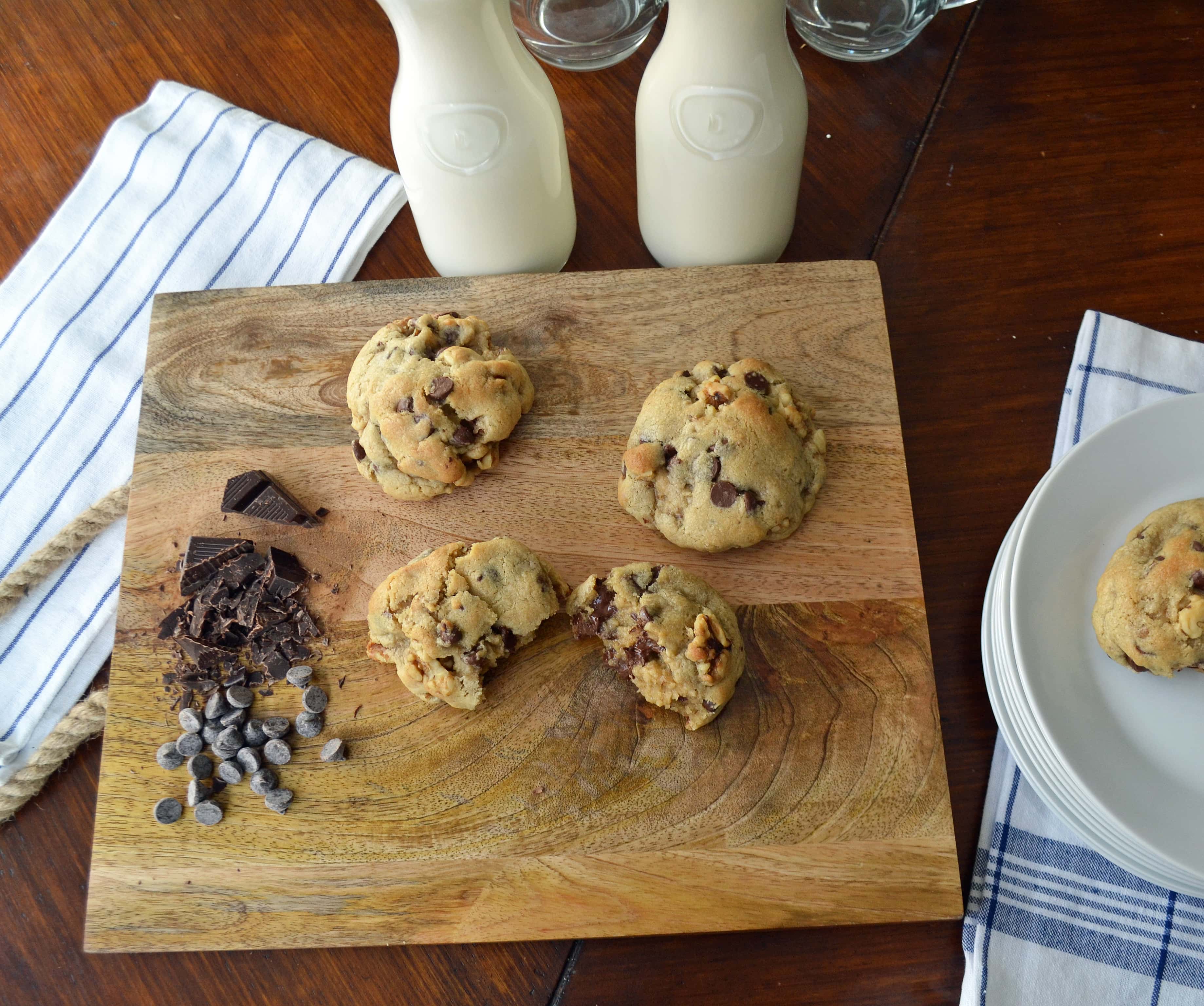 Now go make some Levain Bakery Chocolate Chip Cookies! You need one (or two or three….no judging here) of these warm, gooey cookies, a big glass of cold milk and a to-do list with nothing on it except catching up on Netflix or those cheesy Holiday Hallmark movies that somehow keep playing on my TV.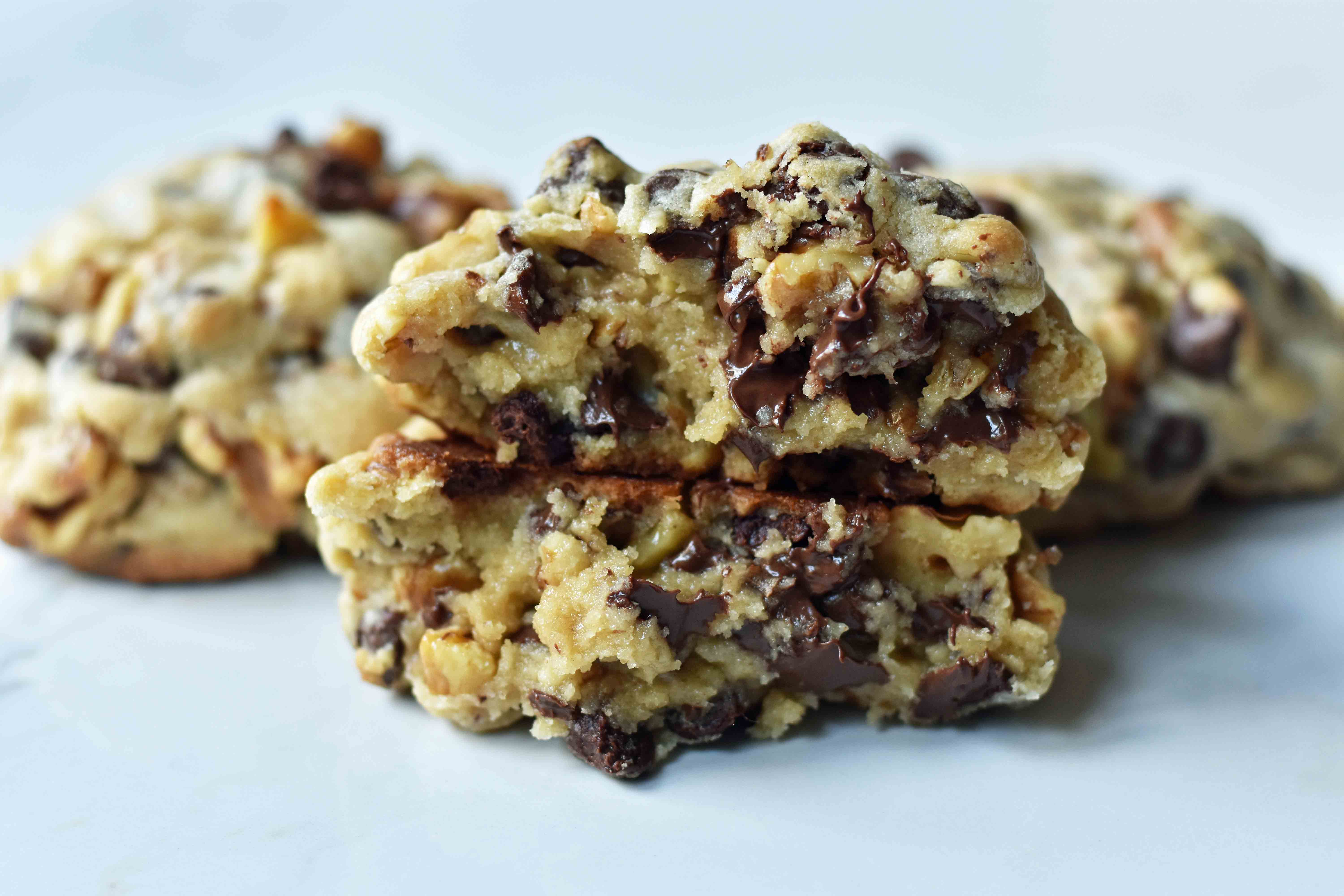 If you are a huge fan of Levain Bakery cookies or just eating the best chocolate chip cookies, you will love my other copycat recipes — Levain Bakery Dark Chocolate Peanut Butter Chip Cookies and Levain Bakery Dark Chocolate Chocolate Chip Cookies.
Come follow me on Facebook, Pinterest, and Instagram.
Happy Baking!