Oatmeal Raisin Cookies 
Soft chewy oatmeal raisin cookie recipe with rolled oats, soft raisins, and a secret ingredient! The famous NYC bakery, Levain Bakery's copycat oatmeal raisin cookie recipe.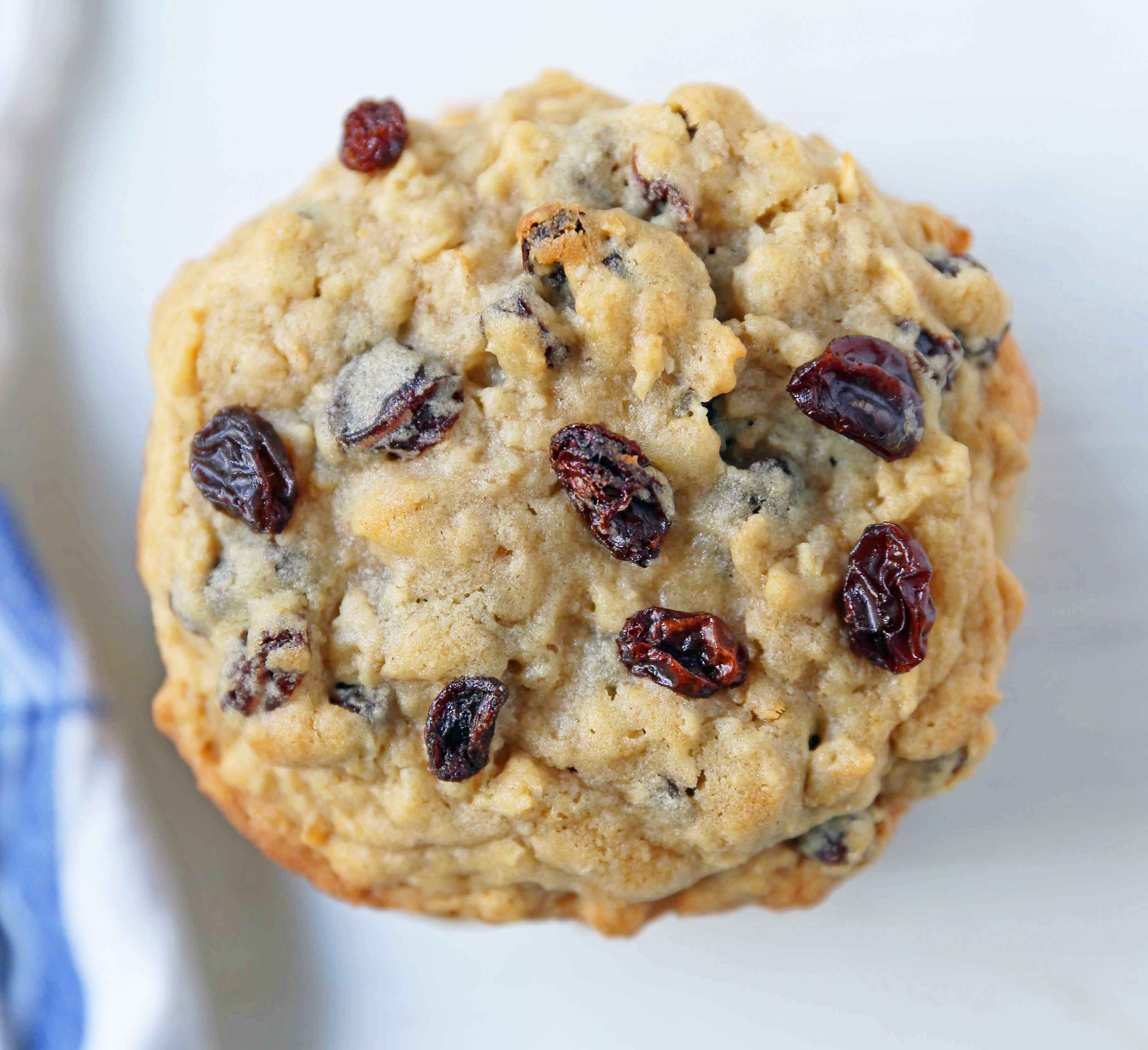 Levain Bakery Oatmeal Raisin Cookies
Levain Bakery is the king of cookies. There is a reason for the constant long line that stretches in front of their New York City bakery. I  fell in love with their cookies and was determined to create a copycat recipe for their famous oatmeal raisin cookies.
The cookies are Levain Bakery are HUGE.  They measure about 6 ounces but you can also make these cookies about 3-4 ounces in size. Large or small, it doesn't matter, because these are the best oatmeal raisin cookies!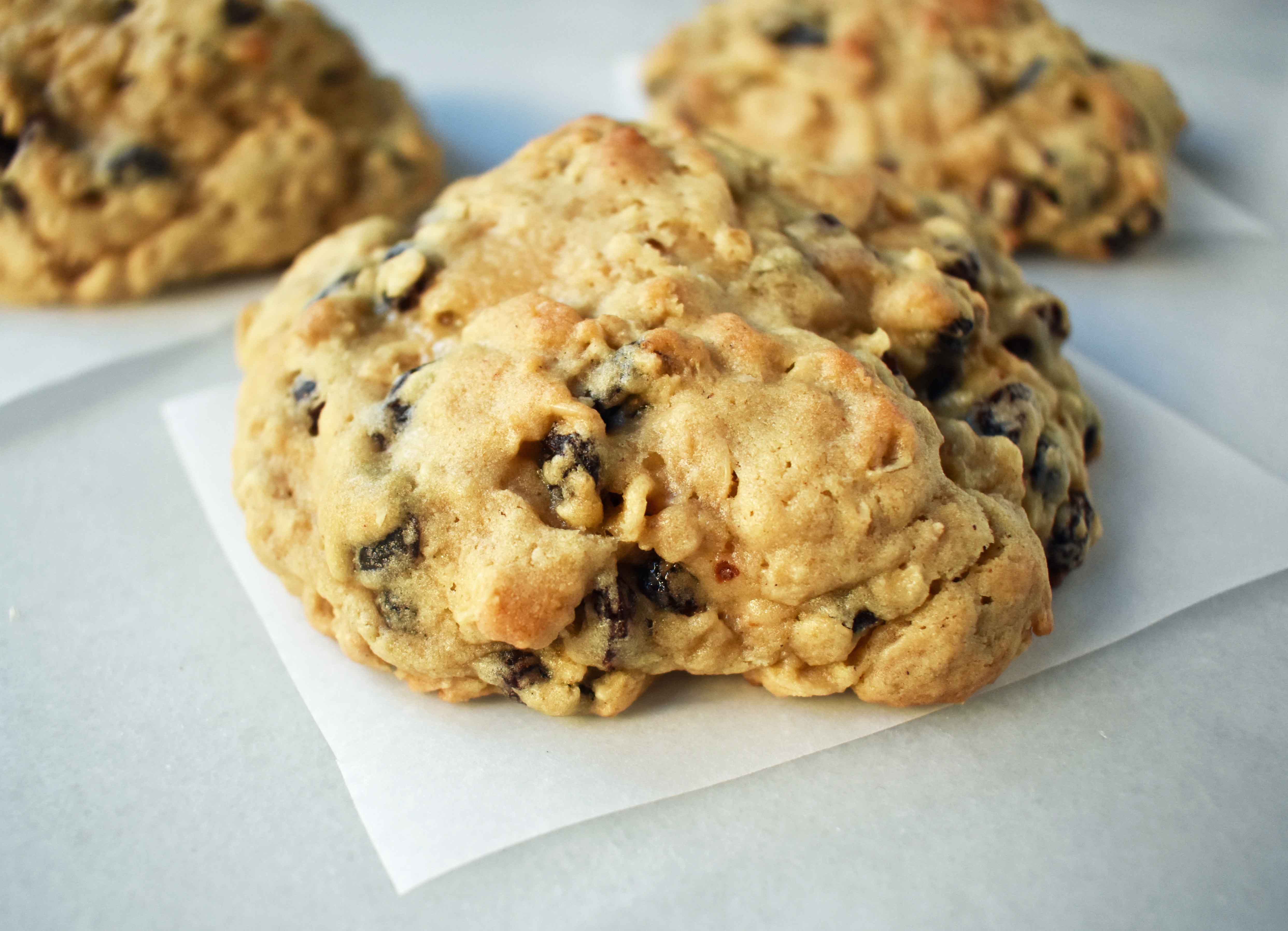 I started with their Levain Bakery Chocolate Chip Cookie and it has been my #1 recipe with a 5-star rating. I couldn't stop there, so I went back to the kitchen to create copycat recipes for their Dark Chocolate Peanut Butter Chip Cookie and Dark Chocolate Chocolate Chip Cookies. As the comments started to come in, people began to beg for their Oatmeal Raisin Cookie recipe.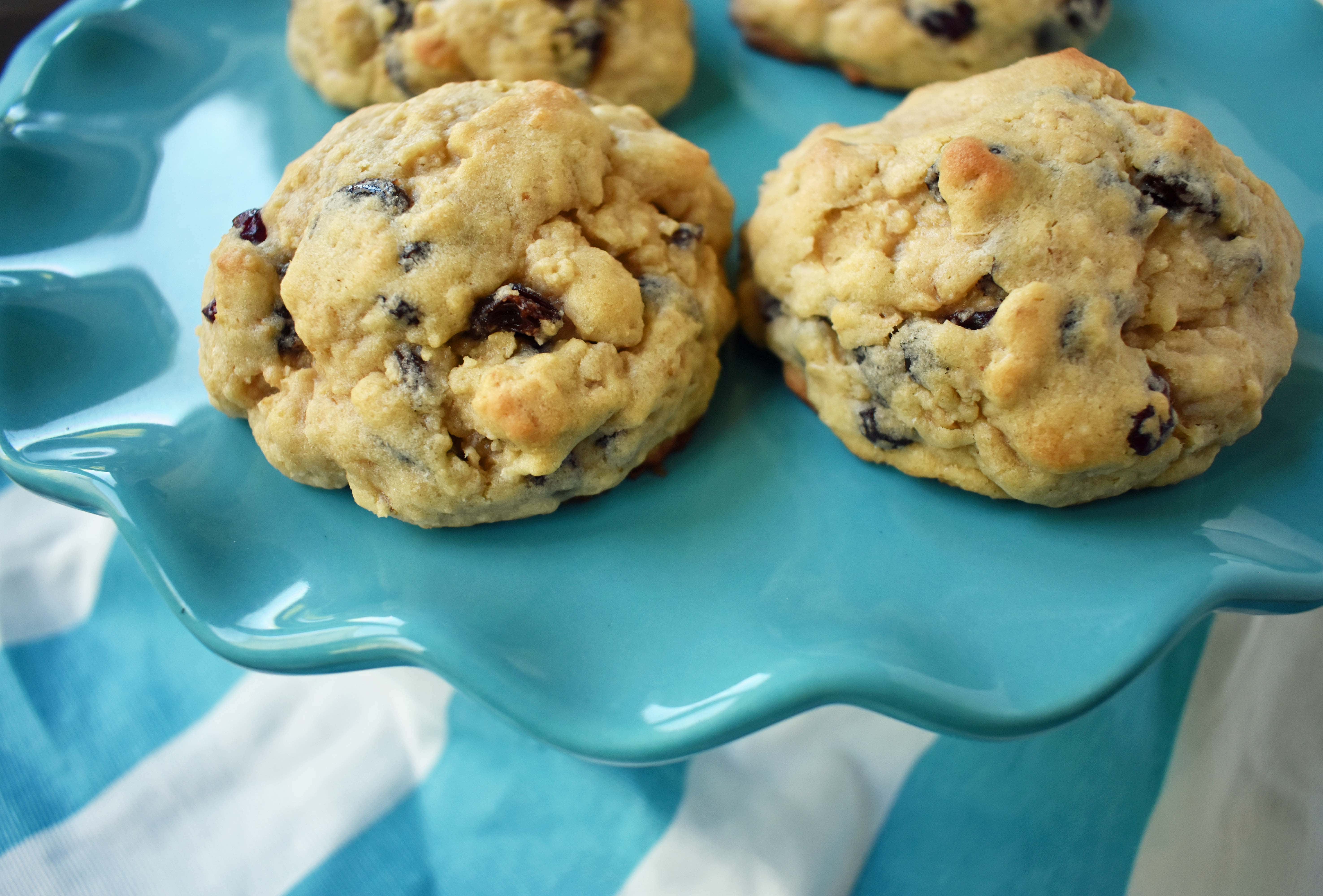 I went back to my kitchen to figure out how to make these extraordinary cookies. Oh boy, I was beyond happy with the results! The texture of these Levain Bakery Oatmeal Raisin Cookies came out perfect with a nice chew to it, a crispy edge, all without being overly sweet. You could almost eat these for breakfast because of their hearty goodness.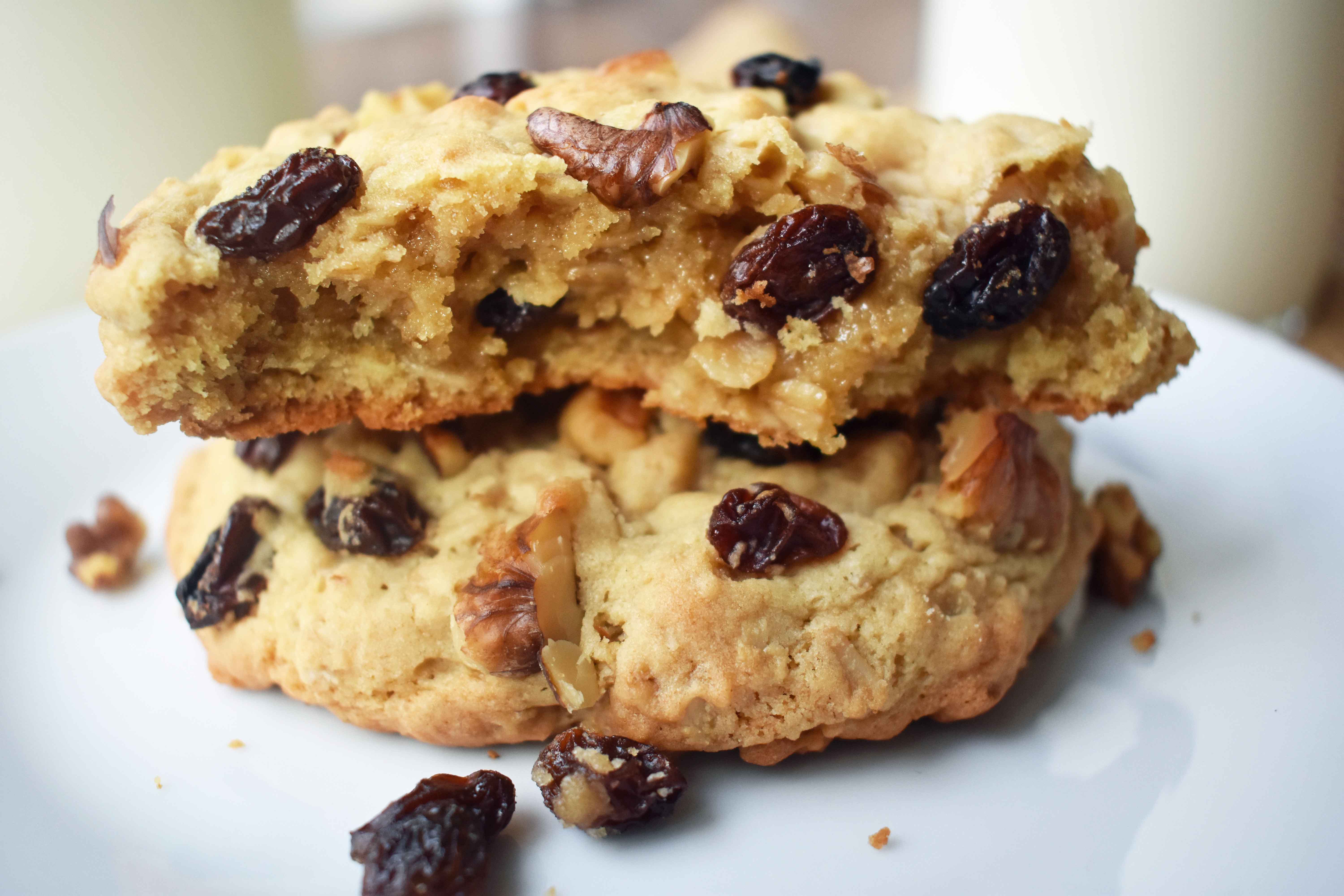 Growing up, my Mama's favorite cookies were always oatmeal raisin cookies. I always tried to convince her that chocolate chips needed to replace the raisins but somehow she always won the battle. She would pull out her big yellow bowl and I would slip on her vintage floral apron.
I was the dedicated "beater licker" and it was always my favorite cookie dough to eat but I would pick out the raisins! To this day, I go crazy over this cookie dough….and now eat the raisins.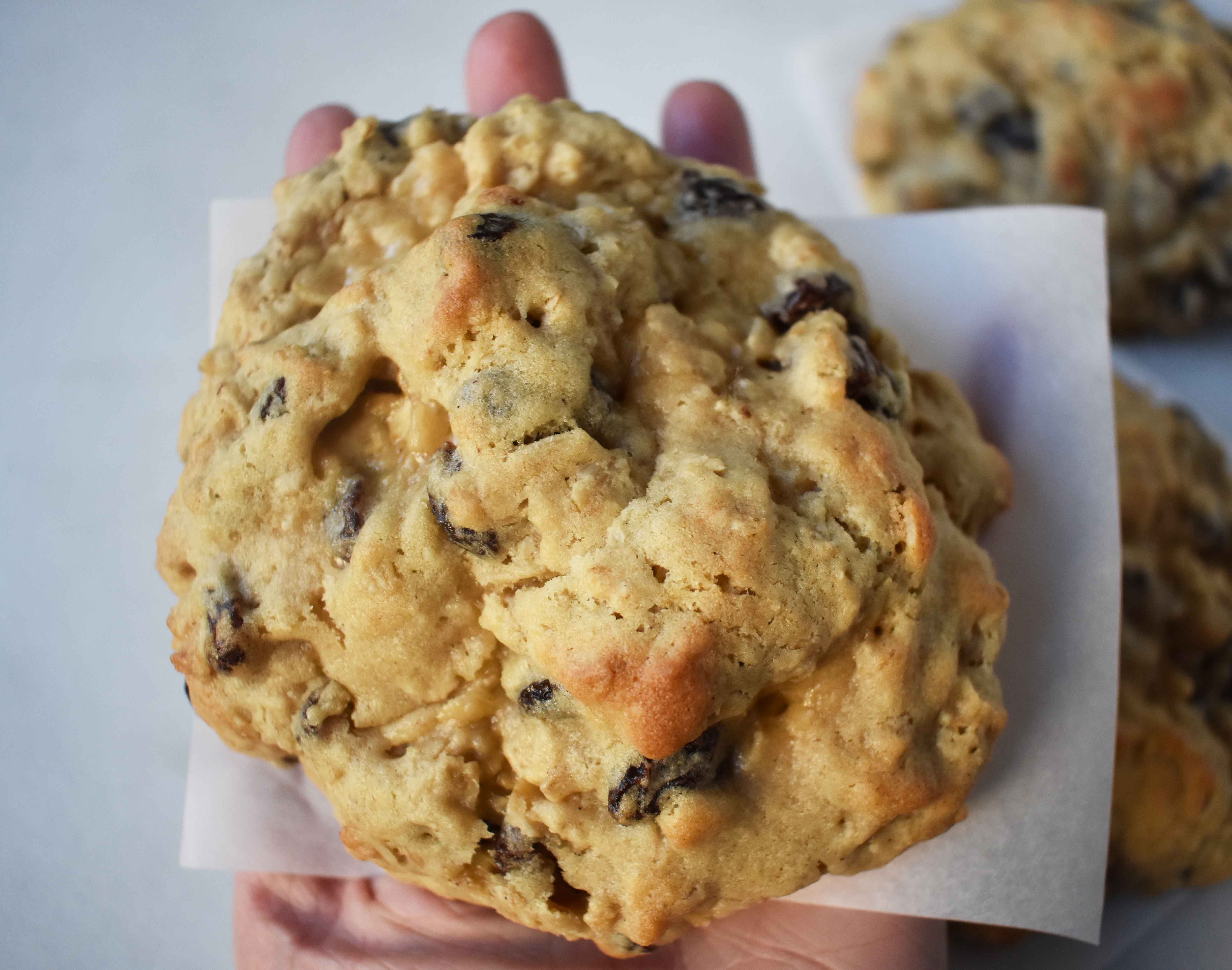 The beauty of the Levain Bakery cookie is that it is thick without being cakey and is the only oatmeal raisin cookie recipe that I have that is still soft and fresh 3 days later. It makes them such a soft oatmeal raisin cookie.  It is the secret ingredient that keeps it that way! These are the best oatmeal raisin cookies.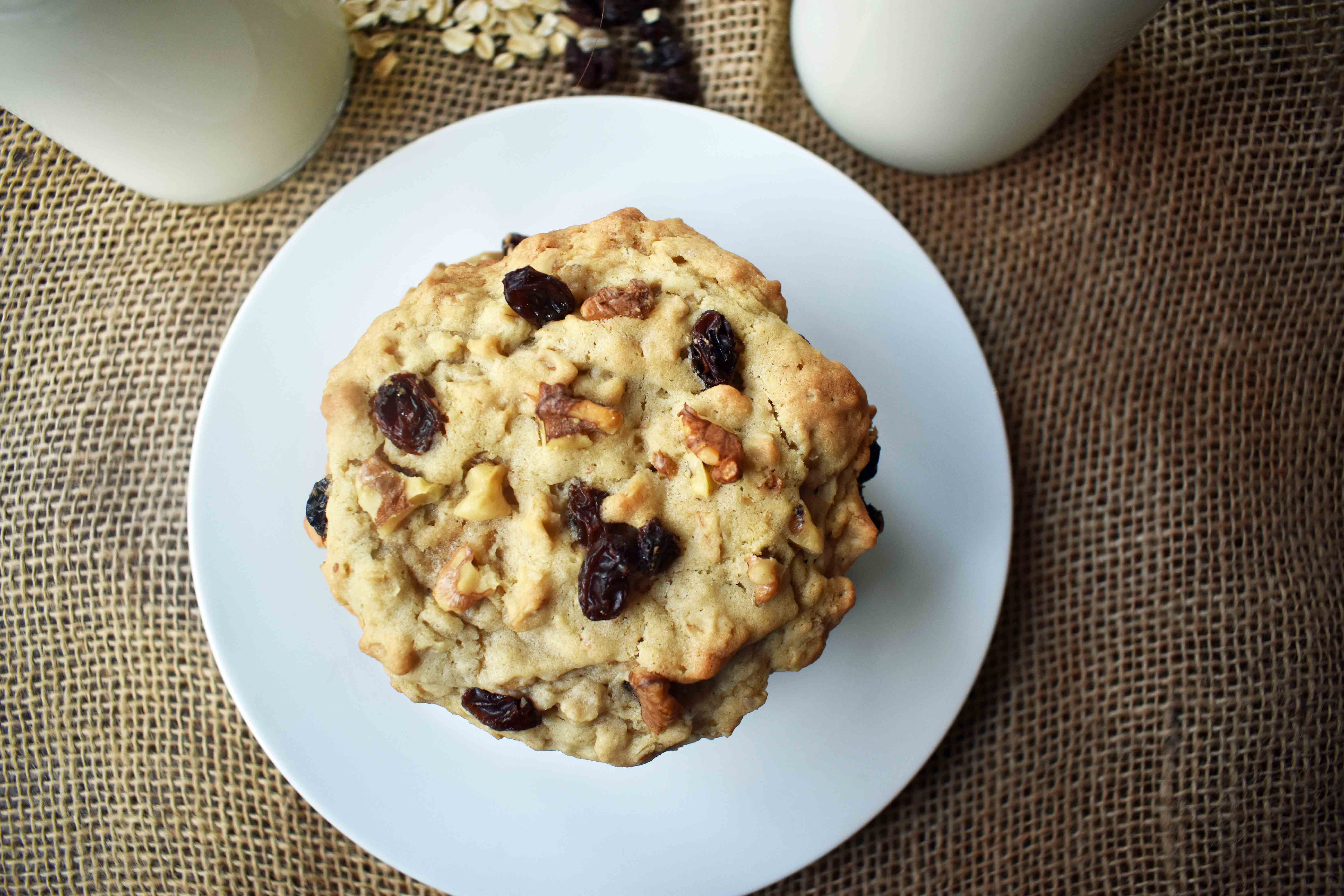 SECRET tips and tricks to make these Levain Bakery Oatmeal Raisin Cookies extra special:
 Use very cold butter. Now, I am not talking about throwing two cubes of cold butter into the mixer and hoping the butter will incorporate into the sugars. Nope. The key is to cut the butter with a knife into small cubes, making it easier to cream with the sugar. Cream for at least 4 minutes on high until light and fluffy.
Use a mix of cake flour and all-purpose flour. Why cake flour? Levain Bakery makes thick cookies without tasting like a scone. When you use cake flour, it creates a more TENDER crumb on the cookie which creates a mouth-watering texture. Click HERE to buy cake flour online.
Another game changer is cornstarch. It also helps to create a soft, tender cookie.
Bake at high heat. You want to shock these Levain Bakery Best Oatmeal Raisin Cookies with high heat so they don't spread too rapidly. It helps them keep their shape and make those crispy edges. Here are my favorite baking sheets — USA Pan Bakeware Half Sheet Pan  or  Nordic Ware Baker's Half Sheet (2 Pack). I love to use Silpat silicone baking sheets. Click for Silpat Brand and or  Artisan Silicone Baking Mat.         You can find all of my favorite kitchen products HERE. 
If you LOVE walnuts, you can add them to the recipe. Levain doesn't include nuts but I sometimes throw them in to make my mama happy.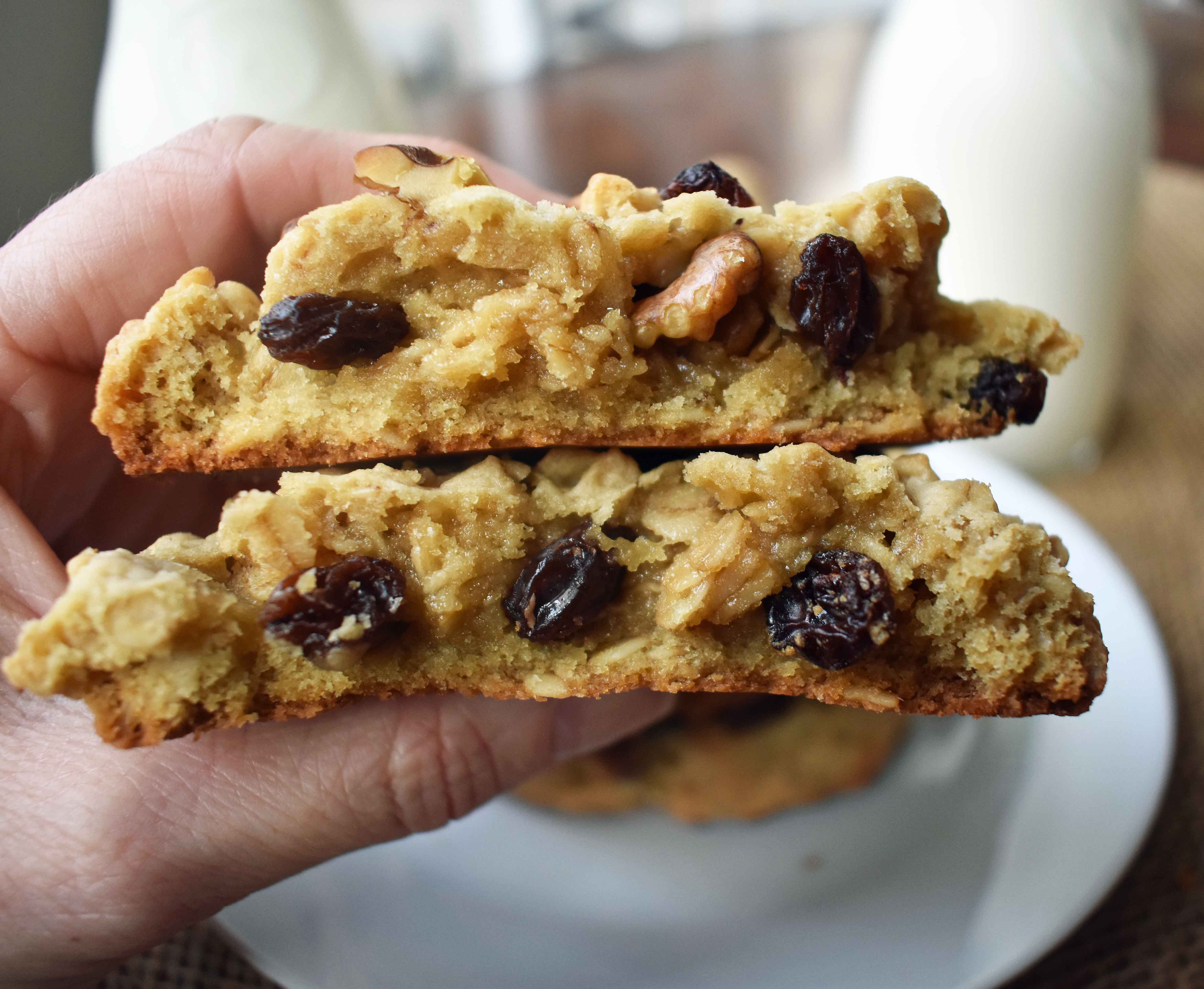 Pin on Pinterest: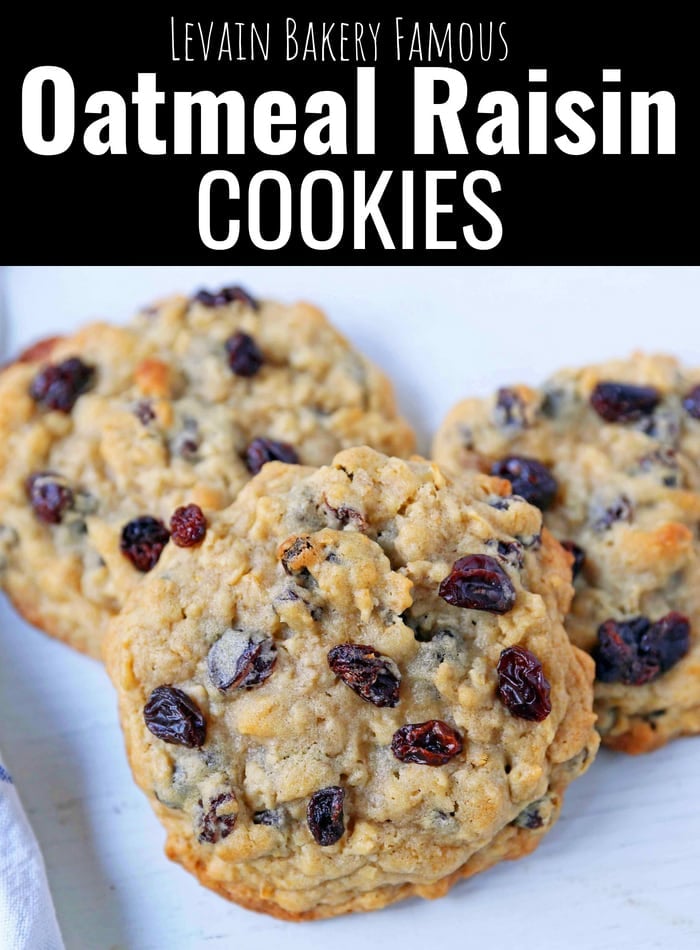 Pin this now to find it later
Pin It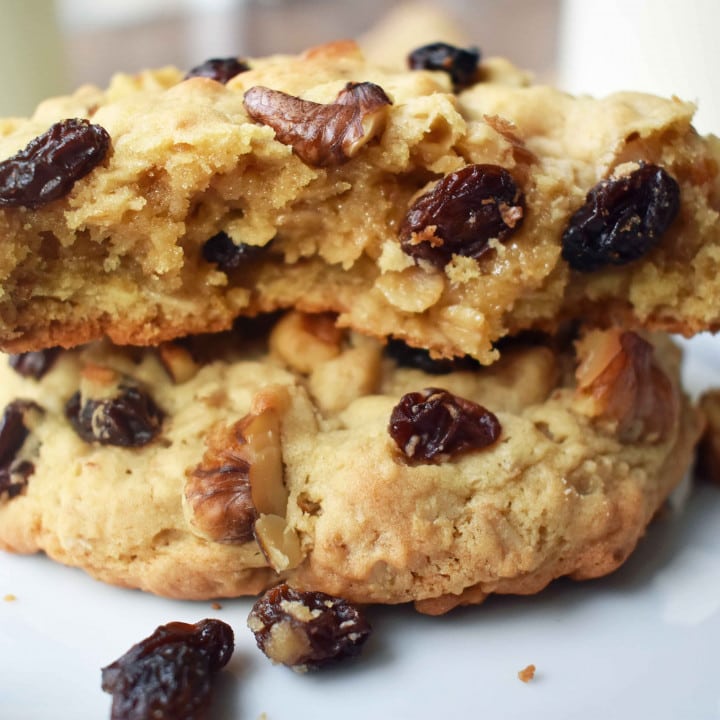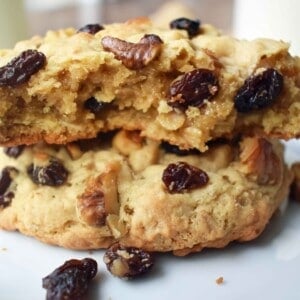 Levain Bakery Oatmeal Raisin Cookie
The ORIGINAL Levain Bakery Oatmeal Raisin Copycat Cookie Recipe. 5 Star Rating.
Ingredients
1

cup

Cold Butter

cut into cubes

1

cup

+ 2 Tablespoons Brown Sugar

1/2

cup

Sugar

2

Eggs

2

cups

Flour

1/2

cup

Cake Flour

1 1/2

cup

Rolled Oats

1

teaspoon

Cornstarch

3/4

teaspoon

Baking Soda

1/2

teaspoon

Salt

1/2

teaspoon

Cinnamon

1 1/2

cups

Raisins

1

cup

Walnuts

chopped (OPTIONAL)
Instructions
Preheat oven to 410 degrees.

In a large bowl, cream together cold butter and sugars until light and fluffy, about 4 minutes. Add eggs one at a time, mixing well after each addition.

Add cake flour, all-purpose flour, oats, cornstarch, baking soda, salt and cinnamon and stir until combined. Stir in raisins and walnuts (optional).

Chill dough for 15 minutes.

Separate dough into large balls and place on lightly colored cookie sheet. Lightly press on top of dough to smooth out. If you have a scale, you can make them anywhere from 4.5 ounces - 6 ounces. You will fit 4-6 cookies on one large cookie sheet. The dough makes 8-12 extra large cookies.

Bake for 9-11 minutes or until golden brown on the top. Let them rest for at least 10-15 minutes to set.
Nutrition information is automatically calculated, so should only be used as an approximation.
Since I created these copycat Levain Bakery Oatmeal Raisin Cookie Recipe, my kids keep begging me to make them. I never in a million years would think that my kids would beg for cookies with raisins in them! Miracles do happen. Keep on sharing the LOVE with your friends. Thank you for your amazing support! Find me on INSTAGRAM at @modern_honey
Happy Baking! xo