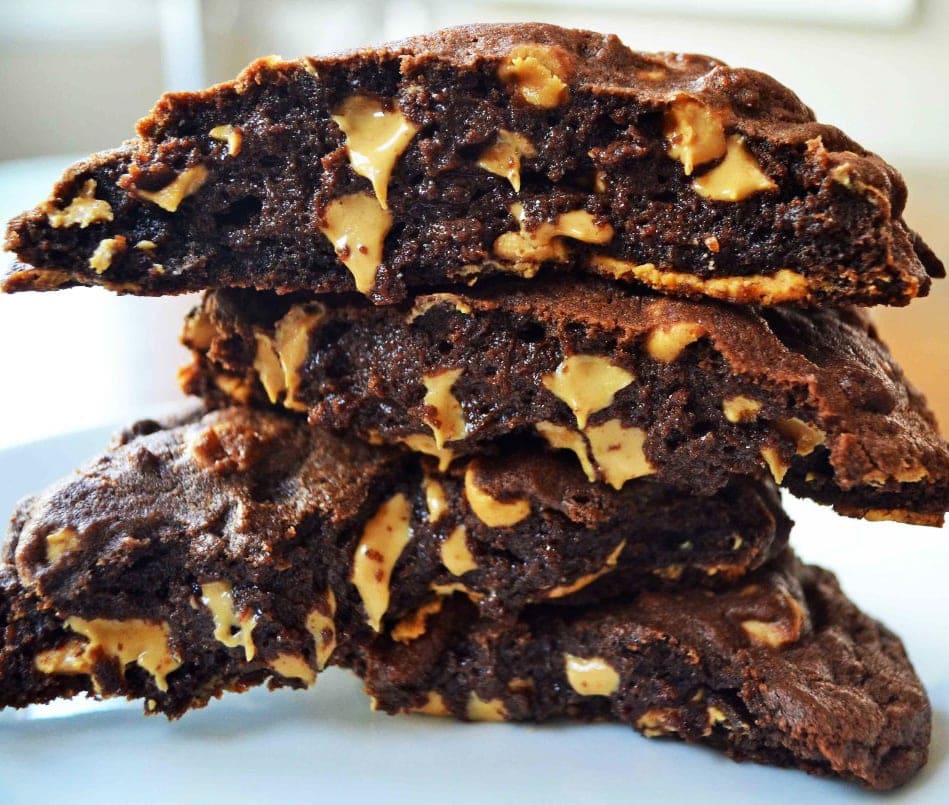 Chocolate Peanut Butter Cookies
The best Levain Bakery chocolate peanut butter chip copycat cookie recipe
I just arrived home from the Big Apple at 2:30 am New York City time and couldn't wait another minute to share this recipe with you!
These Levain Bakery Dark Chocolate Peanut Butter Chip Cookies will knock your socks off… I promise you!
People may think I am lying but I swear it's the truth, this cookie is dang good.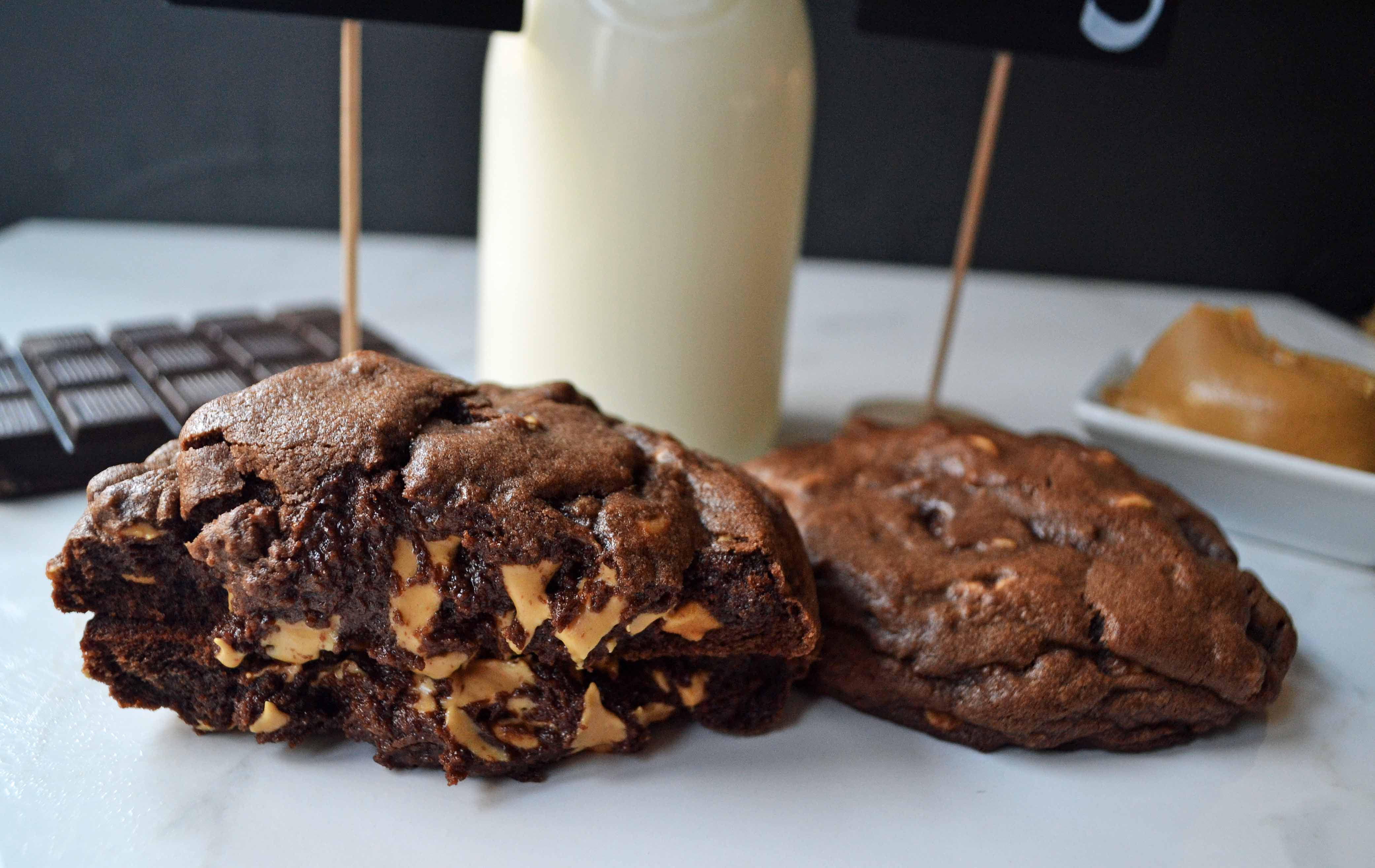 My husband and I decided to do something BIG for our daughter's 16th birthday. She's a sweet girl who is super low-maintenance, so we wanted to completely surprise her with an epic trip to New York City.  And of course, the majority of the trip revolved around food. Duh, I am a food blogger for a reason!
My kids LOVE food too but my this daughter is a real health nut and chooses her sweets carefully. However, a visit to Levain Bakery was high on the list for this girl.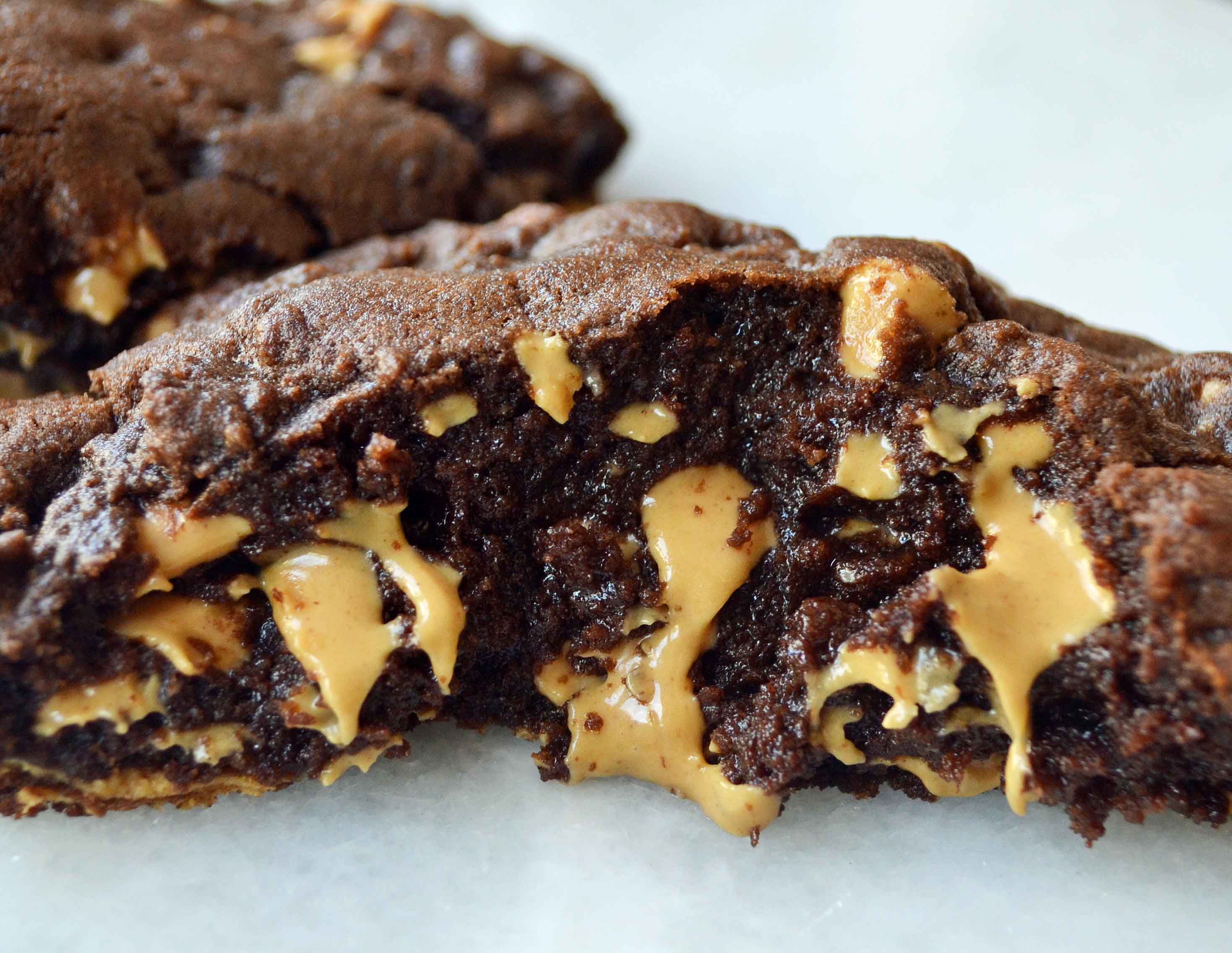 As we rode our bikes to the bakery and peered around the corner of 74th Street and Broadway, we saw the line was at least 50 people deep. If you've never been to Levain Bakery, you would be amazed to see how tiny the storefront is for this very popular bakery. The day we arrived, our time was limited so we couldn't brave the line. But there was always the next day and we were determined! We had to exercise some serious patience!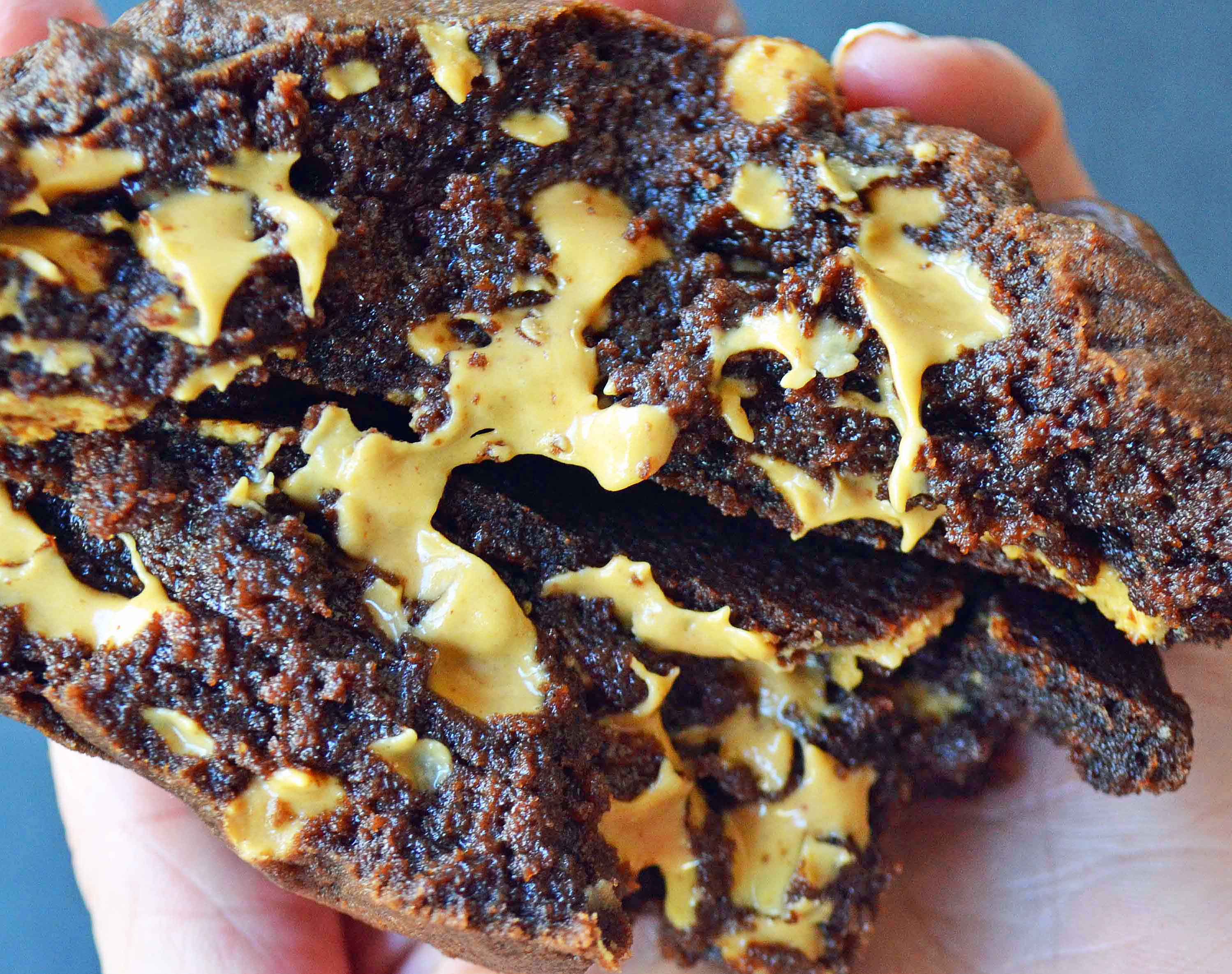 Monday morning we tried again and were pleasantly surprised to see a much shorter line. Hallelujah! We purchased our Chocolate Chip and Dark Chocolate Peanut Butter Chip Cookies, which by the way cost $4 each, and sat on the bench and devoured them. I must have studied the cookies for what seemed like forever to my kids, who just wanted to take a bite of them for the very first time. I had to remind them it's all about the research!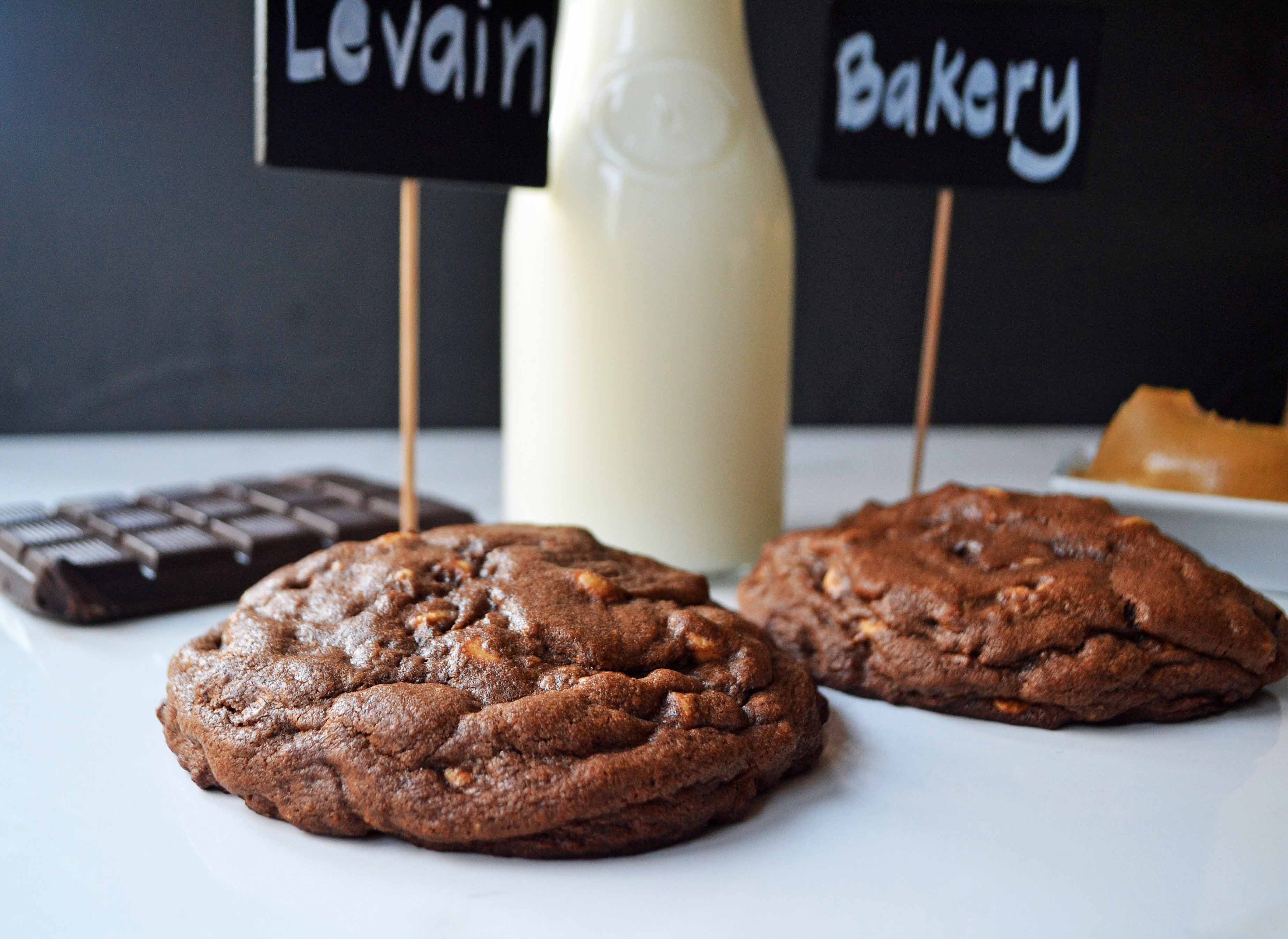 My kids have been taught to be brutally honest about food because they are my ultimate taste testers. As they opened up their warm cookie and took a bite, they said that the cookies tasted just like mine. Oh, happy day!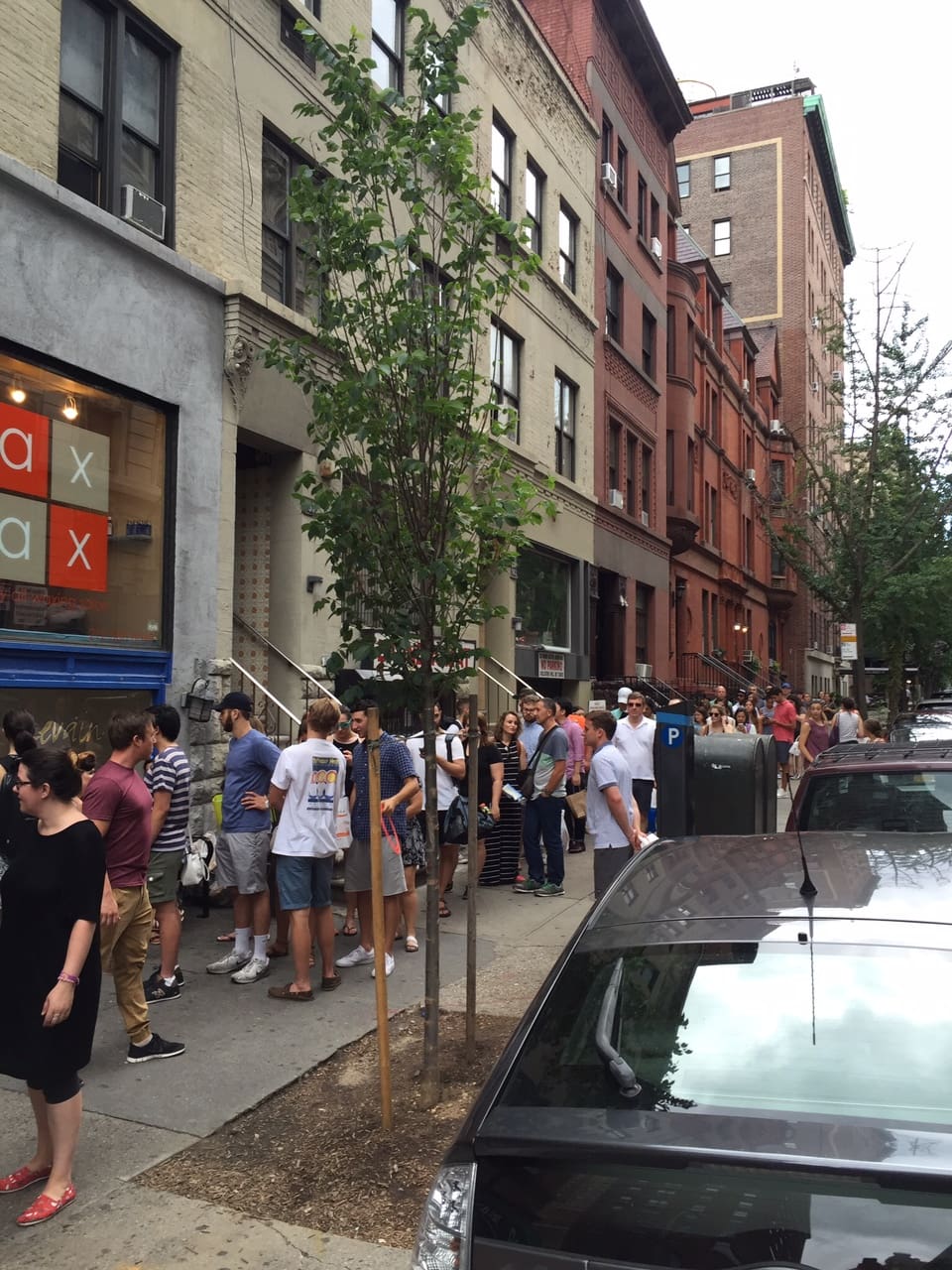 Here's my original Levain Bakery Chocolate Chip Cookies if you haven't tried them yet — Levain Bakery Copycat Chocolate Chip Cookies  If you can't just hop on a plane and fly to NYC yet want to make Levain Bakery cookies at home, well then I am here to help you. Here are my Levain Bakery Copycat Dark Chocolate Chocolate Chip Cookies and Levain Bakery Copycat Oatmeal Raisin Cookies .
Helping people is good. We should all help people.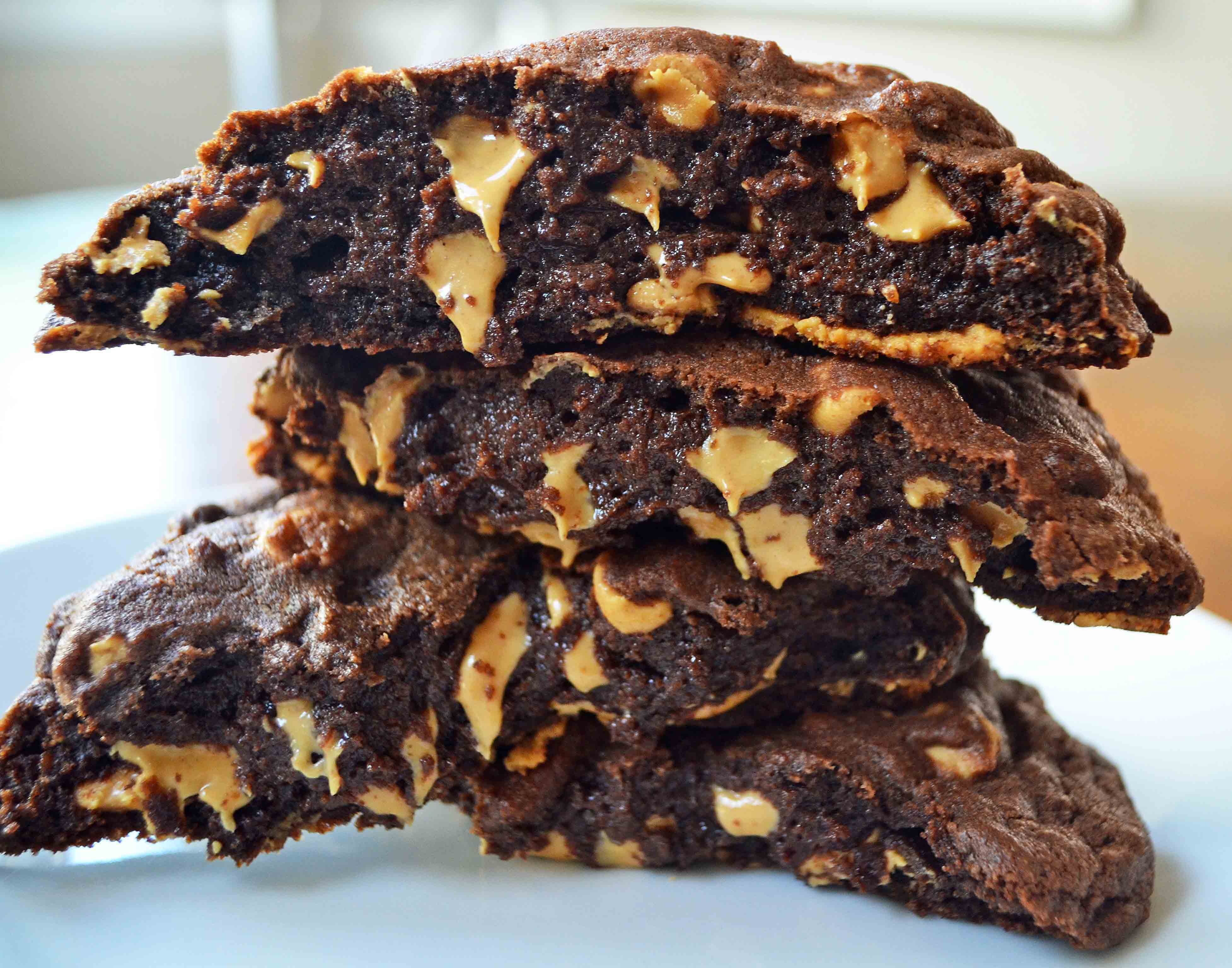 So I am sharing the recipes that I have spent months tweaking in order for all of us to have fabulous Levain Bakery Cookies at home.
Let's clap our hands together!
Levain Bakery is LEGIT and no joke with their cookies. Since I had already tweaked and experimented with my own copycat version of their ever so popular Levain Bakery Chocolate Chip Cookie, it was time to go for the chocolate. There are small things that set these apart from just any ordinary chocolate cookie and I am sharing my baking secrets with you!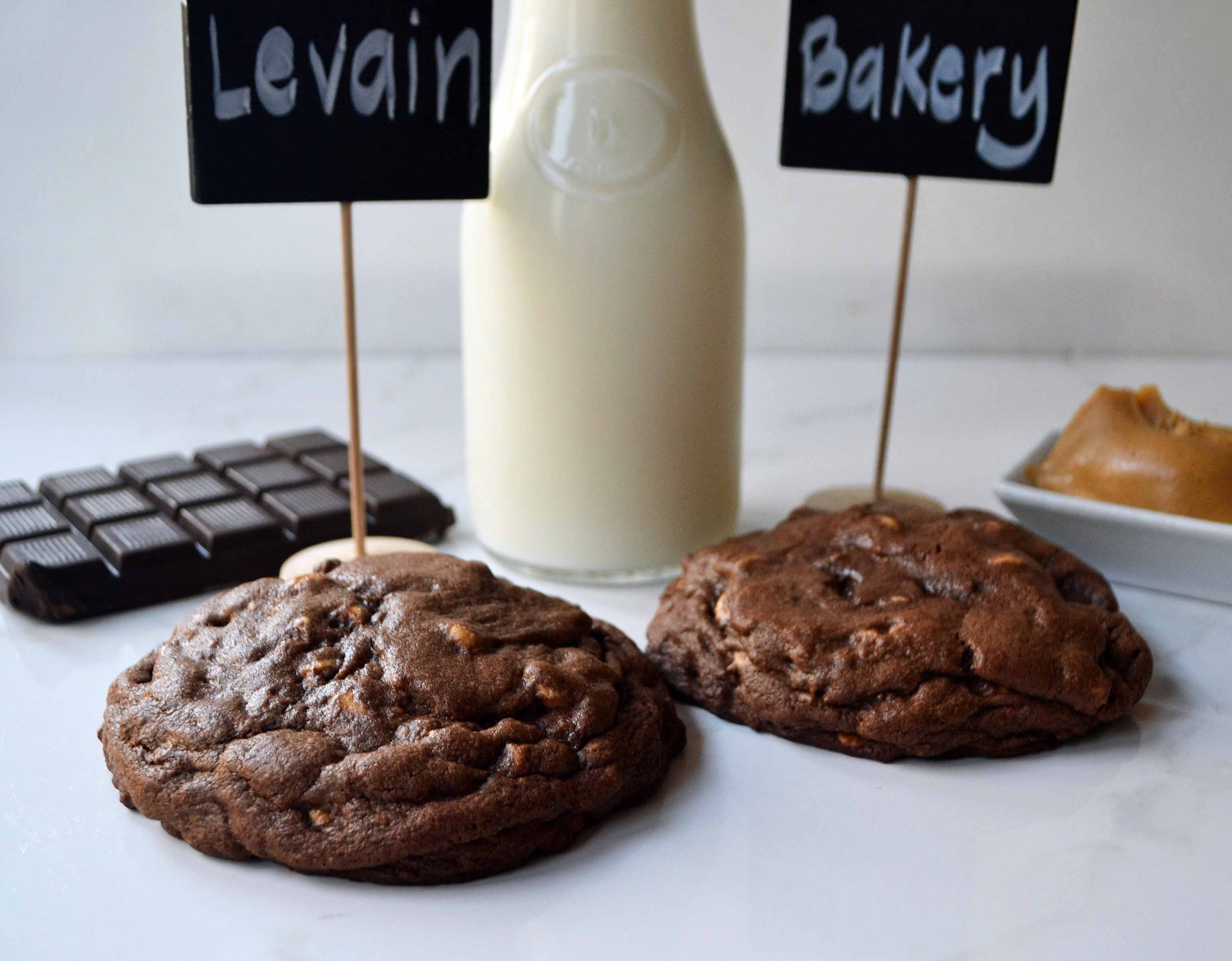 This Chocolate Peanut Butter Cookie is full of rich chocolate and studded with peanut butter chips to give it that prized peanut butter chocolate combination. Where are my Chocolate Peanut Butter Cookie fanatics?
The fascinating thing about Levain Bakery cookies is their ability to be thick without being cakey. If you read my other Levain Bakery copycat cookie post, you will know that those cookies are my husband's favorite cookie of all time. I think the reason is that they aren't over the top sweet. They are rich and decadent without putting you into a sugar coma.
If you are a true chocoholic, you can substitute peanut butter chips for dark, semisweet or milk chocolate chunks, which will give you a true Levain Bakery Dark Chocolate Chocolate Chip Cookie copycat recipe. You are getting 2 for 1 here, people.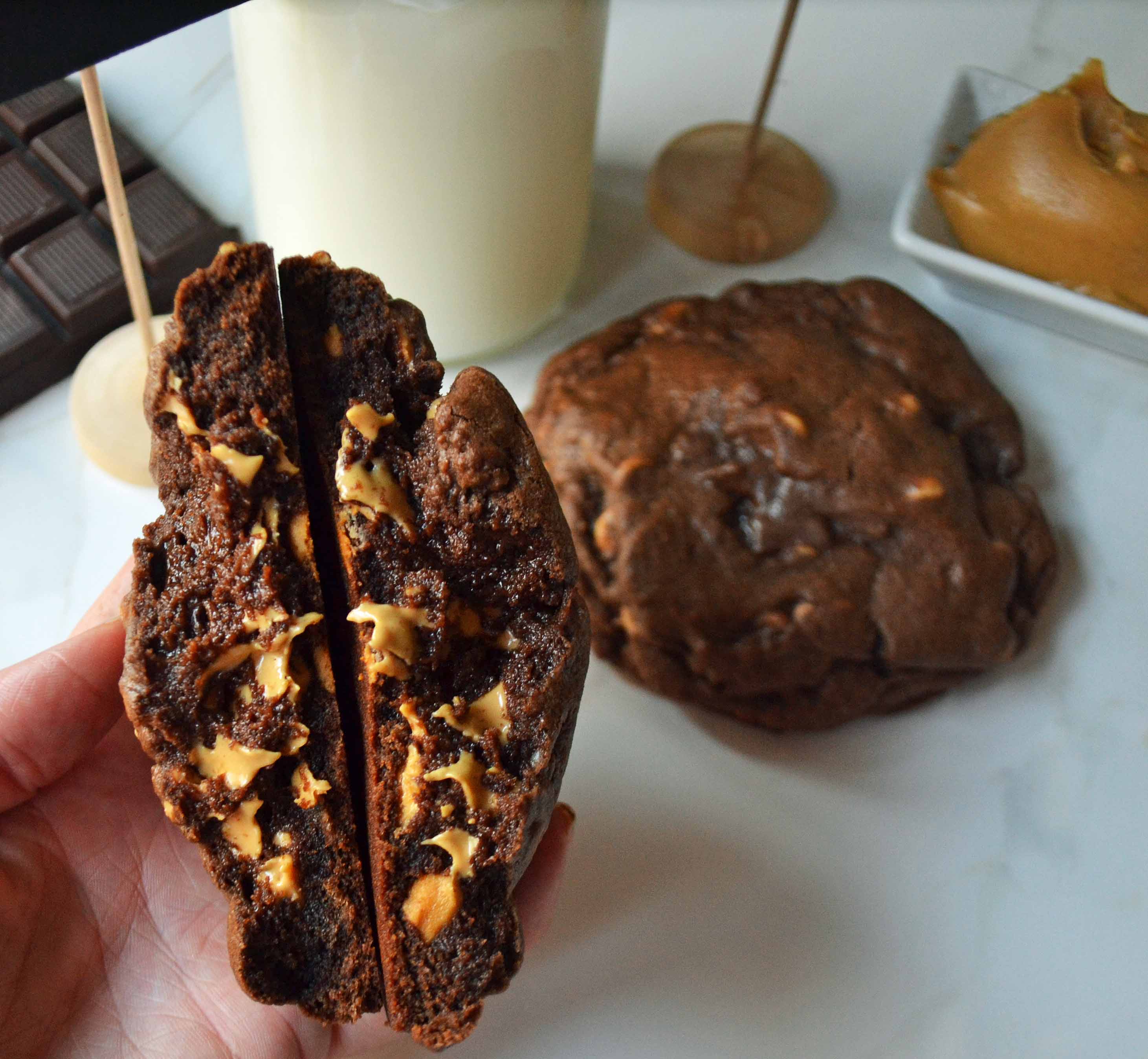 How to make Levain Bakery Chocolate Peanut Butter Copycat Cookies:
 Use cold butter. Now, I am not talking about throwing two cubes of cold butter into the mixer and hoping the butter will incorporate into the sugars. Nope. The key is to cut the butter with a knife into small cubes, making it easier to cream with the sugar. We want them to become one and meld together to break down the graininess of the sugar. Cream for at least 4 minutes on high until light and fluffy.
Use good high-quality cocoa, if at all possible. Levain uses dark cocoa for these cookies. If you can find that in your grocery stores, use it! Hershey's makes a dark chocolate cocoa that would be fantastic. If you follow me at all, you know I am a huge fan of Callebaut cocoa. It's found in the bulk bin section at Winco and is very reasonable. I wish it was as cheap on Amazon as it is at Winco. Trader Joe's also makes a fabulous baking cocoa.
Use a mix of cake flour and all-purpose flour. Why cake flour? You know how I talked about Levain being a thick cookie without tasting like a scone? When you use cake flour, it creates a more TENDER crumb on the cookie which creates a mouth-watering texture.
Another game changer is cornstarch. It also helps to create and soft and tender cookie.
Bake at high heat. You want to shock these Dark Chocolate Peanut Butter Chip Cookies with high heat so they don't spread too rapidly. It helps keep their shape and make those crispy edges. These are my favorite silpats — Silpat Brand and Amazon Basics.
Here are more famous Levain Bakery cookie recipes:
Pin this now to find it later
Pin It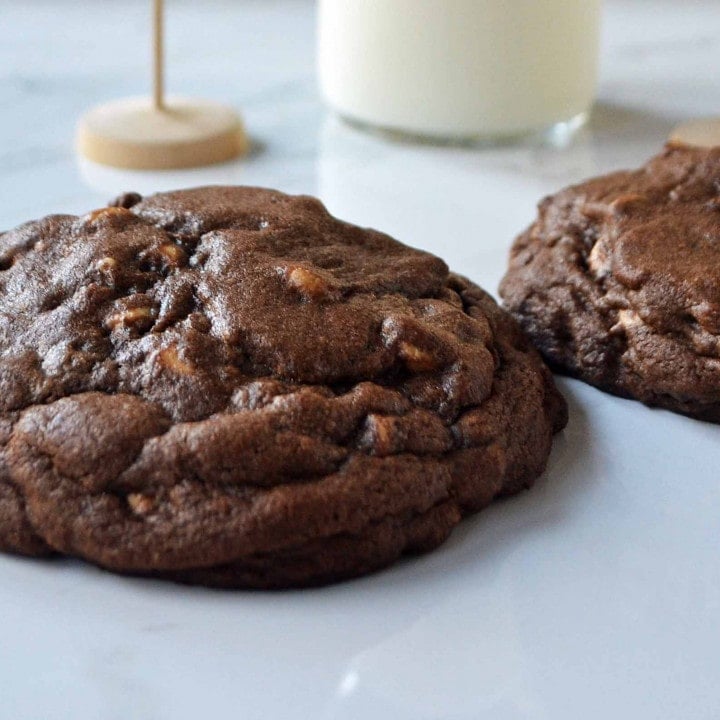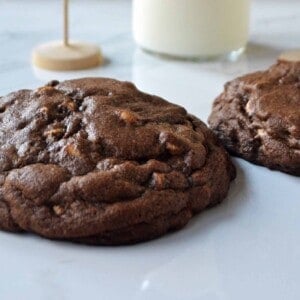 Levain Bakery Dark Chocolate Peanut Butter Chip Cookies
A copycat recipe of everyone's favorite Levain Bakery Dark Chocolate Peanut Butter Chip Cookie. It will knock your socks off!
Ingredients
1

cup

Cold Butter

cut into small cubes

1

cup

Brown Sugar

1/2

cup

Sugar

2

Eggs

1/2

cup

Dark Baking Cocoa

1

cup

Cake Flour

1 1/2

cup

All-Purpose Flour

1

teaspoon

Cornstarch

3/4

teaspoon

Baking Soda

1/2

teaspoon

Salt

1 1/3

cup

Peanut Butter Chips
Instructions
Preheat oven to 410 degrees.

In a large bowl, cream together cold butter and sugars until light and fluffy, about 4 minutes. Add eggs one at a time, mixing well after each addition.

Add cocoa, cake flour, all-purpose flour, cornstarch, baking soda, and salt and stir until combined. Stir in peanut butter chips (or can substitute chocolate chips).

Chill dough for 10 minutes.

Separate dough into large balls and place on lightly colored cookie sheet. Lightly press on top of dough to smooth out. They are bigger than you think! You will fit 4 cookies on one large cookie sheet. The dough makes 8 extra large cookies.

Bake for 8-11 minutes or until golden brown on the top. Let them rest for at least 10 minutes to set.
Nutrition information is automatically calculated, so should only be used as an approximation.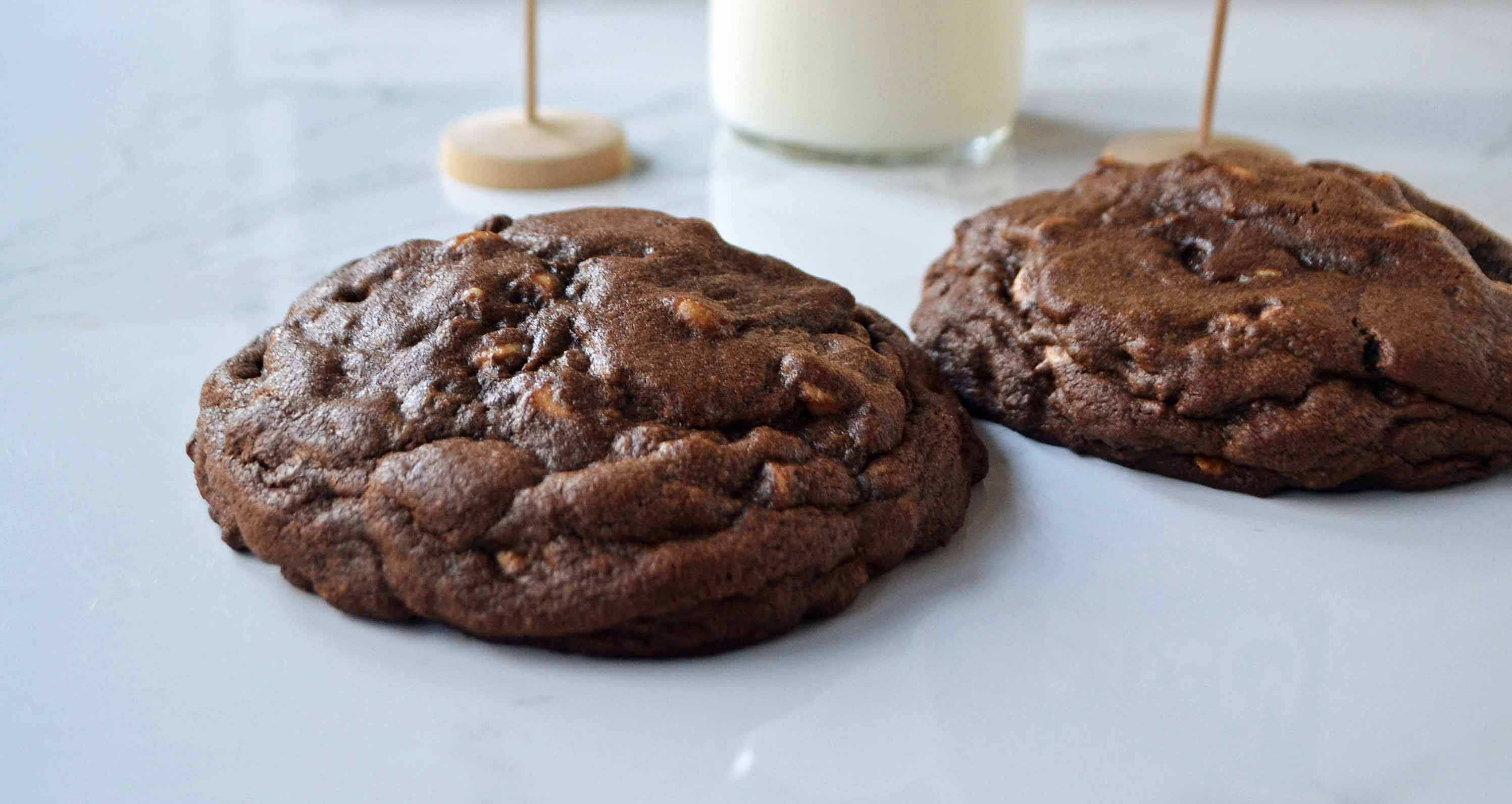 When I arrived home from New York City, I pulled these Levain Bakery Dark Chocolate Peanut Butter Chip Cookies out of the freezer where I store my stash of cookies (always need to be prepared), and was able to satisfy my cookie cravings in one bite. These Levain Bakery copycat cookies are the closest to the originals that you are going to get!
Happy Baking, my friends! xoxo