A crowd-pleasing pasta dish with sauteed chicken, onion, garlic, tomatoes, artichokes, heavy cream, and parmesan cheese tossed with farfalle bowtie pasta.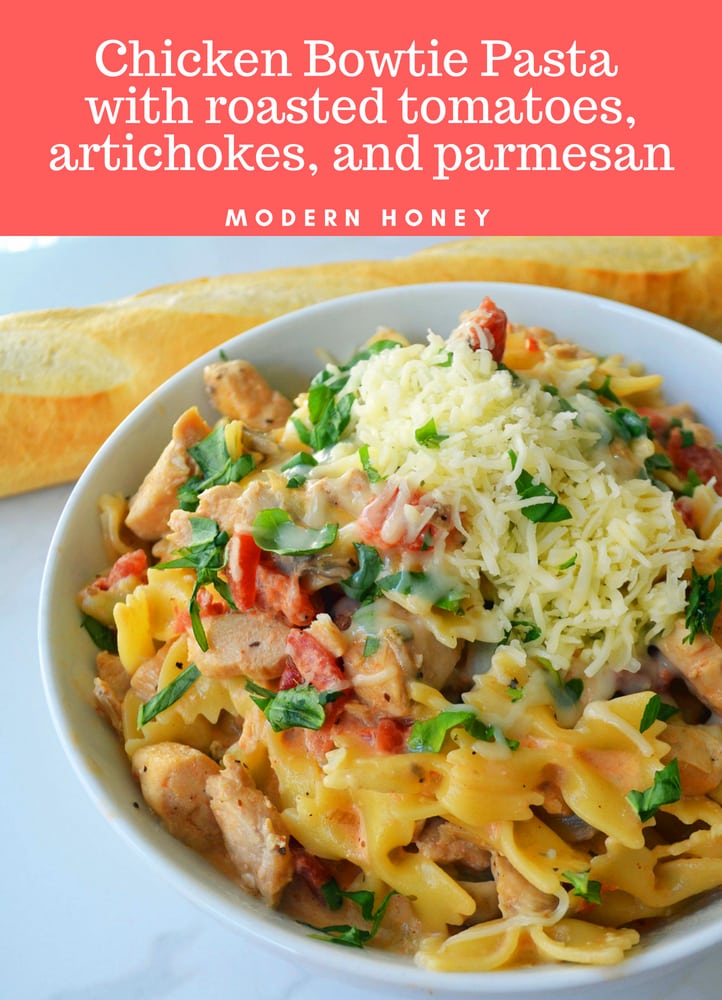 Chicken Bowtie Pasta with Tomato Cream Sauce
This is a crowd-pleasing chicken artichoke pasta with roasted tomato cream. You will want to lick the bowl!
Anyone else live in their car these days? Sometimes I want to grab a sleeping bag, a pillow, a good book and just get comfortable...waiting for the next kid that needs to be taken somewhere. 🙂 In my job description, the chauffeur should be highlighted. When I hear myself complaining, I remember the words of a Trace Adkins country song ..."You're gonna miss this...You're gonna want this back...You're gonna wish these days hadn't gone by so fast..." and I try to appreciate the stage of life that I am currently in with my sweet kids.
But there are days I have zero time to even think about making a fancy dinner and to be honest, some days the kids are lucky if they get something besides cold cereal or bean burritos (oh yes....we have those nights too).
I do love to cook but time isn't always on my side. However, those weeks when I am on the ball, I will spend one morning and knock out as many meals as possible, put them in containers, stick them in the refrigerator, and have dinners done for the week. I love quick and easy dishes that can be reheated easily as the kids are coming and going. This is one of those dishes and one that my family absolutely loves.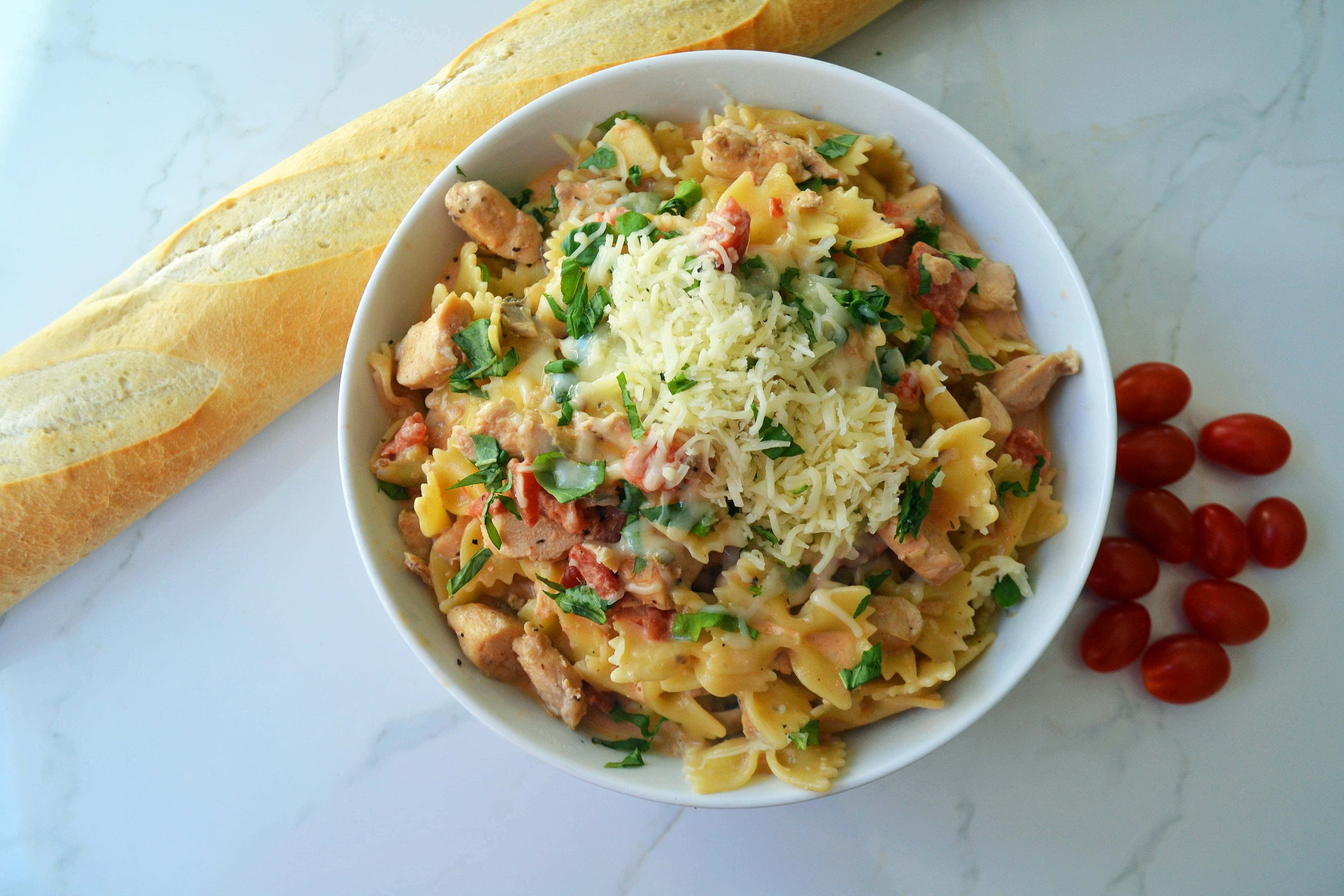 This Chicken Bowtie Pasta with Roasted Tomato Cream Sauce is bursting with flavor. It starts with sauteing chicken in olive oil with onions, garlic, and mushrooms (if you don't like mushrooms, leave them out. A few of my kids think mushrooms are the most offensive food known to man so they pick them out).
Then add fire-roasted tomatoes, marinated artichokes, fresh cream, parmesan cheese, and top it off with fresh basil. Mix that saucy goodness with bowtie pasta and you have a hearty, comforting dish that's sure to please.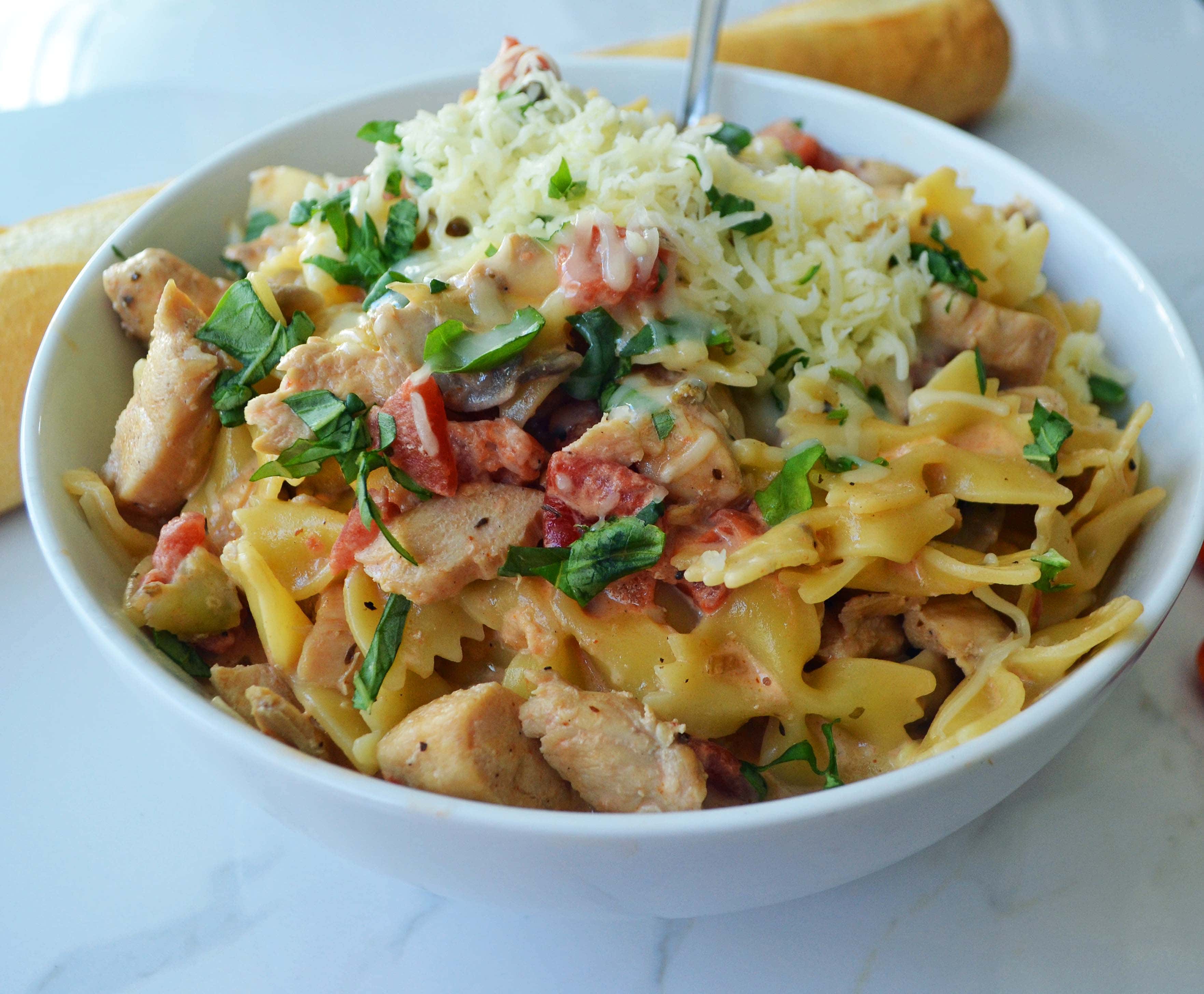 If I could give you one piece of unsolicited advice....here it is:
Salt your water! I am talking generously salting your pasta water, people. You are infusing your pasta with salt as it cooks so the pasta has flavor within. SALT away...it will transform your dishes!
I hope you love this Chicken Bowtie Pasta with Roasted Tomato Cream Sauce. Happy Cooking!