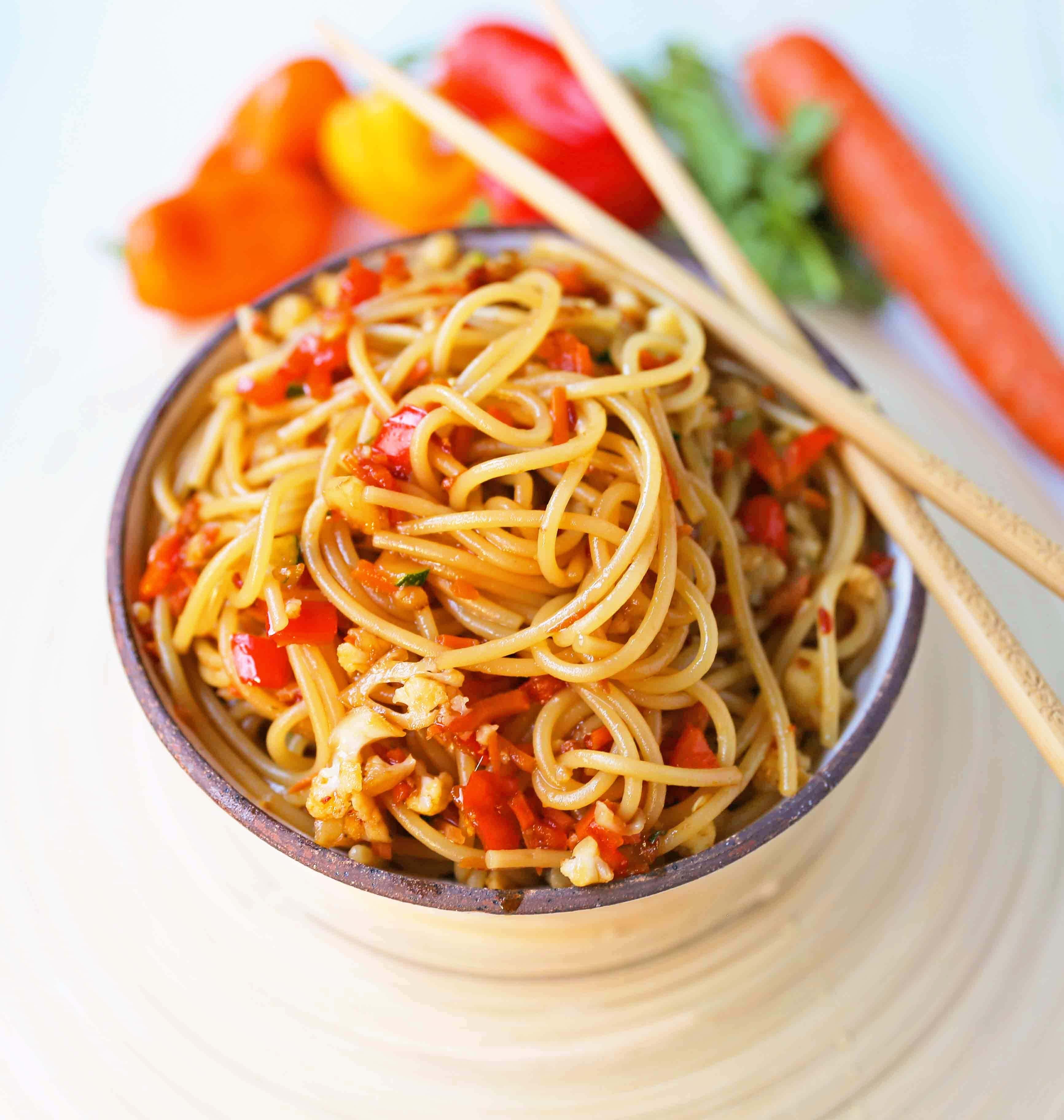 Asian Vegetable Stir-Fry Noodles
A simple, versatile Asian noodle dish with finely diced vegetables and a sweet and savory sauce.
There's just something special about filling the family table. It fills my mama heart when all of my kids and husband are gathered around the table – when all six of us are together. It is as if all is right in the world when we are at home all together.
Growing up, we ate a family dinner every single night. We weren't always home at the same time, but we could always count on my Mom having a hot meal ready for us. It may have been something super simple or something gourmet like beef roast and mashed potatoes, but the key is that we spent quality time discussing our days and connecting.
Fast forward to raising my own kids and I still feel the same way about family dinners. I cherish that time. It doesn't happen every night because of crazy busy schedules but when my kids see the placemats and nice glasses coming out, they legitimately get excited about it. It may have something to do with the food, but it at least gets them to the table!
There have been recent research studies conducted at Columbia University (link to website) which shows how family meals can foster connection and emotional balance. They found there was a 50% increase in self-esteem, a self of well-being, and stronger family relationships if families eat together for 7+ meals per week. The study also found that family meals fuel better nutrition and saw a 24% increase in healthy food consumption with only 3+ meals per week.
When making a family meal that all my kids will actually eat and also has health benefits, I always think about ways to sneak in veggies. Since vegetables are nutritional powerhouses with their surplus of vitamins and minerals and low in calories, they are a perfect addition to any dinner.
After much experimenting, I came to a conclusion that in order to get kids to eat their veggies -- chop them into tiny pieces. When you offer a kid a huge piece of broccoli, it can be intimidating to see a big green thing on their plate. However, when it is chopped into small pieces and added into a flavorful sauce, it is barely noticeable. It is all about being sneaky!
Since September is National Family Meals Month (link to website), I am sharing an Asian Vegetable Stir-Fry Noodle Recipe. If you have followed Modern Honey and have tried any of my dinner recipes, I love to use Asian ingredients to invoke flavors without adding excess fat. The key to getting kids to begin to enjoy eating vegetables is to make them flavorful.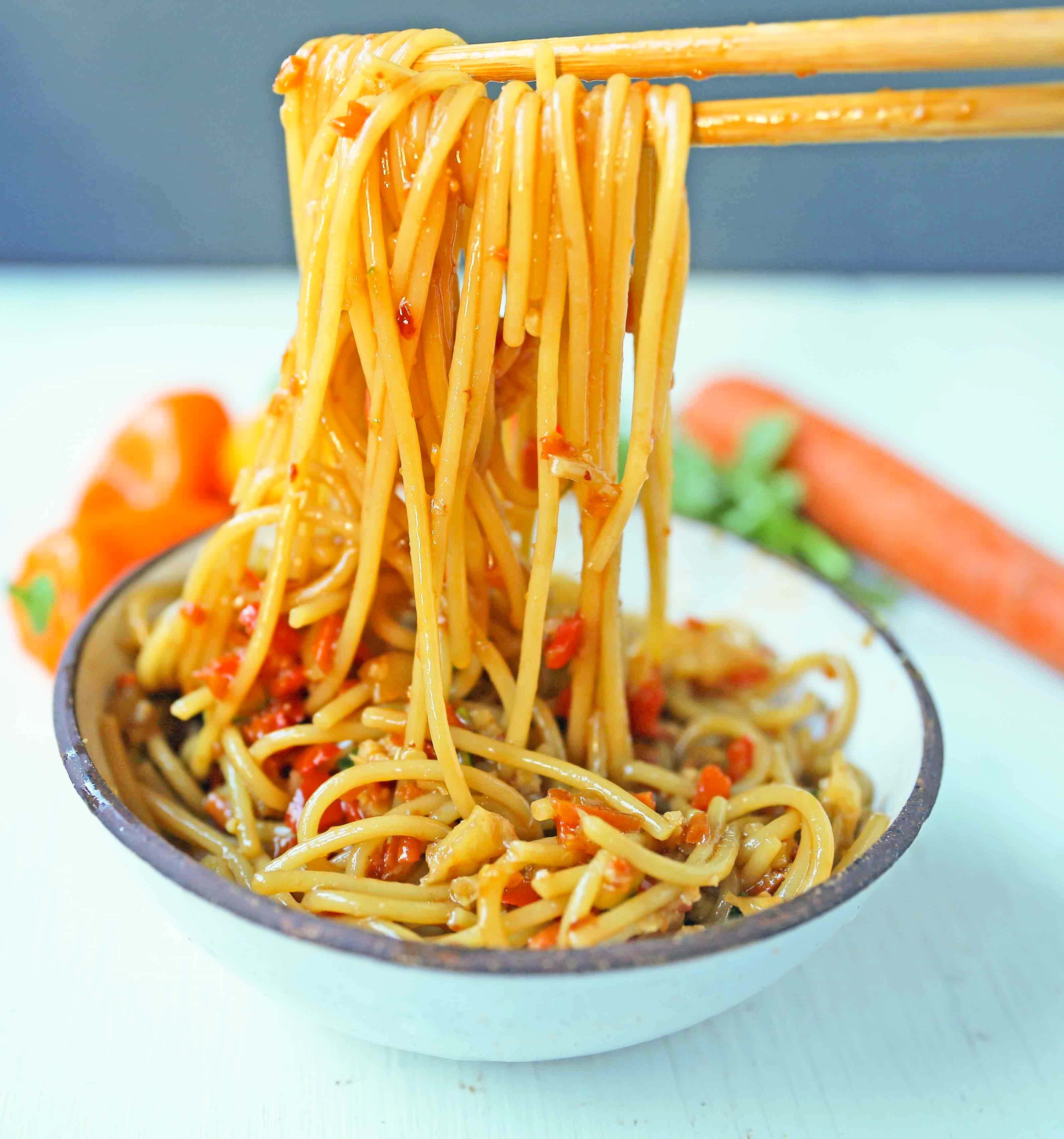 This Chinese Stir-Fry with Noodles is made with an assortment of vegetables – red peppers, cauliflower or broccoli, zucchini, carrots, ginger, and cilantro.  The vegetables are all tossed with a simple stir-fry sauce.  This is a meat-free dish that focuses on the vegetables, so it is perfect for a Meatless Monday. I found all of my vegetables at my Fry's store because I can always count on them to have fresh, vibrant, beautiful produce perfect for this stir-fry recipe.
The vegetable stir-fry can be tossed with your noodle of choice. If you are looking for a gluten-free noodle, opt for a rice noodle. If you are looking for extra health benefits, reach for a brown rice noodle. You can also use pad thai noodles. If you are looking to use something that may already be in your pantry, reach for spaghetti noodles. They are a crowd-pleasing ingredient and kids seem to love them.
You can also use buckwheat or soba noodles. There are so many choices out there in the Asian foods section at your local Fry's.
If you want to add some extra protein benefits, add a few fried eggs. You will end up with egg fried noodles and they are fantastic! This Noodle Stir-Fry recipe is so versatile.
What are the nutritional benefits of the vegetables:
Red Peppers – One medium-sized red pepper contains 169% of the daily allotted requirement of Vitamin C. It also contains a good amount of Vitamin A, E, and K.
Cauliflower or Broccoli – Has many anti-oxidant properties to help fight diseases. Low in calories as one cup of broccoli has only 31 calories.
Zucchini – It has a high water content which means it is low in calories and is a perfect low-carb alternative. High in Vitamin C and B Vitamins.
Carrots – Known for their eye health benefits since they are full of beta-carotene and vitamin A.
Ginger – It has both the digestive system and immune system benefits so it's a win-win.
Cilantro – Has a good amount of Vitamin K and can help aid in detoxifying metals from the body.
Now that we've talked all about the vegetables, let's talk about the sauce!
What is in the Stir-Fry Sauce?
This versatile stir-fry sauce starts off with soy sauce. This is the base of the sauce but if you are looking for a gluten-free option, reach for tamari sauce. You won't be able to tell a difference! Chili Garlic Sauce is one of my favorite ingredients to use in Asian cooking as it is made with red chili flakes and garlic so it packs in the flavor, without adding calories. I also use grated fresh ginger to bring in a fresh tang to the sauce.  Brown sugar is added for sweetness, but honey can be a substitute.
This is a quick and easy dinner that can be put on the table in less than 20 minutes. That is less time in the kitchen and more time spent connecting with your family around the dinner table.
All of these ingredients can be found at your local Kroger store (Fry's in Arizona). You can find many more healthy recipes and information by clicking the Kroger Wellness Your Way website.
Pin on PINTEREST: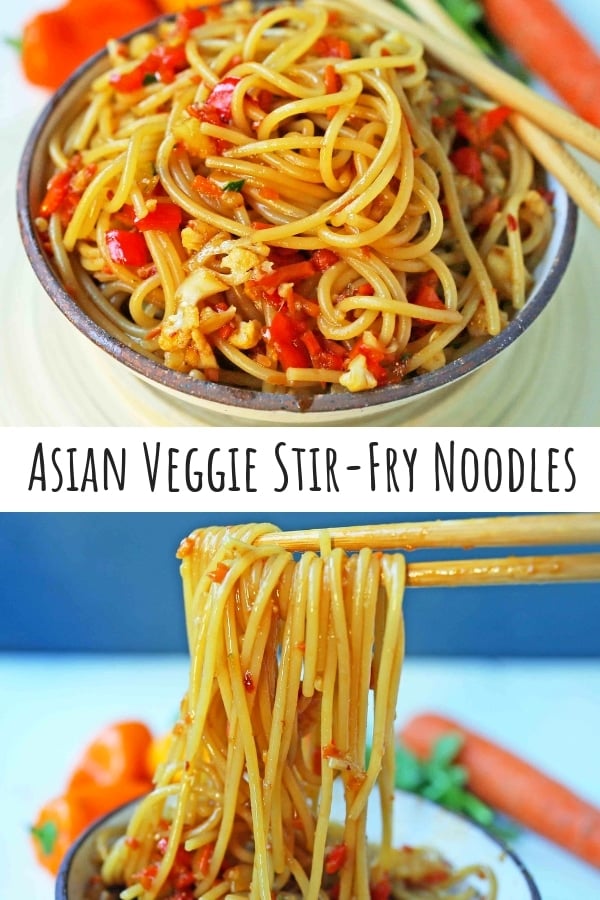 I love to hear from you! If you make this recipe, please be sure to leave a comment and give this recipe a rating. If you make any of my recipes, tag me on Instagram @modern_honey so I can see your creations. Also, be sure to tag your photo using the hashtag #modernhoney. It's one of my favorite things seeing you make these recipes in your own kitchen. Thank you for following along! I truly do have the greatest readers.
FOLLOW ME ON:   INSTAGRAM --- FACEBOOK --- PINTEREST
I hope you love these quick and easy Asian Vegetable Stir-Fry Noodles! Have a great day, my friends!