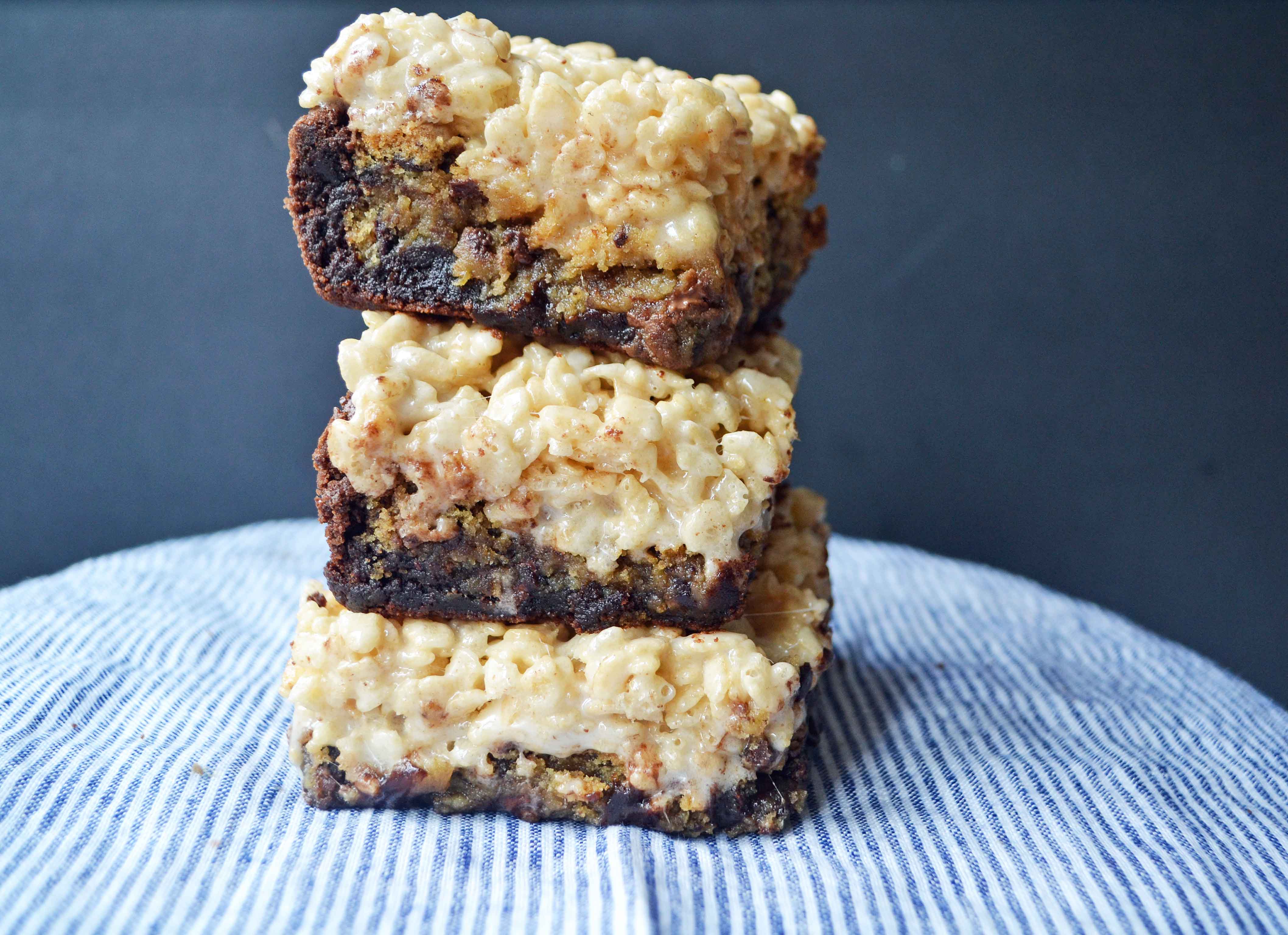 Bake Sale Trifecta Bars are a decadent chocolate brownie, classic chocolate chip cookies, and buttery soft rice krispies treat all in one. It is three favorite treats all in one bar! 
Sometimes I dream big. Real big. And if you're like me, most dreams start in the kitchen.
I discovered cooking contests in 2010 and after my first trip to the Pillsbury Bake-Off, I found a new passion. I love the challenge of creating new and unique recipes, so contests became my favorite hobby! However, when I started Modern Honey, something had to give and I didn't have the extra time to compete in contests.
One night this past April, my passion for cooking contests was reignited. It was a typical night – late evening, falling into bed exhausted, trying to figure out how to balance my mom, wife and church responsibilities with Modern Honey. My ever-growing to-do list was getting the best of me!
Choosing instead to distract myself from reality, I opened a website I hadn't looked at in a while–a site that listed all of the upcoming recipe contests. As I scrolled through, one contest immediately caught my eye. Food Network Magazine, my favorite magazine of all time, was having a contest! A baking contest! What?! The contest was to create the most delicious and creative bake sale item for their upcoming September issue. Suddenly re-energized, I jumped out of bed, grabbed a notebook, and started jotting down ideas.
I thought about the best sellers at any baked sale and guessed they would probably be a brownie, chocolate chip cookie, and a rice krispie treat. Then came my idea–could I combine all three of them into one bar? I then thought of the name–Bake Sale Trifecta Bar–the word my Dad uses all of the time in sports analogies to describe three winning things.
Excited, I woke up at 5:46 am, drove to the grocery store, and had all of the ingredients ready to go before I got the kids ready for school. As soon as they were out the door I got to work–I couldn't wait to see if my vision would be as good as I imagined.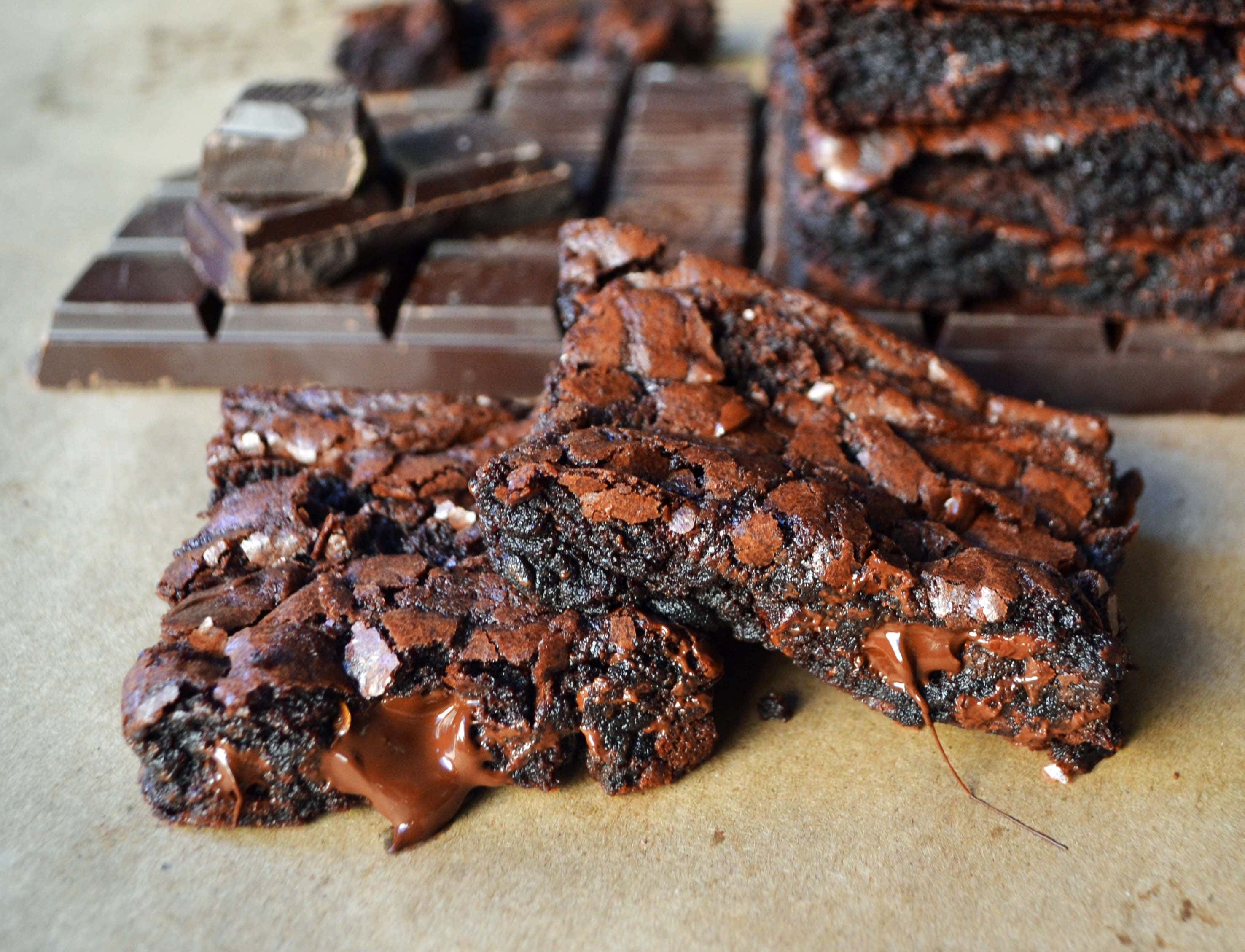 First I mixed the layer of the perfect chocolate brownie https://www.modernhoney.com/better-than-a-boyfriend-brownies/ on the bottom and spread it in the pan. Then I made the ultimate chocolate chip cookie and spread that dough on top. I put the pan in the oven to bake and crossed my fingers that they would stay in their lanes and not become one big chocolate chip cookie brownie. So far so good–they came out just as I envisioned!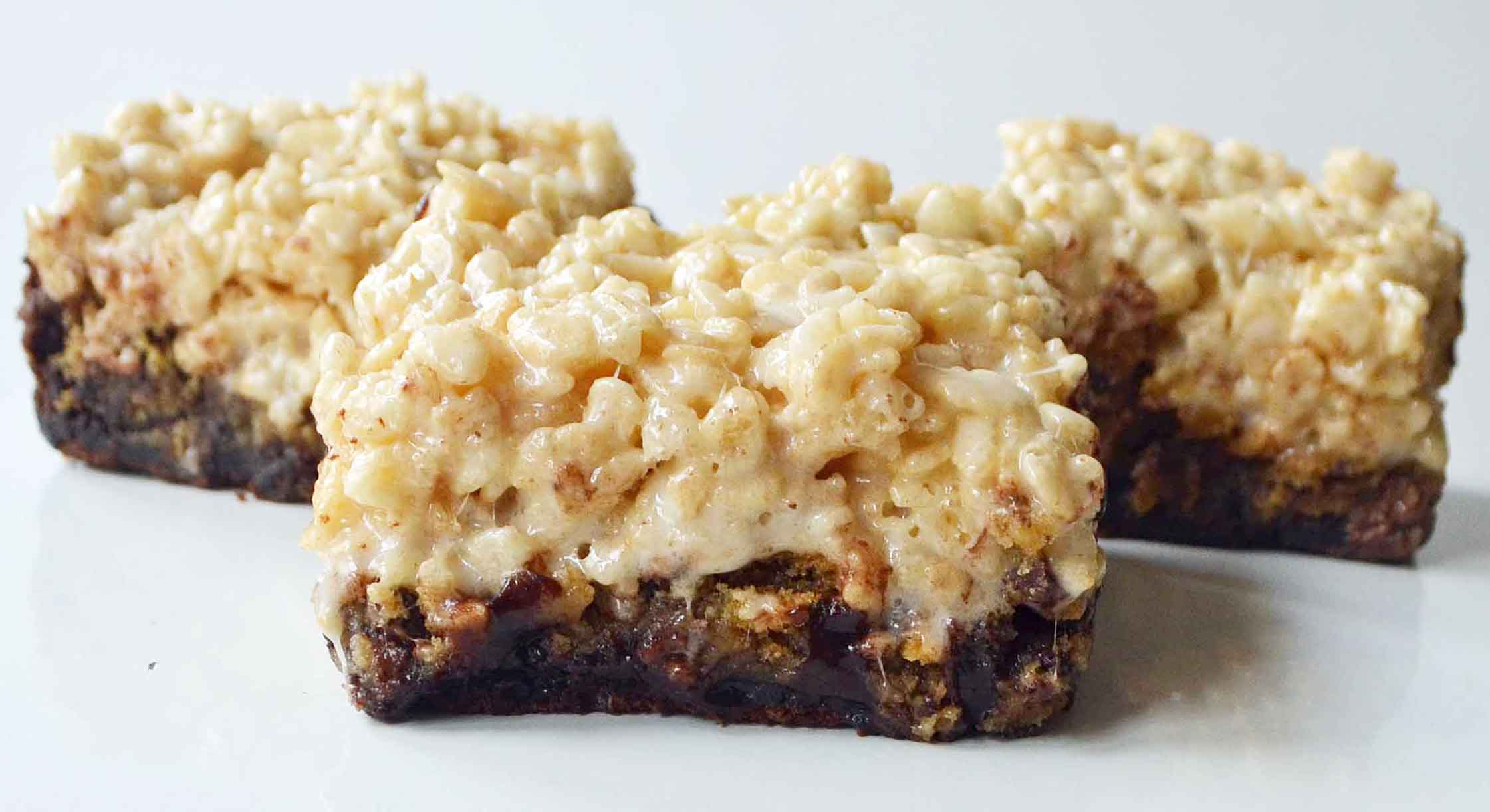 Now the wildcard: the rice krispie treat. Not just any hard, run-of-the-mill rice krispie treat. All three layers needed to meld together into one so the rice krispie treat had to be extra gooey and soft. Here we go extra marshmallows! When I was sure it was extra gooey and soft, I poured it on the top of the cookie brownie layer. After chilling the Bake Sale Trifecta Bar for 30 minutes, it was ready to eat.
Now the big test, did it work? I couldn't get it into my mouth fast enough! One bite was enough to know the Bake Sale Trifecta Bar was everything a decadent dessert bar should be–I was so happy!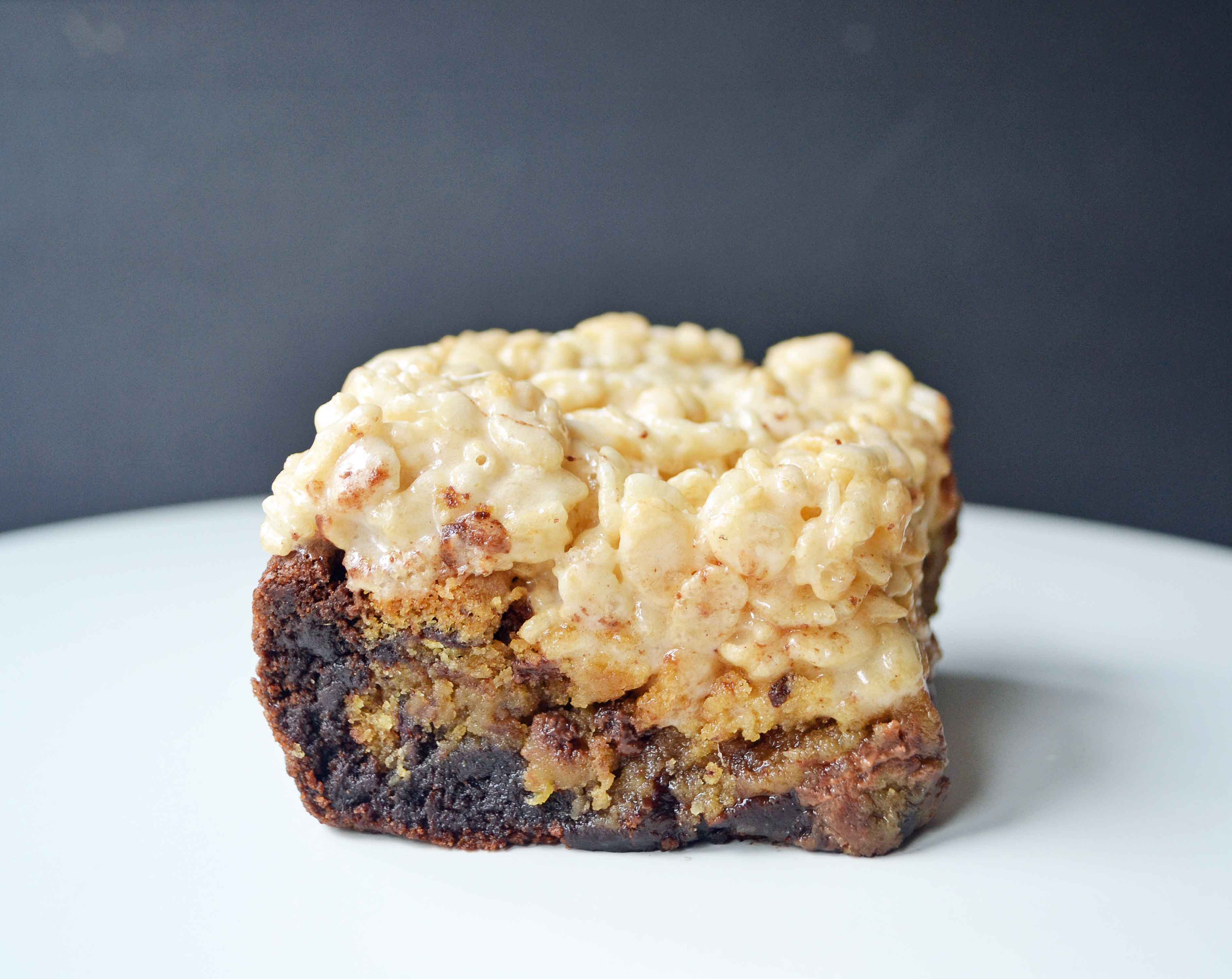 I grabbed an orange sharpie and started scribbling on a white sheet of paper… "I am going to be on the cover of Food Network Magazine." Maybe, just maybe, the power of positive thinking would get me on the cover. I tried not to be overly optimistic but I allowed myself to dream. I felt that I had created a winning recipe, and although I couldn't even imagine winning, I really, really wanted it to happen.
I will always remember the moment when I got the news. I was in a long line at Ross and I decided to check my email. I could see a line that read, "Congratulations from Food Network." I am not going to lie, the tears welled up in my eyes and I couldn't stop smiling. I couldn't believe it…utter disbelief…but I was overcome with immense gratitude and excitement. I sat in my car, said a prayer of thanks, then called my husband to share the good news.
I soon found out the details–I was in the top 3 and the folks at Food Network Magazine would spend the next few months deciding who would get the cover. They interviewed me and then… I waited. Just last week I found out I won the GRAND PRIZE — First Place!
The magazine is on the shelves and my Trifecta Bars are on the cover! Unbelievable! I am humbled and so, so grateful for this opportunity. Sometimes dreams do come true. Even when they're born out of exhaustion!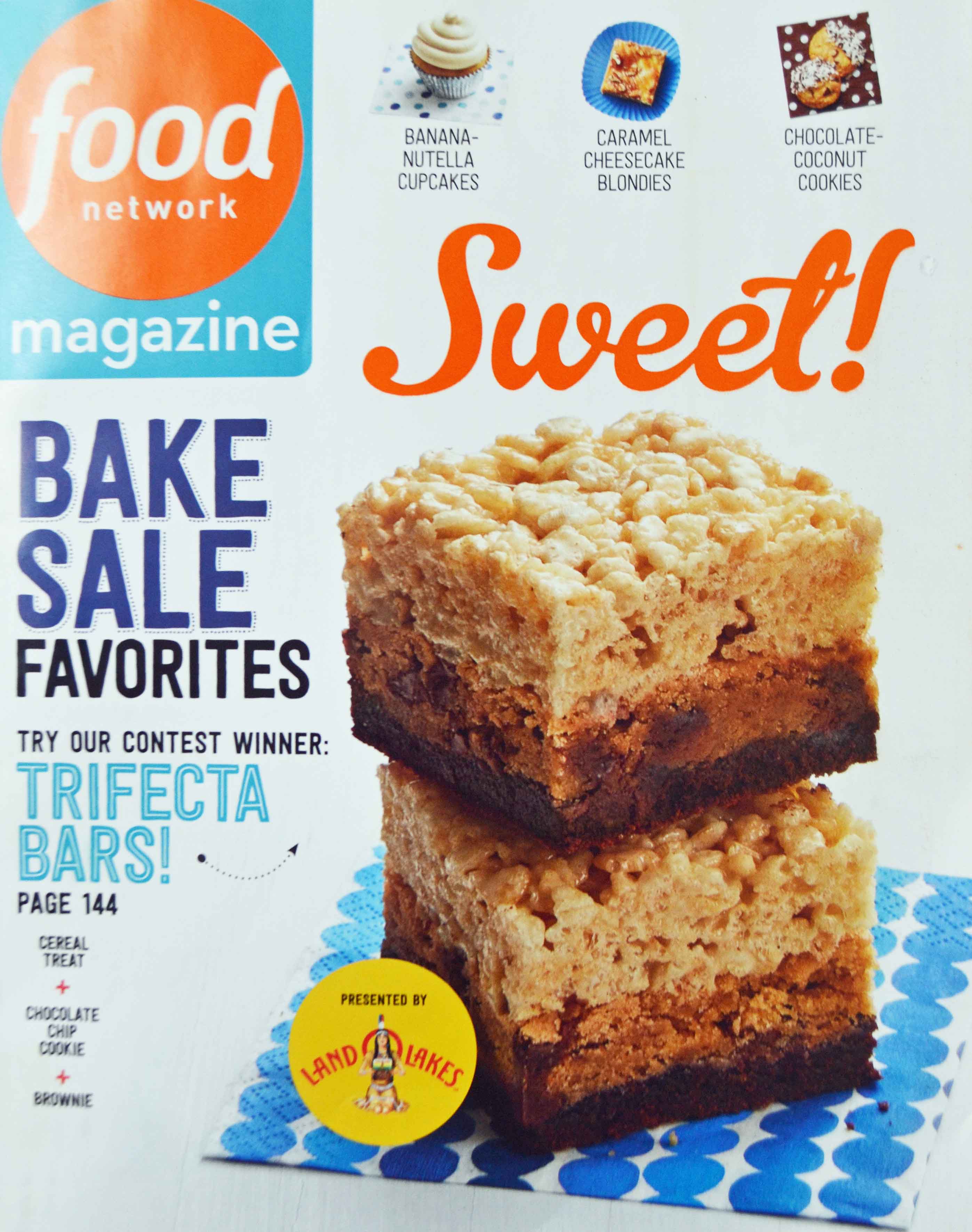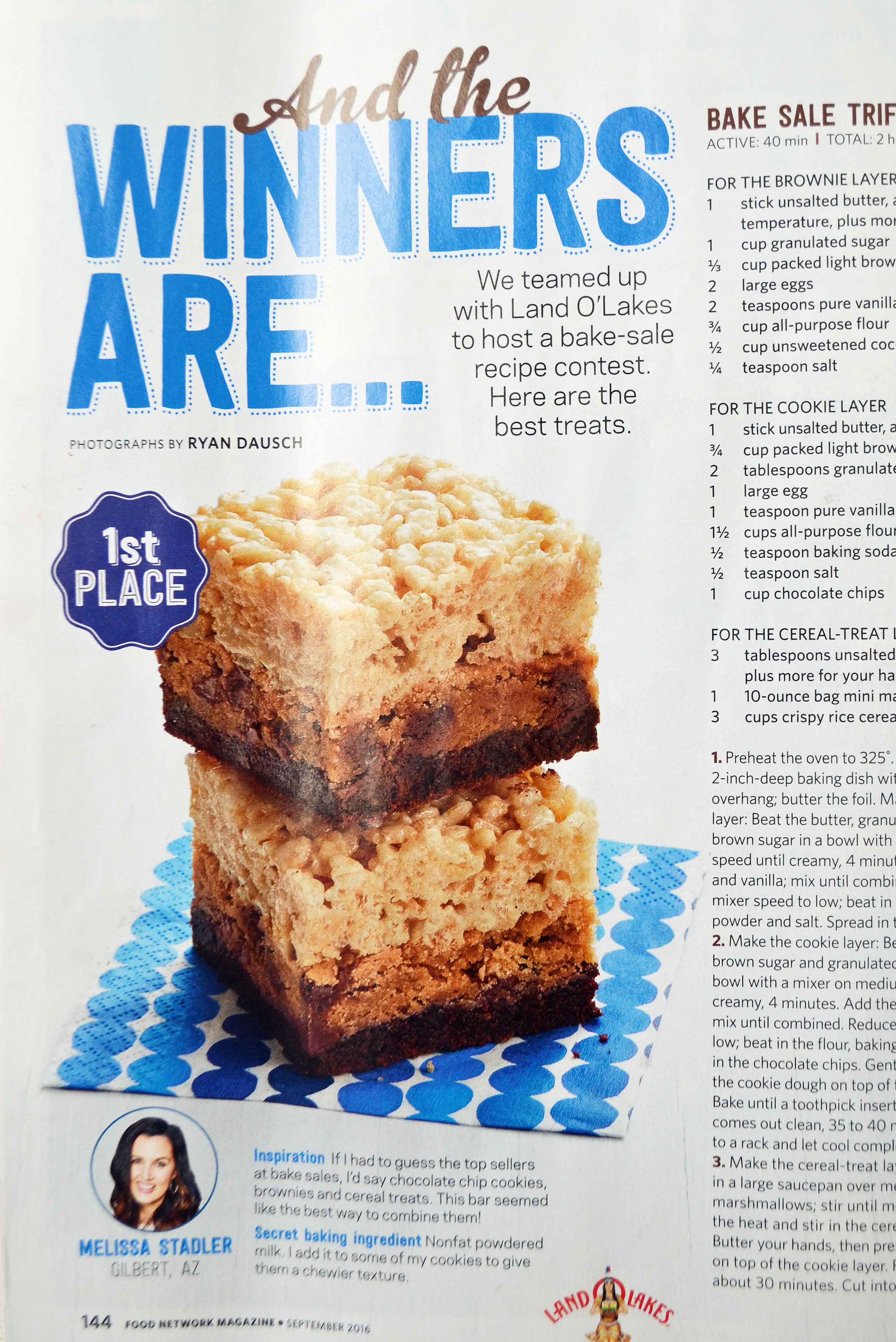 Tips and Tricks for making Bake Sale Trifecta Bars:
Make sure that your pan is 9 x 9. There are so many cake pans out there that are 8 x 8 and even though they look similar, several inches make a difference. This recipe will not fit in a 8 x 8 pan.
I use the following pan which works perfectly – click HERE for link to pan.
Always chill it first so that it has time to set up before cutting into bars.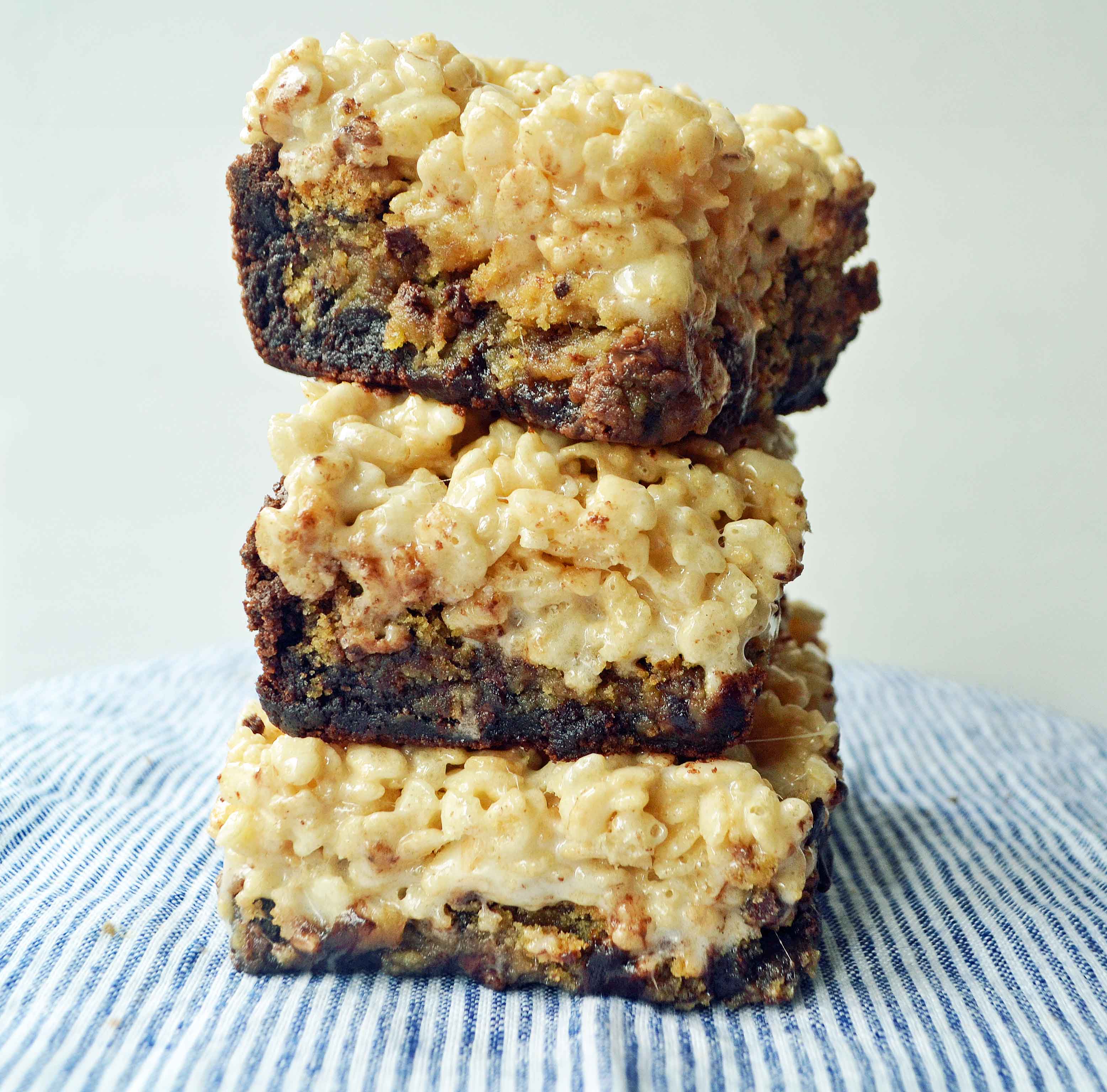 Pin this now to find it later
Pin It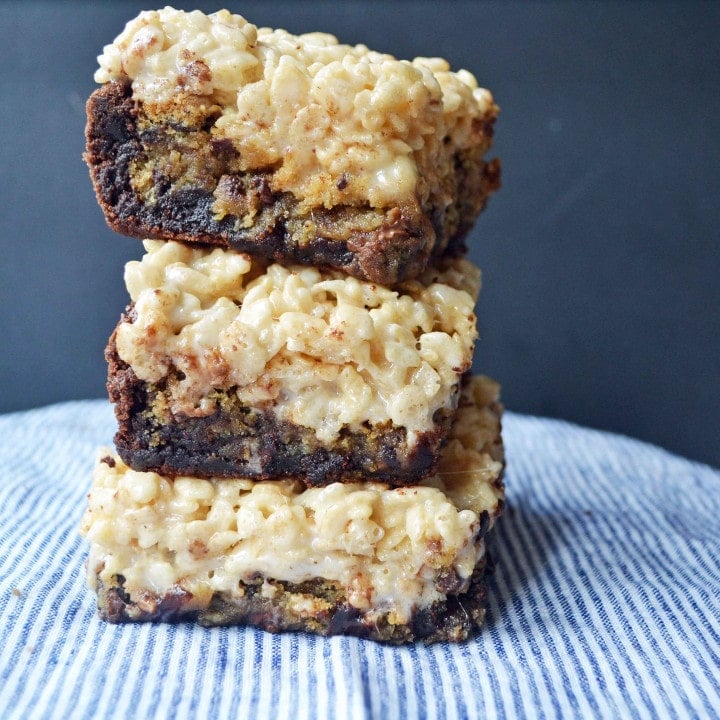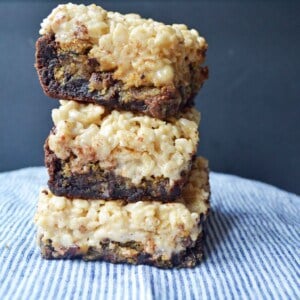 Bake Sale Trifecta Bars
The top 3 best selling baked goods all in one bar. Decadent chocolate brownies, rich chocolate chip cookies, and soft rice krispy treats make this the ultimate trifecta bar.
Ingredients
Brownie Layer:
1

stick unsalted butter

at room temperature, plus more for the pan

1

cup

granulated sugar

1/3

cup

packed light brown sugar

2

large eggs

2

teaspoons

pure vanilla extract

3/4

cup

all-purpose flour

1/2

cup

unsweetened cocoa powder

1/4

teaspoon

salt
Cookie Layer:
1

stick unsalted butter

at room temperature

3/4

cup

packed light brown sugar

2

tablespoons

granulated sugar

1

large egg

1

teaspoon

pure vanilla extract

1 1/2

cups

all-purpose flour

1/2

teaspoon

baking soda

1/2

teaspoon

salt

1

cup

chocolate chips
Rice Krispie Treat Layer:
3

Tablespoons

unsalted butter

plus more for your hands

1 10 -

ounce

bag mini marshmallows

3

cups

crispy rice cereal
Instructions
Preheat the oven to 325 degrees F. Line a 9-inch square, a 2-inch-deep baking dish with foil, leaving an overhang; butter the foil. Make sure it is a 9-inch square pan with tall sides so that it can all fit. Make the brownie layer: Beat the butter, granulated sugar, and brown sugar in a bowl with a mixer on medium speed until creamy, 4 minutes. Add the eggs and vanilla; mix until combined. Reduce the mixer speed to low; beat in the flour, cocoa powder, and salt. Spread in the prepared pan.

Make the cookie layer: Beat the butter, brown sugar and granulated sugar in a clean bowl with a mixer on medium speed until creamy, 4 minutes. Add the egg and vanilla and mix until combined. Reduce the mixer speed to low; beat in the flour, baking soda, and salt. Stir in the chocolate chips. Gently spoon and spread the cookie dough on top of the brownie batter. Bake until a toothpick inserted into the center comes out clean, 35 to 40 minutes. Transfer to a rack and let cool completely in the pan.

Make the cereal-treat layer: Melt the butter in a large saucepan over medium heat. Add the marshmallows; stir until melted. Remove from the heat and stir in the cereal. Let cool slightly. Butter your hands, then press the cereal mixture on top of the cookie layer. Refrigerate until set, about 30 minutes. Cut into squares.
Nutrition information is automatically calculated, so should only be used as an approximation.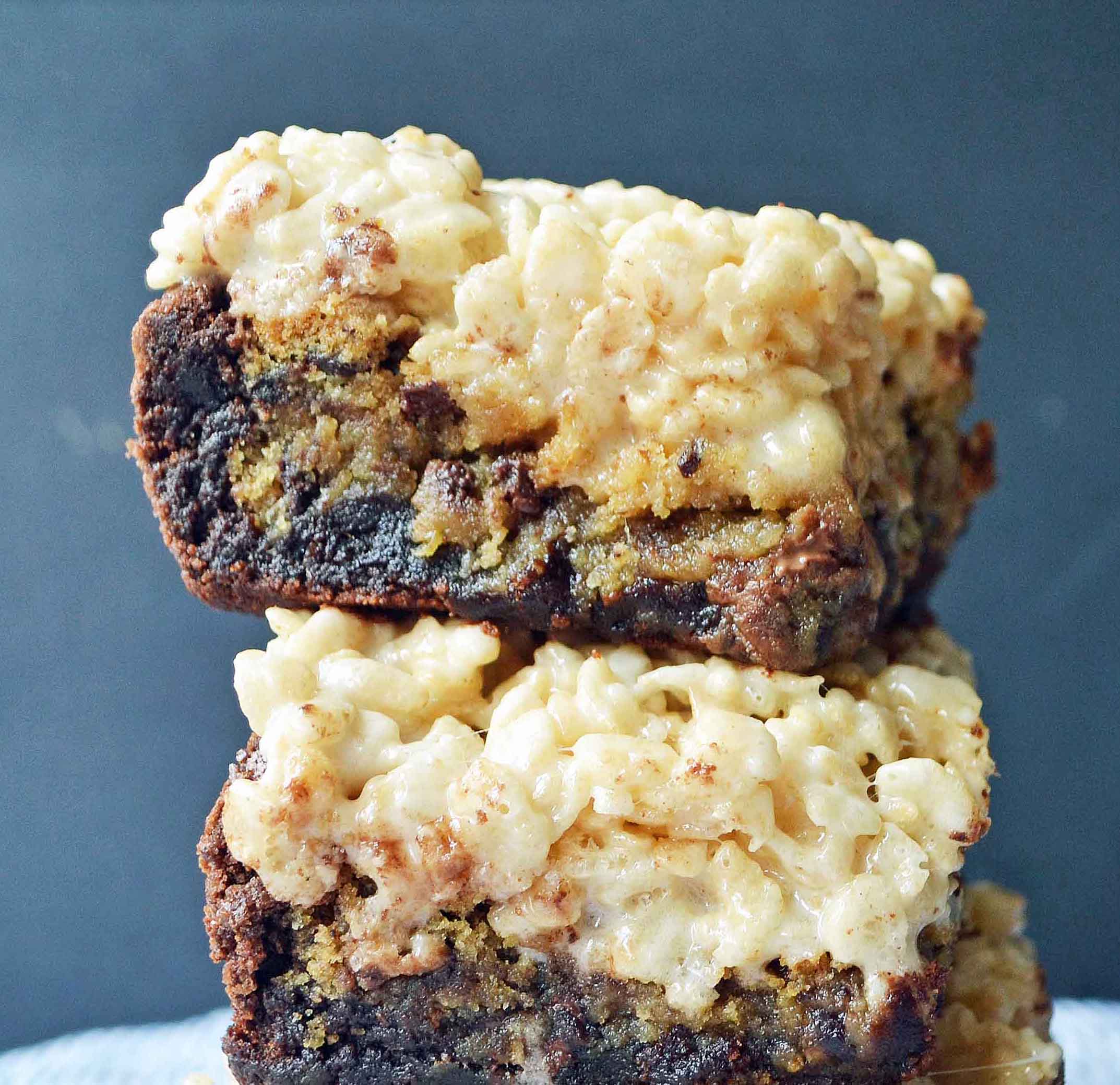 Don't waste any time getting to the store to get ingredients to make these Bake Sale Trifecta Bars. They are everything that a decadent treat should be and more. Share with your friends….they will love you even more for it. xoxo