This easy spinach dip is made with spinach, cream cheese, sour cream, ranch powder, and water chestnuts. This cold spinach dip is made with only 5 ingredients and is always a hit at parties!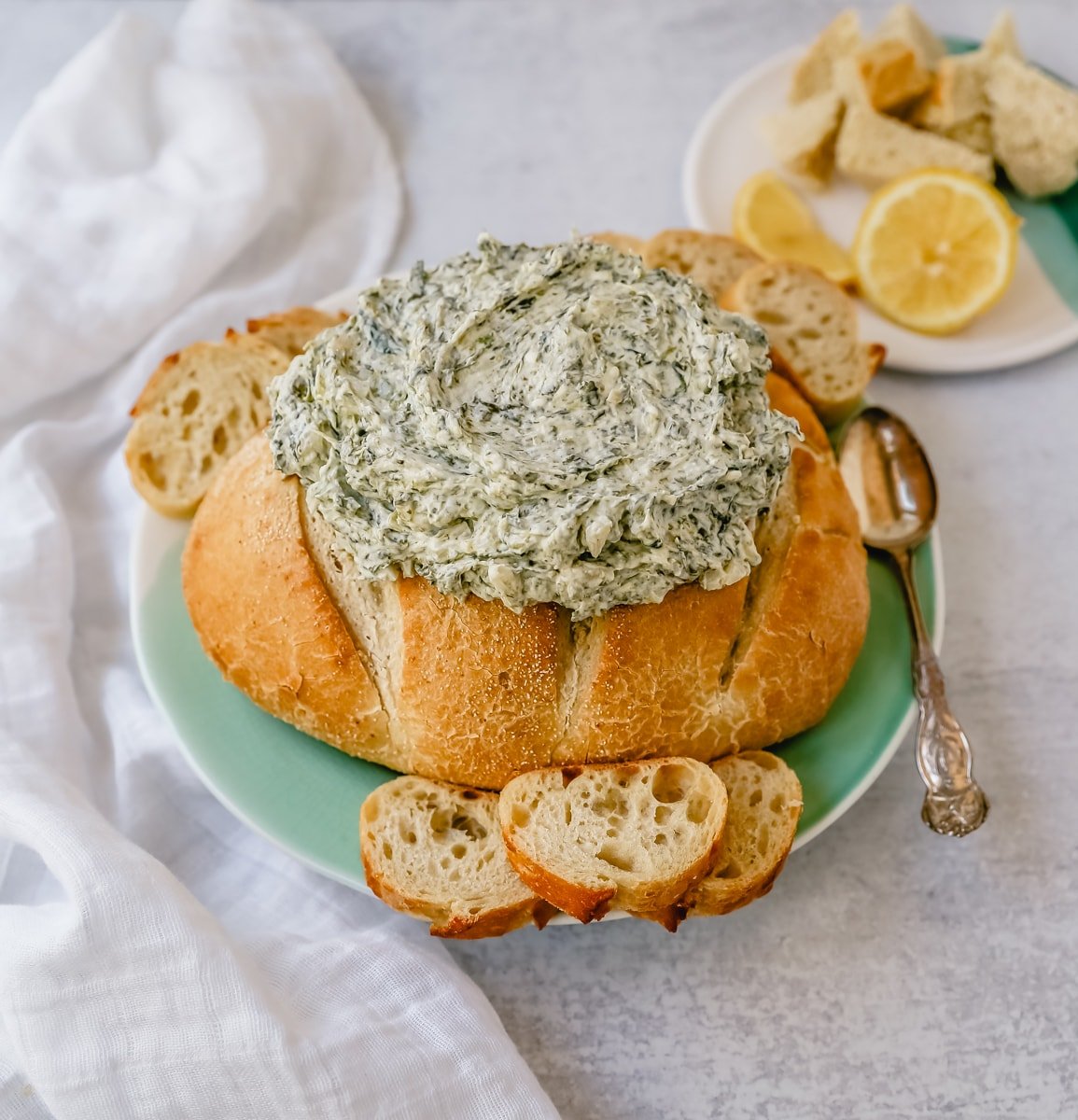 I am one of those at bridal or baby showers with a heaping plate full of spinach dip. It is actually pretty underrated if you ask me. My family was skeptical the first time I made it for them but now they are full-on creamy spinach dip fans and ask for it often.
What ingredients are in Cold Spinach Dip?
Thawed frozen spinach, cream cheese, sour cream, Hidden Valley ranch dressing powder, and water chestnuts.
What to serve with Easy Spinach Dip?
The beauty of this cold spinach dip is that it can be served with vegetables, French baguette slices, crackers, or in a bread bowl. The versatility of this dip is amazing!
Some vegetables to serve with spinach dip are carrots, cucumbers, red, orange, or yellow peppers, broccoli, snap peas, and celery.
I like to pick up a thin, long French baguette from my local bakery and slice it to serve with this cold spinach dip. You can also serve the cold spinach dip with cream cheese in a bread bowl.
When I was recipe testing cold spinach dip recipes, I found the perfect combination. The best spinach dip is achieved with a mix of cream cheese for that extra creaminess and sour cream for its tanginess. The Hidden Valley ranch dip powder adds a flavor-packed punch. The water chestnuts add the perfect amount of crunch. My husband believes the water chesnuts are the best part of the creamy spinach dip because it is so unexpected.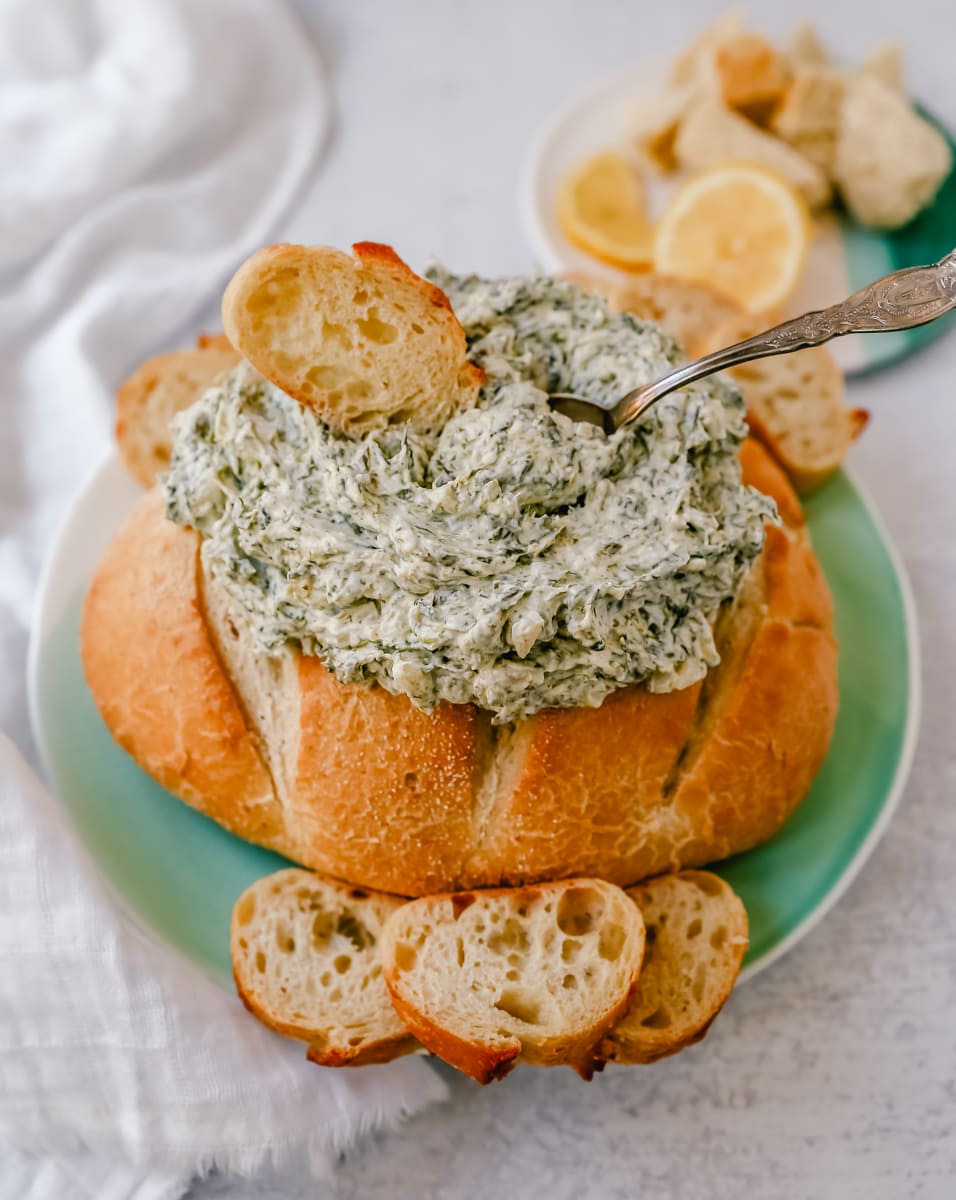 How to make the best cold spinach dip:
Start with frozen spinach. Let it thaw or run it under hot water until thawed. The most important step is to remove as much moisture as possible from the spinach so you end up with creamy spinach dip instead of a watery one! I suggest putting your thawed spinach into a colander, set over a sink, and squeezing it with your hands several times, allowing the excess water to drain. If you want to make sure it is really drained, use a paper towel to soak up excess moisture.
Mix softened cream cheese, sour cream, and ranch dressing powder into the spinach. Make sure to use softened cream cheese to make it easier to mix together. I suggest using a stand or hand mixer to ensure everything is incorporated. Fold in the water chestnuts.
Let chill in the refrigerator until ready to serve.
Where to serve this Easy Cold Spinach Dip?
This can be served anywhere but it is a popular appetizer at parties, get-togethers, baby showers, and bridal showers.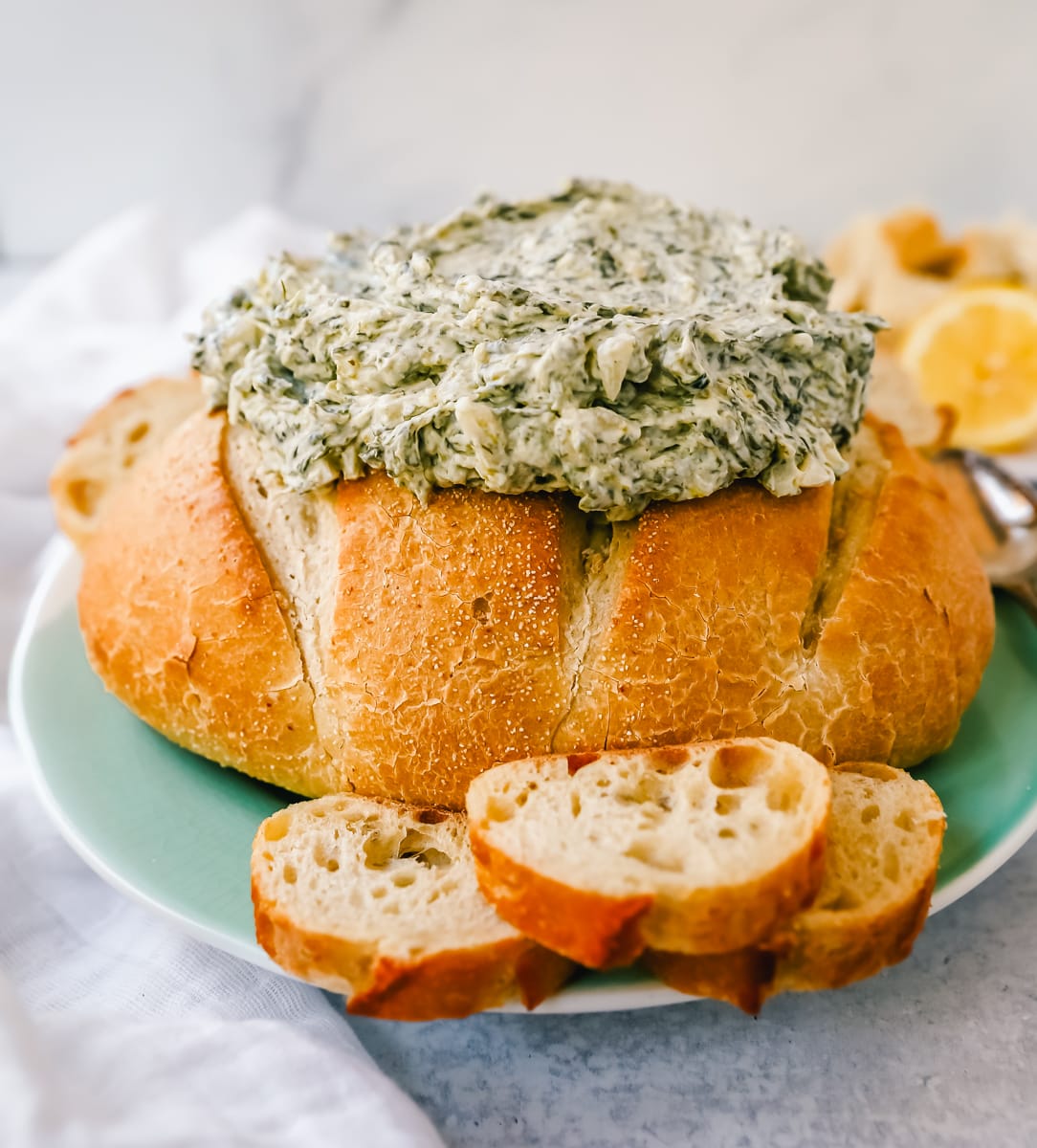 I love to hear from you! If you make this recipe, please be sure to leave a comment and give this recipe a rating. Sign up for my newsletter below so you never miss a recipe. Thank you for following along! I truly do have the greatest readers. FOLLOW ME ON: INSTAGRAM — FACEBOOK— PINTEREST