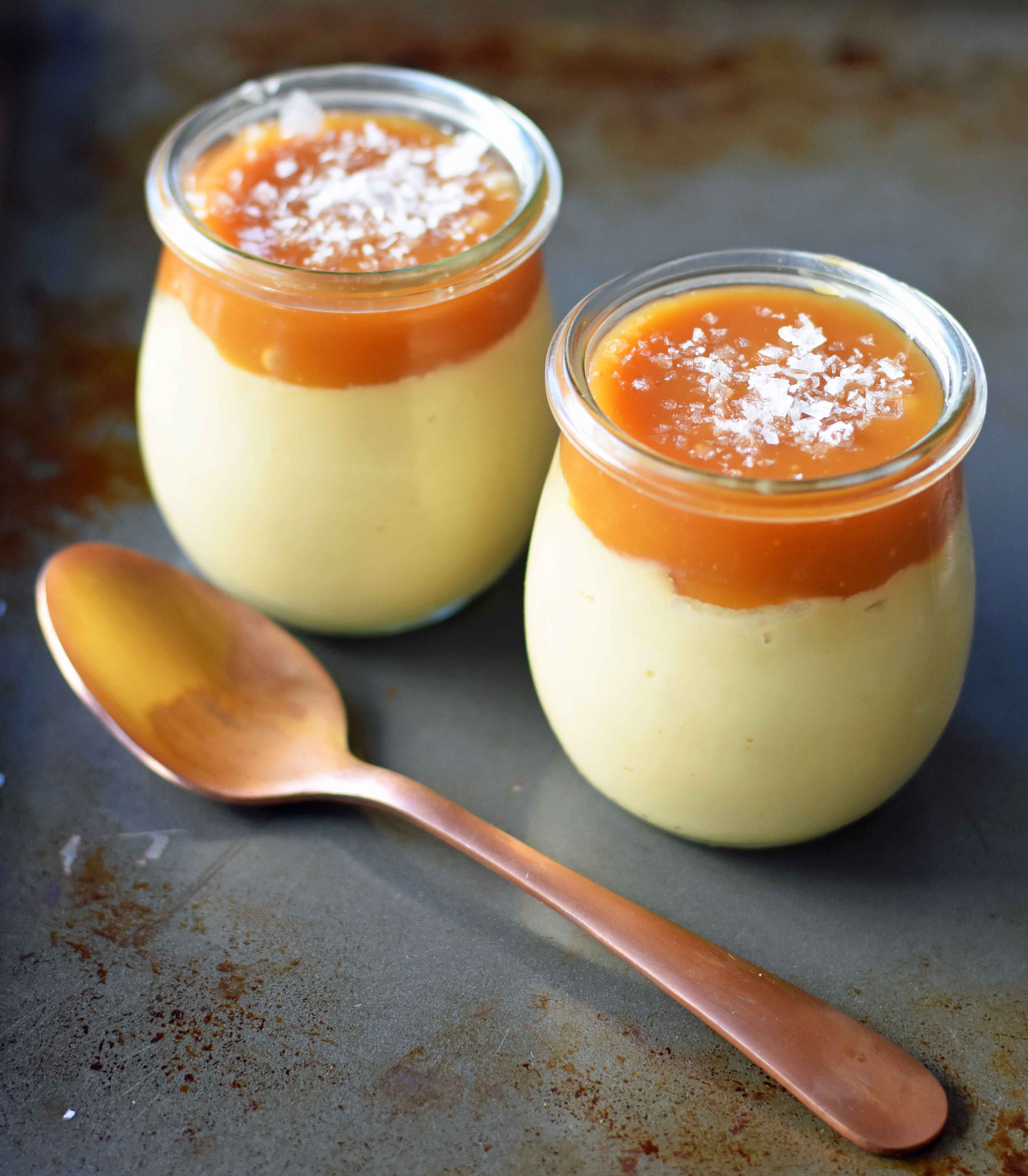 Butterscotch Budino with Salted Caramel is a layered dessert with a rich creamy custard and a handcrafted salted caramel sauce.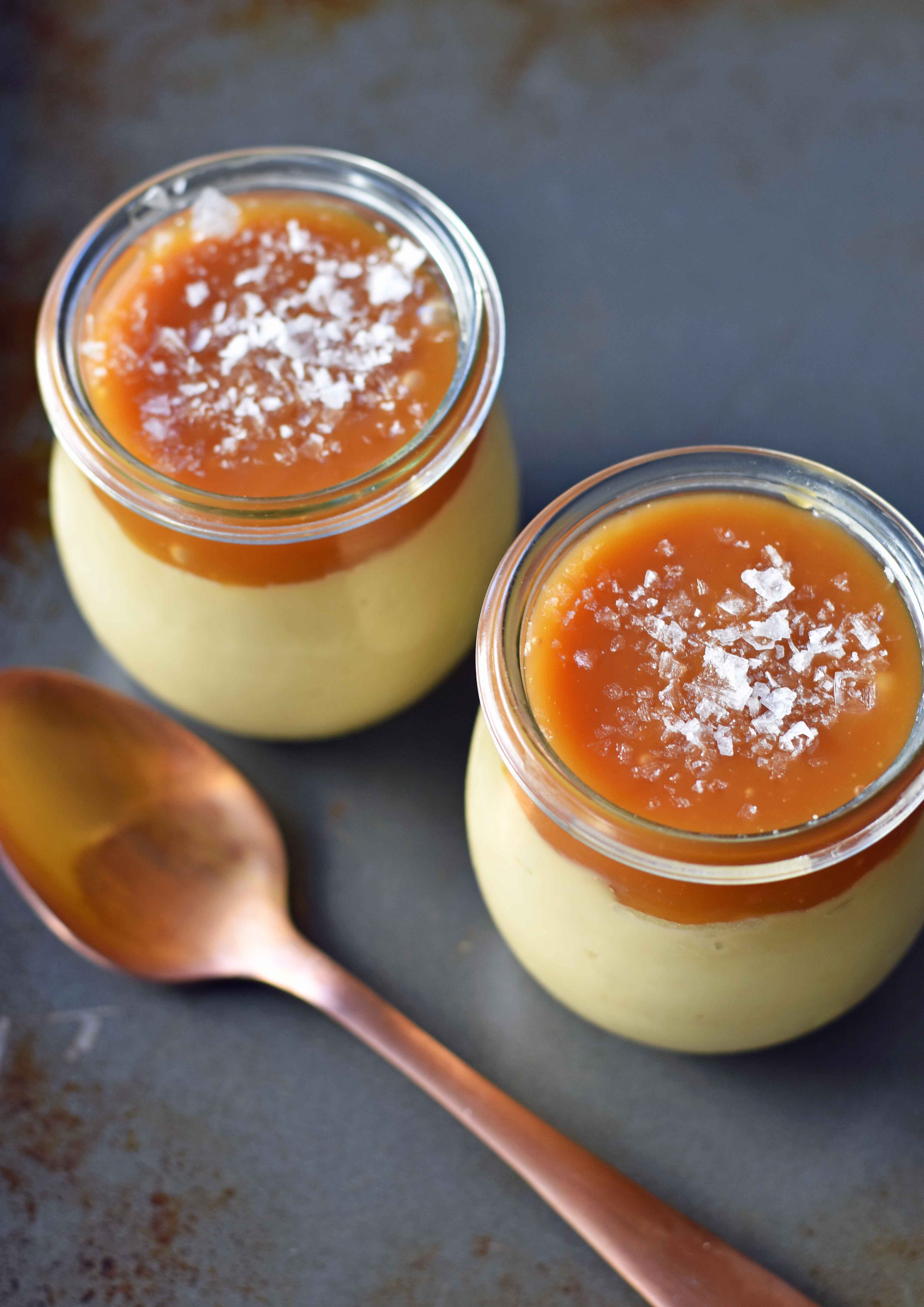 A few years ago, I attended a women's conference where they were serving a beautifully layered butterscotch budino custard dessert topped with a handcrafted salted caramel.
I was on a diet.
I was very sad to be on a diet.
I watched everyone eat it with a huge smile on their face, describing in great detail about how amazing it was. Ever since then, I wanted to eat that exact dessert.
Fast forward two years later. I recently attended a calligraphy workshop put on by Jill McKee of Modern March. She's ultra-talented at everything she does and she brought out a decadent butterscotch budino with salted caramel. All my dreams were coming true because I was NOT on a diet this time. Hallelujah!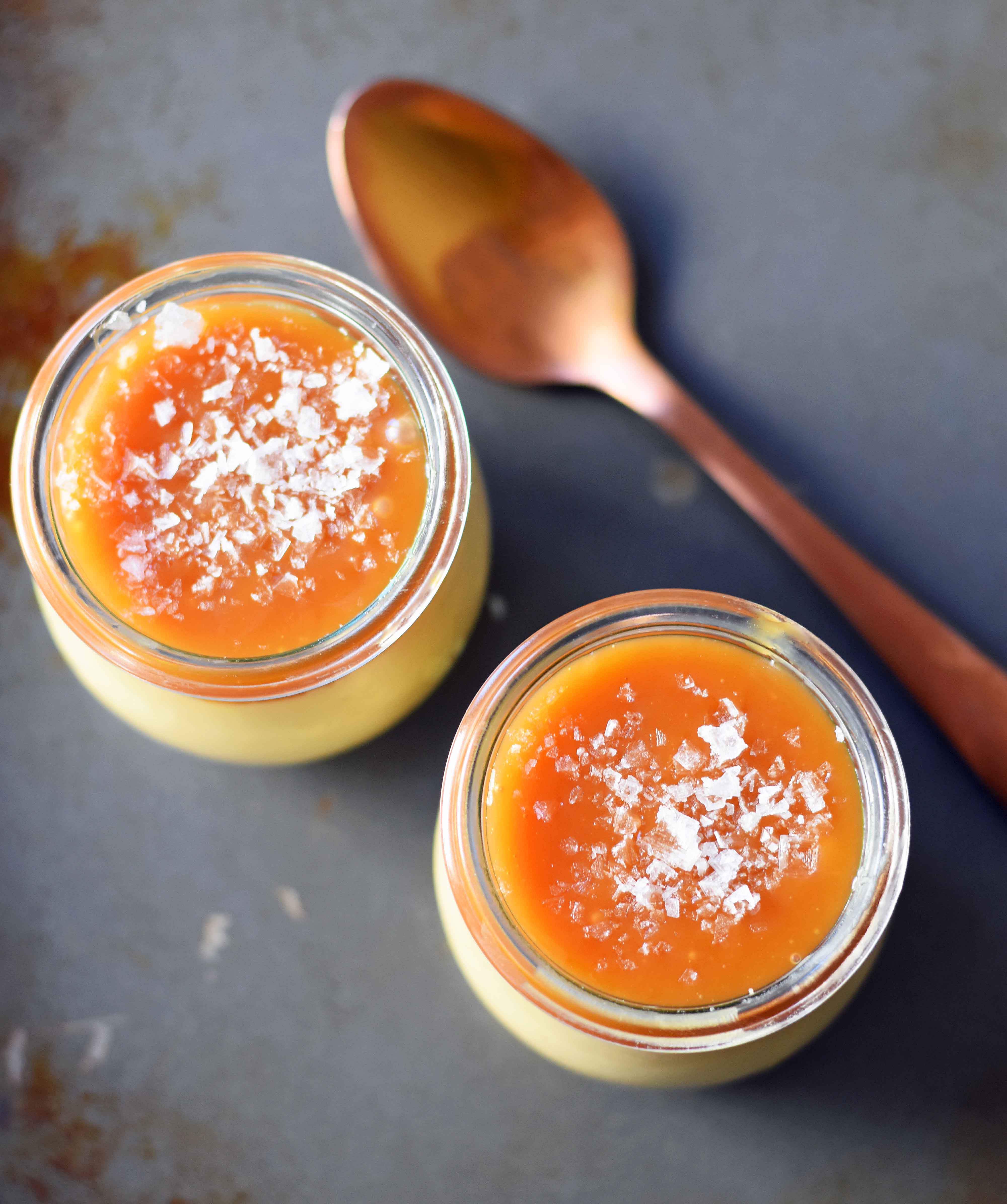 I literally savored every single bite of the creamy custard and decadent homemade caramel. I literally went to the grocery store on the way home to try to replicate it at home. I couldn't wait to share it with my family and my Modern Honey readers.
I played around with the custard until it was perfection.  This may be one of my favorite desserts of all time.  It is such a comforting dish and I want to eat an entire bowl of it.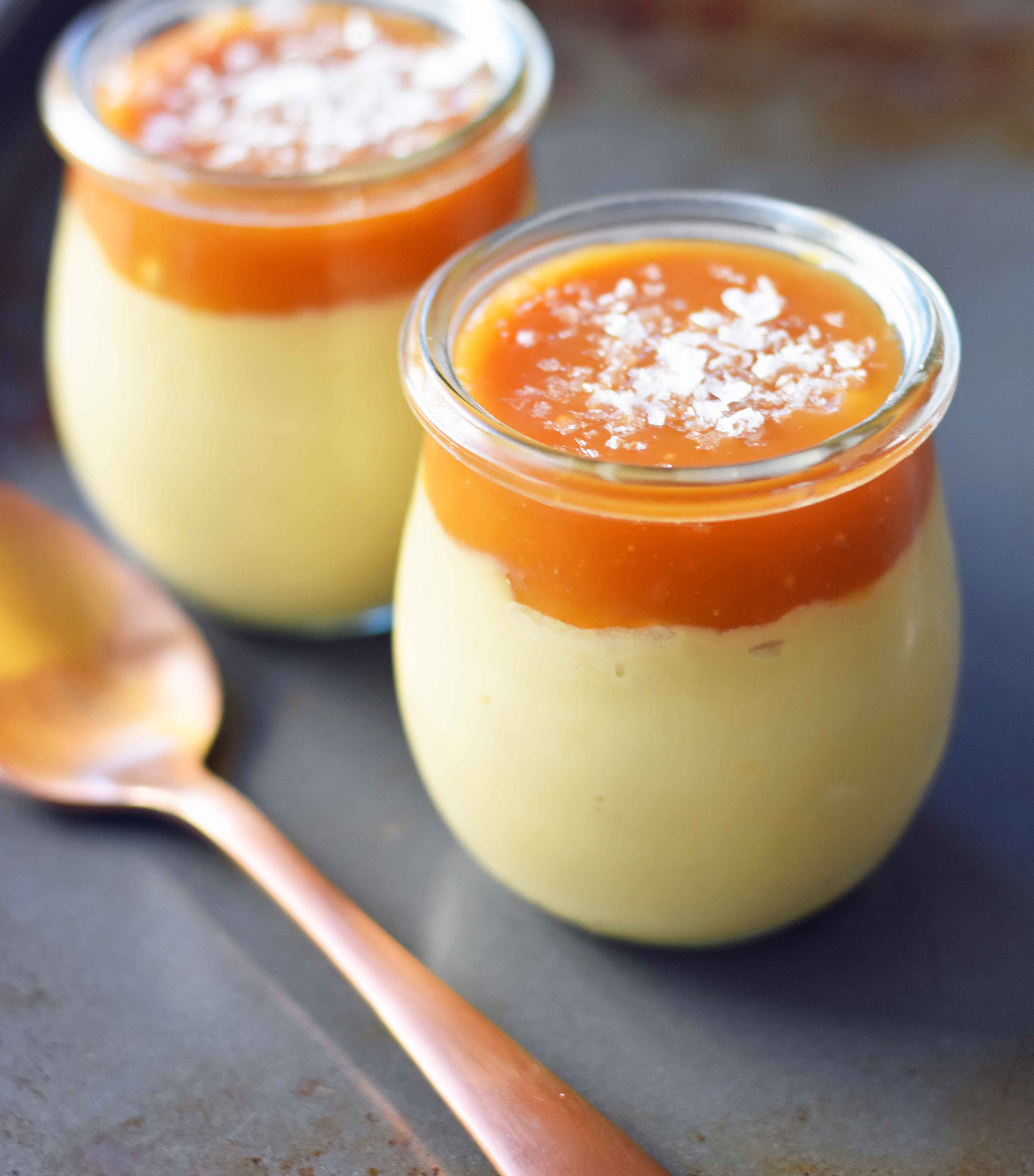 So what is a budino? So glad you asked. Budino is a sweet Italian dish, usually rich and creamy like a custard or pudding. This is a handcrafted butterscotch pudding made with butter, brown sugar, heavy cream, egg yolks, and vanilla….basically the GOOD stuff. It is topped with a slow-cooked homemade salted caramel, which completely melts in your mouth.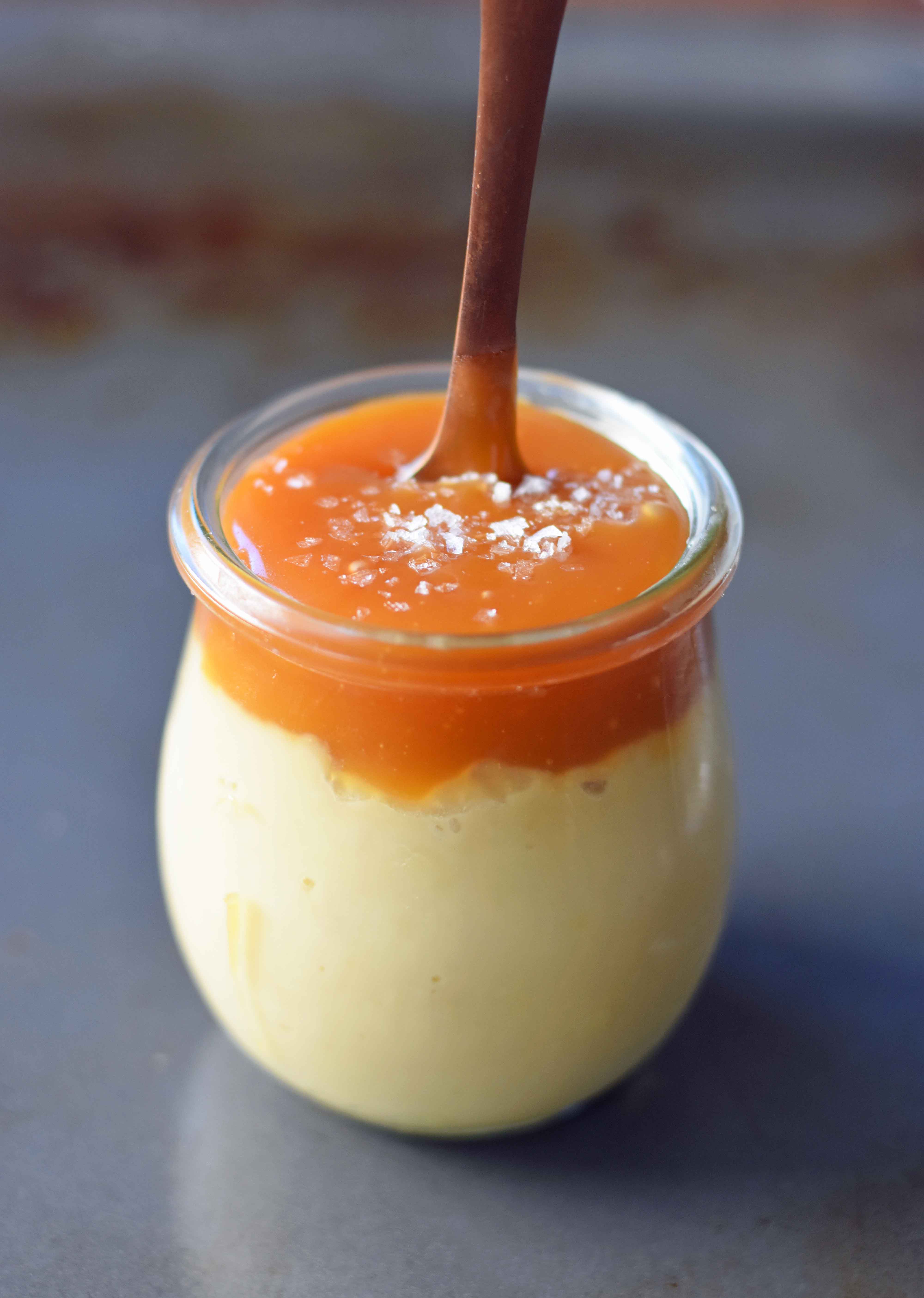 This dessert is so beautiful to serve in small jars, parfait glasses, or glass dessert bowls and is perfect to serve at parties, weddings, showers, or when you just want to impress some people. Butterscotch Budino with Salted Caramel is one impressive dessert!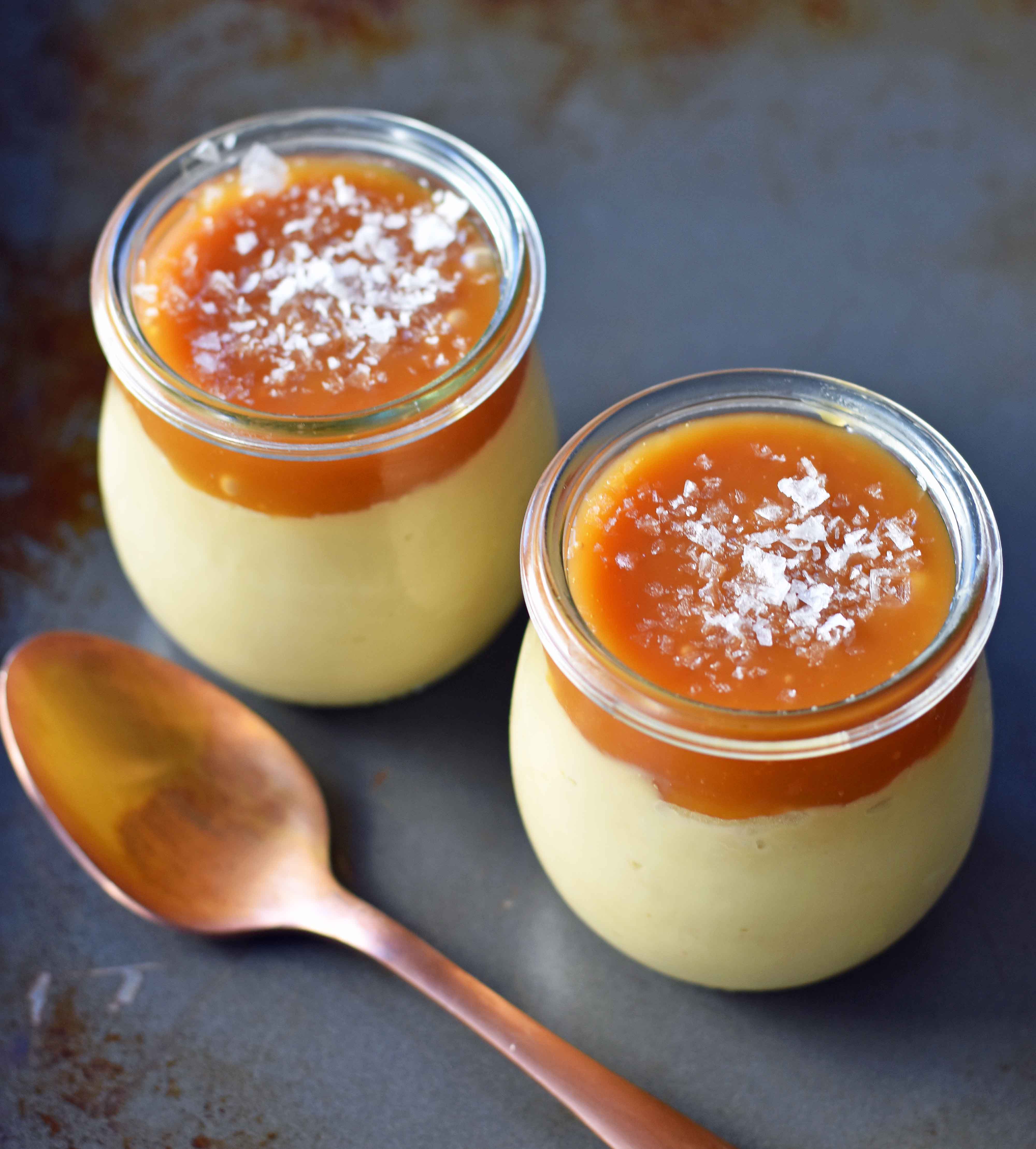 So how do you make a perfect butterscotch budino? It all starts with making a creamy custard. To change up a classic vanilla custard, we are using brown sugar and butter to give it the rich butterscotch flavor. A mix of whole milk and heavy cream gives it a creamy texture.  The egg yolks add richness to the custard.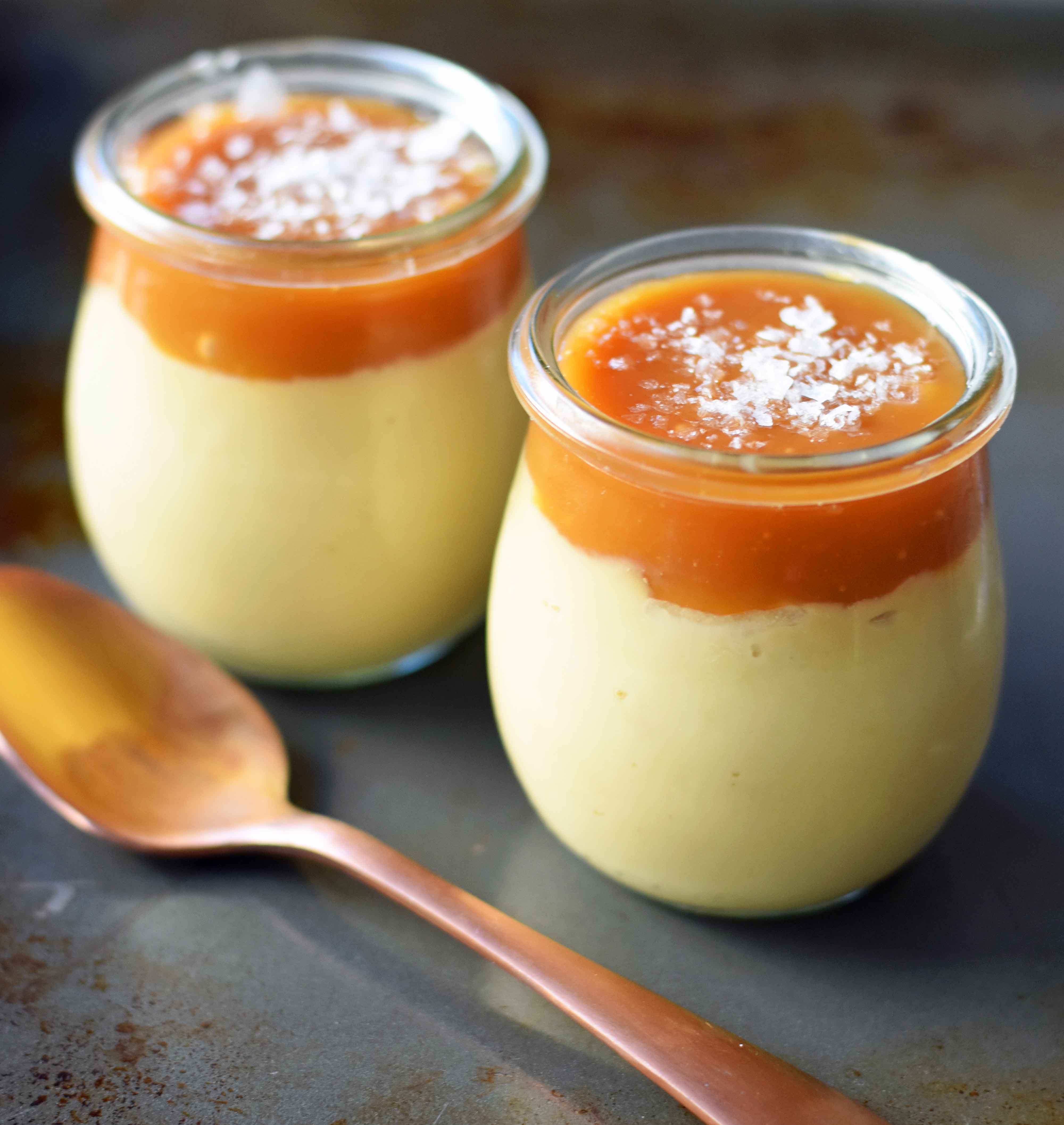 Homemade salted caramel is made with butter, sugar, heavy cream, and sea salt. It tops the decadent butterscotch budino and is the perfect accompaniment to the creamy custard. The key to making homemade caramel is to watch it like a hawk. Homemade caramel can go from perfect to burned within seconds. This is such a simple recipe using only four ingredients.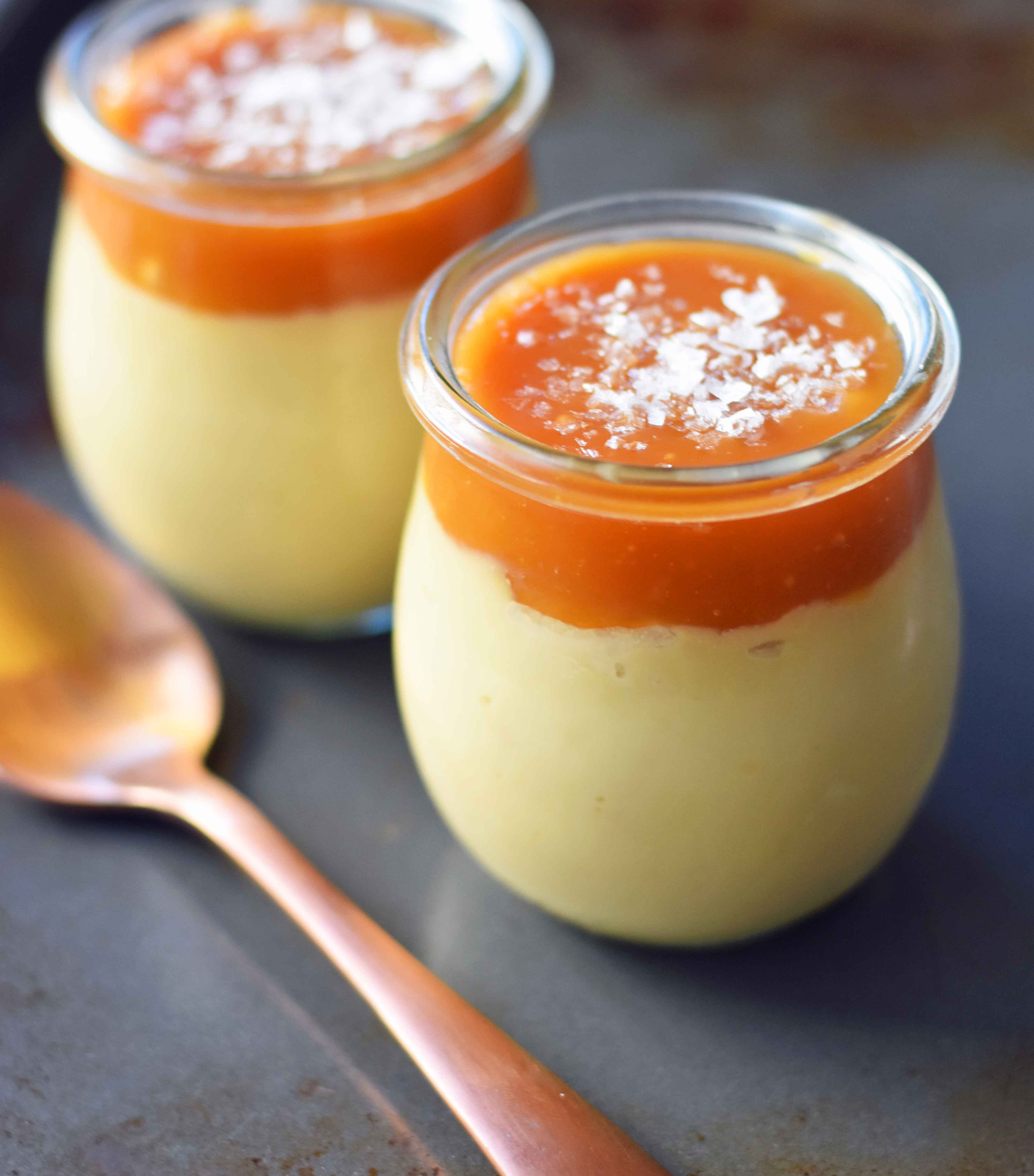 Pin this now to find it later
Pin It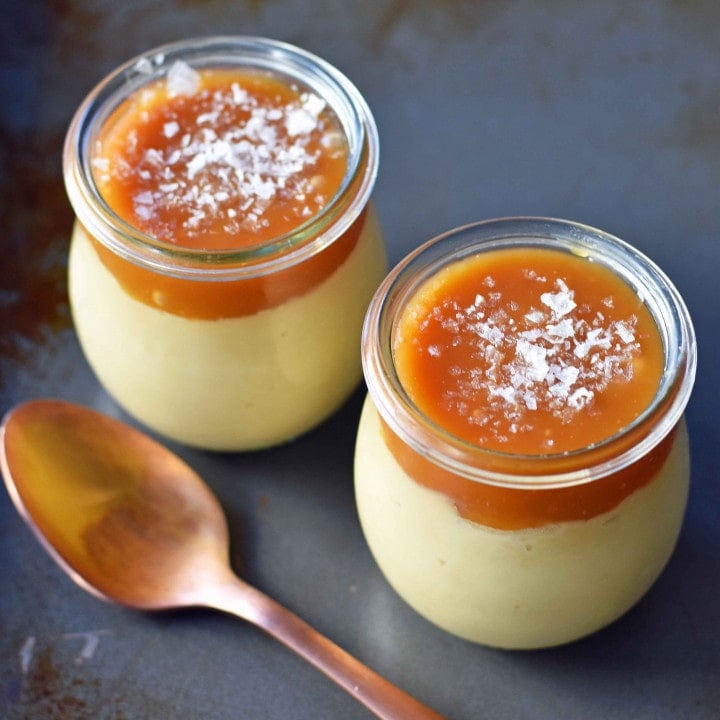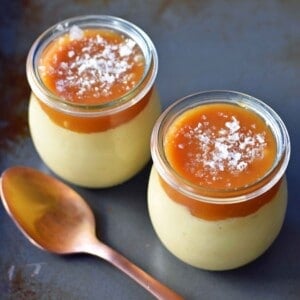 Butterscotch Budino with Salted Caramel
Butterscotch Budino with Salted Caramel is a layered dessert with a rich creamy custard and a handcrafted salted caramel sauce.
Ingredients
Butterscotch Budino Custard:
3

Tablespoons

Salted Butter

1

cup

Brown Sugar

1/4

cup

Cornstarch

1

cup

Heavy Cream

2

cups

Whole Milk

3

Egg Yolks

2

teaspoons

Vanilla or 1 Vanilla Bean
Homemade Salted Caramel:
1

cup

Sugar

1/2

cup

Butter

1/2

cup

Heavy Cream

1/4

teaspoons

Sea Salt

(plus more for the top of caramel)
Instructions
To make Butterscotch Budino Custard:
In a heavy-bottomed pot, melt butter over medium heat. Add brown sugar and keep stirring until the brown sugar and butter are completely melted.

Stir in cornstarch. Add heavy cream and whole milk.

Bring to a slow rolling boil and let thicken. Continue to cook and stir until the mixture coats the back of a spoon.

While the milk mixture is cooking, place egg yolks in small bowl. Temper egg yolks by spooning a small amount of hot milk into the bowl. Use a whisk and keep stirring. Pour the mixture back into the pot.

Bring it back to a boil for 1 minute.

Add vanilla extract or vanilla bean.

Let chill in refrigerator and cool completely. If you want to expedite the cooling process, put in an ice bath.
How to make salted caramel:
Two Methods:

In a medium saucepan, heat sugar over medium heat, stirring constantly.

The sugar will begin to form clumps and will turn into an amber color. Keep stirring. Watch carefully as the sugar can easily burn.

Once sugar is completely melted, add the butter. The butter will bubble so be careful.

Stir the butter into the caramel until it is completely melted. Use a whisk to stir the sugar and butter.

Drizzle the heavy cream into mixture and stir.

Let it boil for 1-2 minutes.

Remove from heat and stir in sea salt. Let set up.

EASIER METHOD:

Melt butter and sugar in a heavy-bottomed saucepan over medium heat. Let melt and stir with wooden spoon or heat-resistant spatula. Keep stirring and cooking until it turns an amber color. Watch it carefully. Stir in heavy cream and sea salt. Boil for 1 minute and let set up.

To make layered dessert:

Layer butterscotch custard and top with salted caramel.
Nutrition information is automatically calculated, so should only be used as an approximation.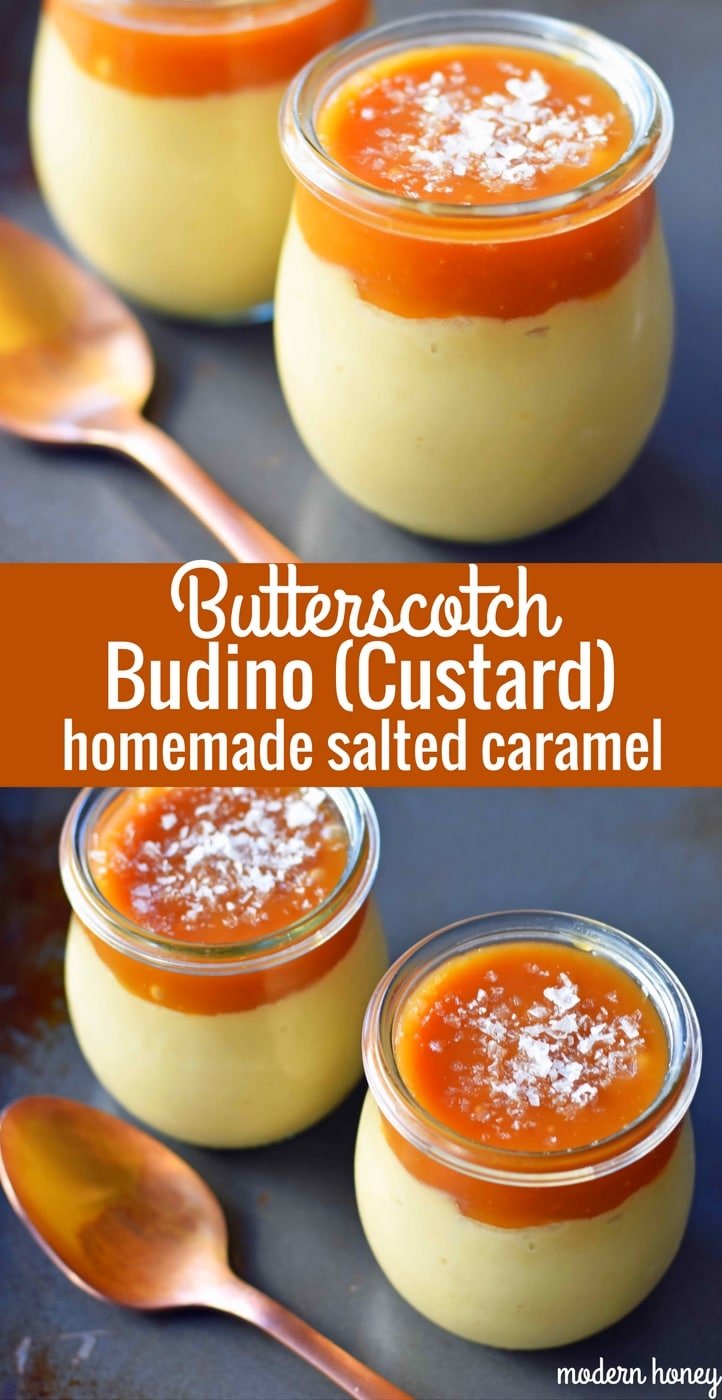 I can't wait to hear what you think of this decadent dessert. It is downright heavenly! Come find me on instagram at @modern_honey. Happy Baking!