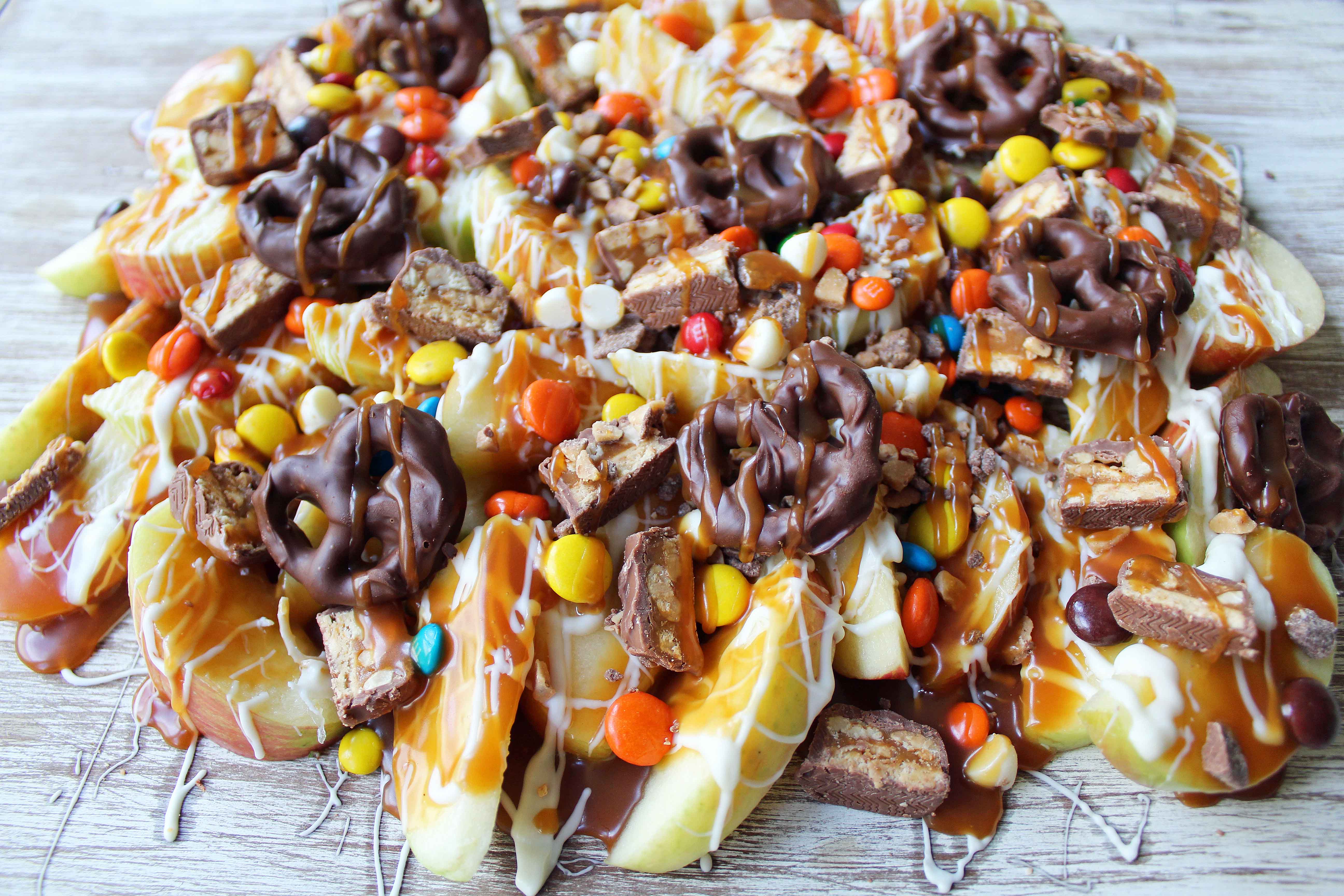 Caramel Apple Nachos
Crisp sliced apples topped with sweet salted caramel, melted white chocolate, and topped with your favorite candy bars. This is the perfect Halloween and Fall dessert without all of the work!
I am ecstatic to share these Candy Madness Caramel Nachos with you! I am literally like a kid in the candy store and I can't wait to hit publish on this post because these are such a heavenly treat!
About 10 years ago, I was asked to bring 30 caramel apples to a Halloween get together.  I bought the largest Granny Smith apples I could find, made my caramel from scratch, and loaded them up with all kinds of good stuff. But there was a problem! The caramel started to slide off the apples and half of it ended in a big pool at the bottom of my apple. So much for them being pretty! I sheepishly took them to the party anyway.
There were 30 kids, who were already on a certifiable sugar high, attempting to eat these humongous apples. There was not a chance in the world they would ever finish them! We ended up with 30 half eaten apples and I ended up throwing them away. I thought there must be a better way!
Fast forward to my present life. I have two kids in braces and despite their love for caramel apples, they wouldn't dream of biting into one. Hence the beginning of Caramel Apple Nachos. Let the braces wearing people everywhere let out a huge sigh of relief!
How many times have you bought a big caramel apple at the store, and once you eat the outside you just end up with a plain apple. Let me tell you something….once you start eating an apple drizzled in caramel, it's hard to go back to just an ordinary apple.
These Candy Madness Caramel Apple Nachos solve that dilemma. Every single apple slice is coated with so much goodness that you end up satisfied with every single bite!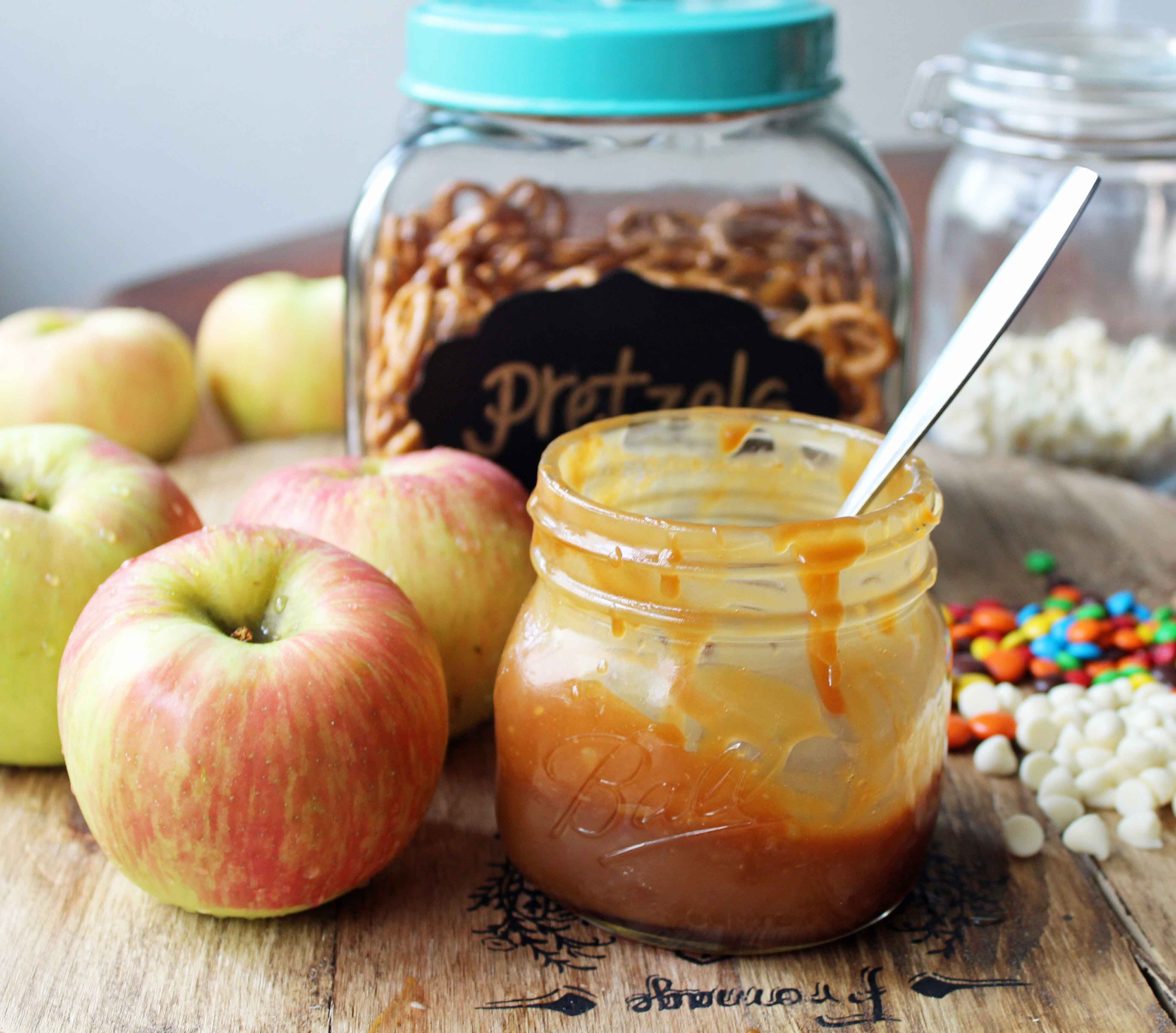 So, how do we make this crowd pleasing Halloween treat? Very simple.
You start with a crisp apple such as a Granny Smith (the usual favorite) or a Honeycrisp.
Then you drizzle the apple slices with homemade salted caramel or melted store-bought caramels. At that point, these Caramel Apple Nachos are already good but let's take them up a notch.
You finish them off by drizzling with melted white chocolate and then top with your favorite candy bars – Snicker's, Heath Bar Toffee Bits, M & M's, Reese's Pieces, Butterfinger, and even Chocolate Covered Pretzels. This is where it gets fun because you can tailor make these caramel apple nachos to your taste buds. These are caramel apples on steroids. I kid you not.
A few key tips when making these Candy Madness Caramel Apple Nachos:
If you aren't serving the caramel apple nachos right away, sprinkle the apple slices with lemon juice. You can either toss them with lemon juice, dip them in lemon water, or sprinkle with Fruit Fresh to keep them from turning brown.
Low and slow wins the race. When melting white chocolate, do it over a double-boiler or in the microwave at a low power. I will usually reduce the power on my microwave to 50%. Cook it at 30 second intervals, stirring after each time to ensure you don't burn the white chocolate. Adding a few drops of coconut oil or shortening will help it melt better and make the melted white chocolate nice and shiny.
Homemade or Store Bought? You can make your own caramel from scratch (recipe below), buy Kraft caramels, or go to Trader Joe's and pick up their caramel in a jar.
Use a crisp apple such as Granny Smith or Honeycrisp.
Make your Caramel Apple Nachos Bar. Put all of the ingredients in bowls and let your guests make their own plate of nachos. They can customize their own with their favorite toppings.
These are so much easier to make than caramel apples and are a real crowd pleaser.  Everyone loves these caramel apple nachos and they are perfect for a fun afternoon snack or a treat for your next holiday party. I promise they will be the hit of the party!
Pin this now to find it later
Pin It
Candy Madness Caramel Apple Nachos
Forget messy caramel apples! These Candy Madness Caramel Apple Nachos are the new way to eat caramel apples and are loaded with all of the good stuff.
Ingredients
3-4

Granny Smith or Honeycrisp Apples

sliced

Fresh Lemon Juice

to toss to prevent browning




Salted Caramel Sauce

recipe below or 1 pkg. Kraft Caramels, melted

1/2

cup

White Chocolate Chips

melted (add a drop of coconut oil or shortening to bowl)

M & M's

Snickers

Reeses Pieces

Butterfinger

Heath Bar Toffee Bits

Chocolate Covered Pretzels



Homemade Salted Caramel:
1 1/2

cups

Sugar

1/3

cup

Water

6

Tablespoons

Butter

1

cup

Heavy Cream

1/2 - 1

teaspoon

Sea Salt
Instructions
To make Homemade Salted Caramel:

In a heavy bottomed saucepan, heat sugar and water over medium high heat, whisking constantly to dissolve sugar. Once mixture reaches a boil, stop whisking. Watch carefully as it transitions from white to light amber color. This is an important step to ensure that it doesn't burn. Once mixture reaches a medium amber color, add butter and whisk until butter is melted. Once it's melted, immediately remove pan from heat. Wait 10 seconds and then add heavy cream. Whisk well to combine until glossy and smooth. Allow caramel to cool for several minutes and then place in jar and place in the refrigerator to cool.

If not making homemade caramel, melt caramels according to package instructions.

To melt white chocolate, use double-boiler or if using the microwave, heat at low power, about 50%. White Chocolate can burn easily so cook it at 30 second increments. Add a drop of coconut oil or shortening to white chocolate to make it smooth and shiny.

Cut apples into thin slices. Sprinkle apples with lemon juice or dip each apple into lemon water to prevent browning. Place on large platter. Drizzle caramel and melted white chocolate over sliced apples. Top with your favorite candy bars - M & M's, Snickers, Reeses Pieces, Butterfingers, Heath Bar Toffee Bits, and Chocolate Covered Pretzels.

Eat right away because they will gone before you know it!
Nutrition information is automatically calculated, so should only be used as an approximation.
I am literally chomping at the bit to get these Candy Madness Caramel Apple Nachos out to you. I am so passionate about what I do and when I make something that I think you will really love, I just can't wait to share it. Have a fabulous week, my friends! xo