Cinnamon Chip Sugar Cookies are snickerdoodle cookies rolled in cinnamon sugar and studded with cinnamon chips for the perfect cinnamon sugar cookie! The best soft and chewy cinnamon chip cookie recipe.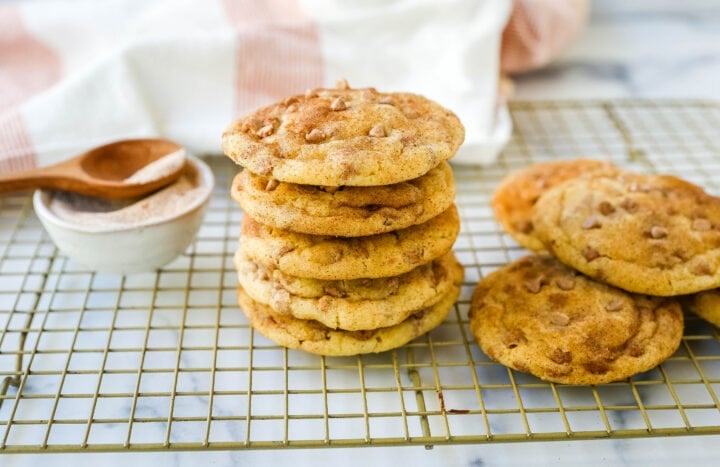 One of the most popular recipes on Modern Honey is my famous snickerdoodle cookie recipe. This recipe has been passed down in my family for so many years and it has been go-to cinnamon sugar snickerdoodle recipe since I was a little girl. I find that is almost universally popular.
When I saw cinnamon chips, I knew that I had to have them to create the ultimate Cinnamon Chip Cookie. It is such a soft, chewy cookie with the perfect amount of cinnamon and sugar.
This Cinnamon Chip Cookie Recipe is perfect for Fall and the holidays coming up and will make the perfect addition to any cookie box or goodie plate. This is basically a snickerdoodle cookie with cinnamon chips!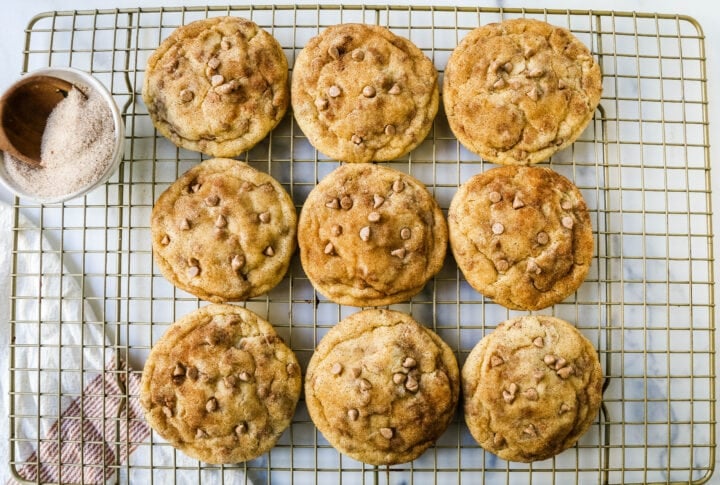 Ingredients:
Butter
Sugar
Eggs
Vanilla
Flour
Cream of Tartar -- this is an important ingredient that gives the famous tangy snickerdoodle flavor.
Baking Soda + Salt
Cinnamon + Sugar -- this is a cinnamon-sugar mixture that you roll the cookie dough balls into to coat the exterior before baking.
Cinnamon Chips -- these resemble chocolate chips but are cinnamon flavored. You can find them in the baking aisle at your local grocery store. I found them at Target and Walmart.
See recipe card for quantities.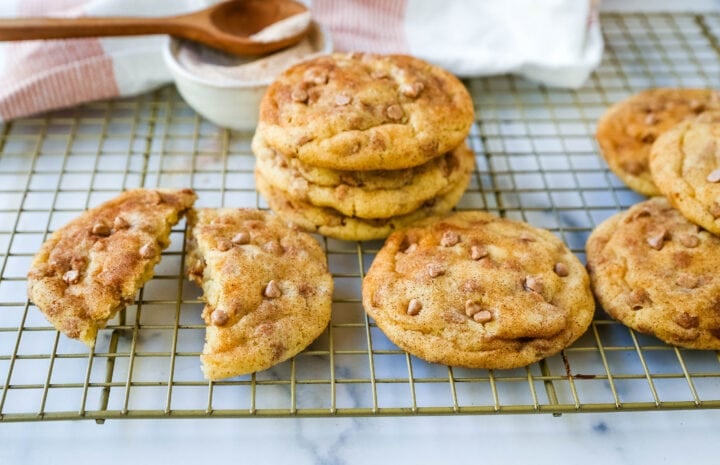 Instructions:
Start by creaming the butter and sugar together for 4 minutes or until light and fluffy and pale yellow in color.
Add eggs and vanilla and mix for 1 minute longer, scraping the sides of the bowl often.
Fold in flour, cream of tartar, baking soda, and salt. The cream of tartar gives it the signature tangy flavor and chewy texture. Fold in cinnamon chips, reserving ¼ cup to hand place onto the cookie balls before and after baking.
Double-roll the cookie balls into a cinnamon-sugar mixture. This helps to make sure the cookies are completely coated in cinnamon sugar before baking.
Use a light-colored baking sheet. Once you roll the cookie dough into balls and dip them into cinnamon-sugar, press some of the remaining cinnamon chips on top of the cookie dough.
Bake just until the edges begin to become a light golden color. These cinnamon cookies need to be soft and chewy so watch carefully. If you want them to be flat, press the balls down in the center before placing them in the oven.
Once you remove the cookies from the oven, if you have any cinnamon chips remaining, lightly press a few onto the top of the cookies. Let cool for several minutes before transferring it to the cooling rack.
Substitutions:
You can use salted or unsalted butter in this recipe. If you use salted butter, reduce the salt by ¼ teaspoon.
If you want the signature tangy flavor, you NEED to use cream of tartar in this recipe. If you can skip it, you can substitute baking powder for the cream of tartar. This will make them rise higher and be thicker so if you want a thinner cinnamon chip cookie, I suggest pressing down on the cookie dough balls.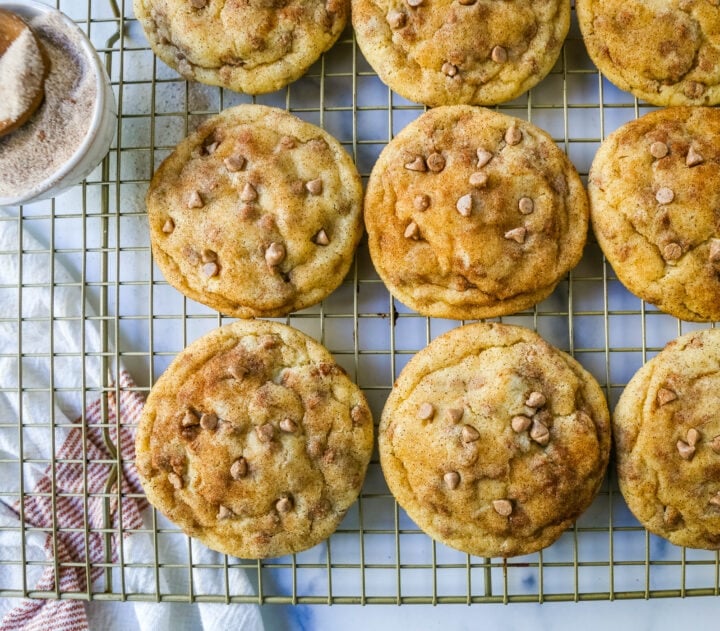 Variations:
If you want to make white chocolate chip cinnamon cookies, use white chocolate chips instead of cinnamon chips.
Storage:
As soon as the cookies cool, place in an air-tight sealed container.
My favorite light-colored baking pans are the USA Baking Pans or Nordicware. I love to use these pre-cut parchment paper sheets.
Top tip:
Don't overbake the cookies! These should be soft and chewy so watch them carefully.
FAQ
Question 1: Where do I find cinnamon chips?
Cinnamon Chips can be found in the baking aisle at your local grocery store. I have found the Hershey's brand at stores like Target and Walmart. I bought the cinnamon chips used in this recipe at Orson Gygi, a gourmet grocery store. They run about $2.50 per package.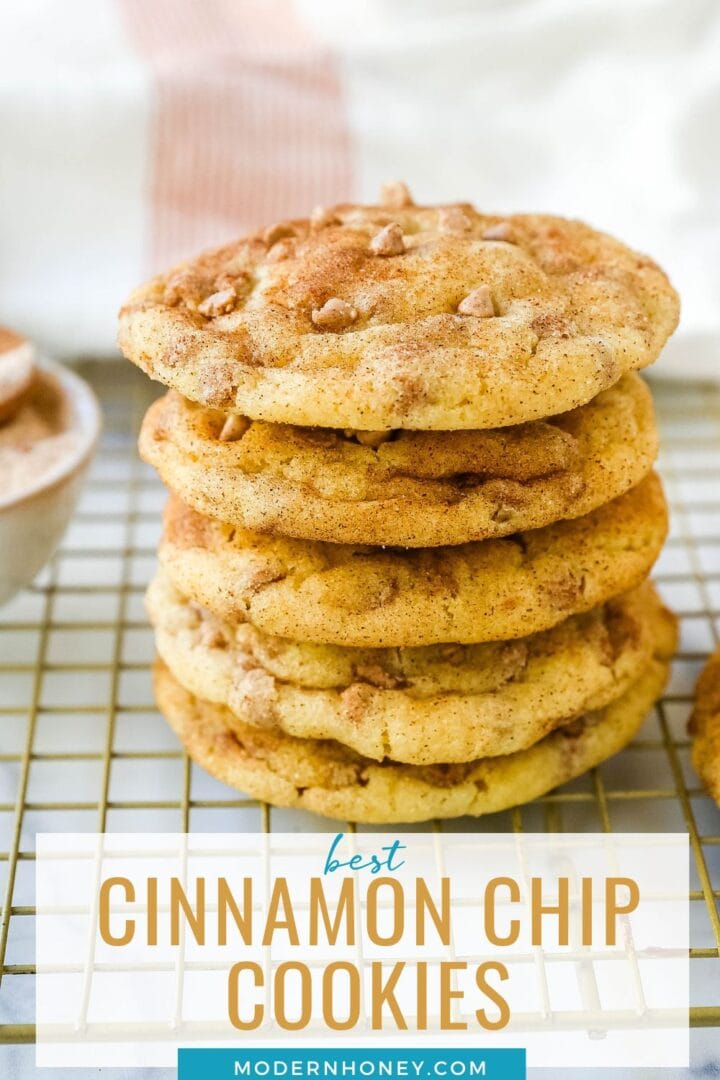 I love to hear from you! If you make this recipe, please be sure to leave a comment and give this recipe a rating. If you make any of my recipes, tag me on Instagram @modern_honey so I can see your creations. It's one of my favorite things seeing you make these recipes in your own kitchen. Sign up for my newsletter below so you never miss a recipe. Thank you for following along! I truly do have the greatest readers. FOLLOW ME ON: INSTAGRAM --- FACEBOOK --- PINTEREST