Creamy Tomato Basil Soup is a rich and creamy soup using tomatoes, garlic, sauteed onions, fresh basil, and cream.
I have been blogging at Modern Honey for almost two years. In some ways, it feels like it flew by and in other ways, it feels like a lifetime. It depends on the day. 🙂
For the past two years my friend, Julie, has been asking me to create a creamy tomato basil soup recipe. She orders tomato soup at Nordstrom and Panera Bread all of the time and wants to finally make it at home. It may have taken me 23 months to get it to her...so I hope it was worth the wait.
My husband's ultimate comfort meal is grilled cheese and cream of tomato soup. It started in his college days when he would grab the Campbell's tomato soup from the can and call it good. Every single time it rains in Arizona, he calls me from work and asks if we could have grilled cheese and tomato soup for dinner.
We have ditched the can and it's all homemade from here on out. When creamy tomato basil soup tastes this good, you say bye-bye canned tomato soup.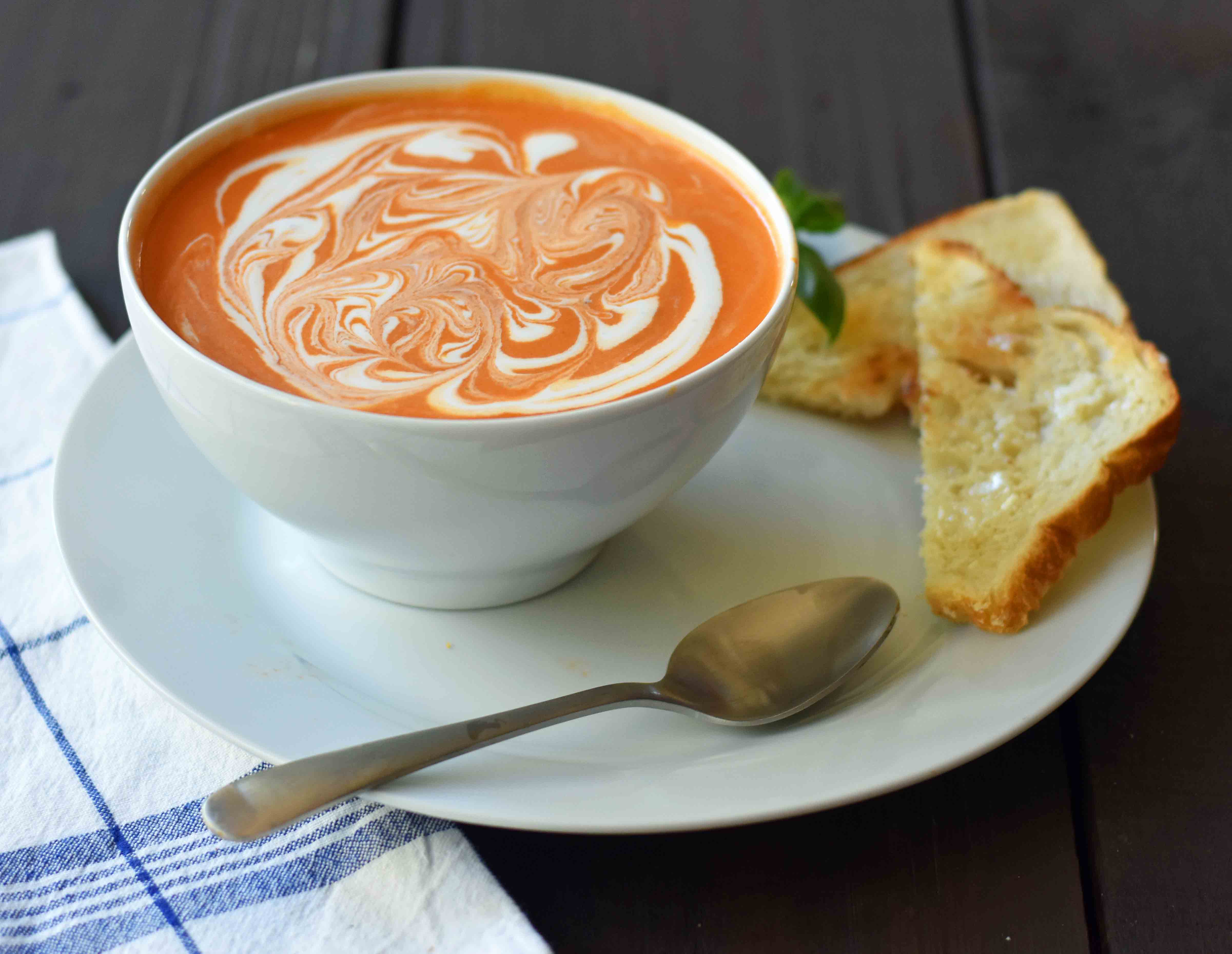 How do you make Homemade Creamy Tomato Basil Soup?
It all starts with the flavor makers -- onions and garlic sauteed in butter and extra-virgin olive oil. The onions are what gives this soup its base of flavor and sauteeing them mellows the onions out. Everyone loves a mellow onion. A strong onion isn't so popular. Give it some time to soften the onions. It's worth the wait!
Use Canned or Fresh Tomatoes. I usually use canned because they are readily available in my pantry. I prefer to use San Marzano tomatoes, especially when tomatoes are the star of the show, but any whole tomatoes work well.
A pinch of red pepper flakes give it a touch of spice, which is barely noticeable and the sugar helps balance out the acidity in the tomatoes. It's all about balance in this soup!
Chicken Broth gives the soup flavor without adding fat. Oh, chicken broth is a miracle worker.
Blend, baby, Blend. This soup is known for its creamy texture so you want to use an immersion blender or kitchen blender to puree the soup. If you are using a stand-up blender, be careful because the soup will be hot. Blend it in batches and vent the lid just a tad to let the steam escape. If you have an immersion blender, it works like a charm because you can leave the soup in the pot.
Heavy Cream is the real MVP in this soup. It is what gives the Creamy Tomato Basil Soup the rich, creamy, melt-in-your-mouth texture.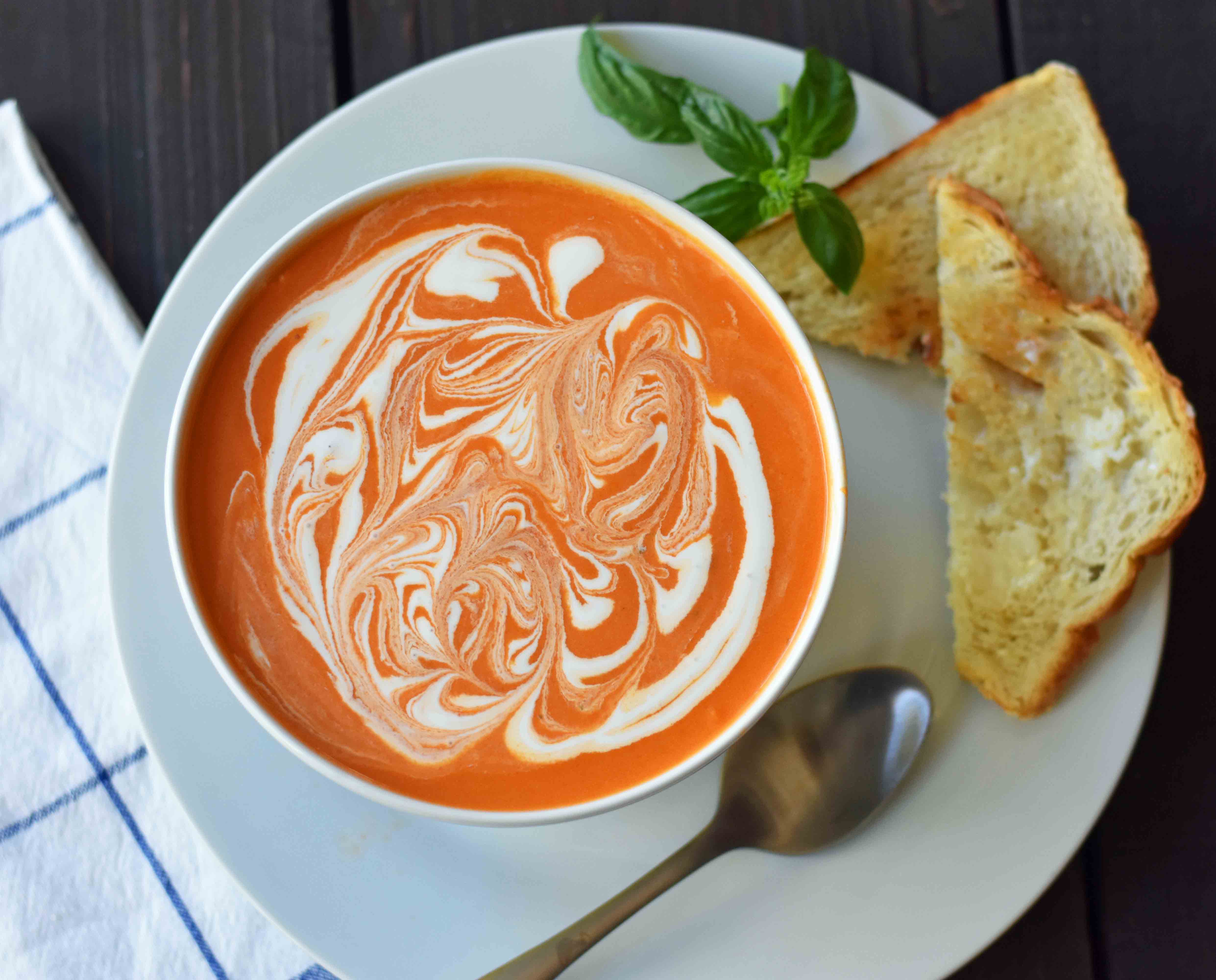 Pair this Cream of Tomato Soup with a crusty, warm, and gooey grilled cheese sandwich and you have the ultimate comfort food meal. My husband says he doesn't even need to buy the cans anymore. Progress, people, progress! 🙂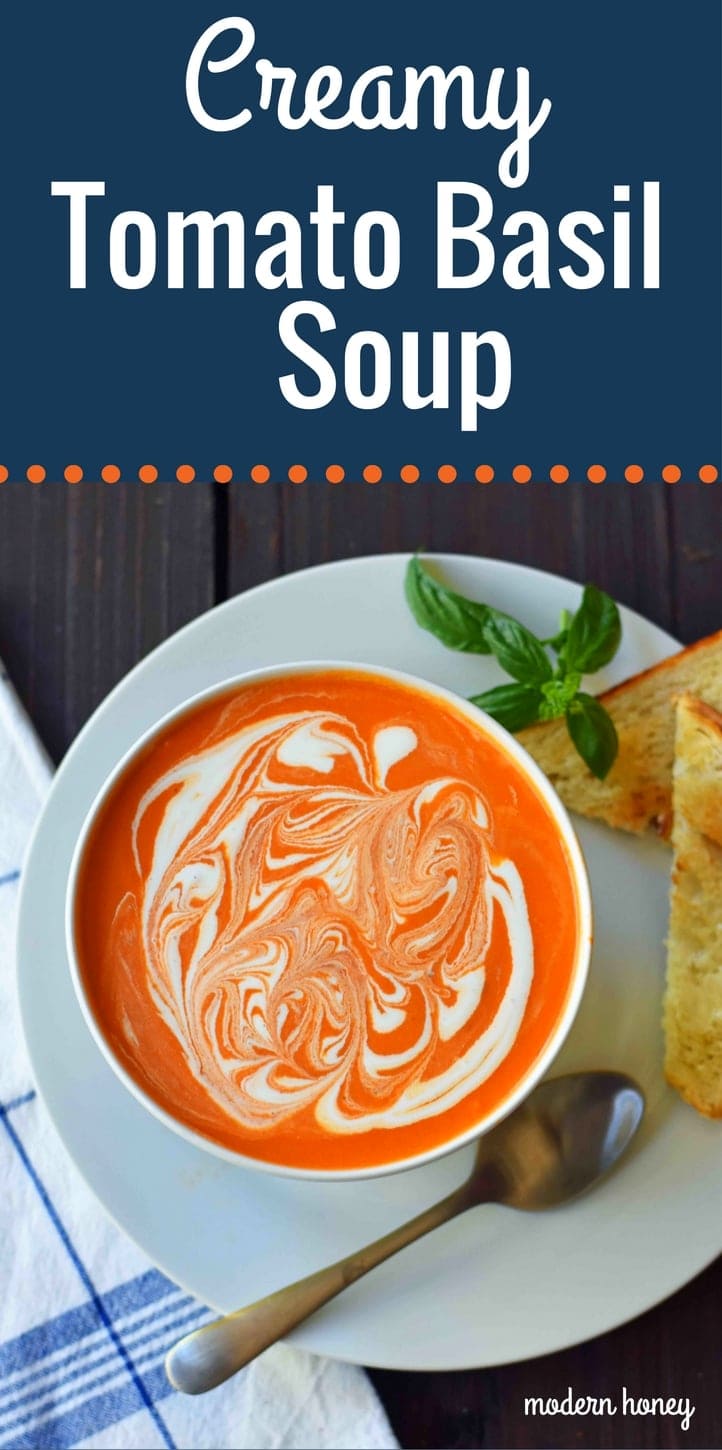 Happy Cooking, my friends! What's the weather like where you are? Is it soup and sweater weather? I hope you love this Creamy Tomato Basil Soup.