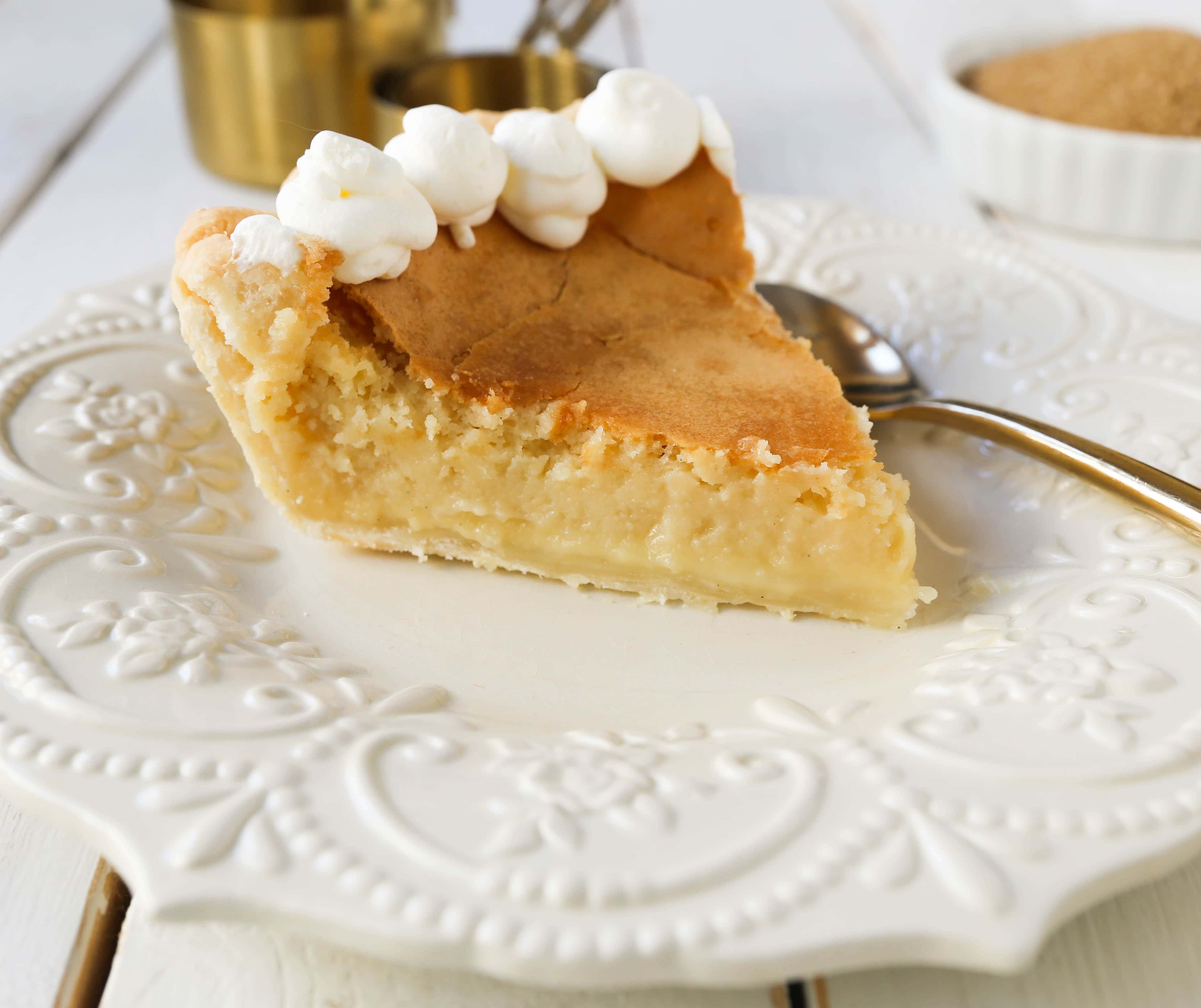 Creme Brûlée Pie
A silky smooth vanilla custard in a buttery crust topped with a crisp sugar topping. It is a creamy sweet pie with a touch of tang and will be everyone's favorite pie! 
Pie season is officially upon us! I love this time of year when everyone is gearing up for the holidays. The holidays mean family time and I am definitely the happiest when I am surrounded by my loved ones. I am also the happiest when my plate is full of pie. We are talking a dinner-sized plate with an assortments of the best homemade pies!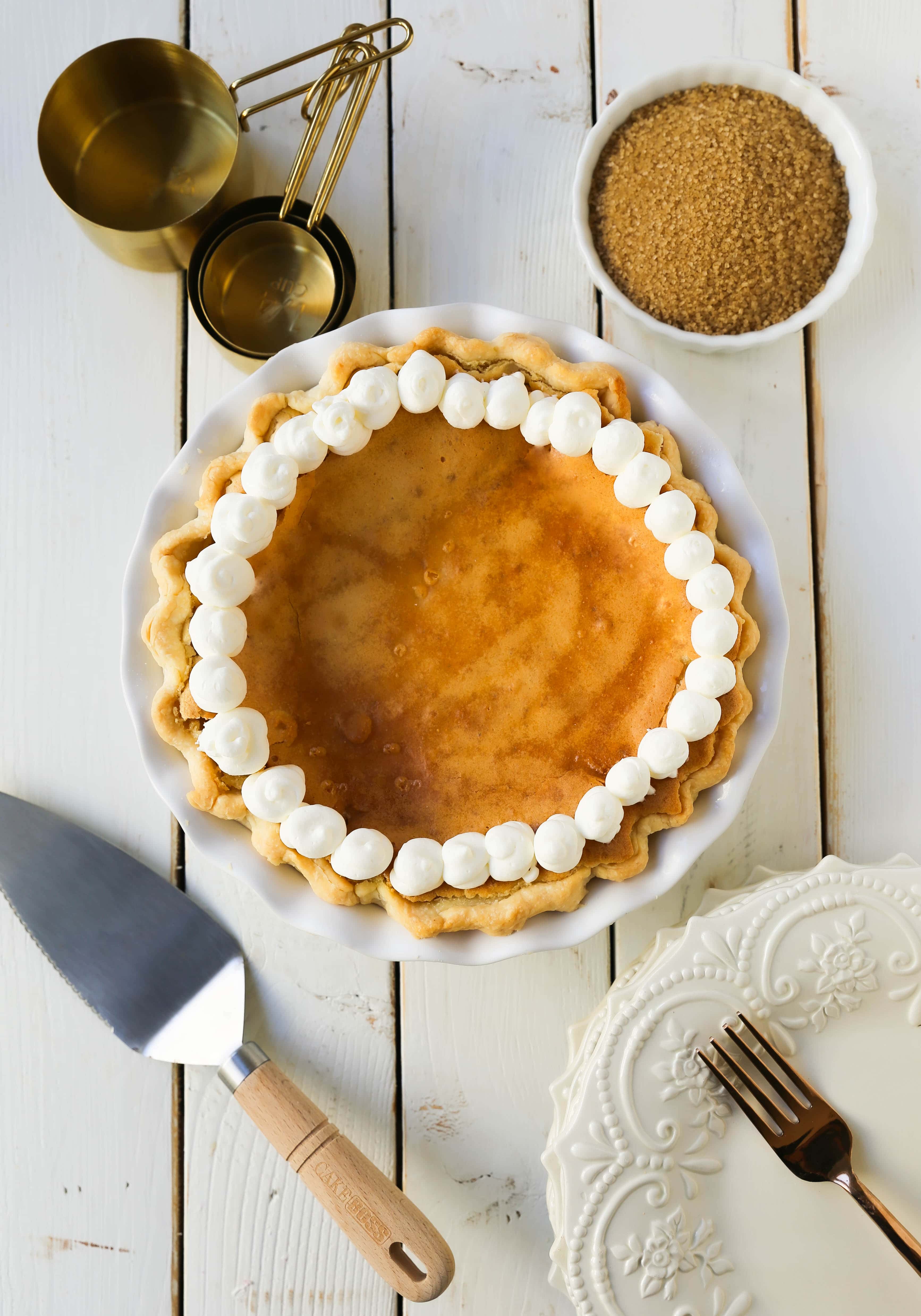 Every year on Thanksgiving, I bring two to three brand new pies in an attempt to impress the fam.  I always want to mix it up so they are surprised. As I was thinking about some of my favorite desserts...I dreamt about creme brûlée and how I could turn that classic dessert into a pie. Everyone loves creme brûlée so why not pair it with a buttery, flaky homemade pie crust and you end up with one heavenly pie.
This Creme Brûlée Pie took some experimenting in the kitchen. I ended up making FIVE pies to get it just right! I employed a lot of taste testers to figure out which one provided the creamiest texture with the right amount of sweetness and the signature crisp topping. The end result reminds me  of a chess pie or buttermilk pie but that much better.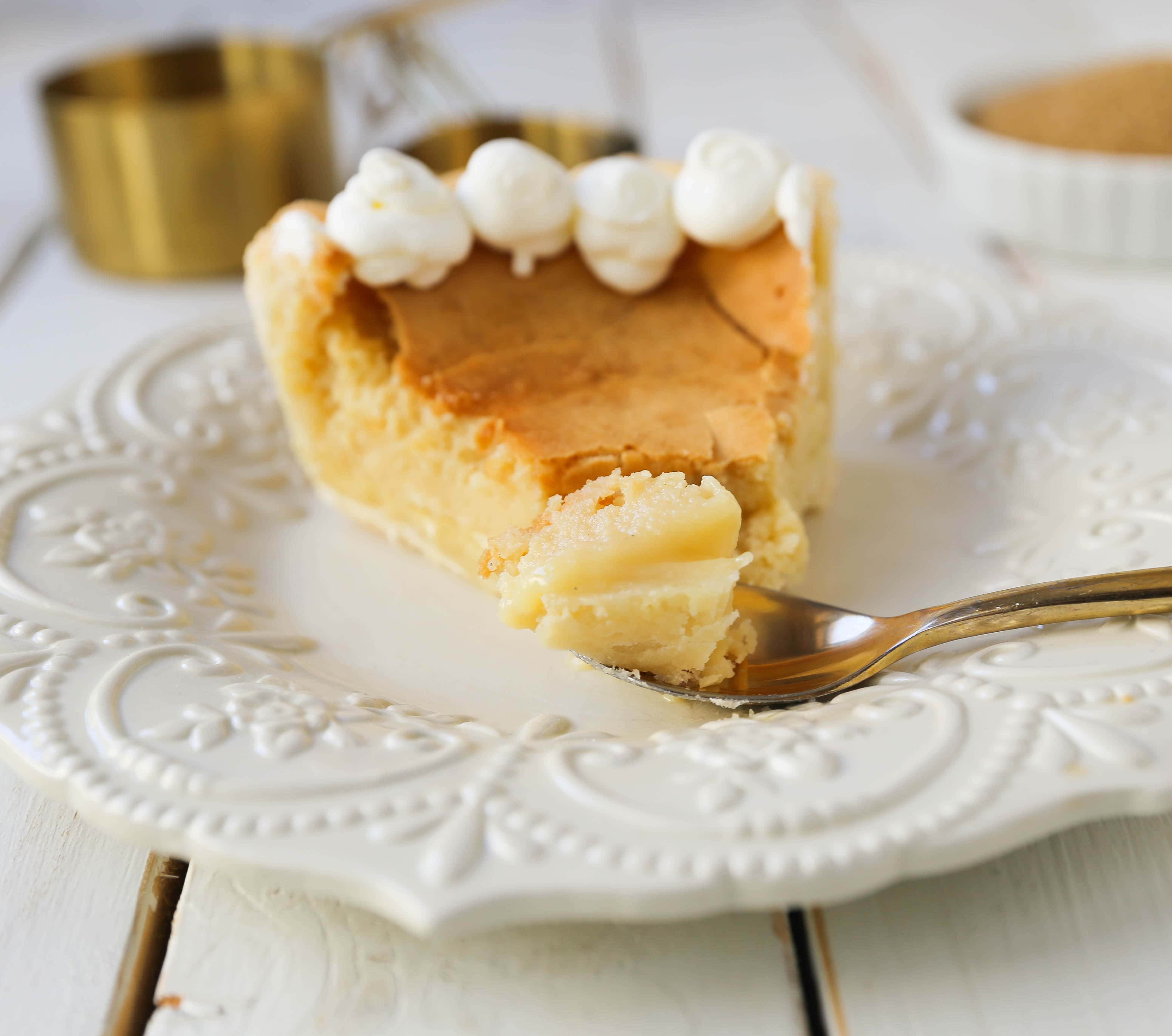 I made all sorts of variations -- I used heavy cream and egg yolks, buttermilk and eggs, heavy cream with a mix of heavy cream and a touch of buttermilk, and more. I think experimenting in the kitchen is my absolute favorite!
I found if I did a traditional creme brûlée recipe made with egg yolks, sugar, and heavy cream, it was a tad too sweet since a pie is much thicker than traditional creme brûlée. I needed something to cut the sweetness. A simple way to balance out sweetness is to add some type of acid. Hello, buttermilk. The buttermilk still adds the creamy element I was searching for but also adds a nice tang to the pie. I also wanted to use whole eggs instead of just egg yolks because it was too rich.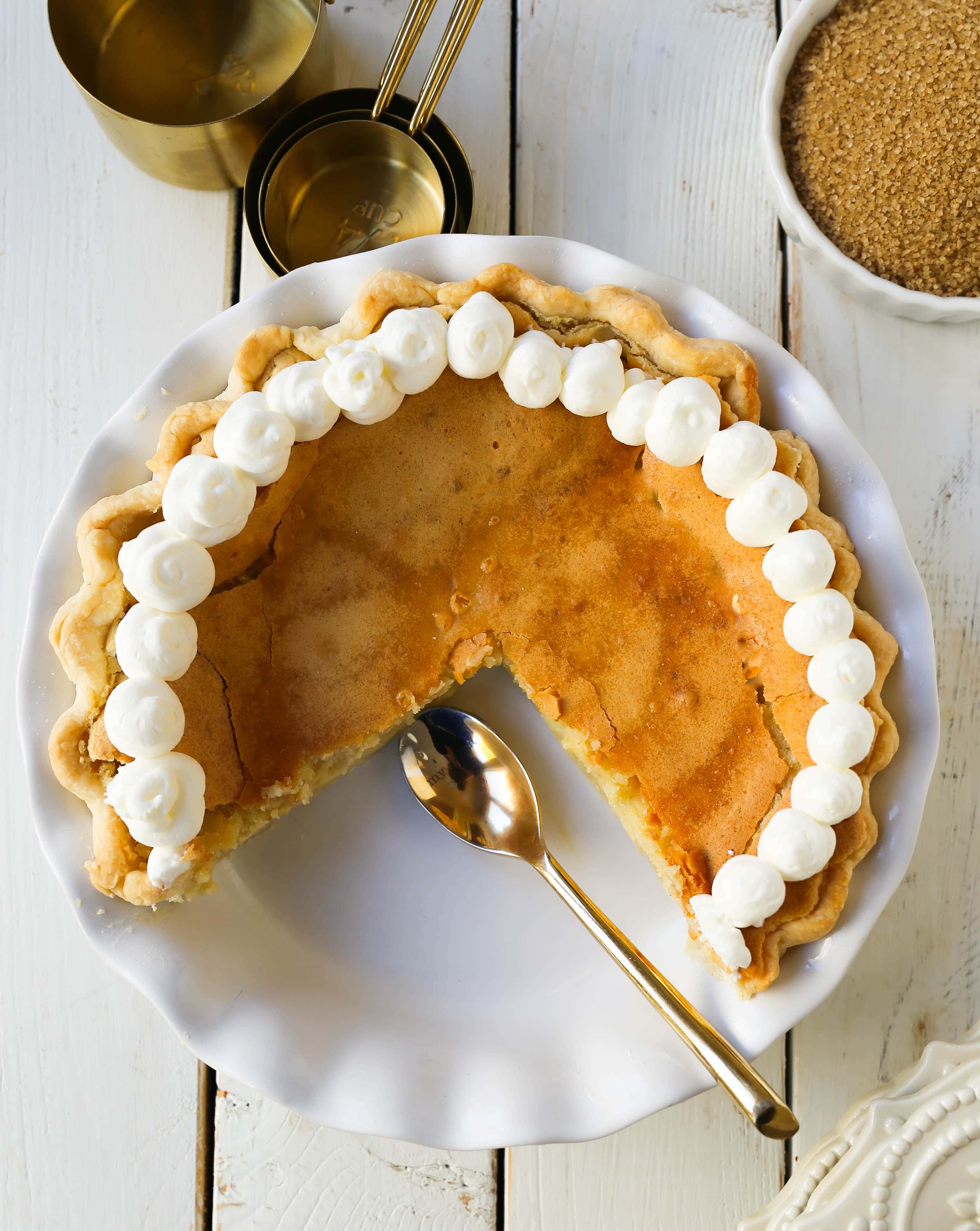 I used my favorite type of sugar to make this Creme Brûlée Buttermilk Pie -- C&H® Organic Raw Cane Sugar. I have been using C&H sugar for as long as I can remember and it is my go to for all of my baking needs. Since the sugared crust is the star of the show, I wanted to use the highest quality sugar I can find. You can find the sugar HERE or at your local grocery store.
Since this is a baked pie, I needed to add a little thickener to make sure the pie will set up. This recipe calls for 4 Tablespoons of flour to help thicken the filling. Also, after it is baked it is important to place it in the refrigerator to chill and allow time to set up.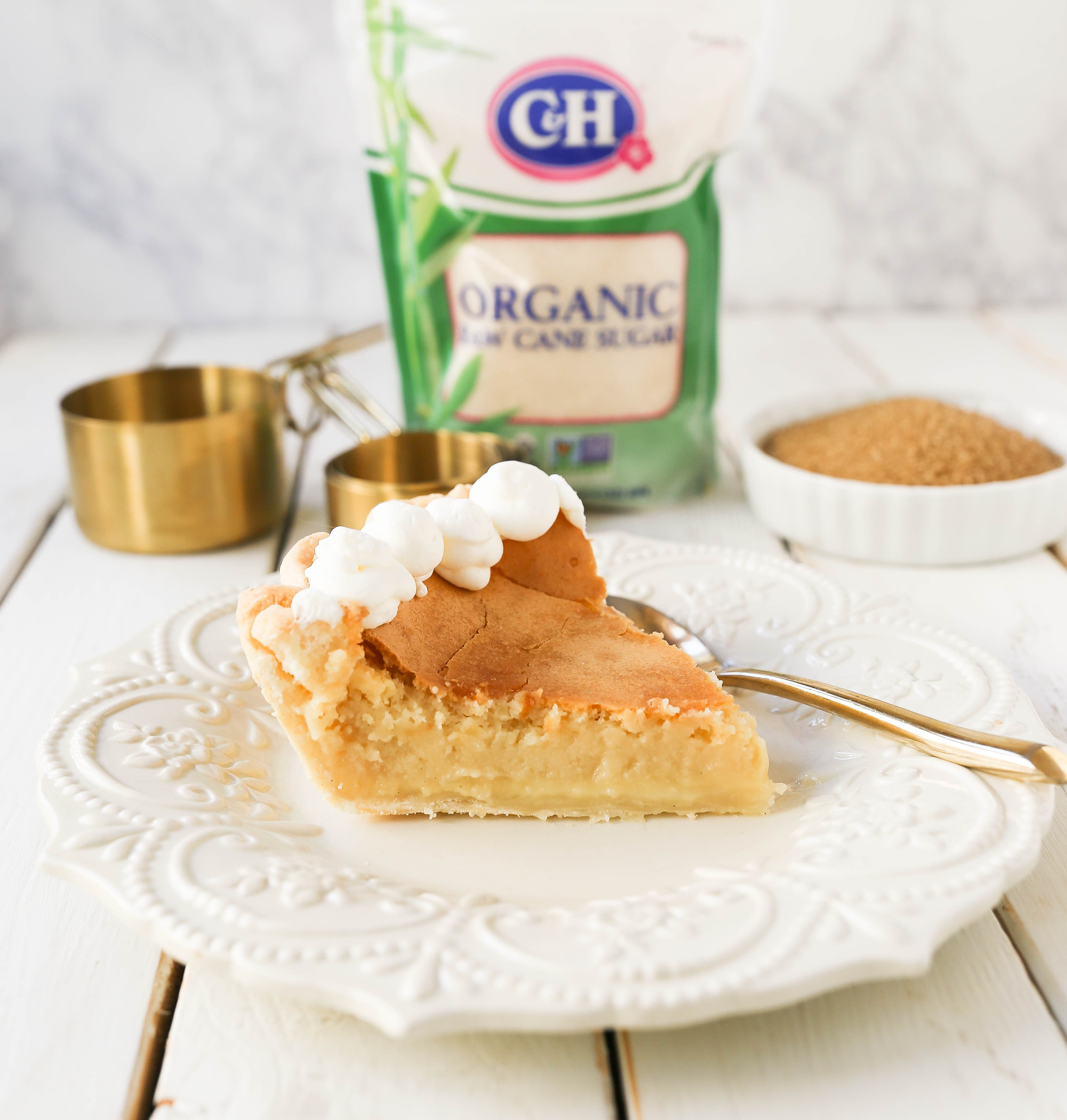 Since we are making this creamy chess pie from scratch, we need to accompany it with a homemade buttery pie crust. This is my favorite butter pie crust recipe and it has rave reviews. You won't believe how easy it is to throw together a pie crust. This recipe calls for only 4 ingredients and it is tender every single time.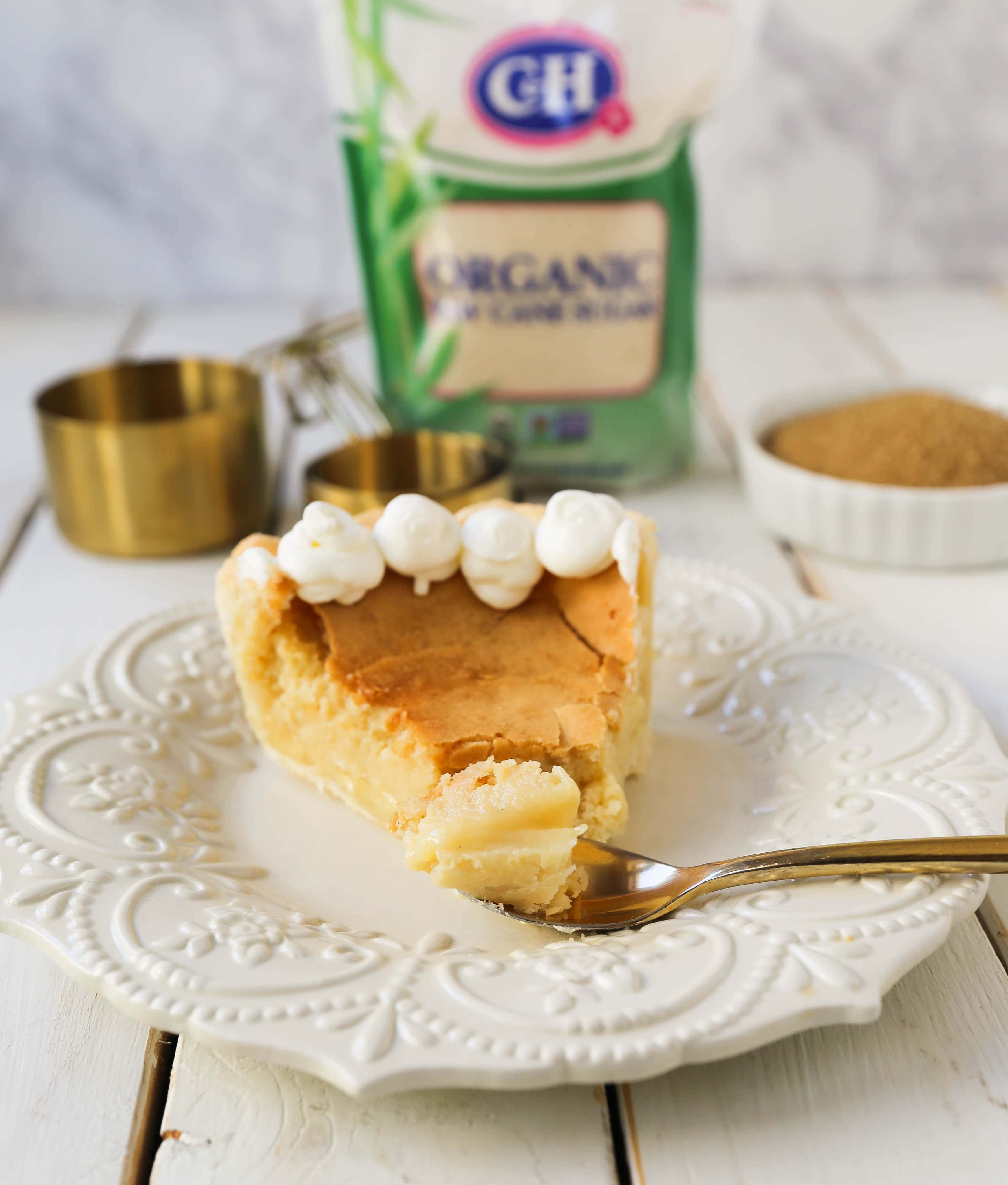 How to make the Best Creme Brûlée Pie:
Start by making a pie crust using flour, salt, cold butter, and buttermilk or cold water (mixed with a splash of vinegar). Chill until ready to use.
In a large mixing bowl, whip eggs and C&H white sugar until smooth. Slowly add in melted butter. The reason it is important to add it slowly is that you are adding a hot liquid to eggs and you don't want them to curdle.
Stir in heavy cream, buttermilk, and vanilla. I love using vanilla paste or vanilla beans for their pronounced vanilla flavor.
Fold in the flour and avoid over mixing.
Roll out pie crust dough into a circle. Place in a 9-inch pie plate and flute the edges. Pour creme brûlée pie batter into pie pan. Sprinkle with some C&H sugar all over the top.
Bake for 30 minutes. Carefully open the oven and lightly cover the pie with aluminum foil to ensure it is doesn't become too brown. You want the filling to cook though without the top of crust becoming too golden. Continue to bake for 15-20 minutes or until cooked through. Since it is a sugar crust, you may see cracks form. That's okay...it is part of the look of the creme brûlée pie.
Remove from oven and let set for at least 15 minutes. Then place in the refrigerator to chill for at least 2 hours.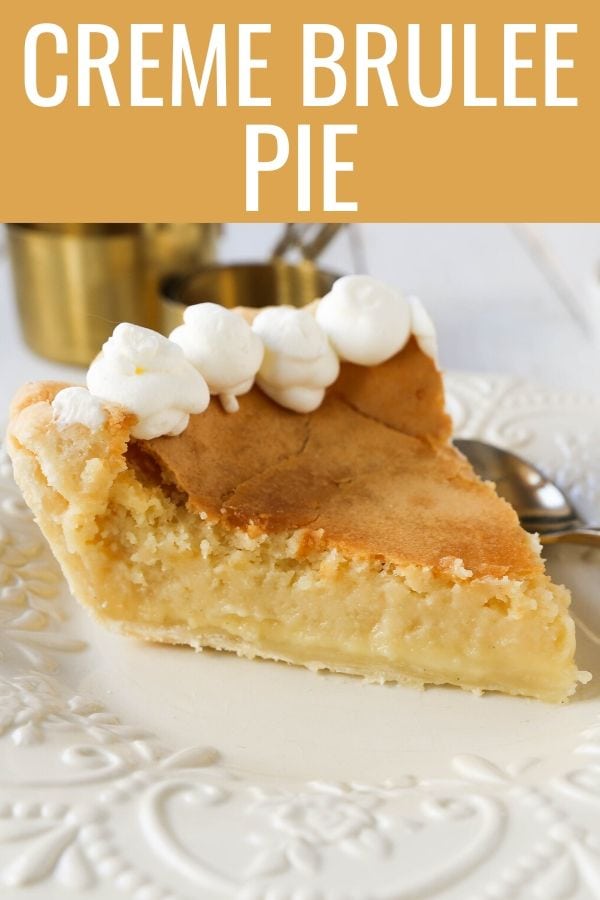 This is a sponsored post from C&H sugar. All views and opinions are my own.