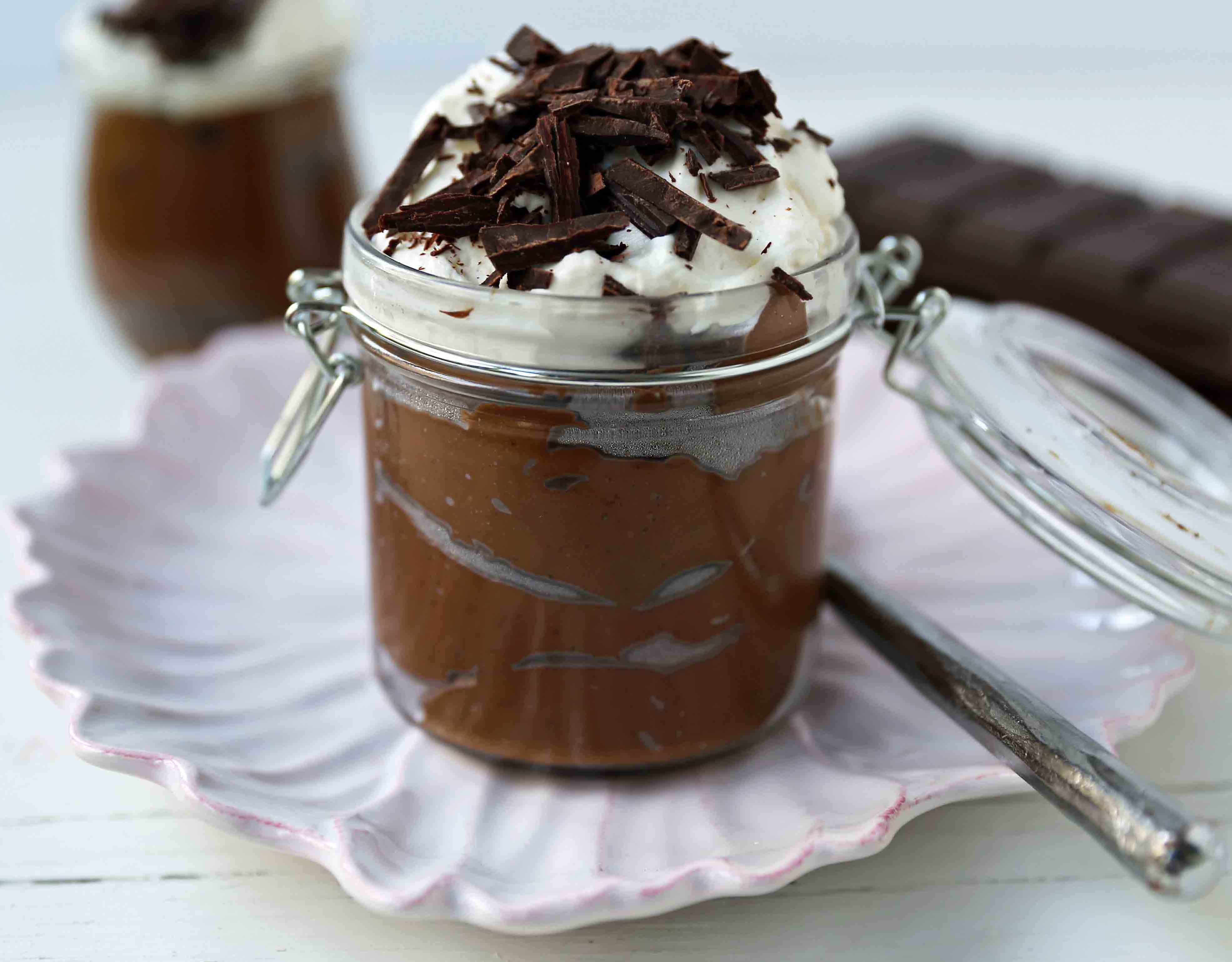 Dark Chocolate Avocado Mousse
A creamy decadent no-sugar-added chocolate avocado mousse is so smooth it will melt in your mouth!
It's about 3:00 and that means one thing — my chocolate craving hits and it hits hard. Why can't I crave spinach or kale? Every day, I want a little piece of chocolate. It could be a small piece of dark chocolate or a big 'ol cookie but it has to be something.  When I was on a sugar-free diet, I would even eat 100% raw cacao bars which meant there was zero sugar! My kids thought I was officially crazy. I grew to love it!
When we visited Kauai a few weeks ago, we went on a chocolate tour at Lydgate Farms. This is what dreams are made of, people. I was ridiculously excited about going and tasting all of their chocolate made from their chocolate farm. A chocolate farm? I've never wanted to be a farmer so bad in my life! Our tour guide talked about how she ate cacao beans straight from the pod off of the cacao tree. My son, Carson, broke open one of the pods and he ate raw chocolate straight from the source and it was darn delicious! Dean went ahead and snuck another one because we loved it so much. Who has tried one straight from the pod? I told Dean that we were moving to Kauai to work on a chocolate farm. He didn't think it was such a bad idea. A girl can dream!
The older I get the bigger dark chocolate fan I become. Hey, it is full of antioxidants and healthy fats so I am completely on board. I wanted to create a better for you version of a popular chocolate mousse. What is in a traditional chocolate mousse? It usually always involves a hefty amount of heavy cream and chocolate. Since I was looking to create a healthy chocolate mousse, I needed to use an ingredient that would create a creamy texture, just like heavy cream does in the mousse. Enter the avocado!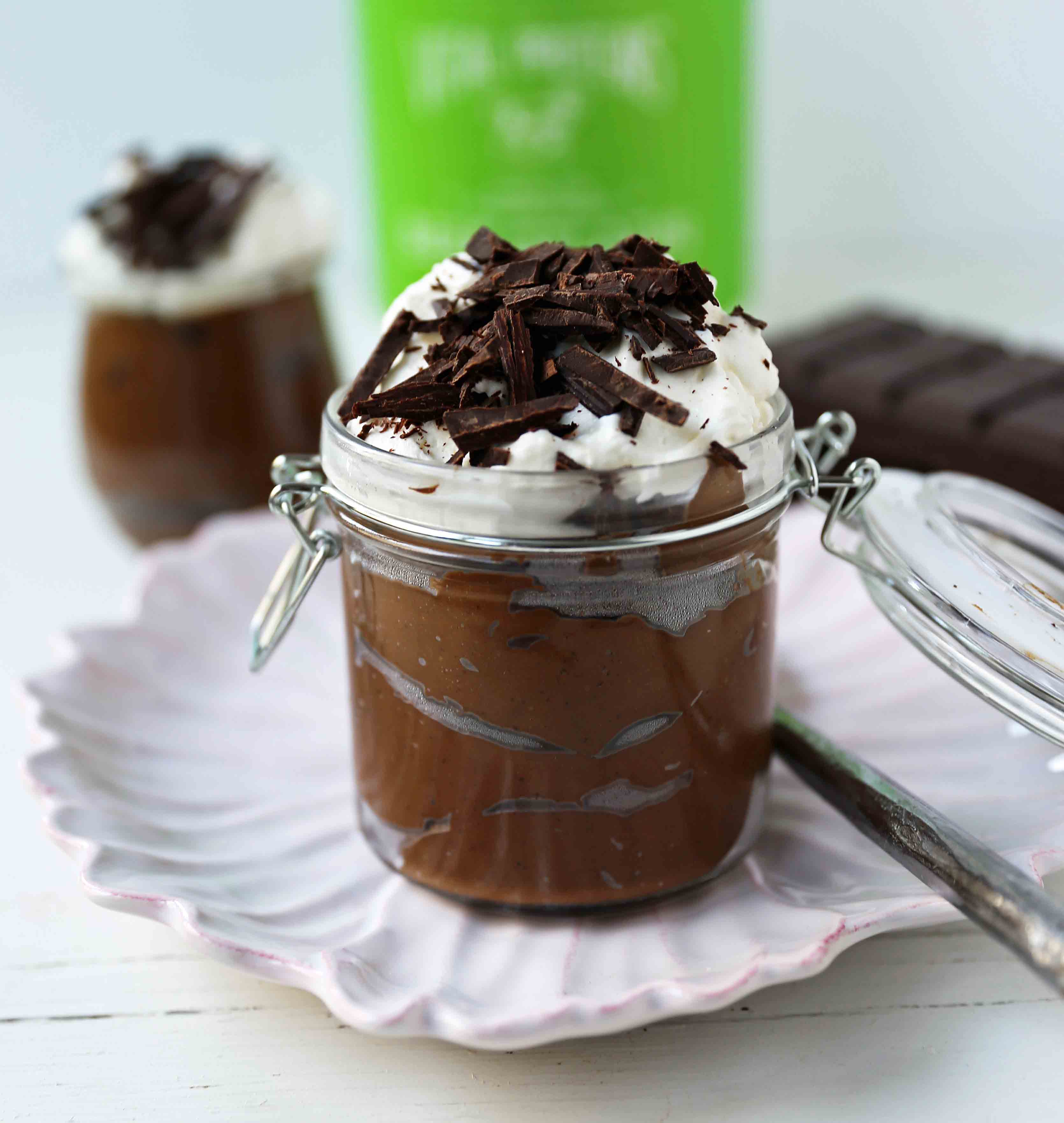 This Dark Chocolate Avocado Mousse is made with melted dark chocolate, almond milk, creamy avocado, maple sweetener, vanilla, Vital Proteins gelatin or collagen, and cacao powder. There's no-sugar-added in this creamy chocolate avocado mousse which is always a plus! It is such a rich and creamy dessert that you will forget it's actually a healthy version of a famous dessert!
Another key ingredient is to use the Vital Proteins Gelatin or Dark Chocolate Blackberry Collagen Peptides. I have used both in this chocolate avocado mousse and both taste amazing! They are full of nutritional benefits for your skin, hair, nails, and joints. They even have 20 grams of collagen per serving, which is incredible for your body.  You can find both products HERE. These products make such a difference in how I feel!
This Healthy Chocolate Avocado Mousse can be whipped up in 5 minutes. You can make it in a food processor or blender. Let it chill for at least 1 hour to set up and thicken. I prefer to refrigerate it overnight. Serve it alone or paired with homemade whipped cream, coconut cream, or shaved dark chocolate.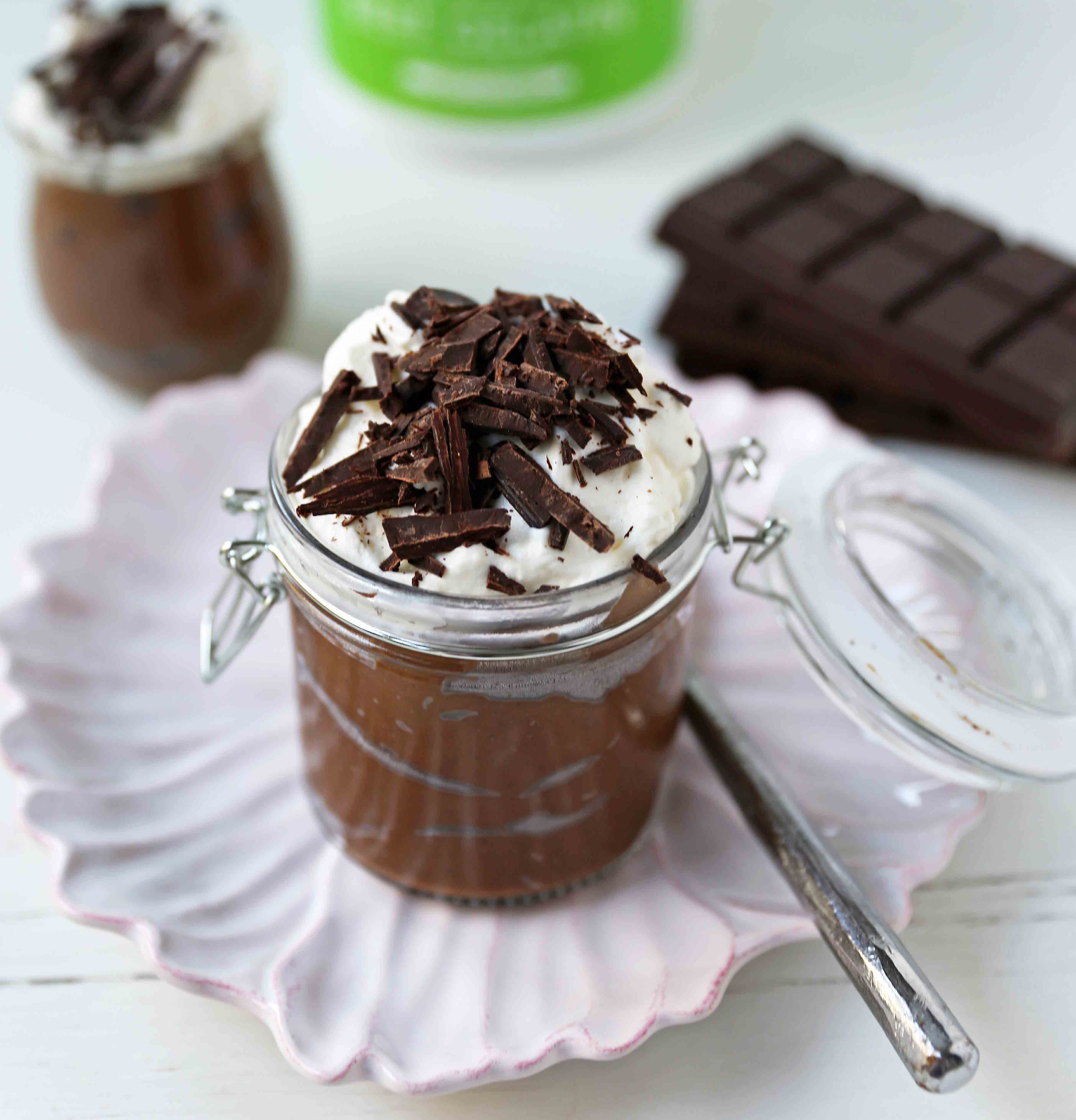 Pin this now to find it later
Pin It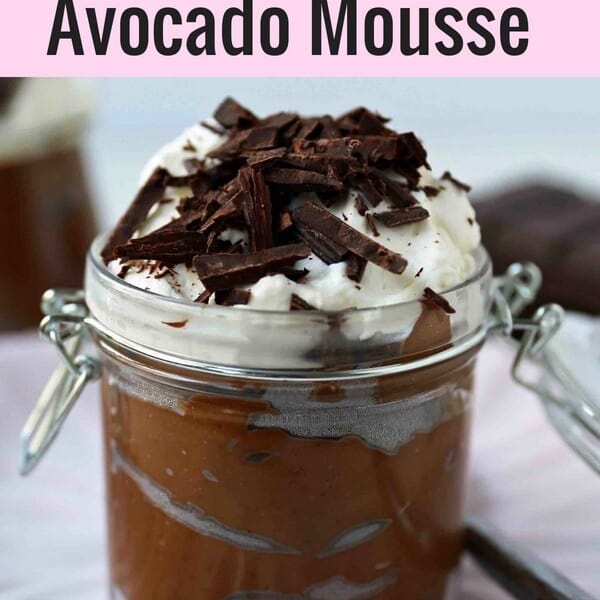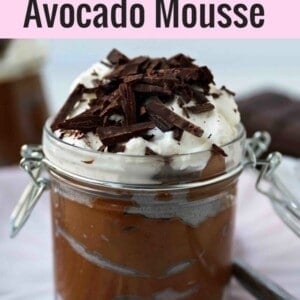 Dark Chocolate Avocado Mousse
A healthy, no-sugar-added silky smooth chocolate avocado mousse dessert
Ingredients
4

ounces

Dark or Semi-Sweet Chocolate

melted

2

Tablespoons

Unsweetened Cocoa Powder

1/3

cup

Almond Milk

2

teaspoons

Vanilla

2

Avocados

1/4

cup

100% Real Maple Syrup

may add more depending on preference

2

Tablespoons

Vital Proteins Gelatin or Collagen Peptides

Sprinkle Sea Salt



Topping:
Coconut Whipped Cream

Dairy-Free Option:

1 - 13.5

ounce

can Full-Fat Canned Coconut Milk

chilled overnight

3

Tablespoons

Sweetener of Choice -- powdered sugar

coconut sugar, maple syrup

Sweetened Whipped Cream:

1

cup

Heavy Whipping Cream

1/4 - 1/2

cup

Powdered Sugar




Dark Chocolate Shavings
Instructions
In a food processor or a blender, blend together melted chocolate, cocoa powder, almond milk, vanilla, avocados, maple syrup, gelatin, and sea salt.

Pour into serving dishes and refrigerate for at least one hour.

Serve the chocolate mousse with homemade whipped cream, coconut cream, or dark chocolate shavings.

To make Coconut Whipped Cream: Start with a can of FULL-FAT coconut milk. Place can in the refrigerator overnight to allow the fat from the coconut milk to rise to the top and solidify. Once it is hard and solid, place the mixing bowl in refrigerator for 5-10 minutes. Skim the hardened coconut milk and place in a chilled mixing bowl. Whip until soft peaks form. Fold in sweetener of choice -- coconut sugar, maple syrup, granulated sugar, etc.

To make Sweetened Whipped Cream: place heavy whipping cream into chilled bowl. Whip until soft peaks form. Stir in powdered sugar. Whip for 1 minute longer.
Nutrition information is automatically calculated, so should only be used as an approximation.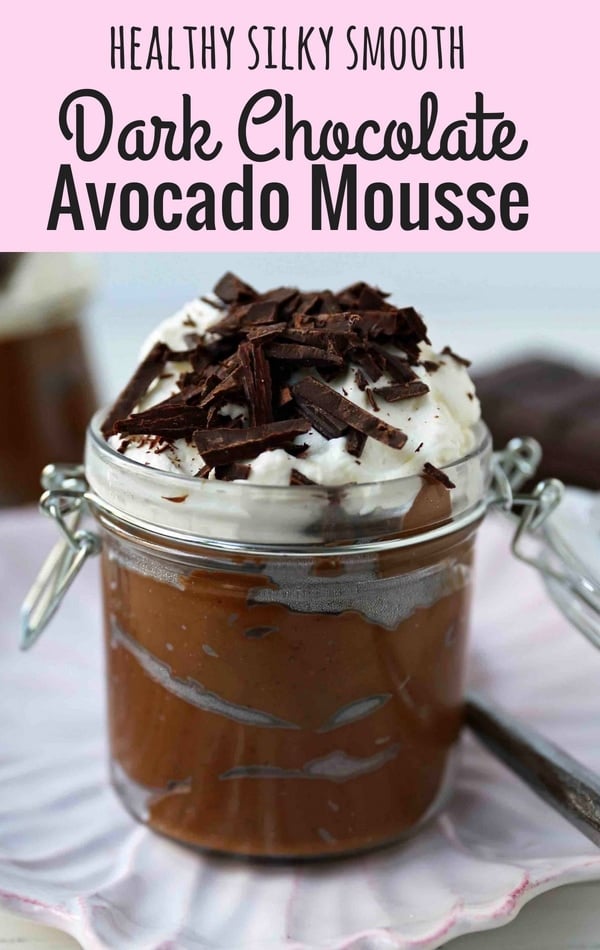 I hope you love this healthy chocolate dessert! Have a great night, my friends!
This post has been sponsored by Vital Proteins. All opinions are my own.