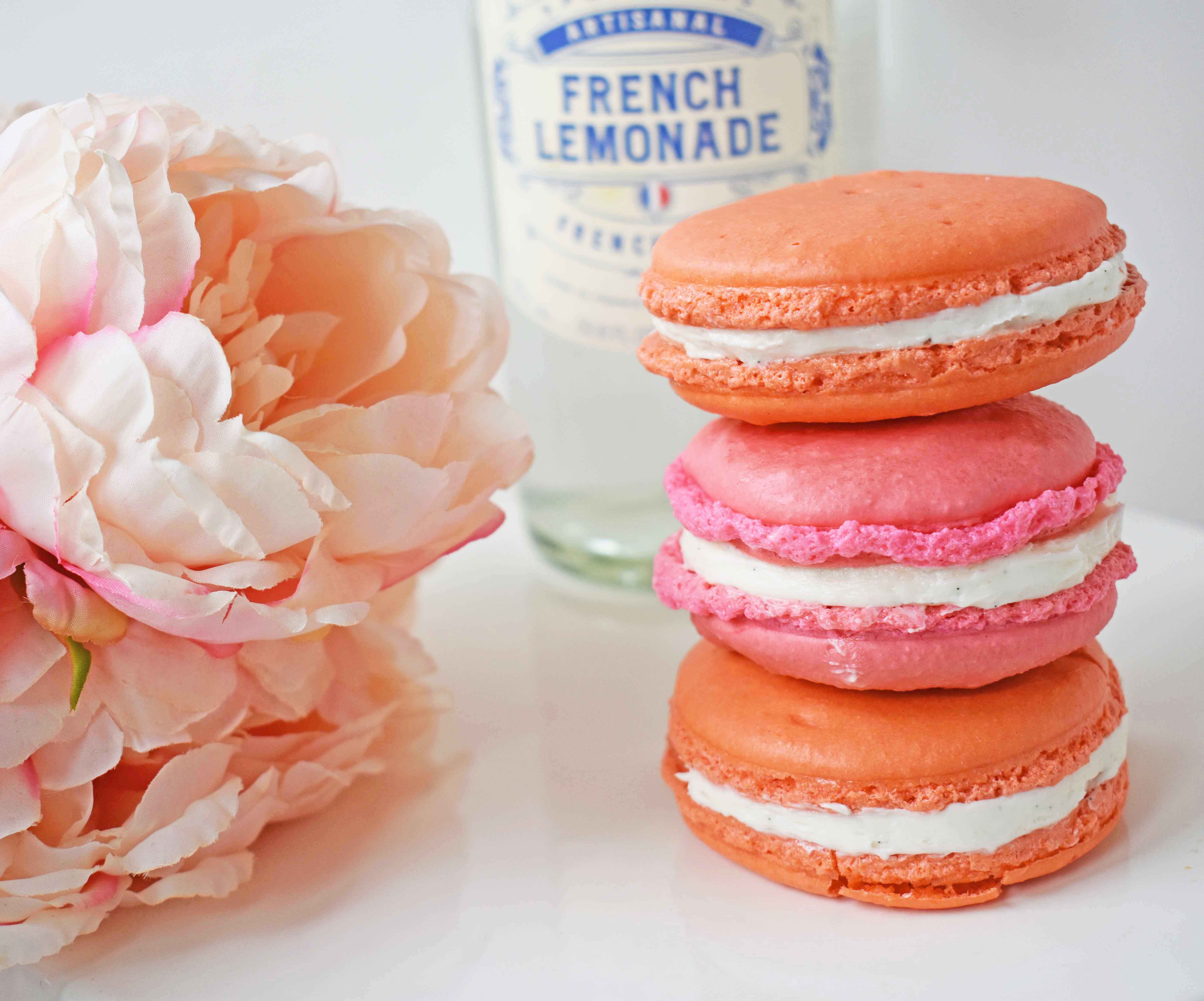 French Macarons
The French Macaron. The soft, melt-in-your-mouth cookie is like nothing else. It is in a league of it's own. It has been considered the reigning Queen of Cookies and is without a doubt cookie royalty. With such sophistication, it is definitely a fancy pants cookie and impresses one and all.
So why do you not see everyone making them? Well, I am going to put it mildly — they are highly finicky little things. I am here to help you by giving you a step by step guide to ensure success in the kitchen! The following are tips and tricks to follow so the macarons come out perfect every single time.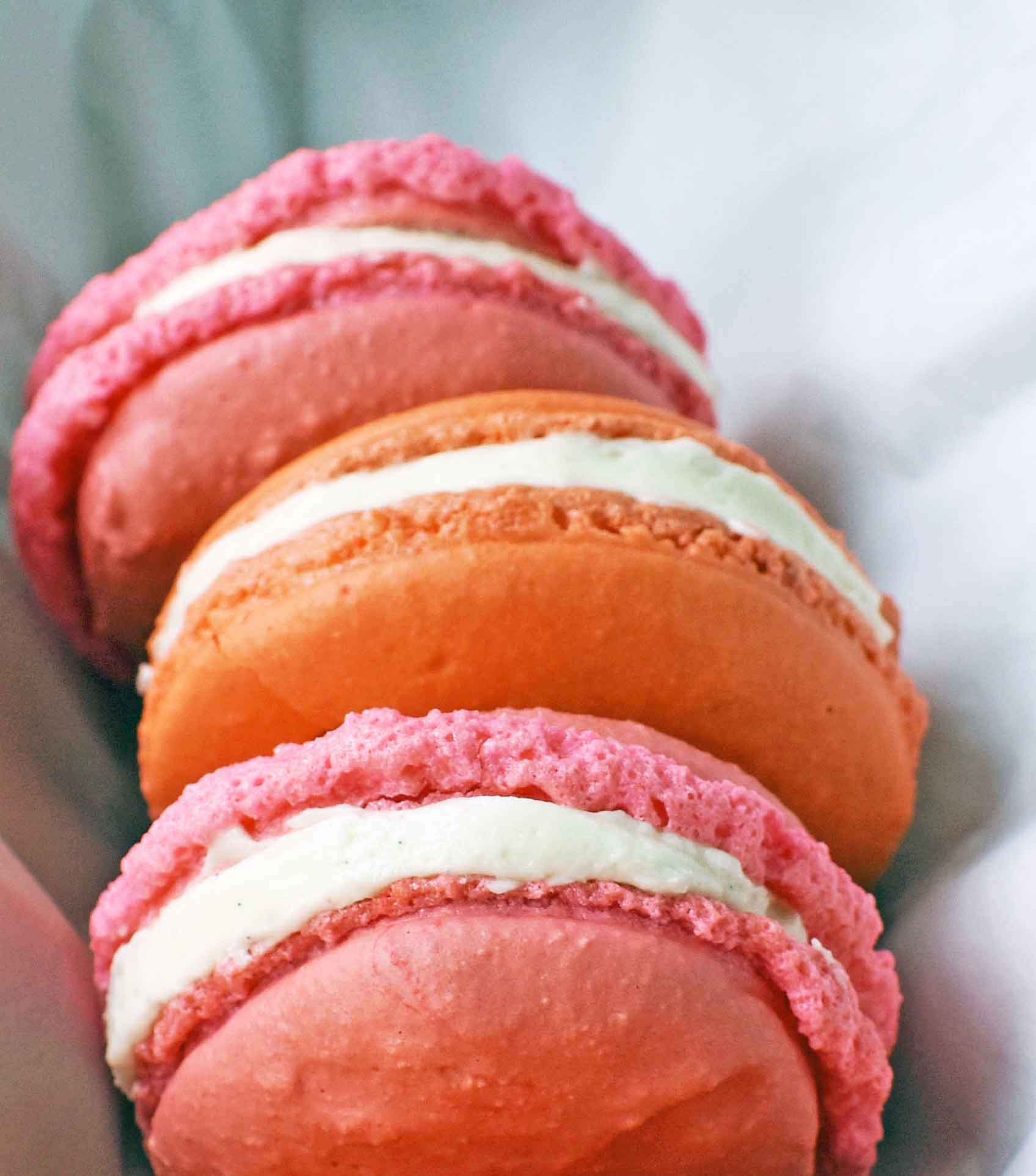 So what are French Macarons made of?
They are made with such simple ingredients — egg whites stiffly beaten, powdered sugar, almond flour, a pinch of salt, and cream of tartar. These cookies are naturally gluten-free since the recipe calls for only almond flour.  There is no butter or oil in this cookie either. It is such a fascinating dessert, isn't it?
What are the tips and tricks to making perfect French Macarons?
 Beating the egg whites for 8-10 minutes to create stiff peaks. It is important to bring eggs to room temperature. I will usually submerge them in a bowl of warm water for a few minutes to bring them to the right temperature.
Sift almond flour and powdered sugar to make a finely ground powder.  It will help create a smooth cookie. I used Bob's Red Mill finely ground blanched almond meal. You want the almond flour to be blanched which means the skins have been removed.
When it is time to fold together the almond flour and stiffly beaten egg whites, it is important to not overmix because it can deflate but mix it enough to end up with a smooth cookie. Beth from Entertaining with Beth suggests turning your spatula 65-75 times. I love her preciseness! She's a girl after my own heart. I have adapted her recipe slightly.
Color the batter with your favorite food coloring gels from soft pinks and peaches to Tiffany blue.
Invest in silicone baking sheets, such as Silpat, or parchment paper to prevent sticking. I use silicone baking sheets every single time I make cookies so they slide right off after baking.
After you have piped the french macaron batter onto the cookie sheets, a crucial step is to tap the pans 3 times to release any air bubbles. Let the macarons rest for 25 minutes to let them dry and create a nice crust. This is a critical step so you must be patient and let them rest. It will help to create a nice platform or feet at the base of the macaron.
Bake for 20 minutes.  Let cool before filling.
There are so many different kinds of fillings depending on your preference. A classic French macaron has jam in the center. You can use raspberry preserves, lemon curd, vanilla bean or flavored buttercream, Nutella, chocolate ganache, cream cheese buttercream, and many others.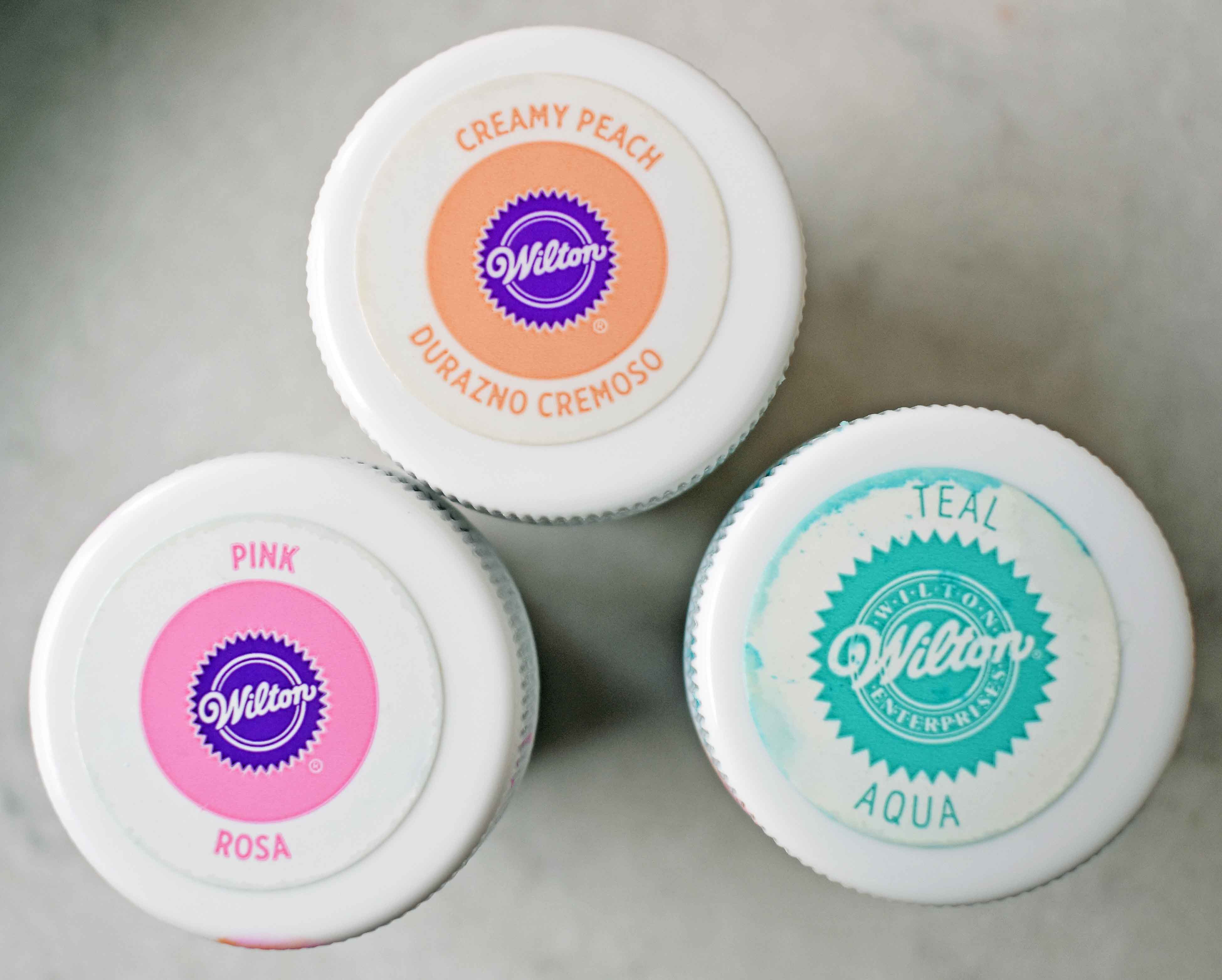 Pin this now to find it later
Pin It
French Macarons
Popular French Macarons are famous for a reason. These sandwich cookies literally melt in your mouth. Tips and tricks to making perfect ones at home.
Ingredients
3

Egg Whites

at room temperature

1/4

cup

Sugar

1/4

teaspoon

Cream of Tartar

1/8

teaspoon

Salt

Food Coloring

2

cups

Powdered Sugar

1

cup

Blanched Almond Flour



Filling Ideas:
Vanilla Bean Cream Cheese Buttercream:

1 - 8

ounce

pkgs. Cream Cheese

softened

6

Tablespoons

Butter

softened

1 1/2

cups

Powdered Sugar

if you desire a stiffer frosting, add 1/4 cup more

1

Vanilla Bean or 2 teaspoons Pure Vanilla Extract

- Lemon Curd

- Raspberry or Strawberry Jam

- Chocolate Ganache

- Nutella

- Almond Buttercream
Instructions
Preheat oven to 300 degrees.

Beat egg whites until foamy. Add sugar, cream of tartar, and salt and beat for 8-10 minutes longer, until stiff peaks form that can stand upright.

Stir in food coloring of choice.

Sift powdered sugar and almond flour and discard excess.

Fold flour/sugar mixture into whipped egg whites. Using a rubber spatula, carefully fold the mixture together until incorporated, about 65-75 turns of the spatula.

On silicone baking sheet or parchment paper lined baking sheets, drop heaping teaspoons of batter onto cookie sheet 1 inch apart or place the batter in pastry bag. Pipe out 1 inch rounds.

Tap the pan 3 times to release air bubbles.

Let the macarons rest and dry out for 25-30 minutes. This helps to create the platform or feet on the macarons.

Bake for 19-22 minutes or until no longer tacky.

Let cool.

Spread 1 teaspoon of filling of choice (filling ideas and recipe down below) on flat side of the cookie and top with a cookie of matching size. Cover with plastic wrap and let chill in refrigerator.




To make Vanilla Bean Cream Cheese Buttercream:

In large mixing bowl, cream together cream cheese and butter until light and fluffy, about 3-5 minutes.

Add powdered sugar and mix until creamy.

If using a vanilla bean, slit vanilla bean in half and use tip of knife to scrape the vanilla bean paste from each side of vanilla bean pod. If using vanilla extract, add to frosting and stir until combined.

**Adapted from Entertaining with Beth
Nutrition information is automatically calculated, so should only be used as an approximation.
PIN FRENCH MACARONS RECIPE FOR LATER:

I can't wait to hear how successful you are making your very own homemade French Macarons. You won't need to spend $3 each at those high end bakeries anymore after mastering them at home. Find me on social media on Instagram at modern_honey.
Happy Baking! xo