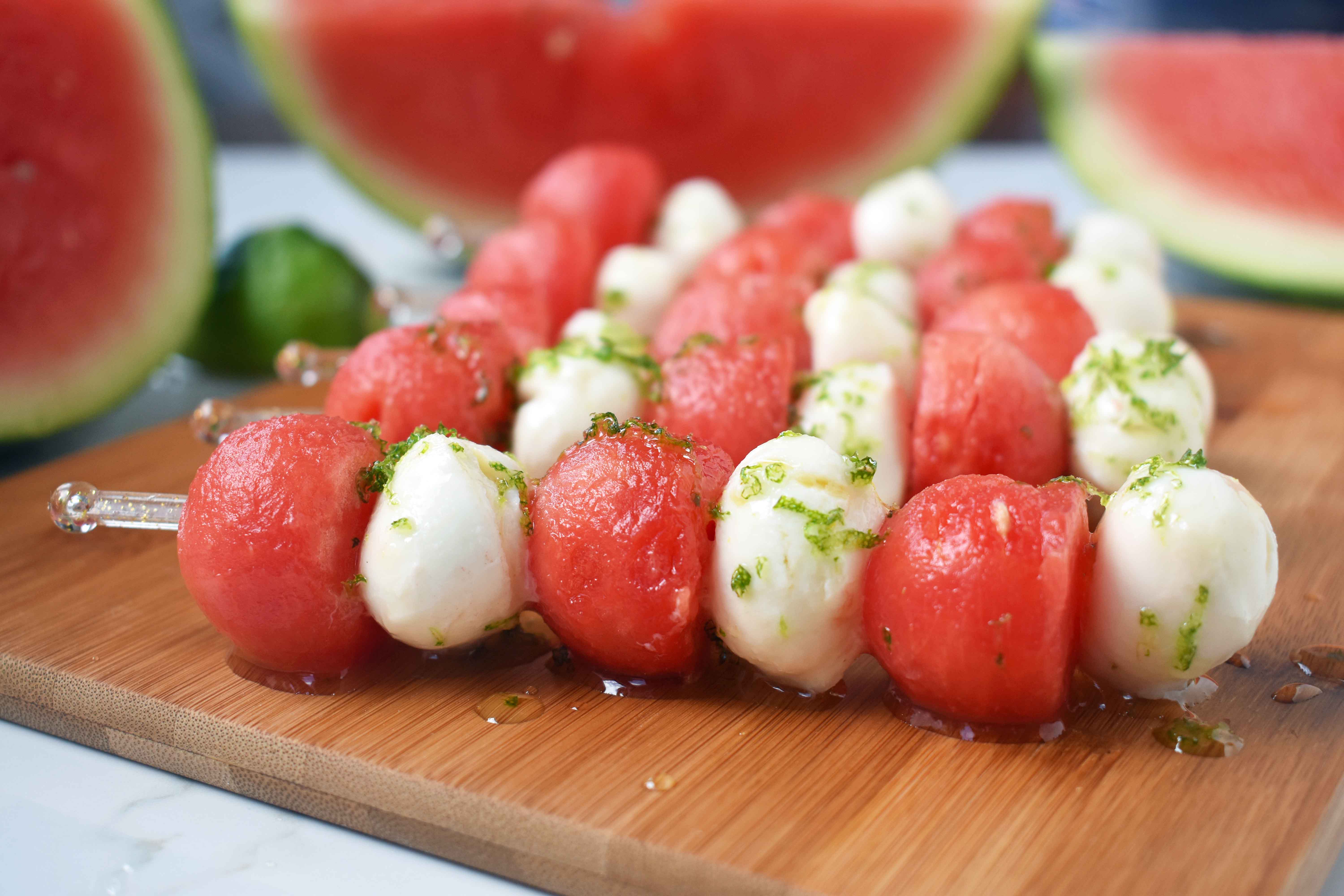 Watermelon is the quintessential summer fruit. All it takes is the smell of sweet watermelon to bring me back to summers lying by the pool, sunglasses on, Boom Box playing 90's music, with a large bowl of watermelon on my lap.  That was the LIFE.
I recently attended the Everything Food Conference, where foodies from around the world get together to learn, grow, and definitely EAT. The first day we met with so many companies and they all had samples! One of the standouts was these beautiful watermelon and fresh mozzarella skewers. At first glance, the skewers looked like tomato caprese salad skewers! Oh no. They were a combination of sweet watermelon and creamy cheese and I was so impressed. I went back for seconds…..and maybe thirds!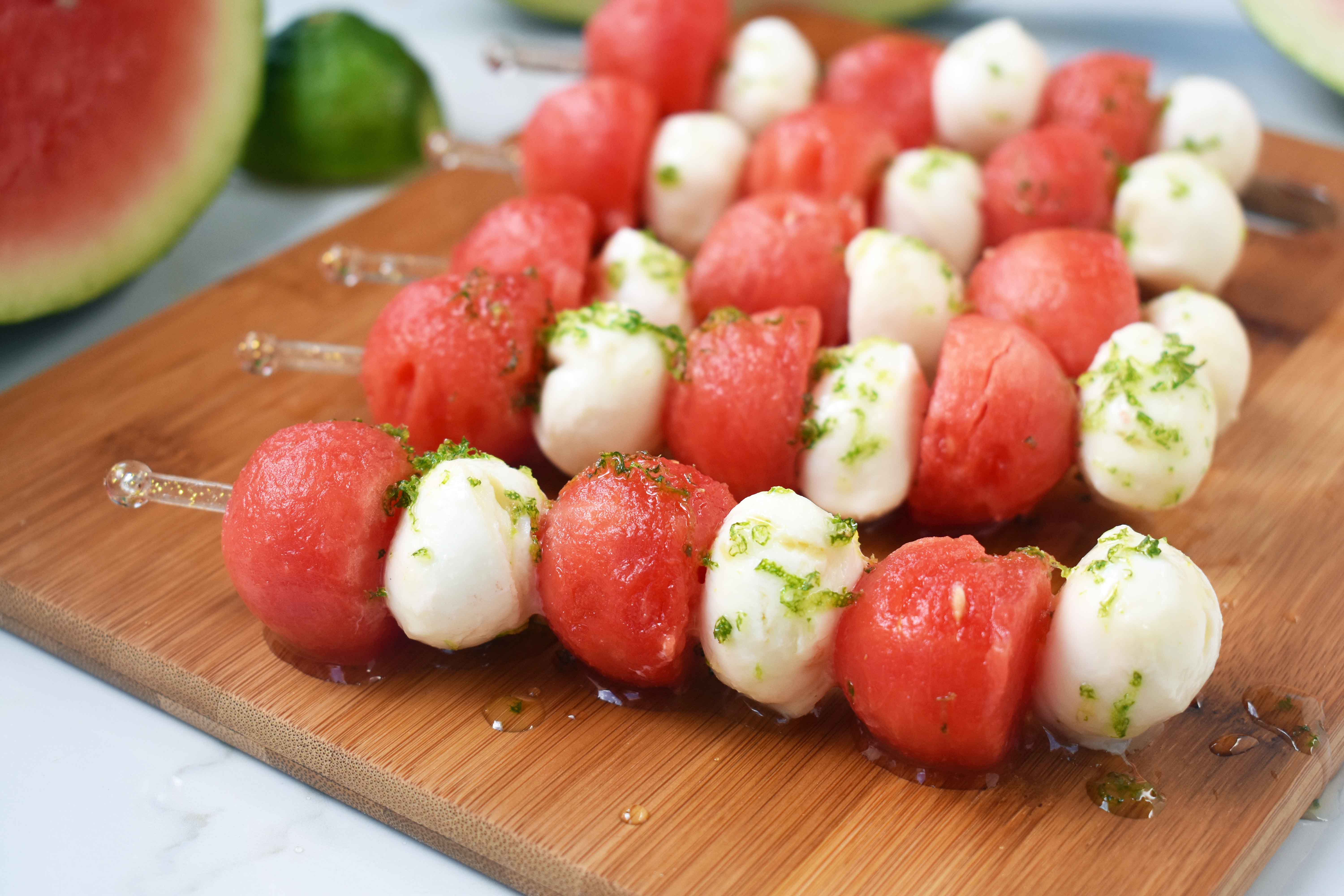 I changed it up a little and made a simple honey lime drizzle to put on the top of the fresh mozzarella watermelon skewer. The honey lightly sweetens the fresh mozzarella and the lime brings the freshness.  These are perfect for a BBQ or casual get together. We even serve it as a fun appetizer with burgers or chicken sandwiches.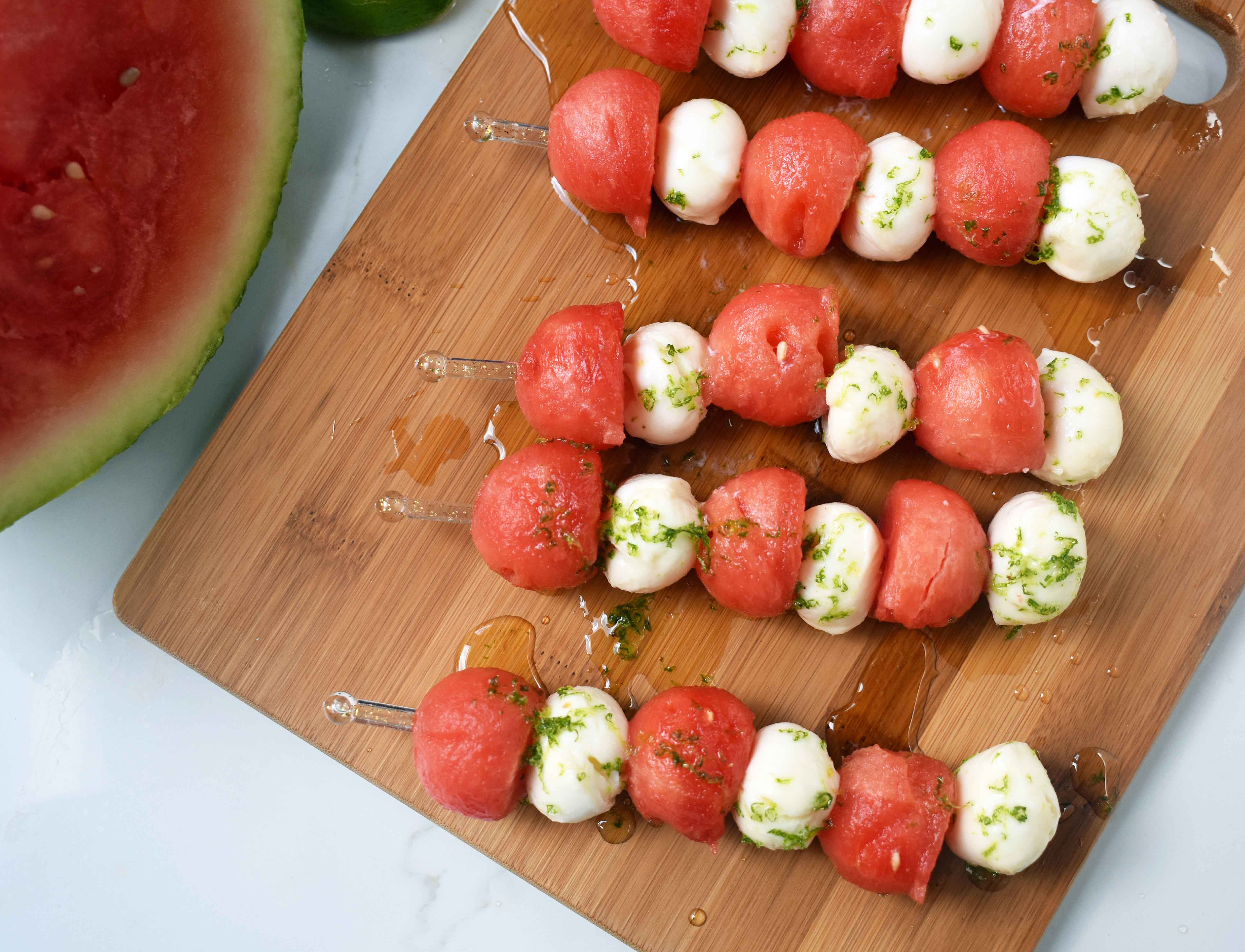 Here's how you make these Fresh Mozzarella Skewers with Honey Lime Drizzle:
1. Start off with fresh SEEDLESS watermelon. It makes it so much easier! A melon baller is used to make those perfect round circles. If you don't have one already, this is one of my favorite kitchen suggestions because it makes the most beautiful fruit salads. Here are a favorites — OXO Good Grips Melon Baller OR Farberware Classic Double Melon Baller.
2.  Use Fresh Mozzarella Ciliegine Balls. These are the ideal size! Using fresh mozzarella makes it so creamy. You can find them in the refrigerated section next to the fresh mozzarella balls.
3.  Use a skewer.  This is where it gets fun since there are so many choices! I will link some options — Bamboo Paddle Pick Skewer 7 inch   OR  Diamond Colored Skewers. I found the Diamond plastic cocktail straws and used the clear ones as skewers. They are the ideal size and don't have sharp edges.
4. Make a sweet honey lime dressing. This is as simple as gets! Stir together creamy honey, freshly squeezed lime juice, and lime zest. Drizzle on the top of the watermelon fresh mozzarella kabobs. The lime zest gives the kabobs are bright color too!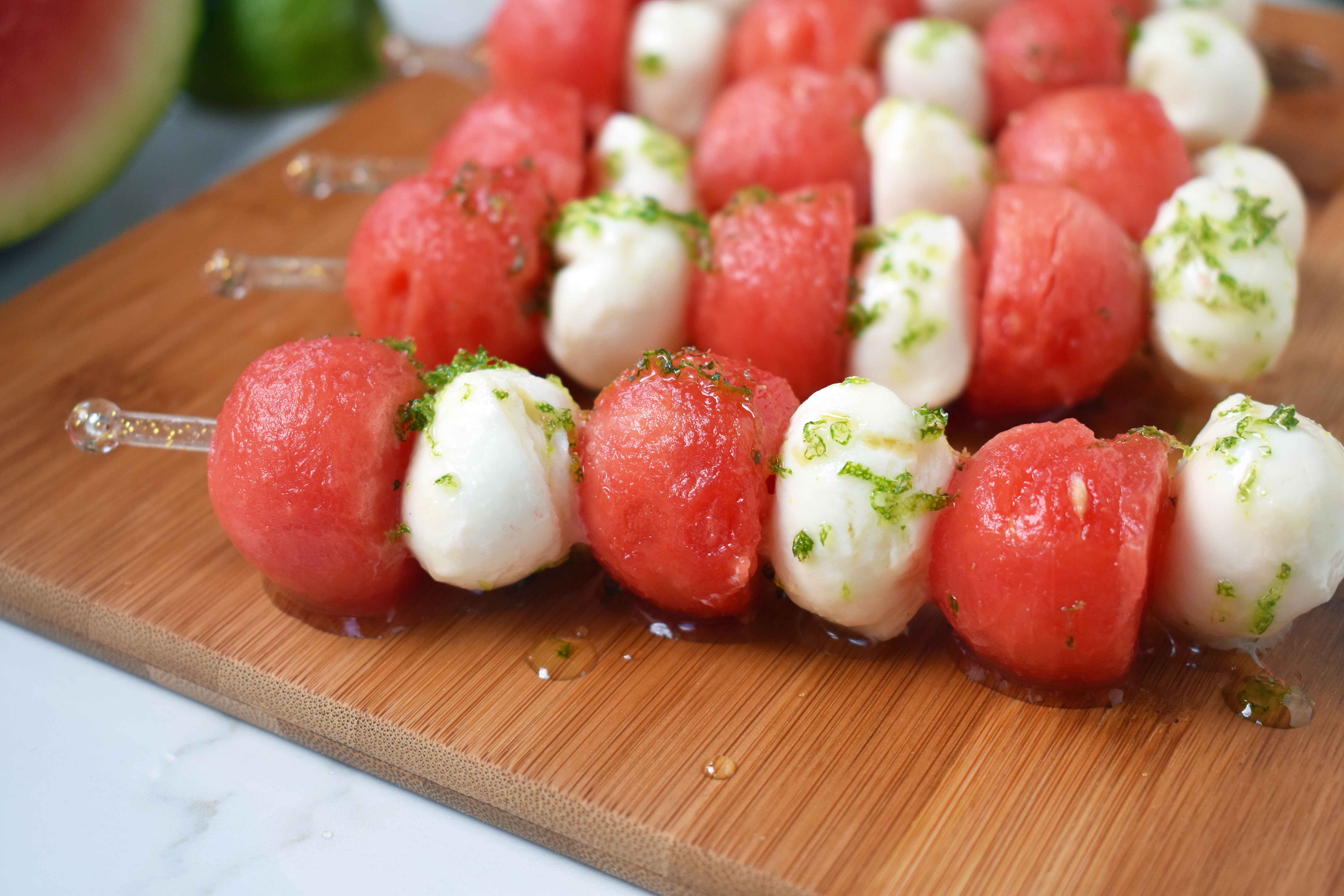 Pin this now to find it later
Pin It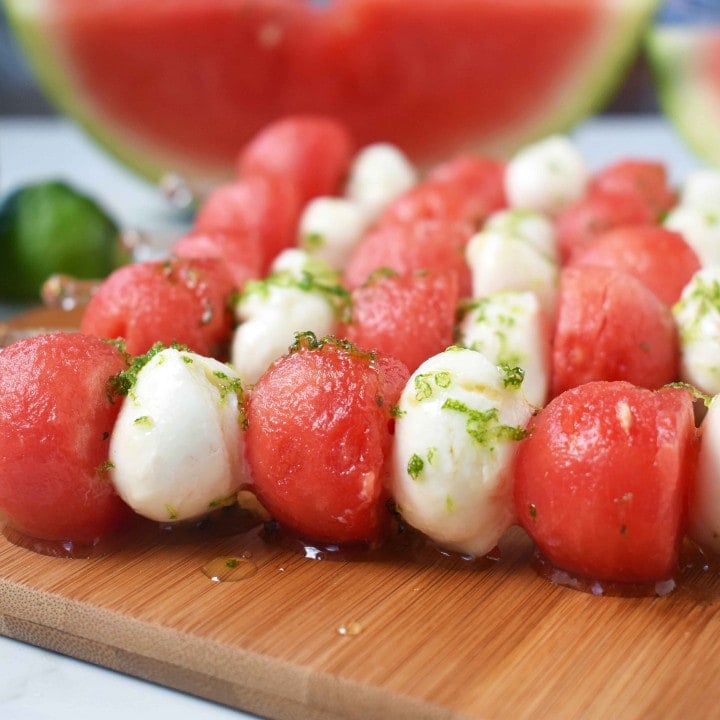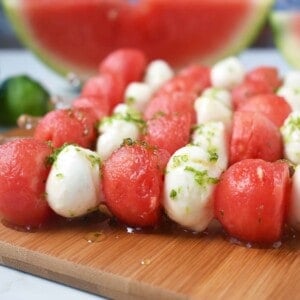 Fresh Mozzarella Watermelon Skewers with Honey Lime Drizzle
Fresh Mozzarella and Watermelon Kebob with Honey Lime Drizzle
Ingredients
1

Seedless Watermelon

round balls using melon baller

8

oz

- 16 oz pkg. Ciliegine Fresh Mozzarella

Skewers
Honey Lime Drizzle:
2

Tablespoons

Honey

1

teaspoon

Lime Juice

1/2

teaspoon

Lime Zest

tiny pinch of salt
Instructions
Using melon baller, make round balls from center of watermelon. Set aside.

Alternate placing watermelon balls and fresh mozzarella balls onto skewer.

In small bowl, stir together honey, lime juice, lime zest, and tiny pinch of salt.

Pour over watermelon mozzarella skewers.

**May double to triple honey lime drizzle recipe depending on how many kabobs you are making. This recipe is enough for approximately 8 skewers.
Nutrition information is automatically calculated, so should only be used as an approximation.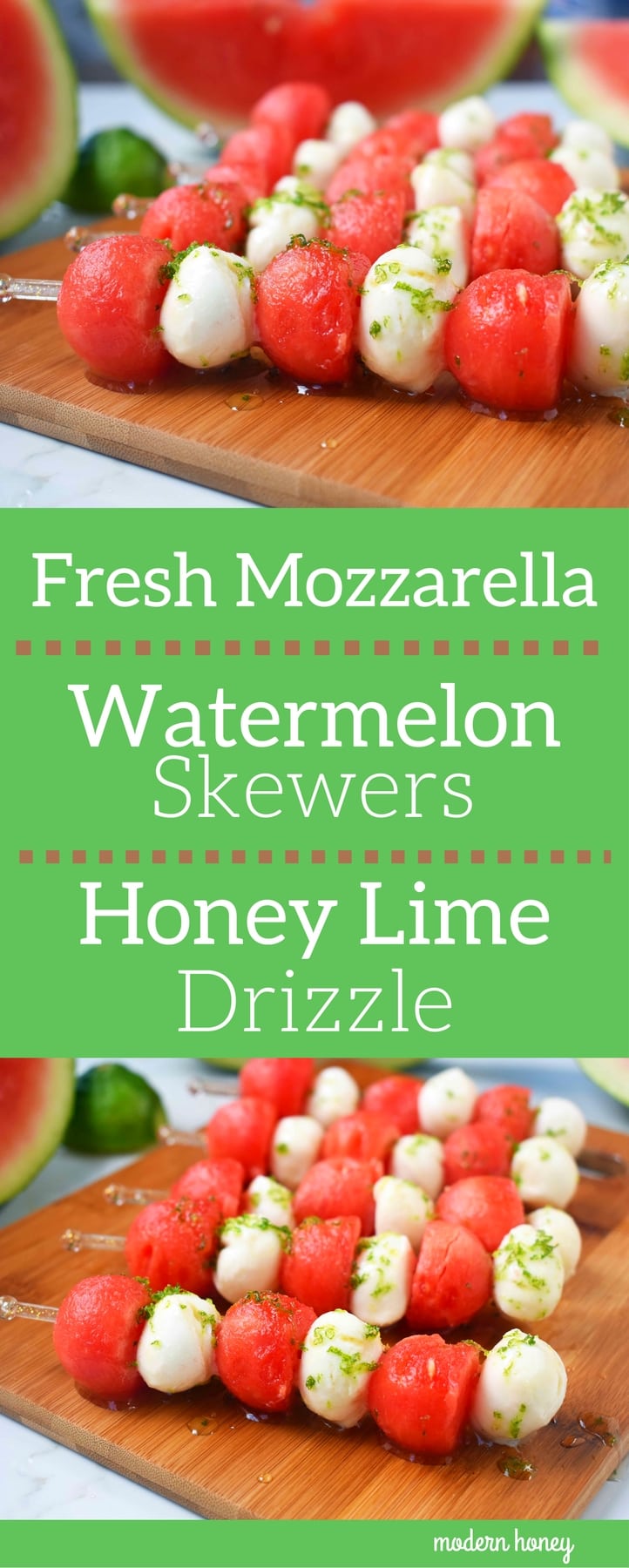 These Fresh Mozzarella Skewers with Honey Lime Drizzle will be a delicious and impressive accompaniment to your next BBQ or party. Happy Memorial Day, my friends!