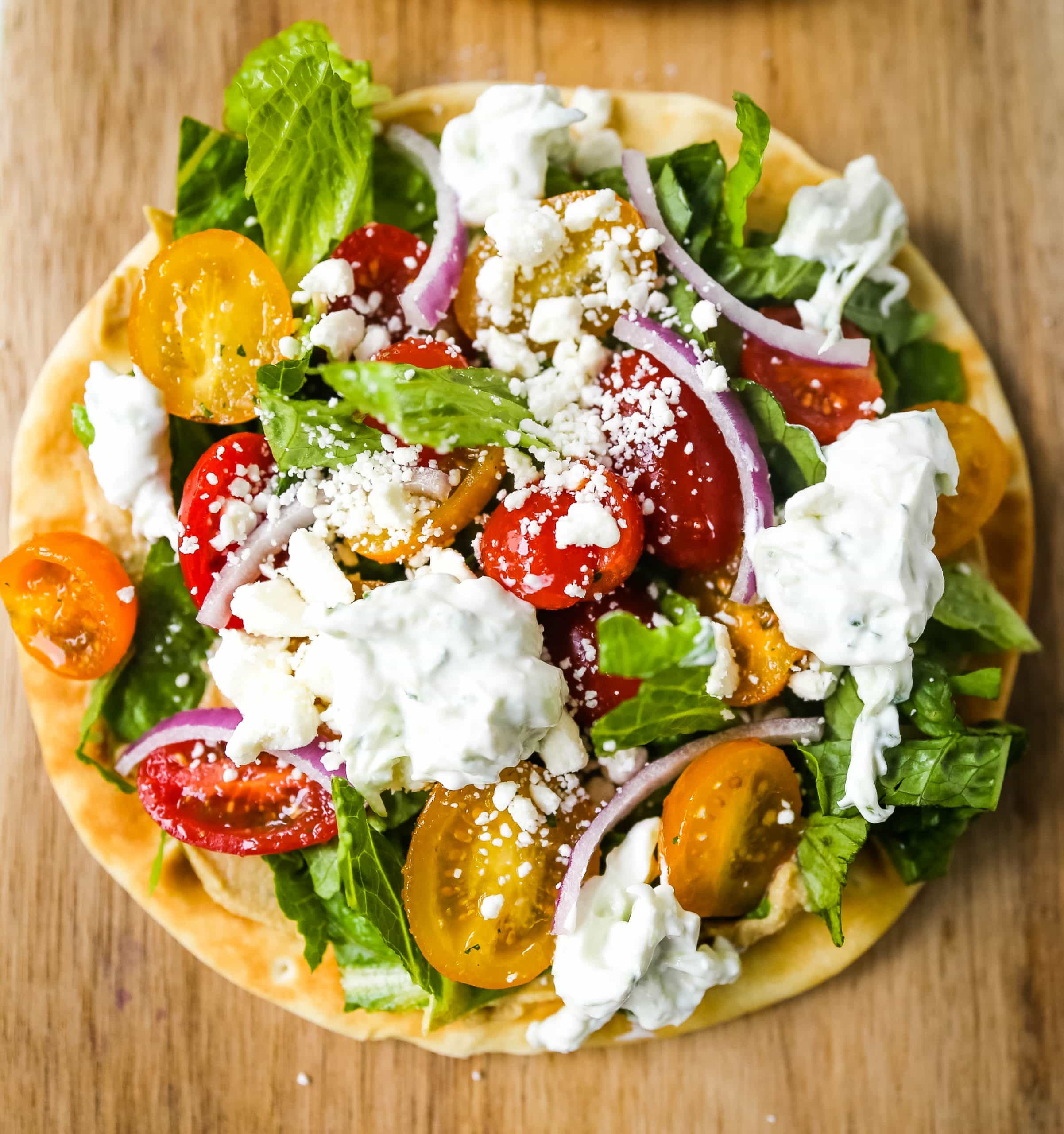 Greek Salad Pita Pizzas
Soft pita bread topped with creamy hummus, romaine lettuce, juicy grape tomatoes, feta cheese, red onion, cucumber, and a homemade fresh tzatziki sauce.
I remember the first time I tried a salad pizza at NYPD Pizza. I thought what in the world is this...a salad on top of a pizza? Are you crazy? But I took one bite and I was hooked. It is now the number one thing I order every time I go to that restaurant. There is just something so amazing about warm, soft pita bread topped with a fresh salad.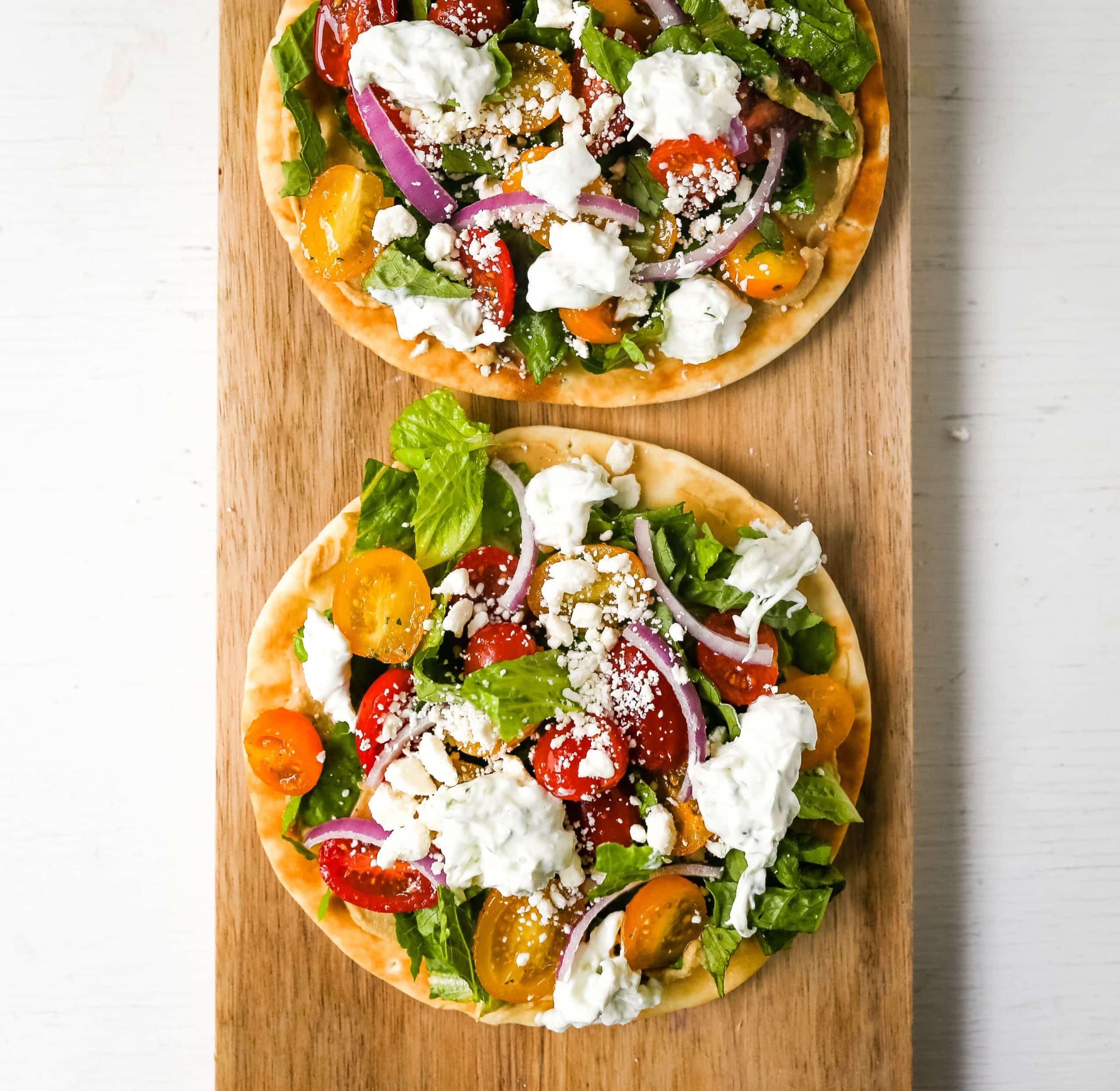 I was looking for a quick and easy lunch one day and I had some pita bread I needed to use. I spread on some herb hummus and then decided to add some fresh tomatoes I had marinated in extra-virgin olive oil and a sprinkling of salt. Then, I kept adding ingredients to make a Greek salad and topped it with some homemade tzatziki sauce. I literally ate 4 pieces. It was heavenly!
I grabbed my phone and FaceTimed by daughter, who is in college. She happened to be at the grocery store and I told her she had to pick up all of the ingredients and make it stat. I have been telling everyone and their dog about these Greek Salad Pitas so it was about time to share the recipe on Modern Honey.
These Greek Salad Pita Pizzas start with soft pita or naan bread. Just choose your favorite soft pita rounds or naan bread at your local grocery store. Heat it up in the oven so it is nice, soft, and warm. Spread the pita with your favorite hummus.
Next, cut the grape tomatoes in halves. I love to use an assortment of colors -- red and yellow -- because it is so vibrant and beautiful. I like to toss the tomatoes in some olive oil and salt and let marinate for several minutes.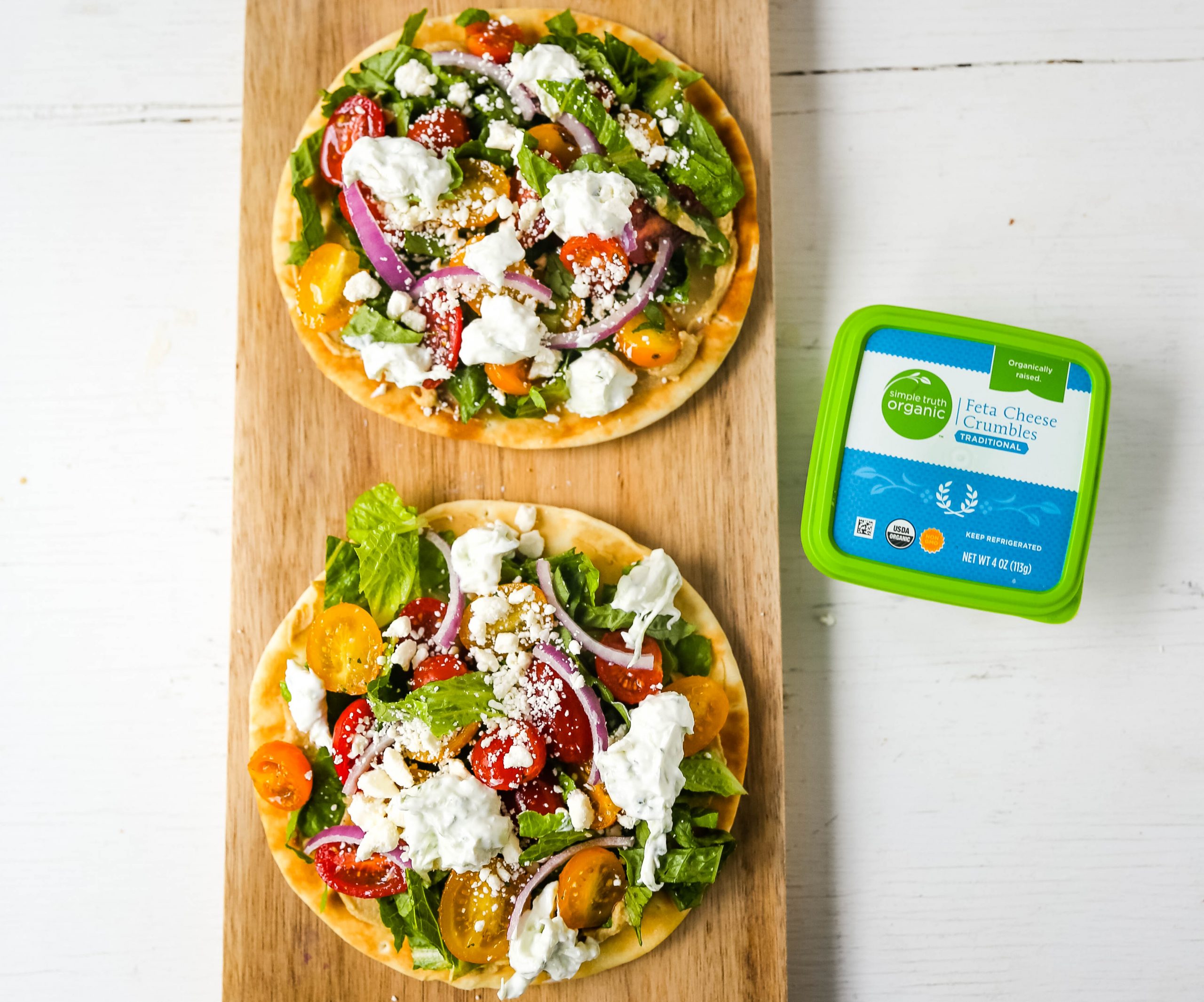 One of my favorite parts of this Greek Salad Pita Pizza is the homemade tzatziki sauce. It is creamy and bursting with freshness with the cucumber, lemon juice, and dill. We make this all of the time and keep it in our refrigerator. You can also find it in the refrigerated section of your grocery store if you want to save a step.
To assemble the Greek Salad Pitas, start with warm pita or naan bread. Spread the entire bread with hummus. Top with chopped romaine lettuce, marinated grape tomatoes, cucumber, red onion, crumbled feta cheese, and dollops of tzatziki sauce. If you love kalamata olives, you can add those as well. My kids aren't big olives fans so I usually leave them off.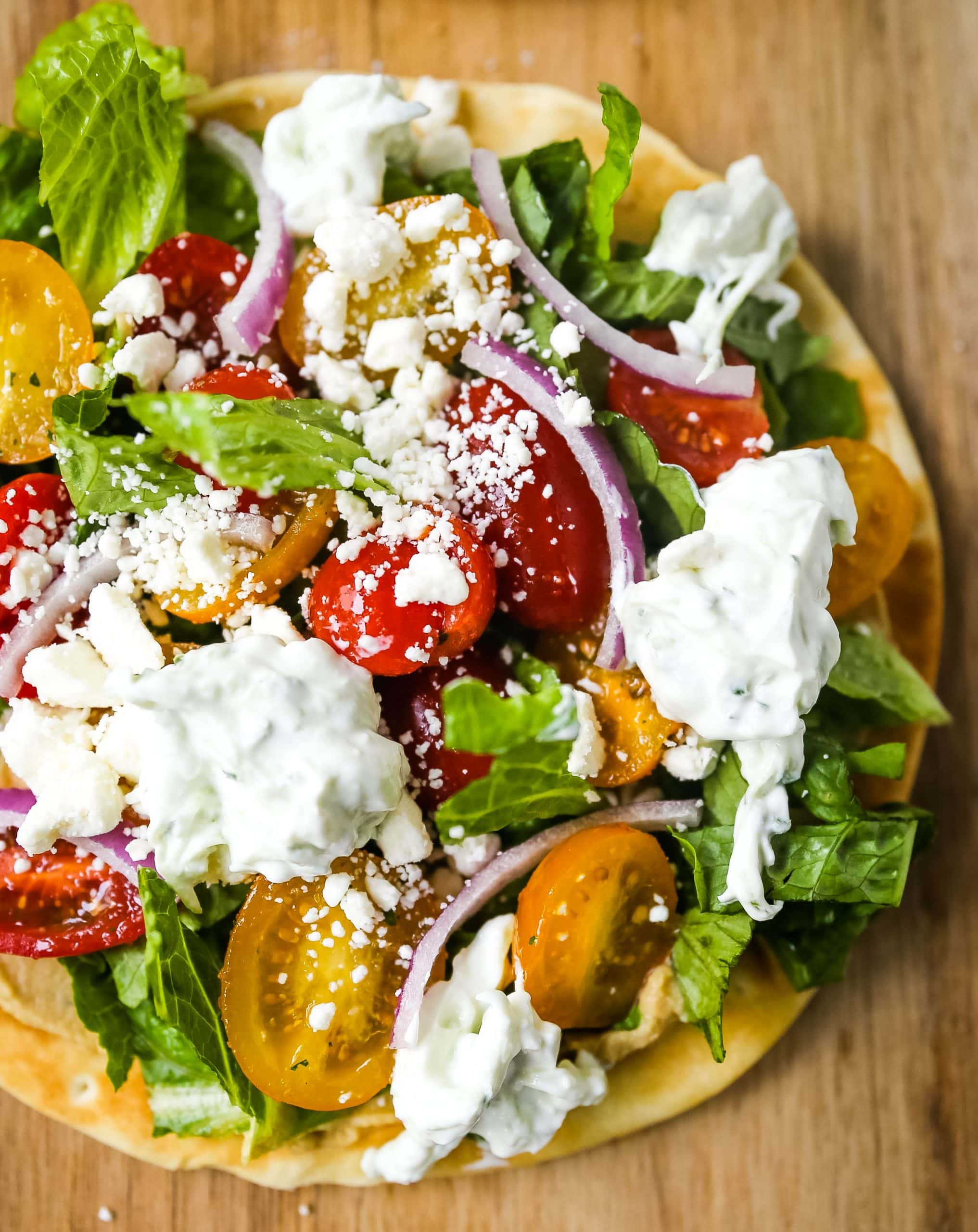 I love to hear from you! If you make this recipe, please be sure to leave a comment and give this recipe a rating. If you make any of my recipes, tag me on Instagram @modern_honey and use #modernhoney so I can see your creations. It's one of my favorite things seeing you make these recipes in your own kitchen. Sign up for my newsletter below so you never miss a recipe. Thank you for following along! I truly do have the greatest readers. FOLLOW ME ON: INSTAGRAM — FACEBOOK — PINTEREST