This post is sponsored by BabbleBoxx.com on behalf of Alexia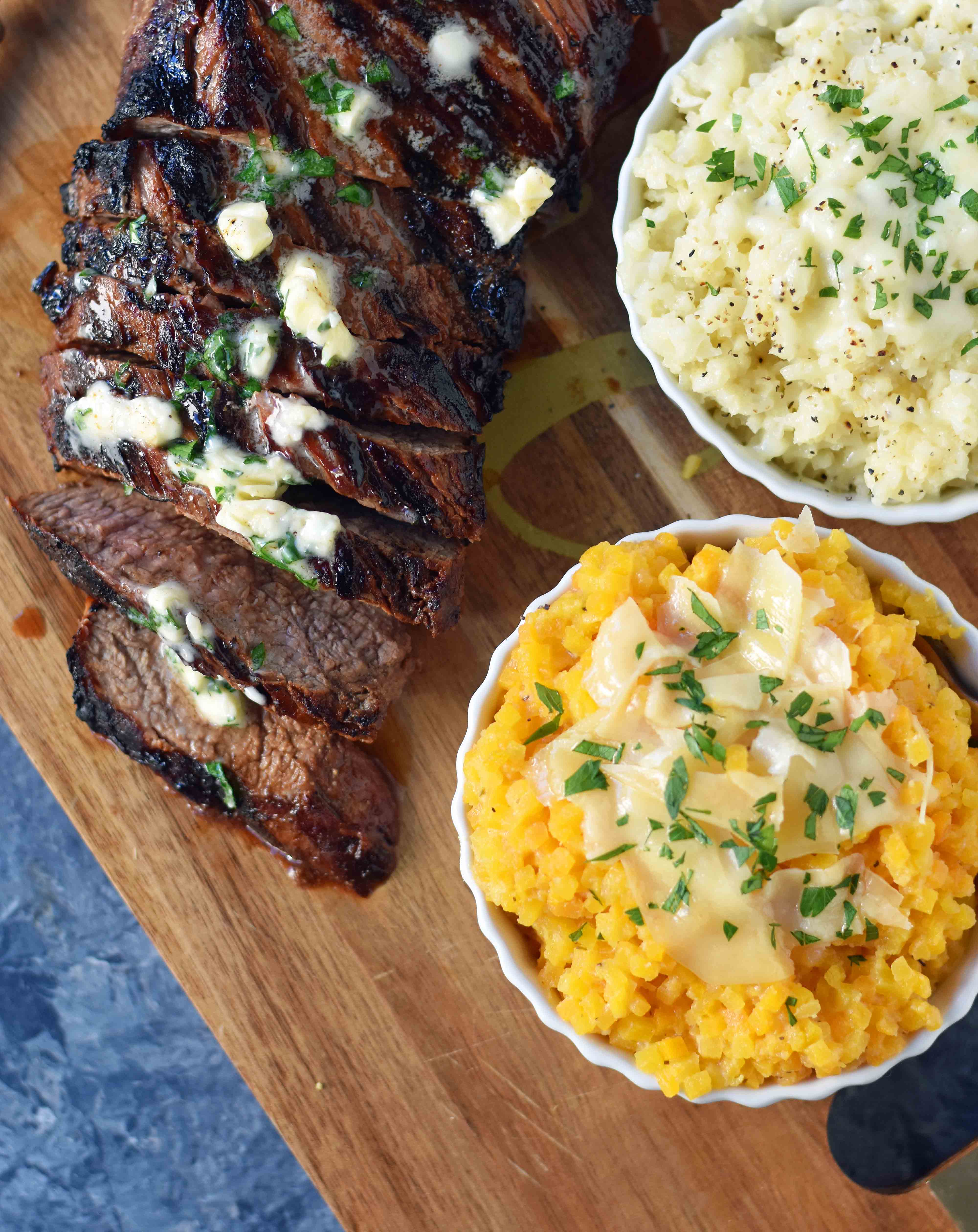 I am sharing how to make a phenomenal Grilled Tri-Tip Steak Marinade paired with the brand new Alexia premium side dishes.
If my husband could dream up his ultimate meal, it would most likely include steak. I wanted to find a quick and easy marinade to bring out the natural flavors and juices of the steak.  The beauty of a marinade is that it not only flavors the steak but tenderizes it as well. Now that is what I call efficiency.
This Grilled Tri-Tip Steak Marinade starts with a high-quality piece of meat.  This marinade recipe works with any type of beef or steak and just makes everything better! This amazing steak marinade starts with oil because it helps to tenderize the meat.  Adding an acid helps to break down the tough fibers of the meat so freshly squeezed lemon juice is added to the marinade.
Brown sugar, soy sauce, Worcestershire sauce, and an array of spices give it a touch of salty sweetness. When you add sugar to a marinade, it helps to give the steak a nice crust on the outside.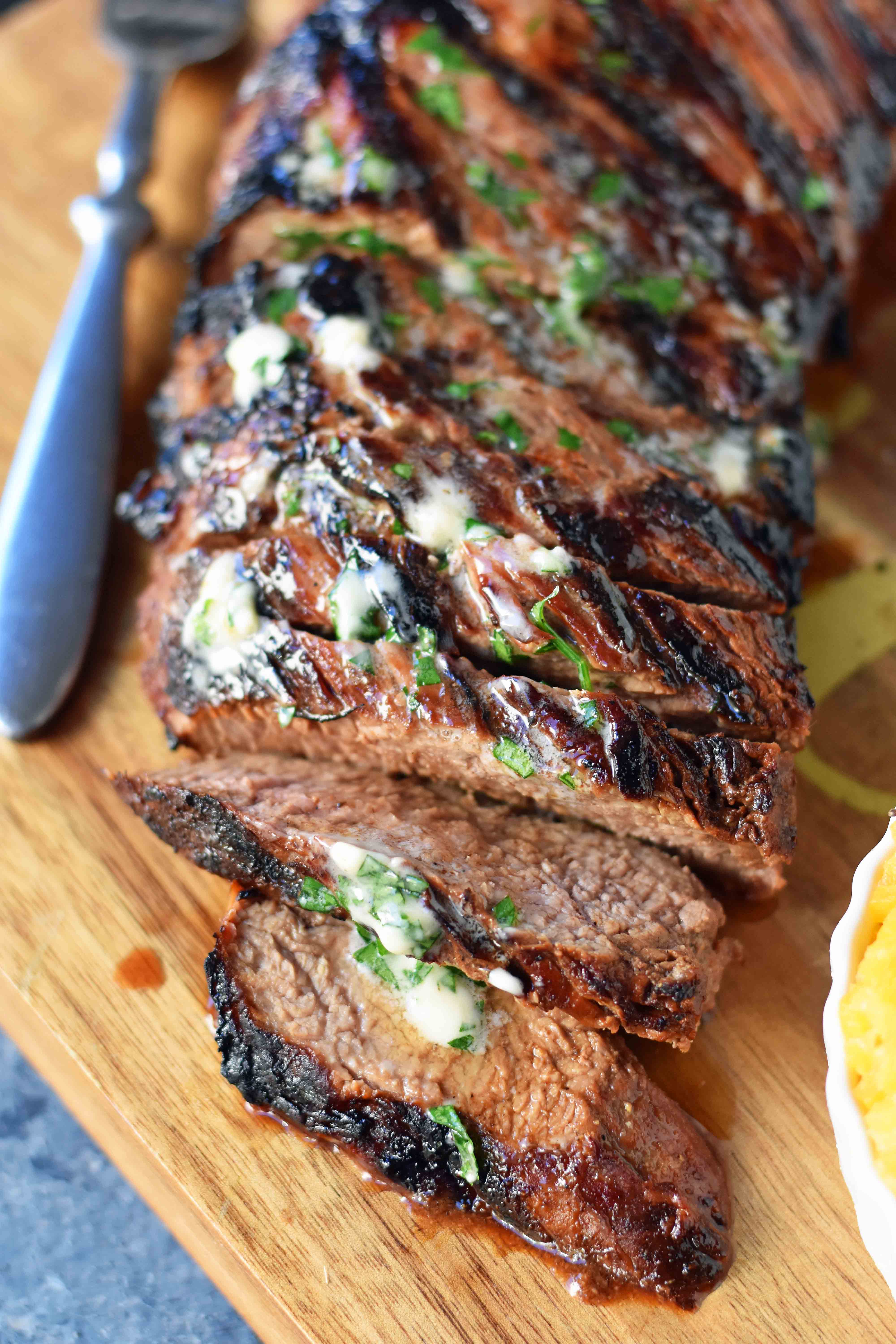 Use a fork to poke holes throughout the steak so the marinade can seep in.  You want to give this marinade time to do its job so let it rest in the refrigerator for a bare minimum 30 minutes.  It is ideal to leave the steak in the refrigerator for a few hours to let it tenderize and develop those deep, rich flavors.
The steak is now ready for the grill! Bring it on.  I used to be the girl who was a little afraid of the grill. My husband LOVES to grill so he is always eager to be the man standing in front of it and I didn't stand in his way. 🙂 It wasn't until years ago when he was working later hours that I started figuring out how to do it myself.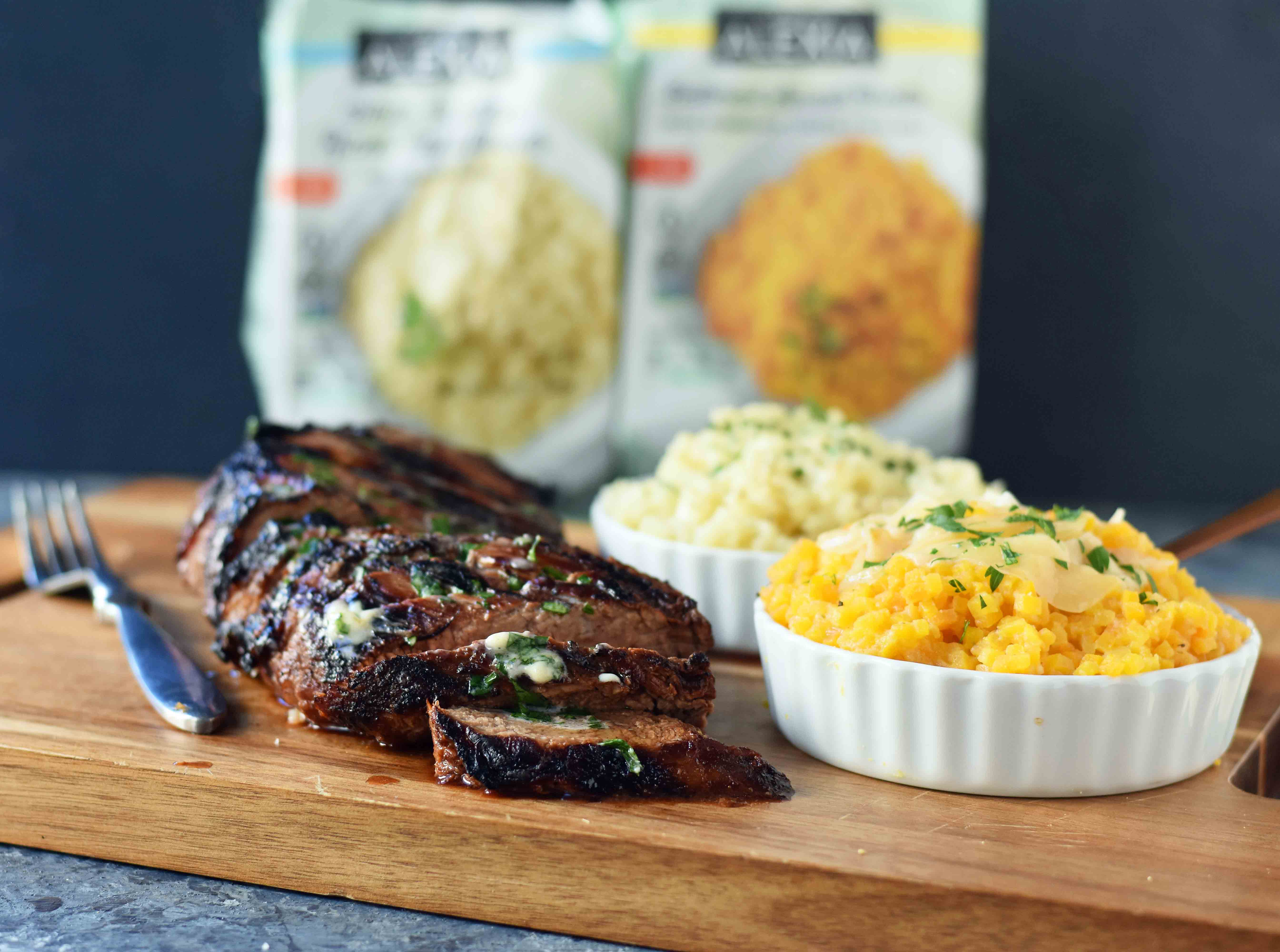 To grill a tri-tip steak, start with high heat. This is an important step as you want to develop a crust on the steak. I always salt both sides of the steak. Grill the steak for about 5-8 minutes per side. Watch for flare-ups and move to another part of the grill if it is flaring up too much.
After it has been seared, lower the heat to medium or medium-low and continue to grill. Let it cook for another 8-10 minutes or until it reaches 130 degrees in the center of the steak.  An average 2-lb. sized tri-tip steak will take approximately 22 – 25 minutes of total cooking time on the grill.
Since tri-tip steaks vary in thickness, your best bet is to use a meat thermometer to check for temperature. The instant-read thermometer reads 120 degrees for rare, 130 degrees for medium-rare, and 140 degrees for medium.
Now the important part! REST.  Let this baby rest…it has been working so hard.  Why do we want the steak to rest when we are starving and want to dive right in? If you were to cut the steak as soon as you pull it off of the grill, all of those heavenly juices would run right out of the steak and onto your plate. We want to keep those precious juices inside the steak! Let the steak rest for at least 10-15 minutes. Patience is a virtue, people.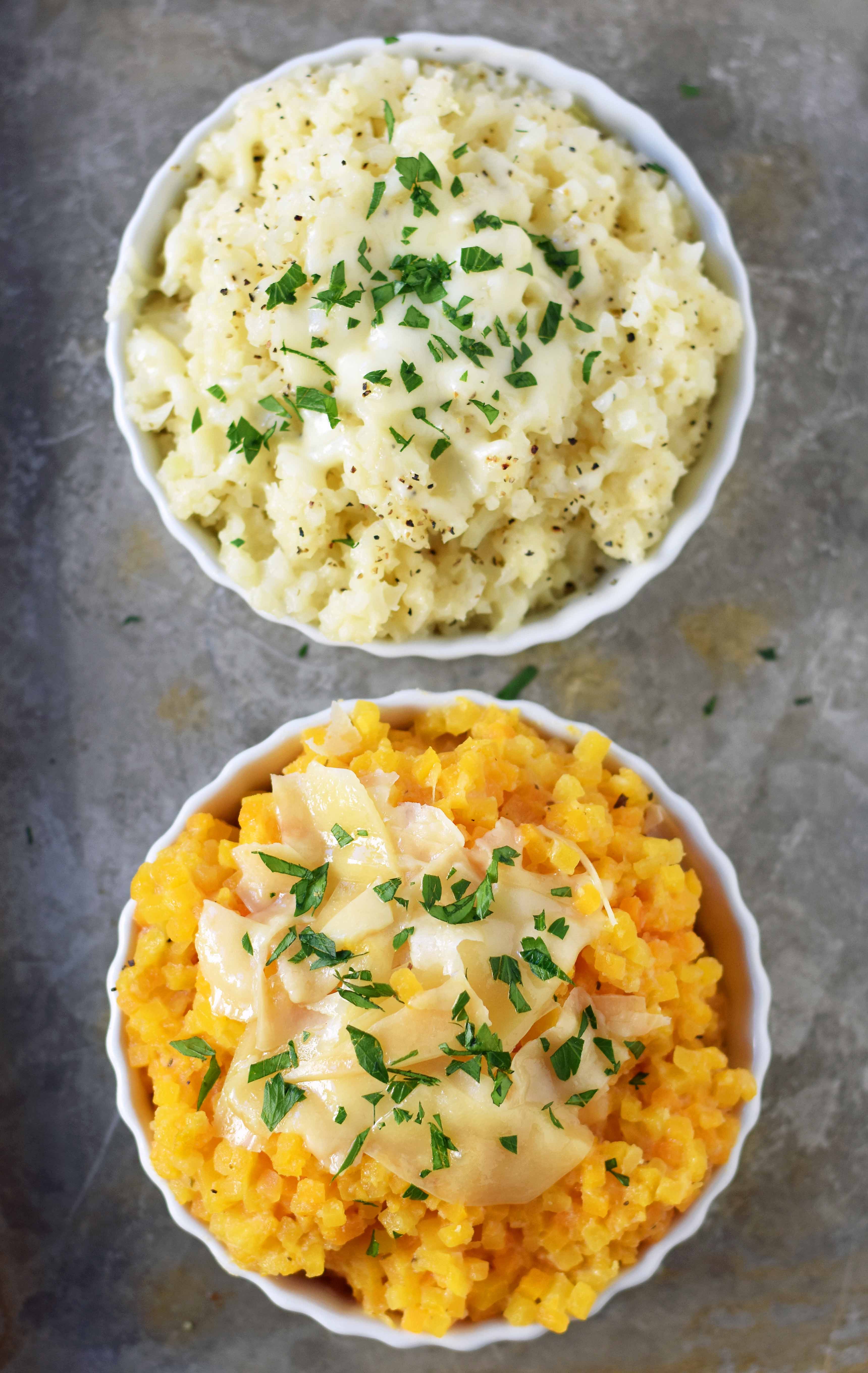 While you are waiting, this is the time to focus on the side dishes. I am guilty of forgetting about even making sides since I am usually so focused on the main dish. Then I am scrambling to figure out what I could whip up really quickly to pair with our main dish.  As a busy Mom of 4, I am always trying to find creative ways to get more vegetables into our meals.
I discovered the easiest frozen side dishes made by Alexia in my grocery store and have been hooked ever since. I have been a fan of Alexia side dishes since I first tried their sweet potato fries and have been devouring them ever since.  I love that Alexia uses only the highest quality ingredients without all of the fillers that others use.  I feel good that I am actually feeding my family healthy vegetables with no GMO ingredients added.
I am such a risotto fan but it takes a long time standing in front of the stove stirring and stirring and stirring. Alexia has come out with an easier and healthier way to eat risotto — Butternut Squash Risotto with Parmesan and Sea Salt. It is made in one bag in the microwave in less than 10 minutes!  I literally ate the entire bag! I kid you not. I made myself a bowl of it and just kept going back for more.  It is made with vibrant sweet butternut squash cut into tiny squares, savory parmesan cheese, a touch of cream, and sea salt. It is simply perfect.You can find even more about Alexia gourmet side dishes by clicking http://www.alexiafoods.com. These Alexia side dishes pair so well with this Tri-Tip Steak.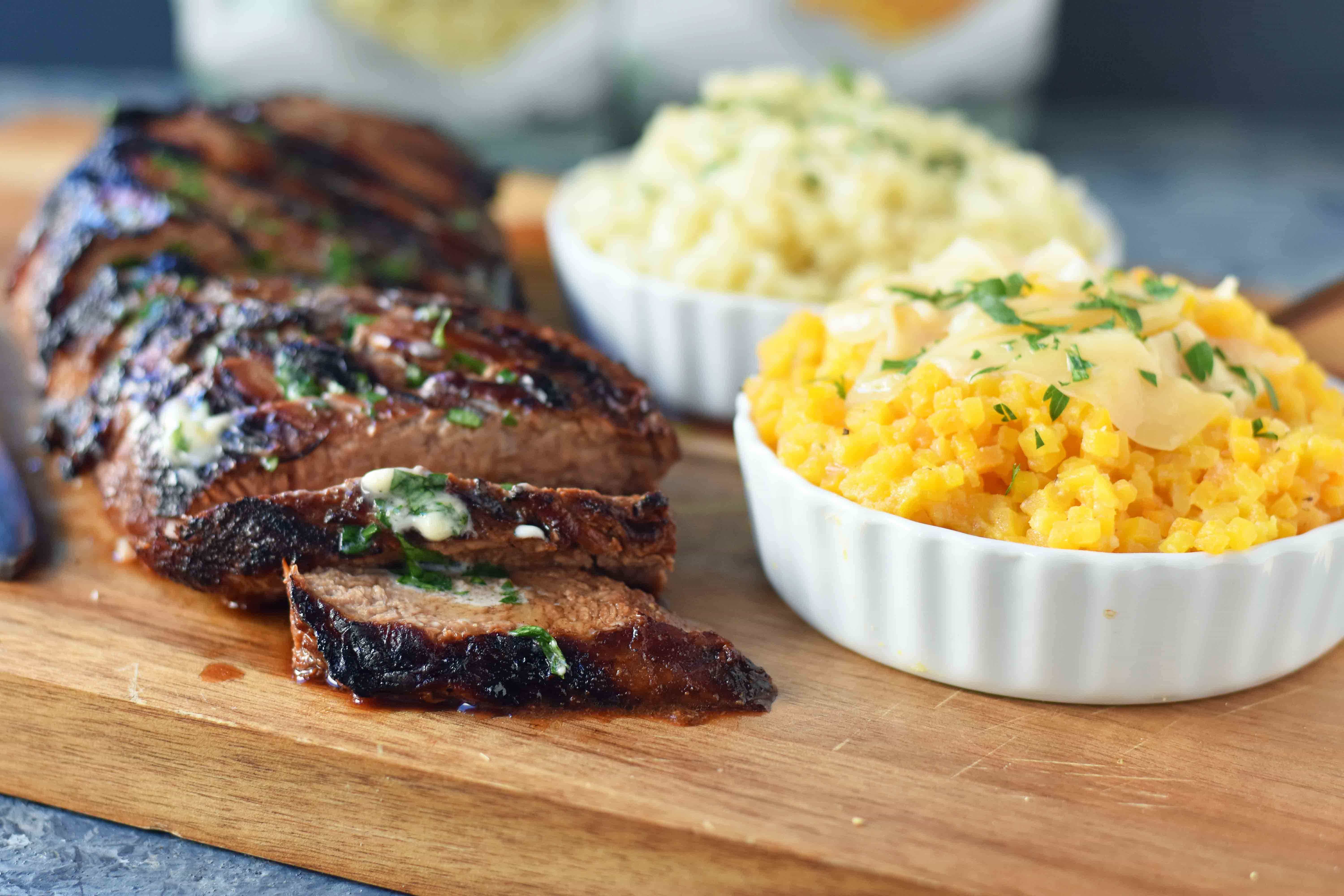 Pin this now to find it later
Pin It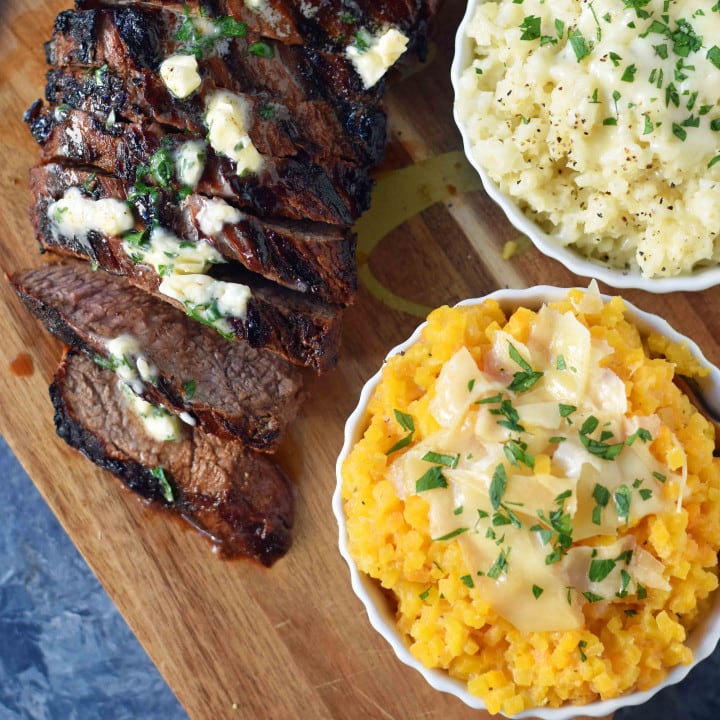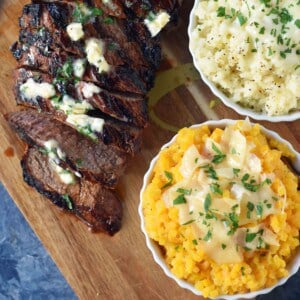 Grilled Tri-Tip Steak Marinade
A simple grilled steak marinade will transform any steak into a tender and flavorful dinner.
Ingredients
2 - 3

lb.

Tri-Tip Steak

or Flank Steak or any steak of choice

1/4 - 1/3

cup

Oil

1/4

cup

Fresh Lemon Juice

2

Tablespoons

Soy Sauce

or GF Tamari

2

Tablespoons

Brown Sugar

2

Tablespoons

Worcestershire Sauce

3/4

teaspoon

Garlic Powder

1

teaspoon

Pepper

Salt

to generously coat the outside of steak
Instructions
In a medium-sized bowl, combine oil, lemon juice, soy sauce, brown sugar, Worcestershire sauce, garlic powder, and pepper. Whisk together.

Place steak in a Ziploc bag and pour marinade over steak. Let marinate in the refrigerator for at least 30 minutes. 2 - 4 hours is more ideal.

Heat outdoor grill to high.

Once the grill is heated, place tri-tip steak on the grill. Generously salt each side of steak. Sear each side for 5 - 8 minutes per side.

Lower to medium to medium-low heat and continue to grill for 6-10 minutes or until thermometer reaches 130 degrees in the center of the steak. Tri-tip steaks can range in thickness. It is suggested to use a meat thermometer to check the temperature to ensure the meat isn't overcooked. The total cooking time will be 20 - 25 minutes at the least. An average 2-lb. tri-tip will need about 25 minutes total cooking time.

Since tri-tip steaks vary in thickness, your best bet is to use a meat thermometer to check for temperature. The instant-read thermometer reads 120 degrees for rare, 130 degrees for medium-rare, and 140 degrees for medium.

Remove steak from grill and let rest for 10 -15 minutes before slicing. Slice across the grain for the most tender meat.

May serve with garlic parsley butter.
Nutrition
Calories:
277
kcal
,
Carbohydrates:
6
g
,
Protein:
31
g
,
Fat:
12
g
,
Saturated Fat:
4
g
,
Cholesterol:
99
mg
,
Sodium:
470
mg
,
Potassium:
547
mg
,
Sugar:
4
g
,
Vitamin C:
4.7
mg
,
Calcium:
47
mg
,
Iron:
2.7
mg
Nutrition information is automatically calculated, so should only be used as an approximation.
I hope that you love this Grilled Tri-Tip Steak Marinade and Alexia Premium Side Dishes. Where are my grill lovers? Happy Grilling, my friends! xo