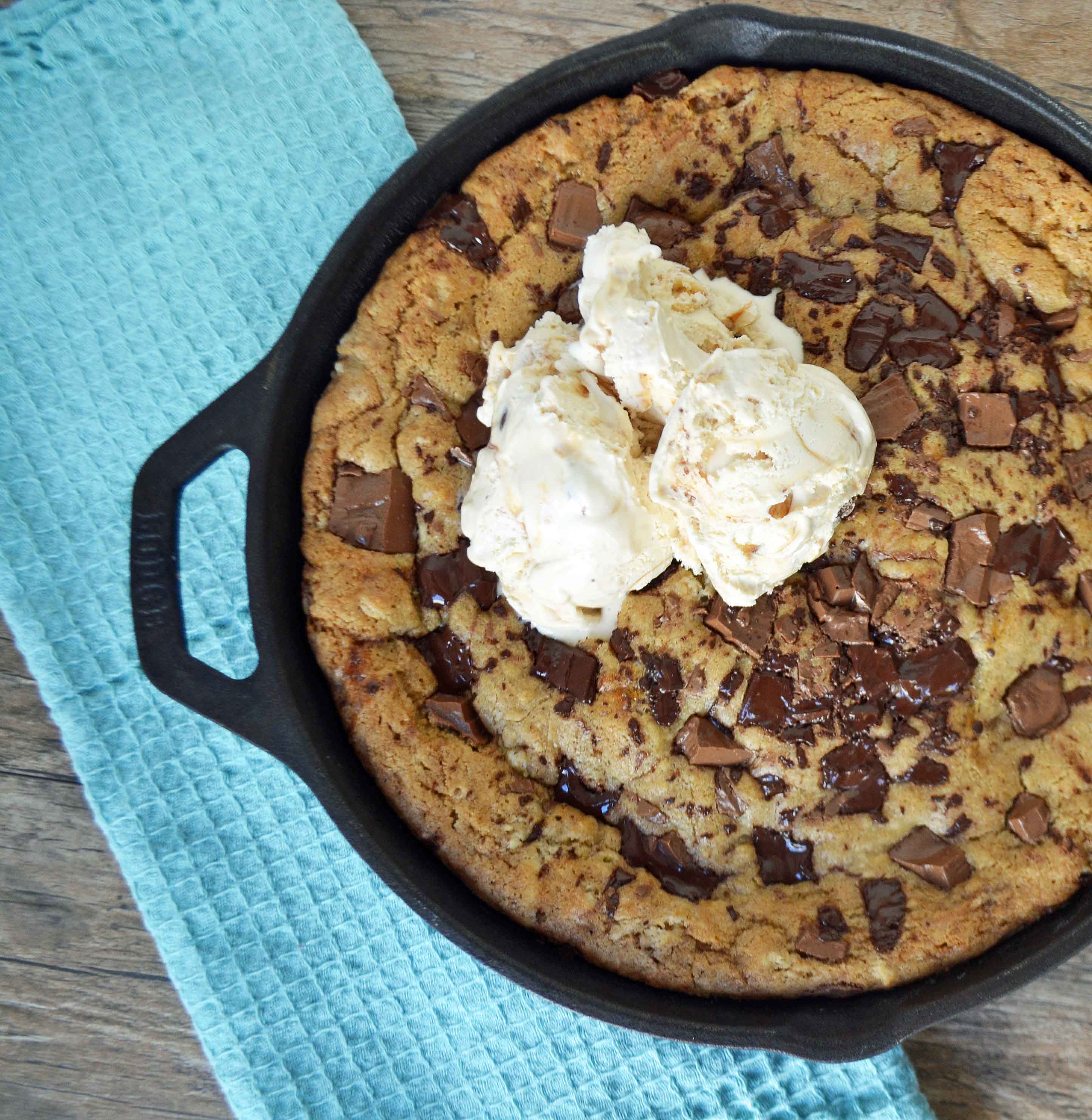 Pizookie
How to make a restaurant-style chocolate chip pizookie at home. This ooey gooey cookie pizookie recipe will have you begging for seconds!
Today is National Chocolate Chip Day and I couldn't let this important holiday go by unrecognized! I mean….what gets us through the 3:30 homework rush better than chocolate?
If I could choose my absolute hands-down favorite dessert of all time, this IS it.
A restaurant here in the Valley of the Sun called Oregano's is famous for their chocolate chip pizookie. A pizookie or skillet pizza cookie is basically a cookie shaped like a pizza eaten straight out of the oven.  Since I can't go to Oregano's every time I have a craving for this perfect dessert, I had to figure out how to make it at home. There's also the famous BJ's pizookie. This the perfect BJ's pizookie recipe.
Who else loves the combination of a warm chocolate chip cookie + vanilla ice cream? It's beyond heavenly. I have tried countless of chocolate chip cookie recipes (trust me on this one) and this one makes the BEST chocolate chip skillet pizookie.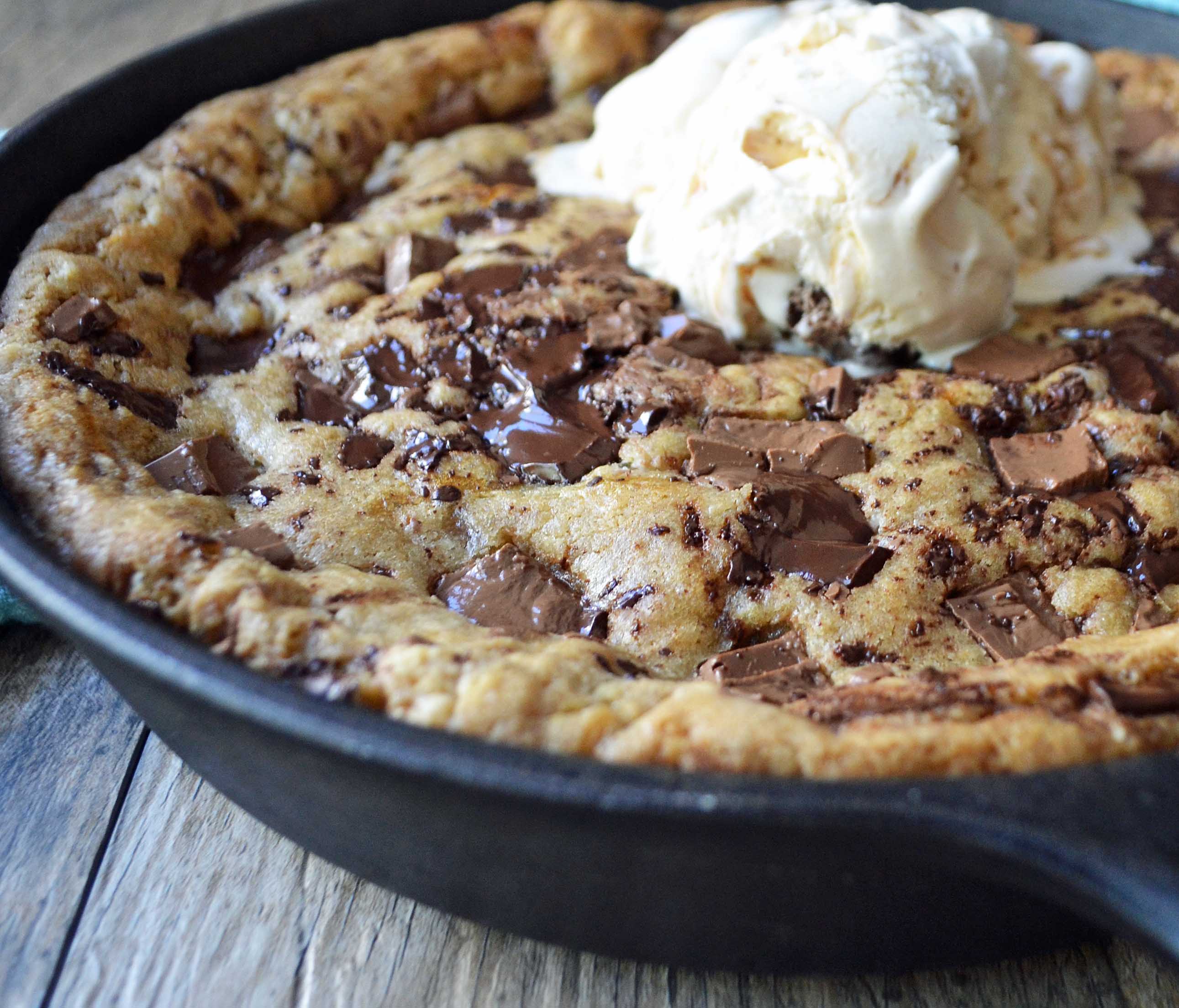 Lady's Chocolate Chip Skillet Cookie is a warm, ooey, gooey chocolate chip cookie topped with vanilla bean ice cream. It all starts with browning the butter in a cast iron skillet and adding both white and brown sugar, then stirring until nice and smooth.  It will look like smooth caramel and smells like homemade toffee.
Let it chill and then add fresh eggs, vanilla, flour, baking soda, salt, and milk chocolate chunks, and semi-sweet chocolate chips. Bake it in the oven and pull it out just a tad bit underbaked and top with vanilla bean ice cream. Have your spoon ready because you will want to dig in while it's still warm!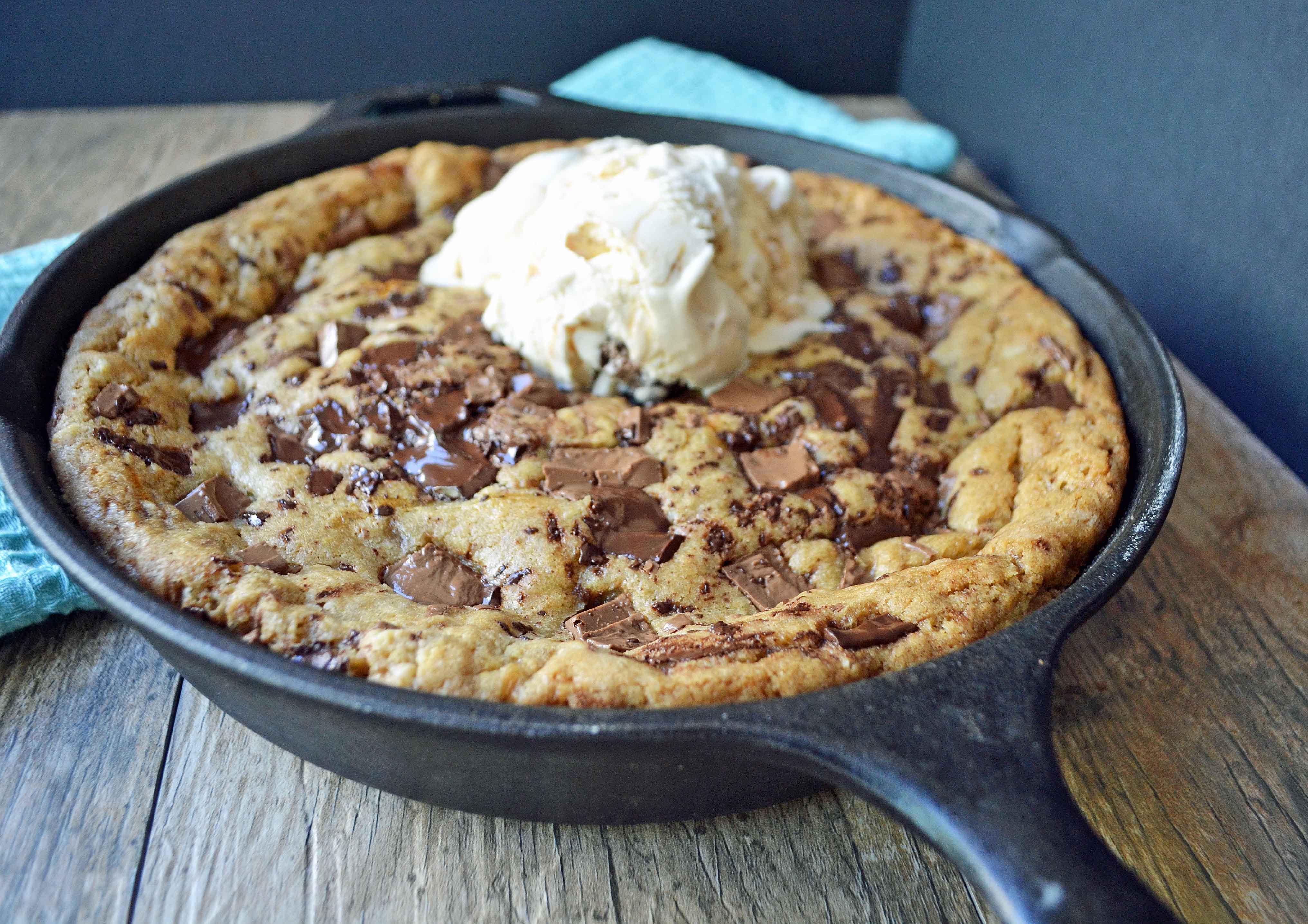 How to make a Chocolate Chip Pizookie:
1. A cast iron skillet works brilliantly with this recipe and only costs about $10-$20. If you don't have a cast iron skillet, you can substitute an oven safe skillet instead. Here are two options for cast iron skillets — Lodge Brand and Utopia Kitchen Brand.
2. After the butter is melted, add the sugars and take your time to stir it well to get it nice and smooth. It should have a golden gloss to it and look like melted caramel. This is my favorite wooden spoon to use in this recipe.
3. After adding sugars, chill in refrigerator (place pan on oven mit) for at least 10-15 minutes BEFORE adding eggs. The eggs will scramble if they are added while it's too hot so get it close to room temperature.
4.  Using a mixture of milk and semi-sweet chocolates are a perfect pairing but feel free to use your favorite type of chocolate. White chocolate macadamia is a fantastic option as well.
5. The baking time will depend on the depth of your skillet. If you are using a 10 inch skillet, it will cook slightly longer than if you are using a 12 inch skillet.  You want to watch for the sides to become golden brown and start to get slightly crispy. The center will remain slightly gooey because that's what makes a chocolate chip skillet cookie pizookie so dang good.
Watch this video to see how EASY it is to make a chocolate chip skillet cookie at home:
It's makes such an easy cleanup since everything is done in one skillet! A perfect chocolate chip cookie sundae dessert that will make everyone happy and coming back for seconds. Find this skillet cookie recipe below!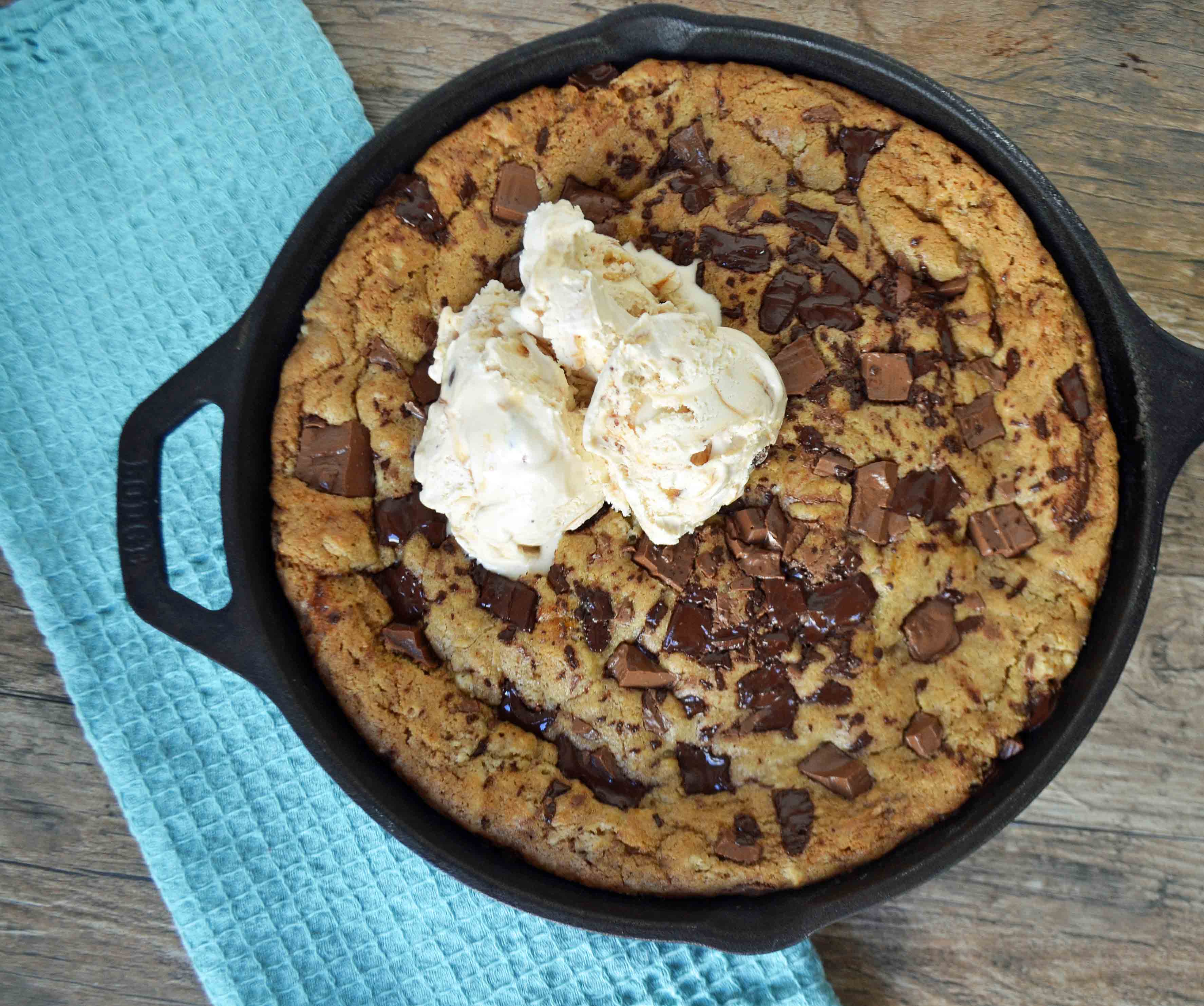 Pin this now to find it later
Pin It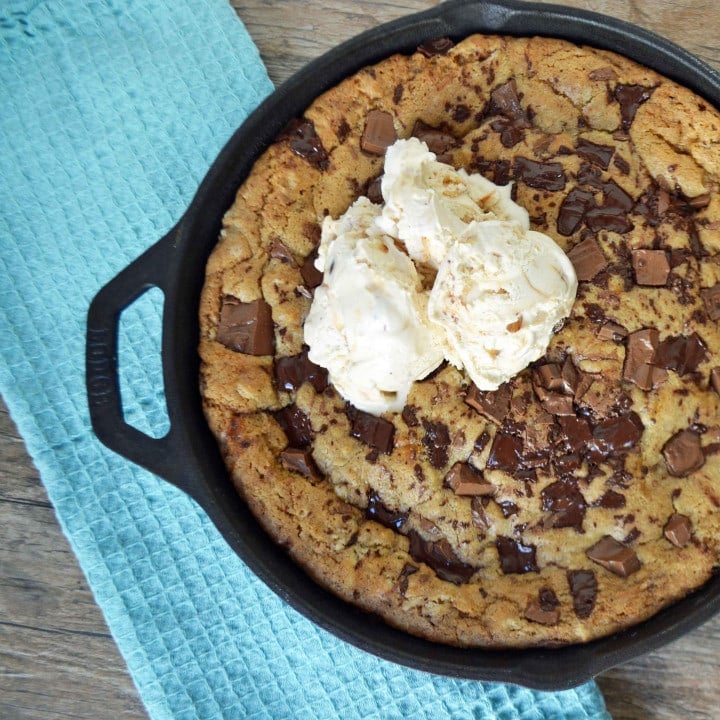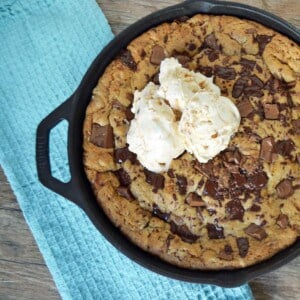 Lady's Chocolate Chip Skillet Cookie
Lady's Chocolate Chip Skillet Cookie is a warm, ooey, gooey chocolate chip cookie topped with vanilla bean ice cream.
Equipment
12 inch cast iron skillet

measuring cups and spoons

spatula set
Ingredients
1

cup

Butter

1

cup

Brown Sugar

1/2

cup

Sugar

2

Eggs

1

teaspoon

Vanilla

2

cups

+ 2 Tablespoons Flour

1

teaspoon

Baking Soda

1/2

teaspoon

Salt

3/4

cup

Milk Chocolate Chunks

3/4

cup

Semi-sweet Chocolate Chips

Vanilla Bean Ice Cream
Instructions
Preheat oven to 325 degrees.

In a 10 or 12 inch cast iron skillet, melt butter over medium heat stirring often, until it starts to bubble and is completely melted. Turn heat to low and add sugar and brown sugar, stirring well. Keep stirring until smooth and glossy.

Chill for 10-15 minutes (you don't want to add the eggs now or you will have scrambled eggs).

Remove from refrigerator or freezer and add eggs and vanilla and stir well.

Stir in flour, baking soda, and salt.

Mix in chocolate and stir to combine. *check to see if dough is at room temperature before adding chocolate to prevent melting.

Bake at 325 degrees for 26 - 33 or until the edges are lightly golden brown. *The inside will still be slightly gooey and that's the way it's meant to be. If the edges get too brown, Place some foil over edges. The smaller the pan, the thicker the dough which means a longer cooking time.

Top with vanilla bean ice cream and eat warm.
Nutrition information is automatically calculated, so should only be used as an approximation.
If you would like to see a short 1 minute video demonstration of this Lady's Chocolate Chip Skillet Cookie (because I am a huge visual learner!), CLICK on this link for a 1 minute video and don't be shy to share the LOVE on Facebook. 🙂
Thank you so much for your support and love! xo
Happy Baking!