Every single time I go on vacation, I come home and bake up a storm. I am not sure if it's because I missed it so much or if I am anxious to try replicating everything I ate on vacation. Maybe it's a little of both. But one thing is for sure….I LOVE to create recipes and I LOVE a challenge.  It's what I am passionate about! I want to do study, do my detective work, and figure out how to create copycat recipes.
Months ago, my amazing sister-in-law told me about these popular protein cookies that she couldn't get enough of. She has been on a macro diet for months now and I covet her biceps and calves every single day. She looks incredible! Since I am such a cookie fanatic, I had to try these cookies. Within about 2 minutes of devouring one, I decided that I needed to figure out how to make them because everyone wants a cookie with less guilt!
If you know anything about me, I have zero fear in the kitchen. I will try anything and everything so I went to the store, bought some Lenny and Larry's cookies, and went to town.  After several batches and tweaks here and there, I came up with the Lenny and Larry's Protein Cookie Copycat. And honestly…I can eat these all day long!
Here's the thing about these cookies…..
They promise 16 grams of protein per cookie. That's almost like drinking a pea protein shake in one chocolate chip cookie!
No dairy.
Vegan.
No Eggs.
No Soy.
Non-GMO.
No High Fructose Corn Syrup.
No artificial sweeteners.
Those are some big claims for a cookie so I had to figure out how to check all of the boxes while still creating a delicious cookie…and I think I did it!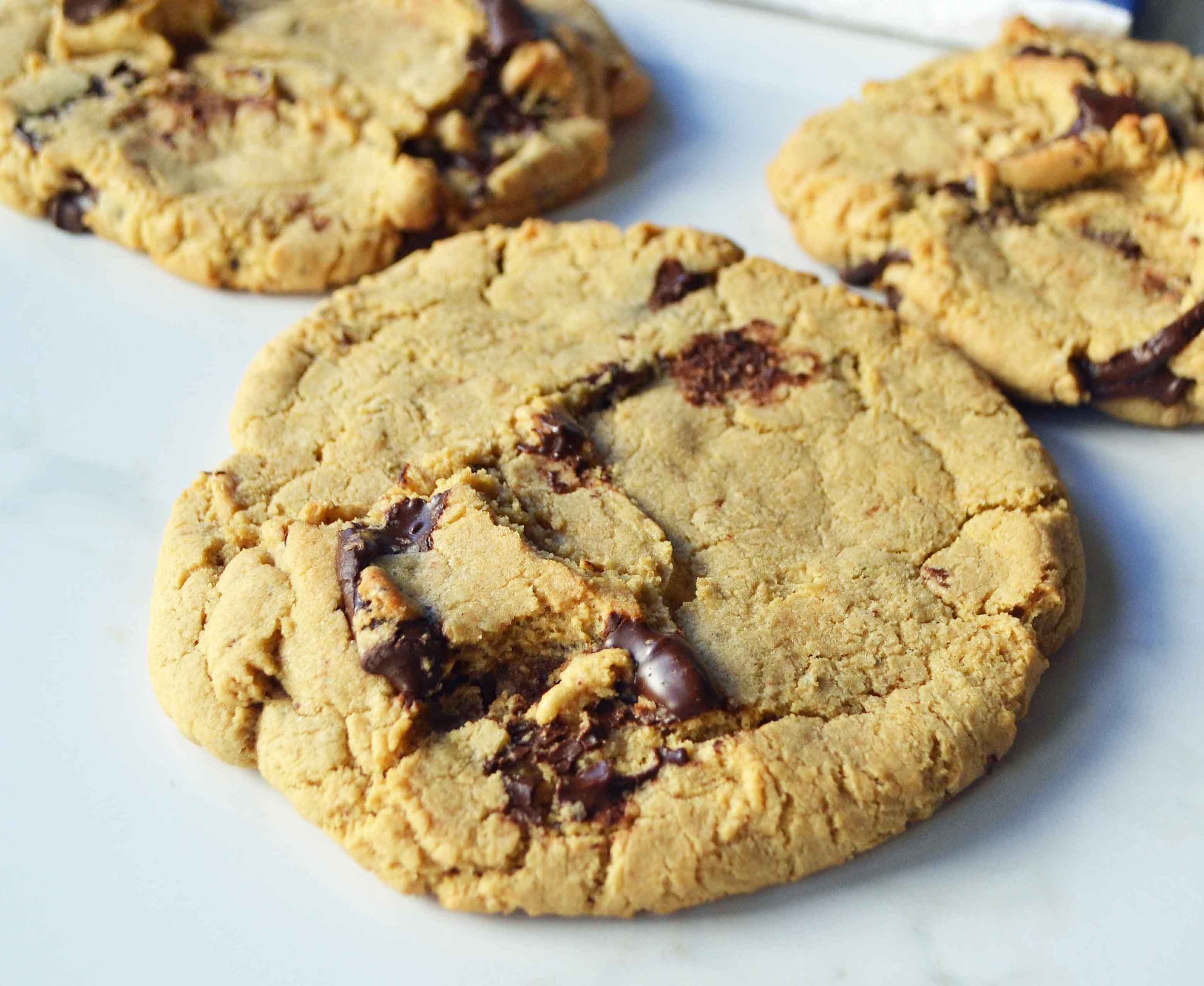 Here are a few things that I discovered while creating this Lenny and Larry's Protein Cookie Copycat:
To keep it vegan, they use palm margarine. It's important to use it cold, straight out of the refrigerator so that the cookies don't spread too much. If you aren't worried about keeping them vegan, you can substitute butter.
There are no eggs in these cookies. We use ground flax seeds and water to mimic an egg. I also tried chia seeds (because I am crazy like that) and they worked well. They were a little more noticeable in the cookies but still worked similar to an egg. You can use either flaxseeds or chia seeds. Let the seeds sit in water for 1-2 minutes to soften before adding to bowl.
I experimented using both Vanilla Pea Protein Powder and Vanilla Whey Protein Powder. There was a big difference between the two. The pea protein created a sturdier cookie but the protein powder taste was much more pronounced than the vanilla whey powder. My kids could recognize the taste difference between the pea protein and whey protein. The whey protein worked similar to when I use nonfat powdered milk in my baked goods.  The whey protein powder cookie did end up to be slightly flatter but the taste was better, in my opinion. If you want to keep the cookies vegan, then pea protein is your best bet. I would recommend using pea protein brown rice protein powder blend for my vegan friends. For my non-vegan friends, I would suggest using vanilla whey protein.
Use Whole Wheat Pastry flour. Pastry flour is finer and creates a more tender cookie. You can substitute white pastry flour as well.
There are dairy free chocolate chip options available that taste really incredible. I used Enjoy Life Chocolate Chunks. If you aren't worried about keeping the cookies vegan, then you can use semi-sweet or dark chocolate chunks.
Flatten the dough before putting in the oven. I tried putting them in the oven, rolled tightly in a ball, and they stayed in a ball. These are meant to be large cookies and need to spread some in the oven.
There are 16 grams of protein per cookie. These are very large cookies and are actually considered 2 servings, according to Lenny and Larry. But heck you do whatever you please and eat the entire cookie!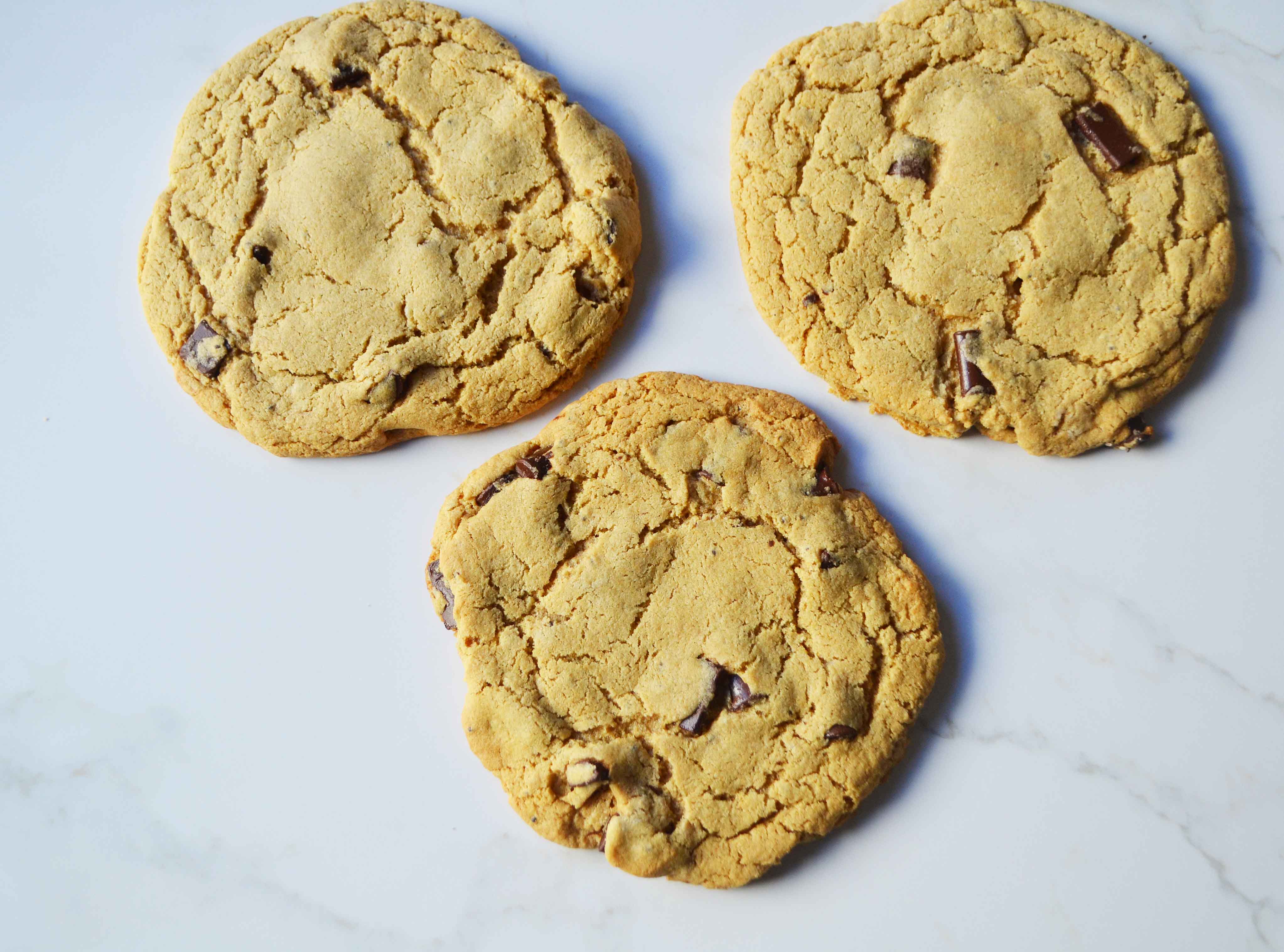 These two photos are the cookies using Vanilla Whey Protein Powder. The cookies spread more, had more crackling to them, but had a better flavor. I didn't notice the protein powder flavor in these as much as the Pea Protein Powder.
Pin this now to find it later
Pin It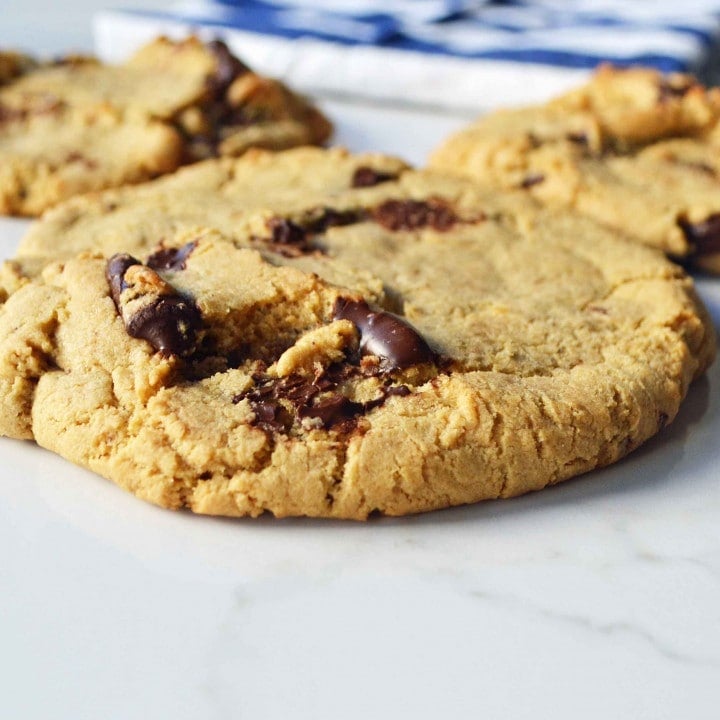 Lenny and Larry's Protein Cookie Copycat
An original copycat of the ultra popular Lenny and Larry's Complete Protein Cookie. 16 grams of protein in one cookie!
Equipment
kitchenaid mixer

baking sheet

parchment paper baking sheets

measuring cups and spoons

spatula set

turner
Ingredients
1/2

cup

Palm Margarine

cold

1/2

cup

Cane Sugar

1

teaspoon

Ground Flax Seed

or Chia Seeds

2

Tablespoon

Water

2

teaspoons

Molasses

1/2

cup

Protein Powder

vanilla pea protein or whey protein powder

1 1/4

cup

Whole Wheat Pastry Flour

3/4

teaspoon

Baking Soda

1/4

teaspoon

Salt

1/2

cup

Chocolate Chips

for vegan use dairy free chocolate such as Enjoy Life Chocolate Chunks
Instructions
Preheat oven to 370 degrees.

In large mixing bowl, cream together margarine and sugar until creamy, about 2 minutes.

In small bowl, mix together ground flax seed or chia seeds and water. Let sit for 1-2 minutes. Add to butter sugar mixture and mix. Add molasses and stir.

Stir in protein powder, whole wheat pastry flour, baking soda, salt. Mix until just combined, avoid overmixing. Stir in chocolate chips.

Using parchment paper or silpat silicone baking sheets, cover baking sheet. Divide dough into 4-5 large balls. Press down on dough to flatten. Make sure that each cookie has enough room to spread.

Bake at 9-11 minutes or until golden brown on edges but still soft.

Let cool for 5-10 minutes before eating.
Nutrition information is automatically calculated, so should only be used as an approximation.
Now here's your chance to eat a cookie without all of the guilt! These Lenny and Larry's Protein Cookie Copycat are a balance of protein, carbs, and fats while still remaining vegan. Hallelujah! Forget the protein shake, I am eating a cookie.