Who has tried the jar of addictive goodness called "Biscoff Cookie Butter?" Let's get real….who has eaten it straight out of the jar with a spoon? Please say I am not alone. Biscoff Cookie Butter is literally a famous European cookie ground into a sweet, creamy butter. It's been a special cookie in Europe for ages and I would like to publicly thank the genius who came up with idea to make them into cookie butter. Bravo.
I would like to spread Biscoff Cookie Butter on so many things that I thought a natural choice was to pair it with puff pastry. Now who is the genius now? 🙂 Here's your Lovebird Biscoff Cookie Butter Pastry. It combines buttery, flaky, crisp puff pastry with rich caramel cookie butter, sliced strawberries, and vanilla whipped cream.
Oh and did I tell you that it's easy? It's literally a piece of cake.
I am full on in love with the gourmet liege waffles at Waffle Love. They make the most unique waffles that are out of this world. My darling friend owns the Waffle Love here in Arizona and when I first took a bite of her waffles, I was blown away.  She spread Biscoff cookie butter all over my golden waffle and topped it with fresh berries and whipped cream. I wanted to move in with her and have her make me waffles daily. It was the first time that I tasted Biscoff cookie butter and have been hooked ever since.
Since I can't eat waffles at Waffle Love daily (oh how I wish that I could), I decided to make a pastry inspired by the Red Wonder. It's made with puff pastry that you don't even have to make from scratch! You literally buy it in the frozen section of the grocery store, let it chill on your counter for 30 minutes to defrost, and bake it. I mean, how easy is that? You can be devouring this Lovebird Biscoff Cookie Butter Pastry in less than an hour with very little manual labor. Okay, basically none.
So where do you buy cookie butter? It's available at most grocery stores and even Trader Joe's has jumped on the cookie butter bandwagon with their own version. Don't worry, I have taste tested both of them and would say they both pass with flying colors. You can also find it on Amazon by clicking HERE.
This is how simple this Lovebird Biscoff Cookie Butter Pastry is to make. Remove frozen puff pastry from the freezer and let thaw. Then run a knife along the puff pastry and  cut it into six rectangles. To make the puff pastry golden, lightly brush a simple egg wash over the pastry. You can sprinkle sugar all over the pastry or cut up sugar cubes and place them on the pastry. The sugar cubes give it a nice crunch to the pastry. All that matters is that you sprinkle the pastry with some form of sugar because it's just plain delicious.
If you want to make a stunning, show stopping dessert, unroll the puff pastry and sprinkle it with sugar. Bake it as a large square. My daughter even requested this as her birthday cake last year!
Look how pretty they turned out? They look so gourmet and my husband was so proud of me and then I showed him the box of frozen dough that I picked up at the grocery store. All props to Pepperidge Farms. They sure know what they are doing. Making puff pastry from scratch is no joke so I am grateful for this easy shortcut that comes out perfectly flaky.
I tried a few different methods when I was experimenting with this recipe. I tried baking the biscoff right into the pastry but it lost some of the creaminess of the cookie butter. You want to spread it on while the pastry is still warm so it will spread easily. If your pastry cools, just heat up your cookie butter for a few seconds before spreading.
Fresh strawberries cut the richness of the caramel gingerbread cookie butter and are the perfect match to complement it. Homemade whipped cream literally transforms any dessert. Don't try to use Cool Whip. Just don't do it. Say no to Cool Whip. The genuine article is always superior, in my opinion.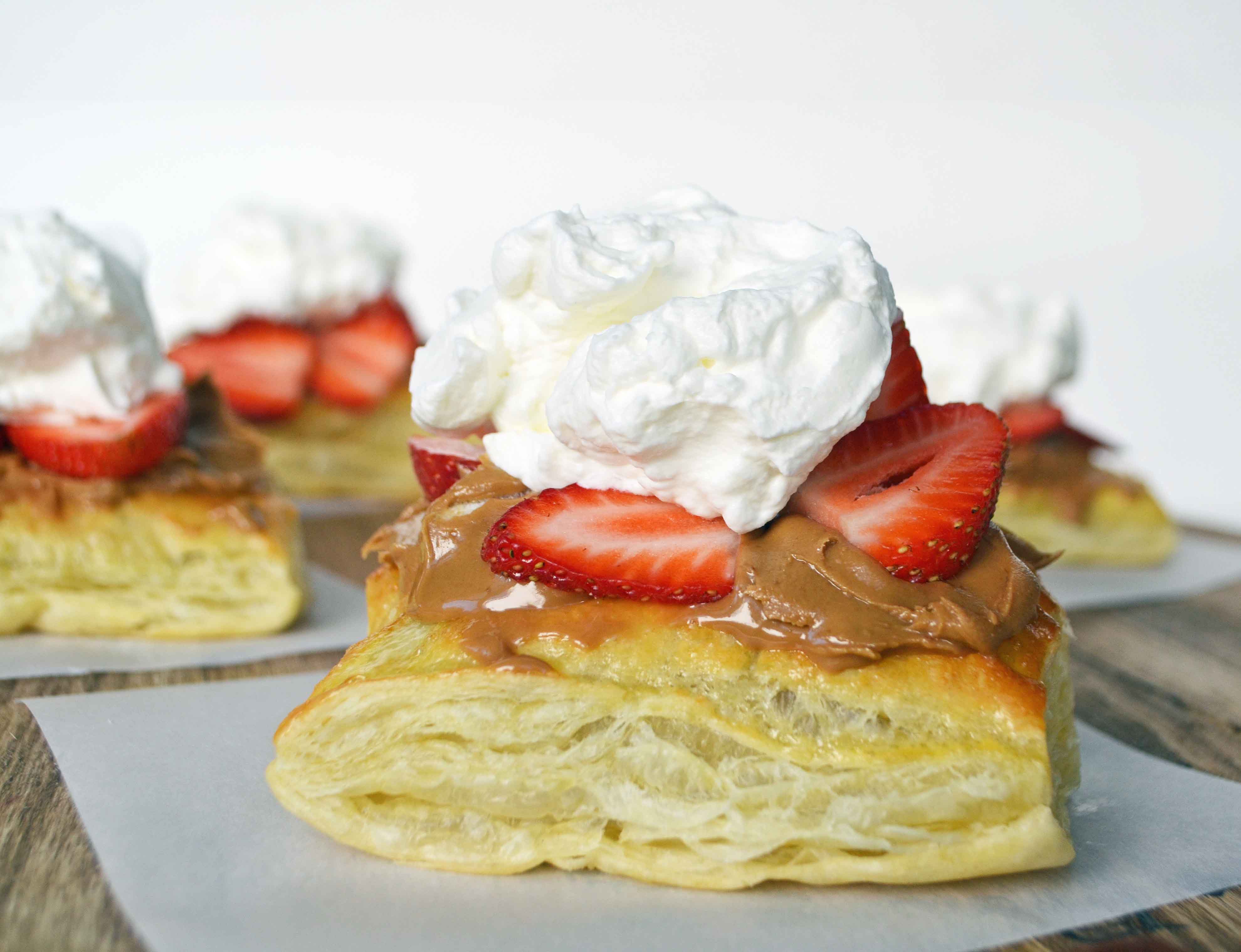 Pin this now to find it later
Pin It
Lovebird Biscoff Cookie Butter Pastry
Puff pastry baked until golden and topped with cookie butter, fresh strawberries, and homemade whipped cream.
Ingredients
1

Puff Pastry Sheet

such as Pepperidge Farms

3

Tablespoons

Sugar or cut up sugar cubes

1

Egg

3/4

cup

Cookie Butter Spread

such as Biscoff

1

lb.

Fresh Strawberries

sliced

1

cup

Heavy Cream

1/3

cup

Powdered Sugar

1

teaspoon

Pure Vanilla or Vanilla Bean Paste
Instructions
Remove pastry sheet from oven and let defrost for 30 minutes.

Heat oven to 400 degrees.

Unfold pastry and lay flat on greased or silpat covered baking sheet. Cut along lines of puff pastry into 6 rectangles.

In small bowl, beat egg with fork. Lightly spread over puff pastry.

Sprinkle sugar all over puff pastry.

Bake for 14-15 minutes or until golden brown.

Remove from oven and let stand for several minutes.

While still warm, carefully spread cookie butter over pastry, being careful not to press down on pastry.

Top with fresh sliced strawberries.

In large mixing bowl, beat heavy cream until medium to stiff peaks form. Add powdered sugar during the last minute of whipping. Stir in vanilla.

Place a large dollop of whipped cream onto each pastry.
Nutrition information is automatically calculated, so should only be used as an approximation.
Now go impress your friends, your spouse, your boyfriend, your girlfriend, your kids, your aunt, your dog, or whomever with this beautiful pastry. It can be eaten for breakfast, brunch, or dessert. The options are endless! I hope you fall in love with this Lovebird Biscoff Cookie Butter Pastry too.
Happy Baking! xo