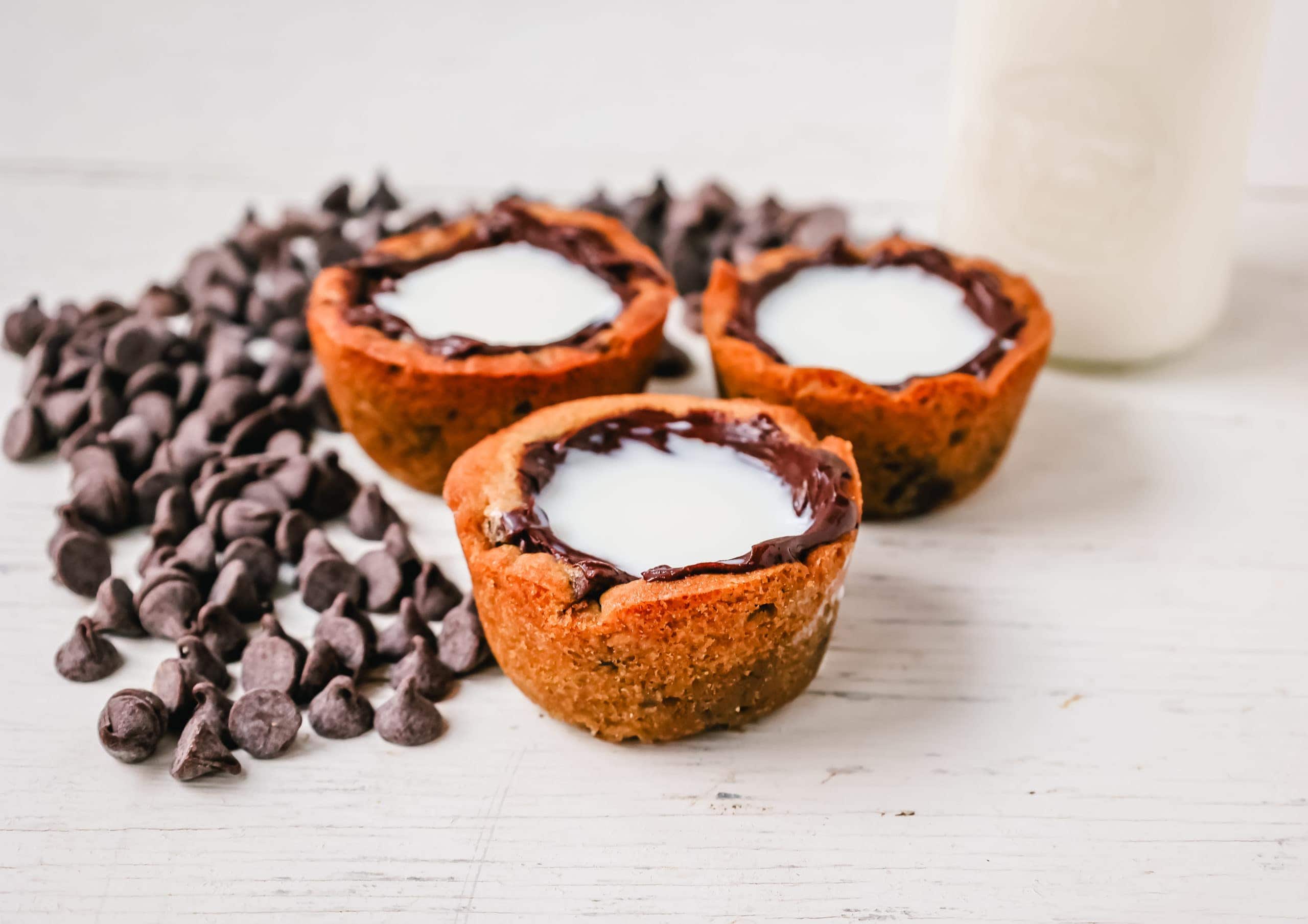 Milk and Cookie Shots
The famous Milk and Cookie Shots were made famous at New York City Dominique Ansel Bakery. This soft chocolate chip cookie is shaped into a shot, baked until warm and gooey, lined with chocolate, and served with milk inside. If you love cookies and milk, this is the dessert for you!
We fell in love with the famous Dominique Ansel cookie shot while visiting New York City. Every time we go to New York City, we stand in the long line to get the coveted chocolate chip cookie shots. They are famous for good reason!
The last time we went we took at 6 of us and my four kids devoured them in less than 30 seconds. They are pretty pricey in NYC so I was determined to figure out how to make them at home. They were so much easier than I imagined! This is what they look like below at Dominque Ansel Bakery.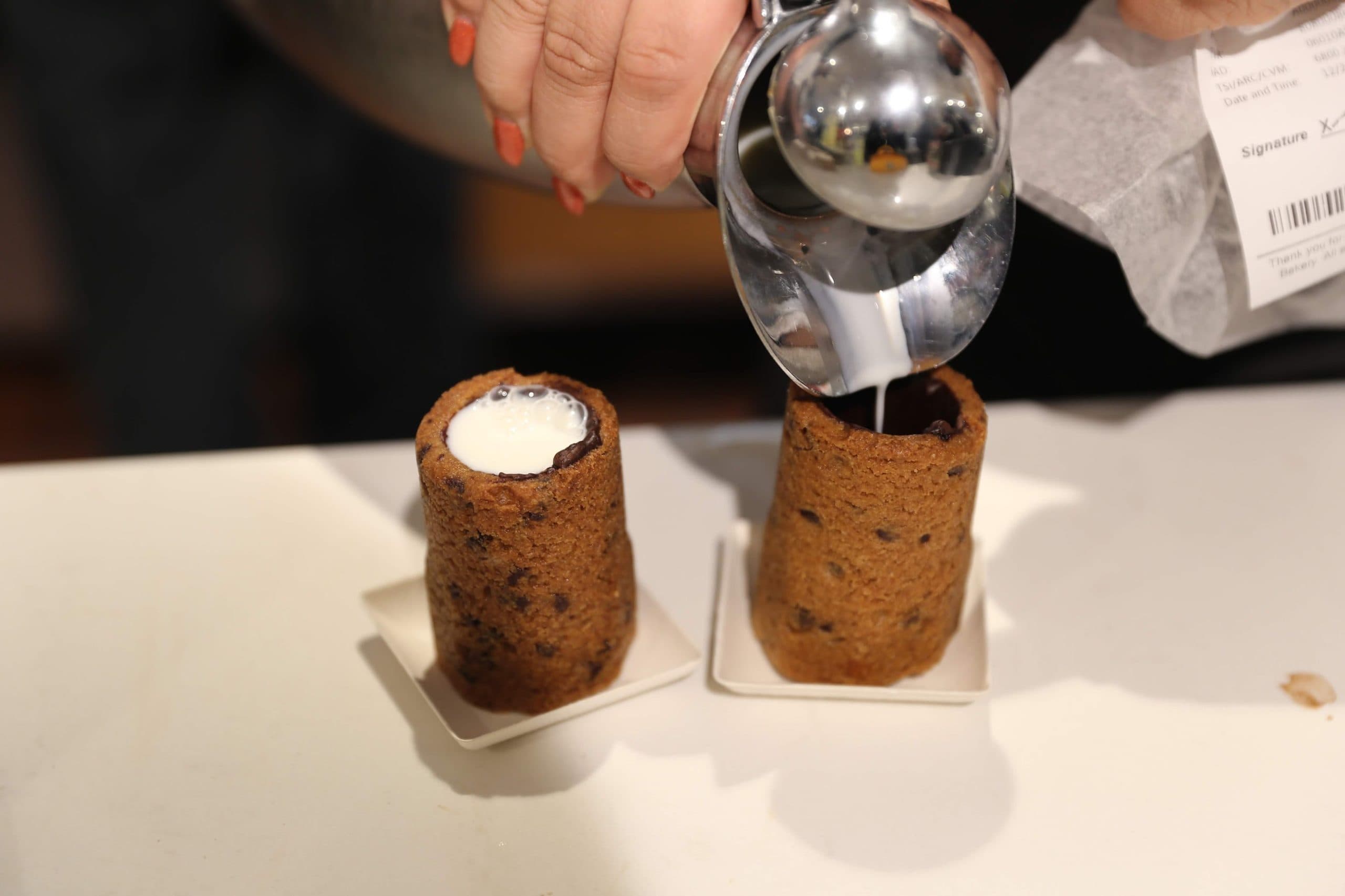 These chocolate chip cookie shots are made with a soft, warm chocolate chip cookie shaped as a shot glass. Then the baked cookie is lined with melted chocolate and filled with cold milk. So you take a bite and you get a warm cookie, rich chocolate, and creamy milk all in one!
The cookie shots with milk literally melt in your mouth! This is for my milk and cookie lovers out there! My husband can't eat cookies without milk so this is the perfect dessert for him.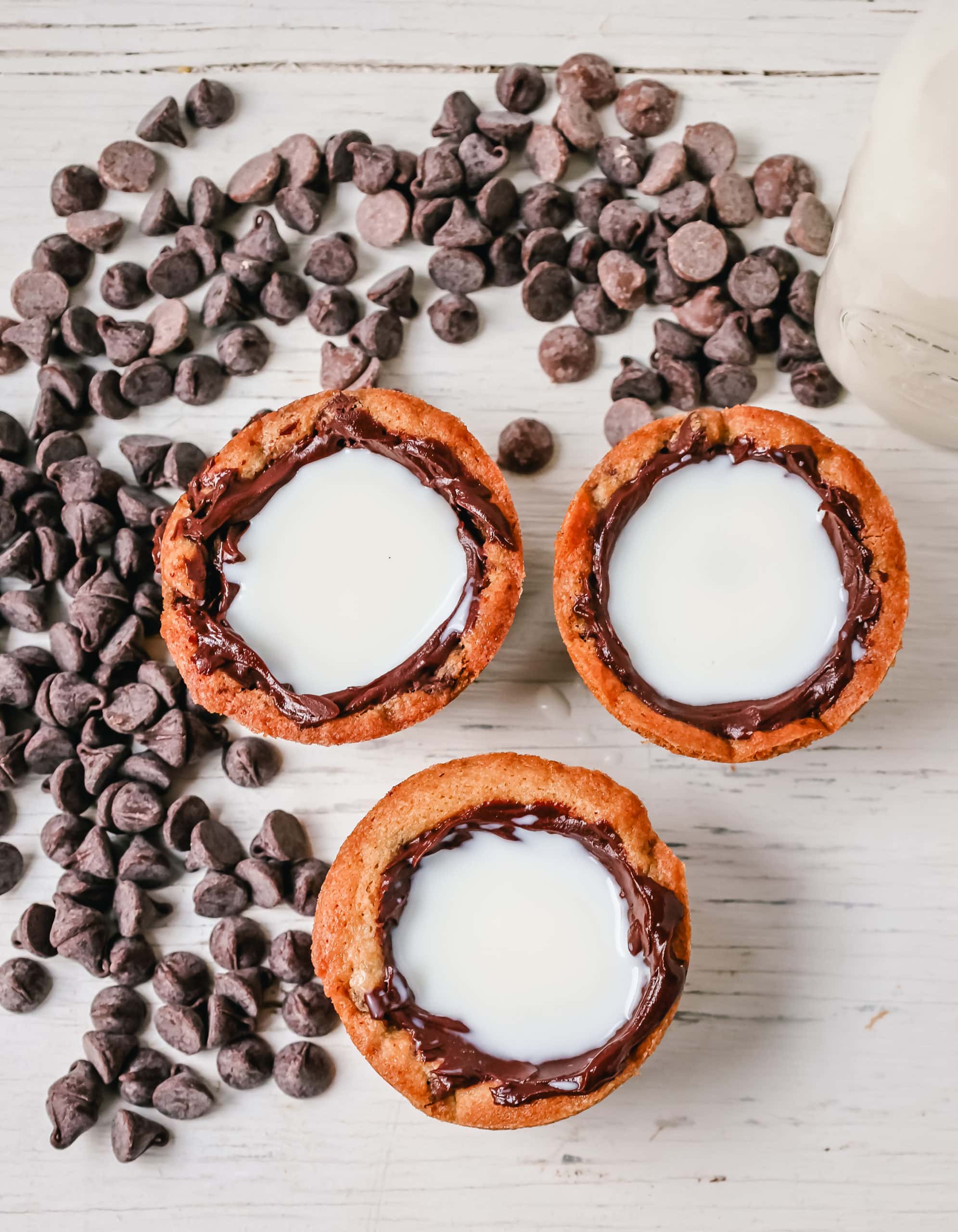 How to make a Milk and Cookie Shot:
You start off by making homemade chocolate chip cookie dough. I always love to chill my dough to allow the flavors to develop and become an even richer cookie. If time is on your side, chill the cookie dough for 24-48 hours. You will want to chill the dough for a minimum of 30 minutes before baking.
Once the dough in chilled, spray regular-sized muffin tins with non-stick cooking spray. Then you press the chilled cookie dough into the muffin tin, making an indention in the center and pressing the dough up the sides of the muffin tins to make a well.
Bake them until the cookies are a light golden brown color and baked through. Spray a glass with non-stick cooking spray and press the glass into the center of the baked cookie to make a deeper well.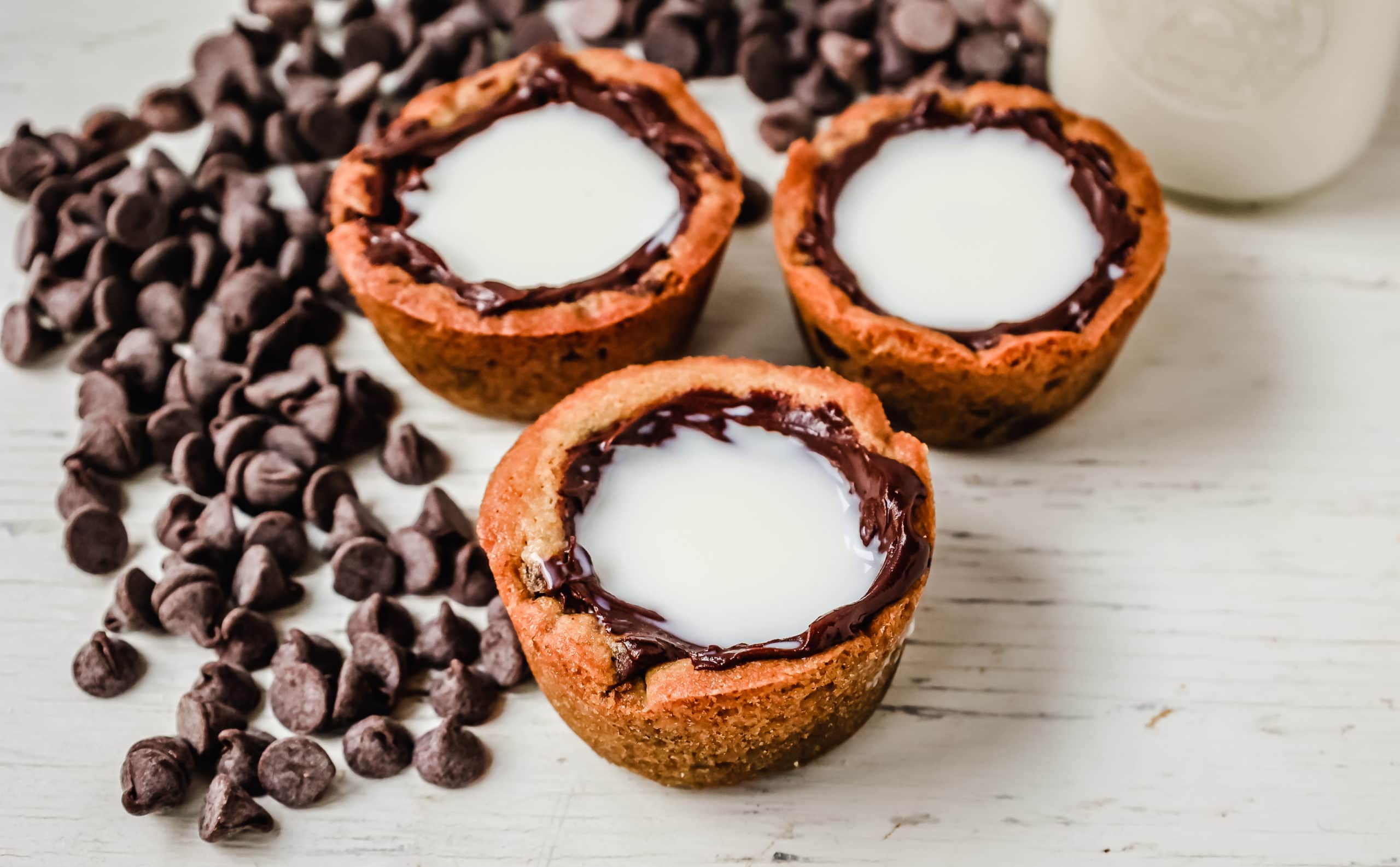 Let the cookies cool for at least 20 minutes before removing them from the muffin tins. You want to let them cool to room temperature to allow the cookies to set up and become firm.
Carefully run a knife along the sides of the muffin tin, remove the cookie shots, and place on a cooling rack.
Melt semi-sweet chocolate and butter together in a microwave until smooth and melted. Place a dollop of chocolate in the center of the cookie shot and using a spoon, spread the chocolate up the sides of the cookie shot.
Place in the freezer and chill for about 20 minutes.
When ready to serve, carefully pour a small amount of milk (I would suggest whole milk or 2%) into the center of the cookie shot. Serve immediately.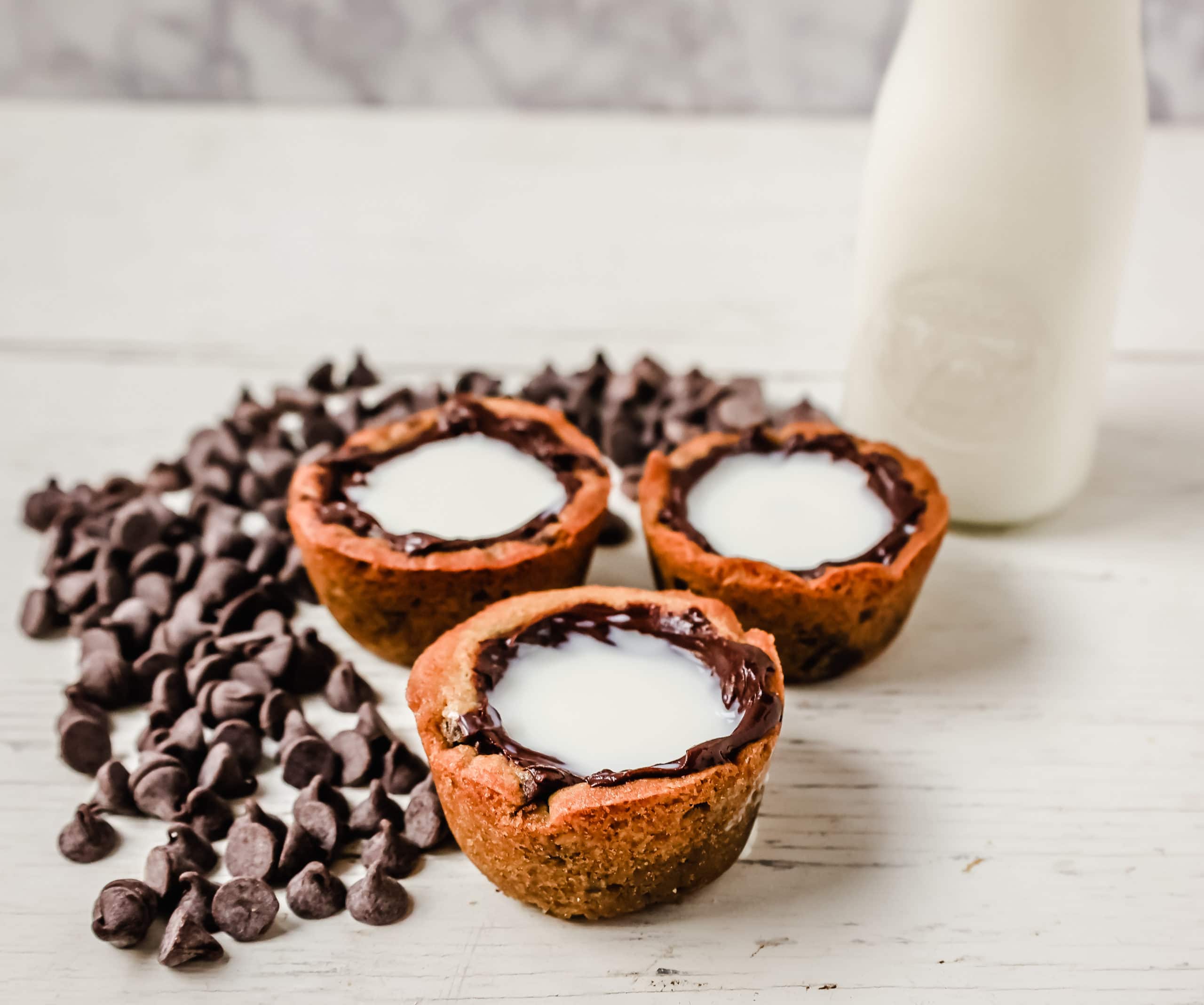 These Dominique Ansel's Copycat Cookie Shot recipe is one recipe you will just have to try out! If you love cookies, check out this other popular cookie recipe from another famous New York City Bakery:
LEVAIN BAKERY CHOCOLATE CHIP COOKIE RECIPE