The past few months have been nuts! I have spent a majority of my weekends traveling. If I am not on an airplane, I am in a car on a road trip. I have been packing and unpacking like crazy. It has made life extra fun but also extra busy! Also, you know how hard it is to eat well when you are traveling. There are so many food temptations everywhere and of course, I have to indulge in the name of research.
Now I am back home in AZ before leaving again in 7 days. I am determined to eat healthy! I went to the grocery store and stocked up on piles and piles of fresh fruits and vegetables. There is a salad on the menu every single day.
It's peach and nectarine season which means that these sweet and juicy stone fruits made their debut in a salad. The Peach Gouda Honey Almond Salad was born and oh boy is it delicious.
Since I am staying away from sugar, I wanted to focus on only whole foods and natural ingredients. The almonds are lightly coated in honey and sauteed for 2 minutes in a pan. The dressing has only a touch of honey as well. My husband asked, "are you sure there's no sugar in this dressing or almonds?"I only speak the truth. This salad is made with all-natural ingredients that makes your body feel good.
So what is in the

Peach Gouda Honey Almond Salad
?
Let's start with your Greens. Choose your favorite such as romaine, green leaf, spring mix, or arugula. I love to do a mix of a few different greens to mix it up.
You can use any stone fruits from Peaches to Nectarines to plums to apricots. You can add them all! I loved the mix of fresh peaches and sweet nectarines.
Gouda cheese adds that rich creaminess to the salad. You can use your favorite type of cheese. I bought Gouda cheese slices and cut them into long strips and then rolled the cheese into a pinwheel. It looks so pretty in a salad! You can also use blocks of cheese and cut into bite size pieces.
Honey Almonds are so addicting that you will want to eat them all out of the salad. The honeyed almonds are made by sauteing almonds in honey and a pinch of salt until they glisten and shine. After cooking them, spread the honey almonds out on wax paper and let cool.
The Honey Dressing is made with only 5 ingredients -- olive oil, orange or apple cider vinegar, honey, mustard and salt. Super simple but oh so good! For the dressing, I used the orange champagne vinegar from Trader Joe's and it is amazing. If you don't have that one stock, use apple cider vinegar. You can always substitute plain 'ol white vinegar as well. We are flexible around these parts.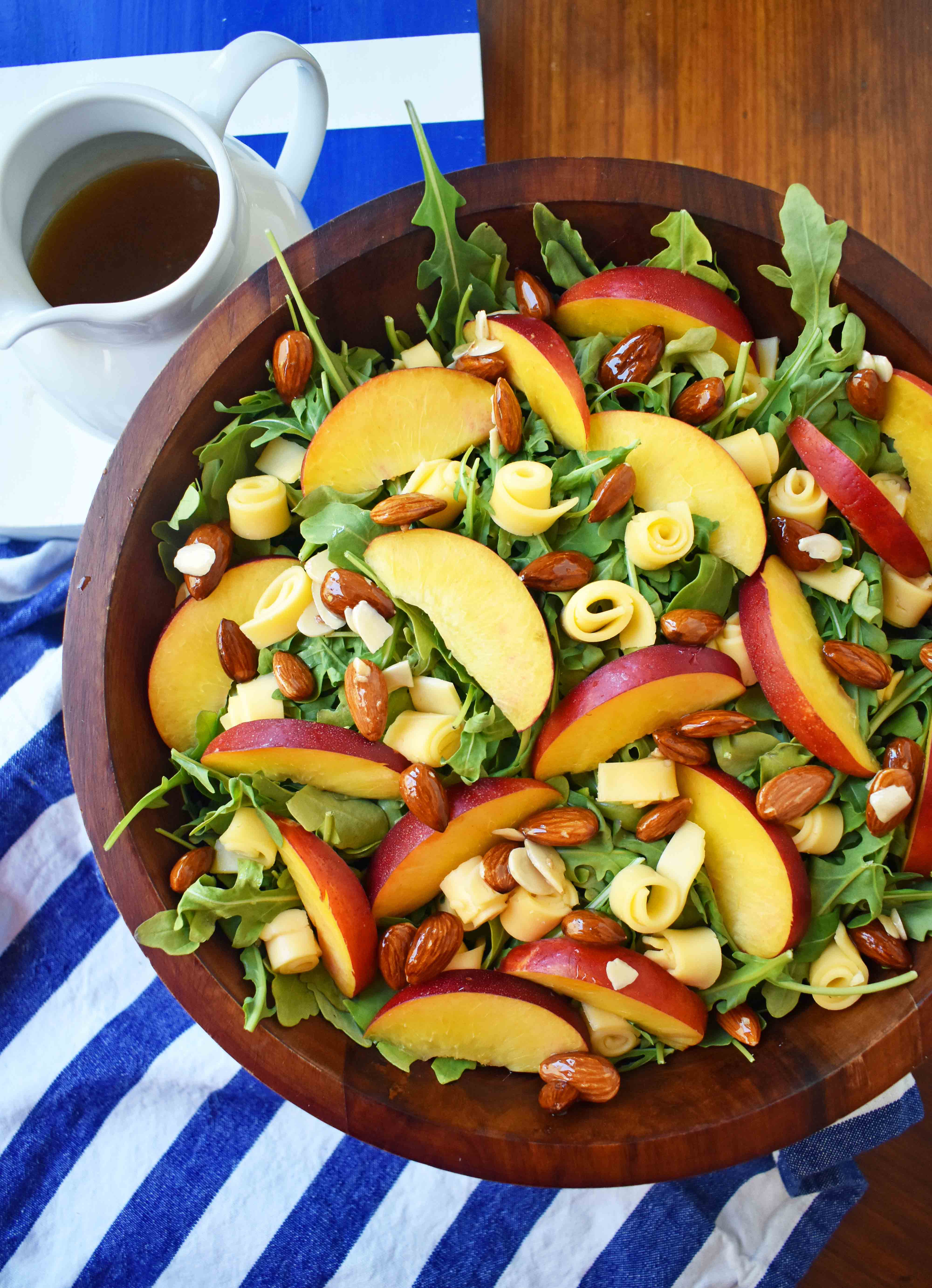 I hope everyone is staying cool wherever you are. We are hitting 119 degrees next week so I will be hiding out in my air conditioned home. 🙂 Have a fabulous day, my friends!