One of my favorite things to do is to peruse kitchen stores such as Williams Sonoma, Sur La Table, and World Market. I am a kitchen store addict! Beautiful dishes, gourmet foods, and the cutest cookie cutters you ever did see line the stores and beckon me to buy all of it. One thing they are famous for around this time of year is their peppermint bark. It's layers of white chocolate, semisweet chocolate, and crunchy peppermint candy canes. It is definitely the coveted present at any white elephant gift exchange!
While I was in Williams Sonoma a few weeks ago, I saw that they sold Peppermint Bark Cups which were basically peppermint bark in mini cup form. The cutest idea! I took photos of them, studied the ingredients, and decided I was going to make a copycat recipe of Williams Sonoma Peppermint Bark Cups. They are crazy expensive and I knew that I could make them at home for a fraction of the price.
When I started out entering recipe contests, I had to come up with creative ideas that weren't already found in cookbooks or all over the internet. It was such a fun challenge to create new and innovative recipes! So I decided with these Peppermint Bark Cups, I needed to be a little more creative.
How many of you LOVE cookie dough? My husband begs for me to save him two cookies worth of cookie dough every single time so he can eat it plain. It's his favorite part! Have you seen the shirt Eat Raw Food…By Raw I Mean Cookie Dough? Seriously genius shirt.
I decided to try layering chocolate chip cookie dough (without the eggs!), creamy white chocolate, decadent chocolate, and crushed candy canes. A dessert straight from heaven! I experimented with this recipe and was thrilled that it turned out beautifully and the Peppermint Bark Cookie Dough Cups were born.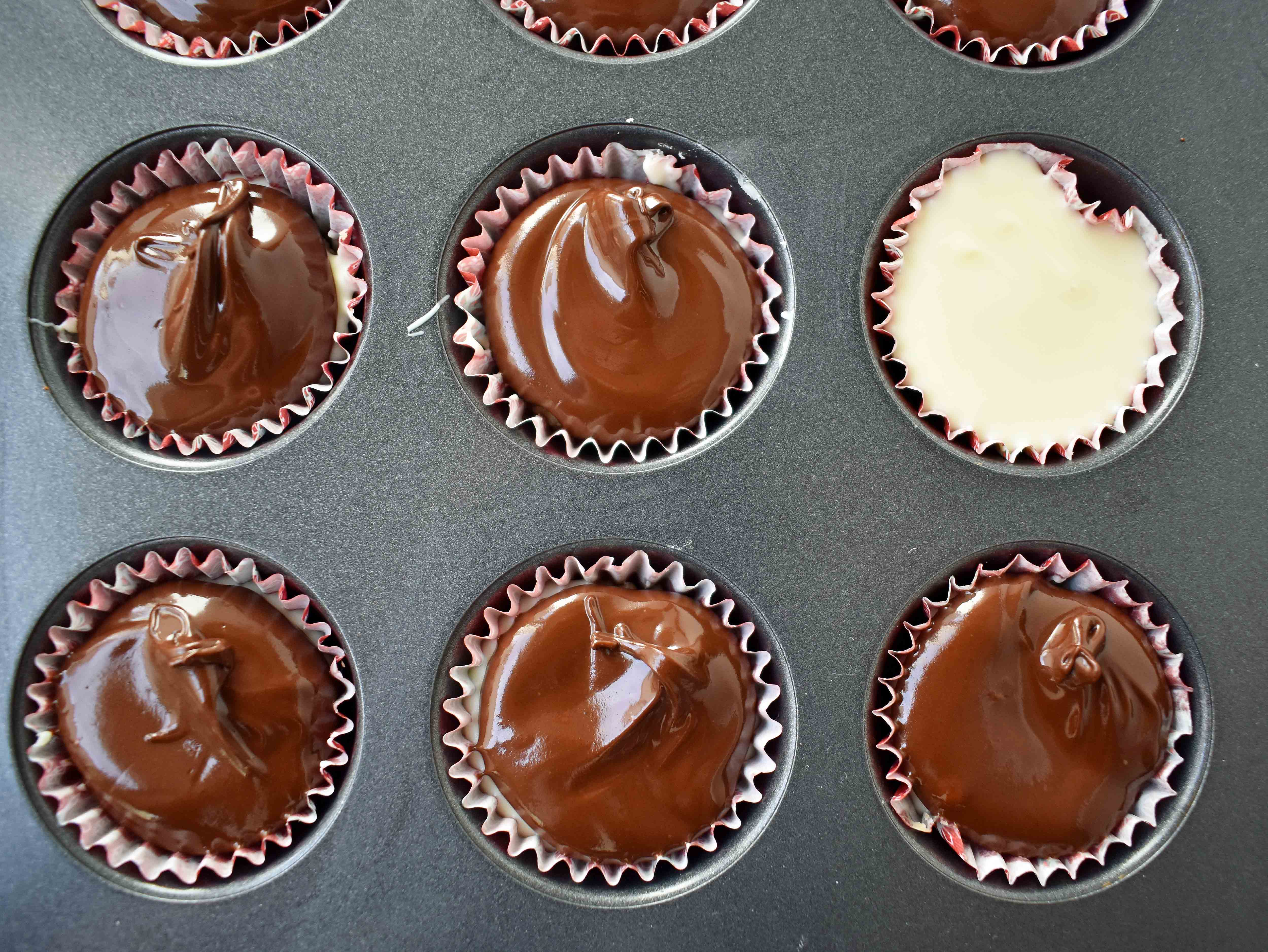 Here's how you make them. They are as easy as can be! You start with a cookie dough made with fresh butter, brown sugar, sugar, vanilla, and milk instead of eggs. Eggs are a binder and since we don't have to worry about baking this cookie dough, we don't need them! The milk makes it creamy and rich. Then you add in your flour and chocolate chips and your cookie dough is done. These Peppermint Bark Cookie Dough Cups are an easy, no-bake dessert which can be whipped up in no time at all.
These Peppermint Bark Cookie Dough Cups can be made in medium size cupcake liners or mini size cupcake liners. I use the mini size to make bite size cookie cups. The mini size liners can be found at any store in the baking aisle. I even found my festive ones at the Dollar store.
If you use the mini cups, it's easiest to have a mini muffin pan. This is the one that I own and it's only 8 bucks on Amazon — Wilton Recipe Right 24 Cup Mini Muffin Pan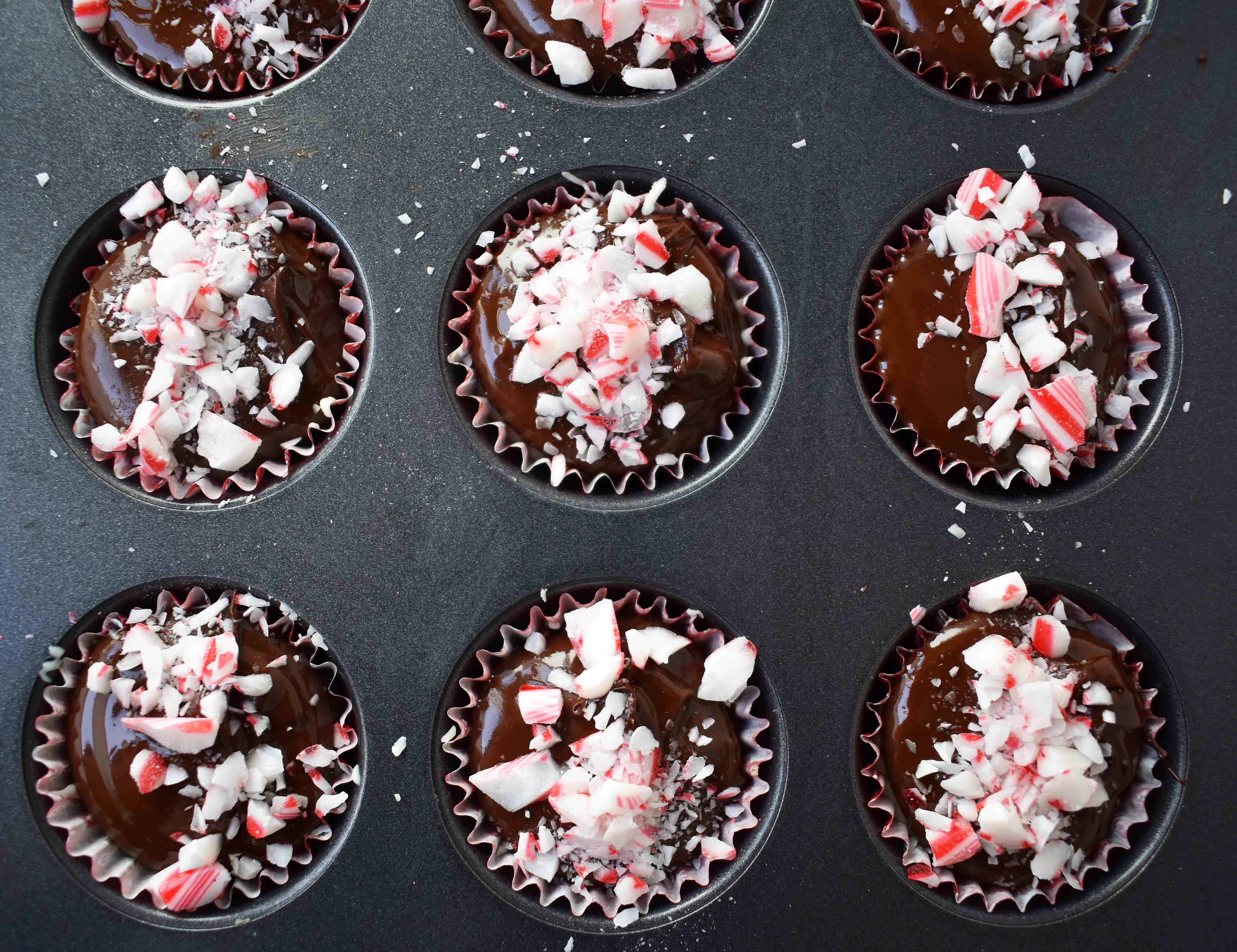 The chocolate is so easy to melt and you don't even need a double boiler to do it! Here's a simple method. Take a saucepan and fill it with a little bit of water (about 1/2 – 1 cup). Bring it to a boil and then reduce it to low and let it simmer. Place a large heatproof bowl, such as a glass Pyrex bowl, on top of the pot so that it is sitting on top of it. Pyrex 3-Piece Glass Mixing Bowl Set Add chocolate chips to bowl and let the hot steam gently melt it so that's it is silky smooth. Watch the chocolate and stir often.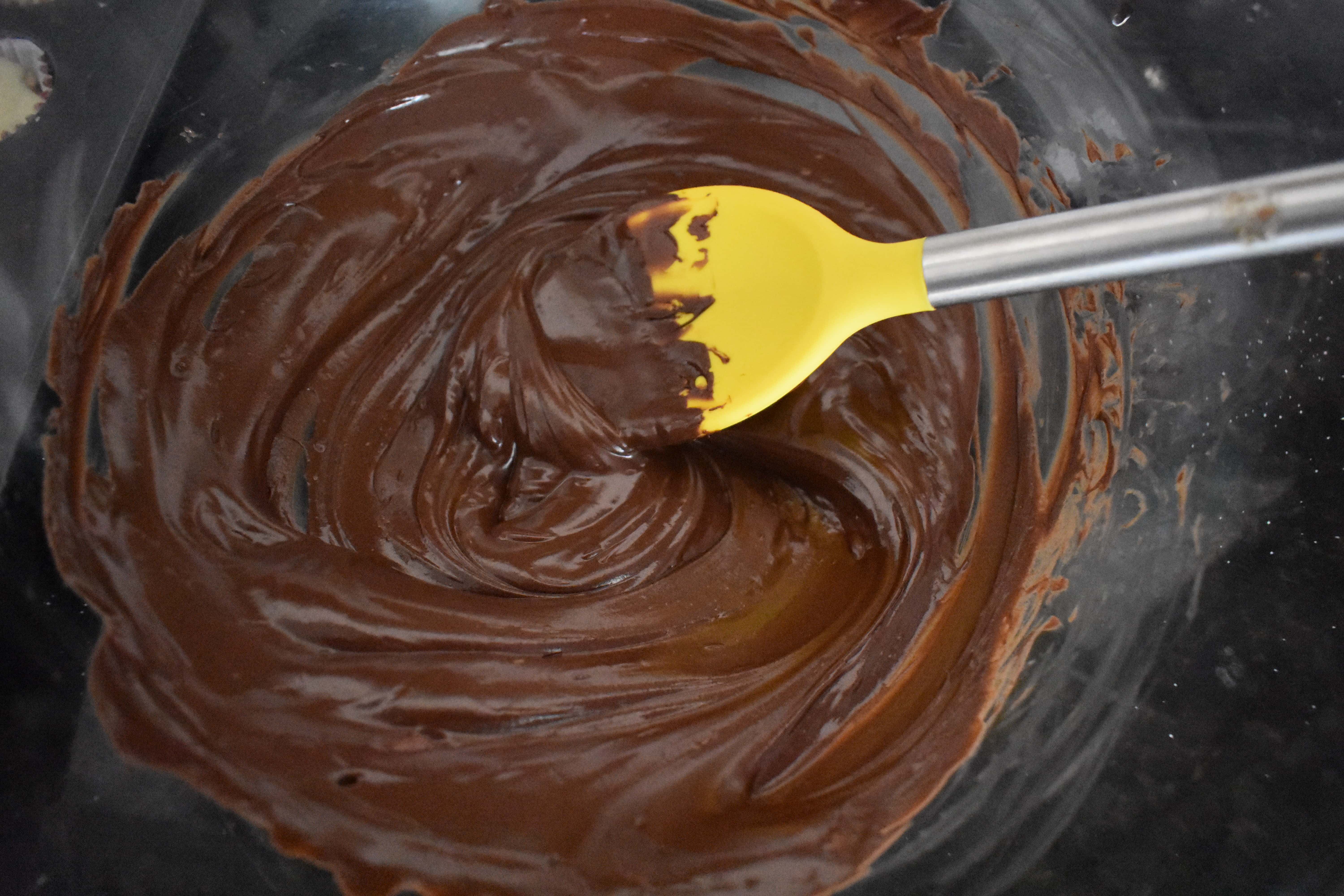 The chocolate chip cookie dough is layered and then topped with white chocolate. Place in refrigerator for at least 5-10 minutes to let it set up. Once it is set up, then you layer on the semisweet or milk chocolate. The Peppermint Bark Cookie Dough Cups are topped with crushed candy canes. A little tip: you can crush them on your own by placing candy canes in a bag and breaking them up with a rolling pin or you can buy crushed candy canes at stores such as World Market.
Pin this now to find it later
Pin It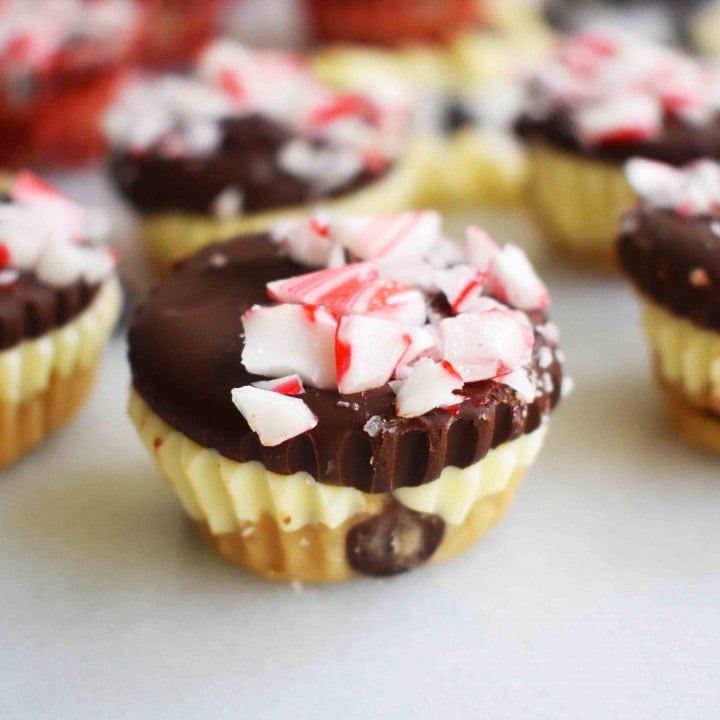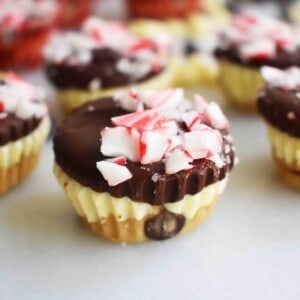 Peppermint Bark Cookie Dough Cups
Peppermint Bark Cookie Cups combines two popular things into one -- cookie dough and peppermint bark. Egg free cookie dough, white chocolate, semisweet chocolate, and candy canes make this a perfect festive treat!
Ingredients
Cookie Dough:

1/4

cup

Butter

softened

1/4

cup

Brown Sugar

2

Tablespoons

Sugar

1

teaspoon

Vanilla

1

Tablespoons

Milk

1/2

cup

Flour

1/4

teaspoon

Salt

1/2

cup

Chocolate Chips

Chocolate Fillings:

1 1/2

cups

White Chocolate

1 1/2

cups

Semisweet or Milk Chocolate

3

Candy Canes

crushed

Sea Salt

optional
Instructions
In large mixing bowl, cream together butter and sugars for 4 minutes or until light and fluffy. Add vanilla and milk and stir to combine.

Stir in flour and salt and mix just until combined. Stir in chocolate chips.

Prepare mini muffin pans by placing liners into each slot. Press cookie dough into each cupcake liner.

Double Boiler Method: Add about 1/2-1 cup of water to pot and bring to a rolling boil.Reduce to low and let it simmer gently. Place a heat-safe bowl on top of the pot so that the bottom of the bowl is not touching the water. Add the chocolate chips to the bowl and stir occasionally with a spatula until smooth and melted.

Microwave Method: Microwave chocolate in small heatproof bowl on medium power (50%) for 30 seconds; stir until smooth. Microwave at additional 10- to 15-second intervals, stirring often until melted.

Pour white chocolate over cookie dough. Place in refrigerator to chill for at least 5-10 minutes to let it set up. After it sets up, add a layer of melted semisweet chocolate. Top with crushed candy canes. Sprinkle with sea salt (optional).

Let chill for at least 30 minutes to 1 hour.
Nutrition information is automatically calculated, so should only be used as an approximation.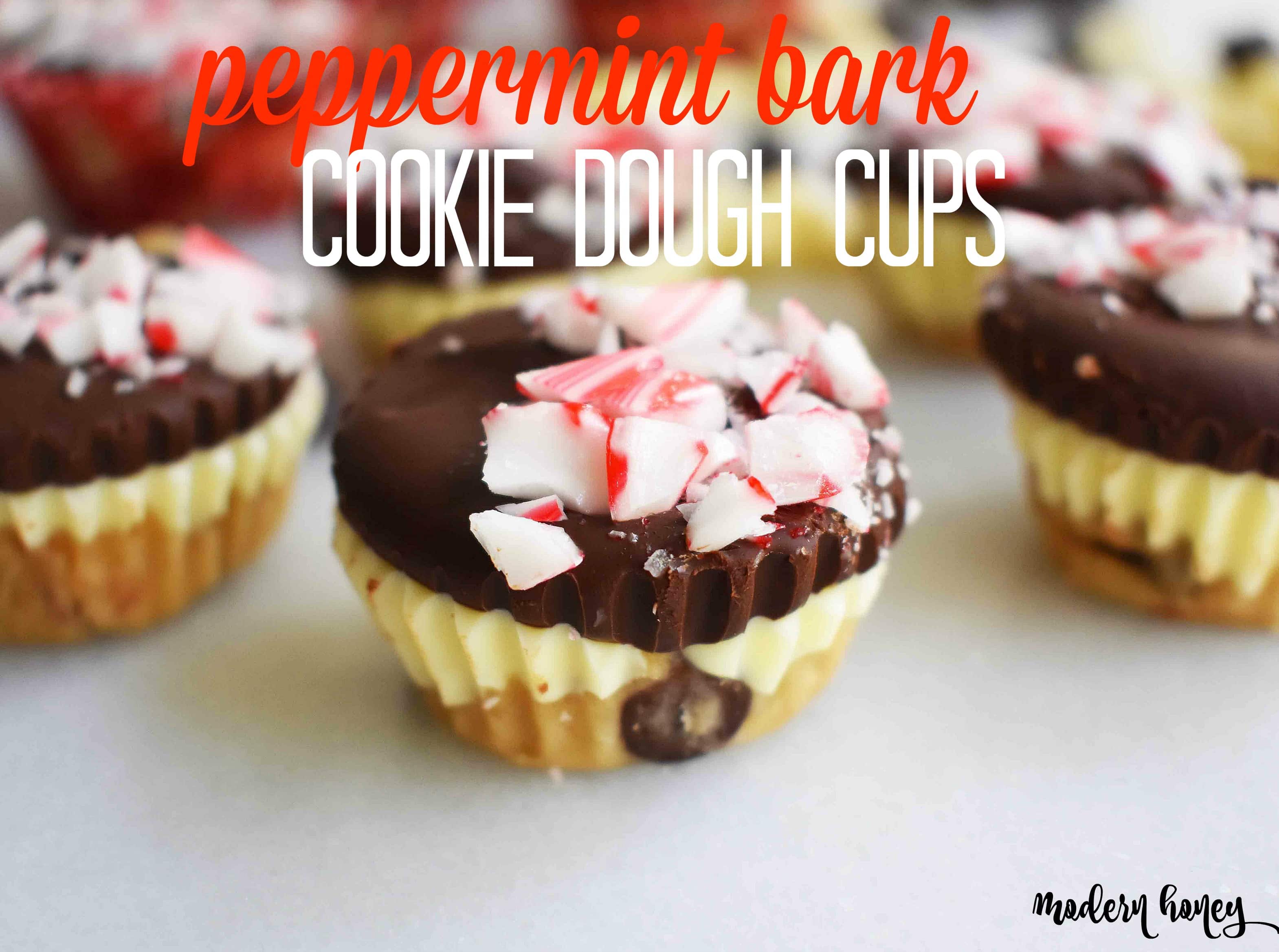 These Peppermint Bark Cookie Dough Cups will be the hit at your next party! Thanks for sharing with your friends on Pinterest. You guys are seriously the BEST!
Happy Baking! xo