Quick and Easy Chicken Pho with tender chicken, warm broth, garlic, ginger, spices, fresh vegetables, and a touch of spice. This is a version of the popular Vietnamese Chicken Pho soup.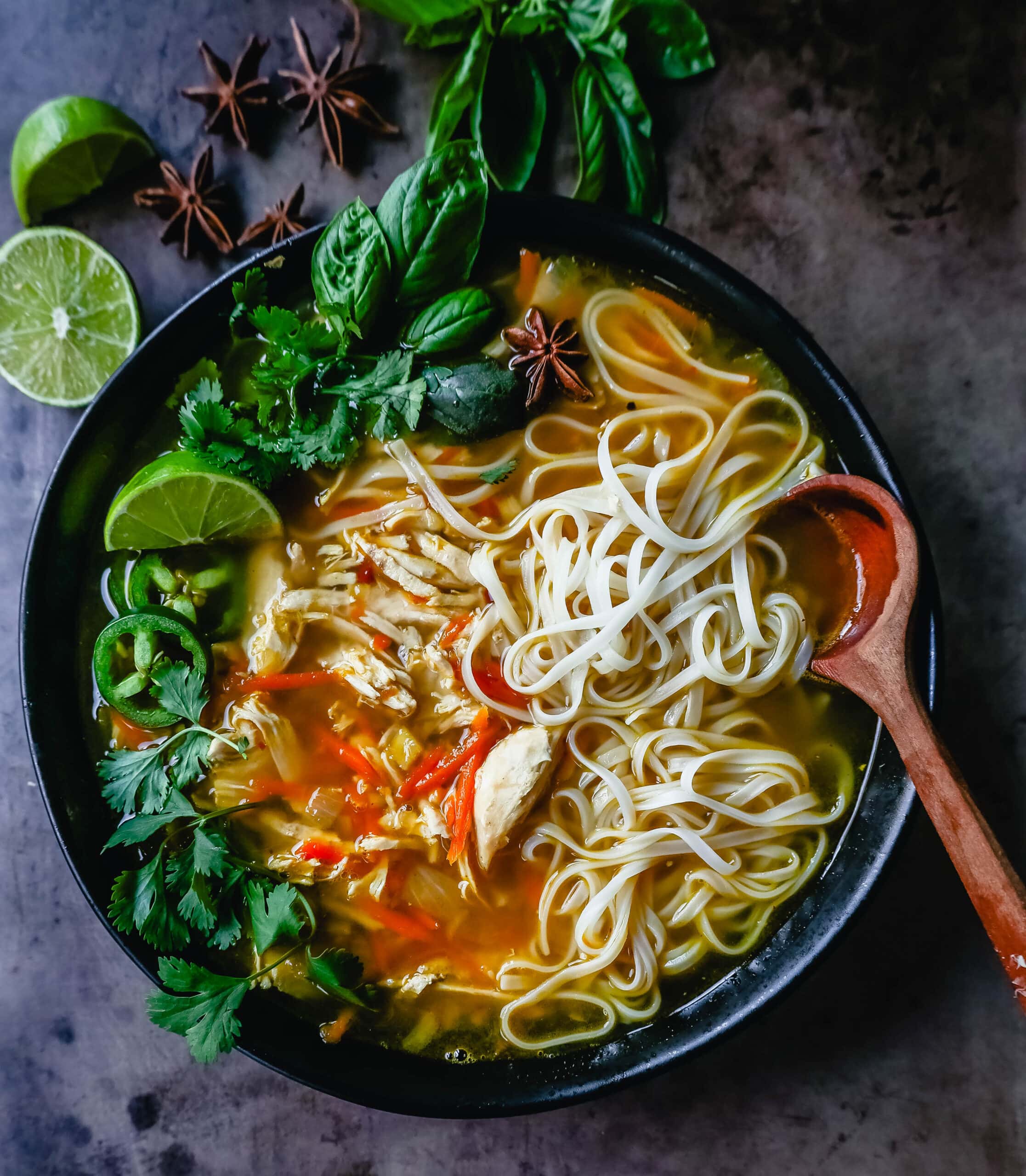 This is my most requested healthy soup recipe in our home.
It all started many years ago when I was competing in recipe contests. I found a recipe contest listed online to create a healthy lunch for kids and the winner would go to the White House for dinner with the President of the United States! My son, Mason, and I were beyond excited to get in the kitchen and start recipe testing.
I decided to try to make an easier and quicker 30-minute Pho recipe. We love to order Vietnamese pho at restaurants and I wanted to create an at-home version that we could make in no time on weeknights or for a healthy lunch. I wanted to create a soup that was bursting with flavor and still had some great nutritional value. Whenever my kids are coming down with a cold or a flu, this is what I make them!
We whipped up this easy pho and every single one of my four kids gobbled it up and asked for seconds. We knew that we had a winner! We were ecstatic to find out that we were a finalist in the contest and that they loved our Pho recipe!
We named this Phony Pho because I knew that it wasn't the typical authentic Vietnamese Pho that simmers for hours and hours. The second reason for the name is a very long story about a young boy, the White House, and an infamous bowl of pho. If you know me well, you know what I am talking about. If not, since my Mom always taught me to take the high road, this lady ain't talking! But it's become a family joke and hence the name…. "Phony Pho." If you ever talk to me in real life, ask me about the White House story. It's a crazy one!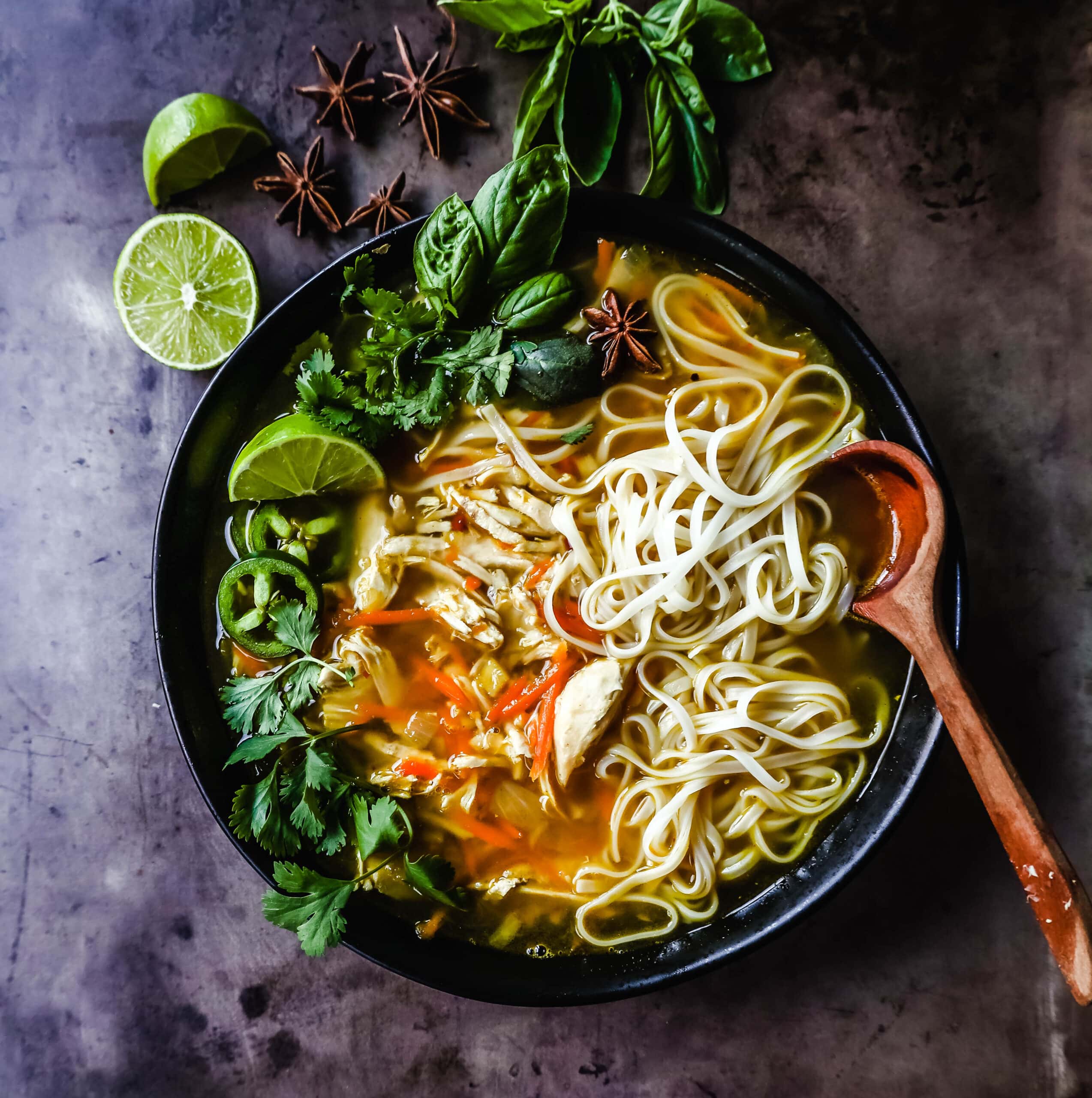 What is Pho?
Pho is a famous Vietnamese soup made with broth, herbs, rice noodles, and meat like beef or chicken. It is very popular in Vietnamese culture and is a warm and comforting soup.
What ingredients are in Chicken Pho?
There are many ways to make Pho and we are taking the easy way and simplifying the process. For this Chicken Pho Recipe, I included the following ingredients…
Chicken Broth
Fresh Ginger
Chili Garlic Sauce (add fresh garlic for extra garlic flavor)
Star Anise
Soy Sauce
Shredded Carrot
Green Onions
Chicken
Salt
Rice Noodles
What are popular Pho Toppings?
Thai Basil
Bean Sprouts
Fresh Cilantro Leaves
Jalapeno
Fresh Limes
Green Onions
Sriracha Sauce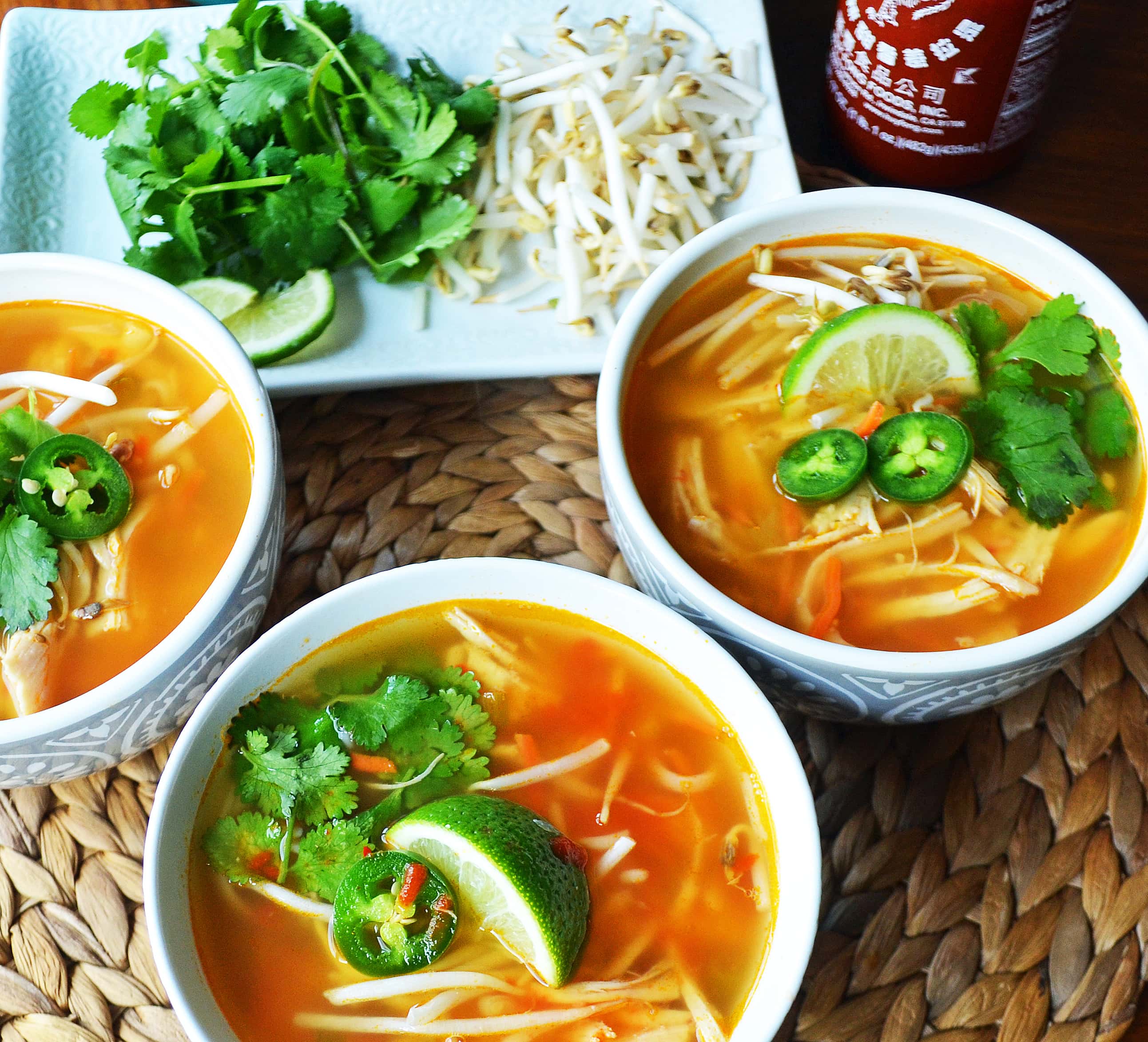 Chicken Pho Recipe
A quick and easy Vietnamese chicken pho recipe made in less than 30 minutes. All of the flavor, without all of the work!
There will be many of you who are collectively saying…
"What is pho?"
In a nutshell, it's the Vietnamese version of chicken noodle soup, made with broth, vegetables, and noodles. It is topped with flavorful toppings such as Thai basil, ginger, or spicy chili sauce. And the best part? It uses rice noodles and a heavy dose of broth and herbs, which makes it both gluten and dairy free.
I've been on many "pho" dates, trying out many different versions of "pho" at all kinds of restaurants, but finally realized that I just wanted to be lazy and eat it at home…in my pj's, watching The Bachelor, with a big platter of brownies on my lap. So it was time to figure out how to make it myself and, I have to say, it has become a huge hit in our family. The kids eat this stuff up and I love it because it's healthy ramen. Goodbye Top Ramen. Hello Phony Pho.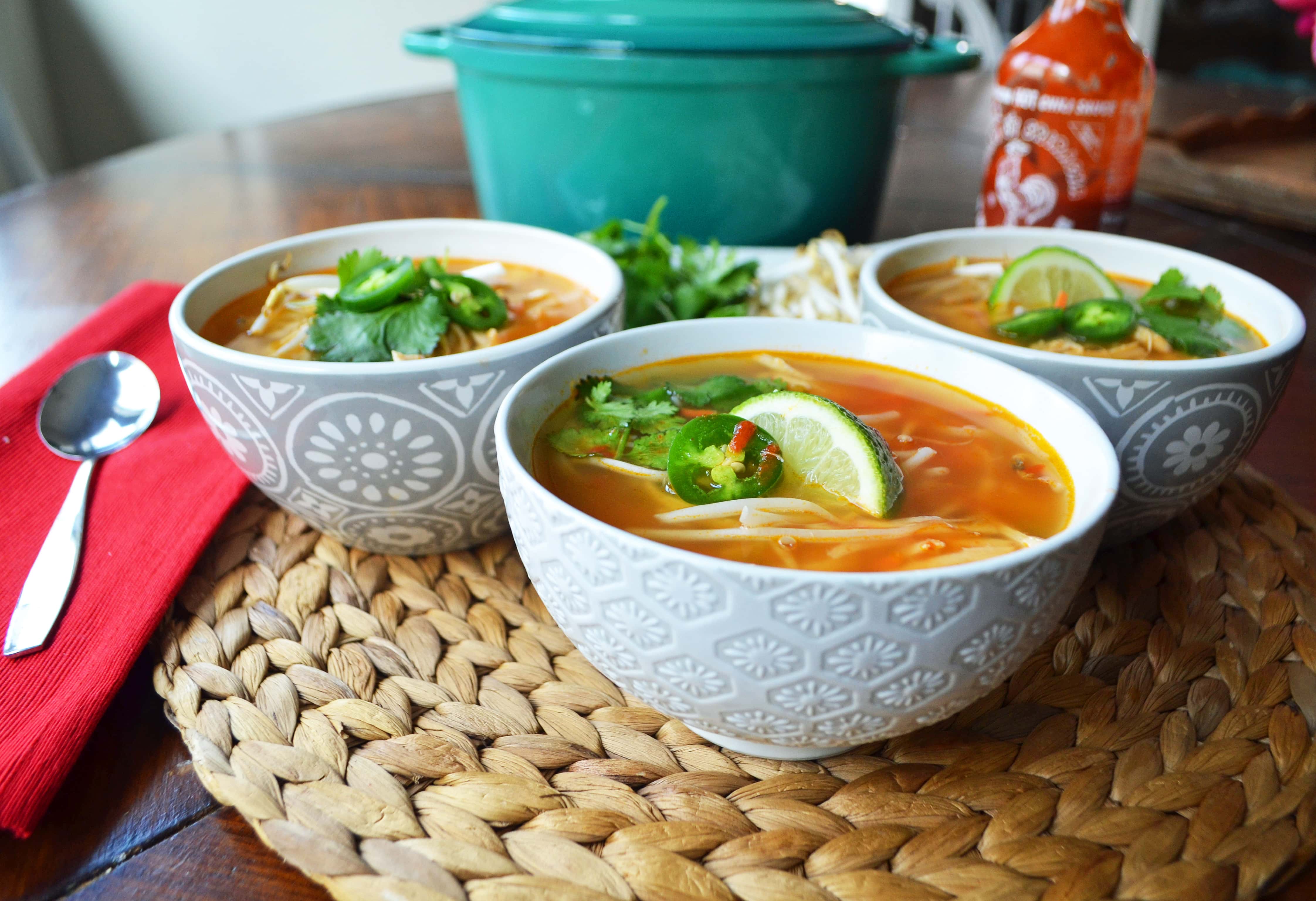 So let's get down to this name business. It's called "Phony Pho" for a few reasons. First, because real pho takes 6-8 hours to make, and who in the world has time for that? Not me….not today, not tomorrow, or two years from now. So I am bringing you the "less than 30-minute version" – not the real thing but still ridiculously good – plus I just handed you 7 hours of free time. You are welcome.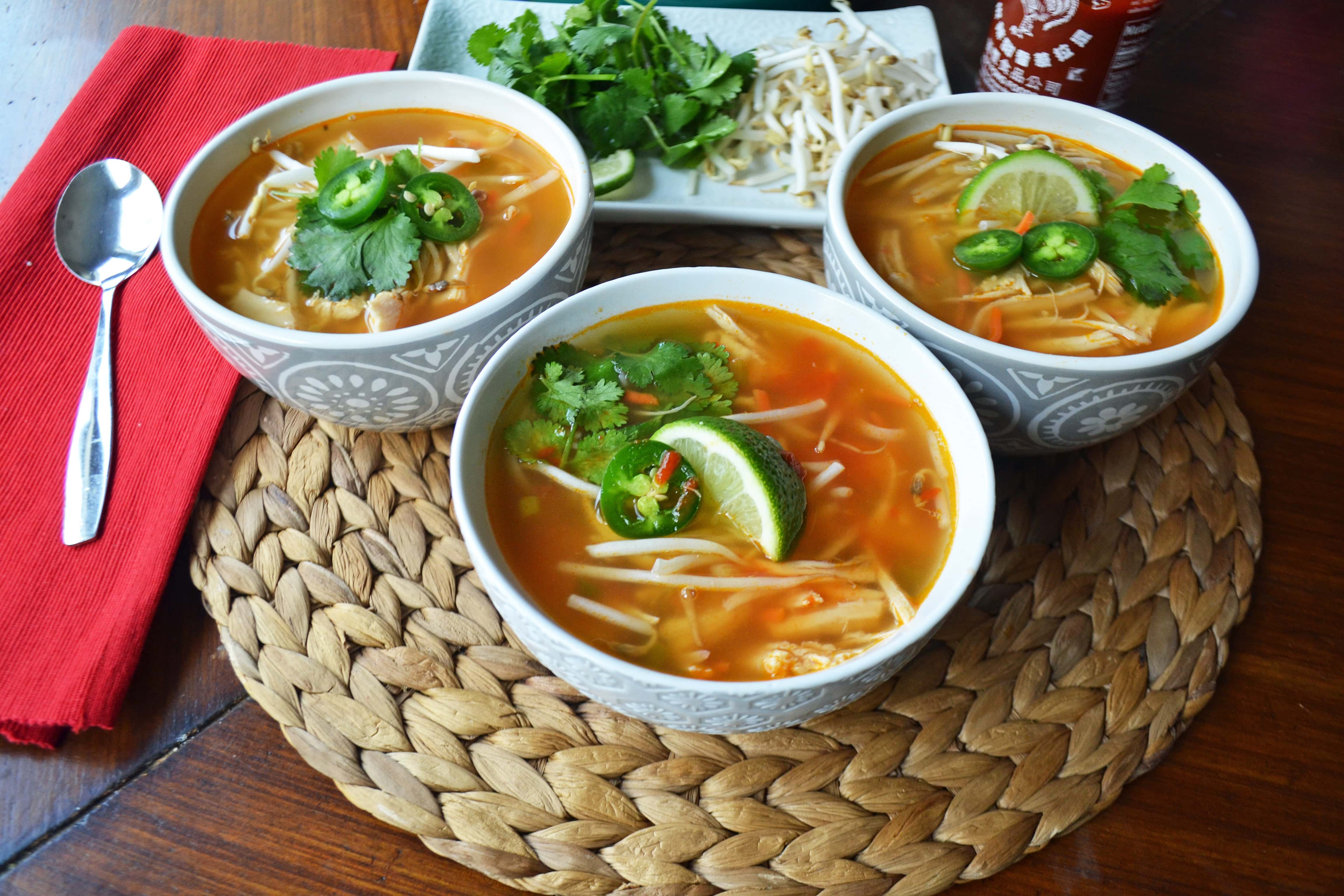 So how do you make chicken pho? Well, it's quite simple. You start with chicken broth, add a lot of spices – garlic, ginger, star anise, green onions, and carrots (the authentic pho uses fish sauce but my kids rebelled…another reason for the name "phony") and then let it simmer.
And because we are taking the easy road, you add some shredded rotisserie chicken. Of course, if you want to poach your own chicken to add to this pho recipe, be my guest. It's been done before in this house and it's wonderful.
To make homemade pho….cook some rice noodles, place them in individual bowls, ladle in your chicken broth, then customize your pho. The options are endless, but we like to add cilantro (or basil), jalapenos, a squirt of fresh lime juice, bean sprouts (these fall in either the love or hate category but they add a nice crunch), and the highly important, Sriracha sauce.
If you don't have Sriracha sauce in your refrigerator, it's a must-have condiment. It's made with red hot chili peppers, vinegar, and garlic and just a touch of it adds an incredible amount of flavor to any dish.
Pin on Pinterest:
Pin this now to find it later
Pin It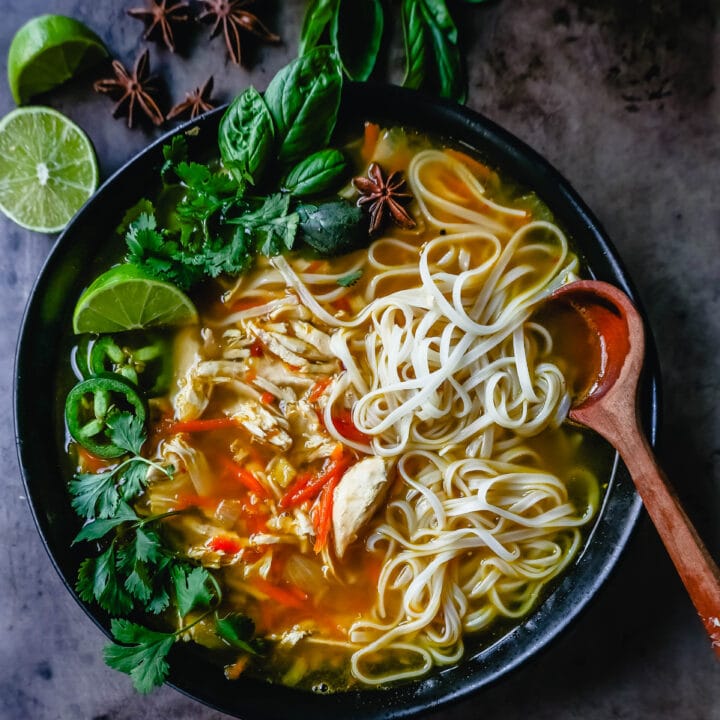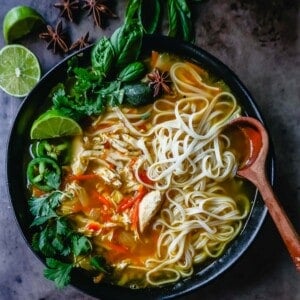 Phony Pho Chicken Broth Bowls
Here's your quick and easy Chicken Pho made in less than 30 minutes.
Ingredients
6 to 8

cups

Chicken Broth

1

teaspoon

Fresh Ginger

grated

3

Garlic Cloves

(optional, minced)

2

teaspoon

Chili Garlic Sauce

if you don't like spice, reduce to 1 teaspoon

1/2

teaspoon

Star Anise

2

teaspoons

Soy Sauce

can use Tamari, a gf soy sauce

1/2

cup

Shredded Carrot

4

Green Onions

diced

Salt + Pepper to taste

2 to 3

cups

Rotisserie Chicken

shredded (or poached chicken)

8

ounces

Rice Noodles
Garnish:
Fresh Lime

Fresh Jalapeno Slices

Fresh Cilantro or Basil

Sriracha Sauce

Bean Sprouts
Instructions
In a large pot, bring broth, ginger, chili garlic sauce, anise, soy sauce, carrots, green onions, salt and pepper to a simmer over medium-high heat. Let simmer for 10-15 minutes.

Meanwhile, cook rice noodles according to package instructions. Add salt to boiling water to season the rice noodles throughout while cooking. Set aside.

Add chicken to pot and cook for 5-10 more minutes or until heated through. Taste for seasoning and add salt and pepper if needed.

Place rice noodles in each bowl and ladle chicken broth on top. Garnish with a squeeze of fresh lime juice, jalapeno slices, fresh cilantro or basil, bean sprouts (optional), and a drizzle of Sriracha sauce.
Nutrition
Calories:
230
kcal
,
Carbohydrates:
34
g
,
Protein:
13
g
,
Fat:
3
g
,
Cholesterol:
36
mg
,
Sodium:
1261
mg
,
Potassium:
370
mg
,
Fiber:
1
g
,
Sugar:
1
g
,
Vitamin A:
1875
IU
,
Vitamin C:
18.6
mg
,
Calcium:
39
mg
,
Iron:
1.3
mg
Nutrition information is automatically calculated, so should only be used as an approximation.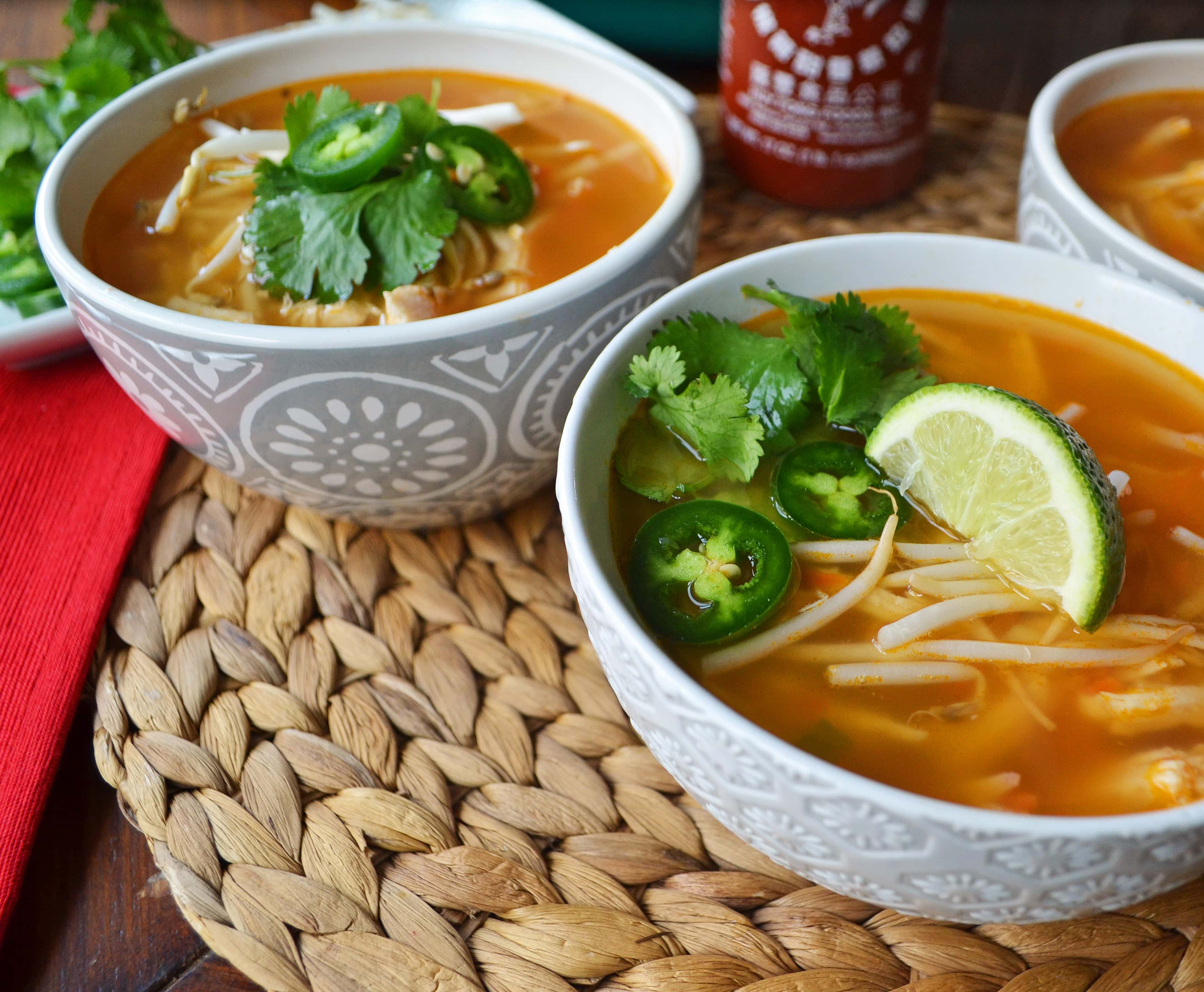 A quick and easy Vietnamese chicken pho recipe made in less than 30 minutes. All of the flavor, without all of the work! Here is your comforting bowl of nourishing goodness that will warm you up plus keep your resolutions on track. Happy Cooking!