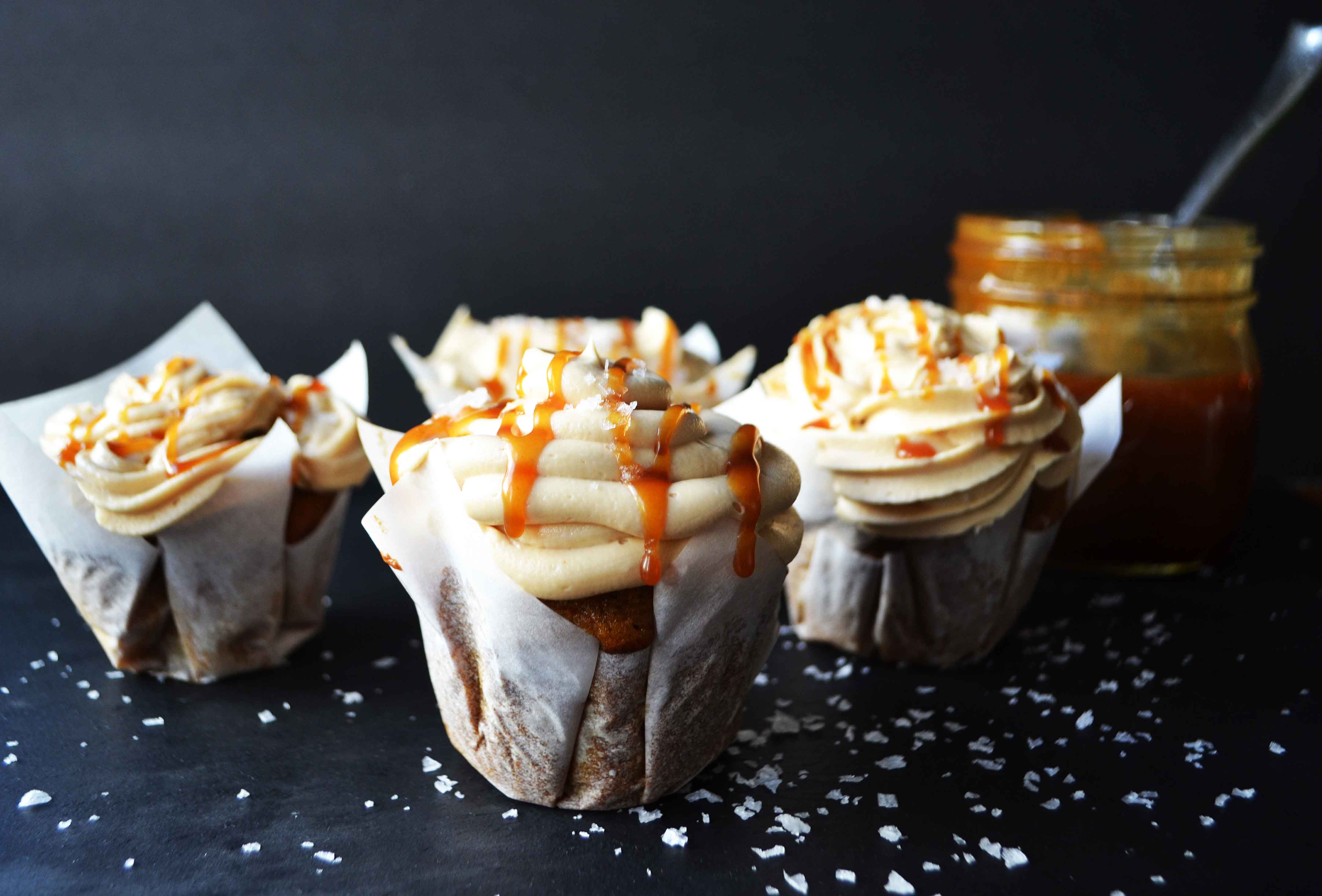 Pumpkin Cupcakes with Salted Caramel Frosting + FALL Decoration Ideas
It's 84 degrees in Arizona today! Break out the sweaters, FALL is here!
You think I am kidding. But sadly I am not. We get into the 80's here and we think it's time to bring out the parkas!
We are usually still in flip-flops and v-neck t-shirts this time of year so to feel a little bit of coolness in the air is a welcome reprieve from our summer heat.
This all comes down to one thing....
Bring on the pumpkin! Pumpkin is synonymous with Fall in my books so let the baking begin!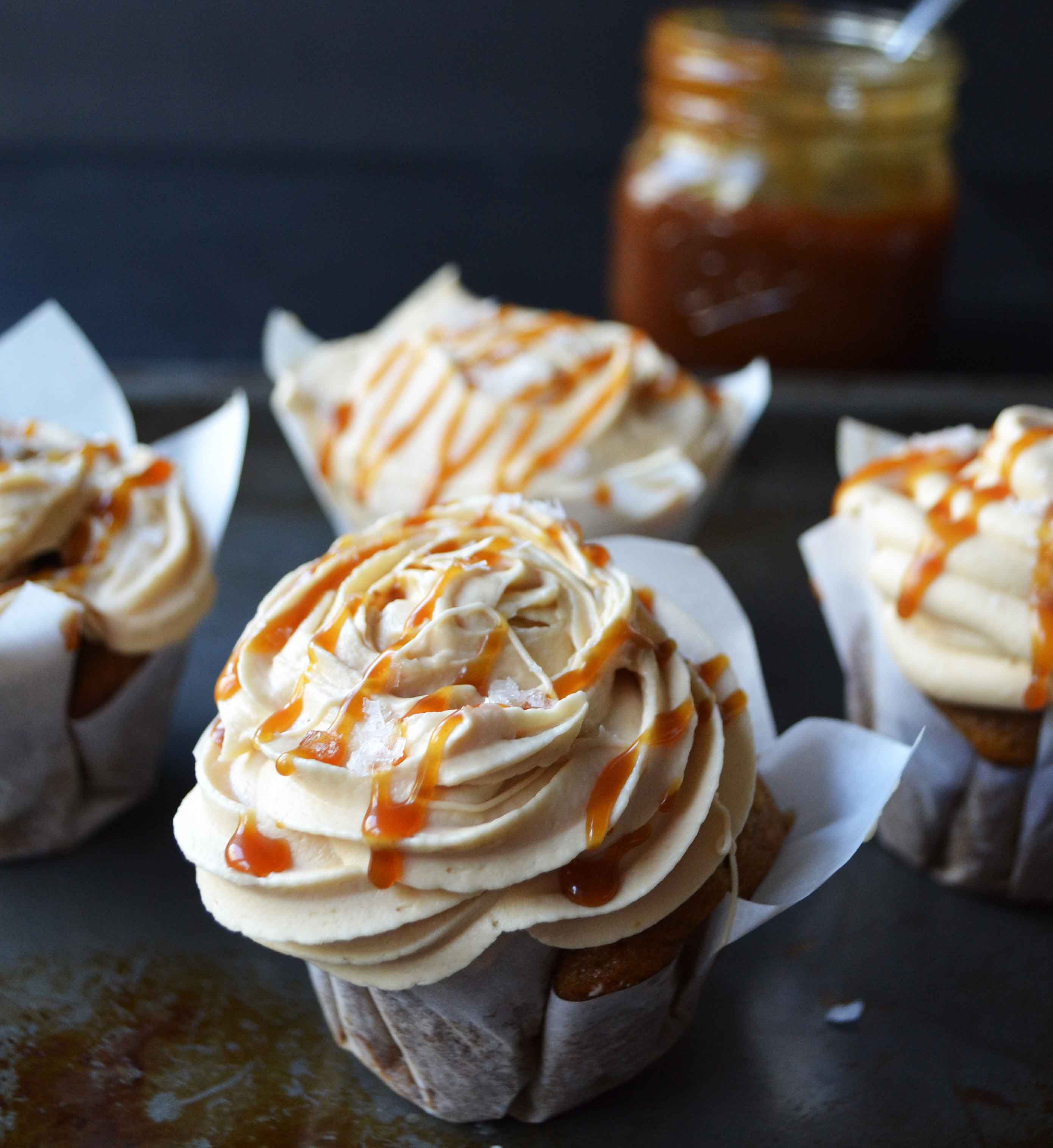 Pumpkin Cupcakes are the epitome of Fall Baking for me but instead of the typical cream cheese frosting, I wanted to add something unique. Let me introduce you to Pumpkin Cupcakes with Salted Caramel Frosting. You heard me right. We are making Salted Caramel Frosting from scratch. It's so good, people! Pumpkin and Salted Caramel go so well together that you are going to wonder how you have gone so long without these in your life.
If you are looking for some budget-friendly decorating ideas for Fall and Halloween, scroll down past these delicious pumpkin cupcakes!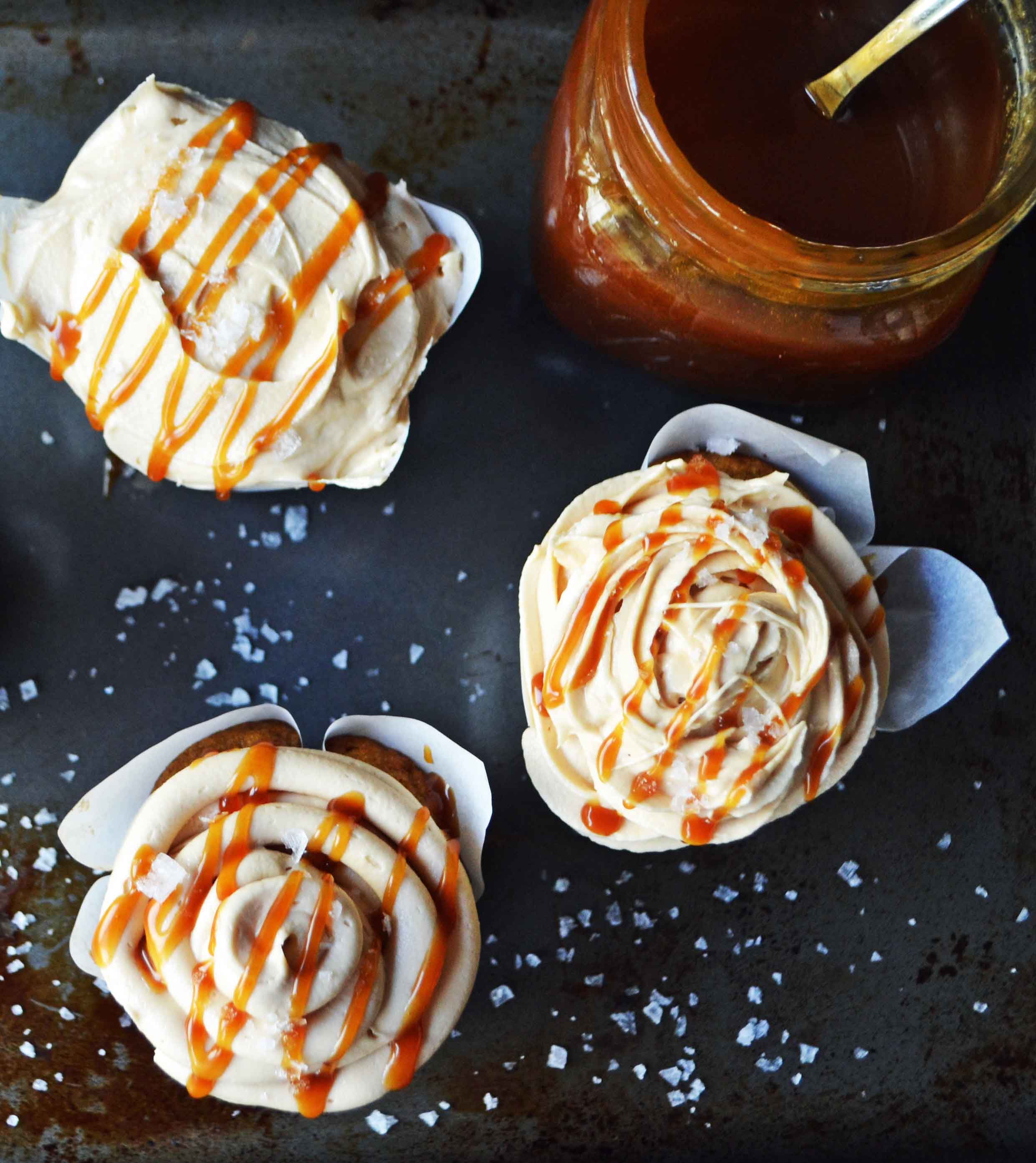 It all starts with making a homemade super moist pumpkin spiced cupcake. The cake is studded with real pumpkin and cinnamon to give it some depth.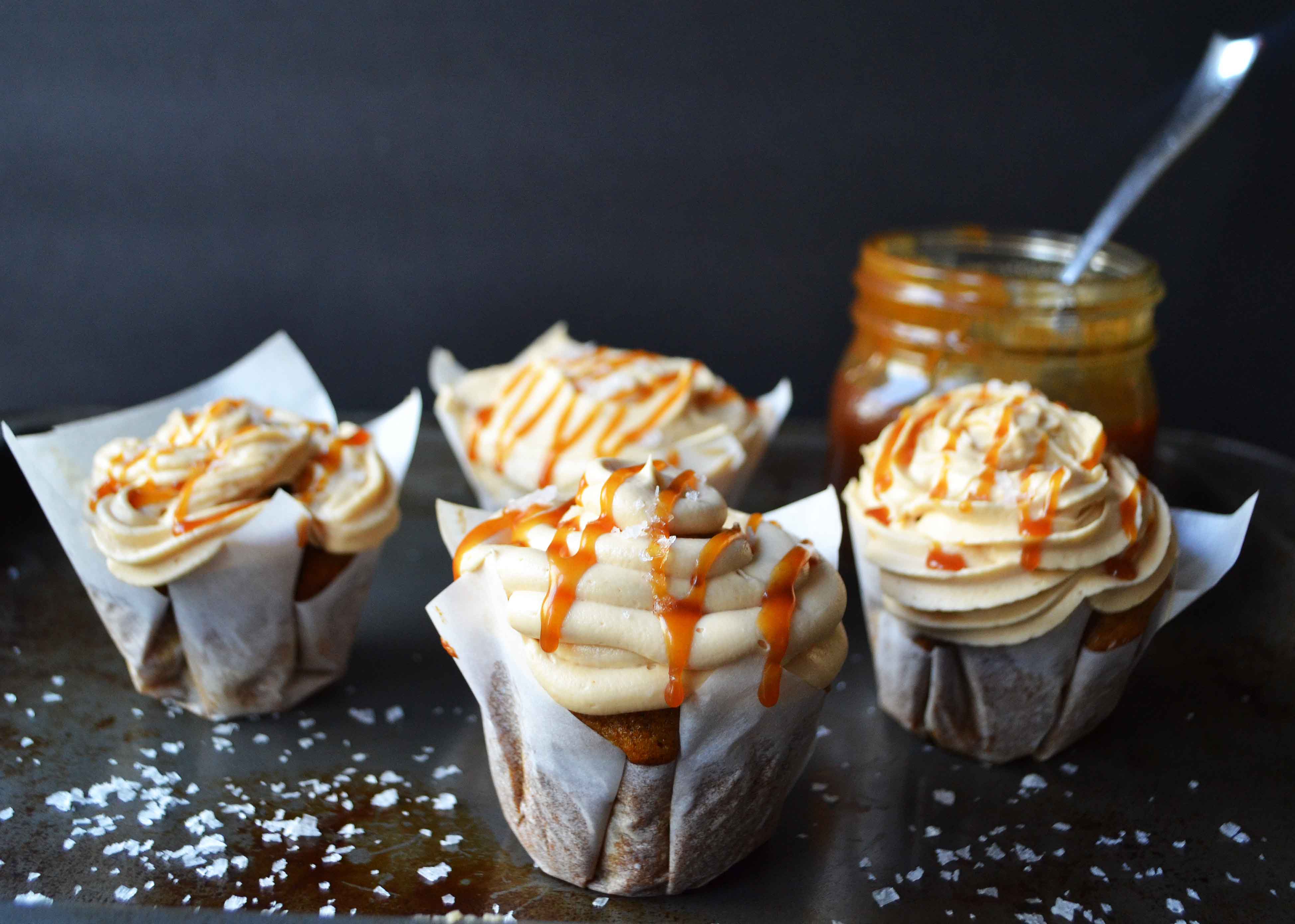 This gourmet pumpkin cupcake is absolutely delicious on its own but let's discuss the star of the show --- the handcrafted salted caramel frosting. It's what puts them over the top!
You start by making your caramel from scratch. It involves some technique and the need to watch it like a hawk which I will explain in detail in the recipe below. It's a difference maker so worth the extra effort (I say this to myself every time when I want to be lazy and just dump some dulce de leche straight from the can into this frosting). A candy thermometer is helpful in making homemade caramel and click HERE for one of my favorites.
The salted caramel is made with sugar, water, butter, and heavy cream. That's it! Then it is cooled and whipped into the butter and powdered sugar frosting mixture to create this heavenly goodness. It just melts in your mouth!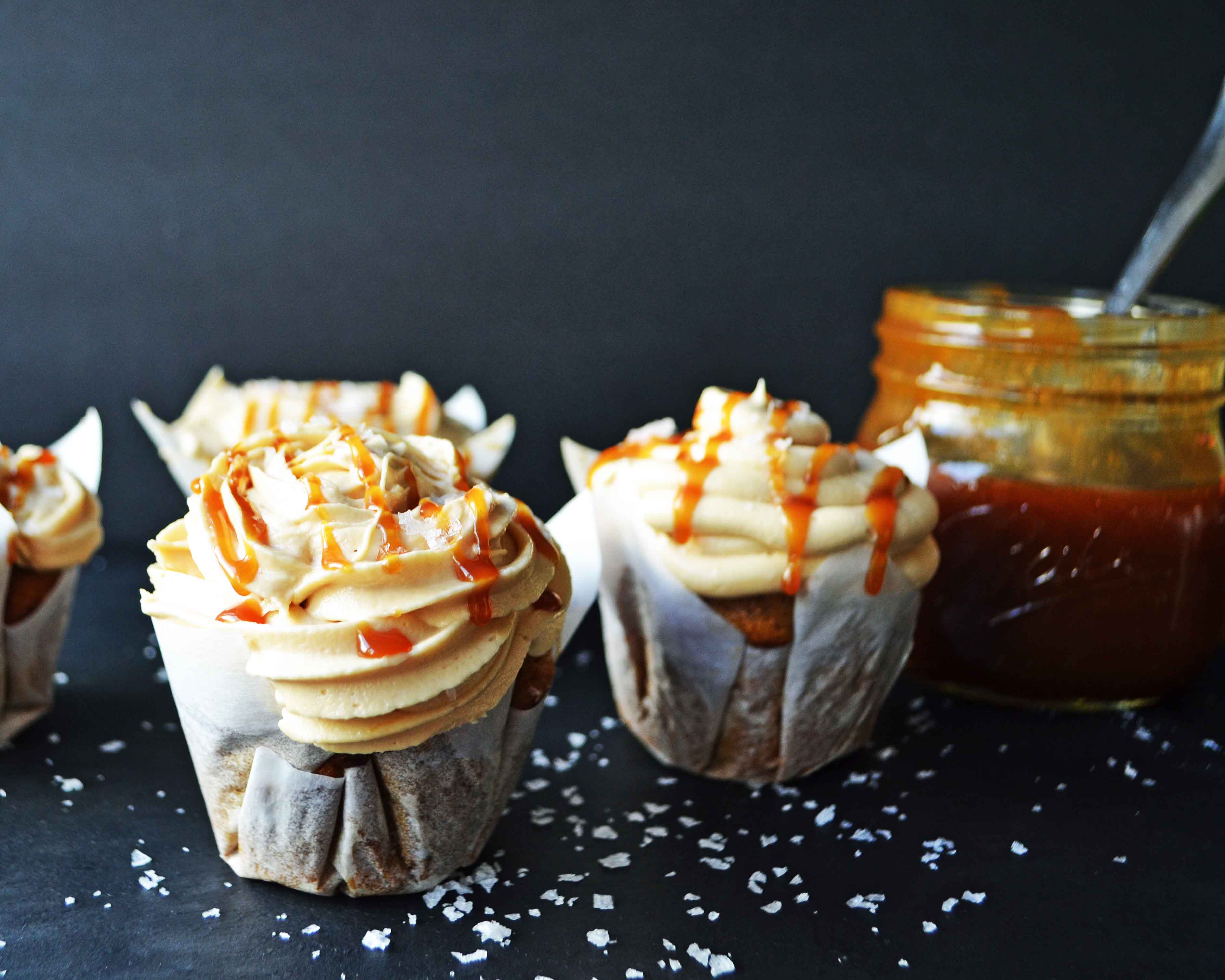 Adding sea salt cuts the sweetness of the caramel and gives a nice balance to this Pumpkin Cupcake with Salted Caramel Frosting. I buy Maldon Sea Salt Flakes HEREon Amazon and they last forever! Sprinkle the sea salt flakes on anything sweet to give it a perfect balance.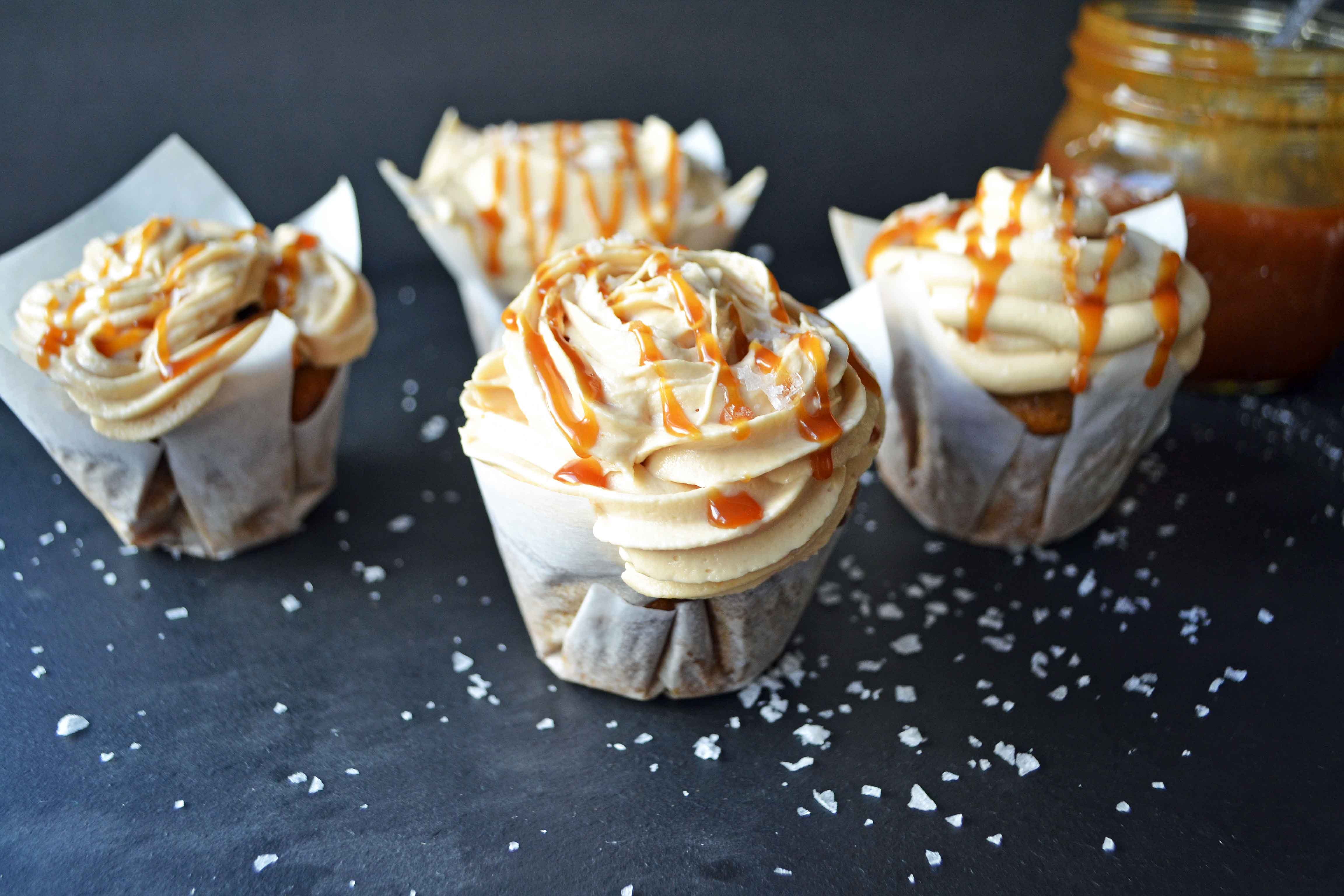 You can use cupcake liners or make your own using parchment paper . I LOVE the look of parchment paper, plus I never have to worry if I run out of cupcake liners. You can make your own at home in no time at all and at a fraction of the price. Cut parchment paper in 5 inch x 5 inch squares. Press each one into cupcake pan with measuring cup to help push it down. Fill ⅔ full with pumpkin batter and you are good to go.
You are literally going to FALL in love with these Pumpkin Cupcakes with Salted Caramel Frosting! Share these with your friends and family and let me know how much you LOVE them and scroll down below for my Fall Decorating Ideas.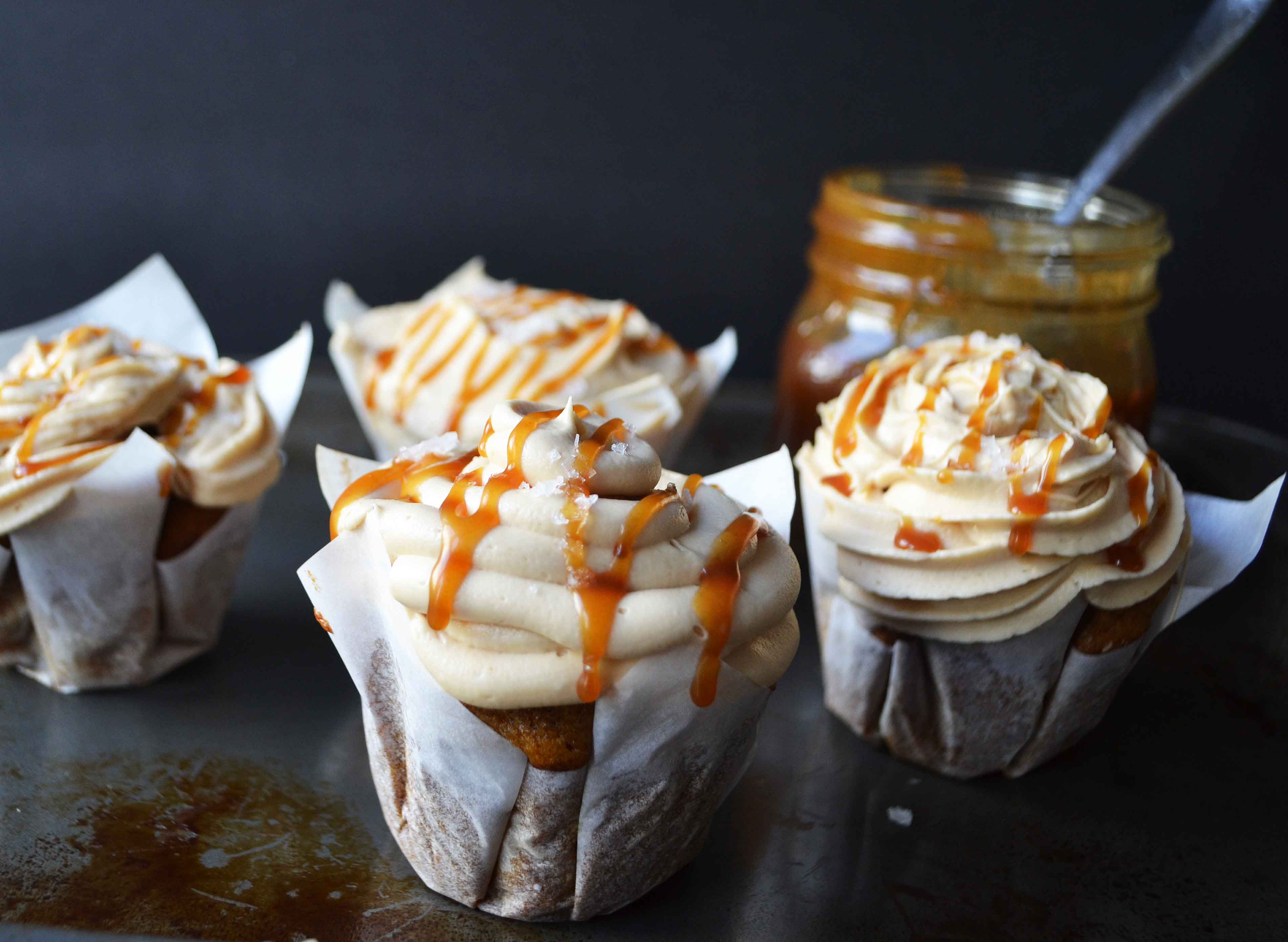 Pin on PINTEREST: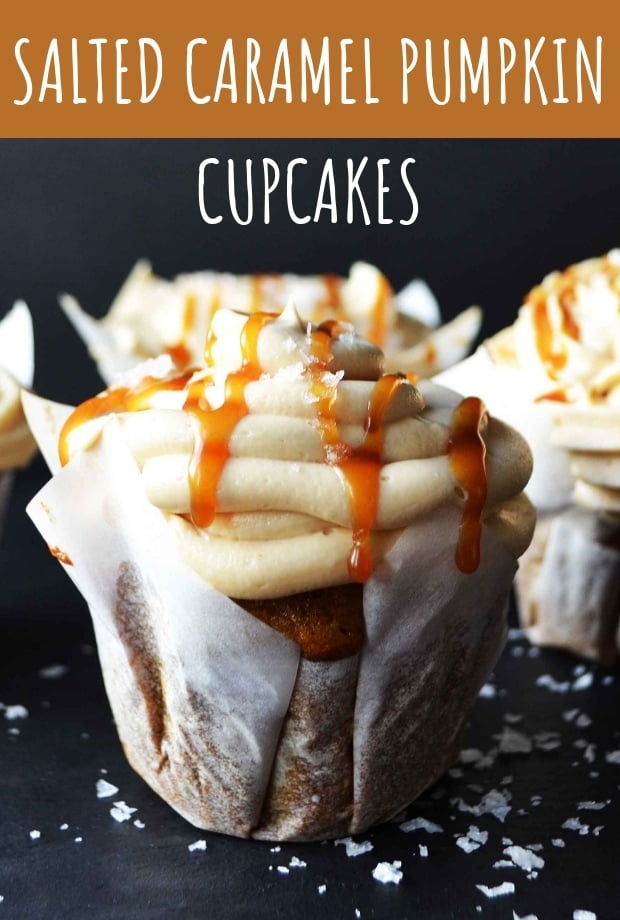 Find Fall Decorating Ideas down below:
Fall Decorating Ideas:
I am GIDDY about Fall! I literally can't wait to bring out all of our Fall stuff and start decorating. It may sound silly but I have always dreamed of having a dining room table that you can see as you walk into my home so I could decorate to my little heart's content for each season. When we bought this house and started to remodel it, I begged Dean for my dining room and he came through big time! He's a keeper!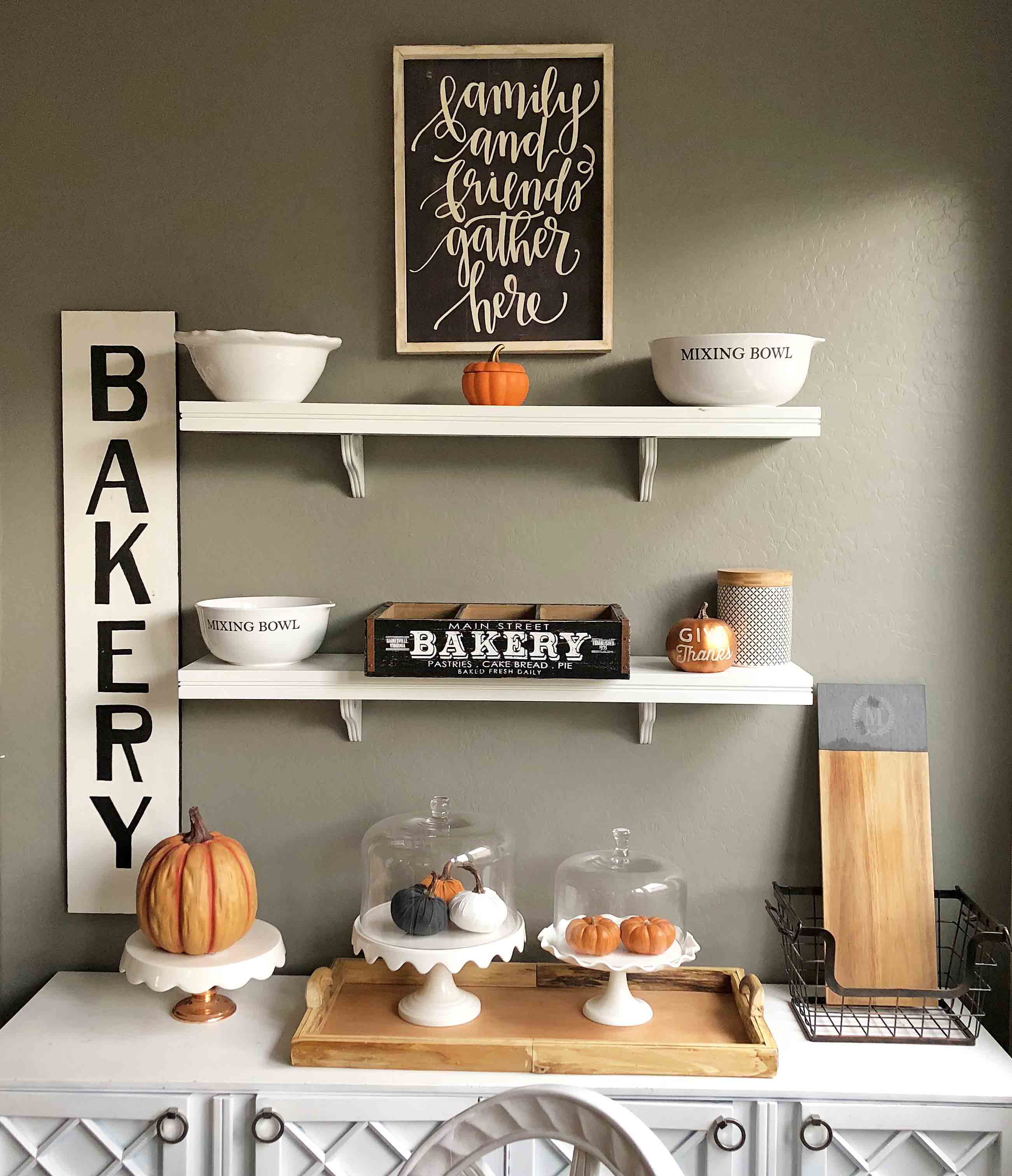 It's amazing how you can transform a space with a little creative imagination and without a lot of money. I am not a designer but I am going to share my favorite decorating tips for FALL and my favorite places to find decor items -- even on a budget -- to transform your space.
I found the CUTEST felt pumpkins at the Target dollar spot for only $1! You can find them in all sorts of colors -- white, orange, black, navy, and more.  Such an easy way to decorate your spaces on a budget.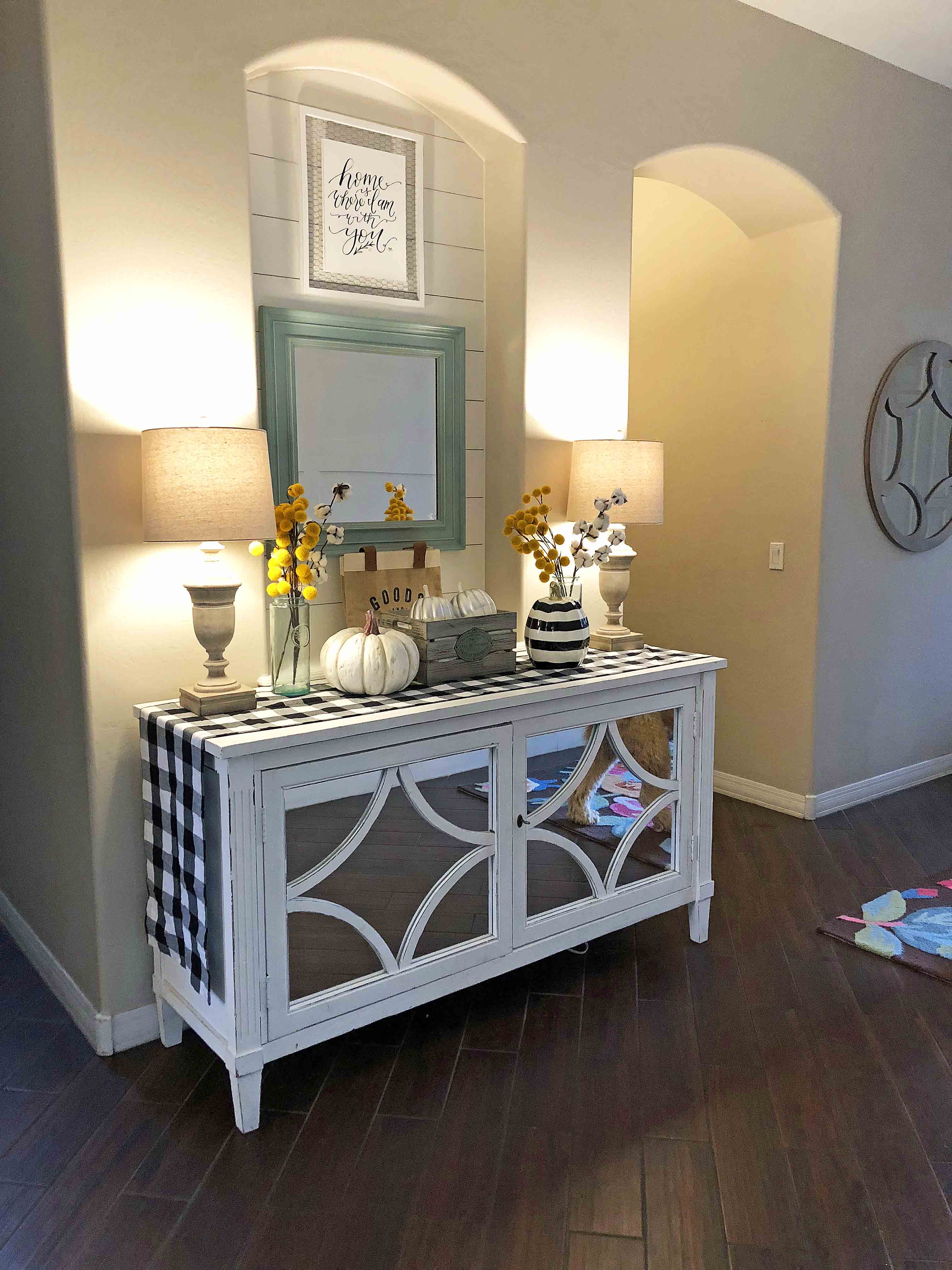 I am obsessed with black and white checkered buffalo plaid...especially for Fall. I found the cutest black and white check table runner on Amazon HERE and it goes perfectly in my entry. It's only $8.99 which is a steal.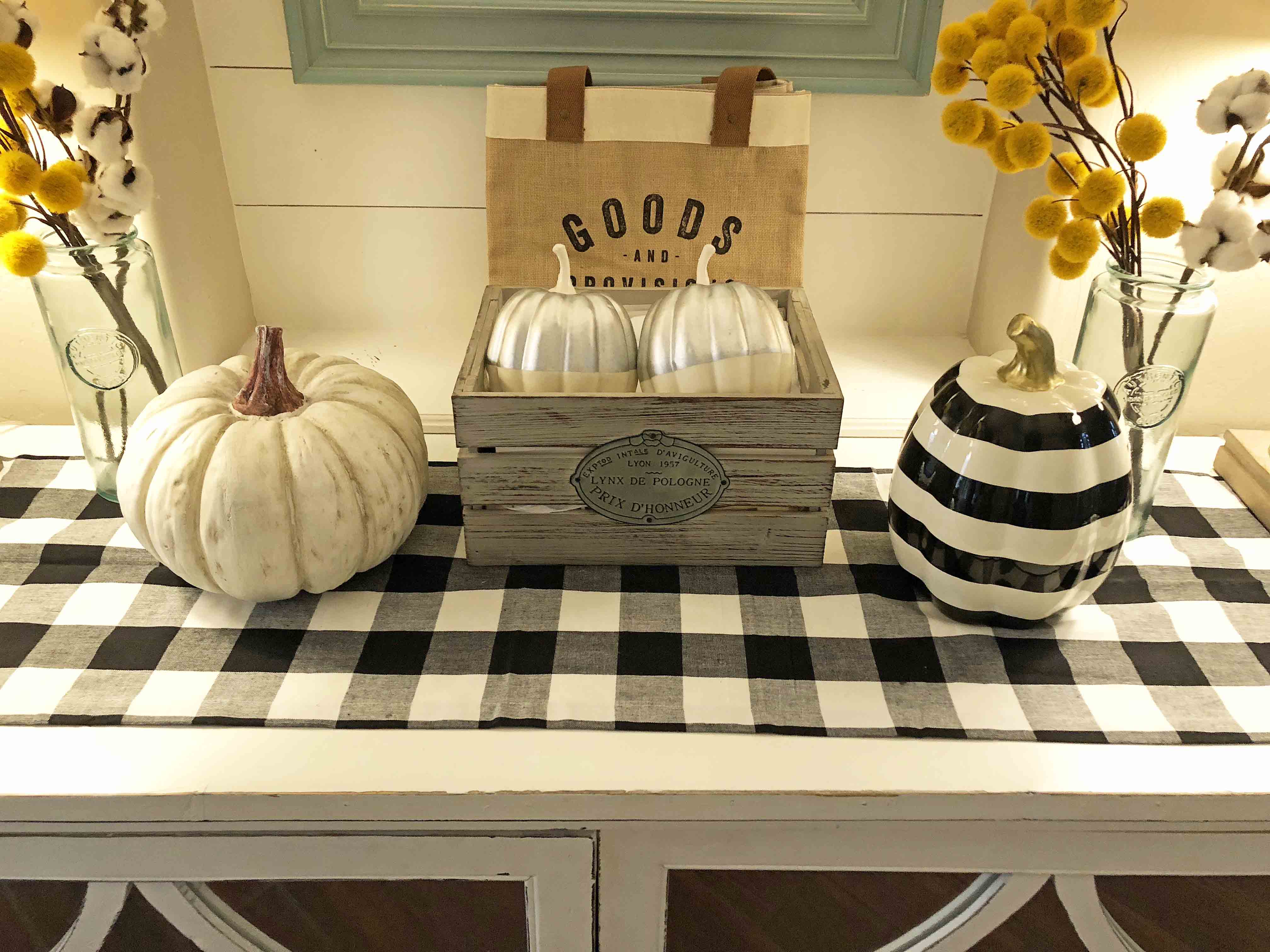 This FARMHOUSE black and white Fall decor scheme is such a classic look. I found the cream pumpkin at Michael's, the black and white striped pumpkin at Hobby Lobby, and the Goods and Provisions bag on Amazon HERE.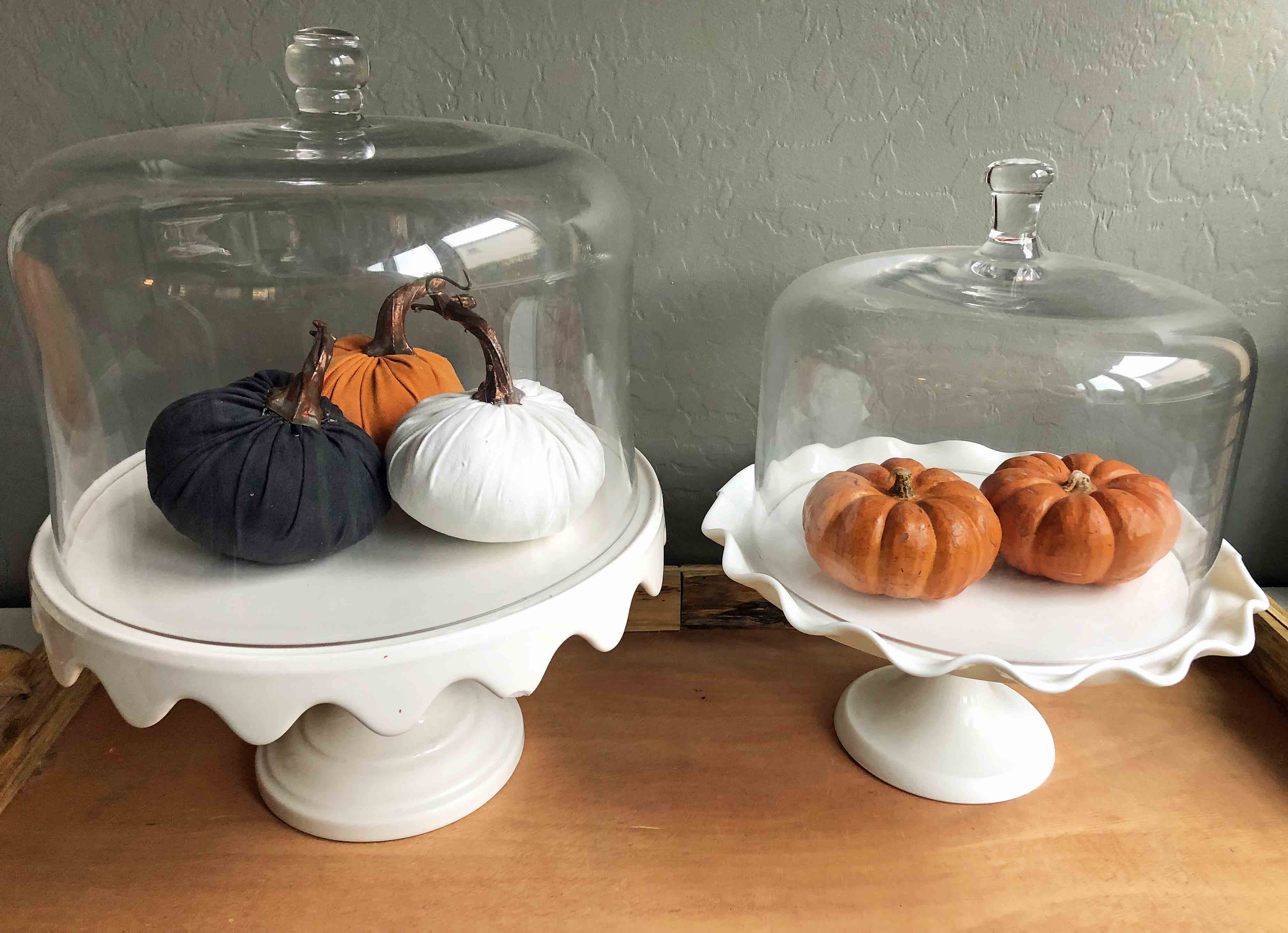 It is so easy to decorate with pumpkins. Placing small pumpkins in cake plates gives a festive Fall look. I found the felt pumpkins for $1 at Target.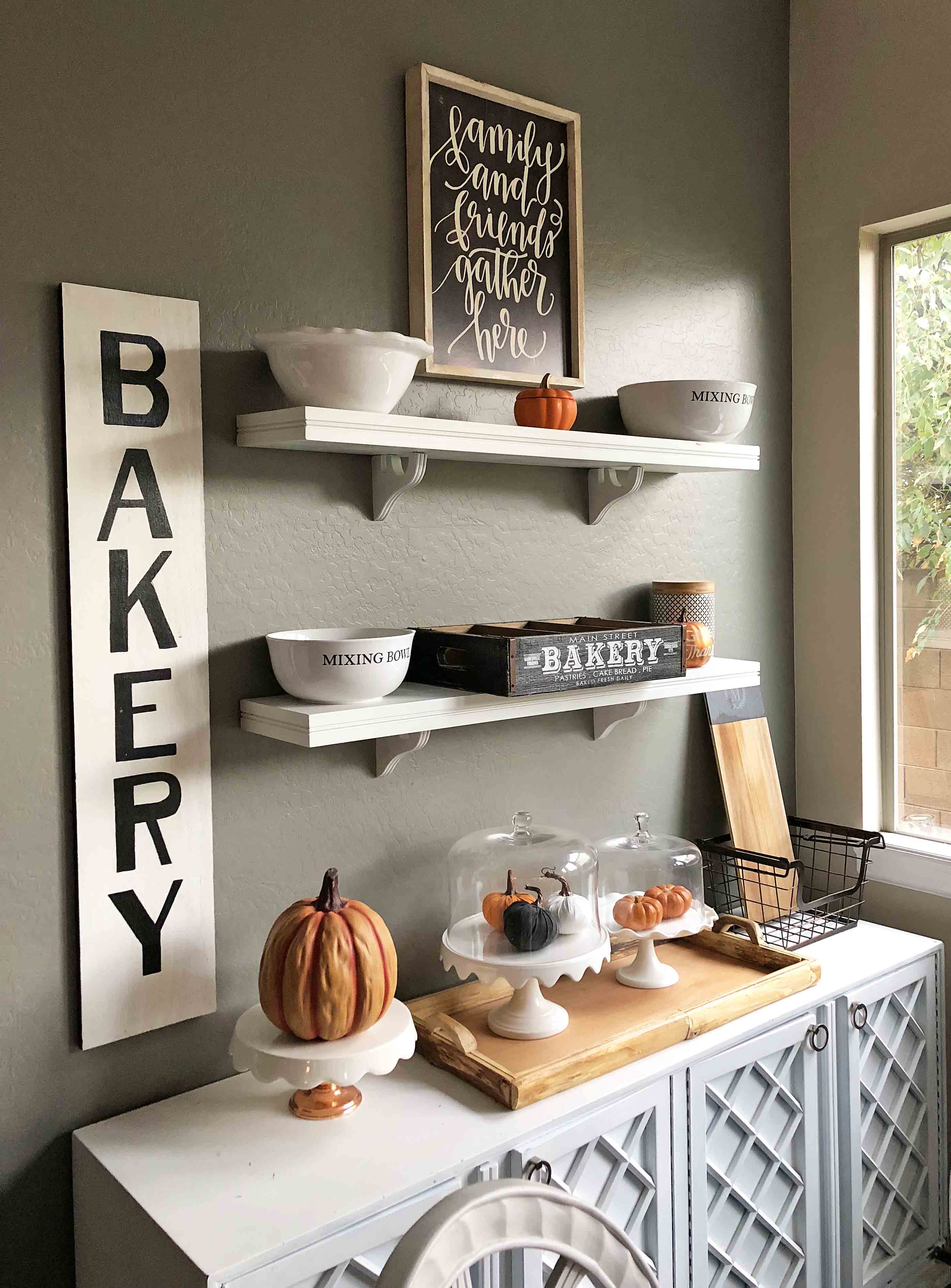 Farmhouse Fall decorations begin with a mix of warm natural elements, such as wood and wire baskets, and mixing it with bursts of festive colors. Black and white bowls, cake plates, wood trays, wood boards, and pumpkins are perfect for the kitchen.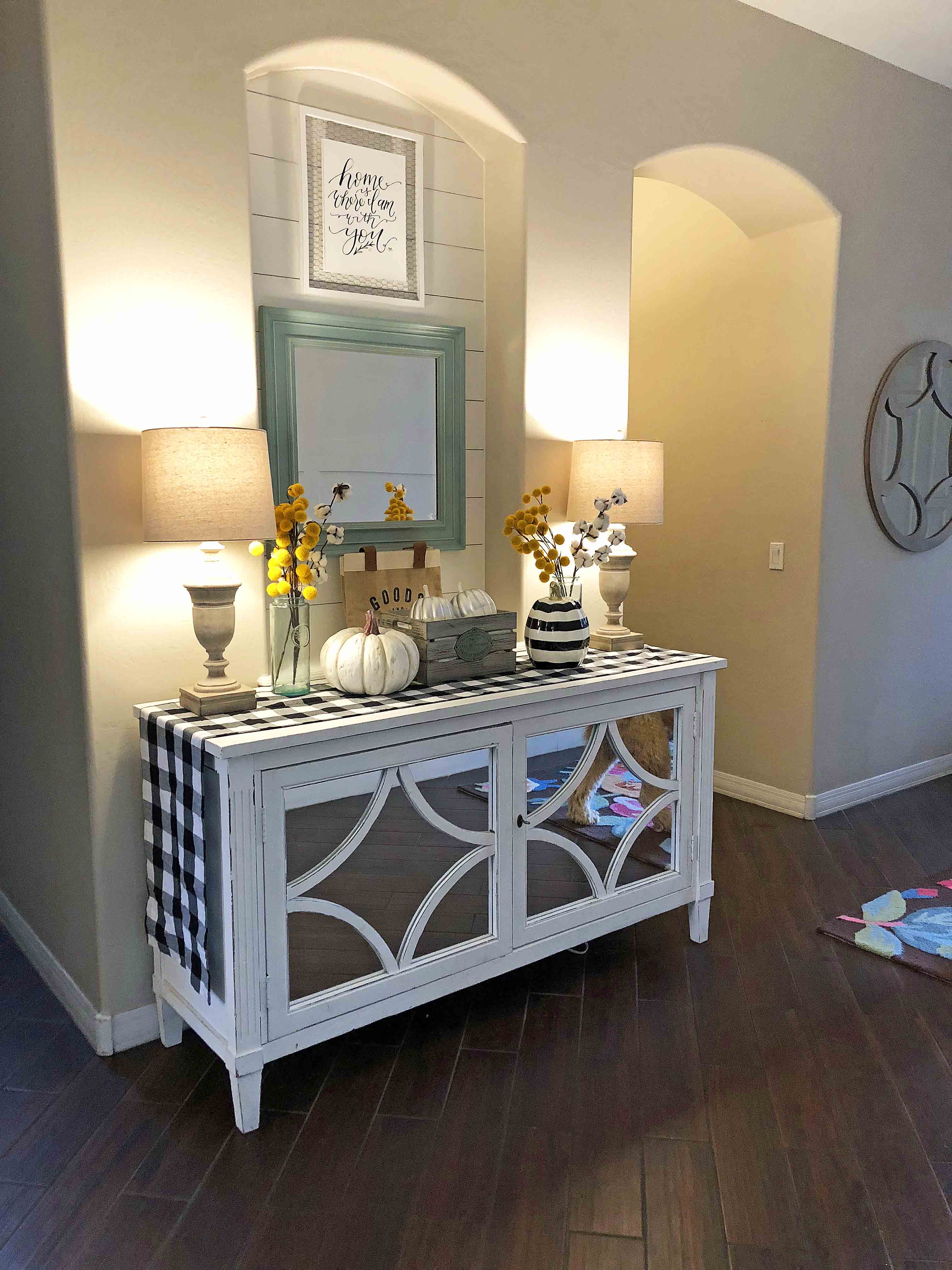 By using a mix of white and orange pumpkins, it brightens your space. I love to use white/cream pumpkins all over my home.
Pin on PINTEREST: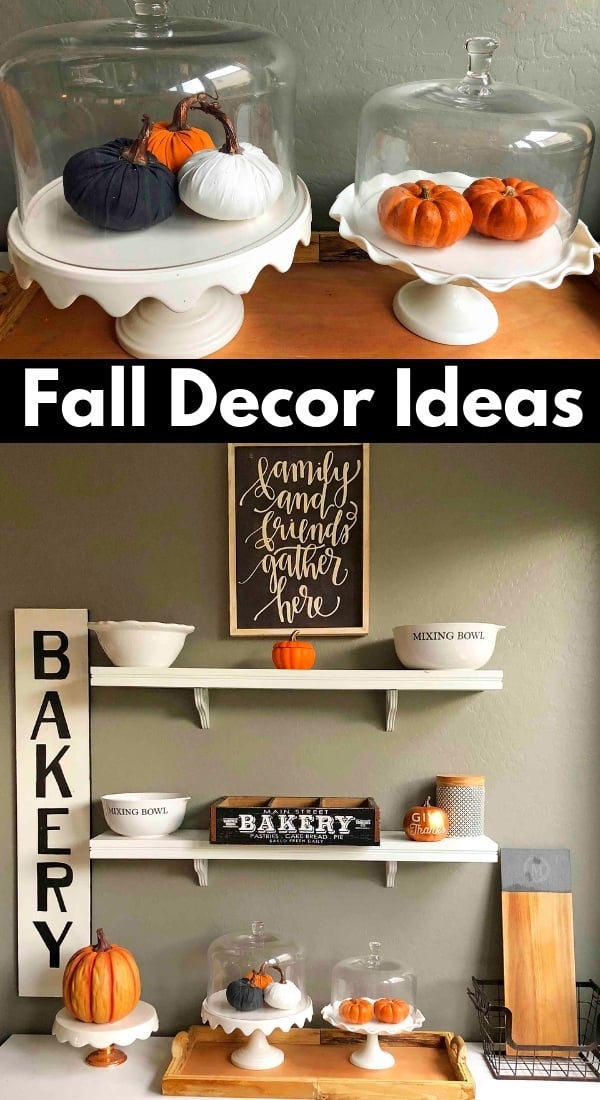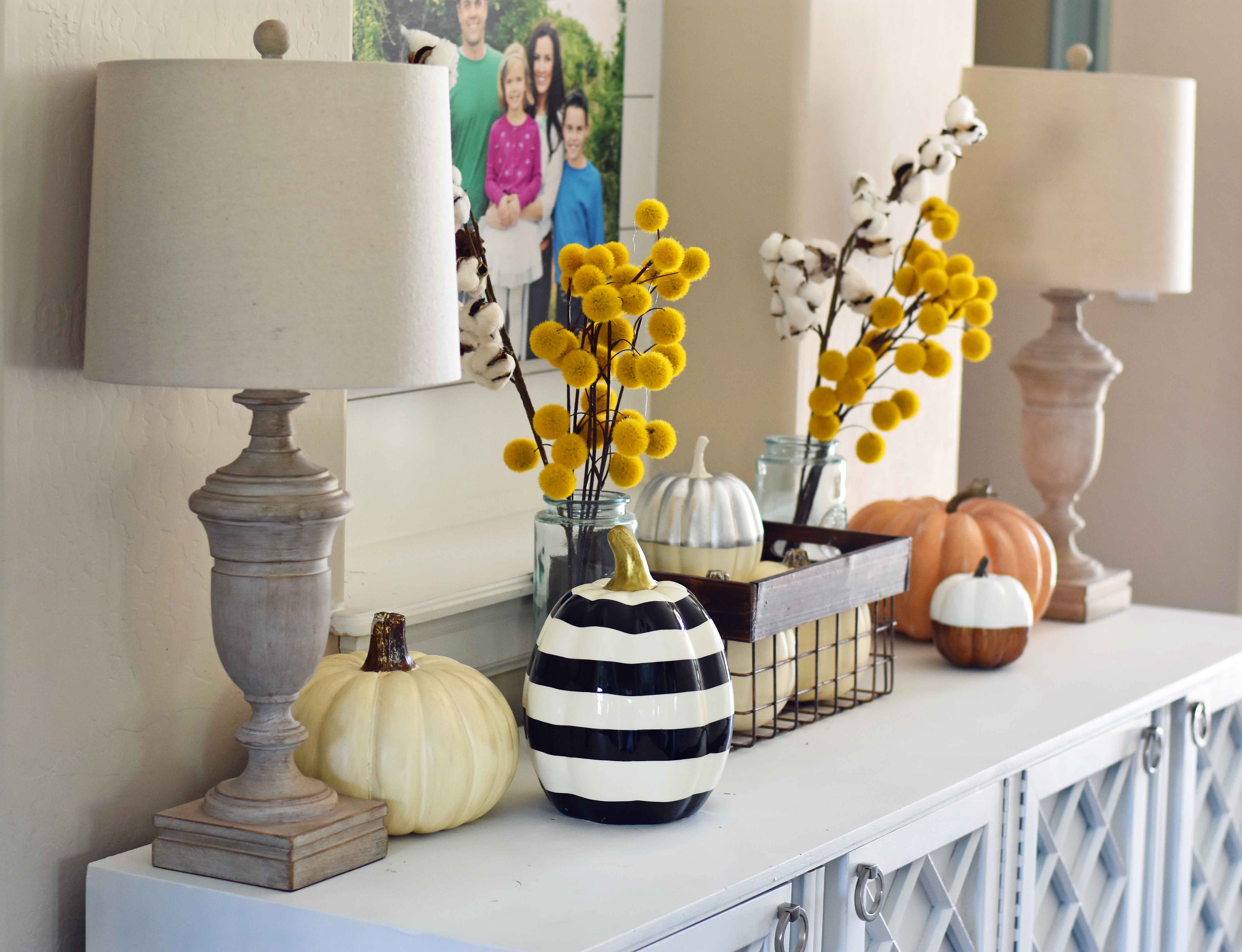 Bring on the cooler temperatures, pretty please!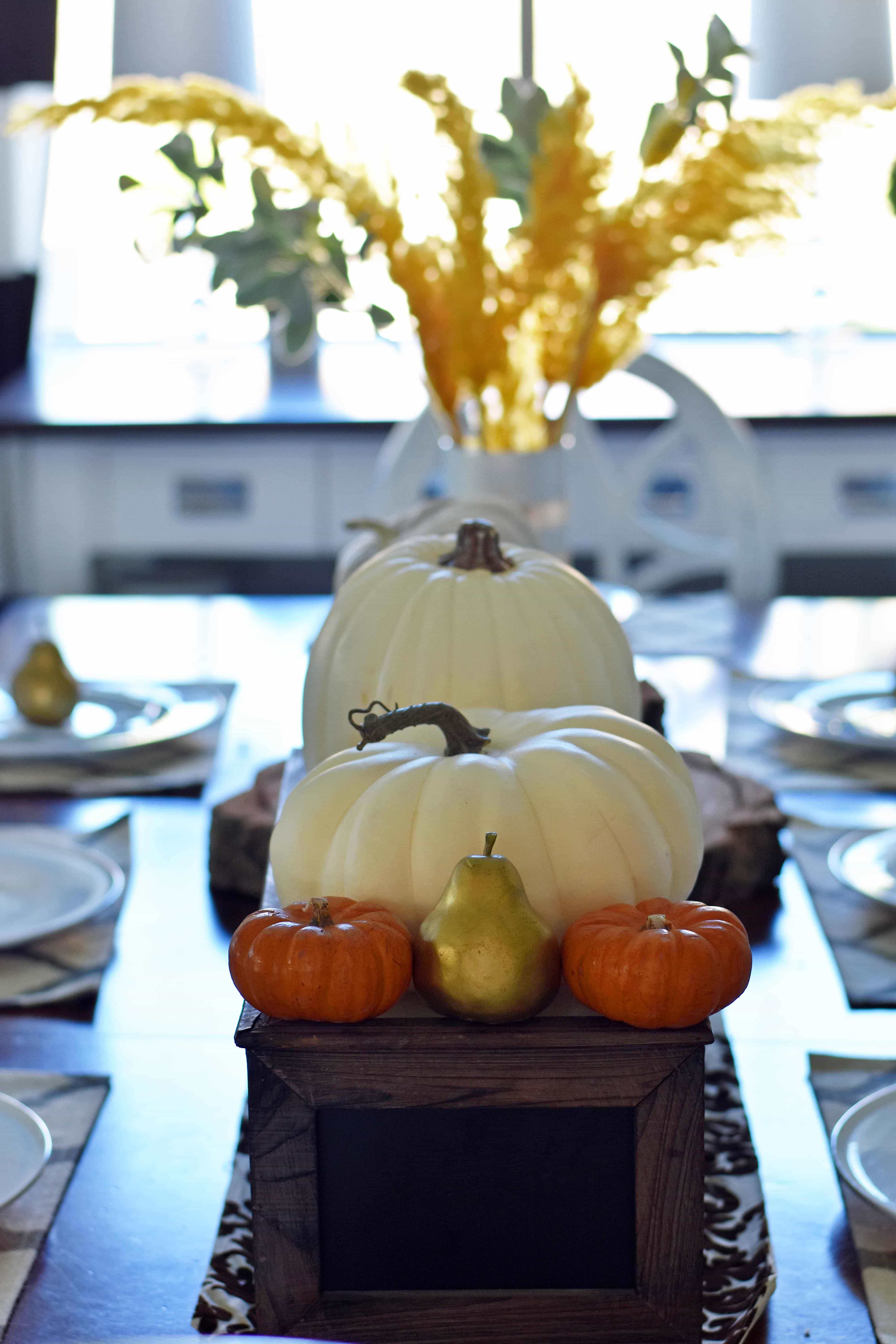 It's amazing how fun and easy it is to decorate with pumpkins -- white, orange, peach, cream, black and white, and so many more colors.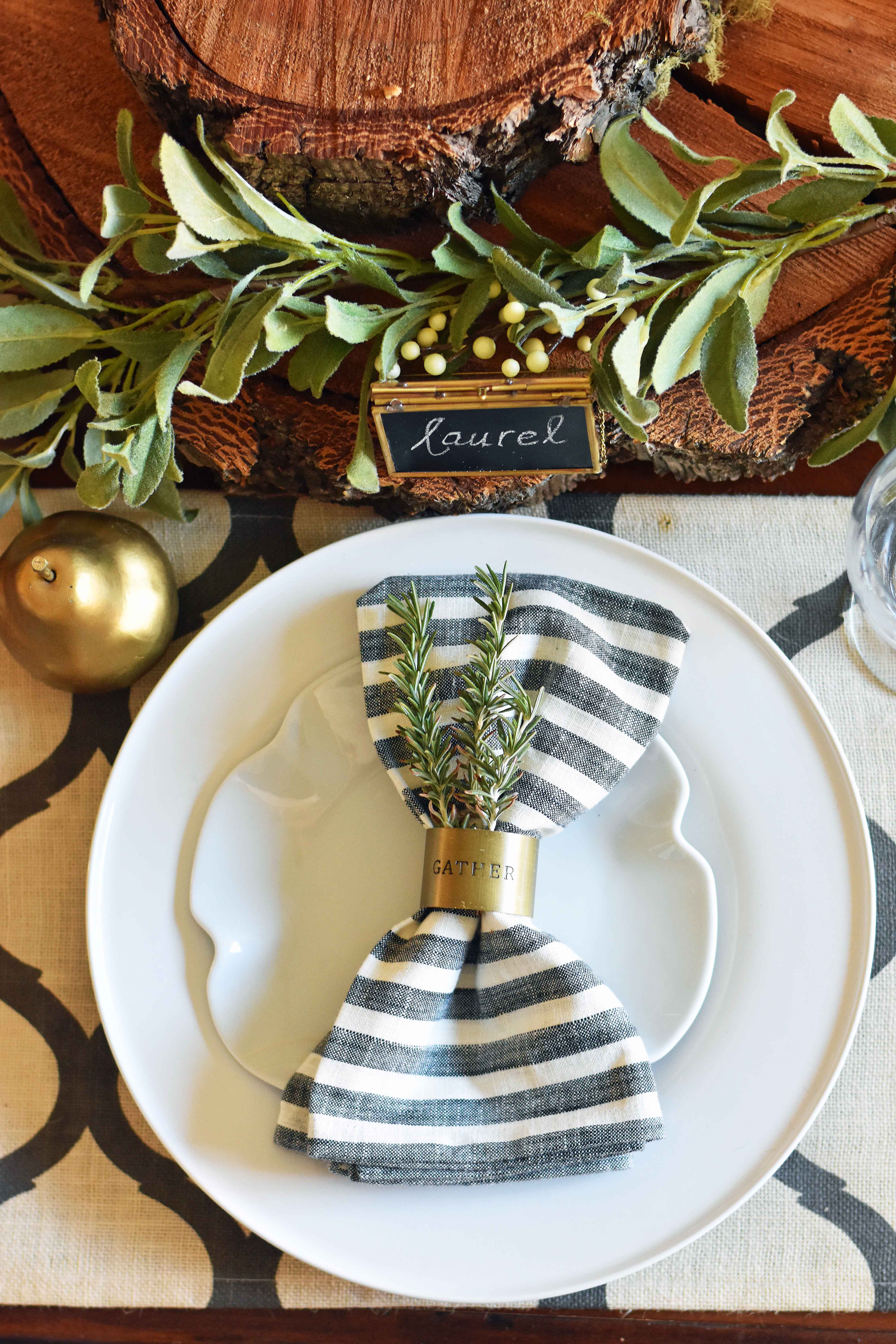 I have fallen in love with the Chip and Joanna's new Magnolia Hearth + Home line at Target. I literally set my alarm to order it as soon as it was available online. I am in love with their striped cloth napkins, the GATHER napkin slides, and antique looking chalkboard place cards. I picked some fresh rosemary to add an earthy touch. This is such a neutral and beautiful tablescape.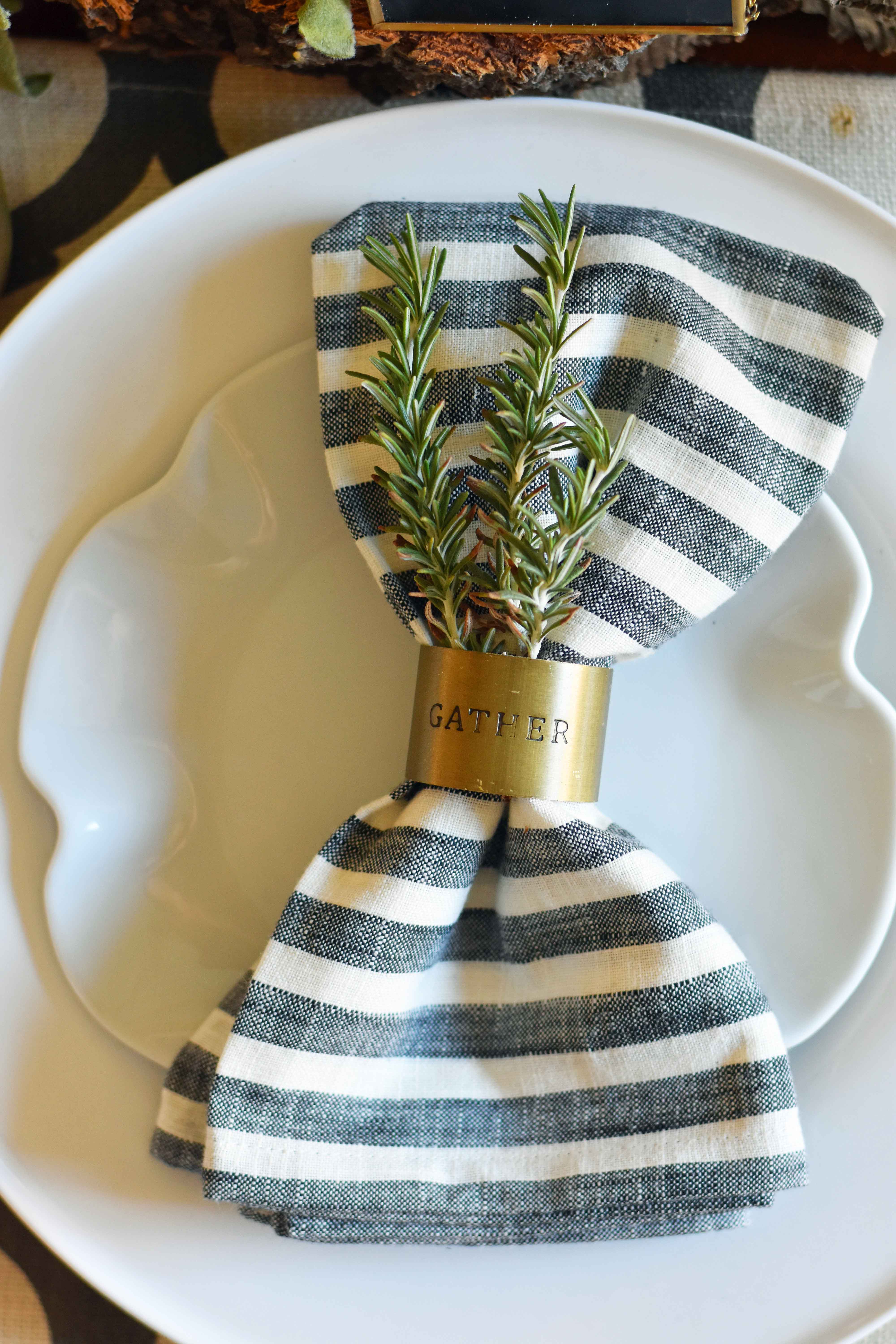 You can find their Hearth + Home line at Target stores or online at Target.com.  Their style is classic and timeless.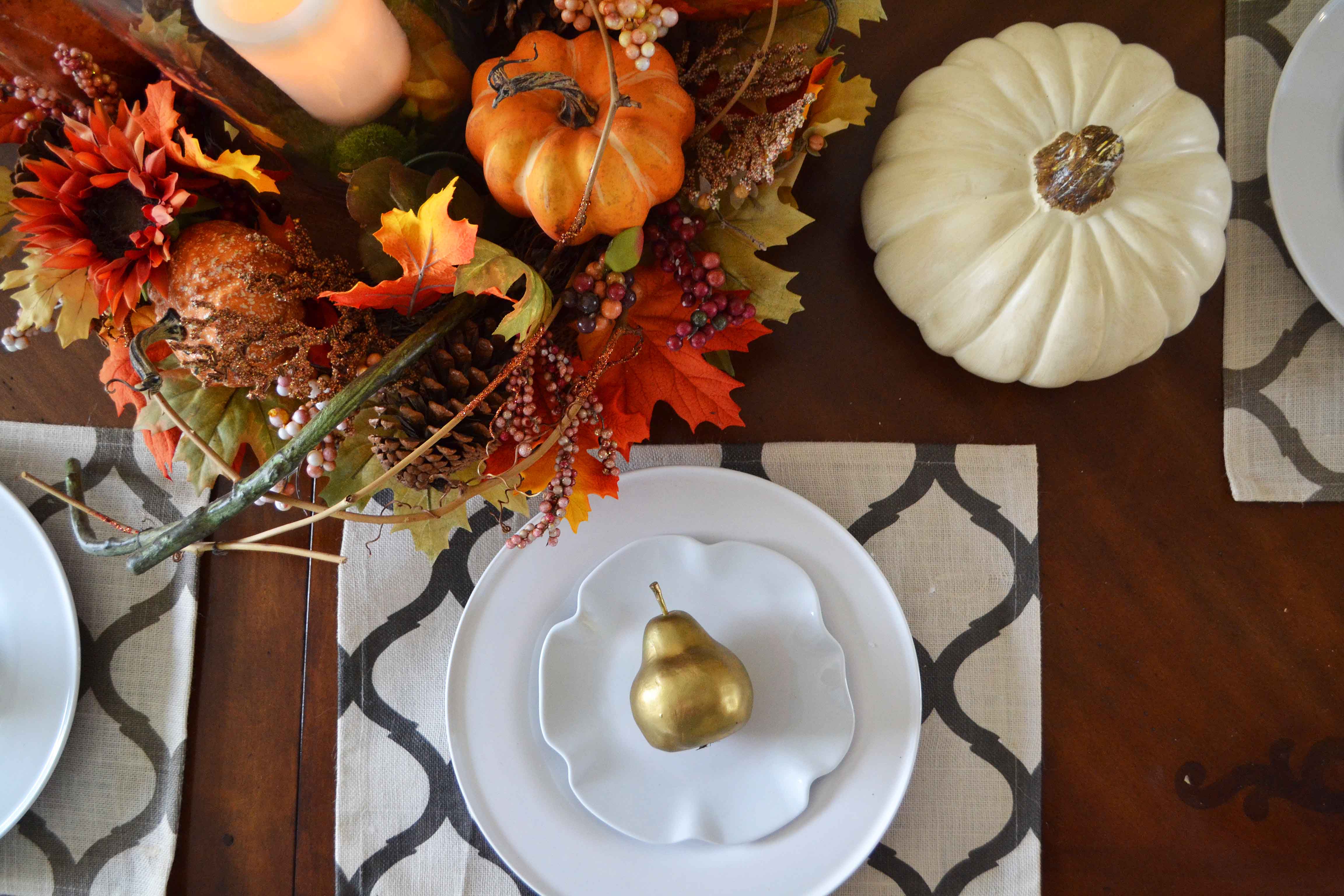 Use wreaths to decorate. Wreaths are the perfect item since there is a round hole in the center for glass pillar candle holders, pumpkins, glass hurricanes, apothecary jars, etc. This is a simple fall wreath I purchased from a craft decor store, placed it on some wood, and put a glass pillar candle holder in the center. The placemats were found at Home Goods or Ross in a packages of 4 for only $4.99.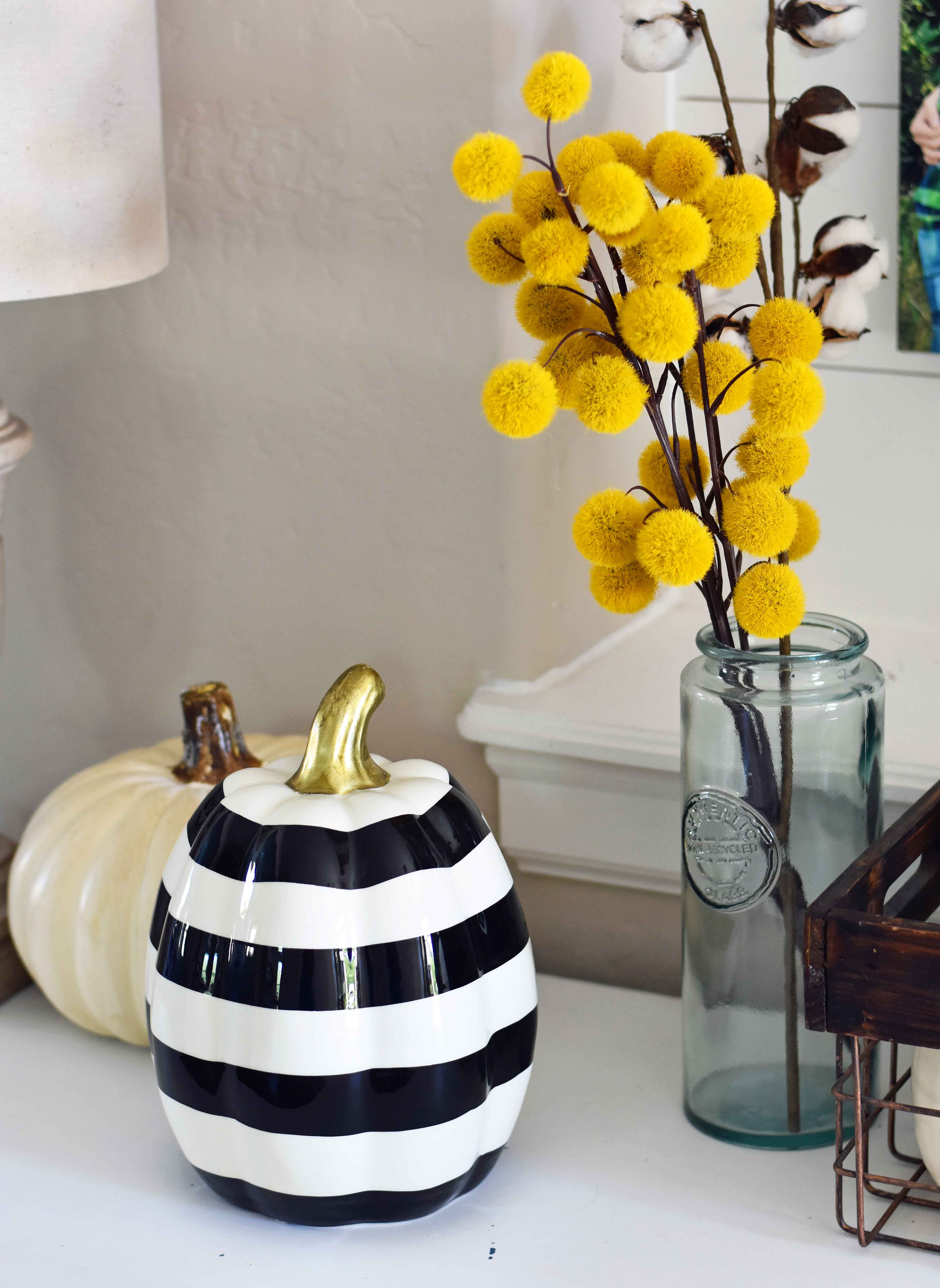 You can find these yellow craspedia billy balls at Hobby Lobby. I am full on obsessed with them.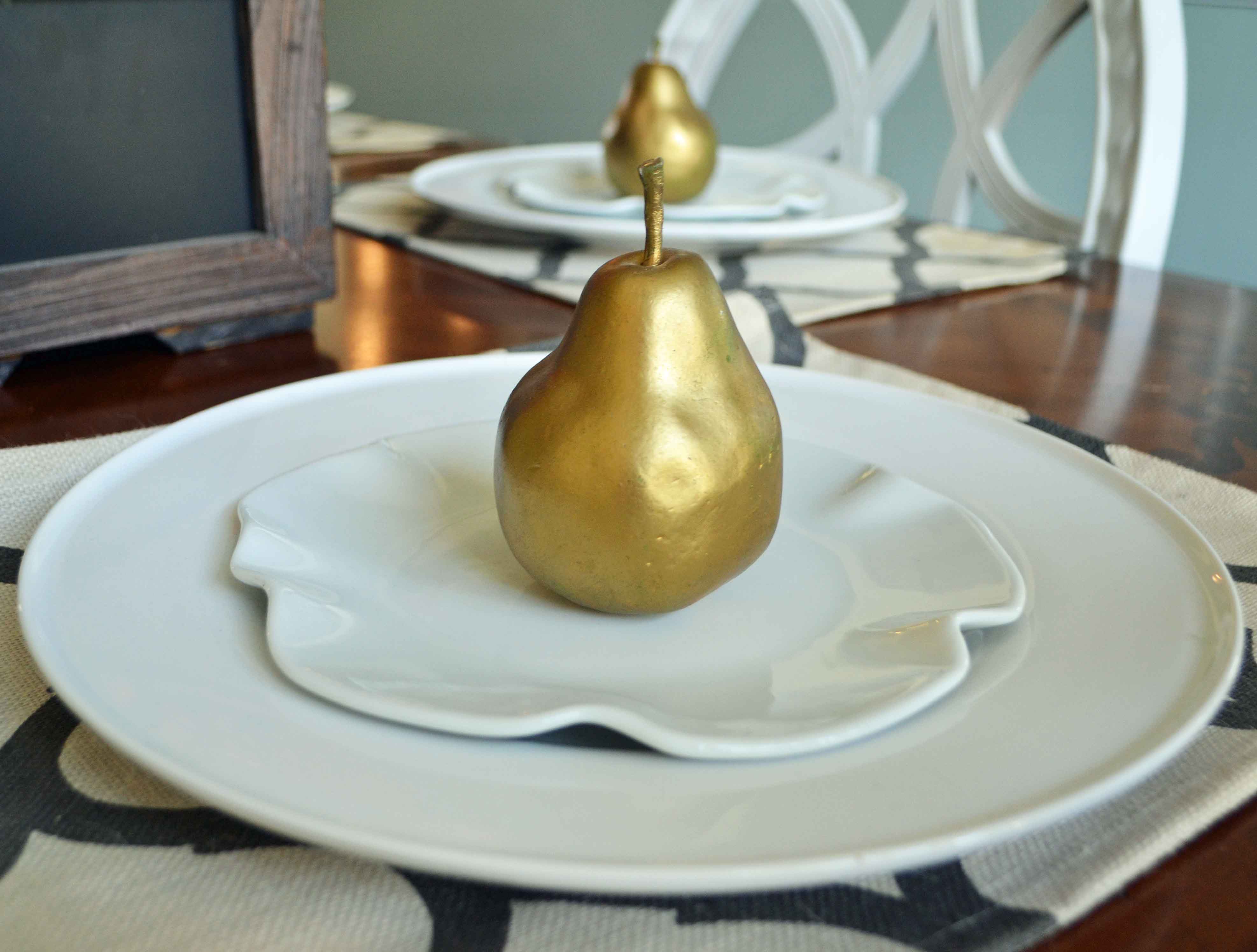 2. Use fruit as decor. It's fun to decorate with and it adds a natural element while still adding color. You can buy artificial fruit and spray paint them gold for a gorgeous place setting.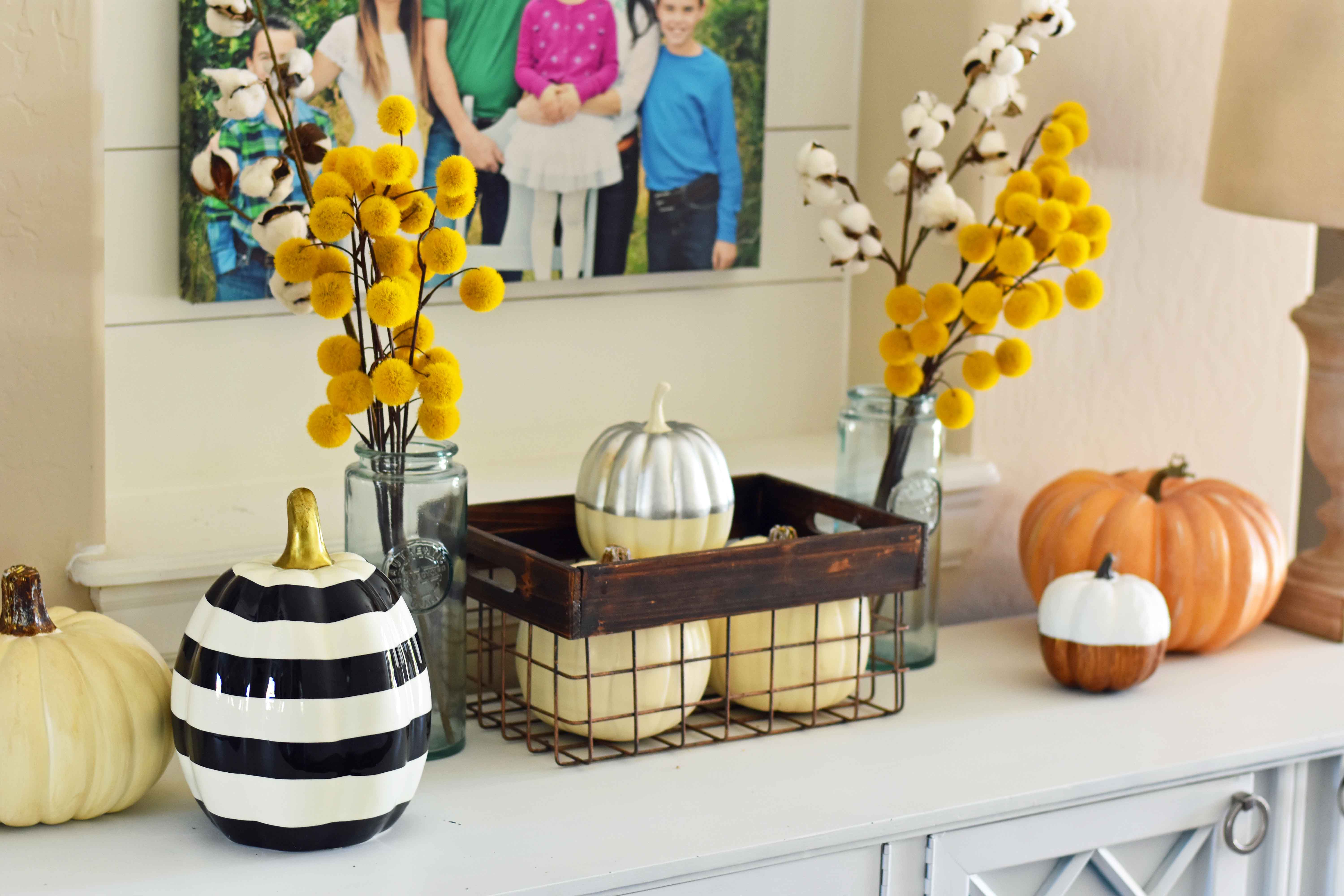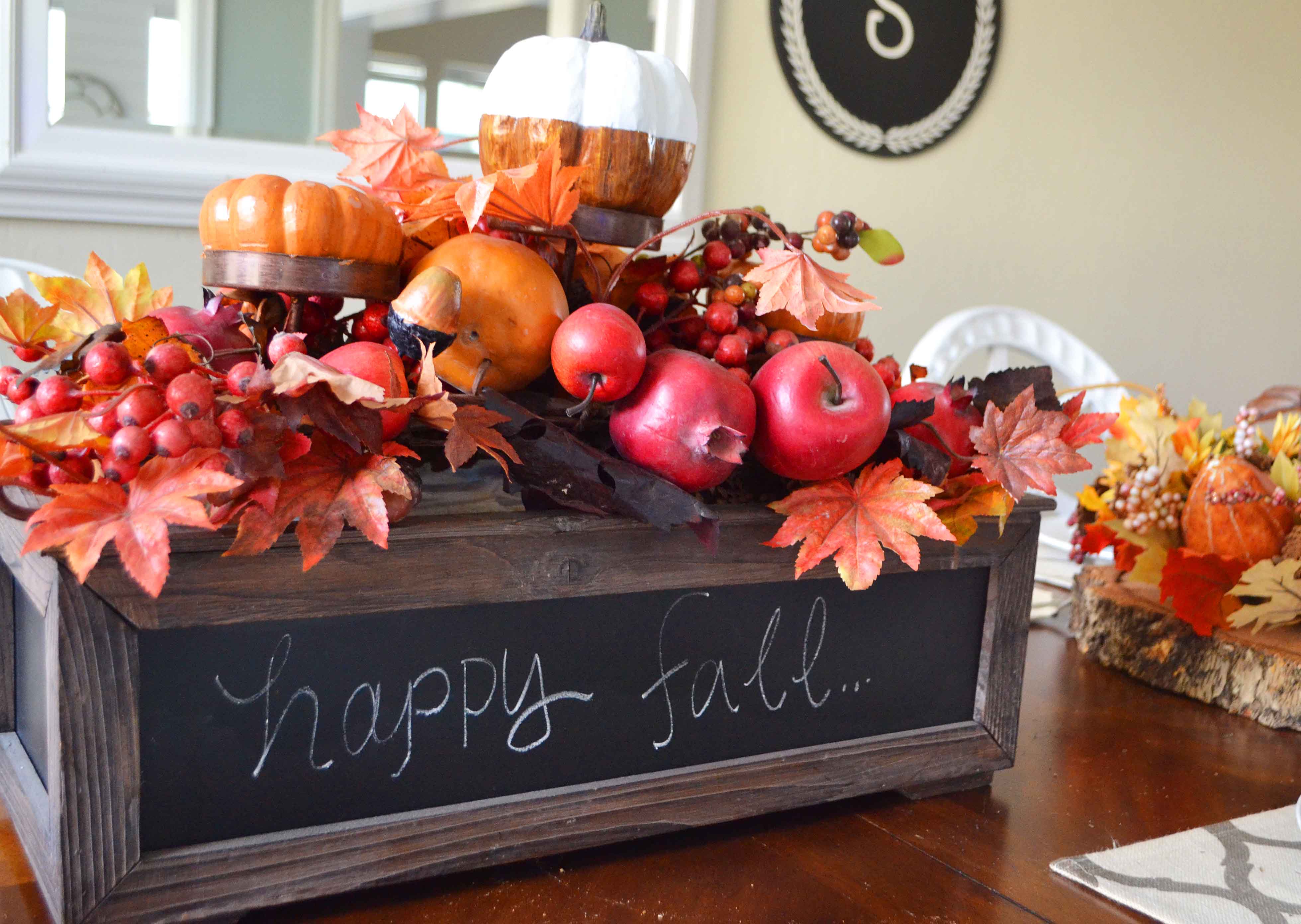 3. Use natural elements. This wood box is one of my favorite items to decorate with, no matter the season. Adding leaves, pumpkins, artificial fruit, and stems add color and warmth. I found the double painted pumpkin found at Michael's.
I found the yellow picks and vintage jars at Michael's for 70% off. Score! It reminds me of the gorgeous aspens in the canyon which are the epitome of Fall.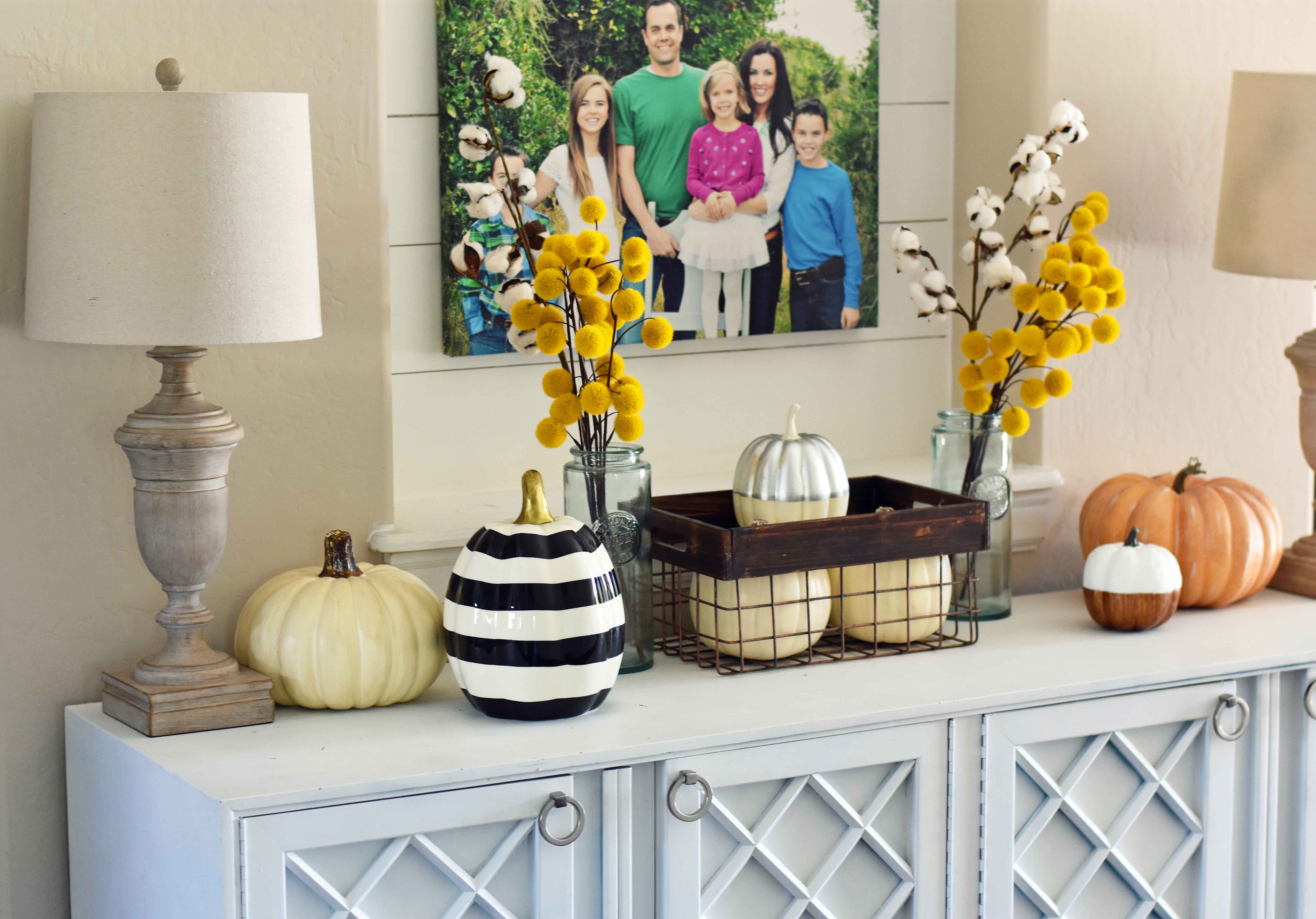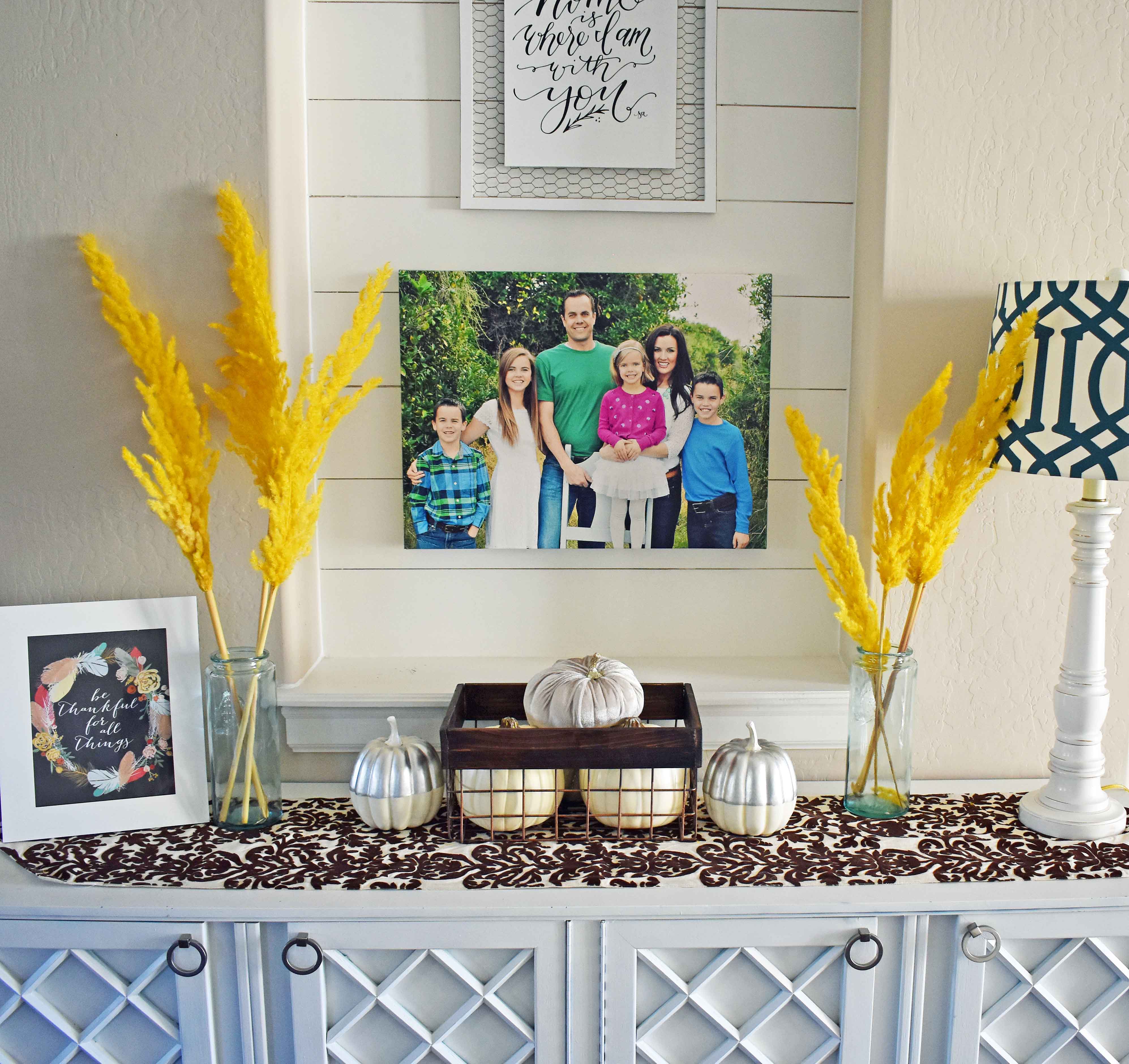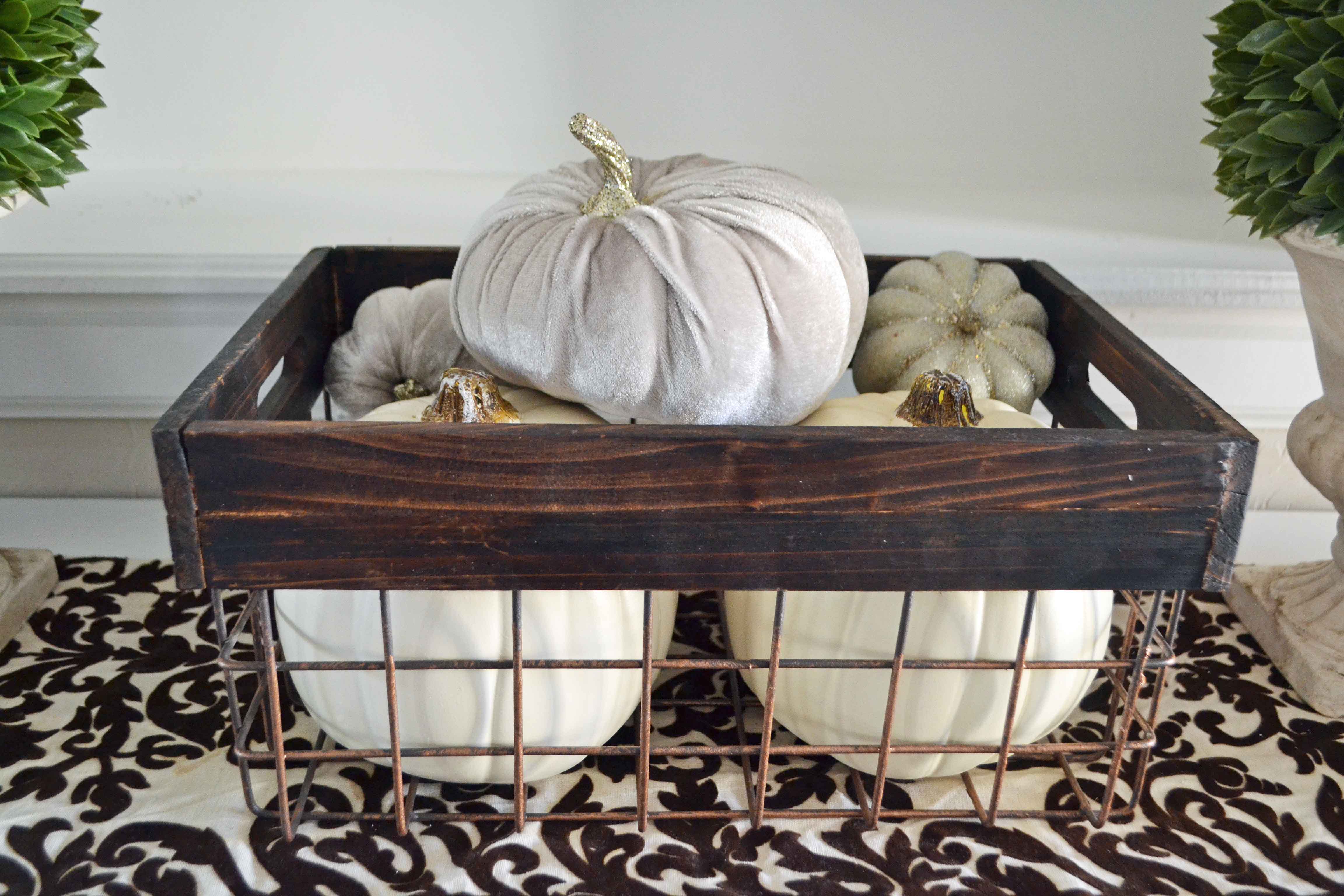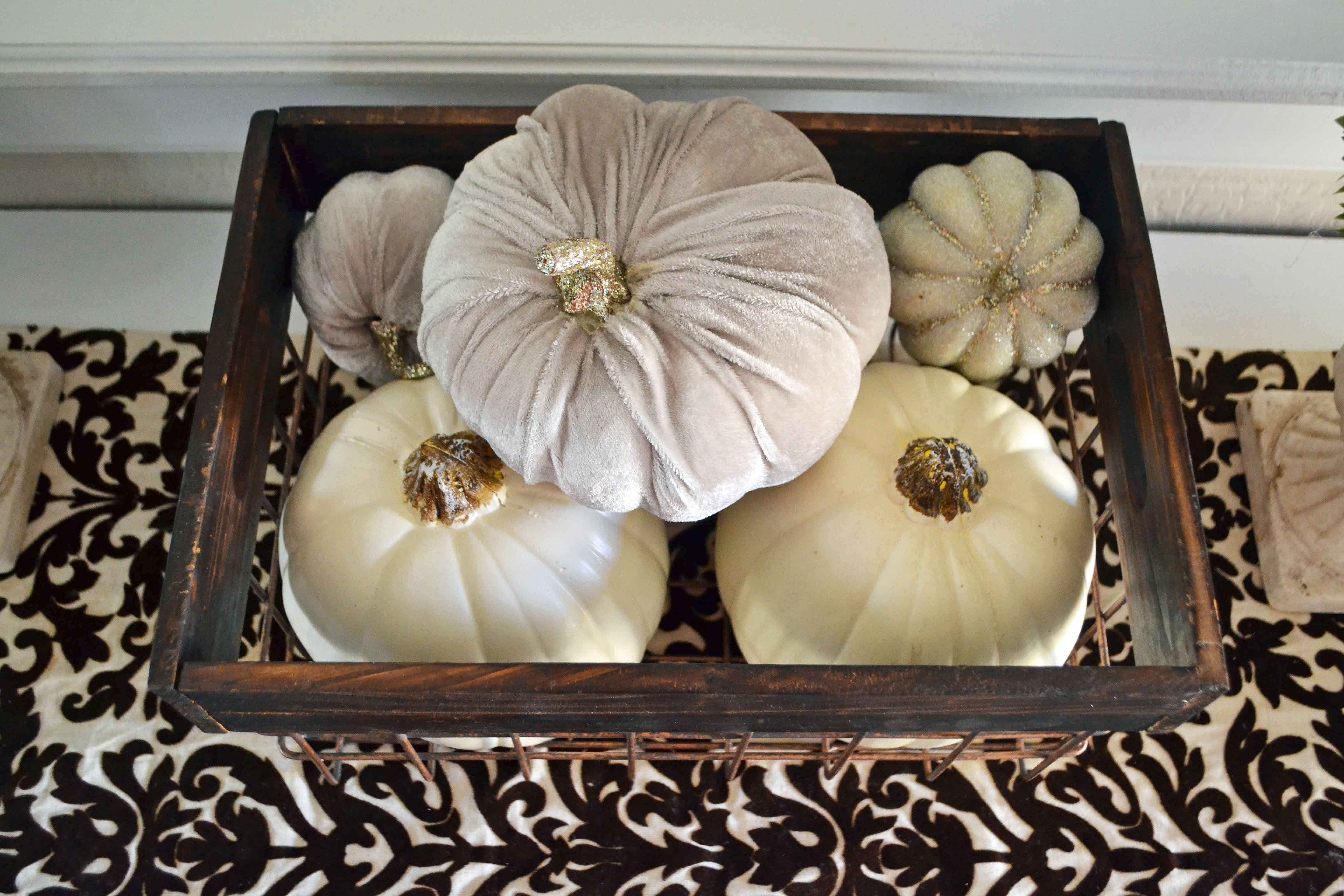 4. Decorate with baskets. They are one of the most versatile decor elements and can be filled with just about anything! I love the wire baskets that are in style these days because they showcase what's inside while still keeping everything neat and tidy. I found all of these pumpkins and basket at Michael's. The basket was only $12 and the pumpkins were about $4 each.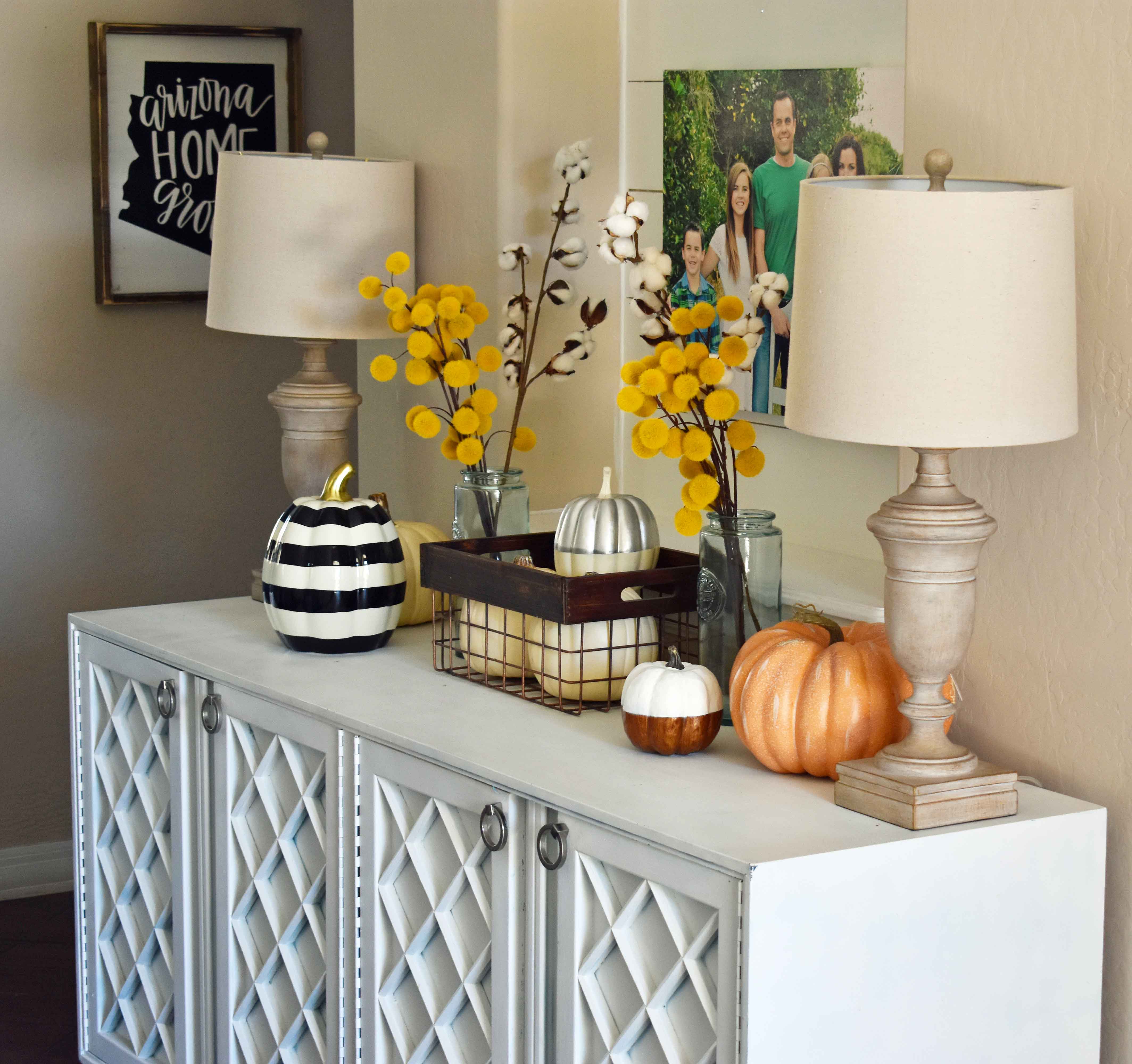 5. Use greenery. I am sucker for greenery! I love all topiary balls -- especially boxwood beauties. I picked up these topiary urns at TJ Maxx for $15 each. We also added wood to our niche and painted it for less than $15.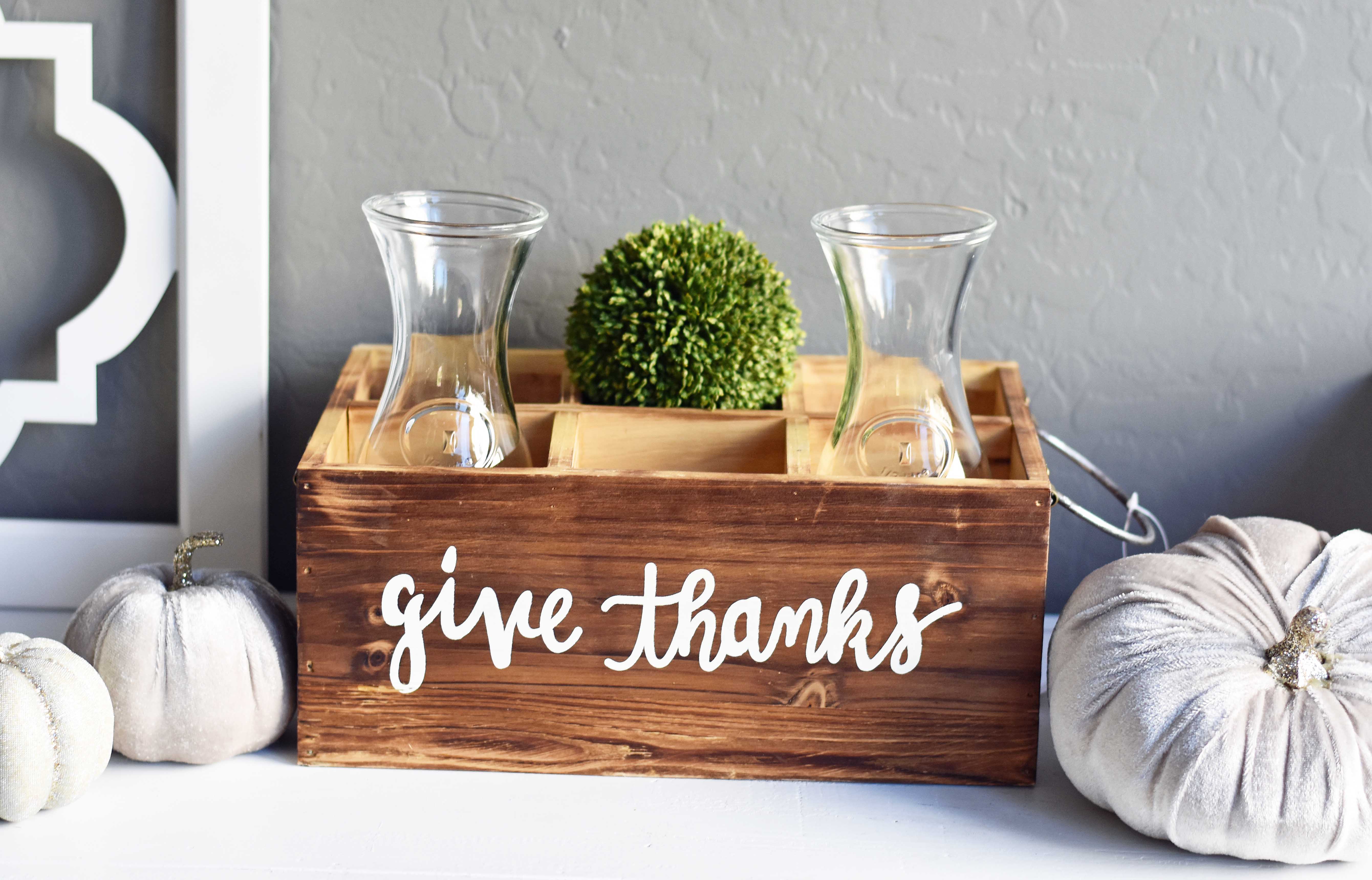 6. Decorate with printables. There are so many talented people who design FREE beautiful printables for each season. This one I found on LollyJane Blog. They are fellow Arizona bloggers and darling sisters. Fall Printable Art
7. Use fabric. Find your favorite fabric and drape it over your mantle or sofa table or pick up an already made table runner at a decor store. I found this one at Home Goods and love it for Fall.
8. Make a good first impression. The front door and entryway is an outside representation of what's inside so it's nice to make it warm and welcoming to guests. Flower pots, plants, a bench, and a soft pillow create a warm welcome.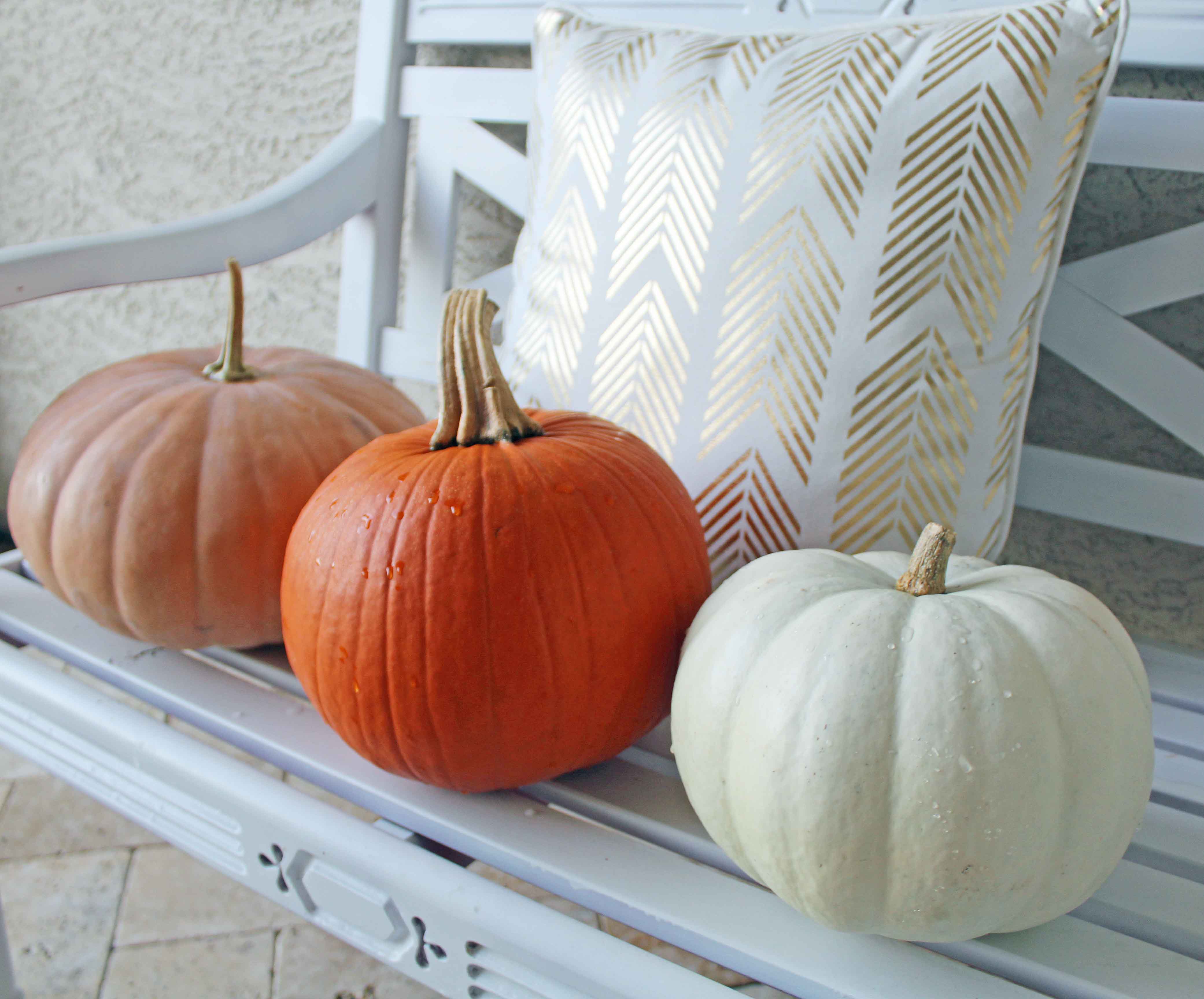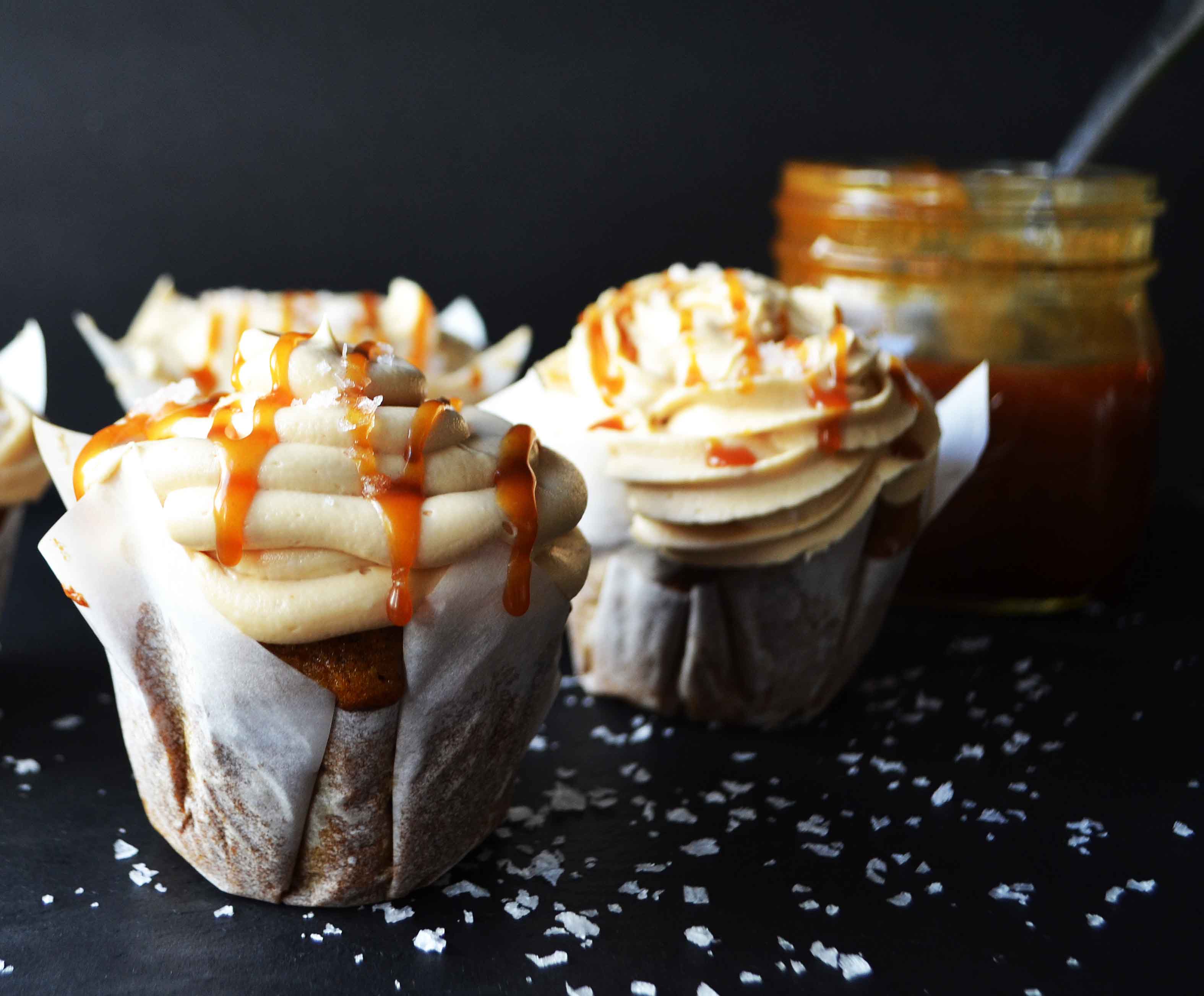 Happy Fall, my friends! I hope that you will LOVE the Pumpkin Cupcakes with Salted Caramel Frosting and the Fall decorating tips that I shared. I appreciate all of your support and all of the incredible comments that I receive from you. Have a wonderful weekend! xo
Happy Baking + Decorating!