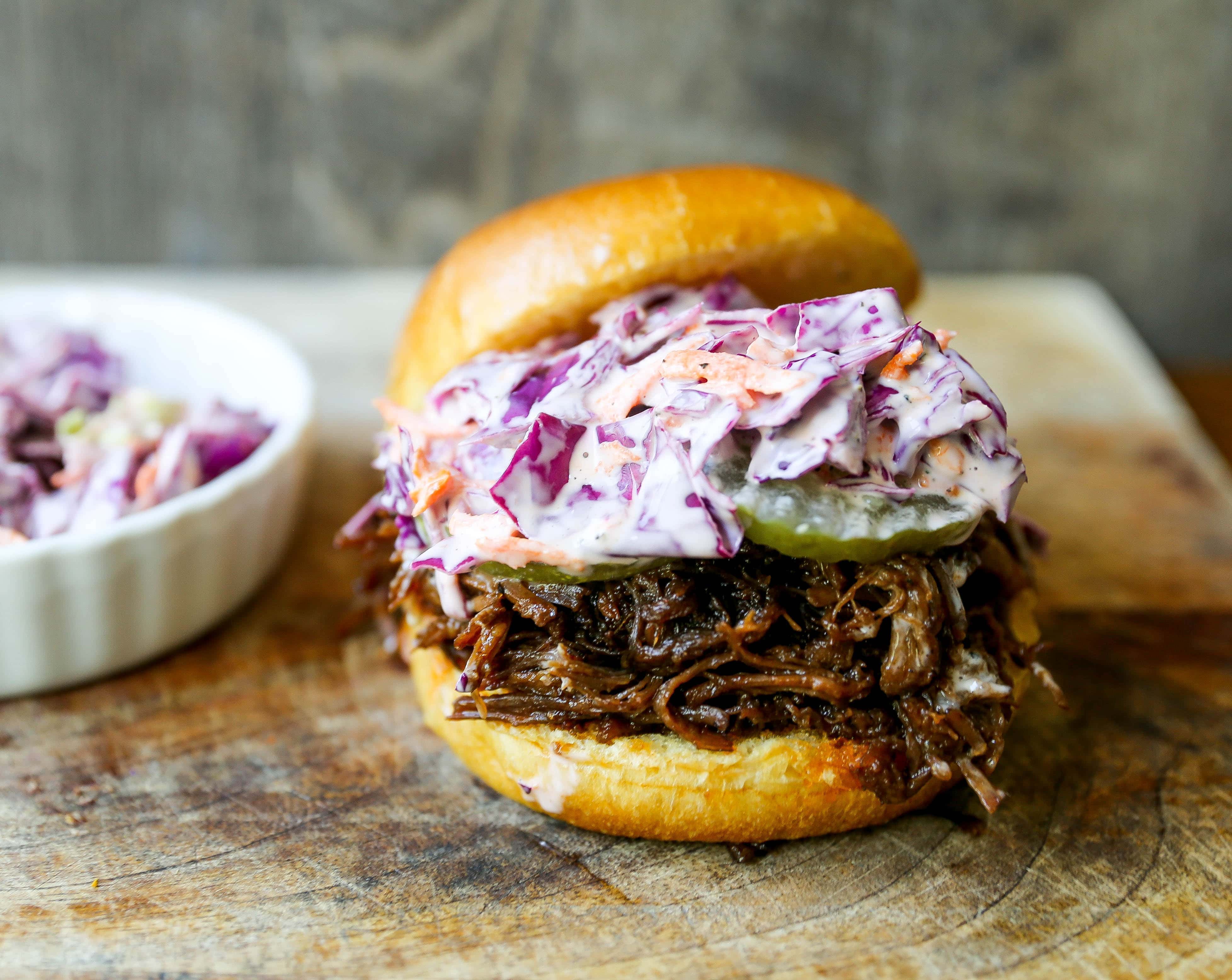 Slow Cooker BBQ Beef Sandwiches
Tender seasoned slow cooked beef basted in BBQ sauce and sandwiched between brioche buns and topped with a crunchy coleslaw
There's something so warm and comforting about a BBQ Beef Sandwich. Growing up with so many brothers, my Mom was always trying to figure out how to fill them up. We ate a lot of Barbecue Beef Sandwiches in our home! It is still one of my favorite savory sandwiches.
Speaking of favorites, I don't think I could live without my slow cooker. Is there any better way to cook tender meats? I don't think so. This Crockpot BBQ Beef is cooked low and slow with spices and then shredded before basting it in BBQ sauce. The spices really help to bring out the juicy flavor of the meat and get it ready for the BBQ sauce.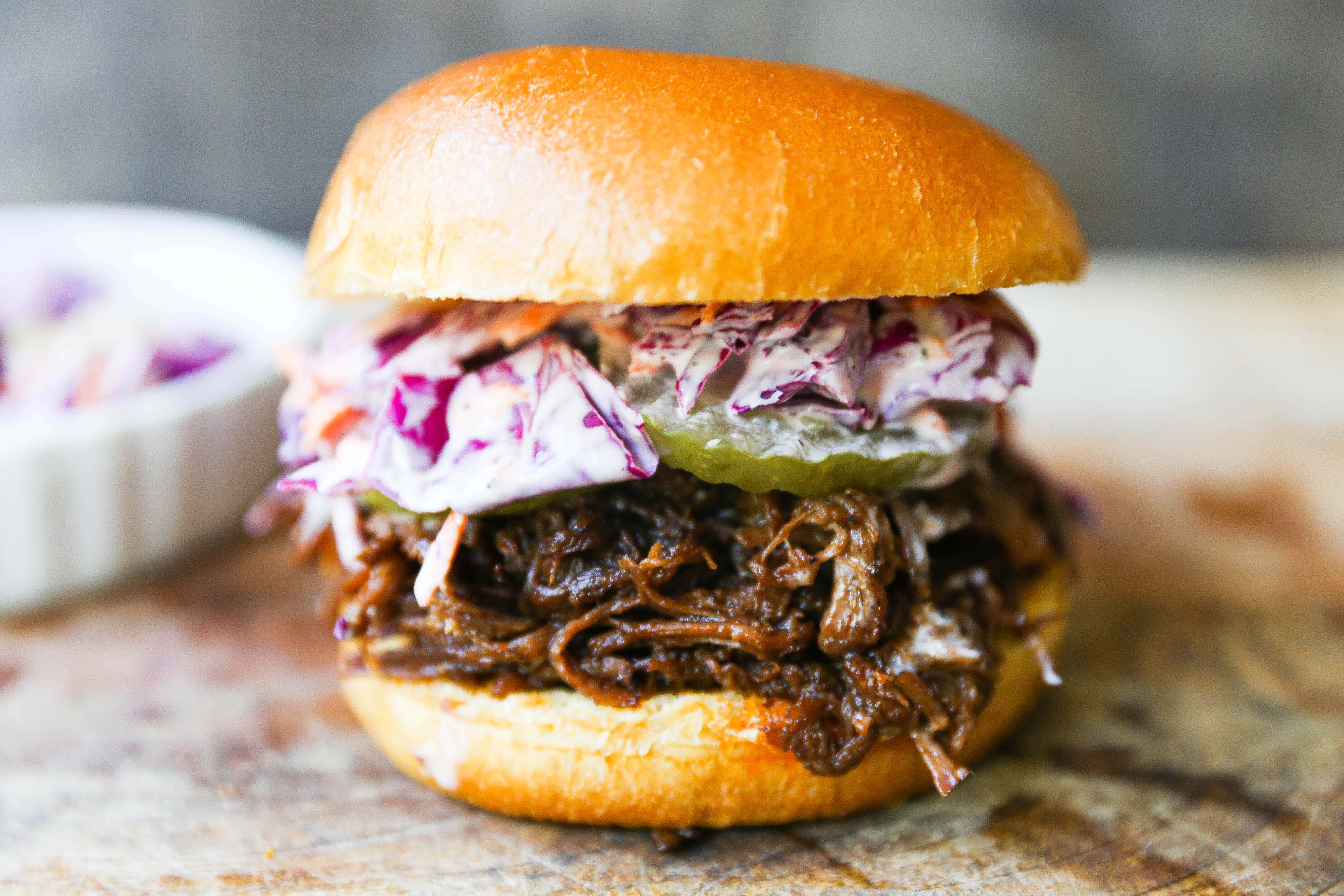 What type of BBQ sauce to use?
Choosing a BBQ Sauce is a big deal. People are pretty opinionated about the type of BBQ sauce to use.  This is a key component to these BBQ sandwiches so choose a high-quality, craftsman BBQ sauce. I tend to reach for Sweet Baby Ray's or Trader Joe's Texas BBQ sauce. Also, we pick up a homemade BBQ sauce from our local BBQ joint called Joe's BBQ in Gilbert, Arizona.
This Slow Cooker BBQ Beef Sandwich is paired with a simple crunchy coleslaw. I make my coleslaw pretty simple with a mix of crunchy cabbage, creamy mayonnaise, a touch of vinegar for tang, and spices. It doesn't get much easier!
A sturdy bun is a must when putting together the ultimate BBQ Beef Sandwich. A wimpy bun won't hold up against the saucy meat and creamy coleslaw. I chose a buttery brioche bun from the bakery and it held up perfectly.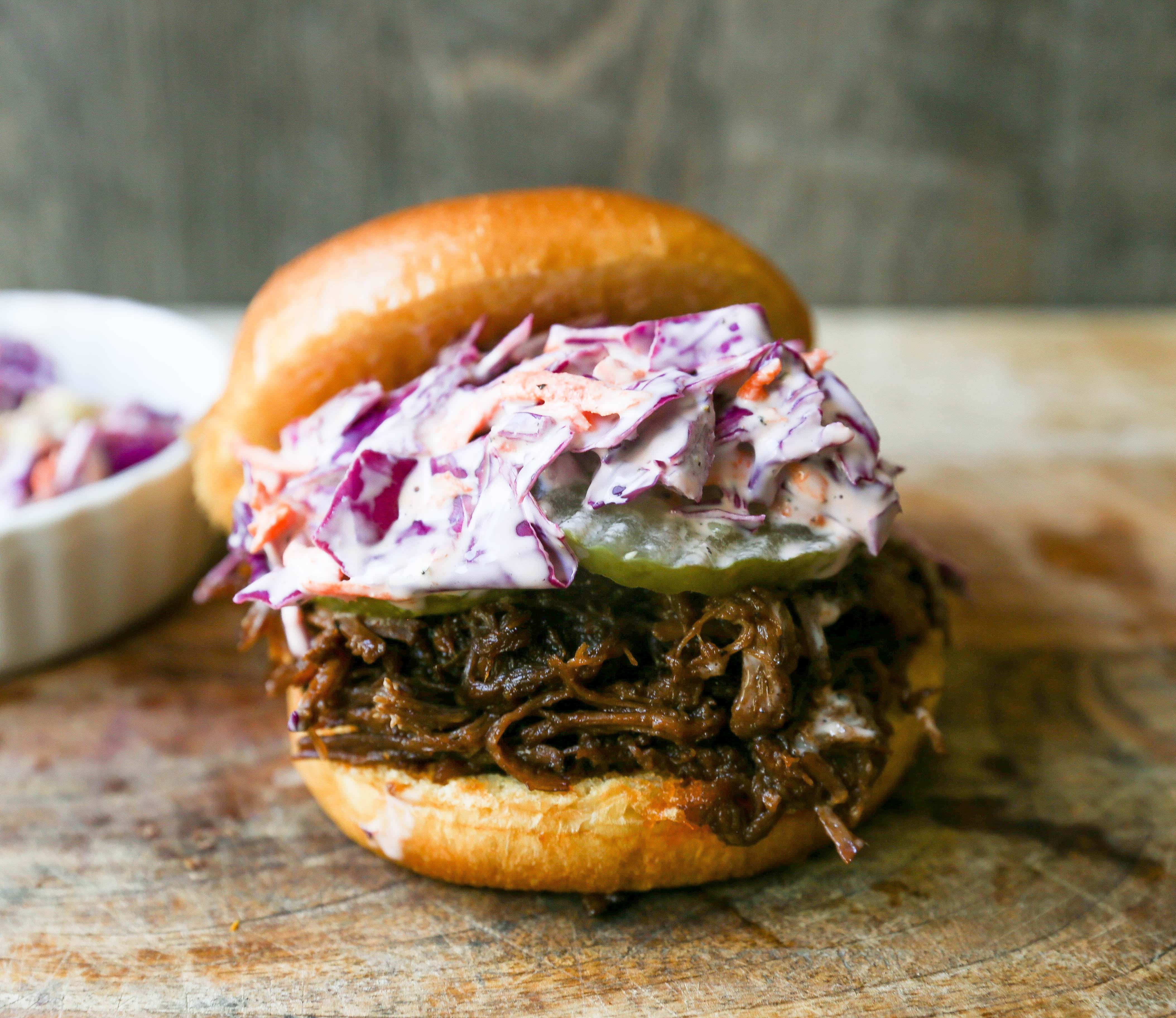 What type of beef to use?
I love a good chuck roast because it has a nice balance of meat and fat.  When cooked low and slow in a slow cooker, it is tender and juicy.  I watch for chuck roasts to go on sale for about $2.97/lb and then stock up. I even found them for $3.97/lb at my local Whole Foods and I stocked up.
How to make the Best BBQ Beef Sandwiches:
 Start by placing the chuck roast in a slow cooker. Generously season the beef with the spices. Set the crockpot on the low setting and cook for 8 hours. If possible, turn halfway through cooking time.
Once the meat is cooked and tender, take two forks and begin to shred the meat.  Taste for seasoning. Add bbq sauce and stir to coat. Heat for another 15 minutes.
Make a coleslaw by using a mix of cabbage, green onion, mayo, vinegar, a touch of sugar, and spices. When putting together the sandwich, place meat on top of the bun and then stack coleslaw on top.