An easy 3-ingredient Mexican slow-cooker Salsa Chicken meal made with chicken, salsa, and chipotle peppers. It creates a tender, flavorful chicken that can be used in any dish!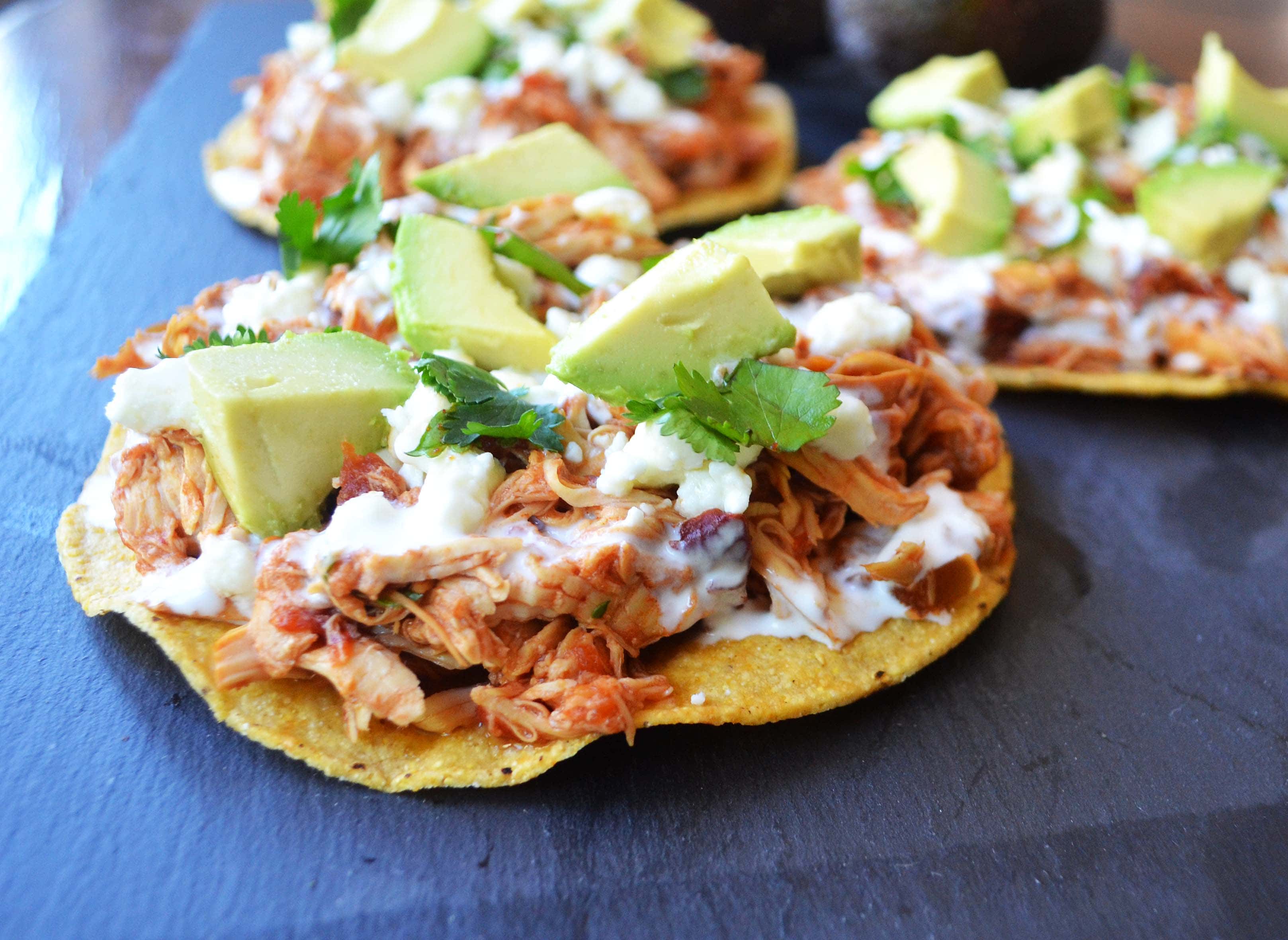 Slow Cooker Chipotle Chicken
The crock-pot may go down as one of the greatest kitchen inventions of all time.
It's the ultimate time saver and every food that enters it comes out tender and flavorful.
I have the most SIMPLE, the EASIEST recipe for you EVER.
This Mexican Slow Cooker Salsa Chicken is made in a crockpot and calls for just 3 ingredients. I kid you not.
We have been making this for years and my kids go crazy for it.  We eat Mexican food on the daily in our household so this is a staple in our home. We use this crockpot chipotle chicken for everything - topping crispy tostada shells,  filling tacos,  loading up the ultimate nachos, adding it to fresh salads, and being the star ingredient in our burrito bowl.
My friends and I swap dinner recipe ideas and I was shocked that not a single one of them have ever heard of making salsa chicken in the slow cooker. I was floored! This is as easy as it gets and everyone needs this in their dinner rotation.
It's three ingredients - chicken breasts, jarred salsa, and chipotle chilies.  We could even call this 2 ingredient salsa chicken because sometimes we even leave out the chipotles. Now, we are getting crazy.
It's hard to even call this a recipe.
When we are striving to eat extra healthy in our home, this is our go-to recipe for the week. We make a double batch, place it in the refrigerator, and we are all set with seasoned, flavor-packed protein ready at all times. And because this Mexican salsa chicken it's so adaptable, it can be the base for many family dinners.
How to make Chipotle Chicken Tinga:
Here's how you do it. Are you ready? It's going to take me less than 30 seconds to explain.
Slow Cooker Salsa Chicken: Take two pounds of chicken breast and place them in a slow cooker.  Add your favorite jarred salsa (we usually use La Victoria medium) and chipotle chilies in adobo sauce (optional). Place the crock pot on the low setting and cook on low for 6 hours or on the high setting for 4 hours. Take it out, shred the chicken, and you are done! It's unreal.
Top crispy tostada shells with the slow cooker salsa chicken. Sprinkle on cotija cheese (or monterey jack, feta, cheddar). Drizzle on Mexican crema or sour cream. Top with fresh avocado and cilantro.  Bam! Dinner is done and on the table.
If you want to be an overachiever, you can fry your own tostada shells.  It's an extra step but holy moly, it is good.  Fill a pan with about ½ inch of oil and heat over medium heat.  Once the oil is hot, place corn tortillas in pan and fry for 30-45 seconds per side. Using tongs, take off heat and place on paper-towel lined plate.
Thanks as always for your overwhelming support. Happy Eating!
PIN Slow Cooker Chicken Tinga on Pinterest: