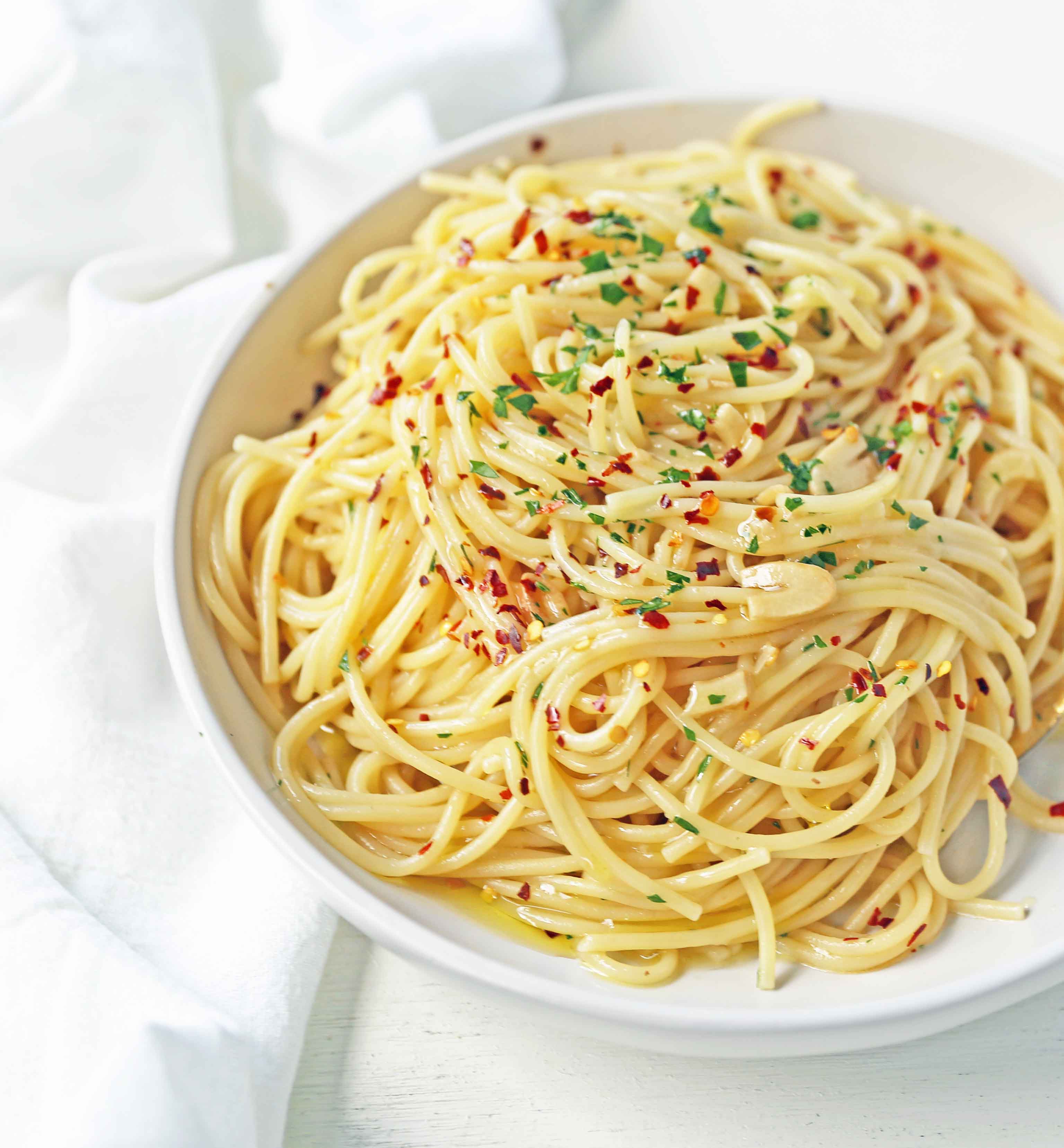 Spaghetti Aglio e Olio
Spaghetti tossed in sauteed garlic, olive oil, red pepper flakes, and fresh parsley. A quick and easy authentic pasta dish!
This is as easy as it gets. When you are too tired to even think about fixing dinner, this is what you whip up.  I have heard that many chefs during cooking school or after a long shift on the line, they come home and make Spaghetti Aglio e Olio. It is a big bowl of comfort food that is so simple and quick to prepare.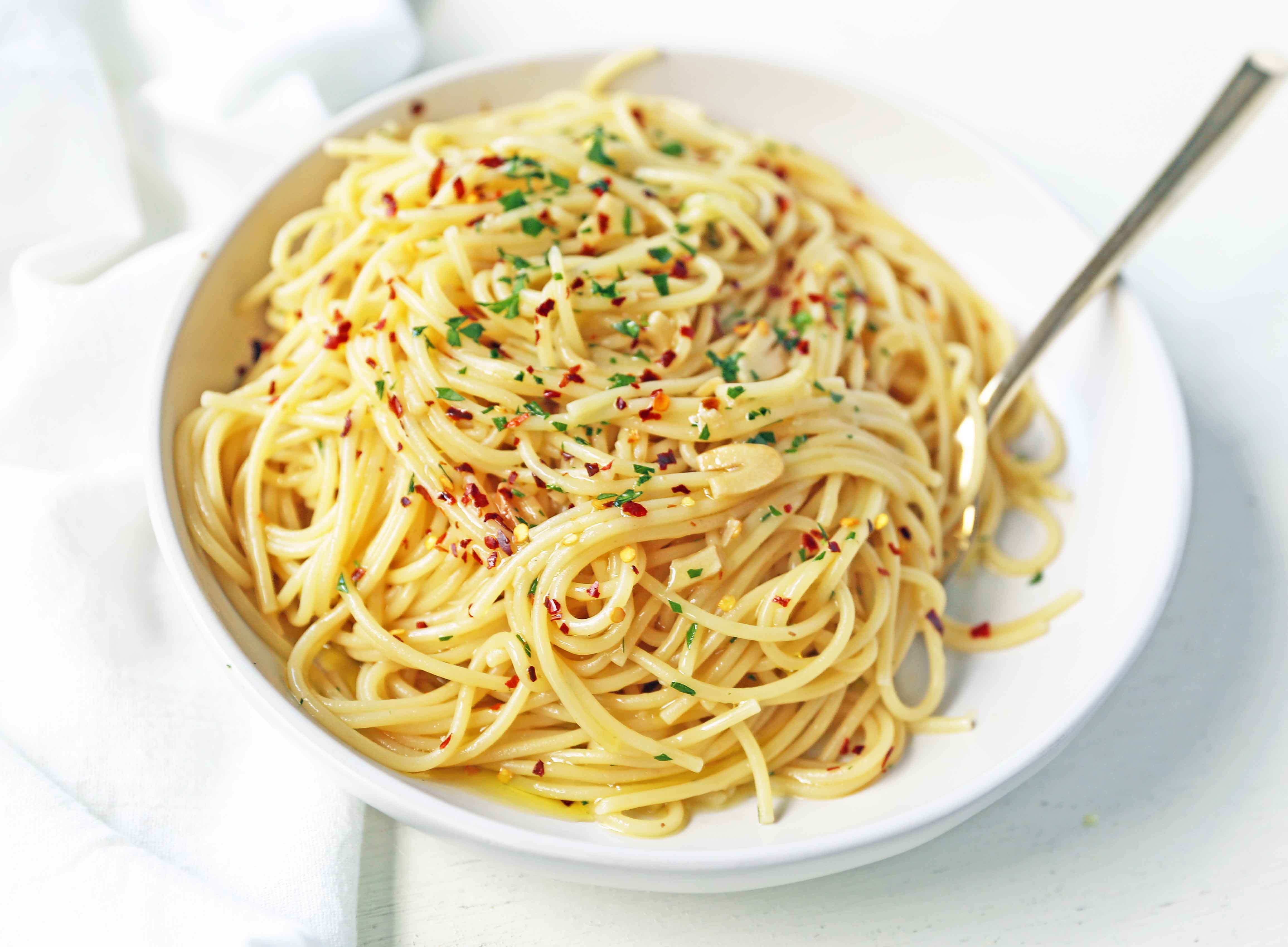 I love real authentic Italian food. Years ago I flew to Chicago to bake with Nestle for their "Bake Some Good" event. We baked goodies and then delivered them to a large homeless shelter in the area. It will go down as one of the best days of my life!
It was a whirlwind trip and I arrived the night before the event. Since I had never been to Chicago, I couldn't wait to venture out into the city. I started to walk the streets and I stumbled upon Eataly, a culinary mecca that I am obsessed with in New York City, and I found it in Chicago. This is what foodies like me dream about.  If you've never been to Eataly, put it on your list.
It is a two-story foodie paradise filled with all kinds of restaurants, bakeries, and you can even pick up your fresh produce while eating gelato.  I could spend an entire day there just eating my way through it! I found an area with cookbooks lined up the wall which is my kind of reading.  Then I found a large sign stating, "50% off all cookbooks." Are you kidding me? I just hit the jackpot! Well, except for the fact that I had ZERO room in my suitcase. This didn't stop me! I am one resourceful girl and there had to be a way.
I thumbed through stacks and stacks of cookbooks while I devoured some desserts.  That's my kind of multi-tasking.  I made the trek back to the hotel holding several heavy cookbooks. One was Lidia's Italian-American Kitchen, which has authentic Italian recipes. If only there was a hidden camera in my hotel room that night as I tried to stuff everything into one little carry-on.  I basically wore about 4 outfits on the plane. I kid you not. But the cookbooks and a ridiculous amount of Nestle chocolate I had to carry back home were definitely worth it!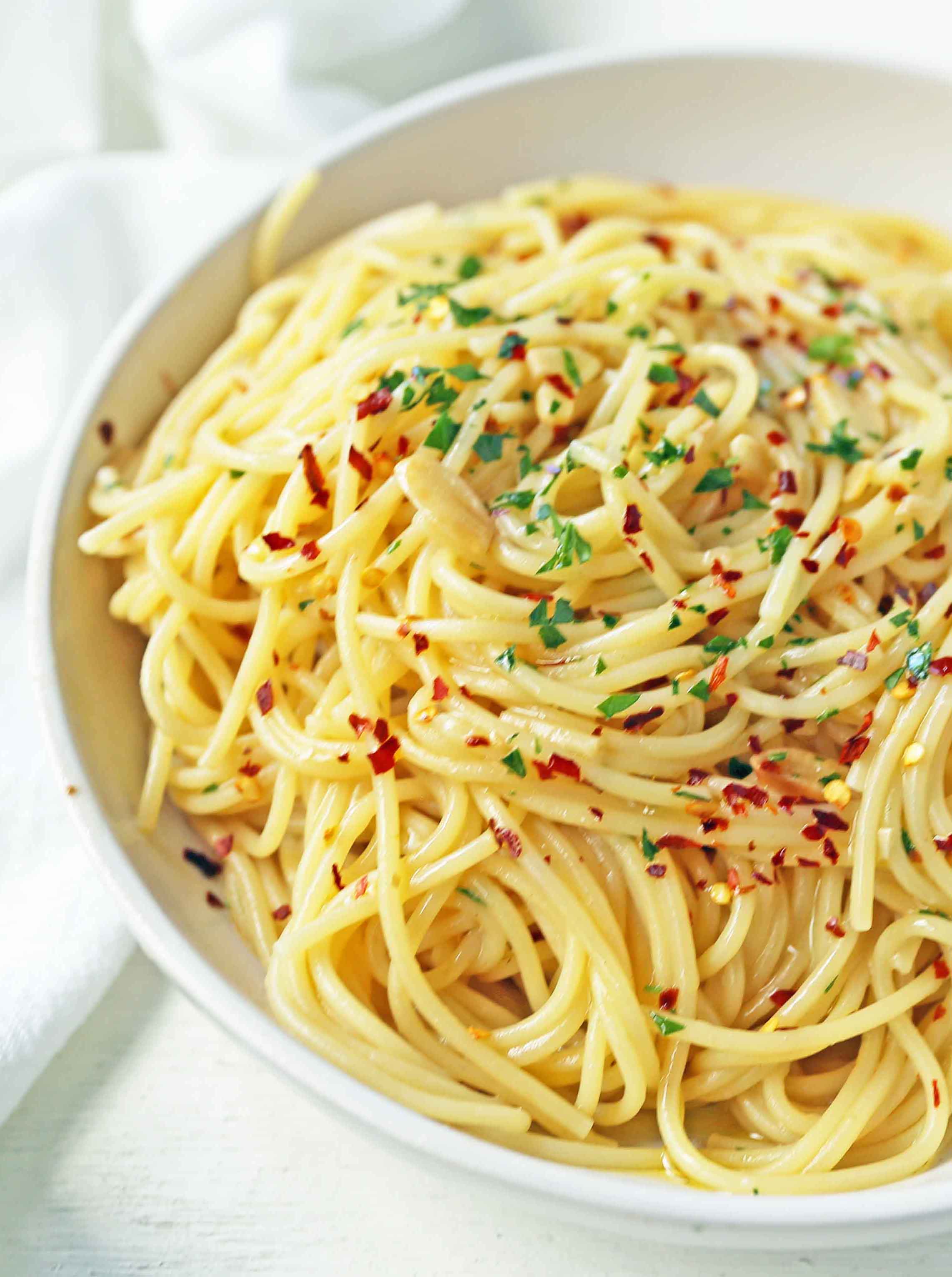 As I thumbed through the pages, the very first recipe I wanted to try was this Spaghetti Aglio e Olio which means Spaghetti with Garlic and Oil.  It was such a simple recipe but I loved how the garlic and olive oil were the stars of the pasta.  I was hooked after the first bite and now when I am feeling lazy and don't feel like whipping up an elaborate meal, this is my go-to pasta.
What is Spaghetti Aglio e Olio?
It is a classic Italian dish made with spaghetti, sauteed garlic, olive oil, crushed hot red pepper flakes, and chopped Italian parsley. A touch of freshly grated parmesan cheese can be sprinkled on the top.
Sometimes I change it up and sautee the garlic with half extra-virgin olive oil and half butter.  The butter gives it some extra rich flavor.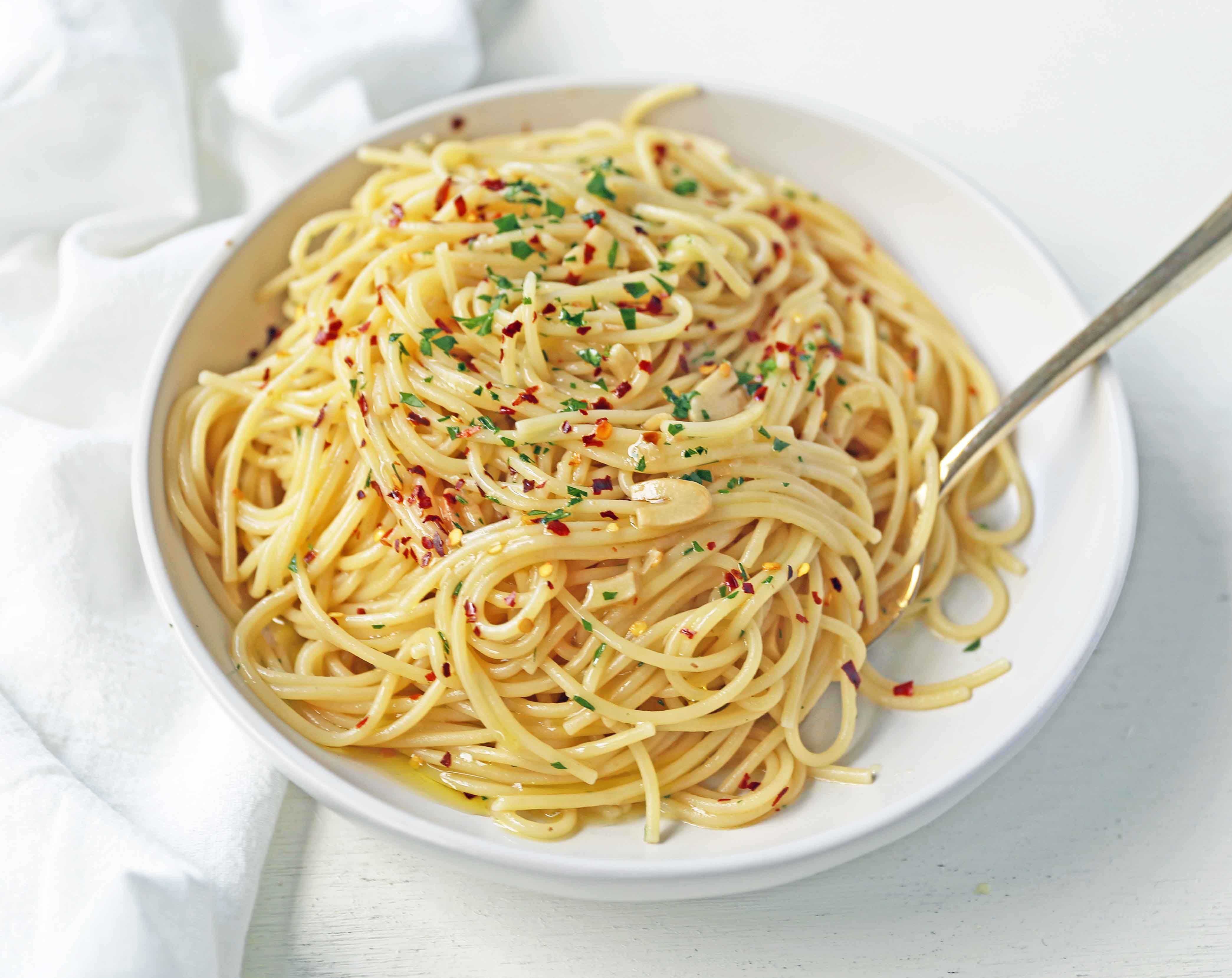 How to make Spaghetti Aglio e Olio (Spaghetti with Garlic and Oil):
 Bring 6 quarts of water to a boil over high heat.  Add a GENEROUS amount of salt to pot.  Stir the spaghetti into the boiling water.  Cook the pasta according to package instructions.
While pasta is cooking, heat olive oil over medium heat. Add sliced garlic and cook for 1 ½ - 2 minutes, watching carefully so the garlic doesn't burn. Garlic can burn quickly and can turn a bitter flavor. Once the garlic is softened, remove from heat and add red pepper flakes.
Add 1 ½ cups of pasta water. This water is salty and starchy and adds flavor to the sauce.
Once pasta is cooked, drain, and then toss with garlic and olive oil mixture. Toss with parsley and freshly grated parmesan cheese. Salt according to taste. If you like spicy foods, add a touch more red pepper flakes.