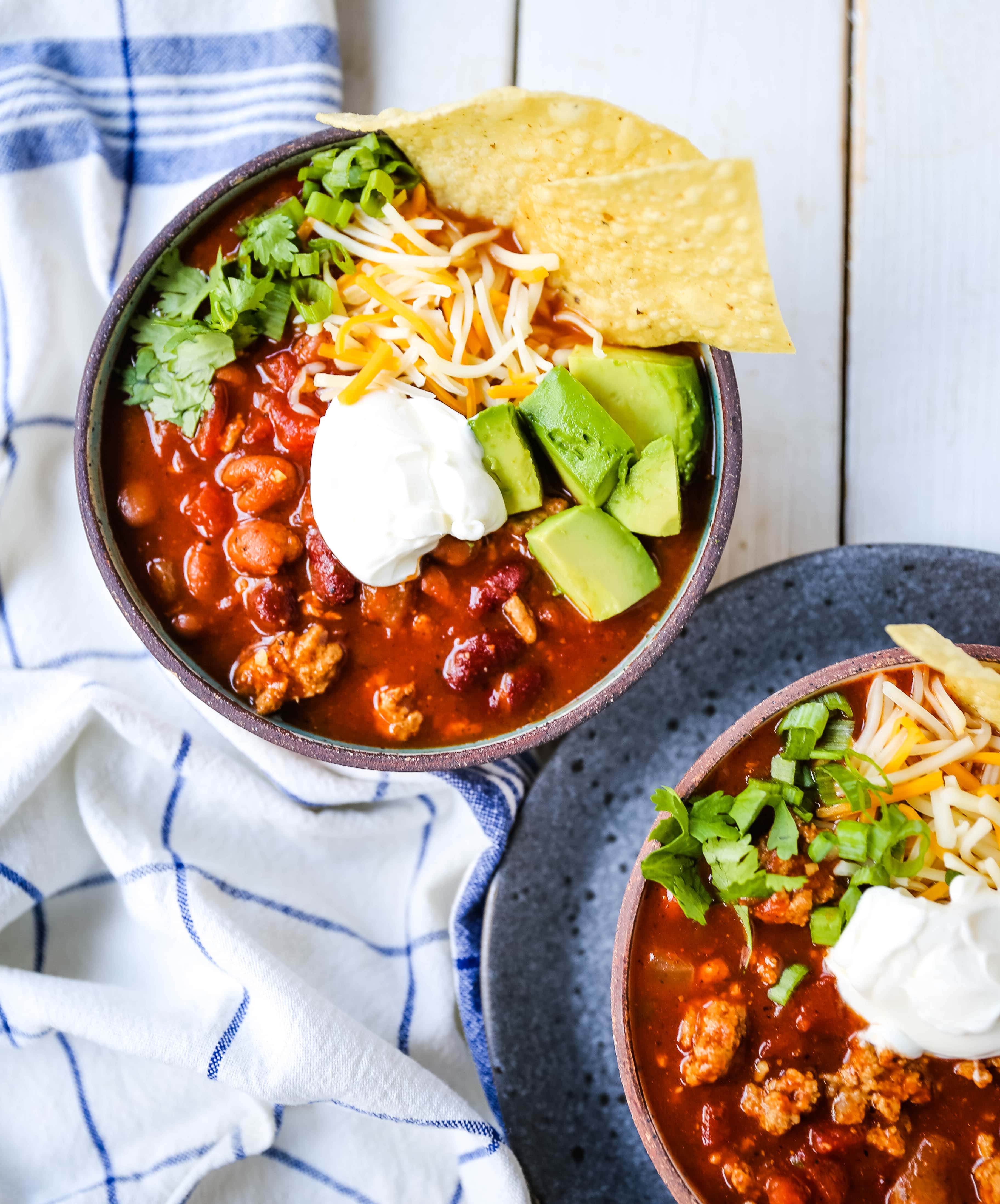 The Best Turkey Chili Recipe
Lean Ground Turkey, Seasoned Chili Beans, Tomato sauce, Spices and a few secret ingredients make this the best turkey chili recipe ever!
This Turkey Chili Recipe is legit good. It is all about the two secret ingredients that put it over the top. Now I take chili making pretty seriously. I have been entering chili contests since I was first married and have won first place in many of them! You can find my Award Winning Beef Chili Recipe HERE.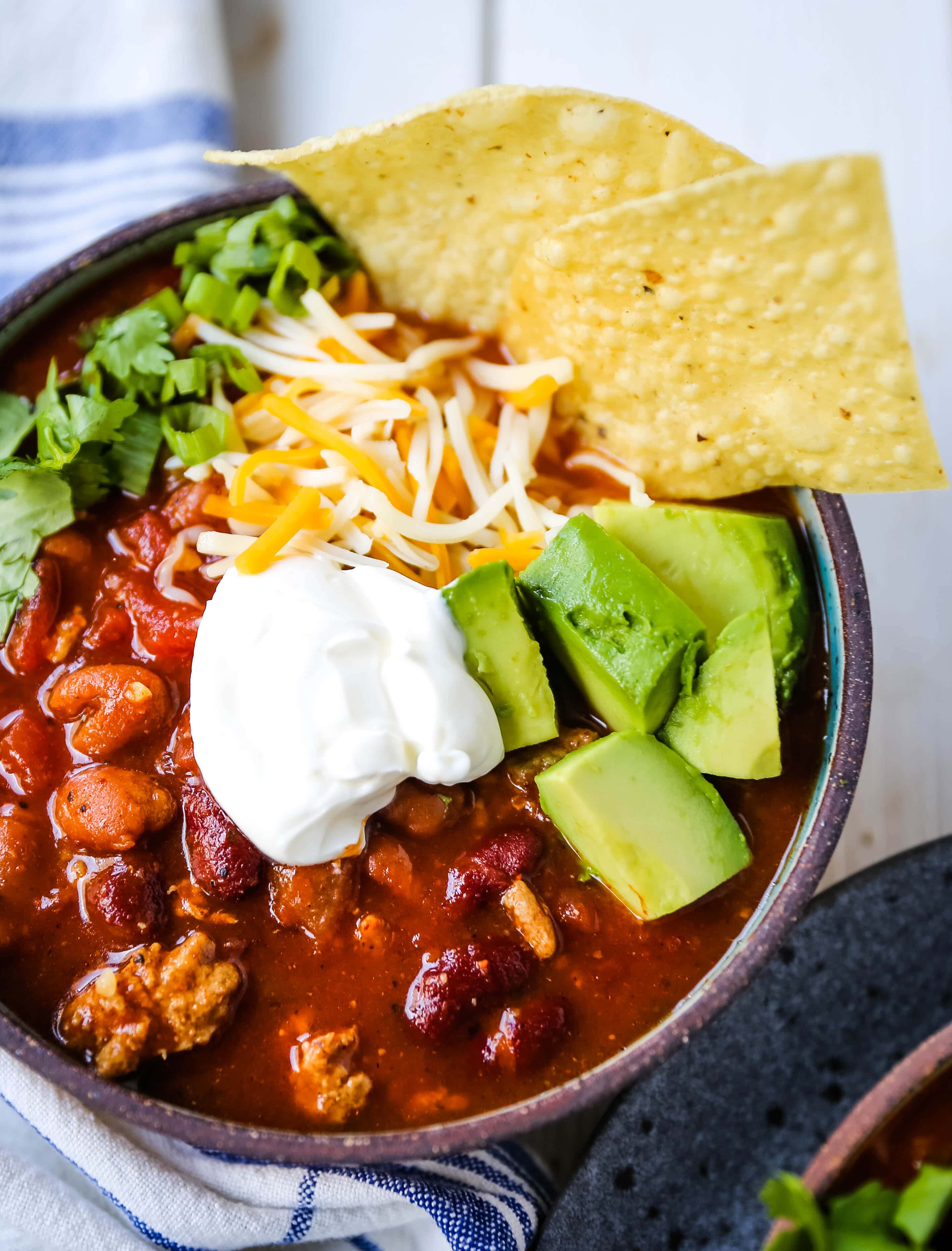 Since we are officially in September, we can start talking about Fall and tailgating food. I live in the middle of the desert which means it doesn't cool off until November but I like to pretend it is Fall weather here in Arizona. I am a diehard sports fan and we are flying up to Utah to cheer on our favorite college football team this weekend (and of course visit our daughter in college). I am counting down the days!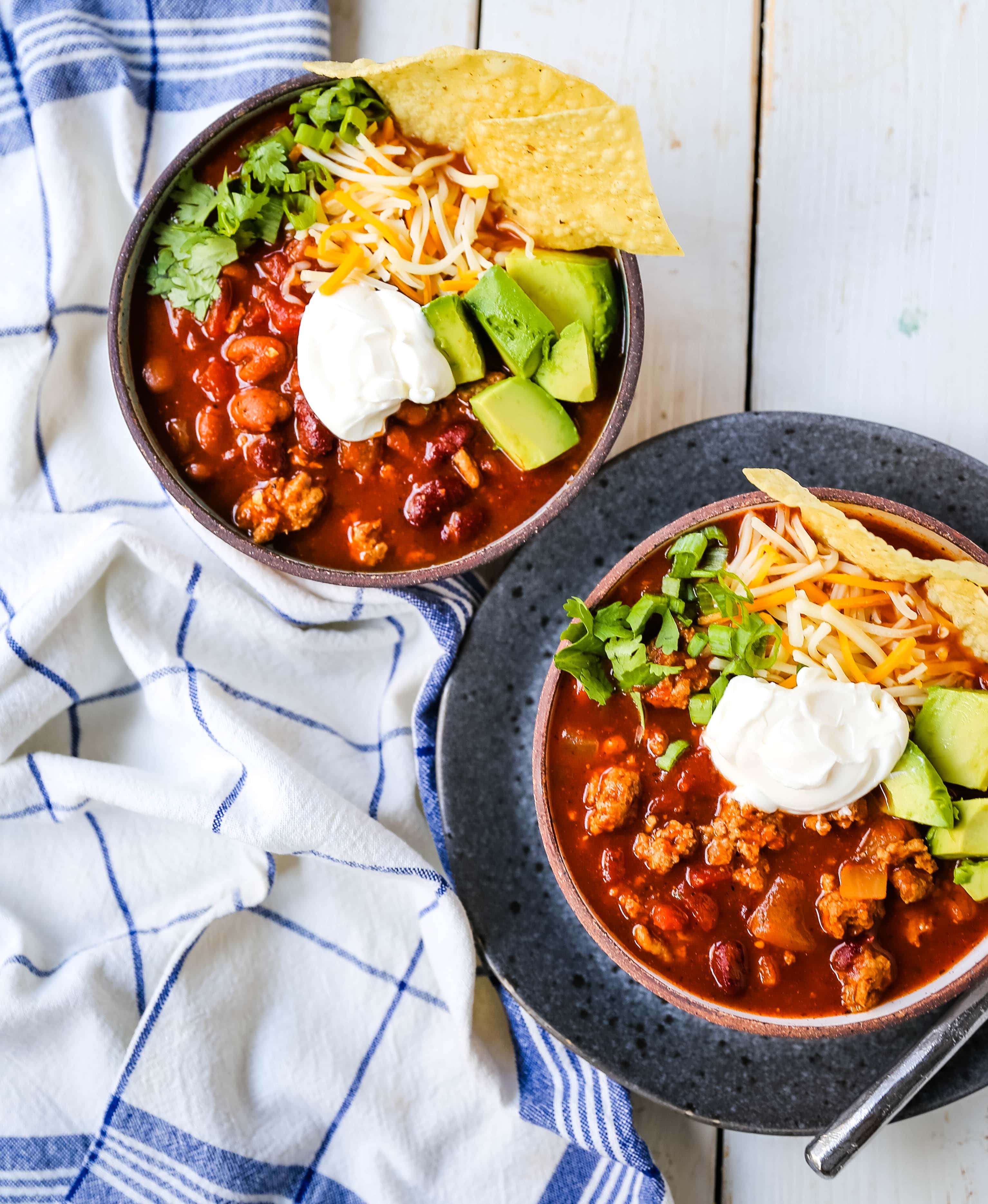 Anytime we watch a football game, we make sure to eat some game food. A big bowl of turkey chili is one of our go to's during football season. It is so fun to serve a crowd since you can put out a big bowl of turkey chili and then all of the toppings -- cheese, sour cream, tortilla chips, cilantro, jalapeño, avocado, and anything else you can dream up! It is such a comforting food and everyone loves a good bowl of chili.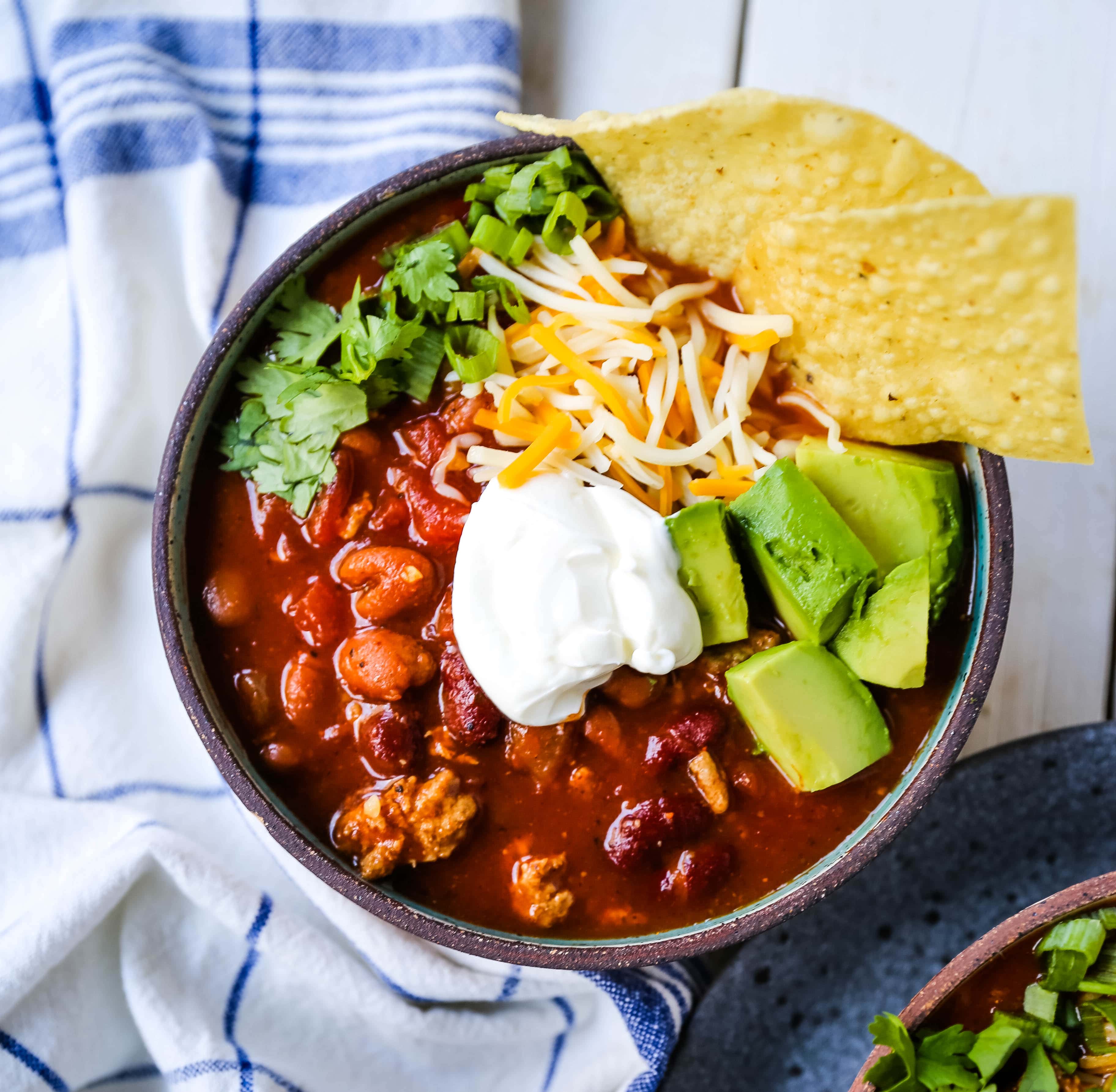 There are a few secret ingredients that set this turkey chili apart from the rest.  I believe that every chili should be full of flavor and have a base of sautéed onion, tomato sauce, and petite diced tomatoes. But the real flavors comes from the taco seasoning, chili powder, and the two secret ingredients -- Dr. Pepper (or Coke or Root Beer) and ranch dressing powder. It may sound a tad crazy but just trust me on this one! They are the game changing ingredients.
I love to use ground turkey in this turkey chili recipe because it makes it leaner and cuts out some of the fat. This is a gluten-free, dairy free recipe and is full of protein and fiber.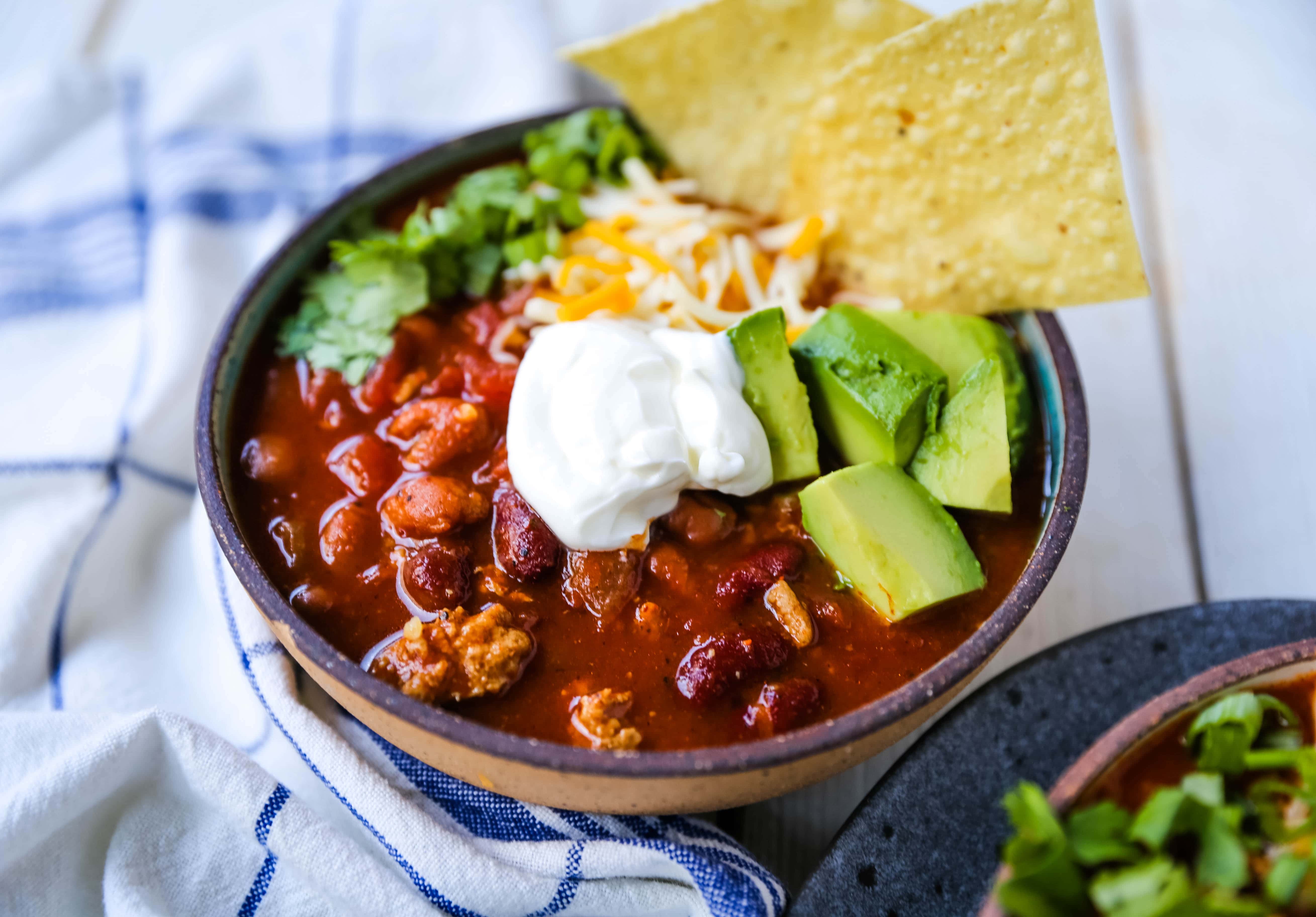 How to make the Best Turkey Chili:
 Start by sautéing diced onions in olive oil. This is an important step to allow the onions to soften before adding the ground turkey. I suggest allowing the onions to saute until softened -- about 7-8 minutes.
Add ground turkey. I suggest using 93% lean turkey so it has enough fat in it.  Saute it with the onions until no longer pink and completely cooked through. Sprinkle with garlic salt and pepper.
Stir in your favorite soda of choice -- Dr. Pepper, Coke, or Root Beer. I have tried this recipe with all 3 sodas, depending on what we have on hand at the time. This recipe turns out well every single time with any of the dark colored sodas.
Stir in tomato sauce and petite diced tomatoes. I prefer to use the petite diced tomatoes. If you want a thicker chili, drain the liquid from the tomatoes.
Stir in spices and more salt and pepper, if needed. Taste and check for seasonings.
Serve with grated cheese, sour cream, avocado, tortilla chips, jalapeños, and cilantro.
If you want an amazing, award-winning Beef Chili Cook-Off recipe, click here.