It wouldn't be Easter season without an elegant fruit tart at the table. This tart has a white chocolate macadamia nut sugar cookie base, topped off with a sweet almond cream cheese topping and covered in a gorgeous array of fresh fruit. The cookie is lightly sweet and chewy and the addition of white chocolate chunks, macadamia nuts, and a touch of coconut is the perfect accompaniment to the fresh fruit.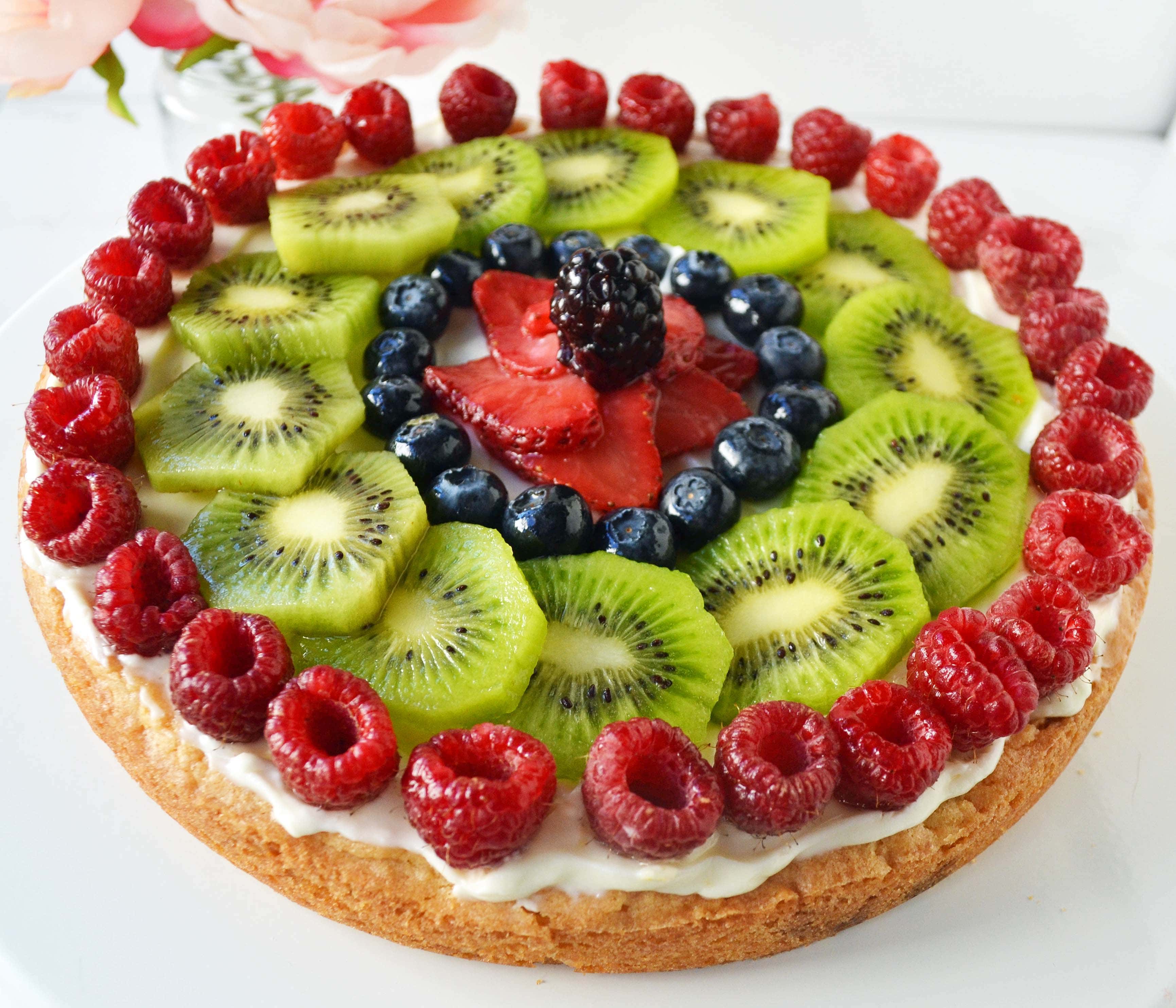 If my daughter could pick out her most loved dessert of all time, this would be it. She is now a full-blown teenager but she was born with the desire to eat every fruit and vegetable on the planet.
When she was young, I would buy the typical kid food such as goldfish and fruit snacks, only to find her crawling on the grass outside stealing the carrots from our bunny.
When she was young and had to survive 3 hours of church on Sunday, I would load my diaper bag full of snacks to help keep her happy. One day she looked at what I brought and threw them down in a fit! She let me know in no uncertain terms that she wanted peppers. Green peppers! So the next week, I filled some small ziploc bags with green peppers and carrots. I will never forget sitting behind my brother and him turning around saying, "what is that smell?" He then looked in bewilderment at my two year old chomping on green pepper strips.
With my other kids, I would bribe them into the grocery cart by promising them we would go to the bakery and get a cookie if they were well behaved in the store while Mommy shopped. Sierra was a different story. I would tell her that she could pick out the biggest green pepper we could find and she would proceed to eat it like an apple through the store. You wouldn't believe the looks I would get from people!
To this day, she still can't live without her fruits and veggies. Actually, her Grandma somehow convinced her that her first email address should be sierraluvsveggies, which she is mortified of now. She can't eat something sweet without wanting to balance it out with something healthy.
This White Chocolate Macadamia Fruit Pizza Tart is the best of both worlds for her with the combination of a cookie and fruit. It's dessert perfection! This fruit pizza tart is so versatile as you can top it with all your favorite fruits. The sweet cream cheese spread can be flavored with almond extract, vanilla, or fresh lemon juice depending on what your taste buds are craving. My daughter loves everything with almond extract while my Aunt Cindy won't touch anything with it so feel free to change it up. If you don't love coconut or macadamia nuts, take them out. The sugar cookie crust will still knock your socks off.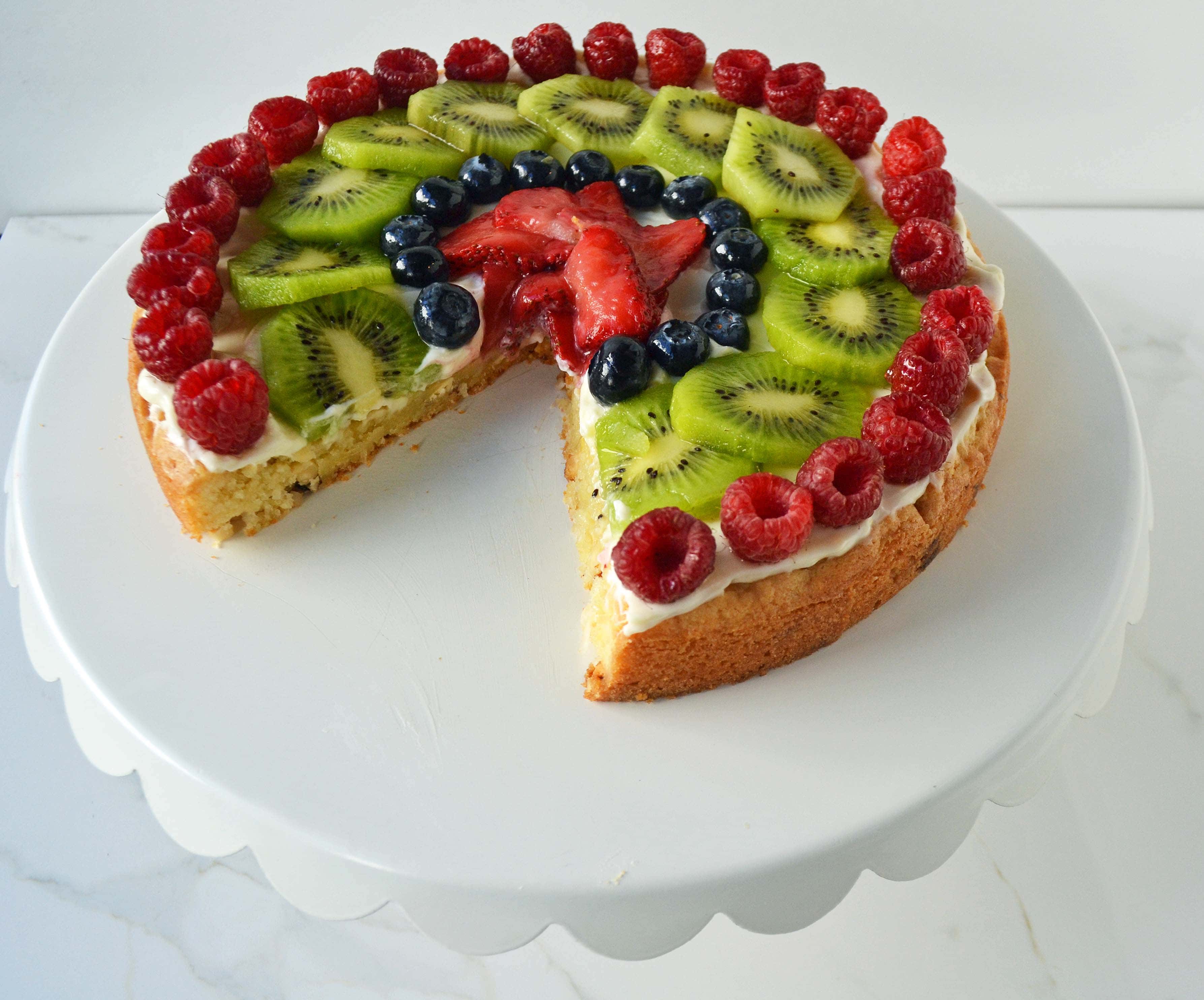 Pin this now to find it later
Pin It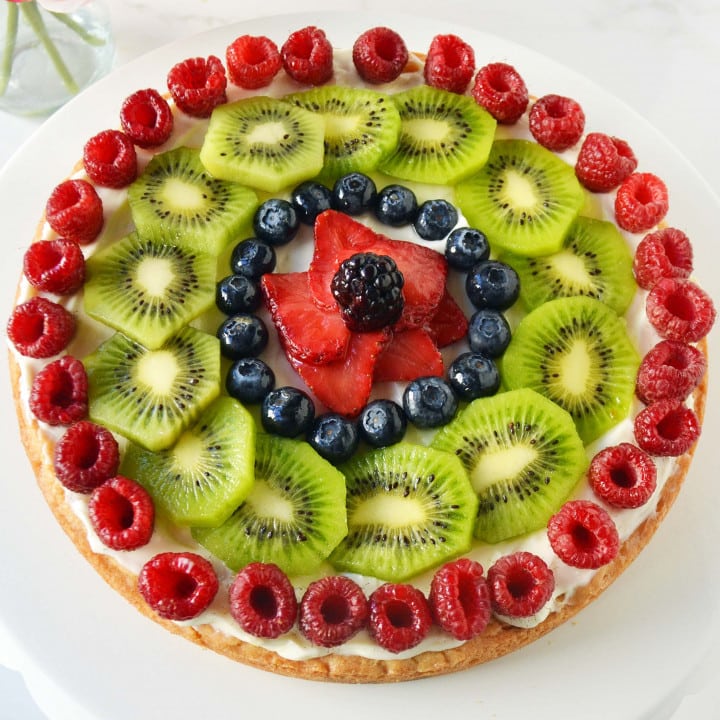 White Chocolate Macadamia Fruit Pizza Tart
This fruit pizza has a sugar white chocolate macadamia nut cookie base, topped off with a sweet almond creamy cheese topping and covered in a gorgeous array of fresh fruit.
Ingredients
White Chocolate Macadamia Cookie Base:

1/2

cup

Butter

softened

3/4

cup

Sugar

1

Egg

1

teaspoon

Pure Vanilla Extract

1

cup

+ 2 Tablespoons Flour

1/2

teaspoon

Baking Powder

1/4

teaspoon

Cornstarch

1/4

teaspoon

Salt

1/2

cup

White Chocolate Chips

1/4

cup

Macadamia Nuts

chopped

1/3

cup

Sweetened Flaked Coconut

Spread:

8

ounce

pkg. Cream Cheese

softened

1/2

cup

Powdered Sugar

1/2

teaspoon

Pure Almond Extract or 1 teaspoon Vanilla

1/2

teaspoon

Lemon Zest

Fresh Fruit:

1

cup

Strawberries

sliced

1

cup

Blueberries or Blackberries

1

cup

Kiwi

sliced

1

cup

Raspberries

1

Nectarine

Glaze:

2

Tablespoons

Orange Marmalade
Instructions
Heat oven to 350 degrees.

In large bowl, cream together butter and sugar for 3 minutes, until fluffy. Add egg and vanilla and beat until creamy. Stir in flour, baking powder, cornstarch, and salt. Add white chocolate, nuts, and coconut and stir until combined.

Lightly spray 9 inch springform pan with cooking spray. (If you use a pizza pan, cook for 10-14 minutes, as the crust will be thinner). With fingers, press cookie dough into pan. Bake for 16-22 minutes. Let cool.

For spread, beat cream cheese and powdered sugar until creamy. Add almond or vanilla extract, depending on taste preference and lemon zest.

Spread over cooled cookie crust.

In small bowl, heat marmalade and 2 Tablespoons of water in microwave for 15-20 seconds or until warm.

Arrange the fresh fruit on cookie tart in desired pattern. Brush with glaze. Slice and serve.
Nutrition information is automatically calculated, so should only be used as an approximation.
This is the perfect end to your Easter meal or Spring and Summer festivities.
Happy Baking! xo