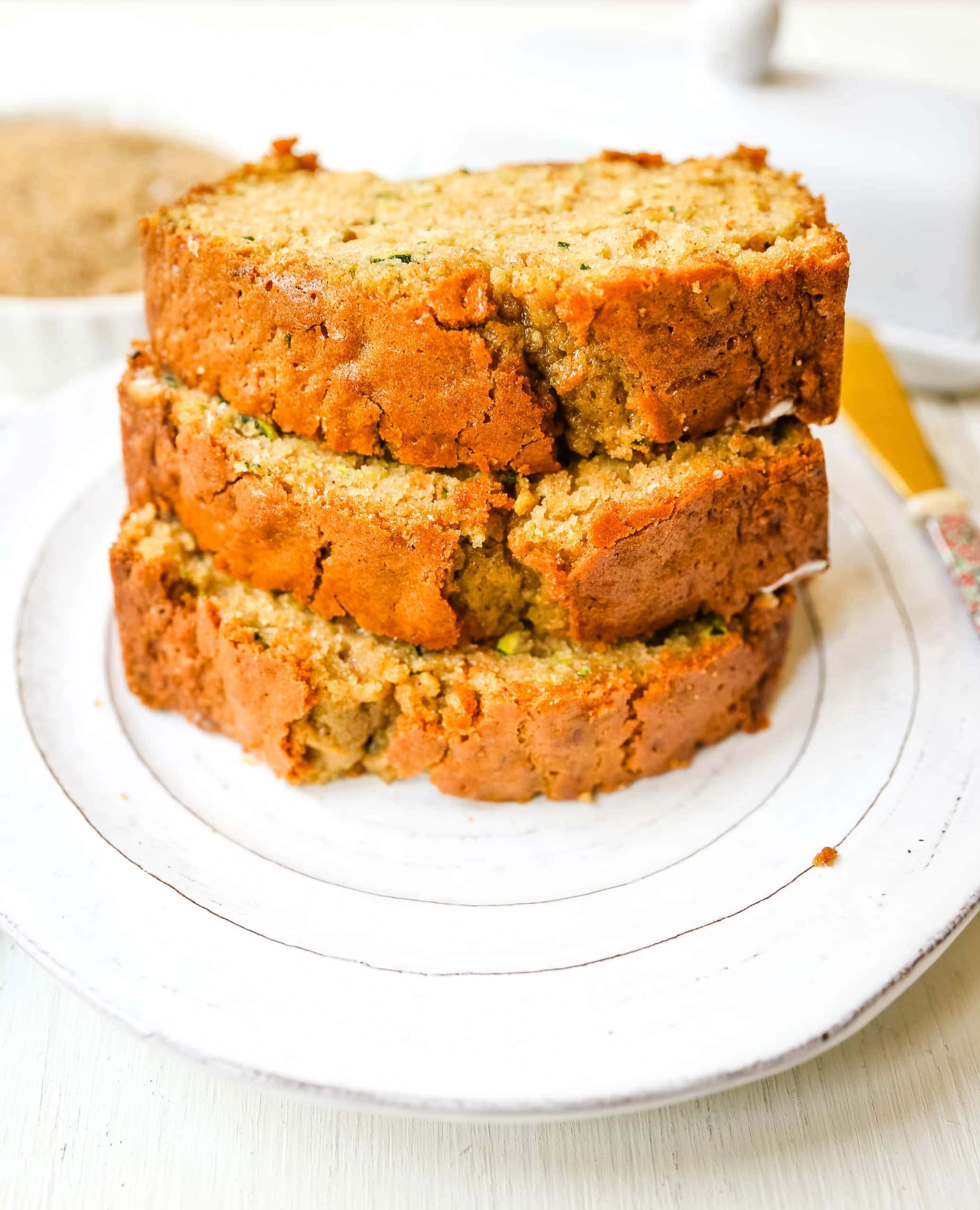 Zucchini Bread
This moist, sweet zucchini bread with a touch of spice is the best zucchini bread recipe out there!
Sometimes you have to eat a lot of zucchini bread in the quest for perfection. This truly is the best zucchini bread in the world. That's a lofty claim, I know. But it is basically foolproof and even the pickiest eaters love it!
Since I make zucchini bread all of the time, we have it on hand for a quick breakfast or snack. I recently had a group of 12-year old girls over at my home and only 1 of the 8 had ever tried zucchini bread. Most of them looked at it with great suspicion and no one was jumping at the chance to try bread with zucchini in it! However, I encouraged them to try it and from the other room, I could hear their responses. They loved it...and even asked if there was more.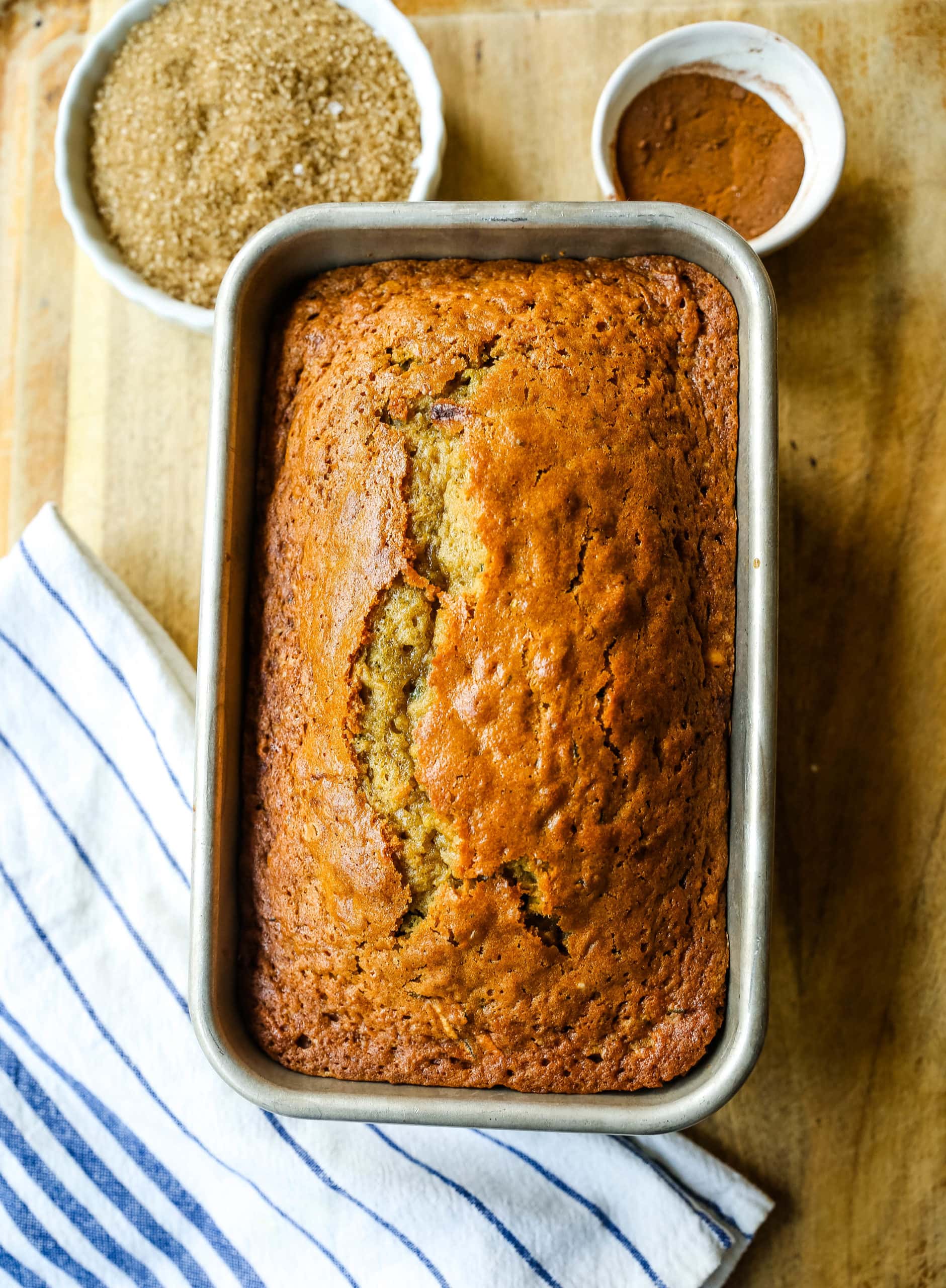 It is not safe for zucchini bread to be alone in the house with me because I cut a small piece, slather it with sweet cream butter, and then go to the couch to continue watching Sanditon. Then two minutes later, I am up again, cutting myself another piece, eating it again, and then repeating. It is definitely addicting!
What makes this the best Zucchini Bread out there? I have used both butter and oil in my zucchini bread and found the oil creates the moistest bread. I also use a mix of brown sugar and sugar which helps to create a chewy texture and the sugar helps to create a sugary top.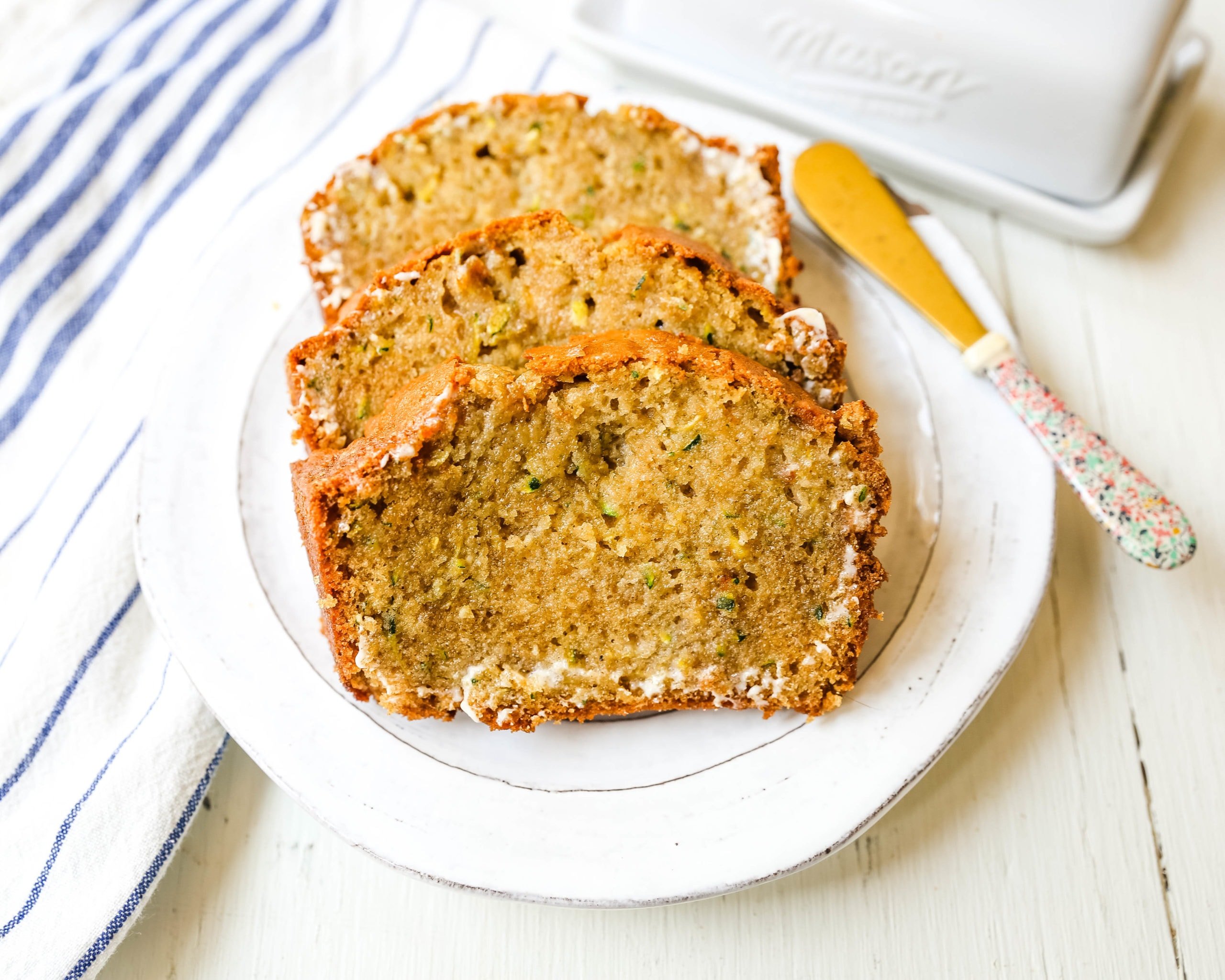 This homemade zucchini bread recipe calls for a mix of cinnamon and nutmeg. Some people like a lot of spice in their zucchini bread. I prefer it to be lightly spiced so if you are a cinnamon lover, please feel free to add more! Pure vanilla extract really makes a difference in the flavor of this zucchini bread.
I use a box grater to grate the zucchini and leave the peel on. I just wash the zucchini and give it a good scrub to make sure to remove any dirt and pesticides. Cut off the ends and grate the rest of the zucchini. Don't worry about draining the zucchini. We want all of that natural moisture!
I bake my zucchini bread in this aluminum bread pan and it helps to cook it evenly. This is a one bowl zucchini bread recipe so you can throw everything in one bowl and just give it a stir. You don't get easier than that!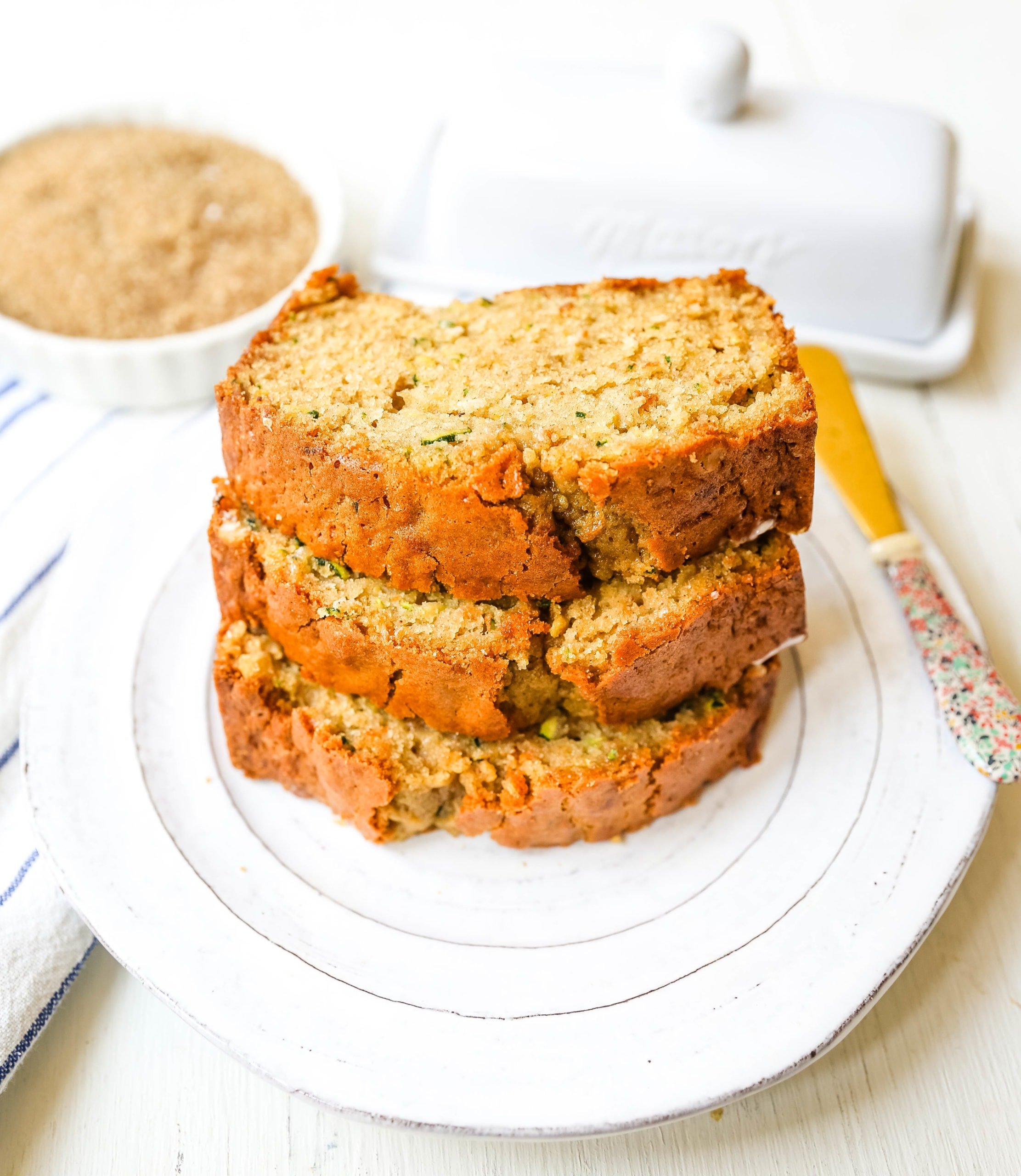 Tips and Tricks for making the Best Zucchini Bread:
Start by grating the zucchini. Give it a good wash and scrub to remove dirt and pesticides. Grate the zucchini and make sure to firmly press down the zucchini in the measuring cup to get an accurate measurement. No need to drain the zucchini on paper towels -- just throw it into the bowl.
Use your favorite type of oil. I usually reach for canola oil since it has a very neutral flavor profile and doesn't compete with other flavors. You may also use vegetable oil or possibly extra-virgin olive oil. EVOO may offer a stronger flavor in the bread, especially if it isn't super fresh.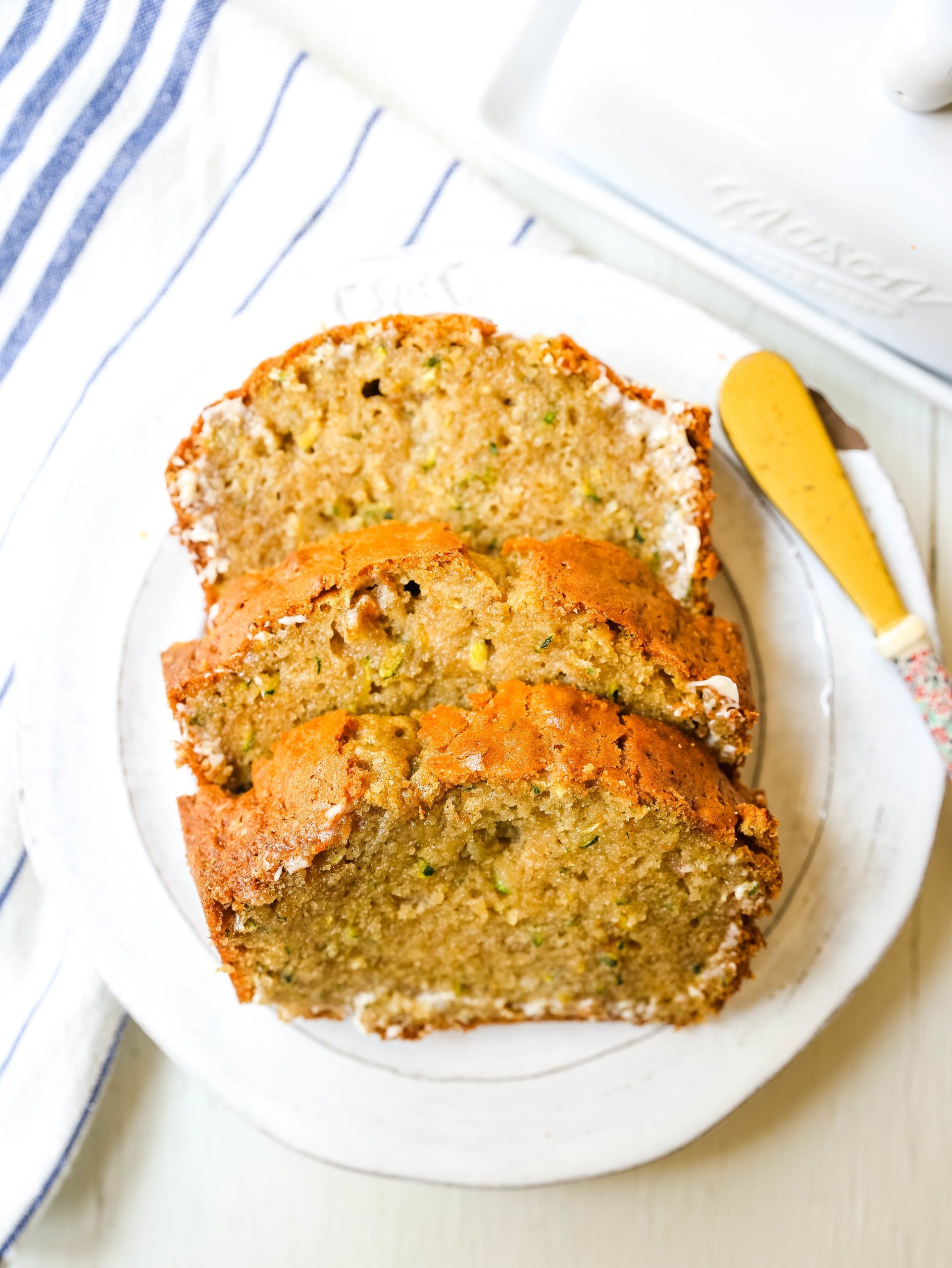 Bake for 40 minutes and then place a long piece of aluminum foil over the bread, to keep the bread from over-browning on the top. I will usually tent the foil to allow the bread to rise in the center. Don't place firmly on top of the bread or it may not rise. Continue to bake for about 15 minutes longer. Watch carefully as oven temperatures may differ. If you want a sugared top, this is a good time to sprinkle sugar all over the bread and return to the oven.
Let cool to room temperature before removing from the pan. To expedite the cooling, I will put the bread into the freezer for about 20 minutes to allow it to firm up. Serve it with sweet cream butter.