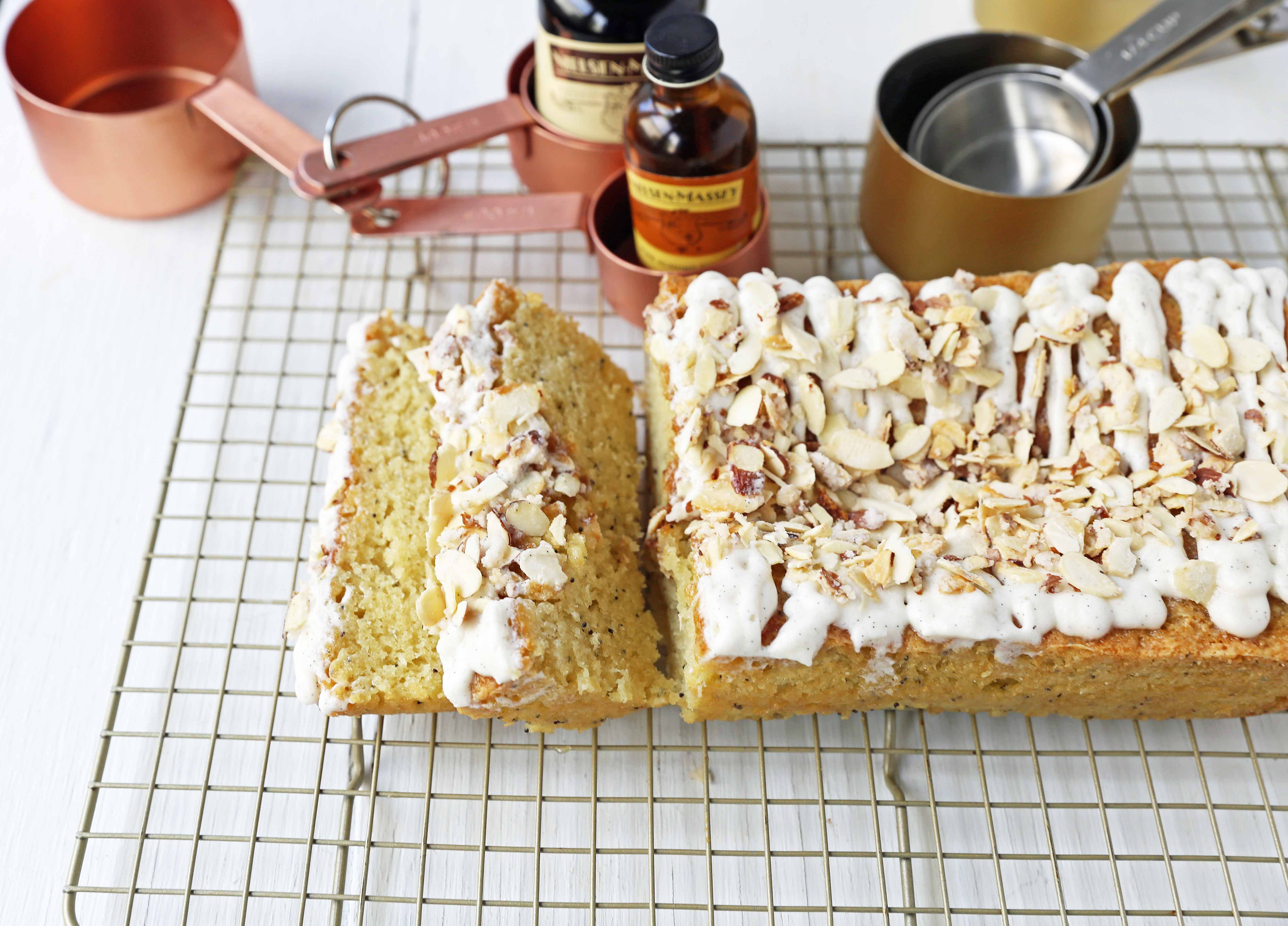 Almond Poppy Seed Bread
Homemade moist almond loaf with sweet almond glaze and candied almonds
I grew up watching my Mom and Grandma spend hours in the kitchen baking for those they love. I would slip on my Mom's red checkered apron, climb on the stool, and would gladly take my post as their official taste taster. I loved the feeling of being in the kitchen and wanted to be just like them when I grew up!
Fast forward to years later when I became old enough to bake on my own.  It became something I literally asked my Mom if I could every single day. I would run home from school, scramble to finish my chores, open the cookbooks for inspiration, and get baking! I would get out all of Mom's cookbooks, sprawl out on the family room floor, and start marking them up. For my 16th birthday, I literally asked for the "Search for the Best Chocolate Chip Cookie" Cookbook. True story. I still have the cookbook!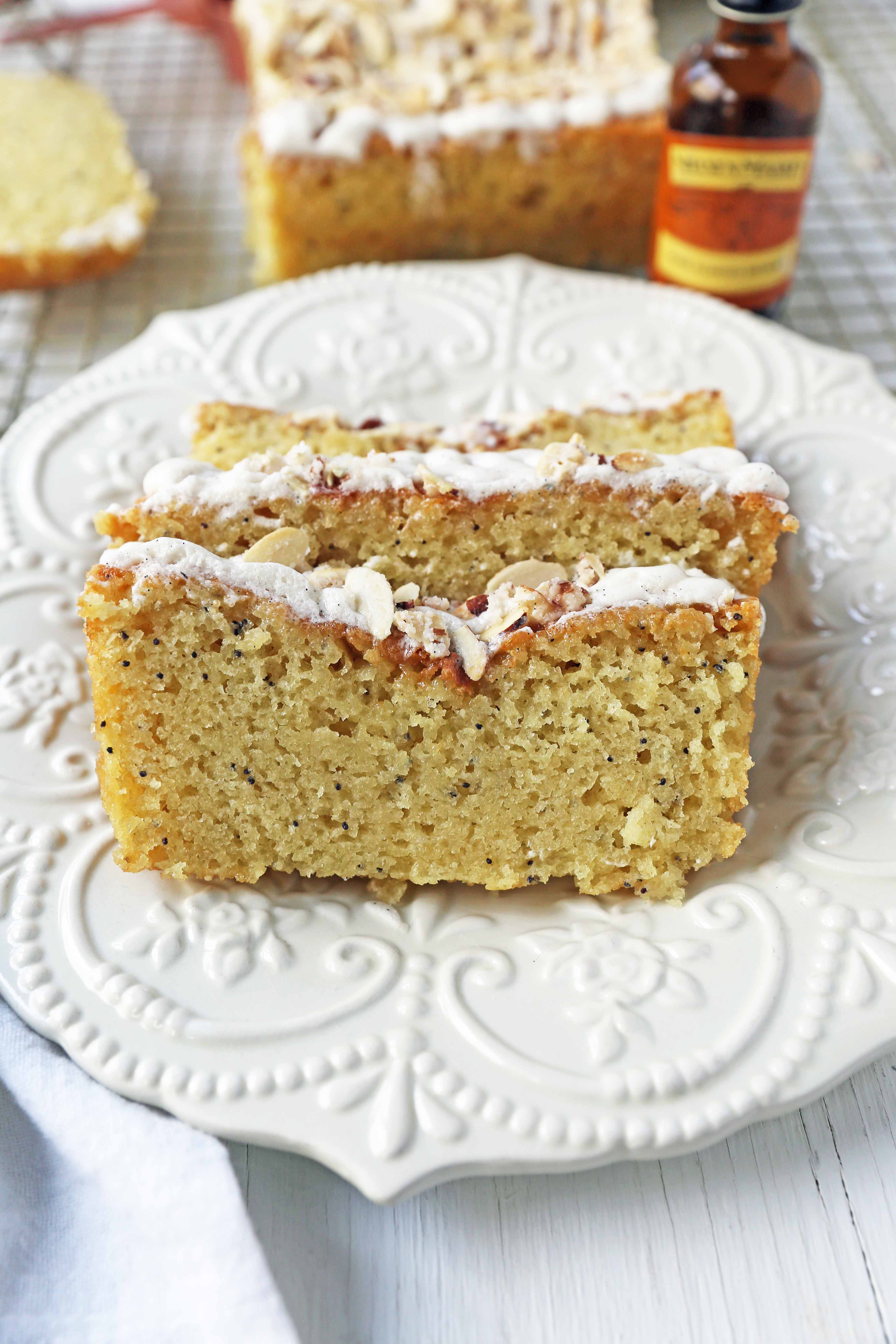 When I got married and started having kids, I was able to stay home and raise them. I became a baking machine. It became one of the activities I loved to do the most with my kids. It was then that I started deviating from the cookbooks. I would analyze every recipe and wonder if I could tweak a few things to make it even better. This became my creative outlet!
This is what I love to do; it is what I crave. If I go on vacation and have been without a kitchen, I literally can't wait to get back into the kitchen and bake up a storm! It is something I enjoy doing to relieve stress and just relax. Baking is an expression of love for me and it is one of the ways I show love to my kids.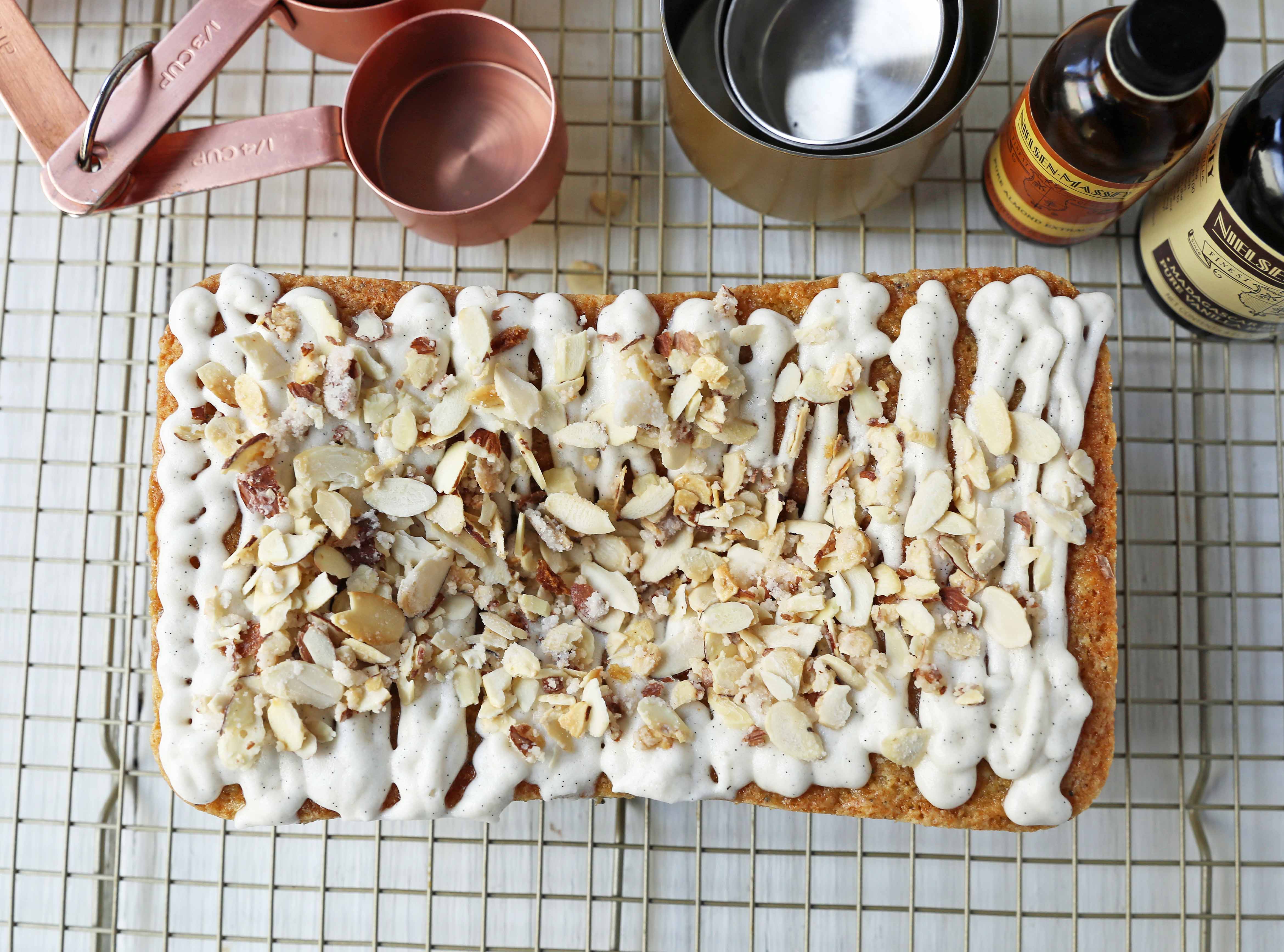 It's that time of year! This is the month of gifting and baked goods are at the top of the list. I am always trying to figure out what to give my neighbors and friends during the Christmas season.  This year the almond poppyseed loaf with sweet almond glaze and candied almonds won! It is always such a hit!
This almond poppyseed is so perfectly moist with the perfect balance of sweetness and nutty almond flavor. It is extra moist from a balance of three heavy hitters in the baking arena -- butter, sour cream, and buttermilk. Each of them plays an important role in making the perfect almond loaf.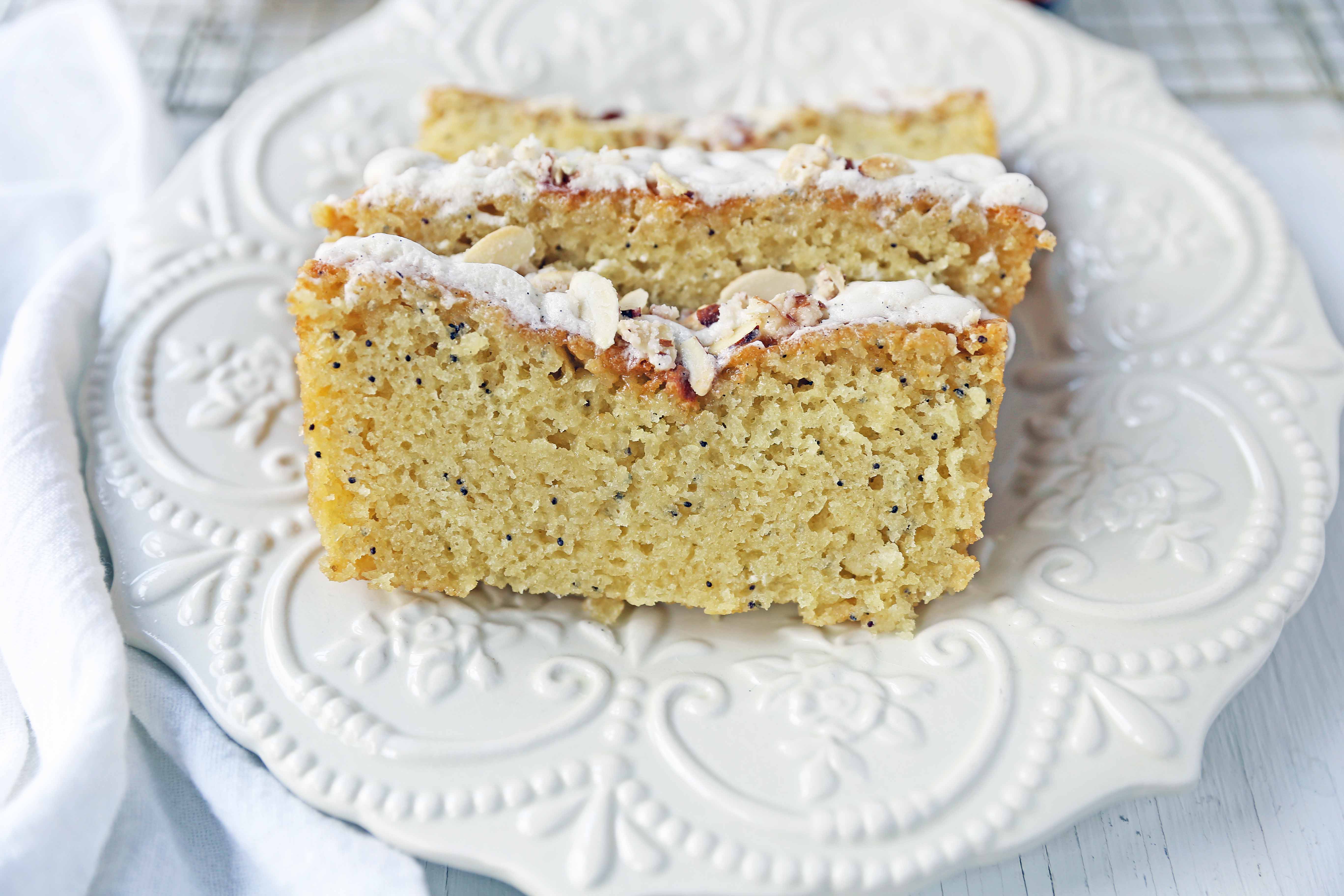 To create this perfect almond poppyseed bread, I baked 4 different variations, trying to figure out the best one. This recipe won by a landslide because of its moist texture with just the right amount of sweetness.
I have always been a huge fan of using Nielsen-Massey products. I absolutely love their Pure Almond Extract! They use as few ingredients as possible when producing their extracts to create the highest-quality product. Their Pure Almond Extract is made with the purest oil of bitter almond to deliver optimal results in flavor and quality. Also, all Nielsen-Massey products are all-natural, GMO-free, certified gluten-free, and allergen-free, which makes this mama happy!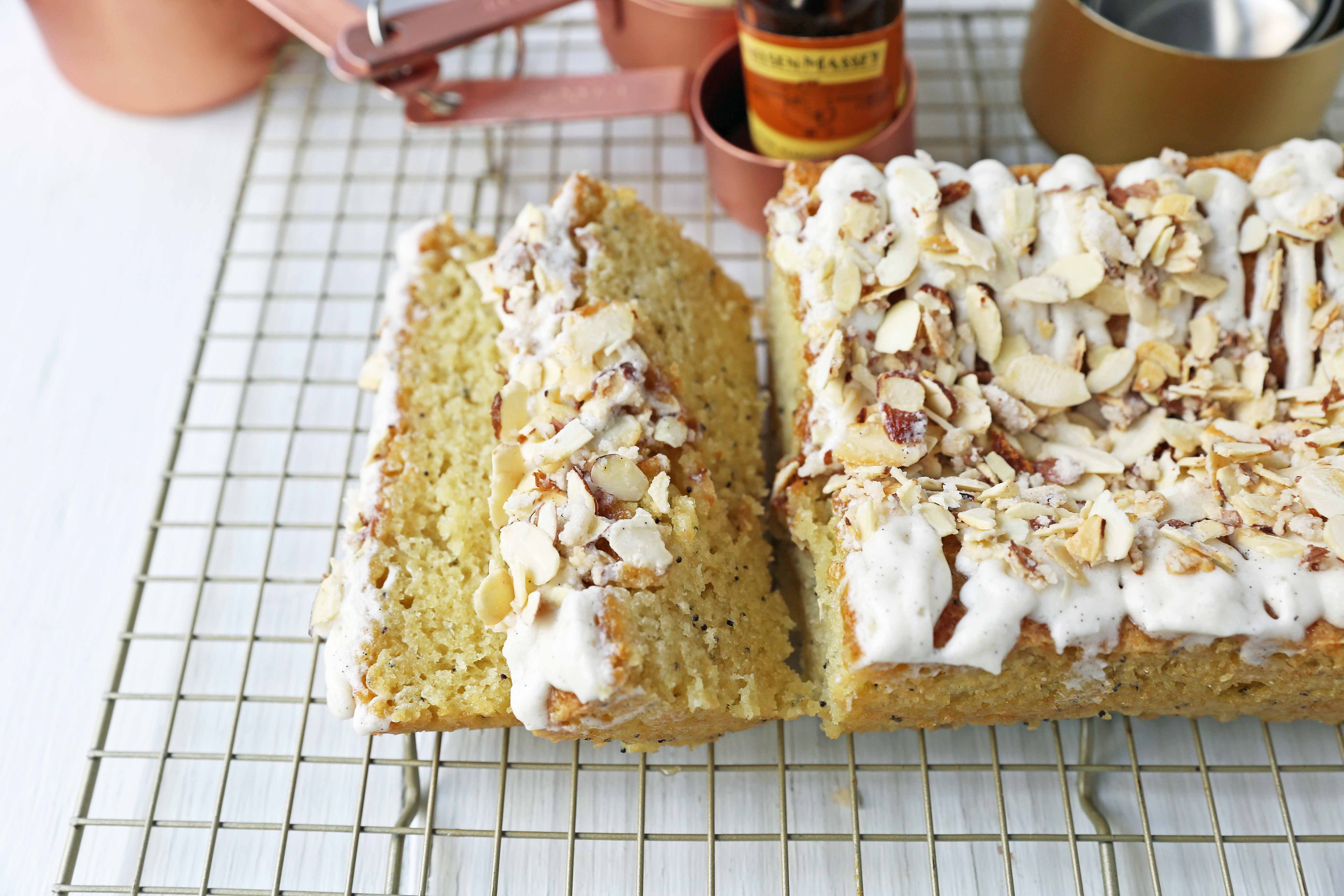 How to make Almond Poppy Seed Bread with Candied Almonds:
 Start with a high-quality, light-colored aluminum bread loaf pan.  This is a very important factor as if you use a dark-colored baking pan, the edges may become too brown before the middle is completely cooked through. I tried this recipe is different pans to find out how the color affects it and it definitely becomes too brown on the edges. My favorite baking loaf pan is the NordicWare Loaf Pan.
Spray the pan well with non-stick cooking spray. This bread removes pretty easily from the pan because of the butter content but I always like to give it a good spray to make sure it comes out nicely.
Cream the butter, sugar, and eggs for 5-6 minutes, until the mixture is light and fluffy. This helps the sugars to dissolve but also whips air into the batter, which helps give the bread a nice rise.
Use a combination of Buttermilk and Sour Cream to create a melt-in-your-mouth texture. Use Nielsen-Massey Pure Almond Extract for a natural almond flavor.
Bake at 325 for 35 minutes. Check the bread and if it is browning too quickly, carefully open the oven and lightly place a piece of foil over the bread.  Keep baking for 10-20 minutes longer, depending on the depth of the pan.
Let cool in loaf pan for 15-20 minutes before removing from the pan.
Drizzle handcrafted vanilla bean glaze and candied almonds.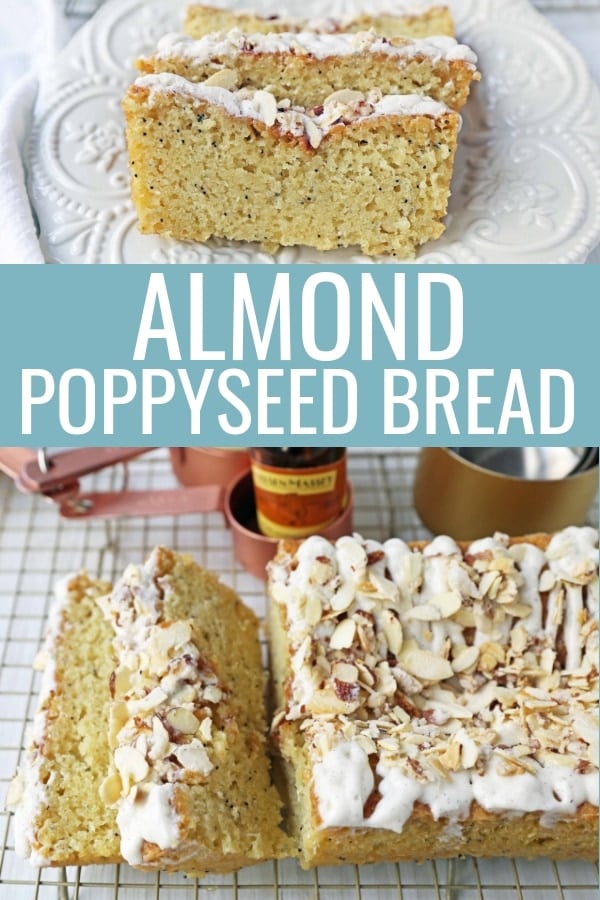 I love to hear from you! If you make this recipe, please be sure to leave a comment and give this recipe a rating. If you make any of my recipes, tag me on Instagram @modern_honey so I can see your creations. It's one of my favorite things seeing you make these recipes in your own kitchen. Sign up for my newsletter below so you never miss a recipe. Thank you for following along! I truly do have the greatest readers. FOLLOW ME ON:   INSTAGRAM --- FACEBOOK --- PINTEREST
This post is sponsored by Nielsen-Massey Vanillas but all of the opinions stated above are my own.