How many times have you been to a potluck, walked through the line with your plate in hand, surveyed the endless bowls of salads and wondered which ones you were going to take a chance on? It's definitely a game of chance! 🙂 As you sit down and start consuming the salads, you find out that you chose wrong. The salads were super bland and you were wishing that a salt and pepper shaker would magically appear out of nowhere to help resurrect the dish. You nervously take your fork and move things around your plate so it looks as if you thoroughly enjoyed it, and then cover your plate with a napkin as you walk to throw it away in the garbage can.
Please tell me I am not alone in this awkward food debacle.
I have got a solution for you! This Antipasto Tortellini Pasta Salad will be a huge hit at your next potluck or family dinner. When you bring a dish to a potluck, you want to glance over and see that your bowl is empty and hear rave reviews about your salad. If you hear crickets, that isn't so fun. This Antipasto Tortellini Pasta salad will definitely impress the masses!
Antipasto Platters are so popular in Italy with their cured meats, cheeses, peppers, marinated vegetables, and bread. My mouth starts to water when I think of an antipasto platter because it's the king of flavor. From the salty meats to the creamy cheeses to the tangy marinated vegetables to the warm bread.
This Antipasto Tortellini Pasta Salad starts off with creamy cheese tortellini topped with Genoa salami, pepperoni, fresh mozzarella, roasted red peppers, red onion, fresh basil, and finished off with an olive oil and red wine vinaigrette. The vinaigrette is simple –  focusing on the clean flavor of extra virgin olive oil and the tangy bite from the vinaigrette. This keeps the salad light and fresh instead of being weighed down by a mayonnaise based dressing.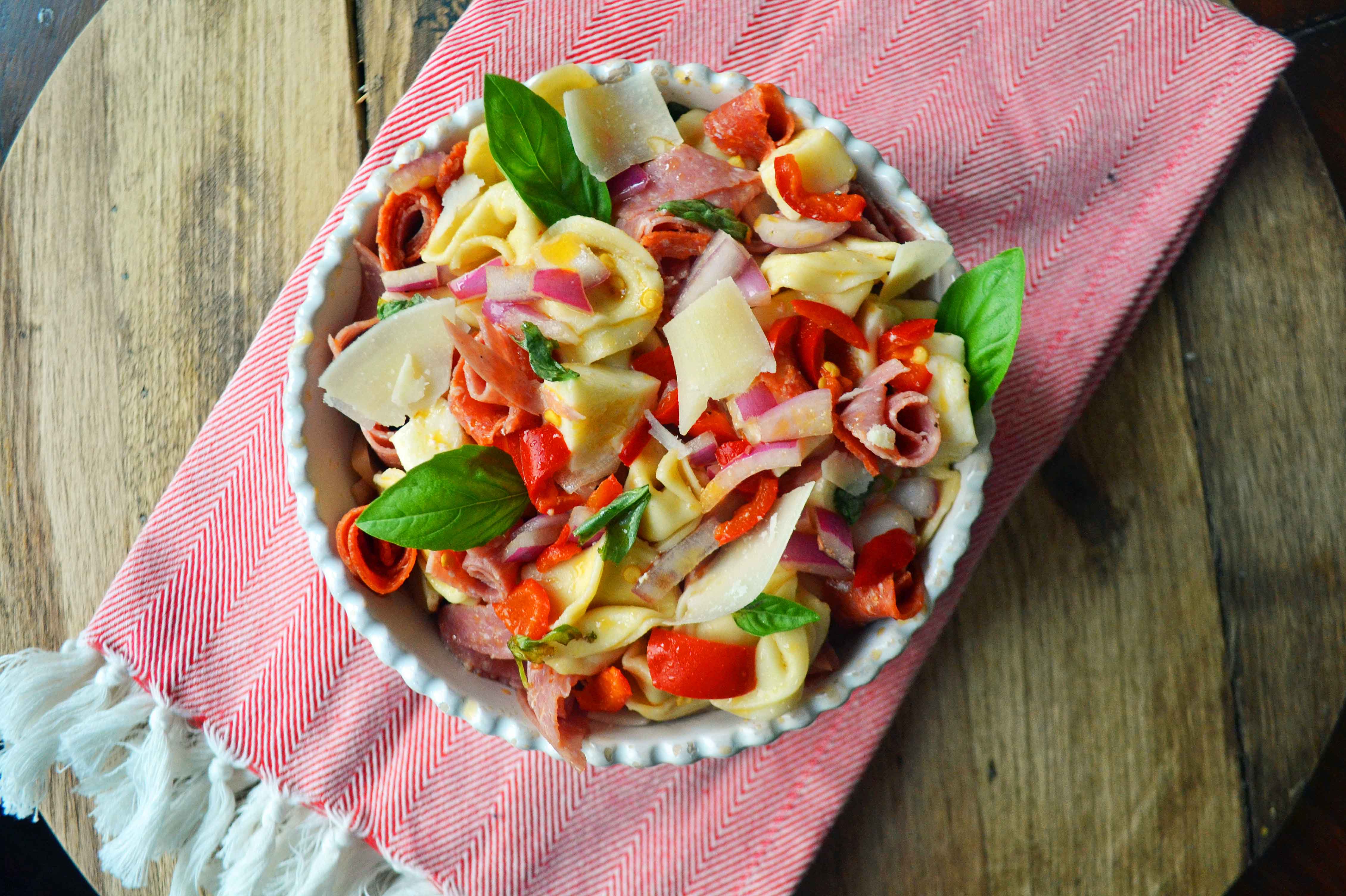 If you don't have cheese tortellini on hand (can be found in the refrigerated and frozen sections of the grocery store), then substitute a 1 pound package of bowtie pasta. Cheese tortellini adds a creamy richness that sets this pasta salad apart from the rest.
This Antipasto Tortellini Pasta Salad is also my summer go-to salad. I am the first to admit that I become L-A-Z-Y in the summer and don't cook huge meals every night for my family. We spend a lot of time eating salads and firing up the grill. This is a salad that can be whipped up quickly in the morning and as my kids come and go during the summer evening hours, they can grab a bowl at their leisure. Plus, I am just relieved that they aren't eating Top Ramen! 🙂 It's one of their favorite salads by a long shot.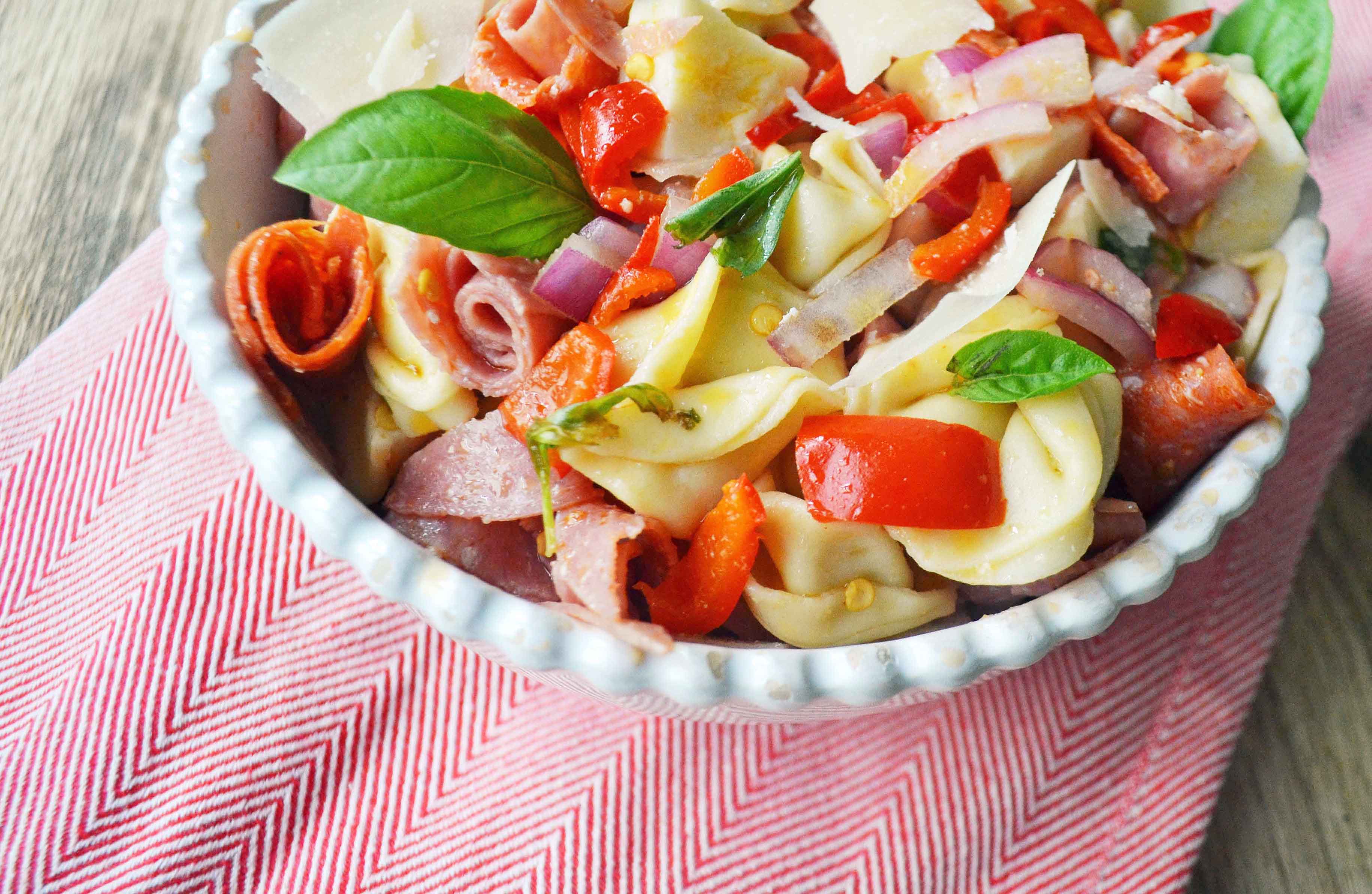 Antipasto Tortellini Pasta Salad
Creamy cheese tortellini topped with Italian cured meats, fresh mozzarella, roasted red peppers, red onions, fresh basil all tossed with an olive oil red wine vinaigrette.
Author:
Melissa Stadler, Modern Honey
Ingredients
1 - 19 or 20 ounce pkg. *Cheese Tortellini, cooked according to package instructions
4 ounces Genoa Salami, sliced and rolled
4 ounces Pepperoni, sliced and rolled
8 ounce Fresh Mozzarella Cheese, cut into cubes
¼ Red Onion, thinly sliced
¾ cup Roasted Red Peppers, from jar, sliced
6 Fresh Basil Leaves, sliced into ribbons
½ cup Parmesan Cheese, optional
½ cup Olive Oil
¼ cup Red Wine Vinegar
2 Garlic Cloves, minced
2 teaspoons Salt
1 teaspoon Pepper
*can substitute 1 lb. bowtie pasta
Instructions
Heat water in large pot over high heat until boiling. Generously salt water. Cook tortellini according to package instructions. Can substitute 1 lb. bowtie pasta for tortellini.
Slice salami and pepperoni into long slices. Roll up into tight circle.
Place cooked tortellini in large bowl. Toss with red wine vinaigrette. Top with salami, pepperoni, mozzarella cheese, red onion, roasted red peppers, basil, and optional parmesan cheese. Season to taste.
Serve either warm or cold.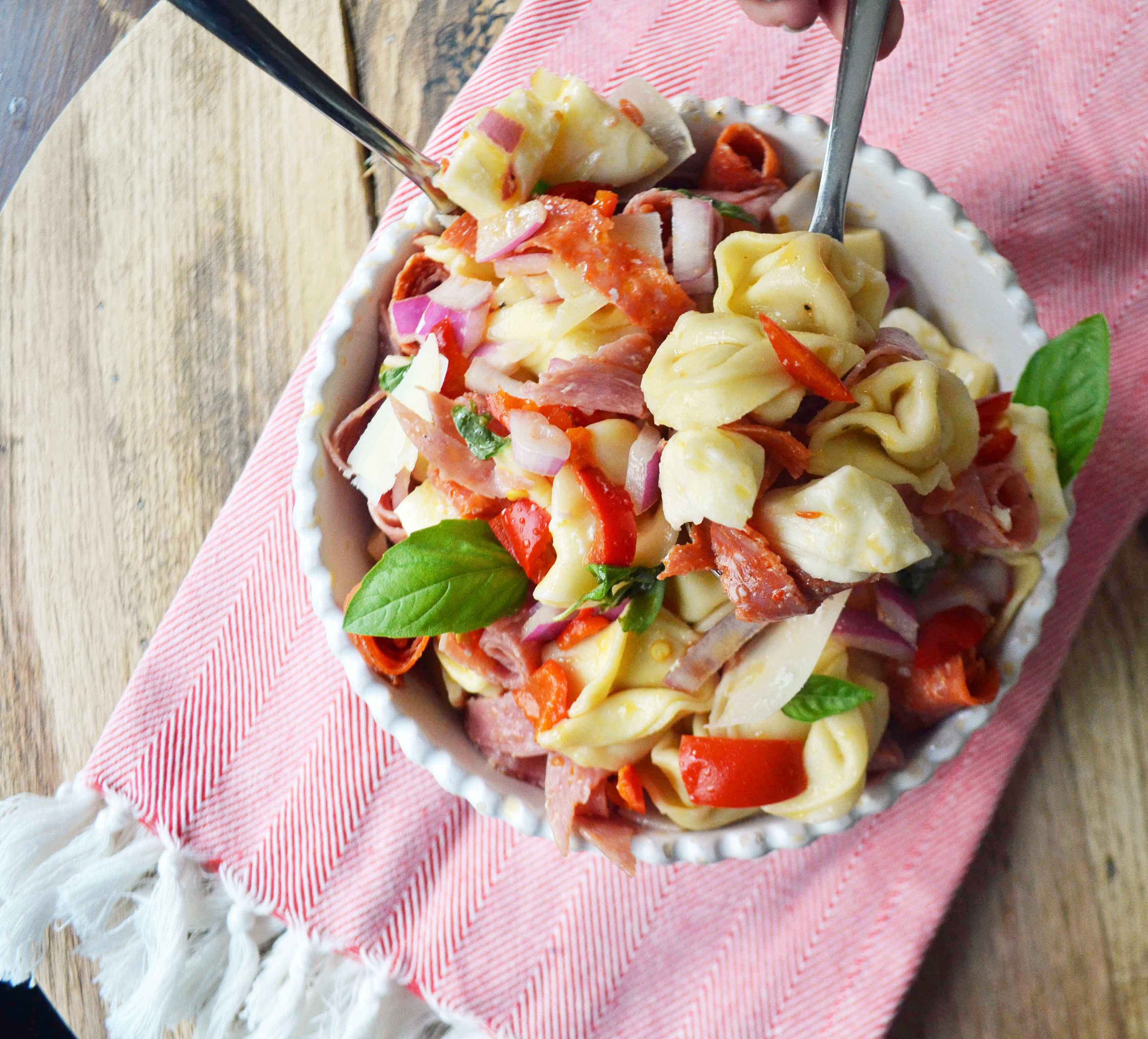 Happy summer, my friends! Oh and don't forget to let me know if you hear rave reviews about this salad at your next potluck. Thanks for your fabulous support. xoxo
Come Follow Me!