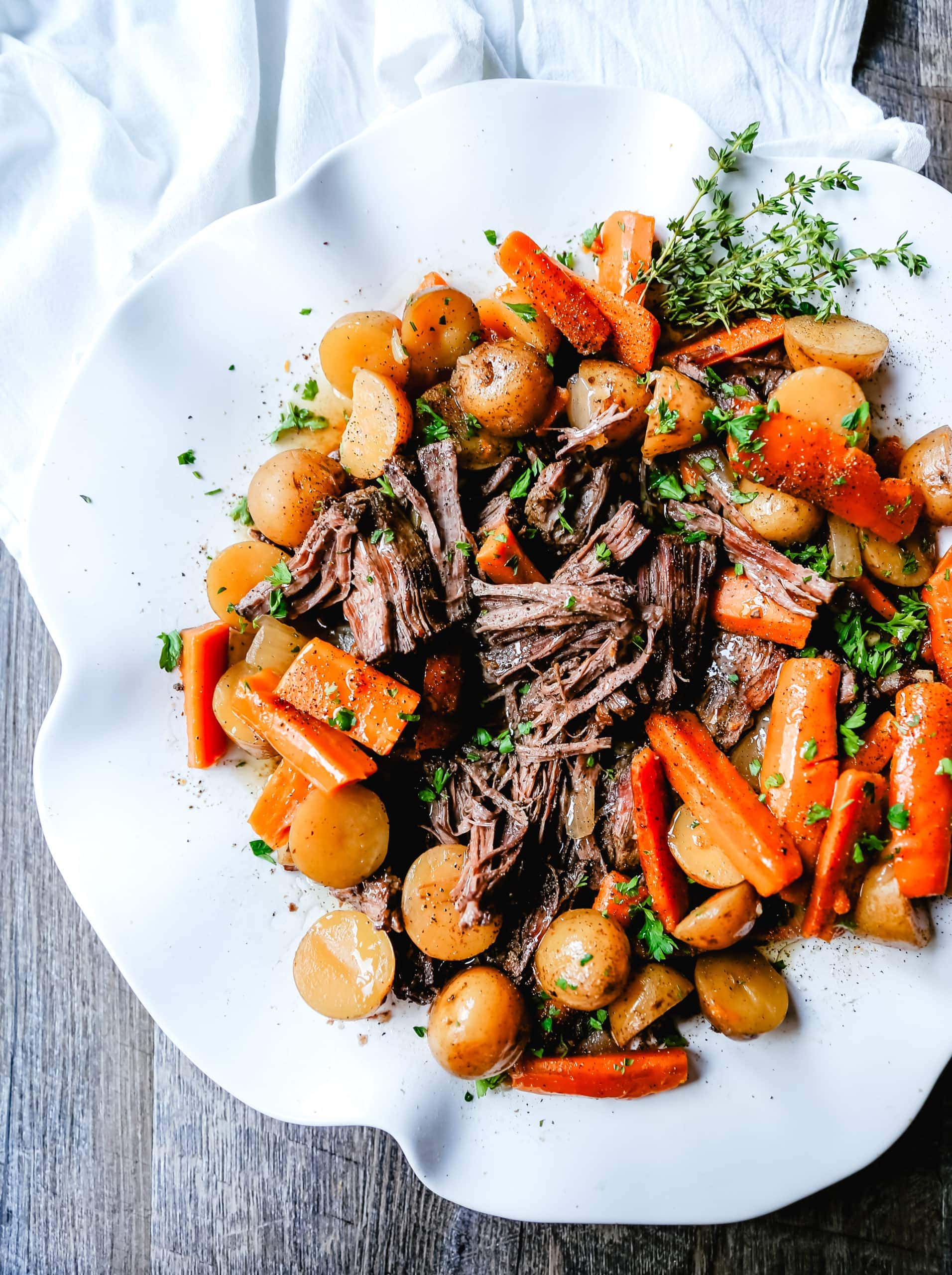 Beef Pot Roast
Tender, slow-cooked, flavorful beef pot roast with golden potatoes and savory carrots. How to make the most flavorful, moist, and tender pot roast at home.
Growing up, every single Sunday after church, we ate beef pot roast, mashed potatoes, and homemade rolls. It was the classic Sunday meal and to this day...when I think of comfort food, this is my all-time go-to meal.
A tender, slow-cooked beef pot roast is one of the best meals on the planet, in my humble opinion. The fact that you can throw it all in a slow cooker and it is beyond easy is just an added perk. But after testing out all sorts of methods for cooking a beef pot roast, I am sharing the ultimate way to cook it for your roast to come out super tender and flavorful.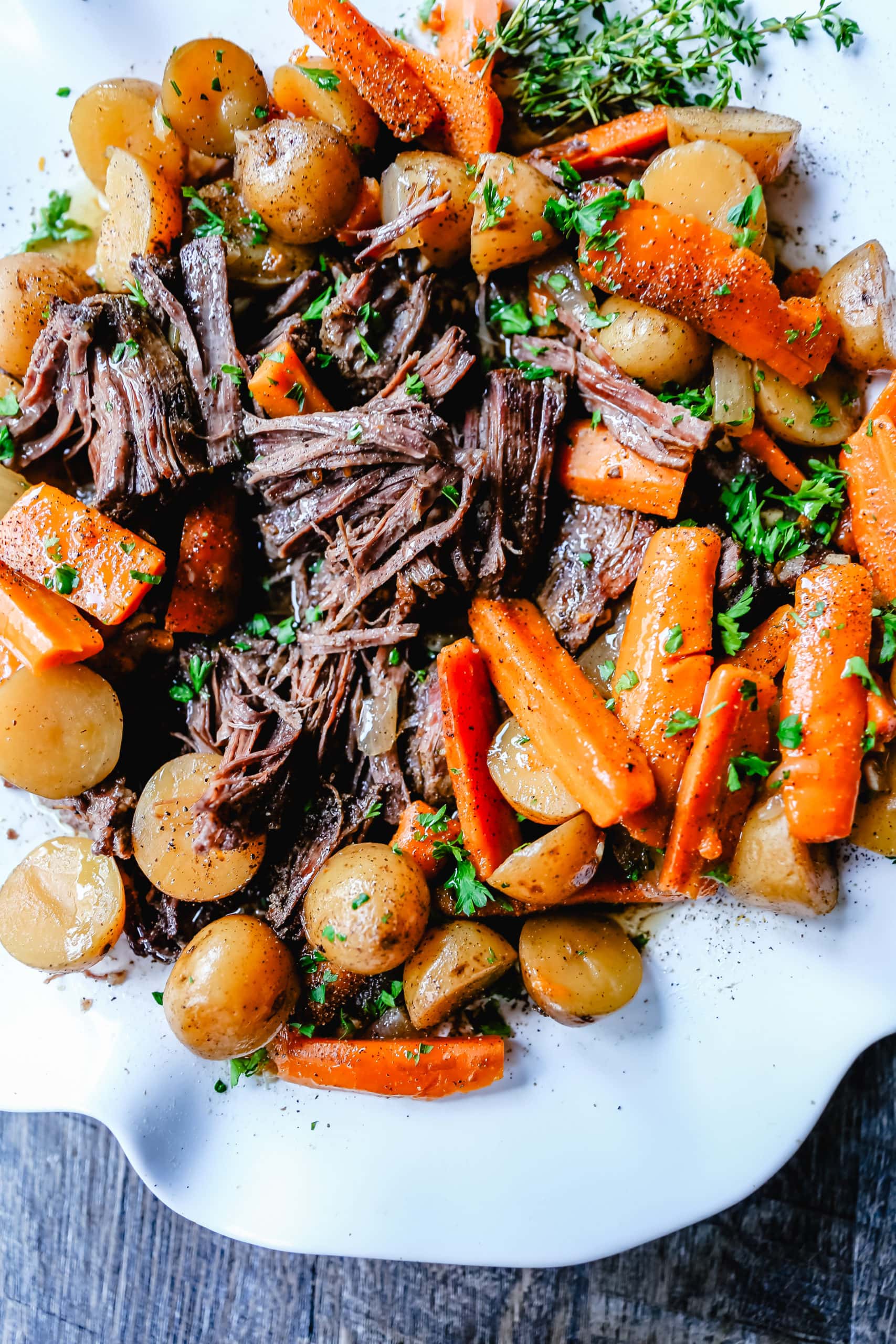 My husband's favorite way to eat beef pot roast is with creamy Yukon gold potatoes and carrots cooked with the roast. The potatoes and carrots soak in the juices from the meat and become so flavorful. He comes back for seconds every single time.
The key to making the best beef pot roast is to cook it low and slow. This is not to be rushed. My appliance of choice to cook a tender pot roast is definitely the slow cooker aka the crockpot. I like to cook it on low for about 8 hours. Before adding it to the crockpot, I suggest sprinkling both sides of the roast with salt and pepper and then searing the beef in a hot skillet.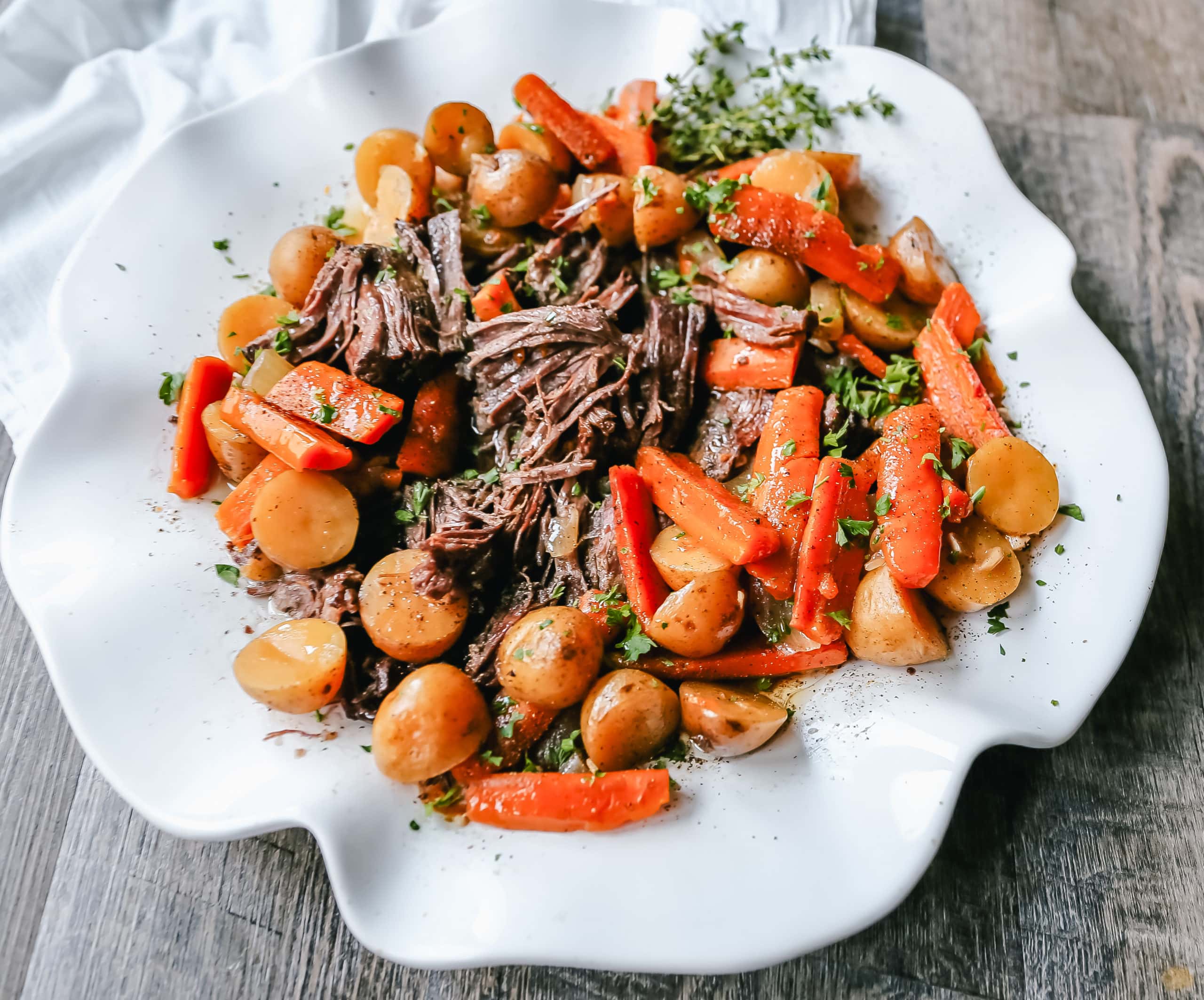 What is a Beef Pot Roast?
According to the Kitchn, "Beef Pot roast isn't really a specific recipe or cut of meat — it's more of a method." It is about taking a beef roast, browning it in a skillet, and covering it with stock and spices, and cooking it at a very low temperature. It is usually cooked in a slow cooker, also known as a crockpot until tender.
What type of beef roast should you buy?
I will usually reach for a BONELESS CHUCK ROAST. You can also use a ROUND ROAST -- which may be called a rump roast or bottom round roast. All of these are good options as they are tougher cuts of meat but the collagen fibers break down as they slowly cook and become tender.
What types of liquid should you cook your beef pot roast in?
We are slow cooking or braising the beef pot roast in a liquid. I prefer to use a beef broth as it is infusing more flavor into the beef. You may also use half beef broth and wine. If you don't have beef broth on hand, you may use water but make sure to add more spices to compensate.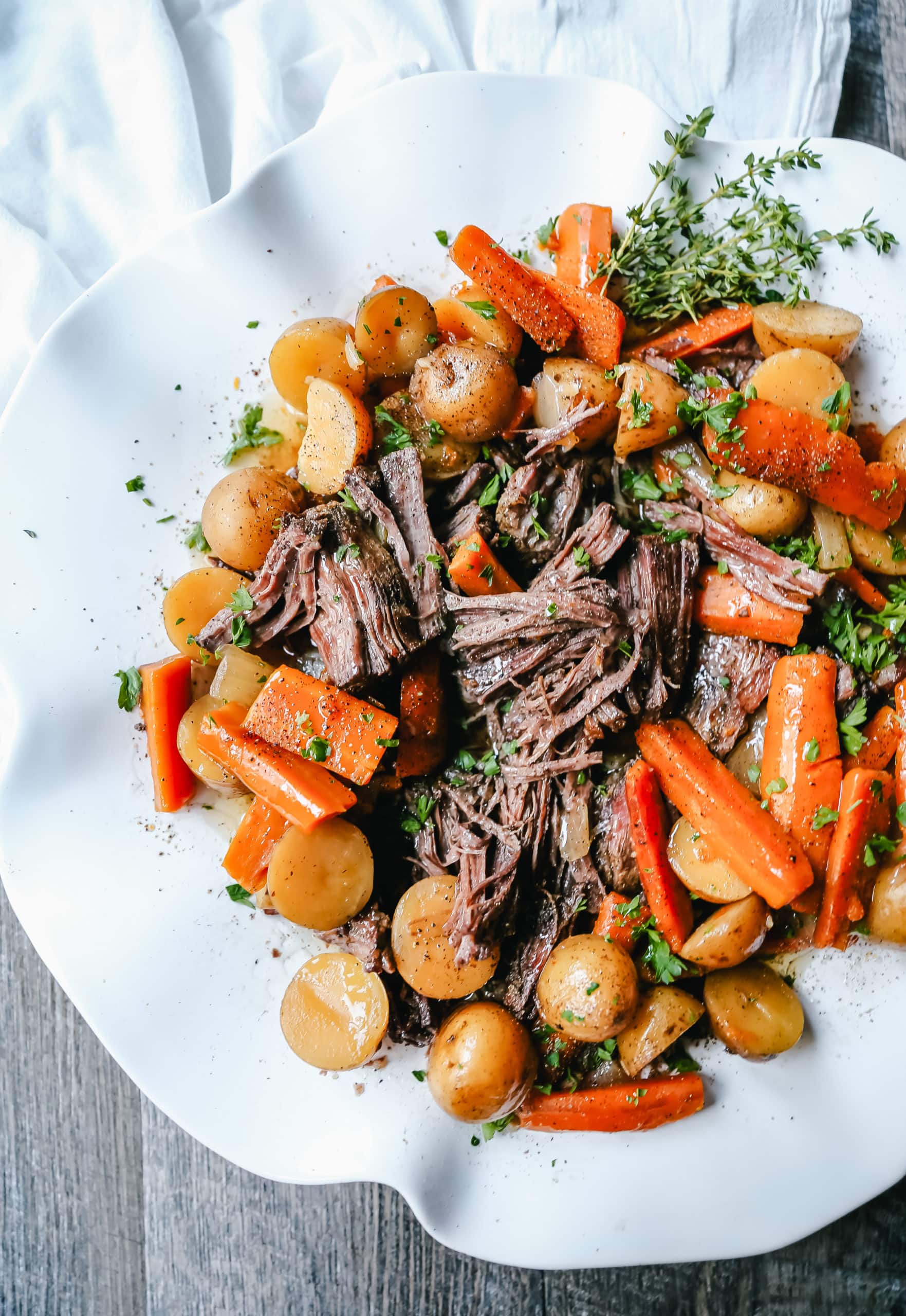 What types of vegetables to cook with Beef Pot Roast?
I always reach for small Yukon gold potatoes, carrots cut into larger pieces, onions, and garlic. You don't want the carrots to turn mushy so make sure to cut them into larger pieces. I found that baby carrots become too mushy. Also, if you use onions, I suggest finely dicing them or cutting them into large pieces and then removing them after cooking the roast and before serving.
How long to cook a beef pot roast?
The key when cooking a tough cut of meat is to cook it low and slow. I will set my slow cooker at the low setting and cook for 8 hours until it can be easily shredded with two forks. Many recipes will say you can cook it on high for 5 hours but it just won't be as tender.