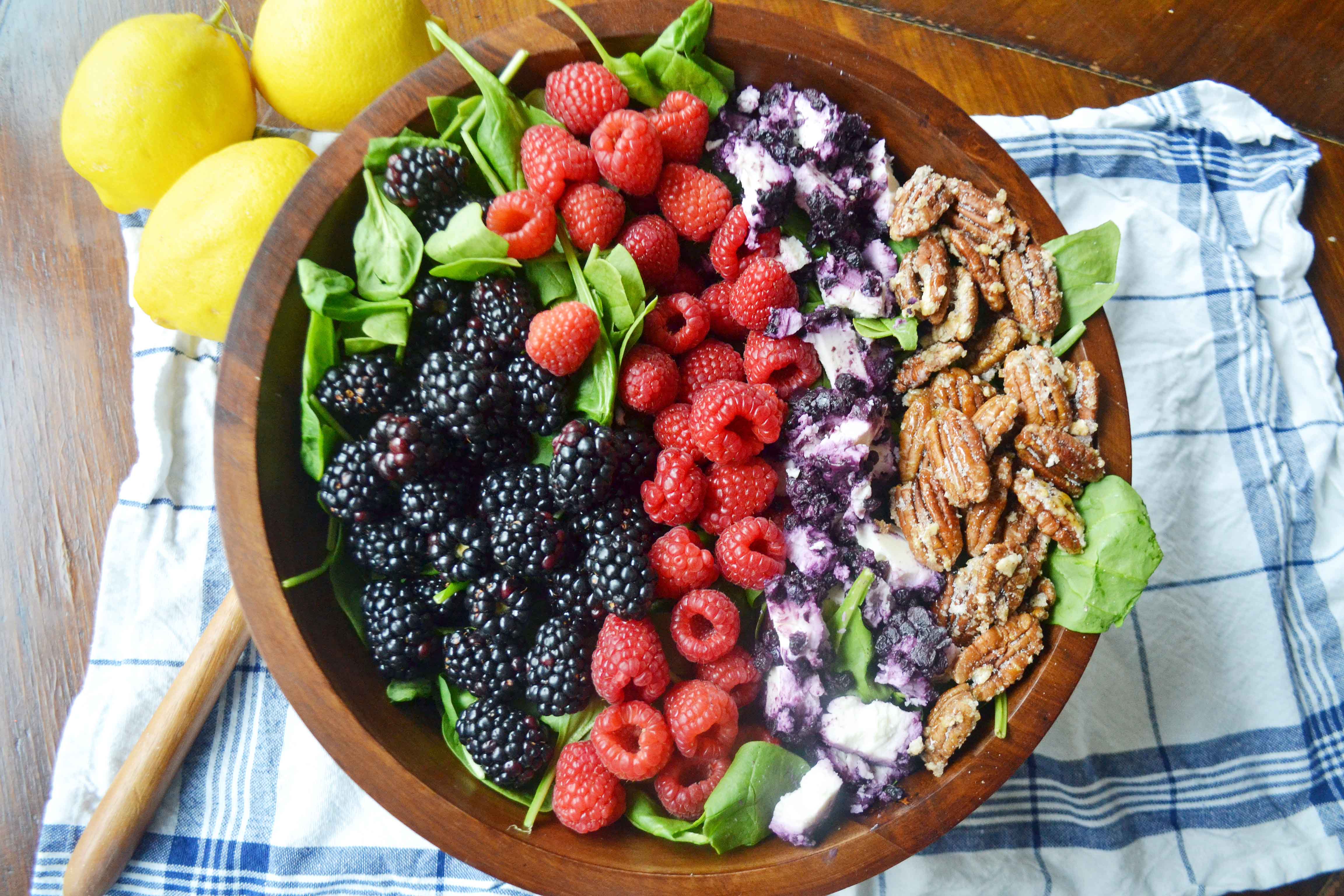 Oh sweet salad, how I love you.
This Berry Candied Pecan Salad with Lemon Vanilla Bean Dressing is one enticing salad.
It starts off with spring mix or chopped romaine, fresh blackberries, raspberries, creamy sweet blueberry goat cheese, crunchy candied pecans, all tossed with a tangy lemon and sweet vanilla bean dressing.
I am telling you, it's the best way to eat your lettuce.
The ingredients are simple and this salad can be thrown together in a matter of minutes.  Spring mix comes washed and ready in bags or you can quickly chop up some romaine hearts. Toss it with containers of fresh berries and you are almost done!
The sweet goat cheese logs that are so popular these days add a creamy tangy element to the salad that makes it craveworthy. You can find them anywhere - Trader Joe's, Costco, or your local grocery store in the fine cheese section. In this salad, you use half of a blueberry goat cheese log, which is about $4 at Trader Joe's.  You can also substitute plain goat cheese as well.
Adding grilled chicken to this Berry Pecan salad to make it a more filling meal as well.  My kids love this salad and tend to enjoy it more with romaine lettuce because it has less of an earthy taste. That is the beauty of this salad - it is so versatile.
This Berry Pecan Salad is the perfect salad for a ladies lunch, a garden party, a baby shower, or just a simple dinner at home when you want to bring out the big guns and really impress your people.

If there is ever candied nuts listed in a salad, I am sold. Just by sauteing the nuts in a little sugar, you create something sinful. You can use pecans, almonds, walnuts, or your favorite nut in this salad.
The lemon vanilla bean dressing is beyond delicious! The vanilla bean paste brings out the sweetness of the berries and the lemon is the perfect balancer of the greens.
PIN the image below on PINTEREST: