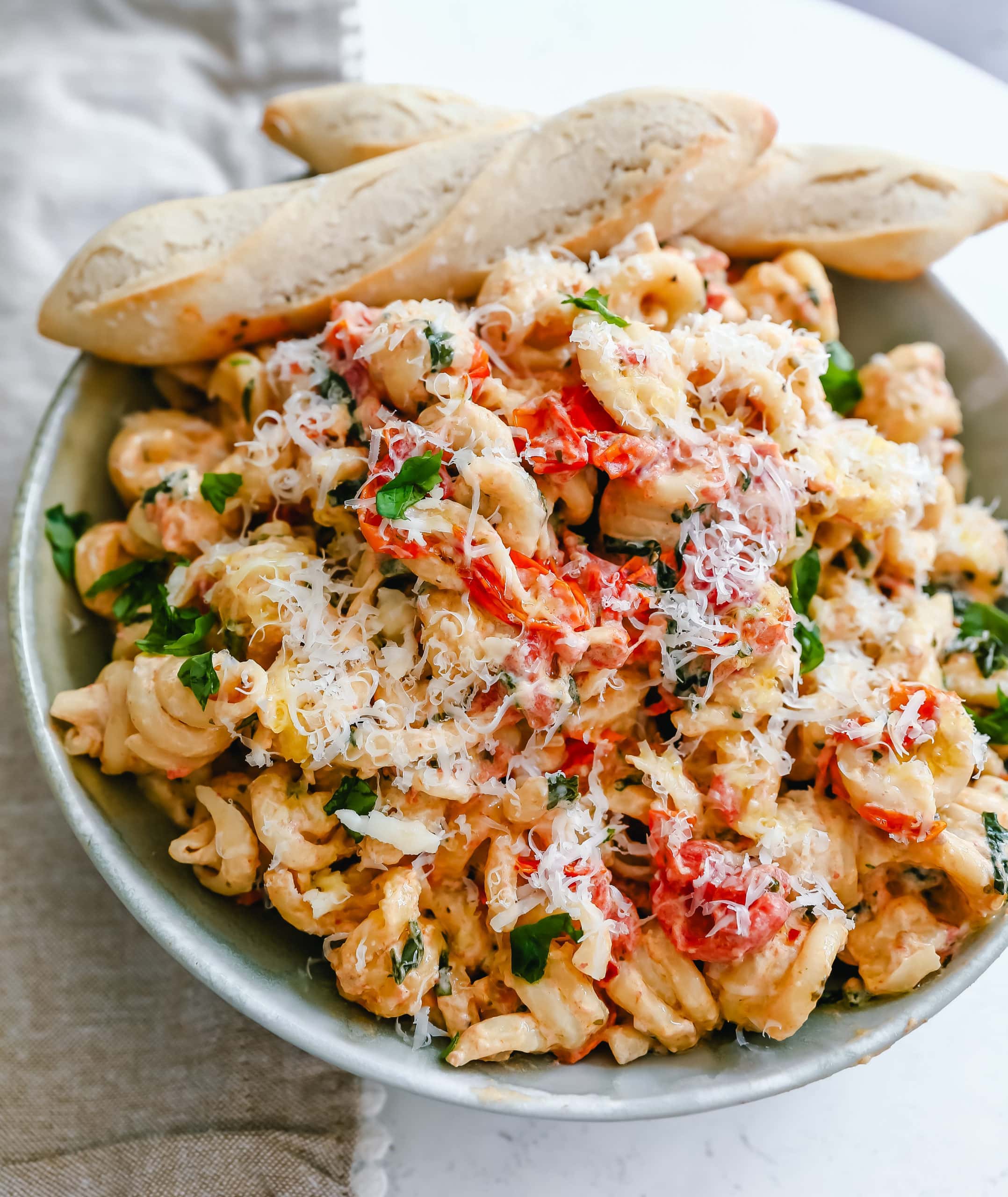 Boursin Cheese Baked TikTok Pasta
Freshly cooked pasta tossed with baked Boursin cheese, tomatoes, garlic, spices, and parmesan cheese. This easy-baked pasta recipe will knock your socks off!
So I officially joined TikTok. After my kids saying over and over again, "I learned this on TikTok," I finally succumbed. I opened up my official Modern Honey TikTok account and I am now in the TikTok business of sharing food videos.
I don't know about you but I am a visual learner so I am trying to share more food videos for all of you out there! I hope you love them and they are helping you in the kitchen!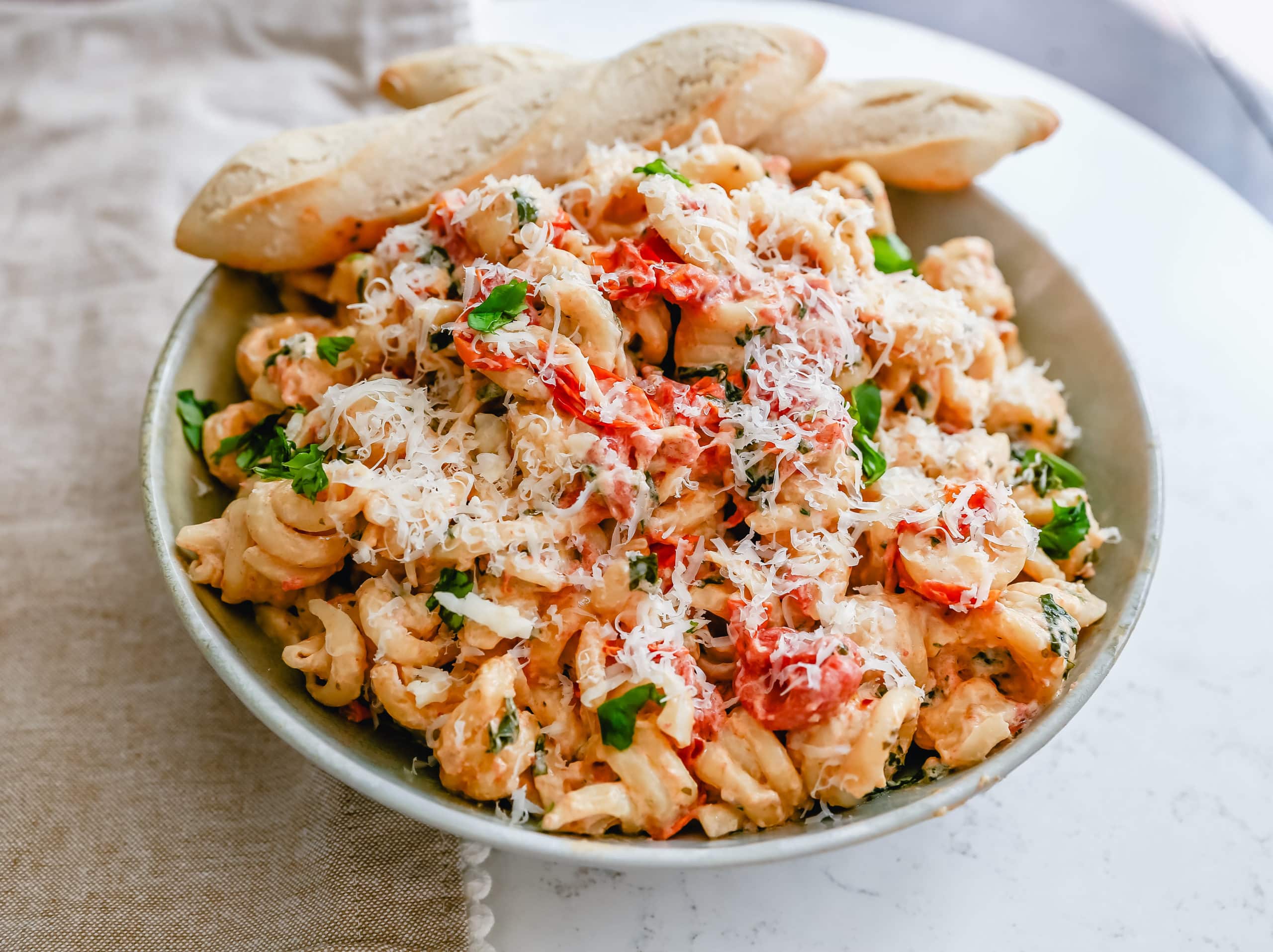 I saw this pasta dish that went crazy viral on TikTok and knew that I had to try it out. I thought it was good but knew it could be better. The original recipe calls for a block of feta cheese. I saw another guy share a tweak to the recipe by using Boursin cheese instead of feta cheese and I was hooked. I couldn't get to the grocery store fast enough!
Let me just say -- this TikTok Pasta is one of my favorite pasta dishes of all times. Yes, that is a very bold statement but it is THAT good. If you haven't tried Boursin cheese, it is It is a soft creamy cheese available in a variety of flavors, with a texture somewhat similar to cream cheese. I tend to reach for the Garlic and Herbs Boursin cheese but I have loved every flavor I have tried.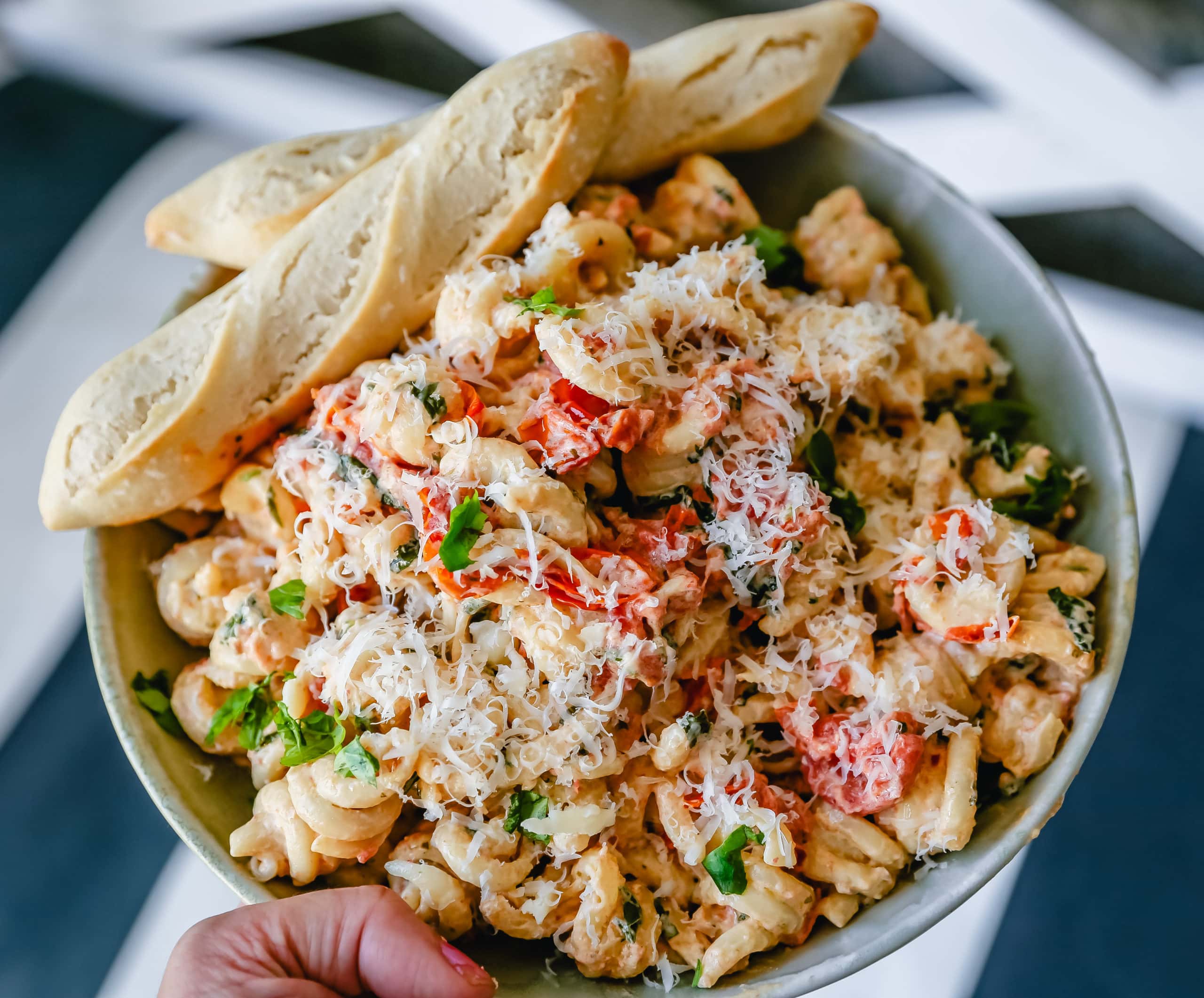 This Boursin Cheese Baked TikTok Pasta is made by placing two rounds of Boursin cheese and fresh grape or cherry tomatoes into a baking dish. Then you drizzle it all with extra virgin olive oil and add fresh garlic, salt, pepper, and red pepper flakes. Bake it for about 35 minutes until the tomatoes are softened and the cheese is melted.
Then you toss it with your favorite cooked pasta, fresh basil, a touch of spinach if you like that kind of thing, and freshly grated parmesan cheese. It has all kinds of flavor from the Boursin cheese to the roasted tomatoes to the garlic to the parmean cheese to the fresh basil. You've got it all with this baked pasta!
Now I know why this TikTok recipe went so viral. I am adding this to my dinner rotation because it is not only easy but tastes phenomenal!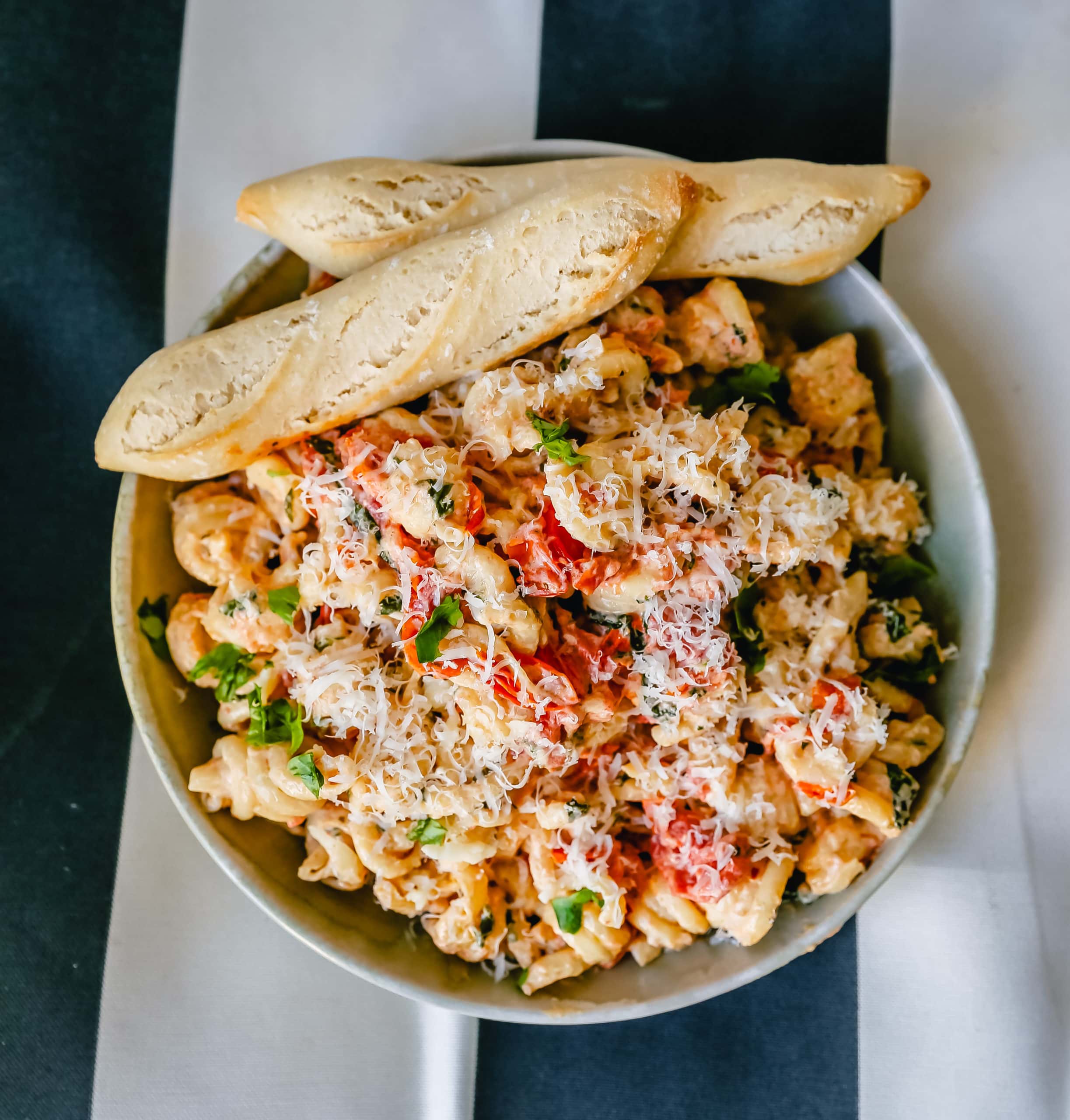 How to make the Baked TikTok Pasta:
Start by placing the Boursin cheese and grape or cherry tomatoes into a 9 x 13 baking dish. Generously drizzle with extra virgin olive oil, salt, pepper, and red pepper flakes. Finely chop fresh garlic and place all over the tomatoes. Bake uncovered for about 35 minutes. The tomatoes will be softened and roasted and the cheese will be melted.
While the tomatoes are roasting, cook the pasta by heating a pot of water over high heat until boiling. Pick out your favorite type of pasta. You can use everything from small pasta to large pasta. Make sure to salt the water to give the pasta flavor. Set aside ½ cup of pasta water to add to the sauce.
Remove the tomatoes and cheese from the oven and add the pasta to the baking dish. Fold in fresh basil, spinach, and top with freshly grated parmesan cheese. Check for seasonings and make sure you have enough salt and pepper!
This makes delicious leftovers! Just cover it well in the refrigerator and you can eat leftovers for days -- if it lasts that long!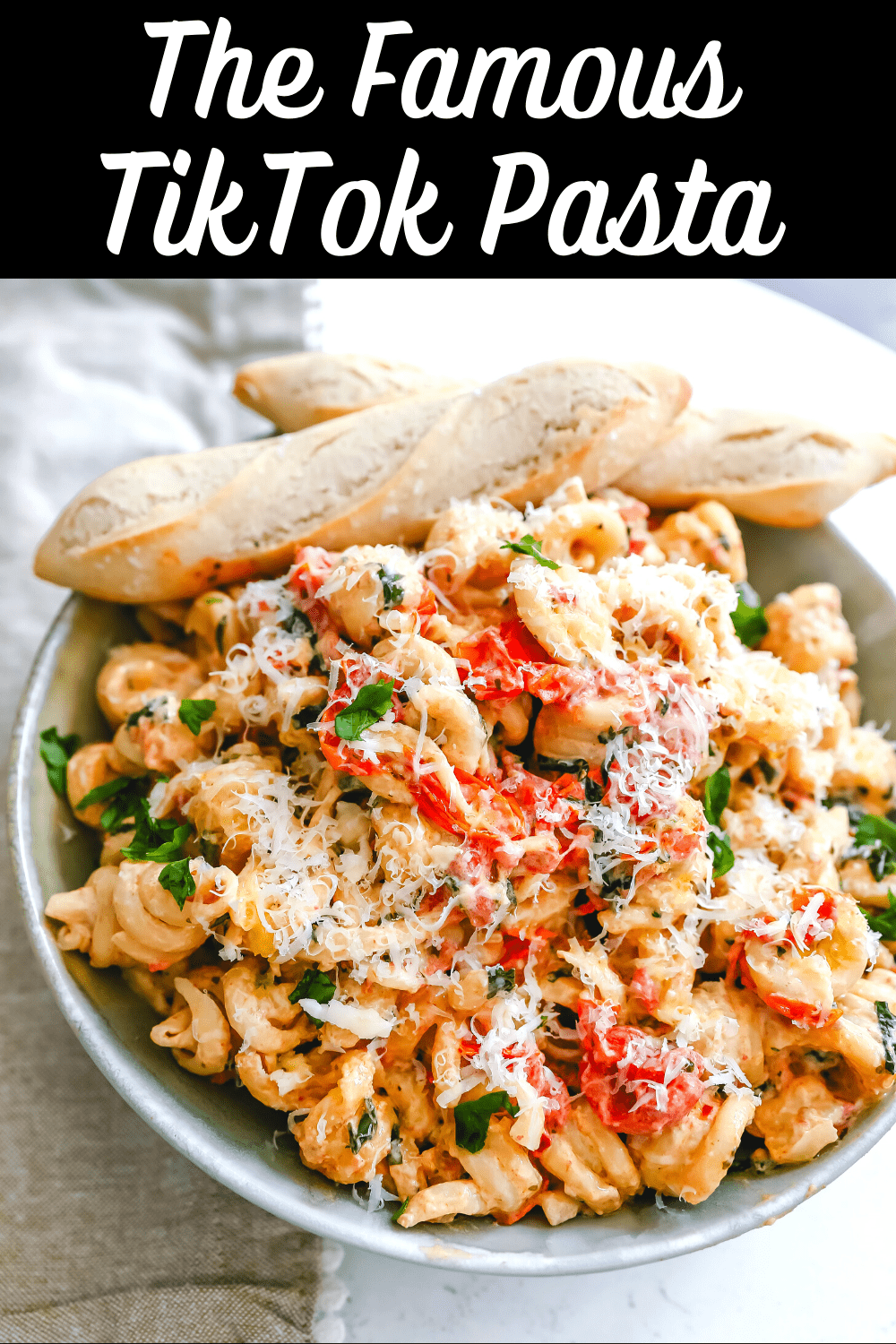 Follow Modern Honey on Facebook
Follow @modern_honey on Instagram
Follow me @ModernHoney on Pinterest
I hope you love this famous TikTok pasta recipe!