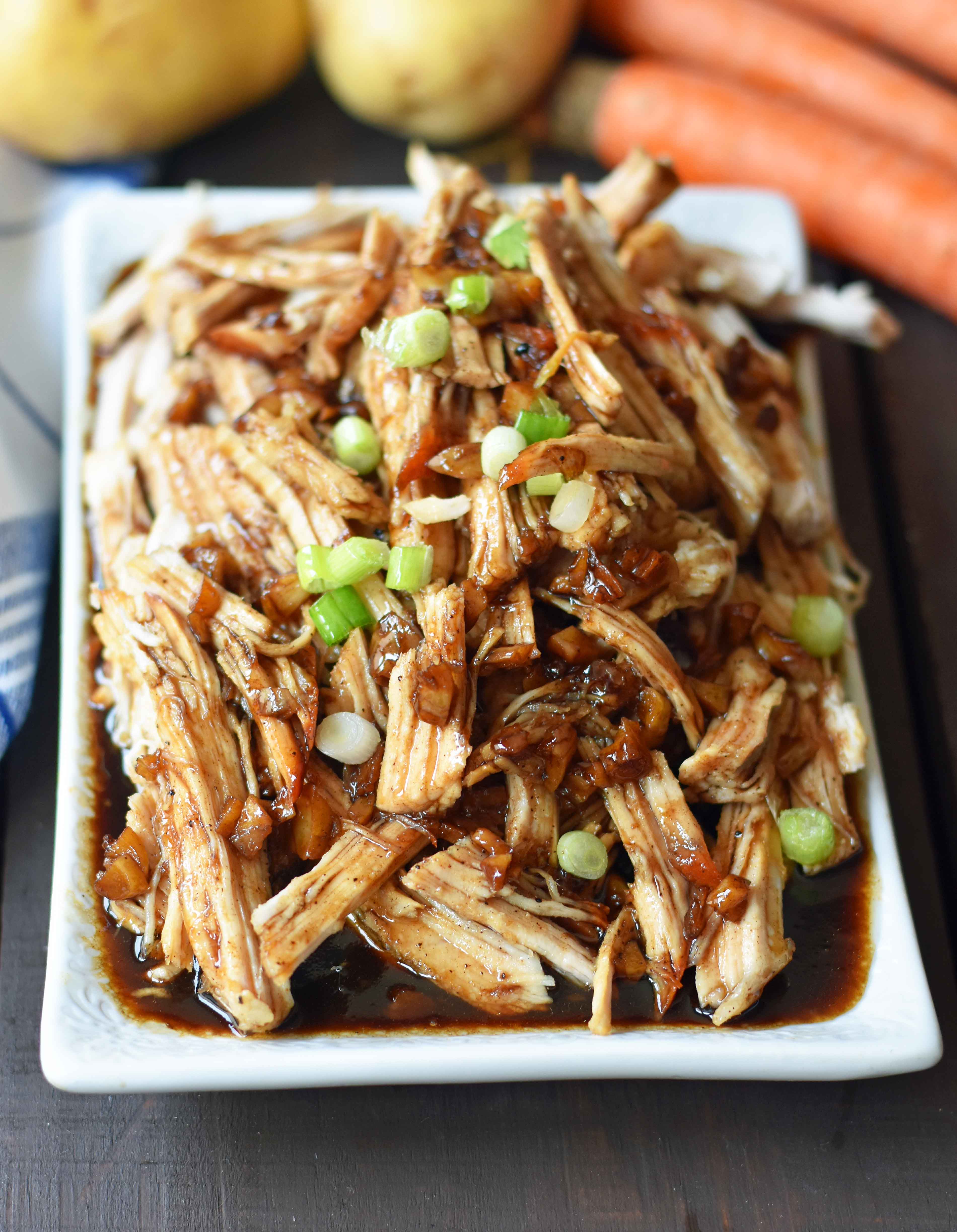 This Brown Sugar Balsamic Pork with made with lean and tender slow-cooked pork simmered in a brown sugar balsamic glaze.  
It's been Fall Break for the kiddos so I decided to take a little break with them. We took them on their very first 4-night cruise and they were in HEAVEN! Unlimited assortments of food and ice cream at their disposal were all they could dream of. Since we didn't receive any service on the ship, it was so nice to get the kids away from technology and their phones and to just reconnect and TALK. Where in the world can you go where your kids don't have access to wifi or 4G coverage for days on end? I loved every minute of it. It was also nice to take a small break from Modern Honey, focus on the family, and get right back into it. It's GOOD to be back!
I have so many posts almost ready to go so giddy up! There will be a lot of yummy posts coming your way in the next few weeks. I have a brain that doesn't stop so I have a ridiculously long list of ideas and recipes to share and not enough time in the day.  I can't wait to get them out to you, my friends!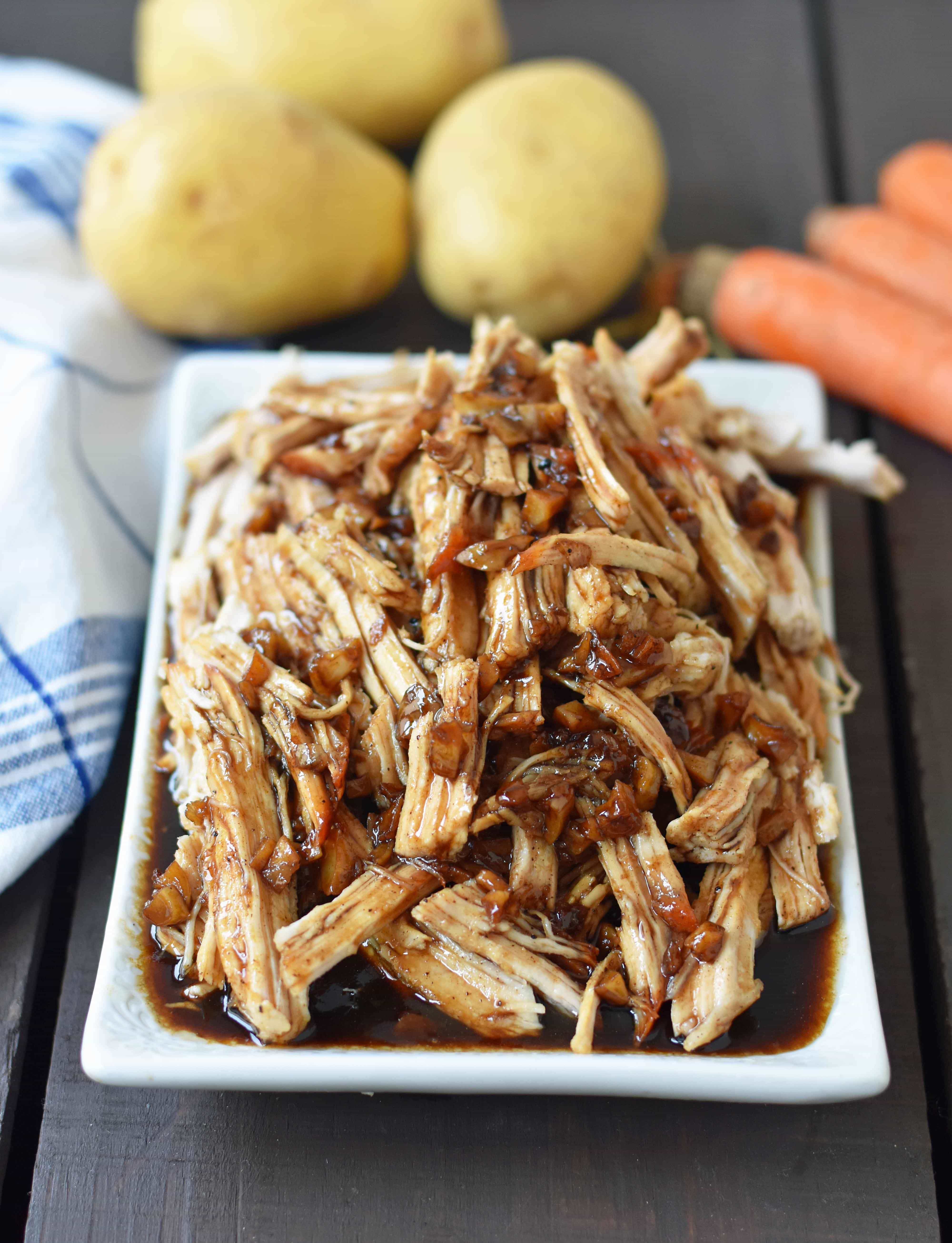 By this time every Saturday afternoon, I start to think about what I want to fix for Sunday dinner. I am always trying to create super simple Sunday meals which can be made in the crockpot because Sunday is supposed to be a day of rest so I want it to be as easy as possible. Growing up, we ate a slow cooker meal every single Sunday. It was usually some sort of beef or pork roast with a side of mashed potatoes, carrots, and homemade rolls. Oh, how I loved those Sunday dinners!
Instead of making just a plain 'ol pork loin roast, it was time to add a mouthwatering sauce to be drizzled all over it. This easy Brown Sugar Balsamic Pork is a tender pork loin slowly cooked in salt, pepper, cinnamon, and chicken broth and topped with a browned butter balsamic brown sugar garlic glaze. Bringing the flavor with only a few ingredients!
To make this Brown Sugar Balsamic Pork, you start with a simple pork loin roast. What I love about pork loin roast is that it's very lean and has very little fat on it.  If you buy a pork roast with fat on it, it is usually on the outside and can be trimmed off easily.  This pork loin roast can be made in a slow cooker (crockpot), an instant pot, or even the oven.  It is your choice! We just want to cook it at a low temperature so it comes out fork tender and shreds easily.
The pork loin roast is cooked in salt, pepper, a touch of cinnamon, and chicken broth to seal in the flavor.  It is shredded and the garlic brown sugar balsamic sauce is added and cooked for a little while longer.  I could drink this sauce!
The brown sugar balsamic sauce is made with browned butter, garlic, brown sugar, and balsamic vinegar. It has some sweetness to it which pairs so perfectly with the pork loin. After the pork loin cooks for hours, take two forks and shred the meat then add the sauce to the slow cooker, instant pot, or baking pan. If you use a slow cooker, continue to cook for about 1 hour longer or until the sauce begins to bubble and thicken. Here is a reasonably priced slow cooker/crockpot and instant pot on sale if you haven't jumped on the bandwagon yet. I am loving my instant pot!
This Brown Sugar Balsamic Pork can be served alongside mashed potatoes, au-gratin potatoes, sweet carrots, asparagus, and many more vegetables. We love to serve with a side of potatoes!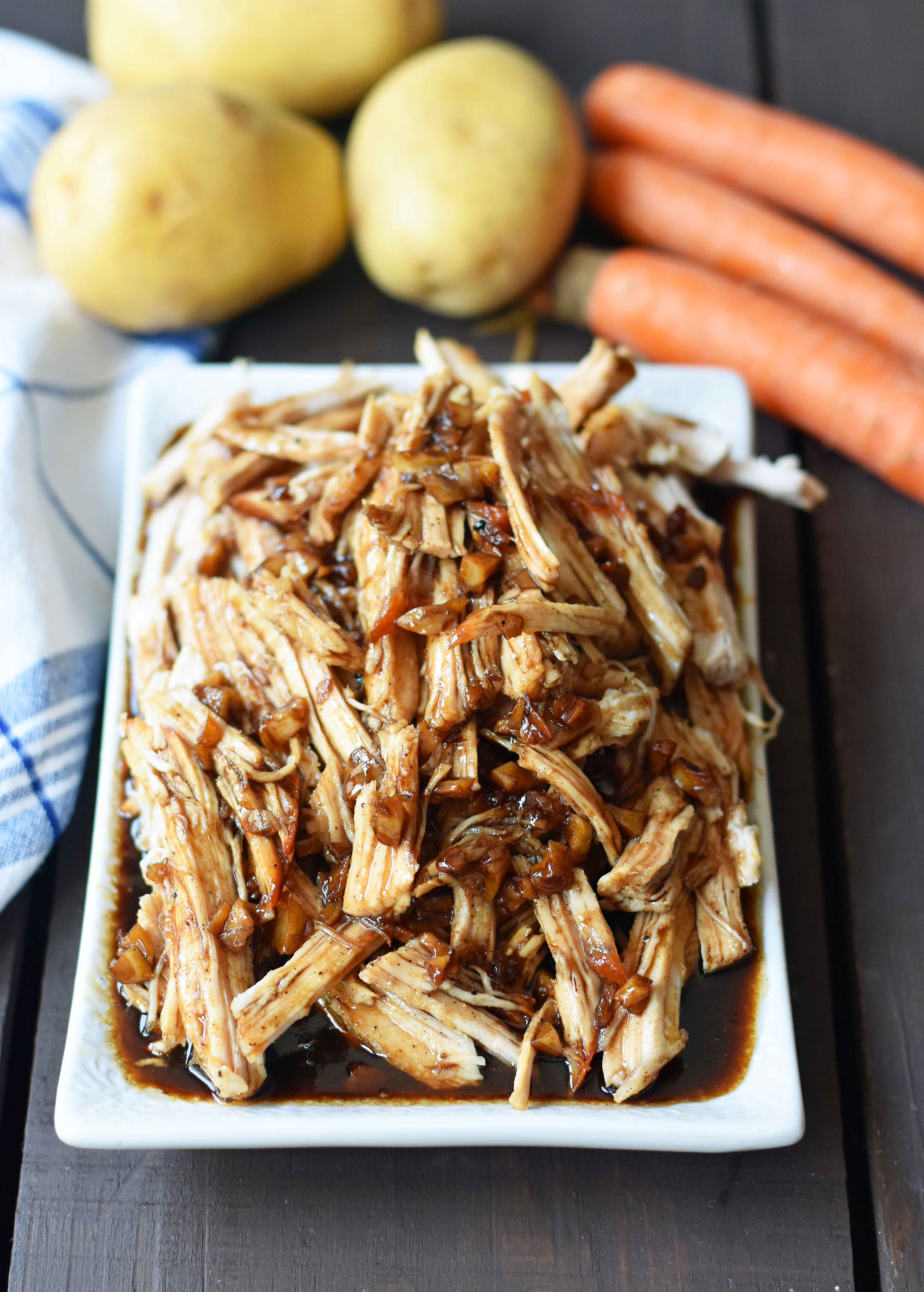 Pin this now to find it later
Pin It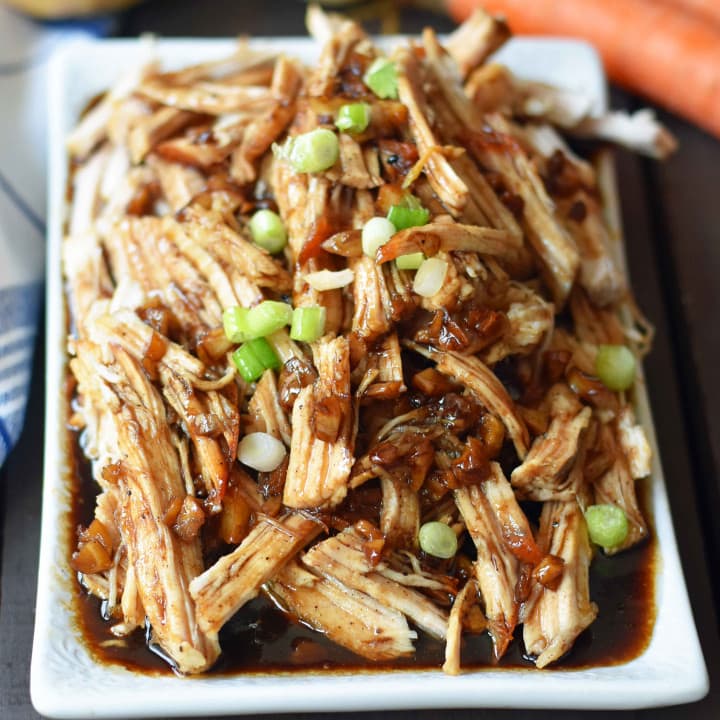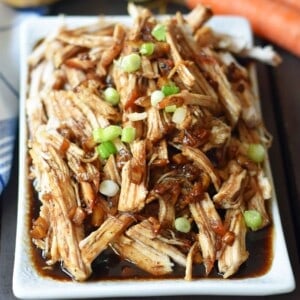 Brown Sugar Balsamic Pork (Slow Cooker or Instant Pot)
This Brown Sugar Balsamic Pork with made with lean and tender slow-cooked pork simmered in a brown sugar balsamic glaze
Ingredients
3

lb.

Pork Loin Roast

1

teaspoon

Salt

1

teaspoon

Pepper

1/4

teaspoon

Cinnamon

1

cup

Chicken Broth
Brown Sugar Balsamic Glaze:
2

Tablespoons

Butter

6

Garlic Cloves

finely minced

2/3

cup

Brown Sugar

1/3

cup

Balsamic Vinegar

1/2

cup

Chicken Broth
Instructions
Rub salt, pepper, and cinnamon all over pork loin roast. Place in slow-cooker or instant pot. Pour chicken broth around the pork loin. Cook for 4 hours on high or 7 hours on low in slow-cooker before adding sauce.

In a skillet, melt butter for 1-2 minutes. Add garlic and simmer for 1 minute. Stir in brown sugar and balsamic vinegar and let bubble for 1 minute. Stir in chicken broth. Let cook for 4-5 minutes.

Remove lid from slow cooker and using two forks, begin to shred the pork roast. Drizzle with brown sugar balsamic glaze and let cook on low for 1 hour longer.

Stir the pork loin roast, completely covering with sauce. Serve warm.
Nutrition
Calories:
446
kcal
,
Carbohydrates:
27
g
,
Protein:
51
g
,
Fat:
13
g
,
Saturated Fat:
5
g
,
Cholesterol:
152
mg
,
Sodium:
757
mg
,
Potassium:
955
mg
,
Sugar:
25
g
,
Vitamin A:
115
IU
,
Vitamin C:
5
mg
,
Calcium:
43
mg
,
Iron:
1.7
mg
Nutrition information is automatically calculated, so should only be used as an approximation.
Happy Cooking, my friends! xo